HubSpot alternatives: How it stands against 8 of its biggest competitors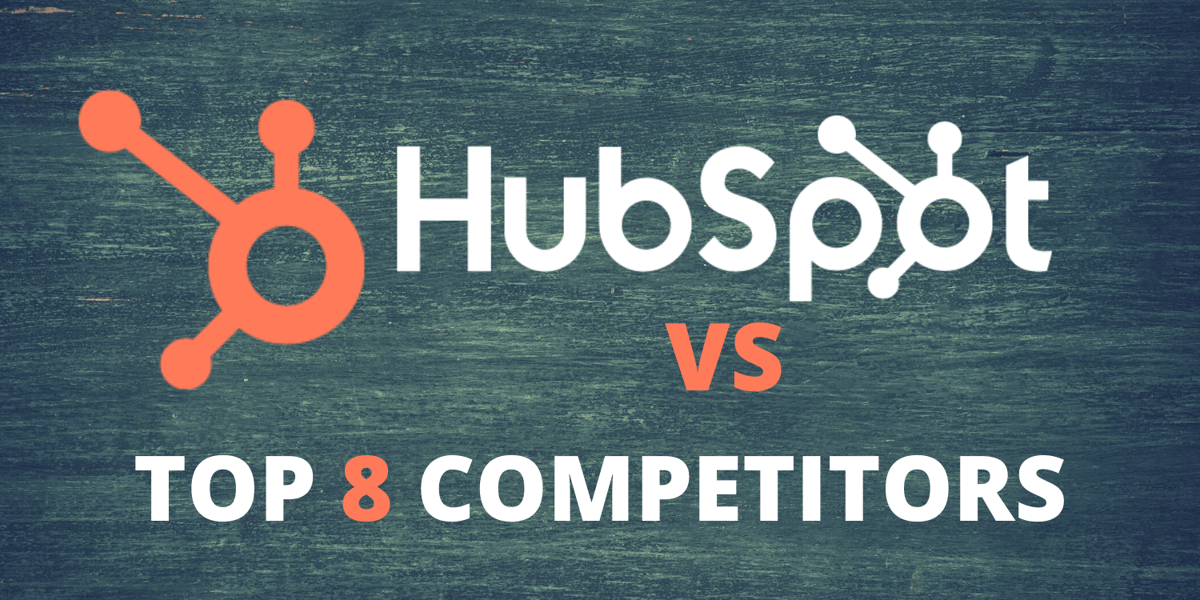 HubSpot has completely transformed our agency and we honestly wouldn't be where we are today without their help, which is why we're strong advocates of their service and product.
However, you have to decide which marketing platform is right for your business and, admittedly, HubSpot isn't the perfect solution for all.
There are a lot of great marketing automation platforms out there, so finding the one that is going to be the best fit can be a little intimidating .
Factors like company size, marketing and sales goals, reporting needs, your activities, current processes, and workflow will all be important to consider.
🔎 Related: Ultimate guide to HubSpot Marketing Hub for businesses
With those factors and more in mind, let's go through the top marketing automation solutions on the market right now, and explore how they compare to HubSpot.
HubSpot vs Marketo
Marketo is a powerful marketing automation software that aims to help marketers bring a lead from acquisition to advocacy.
In terms of capability, you can't really go wrong with either HubSpot or Marketo – both are great marketing platforms that don't have any major weaknesses.
Both are designed to help companies plan, build, and execute their marketing strategies across multiple channels, including web, email, and social media, however, users on G2 Crowd have commented that HubSpot is easier to learn and use.
Since Marketo tends to specialize in custom solutions for larger enterprises, their software typically requires more IT knowledge to operate.
Ability to scale is another important point to consider.
One of Marketo's strengths is that it was built to cater towards large businesses, with the ability to easily handle mass amounts of leads and complex marketing process.
HubSpot targets more small to medium-sized businesses, but, still, it shouldn't be overlooked here, as it recently made major updates to the Enterprise Hub, which is built to specifically support scaling businesses.
Furthermore, prices will vary based on your organization's needs, but Marketo is generally more expensive with their starting price coming in at $1,195 per month (compared to HubSpot's first paid tier at just $50 per month).
Get a more in-depth, side-by-side comparison of the two platforms, here.
HubSpot vs Pardot (by Salesforce)
Pardot is a B2B marketing automation solution offered by Salesforce. If your company is heavily invested in Salesforce, this could be ideal for you in the long-run as information will flow seamlessly from your marketing to sales ends and vice versa.
While HubSpot does integrate well with SalesForce, using a single platform can save you time and create a better experience for your team as you'll minimize any data-sharing issues.
Pardot is mainly focused on marketing automation for B2B companies; and has grown to include tools for creating landing pages and forms, as well as posting to social media.
However, depending on what version you are on, many of these tools are limited.
If you are a B2B company already using Salesforce and have a budget of at least $2,000/month to go beyond the basic plan then Pardot is worth considering.
However, with HubSpot, you will likely get more bang for your buck, with their mid-level plan starting at just $800/month, and including all of Pardot's features and more.
HubSpot vs Oracle Eloqua
Oracle Eloqua's is another tool designed for large enterprises looking for powerful marketing automation.
Its biggest strength is in its email marketing features, which are relatively advanced and allow you to set up complex email campaigns. Templates may require HTML and/or CSS know-how to get emails to be mobile-friendly, however.
These advanced capabilities do come with a higher price tag, starting at $2,000 per month.
In terms of lead intelligence and web versatility, Eloqua dulls in comparison to HubSpot, as it lacks the all-in-one capability that HubSpot provides and does not offer blog or website platforms.
HubSpot vs DemandForce
These platforms are comparable in price and overall function, but there are some key differences.
DemandForce is heavily focused on small businesses like HubSpot, but places more emphasis on local marketing with features that help your business get listed in local searches and generate reviews.
It also integrates well with popular small business software, Quickbooks, and syncs that information to generate detailed reports.
With that said, DemandForce lacks a few major features that create a gap between it and HubSpot.
For example, DemandForce isn't a blogging platform and doesn't allow you to create calls-to-action and landing pages like you can with HubSpot.
There also isn't functionality available for advanced email automation and workflows.
This can be limiting for marketers as without these tools, you can only focus on a small piece of the customer journey.
As important as local listings are for local businesses, blogging and creating content are an essential part of any SEO strategy.
If you aren't creating helpful content and including calls-to-action, you are going to miss out on capturing interested leads early in their journey.
And since it's designed for small business, it does not have any features that are made to scale like HubSpot.
HubSpot vs SharpSpring
SharpSpring is designed to work best for agencies and small businesses, and is comparable in cost to HubSpot.
With agencies in mind, the platform enables more control over branding so you can rebrand certain parts of the software to better service client marketing.
They also have an agency partner program, and separate pricing for agencies.
SharpSpring has also evolved over the years and now brands themselves as a complete marketing and sales platform, having rolled out blog and analytics tools, as well as the ability to integrate with the big name companies like SalesForce.
While its marketing automation tools are similar to what HubSpot has to offer, its CRM is lacking in analytics functionality and integration with other parts of the platform.
HubSpot is likely a better choice for marketers who want a marketing solution that goes beyond marketing automation and allows for scale.
In order to be able to work through the entire customer journey, having a CRM that is integrated with all of your analytics data and sales activity is crucial.
HubSpot vs Act-On
Act-On is the closest marketing software to HubSpot in terms of how easy it is to learn and get started with.
This is great for people who are completely new to marketing automation, but the functionality is limited and marketers tend to outgrow the platform quickly.
For example, it provides conversion data for landing pages, but doesn't break down what sources drove the most conversions for that page. This makes it difficult to get deeper insight into what campaigns are working.
Generally, it also lacks in reporting and analytics data and doesn't allow for closed loop analytics without a separate CRM.
Act-On has a higher starting price, but the full-feature version is about the same price as HubSpot's full-feature package.
HubSpot vs Infusionsoft (Keap)
Infusionsoft, now under the umbrella of Keap, is another good option that's can be affordable than HubSpot depending on the tier you choose
Infusionsoft is similar overall to HubSpot, but it lacks a content management system (CMS), keyword research, and built-in SEO capability.
Each of these are critical pieces for making sure you can easily maintain your website and create content that addresses prospect questions and can be found easily via Google.
On the other hand, however, Infusionsoft has invoicing and payment functionality (something that HubSpot is lacking without an integration), as well as a detailed CRM.
HubSpot vs Mailchimp
Mailchimp has evolved over the years from a straight-forward emailing platform to a more comprehensive marketing platform with features like landing pages, advanced automation options, and its new CRM.
It does, however, remain best suited for smaller businesses.
For many businesses Mailchimp's features may be more than enough, but if you are looking to do get more advanced with your personalization, workflows, etc, it may not have what you need.
For example, while Mailchimp does allow for some personalization in their emails, they lack the more advanced personalization feature of smart content. And while they do have automation capabilities and allow you to create basic drip campaigns, they don't allow for conditional if/then logic, which is important when it comes to making sure a workflow is tailored to a contact's specific actions and responses.
As for pricing, Mailchimp is a lower- cost option than HubSpot, with their top-tiered plan coming in at $299 per month, but you only get a small amount of the marketing capabilities you get with HubSpot.
Weighing the pros and cons of HubSpot
At the end of the day, there are many options for marketing automation software. While every tool we mentioned on this list can help your company in some way, none of them are a one size fits all solution, not even HubSpot.
It's important to consider your business' unique needs and goals for the future, so you can compare how that ties into certain platform's features.
Do you need a platform that includes a CRM? What type of data does your team need to make the right decisions? How advanced do you want to get with your marketing automation?
Have a brainstorm with your team on what is most important to your business, and features will be most critical for getting you to the next level of success. Then compare that platforms that come closest to meeting all of your needs.
If you think HubSpot is the best fit for you, we'd love to chat about it and make sure your team is set up for success with the platform.
Free Assessment:
How does your sales & marketing measure up?
Take this free, 5-minute assessment and learn what you can start doing today to boost traffic, leads, and sales.