Ultimate List of HubSpot Pros and Cons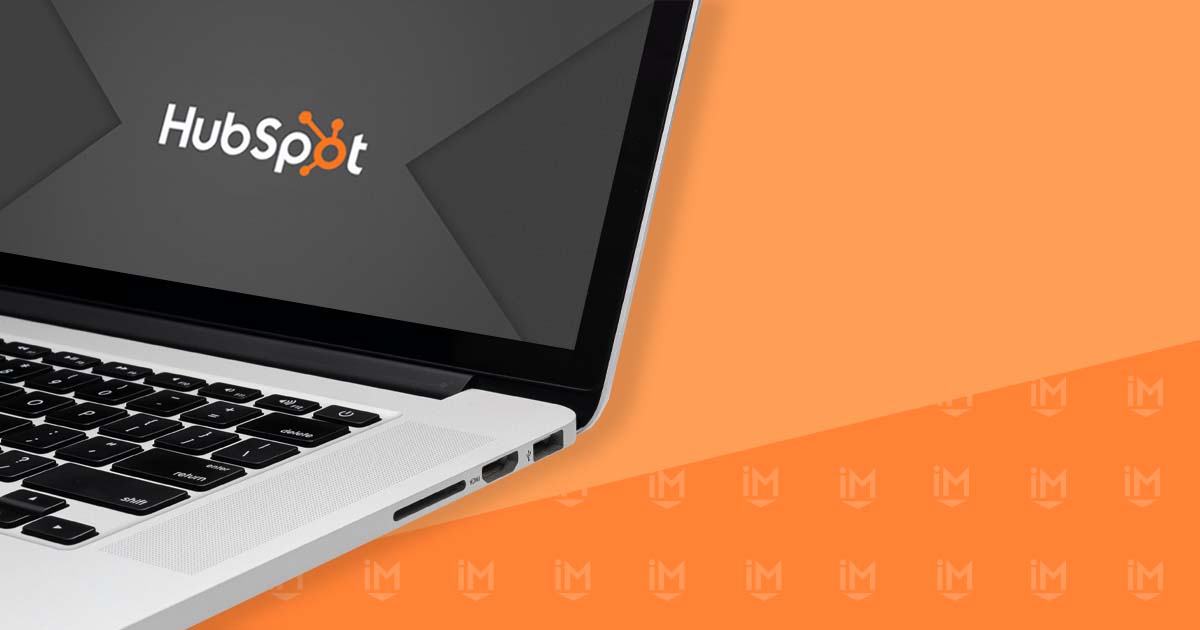 Life is full of difficult decisions.
What should I be when I grow up? Where should I live? What marketing, sales, and service software should my business use?
Ok, that last one might be a bit of a stretch, but if you're reading this, it's probably a dilemma you know well.
As it becomes the business norm to make digital marketing, sales, and service initiatives entirely virtual, having a platform to organize and manage your activities, opportunities, and customers has never been more important.
We may be a tad biased as a HubSpot partner agency, but HubSpot has long been our marketing and CRM platform of choice and how we teach our clients to track their progress with our business-growth framework, They Ask, You Answer. We've stuck with it for almost a decade now because of how much the platform consistently grows and improves over time.
That being said, because the platform is always changing and improving, it is a lot to learn. So, we've done all the legwork for you!
In this guide, we'll break down not only the pros and cons of each of the major hubs of HubSpot (marketing, sales, service) and the CMS, but also the pros and cons of using all of the hubs together.
Bookmark this page and use the links below to jump around as you continue to explore HubSpot.
Table of Contents
But before we get started, how do you know if HubSpot is right for your business to begin with?
Is HubSpot right for your business?
If you asked this question in 2010, HubSpot was a simple marketing software for small-to-medium-sized businesses (SMBs), and the answer would be much more straightforward.
In 2022, however, HubSpot is not only a robust digital marketing tool, but an entire platform of tools for your marketing, sales, and customer service teams.
With that being said, if you've landed on this article, you're likely either looking at getting started with the entire platform (what HubSpot calls the Growth Suite), or just one of the hubs. That's exactly how we've broken down this guide.
One very important note before we dive in: HubSpot's subscription model is set up in tiers: Free, Starter, Professional, and Enterprise. Depending on what tier or hub you purchase, you will get access to different features and tools in the platform.
In this guide, we will be looking at more general pros and cons that are less specific to individual tiers, but it's important to note that if you're looking at the Free and Starter tiers of any of the hubs, you're going to have fairly limited functionality, and the pros and cons in this article may not apply.
However, that doesn't mean you should stop reading!
One of the biggest pros of HubSpot is its ability to grow with you, so it's important to familiarize yourself with all of the capabilities of the platform, even if you won't be using them right now.
Now that we've got that ironed out, let's start with the pros and cons of using the entire Growth Suite (marketing, sales, and service hubs).
Chapter 1: HubSpot's Growth Suite (and CRM)
The "Growth Suite" is how HubSpot refers to the ensemble of its three core hubs — Marketing, Sales, and Service — all of which are built onto the HubSpot CRM. (The CMS Hub, while still referred to as a "hub," isn't included here.)
Each hub has its own unique pros and cons when used independently of the other hubs, but there are also a number of pros and cons of using the entire suite of hubs in tandem with one another.
Because many users who start with a single hub end up growing into using the full Growth Suite (and you could certainly be one of them!), let's start there.
Pro: Keeps all of your marketing, sales, and customer service data in one place
When you use the Growth Suite (marketing, sales, and service hubs all together), all of your marketing, sales, and customer service data live in one place — the CRM.
The CRM (Customer Relationship Management, or to put it even more simply, the database) houses all of your data collected from any of the HubSpot tools.
This may not seem like a big deal on the surface, but when you think about it…
Imagine being able to pass a contact from marketing to sales to customer service without ever having to sync information with another system or duplicate work in two different places.
Not only that, imagine being able to create a report that's able to look at your customers across their entire customer journey — from the first time they landed on your website to their interactions with your support team.
The end result? The ability to make decisions and improvements based on real data instead of gut feelings.
Many marketing, sales, and service professionals spend hours and even days every year trying to pull, combine, and analyze data from disparate systems to report to their organization. With centralized customer data in the Growth Suite, you can do this type of reporting in minutes.
And while easier reporting internally is a huge win, the real win here is how you can use all of this centralized data to improve your customer experience over time.
Pro: An extensive App Marketplace to connect your other tools
Every business has unique processes and needs, which means that even if you're primarily using a single platform, you'll likely have multiple other tools or platforms to run your marketing, sales, and customer service from start to finish.
Thankfully, HubSpot has an entire ecosystem of integration partners that grows every day. The App Marketplace makes it easy to find what integrations are available, see what data and functionality are shared between systems, and quickly install the integration in your HubSpot portal.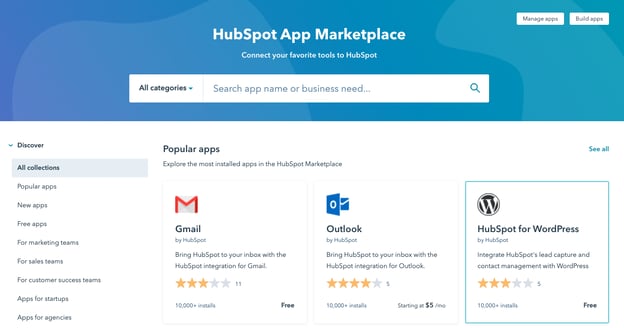 For example, your marketing team may use Eventbrite to run online events. HubSpot isn't an event marketing platform, but the Eventbrite integration takes just a couple of clicks to set up and will send all of your registrant and attendee information directly to your HubSpot portal.
This is the next level of keeping all of your data in one place — since you'll likely always have to use some other tools, the ability to easily connect them to HubSpot allows you to keep even more data in one place, and leverage it for all of your processes.
Pro: HubSpot Academy
Have you ever signed up for a new tool, only to realize you have no idea how to use it, no idea where to start, and no one to ask?
With HubSpot, you'll never have that problem.
HubSpot Academy has dozens of courses and certifications that not only help you learn how to use each piece of the platform, but will also help you get better educated on marketing, sales, and customer service.
They've got courses and lessons on things like inbound marketing, frictionless selling, customer journey mapping, and so much more, and they add and update content on a regular basis. You'll likely never feel like you're lost with nowhere to turn for help.
Pro: Can grow with you
One of my all-time favorite things about HubSpot is the ability for you to set up a free account and start playing on the platform immediately.
While I hesitate to use the catchphrase "Try before you buy," since with a free HubSpot portal you get very limited access to tools and functionality, you do have the opportunity to get into the tool and get a feel for how it works and what it will look like for you to be using it on a regular basis.
This pro isn't just about jumping into a free account to see if you like the platform, it's about the ability for HubSpot to frictionlessly grow with you as your needs change. It's scalable and only becomes more so with each update.
Many companies will start with HubSpot Professional because it has all of the initial functionality they need to start automating their processes and doing detailed reporting on them. (The Free and Starter packages do not include workflow automation and custom reporting.)
Eventually, when they run into limitations with complexity or team structure, those companies can quickly and easily upgrade any of their Hubs to Enterprise, which will simply un-gate additional tools and functionalities. This means your business can scale in many different ways without having to switch systems, which can take months to implement.
If you purchase the Growth Suite (Marketing, Sales, and Service Hubs), you'll get an automatic 25% off standalone prices, which is another pro altogether.
Con: Not always the cheaper option
So how much does it actually cost? Learn all about HubSpot's pricing model here.
And what about how much it costs compared to other competitors? Well, that's where it gets tough. HubSpot has many different kinds of competitors depending on what you're looking for.
Are you looking for just marketing automation tools, or for an entire end-to-end marketing, sales, and service platform?
For this reason, you're going to have to do some due diligence on comparing pricing based on your business needs. While HubSpot's flexible pricing structure is certainly a positive, that doesn't necessarily mean it'll be your cheapest option.
If you're using the Marketing Hub, you'll need to pay for contacts you're marketing to by the thousand, meaning you could end up paying additional hundreds and even thousands of dollars on top of your subscription level.
For Sales and Service Hubs, you pay per user, which means if you have a large team, the cost can add up quickly. Again, this is a matter of doing your diligence to understand what HubSpot will cost you now, what it may cost you in the future, and what your other options are.
For example, if you're looking at a more enterprise-focused solution like Salesforce Pardot versus HubSpot's Growth Suite, you'll generally find HubSpot is cheaper or comparable cost-wise. However, if you're comparing HubSpot's Growth Suite pricing to using multiple more SMB-focused platforms (like Mailchimp, Hootsuite, etc), you'll find HubSpot to be much more costly.
Con: CRM not as "configurable" as other solutions
One of the biggest reasons that companies will decide to go with CRMs like Salesforce, Microsoft Dynamics, or SugarCRM over HubSpot is the ability to custom-build their instance to perfectly document and track their current processes and match their needs.
While HubSpot did release the Enterprise capability to create Custom Objects for the CRM, making it much more configurable than before, you are still limited in what functionality you can custom build into your portal (for example, you won't be able to have a developer custom-build widgets into your portal).
However, before you write this off entirely as a con for your business, consider whether or not custom building a CRM will be as effective as using one that is built to be user-friendly and easy to learn.
Many companies spend months (and even years!) and thousands of dollars having custom CRMs built that perfectly capture every little piece of their process. The problem is, these systems often become so clunky, cumbersome, and outdated that no one actually uses them.
The reason that HubSpot is less configurable is so that when updates and improvements are made to the platform, it doesn't break all of your customizations, it adds to them.
Also, since the release of Operations Hub in 2021, this has become even less of a con. With functionality like custom-coded workflow actions, data sync with other platforms and CRMs, and custom data sets, HubSpot now allows organizations to do more custom configuring of the HubSpot platform than ever before.
Chapter 2: Marketing Hub
HubSpot's Marketing Hub has been around the longest and therefore has some of the most robust functionality of any of the platforms.
From creating conversion paths with calls-to-action, landing pages, and forms, to automating your email campaigns and managing your social and ads accounts, Marketing Hub has a vast amount of tools to help you execute your digital marketing strategy.
Pro: Collect data on all of your marketing efforts
HubSpot's Marketing Hub was built to collect data on just about everything you do as a marketer.
You'll be able to collect and use data on everything from who's engaging with your emails and where your traffic is coming from to how pages on your website are performing and how many clicks your social media posts are getting.
You can use all of that data to segment your contact database in a way that allows you to personalize reporting, contextualize all of your marketing campaigns, and refine your overall strategy.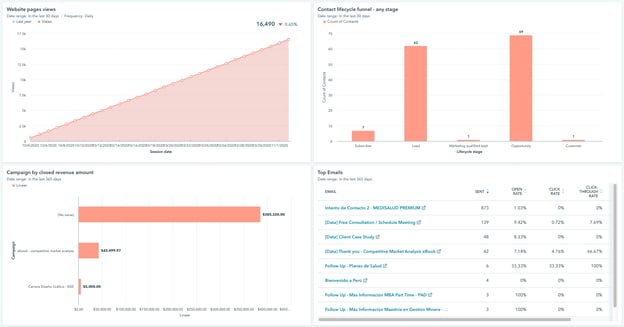 Pro: Powerful segmentation options
Speaking of segmentation! You can use any data that's being captured in your Marketing Hub portal to segment your contact database.
Create things like lists of contacts who have been engaged with your site recently for your sales team to do outreach to, or use information you're collecting on your web forms to drop contacts into different nurturing campaigns based on specific criteria they meet.
Segmenting your database in this way allows you to create more personalized, contextual marketing campaigns without having to spend hours and hours pulling lists and manually creating segments.
Check out this HubSpot Academy lesson on "Creating a Contact Management and Segmentation Strategy" for more on what you can do in HubSpot!
Pro: Powerful automation
One of the reasons HubSpot was created in the first place was to help marketers spend less time doing menial tasks and more time doing strategic things that matter.
HubSpot's Marketing Hub not only has a ton of little automation features across all of its tools (think: scheduling social media posts or getting a notification email when a form is submitted), but it also has an entire automation engine built on top of the CRM called Workflows.
You can use Workflows to automate just about anything — from lead qualification and handoff to email nurturing campaigns and internal notifications. If you master the Workflows tool, you'll be able to create an efficient marketing engine that allows you to automate the menial things so you can focus on the big stuff.
I explain how to use them in detail in our free course Marketing Automation Mastery with HubSpot Workflows.
Pro: Easy lead generation
Most marketers looking into HubSpot's Marketing Hub are looking to do one main thing: generate more leads. But how do you actually do this?
With any marketing software or tool, you need a way to capture contact information (most critically email addresses) so you can market to those people.
HubSpot makes that simple and easy with straightforward tools for capturing leads. Call-to-action buttons, drag-and-drop landing pages, and simple web forms that you can embed on any page of your website allow you to create end-to-end conversion paths.
Pro: Straightforward drag-and-drop emails and landing pages
Historically, one of the most frustrating parts about starting with a new marketing platform is the learning curve to be able to create new marketing assets.
What if you don't know how to code HTML emails? What if you don't have a developer in-house? Do you have to hire someone to build those things for you?
Not with Marketing Hub! HubSpot has an easy-to-use drag-and-drop builder for both creating emails and for creating landing pages.
This functionality coupled with the easy-to-use form builder we just mentioned allows non-technical marketers to create entire conversion paths with automated follow-up in minutes without touching any code.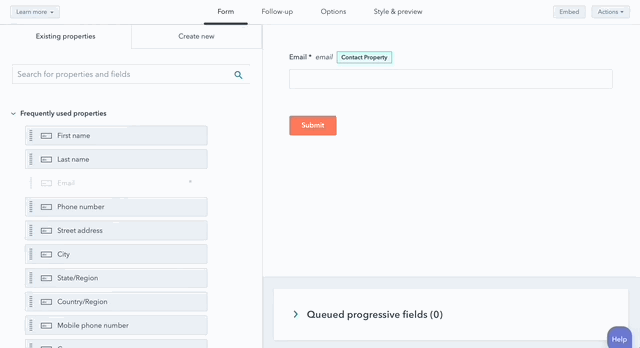 Con: Paying for contacts (even with the "marketing contacts" option)
Earlier in this article, we mentioned pricing as one of the potential cons of HubSpot's Growth Suite. That same con applies to the Marketing Hub individually, but there is also an additional piece of pricing that comes only with the Marketing Hub that can be a point of contention.
Unlike the Sales and Service Hubs, a subscription to HubSpot's Marketing Hub comes with a required Contacts subscription. This means you must pay per 1,000 additional contacts in your portal (each tier comes with a certain amount of "free" contacts to start).
If you have a small database that you're not looking to grow significantly, this likely won't be an issue for you, but, if you have a high volume of contacts and you're looking to continue generating more and more, you may find yourself paying thousands of extra dollars a year (or even a month!) just to store those contacts.
HubSpot did release the "Marketing Contacts" option, which allows you to only pay for the contacts you are actively marketing to. Depending on your database setup, this could save you from paying for contacts that you aren't actively engaging with.
Con: Getting started takes time
Wait, didn't you just mention that it's quick and easy to get started creating assets and conversion paths in HubSpot?
Well, yes. It can be.
If you know exactly what you want to do with Marketing Hub, it really is quick and easy to get up and running and start using the platform right away, but if you're new to the inbound methodology and to marketing automation technology, it can be easy to get lost in all of the different functions that are available to you.
Make sure you spend time taking HubSpot Academy's Marketing Software Certification to understand what you can do in the platform and to start developing your strategy for how your business should be using it.
Con: Limited "templates" to help you get started with automation
When comparing HubSpot to other enterprise-level marketing tools, you may notice that most of HubSpot's automation setup must be done completely from scratch.
While there are a few templates in Workflows, they only cover fairly basic automation setups like assigning new web leads or setting a contact's lifecycle stage. This means if you don't have in-depth knowledge of how to use Workflows, you may find it difficult to build out automation properly.
Chapter 3: Sales Hub
HubSpot's Sales Hub is a "powerful sales CRM software to help teams close more deals, deepen relationships, and manage their pipeline more effectively." And of course, what sales team doesn't want that?
Individual sales reps can use the platform to manage their day-to-day activities with tools like deal pipelines, email templates, and detailed contact records, while sales managers can use the platform to do sales forecasting and create reports on how their teams are performing.
Pro: User interface and usability
This pro is by far the fan favorite of sales reps everywhere. When companies have custom-built or configured CRM platforms, there is often a lack of user-friendliness that keeps reps from going in and keeping information up-to-date. This lack of adoption inevitably leads to messy data and inaccurate reporting.
The clean and simple design of HubSpot's deal board, contact and deal records, and reporting dashboards makes it easy to work in the platform day-in and day-out, leading to higher rep adoption of the tools, and ultimately great data and even better reporting.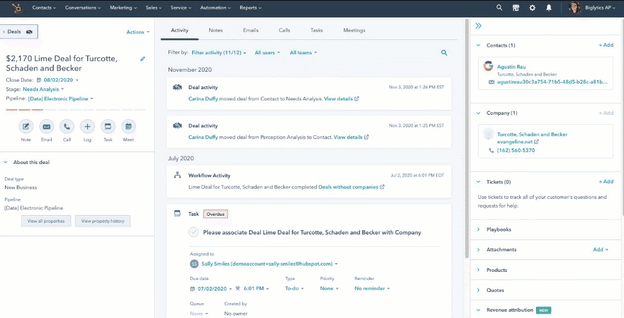 Once your admins have set up your deal pipelines and processes, any savvy rep can go in and get started right away, and even tech-averse reps find it easy to learn after just a little bit of training.
Pro: Keep track of your entire sales process
Just say no to spreadsheets! Too many sales teams (including IMPACT's up until a few years ago) use spreadsheets to track all of their sales opportunities and do their revenue forecasting.
With Sales Hub, you can set up your deal pipelines to keep track of the things that matter to you.

You can customize what information your sales reps have to input and when, and you can even set up automation when different activities happen around deals.
With the custom report builder, you can then build dashboard reports that show how effective your sales process is, from the highest level (ie. total closed-won revenue) to the smallest detail (things like the conversion rate from stage to stage for each individual rep).
This means your reps can spend less time updating spreadsheets, and more time working deals.
Pro: Tools for improved individual efficiency
Not only does Sales Hub have a great way to track and manage your deal pipeline, but it also has a whole bunch of tools that make sales reps' day-to-day even easier.
With tools like email templates, sales sequences, meeting schedulers, and task queues, individual reps can manage their entire workflow right within the platform.
What's more, sales managers are able to report on any sales activities happening on the rep level, meaning they can coach their reps based on real productivity data.
Con: While the basic setup is easy, setting things up effectively can be much more difficult
Just like with Marketing Hub, Sales Hub is easy to use, and many users can get started very quickly. However, in order to get your portal set up properly, you need to make sure you have your sales processes documented and have a clear understanding of how you want your pipelines and deal stages to be set up.
There is a lot you can customize — you can create custom deal properties based on your unique sales process, you can configure each user's permissions based on what information you want them to be able to see, and you can customize what each team or rep sees when looking at deal records.
All of this opportunity for customization can also present an opportunity for chaos, so make sure you take the time to be strategic about your setup.
Here's a great place to start (even if you're using the Free tools!).
Chapter 4: Service Hub
The newest of the three major hubs, the Service Hub is a set of tools for managing and tracking your entire customer service process.
Ticket pipelines allow you to manage and track incoming inquiries in a single view, while the knowledge base and customer feedback surveys help you deliver an exceptional service experience.
Pro: Easy-to-use ticketing pipelines for managing inquiries
Just like the Sales Hub, HubSpot's Service Hub has a user-friendly interface that makes it easy for customer service reps to get up and running on the platform quickly.
With customizable ticket pipelines and statuses, you can easily keep track of any customer service or support inquiries that come in, and then report out on any of that data.
You'll be able to see how many tickets each of your reps are closing for a given period of time, and do things like see which categories of tickets take the longest to resolve.
Pro: Team inbox
If your team uses a general support email address (i.e. support@company.com), you can connect that email to a HubSpot Inbox and manage all incoming inquiries as a team from one place.
You can have those incoming inquiries automatically made into tickets and round-robined to your reps to evenly distribute the ticket load.
What's even better, if your team uses HubSpot's live chat, those conversations will live in the same place, making it easy for your reps to manage all of their work in one place.
All of this ultimately enables your team to deliver the best end-to-end customer experience they can, while using real data to continuously improve the process.
Pro: Knowledge base to store support assets
If you have a customer support team, they likely have a whole lot of resources they pull from when answering customer questions.
Service Hub makes it quick and easy to set up a searchable Knowledge Base that your customers can reference before they submit a support ticket. This knowledge base can also be used in chatbots you set up.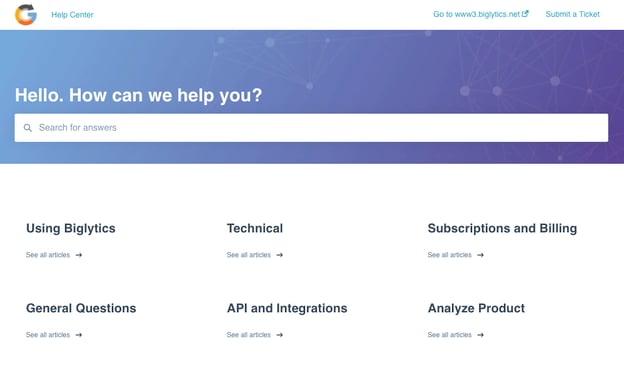 You'll then be able to see what users are searching for and if they're finding your articles helpful, helping you to prioritize which content to create and update as you go.
Pro: Follow up on your support processes with surveys
One way to know how effective your customer service team is this: look at speed and volume — how many tickets reps are closing and how fast that's happening.
But that's only helpful if you know that, when a ticket is closed, the customer's problems are actually getting solved in the best way possible and they have no further questions.
A way to know how happy your customers are is that you have more and more deals closing and low churn, but that's only helpful if you know that your customers are so happy they would refer their friends to you or stick around.
Enter: feedback surveys. Service Hub allows you to send CSAT, NPS, and CES surveys to your customers to get feedback on all different parts of the customer experience.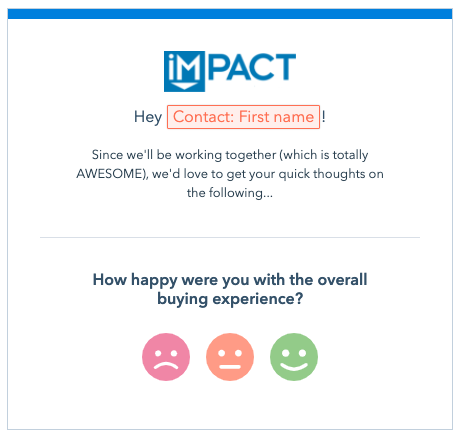 (CSAT Survey Example)
No more assuming customers are happy or satisfied. Now you can not only know with real data, but also act on it!
Con: Survey functionality is currently limited
While You can do CES, NPS, or CSAT surveys and customize the wording, your flexibility with surveys pretty much stops there right now. In November 2020, there was a public beta for custom feedback surveys, but there are still some limitations.
Con: Limited features
Service Hub was released to the public in May of 2018. Because it's the newest of the three main Hubs, that also means it's the most basic.
If you need a more sophisticated customer service platform with robust features like a completely customizable knowledge base and survey tool, you'll either need to look at a tool like Zendesk, or wait a year or two.
Service Hub has already come a long way in terms of functionality since it was released, and there are more updates on the horizon.
Chapter 5: CMS (Website) Hub
The CMS (content management system) Hub is what you'll need if you want to build and host your entire website on HubSpot. There are two tiers — professional and enterprise.
CMS Hub Professional gives you everything you need to build a standard website (think: nicely designed pages with text and images only). CMS Hub Enterprise gives you added functionality to be able to build things like web app experiences, host additional brand domains, and have more control over governance.
Pro: Developer-friendly and marketer-friendly
In 2020, HubSpot released the new-and-improved CMS Hub, and the best thing about it? It's made HubSpot's CMS a unique combination of both robust developer features and a simple front-end experience for marketers.
When used to its fullest, developers can create sophisticated websites that blur the lines between website and web app, while at the same time making it easy for marketers to create and edit any page.
This means companies can save time and money by having their in-house teams make updates to website pages rather than needing developer resources for every single update. Plus, marketers can quickly execute campaigns that include new website pages without needing any outside resources.
Pro: Your website and your CRM are beautifully intertwined
When you're using HubSpot's Marketing Hub, having your site hosted on HubSpot and managed in your HubSpot portal makes life a lot easier.
You don't need plugins or other tools to start capturing leads and engaging with them, it's all built into the platform. With HubSpot's tracking capabilities, you can see how leads are interacting with your site, what pages they've viewed, and other actions they've taken.
You can then optimize pages and the journey overall or even create personalized website experiences by using the contact data housed in the CRM in conjunction with the CMS' dynamic content functionality.
Considering whether to put your website on HubSpot or WordPress? Check out this detailed comparison.
Con: Cost
With so many free website builders out there, the sticker shock for HubSpot is real. With plans starting at $240 per month, building and hosting your website on HubSpot is certainly an investment.
While no robust website host will ever be free (just because WordPress is technically free doesn't mean the cost of plugins and other tools needed won't add up!), you should look at using CMS Hub as a marketing and sales investment (after all, your website is your best salesperson!).
Websites are no longer just a virtual storefront, they're what get your buyers 70% of the way through the buying decision before talking to one of your salespeople. When looked at in this way, making an ongoing financial investment in a great website platform just makes sense.
Chapter 6: Community and Support
With every major software implementation comes a unique set of challenges and decisions to make. So while it's helpful to know the pros and cons that come with the software itself, there are also bigger-picture pros and cons that come with implementing and using tools for the long term.
That's where community and support come in. To be successful with any major software investment, you're going to need to leverage both the support that the platform provides, as well as other members of the user community to troubleshoot issues that come up and generate ideas around how to most effectively use the tool.
Pro: HubSpot Academy
We've talked about this, but it's worth repeating here. HubSpot Academy is just downright awesome and is a huge benefit of using the tool.
It's also worth noting that while HubSpot Academy has a large number of educational resources you can consume without being a HubSpot user, it also has an extensive Knowledge Base for users that has documentation around every tool and functionality. It's Google for HubSpot, and it's awesome.
Pro: HubSpot Community Forum
While HubSpot Academy's resources are awesome, they are meant to be general and apply to as many people as possible.
The more you use HubSpot, however, the more you'll realize there are a million different ways you can use the platform, and everyone that uses it likely does things slightly differently.
HubSpot's Community Forum has an endless list of user questions, feature requests, and solutions from HubSpot employees and partners.
If you've got a question about whether or not you can do something in HubSpot, the Community Forum is your place to go. Oftentimes, you'll find that someone else has had the exact same or a similar question, and there may already be a solution ready for you.
Pro: An extensive partner agency network
While HubSpot's own support resources are great, they know there's only so much they can do for their thousands and thousands of customers. That's why they have a network of agency partners that work with HubSpot customers to find success with the platform. (Spoiler alert: we're one!)
If you don't have the in-house resources to execute your marketing, sales, customer service, and/or website strategies, partner agencies can help in a variety of ways, from training and education to implementation.
Pro: Customer success managers and teams (for pro and higher)
If you're using a HubSpot Professional or Enterprise product, you'll be assigned to either a Customer Success Manager or Customer Success Team at HubSpot that will stay connected with you on an ongoing basis to make sure you're getting the most out of your investment.
Having this connection inside the proverbial orange walls means you'll be able to get support directly from the source if you run into an issue that you just can't solve.
This resource adds an additional layer of accountability to make sure you continue pushing toward your goals, rather than just trying to make sure you keep paying for the platform.
Con: High support volume can increase wait times
If you're working on a high-priority task in HubSpot, and need some additional help from HubSpot Support, it can be hit or miss how quickly you'll get help based on how much volume there is at your time of inquiry.
This can be frustrating if it keeps you from doing things like launching an email campaign on time. While many times you can get an answer from Support right away, don't assume you always will be.
Chapter 7: Integrations
As we've mentioned previously, HubSpot does a lot, but it doesn't do everything. What's important is not that it does every single possible business function, but that it can talk to other tools you're using to keep your processes running smoothly.
That's where integrations come in.
Pro: HubSpot has hundreds of apps in its ecosystem
Over the last several years, HubSpot has opened up its API in a way that has allowed app developers to build easy-to-use integrations between HubSpot and other tools.
As mentioned previously, there are hundreds of integrations in the App Marketplace that can be set up in just a few clicks.
Integrating popular tools like Gmail, Outlook, Eventbrite, Slack, Zoom, Shopify, and SurveyMonkey is quick and easy, and there are more apps being added to the marketplace every day.
Con: Custom integrations can come at a price
The App Marketplace is great, but what if the tool I want to integrate with HubSpot isn't in the App Marketplace? Can I still integrate them?
The answer is yes, you can, but it'll have to be a custom-built integration, and these integrations can come at a high price and be cumbersome to manage and keep up-to-date.
While there are certainly many companies who have found success with custom integrations, if you want to go that direction you'll need both time and money to invest in developing them.
Now, give HubSpot a try!
Sure, it all sounds great in theory, but the only way to know what we're really talking about is to give HubSpot a try for yourself.
All these tips we shared with you on how to get your sales teams using HubSpot illustrate those we recommend to our very own clients using our They Ask, You Answer framework. It has helped them overcome the obstacles many marketing teams face and go on to generate a healthy, more efficient sales pipeline and millions in revenue.
Also check out these additional resources to help you grow your business with inbound marketing:
With strategic coaching and hands-on training for your sales teams, we can help your company improve your marketing efforts and scale your business.
Free Assessment:
How does your sales & marketing measure up?
Take this free, 5-minute assessment and learn what you can start doing today to boost traffic, leads, and sales.