Healthcare industry marketing strategy: Building trust, gaining customers (+ examples)
Better than an agency? These real-world examples show how healthcare businesses are using a proven framework and an internal marketing team to attract customers.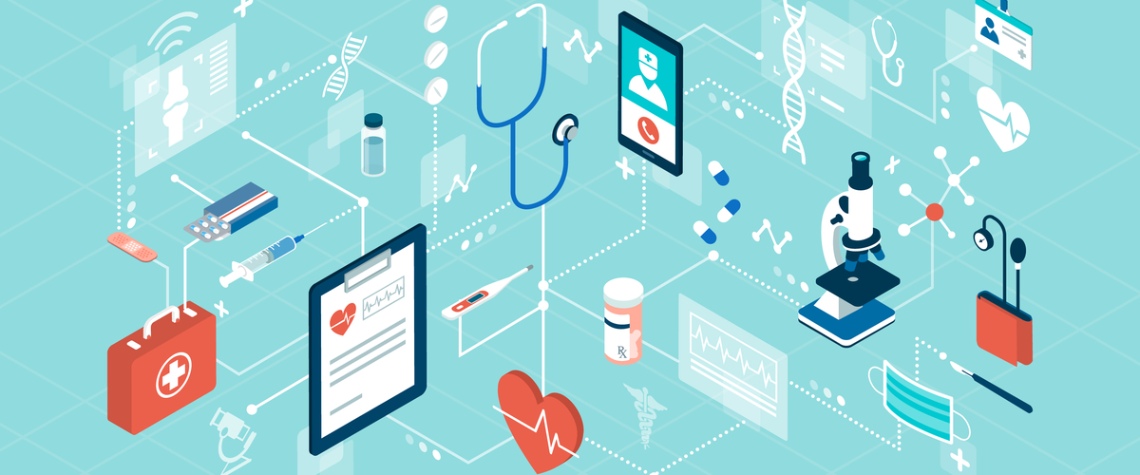 The healthcare industry is so big it almost defies comprehension. The global health industry is expected to be worth over $10 trillion by 2022 — and in the U.S. it represents around 18% of total GDP. Think about that a second: Nearly a fifth of the national GDP is represented by one industry.
In many cities and municipalities, a healthcare organization is the largest employer. In Boston, for example, seven of the top ten employers in the city are hospitals and other healthcare-related businesses.
Such an immense industry encompasses a great swath of businesses, non-profits, educational instructions, and more — and these all have unique marketing needs. So, it can be hard to generalize about marketing efficacy.
However, we have seen inbound marketing efforts pay dividends for various healthcare businesses, and the possibility of using inbound techniques to drive revenue for healthcare organizations presents exciting opportunities for the industry at large.
Inbound marketing: An overview
At the most basic level, inbound marketing is really simple. It starts off with a basic premise: The internet has changed the way people buy. When customers are thinking about making a purchase, whatever it is, they start by gathering information. They do this with a computer and a search engine.
They begin by typing in questions and gathering information. When a company offer transparent, helpful content, these potential customers begin to build a relationship with that company. If they read a few articles on the same website, that company becomes someone they recognize and trust.
All you have to do is answer their questions with written and video content.
With the right strategy, healthcare businesses can drive traffic to their websites, building trust with prospects who turn into leads and customers.
While developing a full content strategy is an intensive process of market research, keyword analysis, and customer insight, it's easy to get started with what you already have: A clear knowledge of your business, your industry, and the basics of SEO best practices.
To start simple, just focus on the questions your customers are asking.
They Ask, You Answer
Years ago, in the dark days of the Great Recession, business owner Marcus Sheridan found a way to save his company. Facing an overdrawn bank account and a dwindling customer base, he set out to openly and honestly answer customer questions on his website.
Marcus had been in sales for years, so he had heard pretty much everything his buyers wanted to know. What's more, he was frustrated by having to answer the same questions over and over in every sales call.
So, with the basic principles of inbound marketing in mind, he set out to write detailed answers to every question he had heard from buyers over the years.
If buyers had asked a question, Marcus would answer it.
These articles began to drive traffic. Lots of traffic. Potential customers were drawn to the honesty and transparency Marcus showed.
From this small beginning, not only did Marcus save his business, but he developed a broader business philosophy that centered around this one belief: Trust is the currency of all business. Customers buy from companies they trust. If you can build trust with potential buyers, you can grow your business.
He called his philosophy They Ask, You Answer.
If you help customers feel informed instead of pressured, they will trust you.
So, how do you determine what your customers want to know?
🔎Related: The step-by-step 12 month DIY They Ask You Answer implementation plan
The Big 5: Five topics certain to drive traffic and bring in leads
When it comes to any purchase, customers are interested in the same information. In essence, they want to make sure they're getting the right product or service for a great price.
In order to feel comfortable buying something — especially if the purchase is a big one — they start looking for answers to their questions. If you're willing to be the source of information for their questions, they will begin to see you as trustworthy and transparent.
The thing is, this means answering questions that can be touchy and complex. For example, will you be willing to openly address cost on your website? How about covering potential drawbacks of your service?
Embracing content marketing and They Ask, You Answer means undergoing a mindset shift. We focus on educating our buyers and building trust with them.
To do so, address these five topics:
Cost: First on everyone's mind, of course, is cost. Sure, it's hard to say exactly how much something might cost — especially something with as many variables as something in the medical field — but customers want to have some idea. Addressing cost openly (and explaining what factors make that number go up and down) will give customers the information they're looking for.
Problems: When we make a purchase, we want to know what might go wrong. This is why we're so drawn to 1-star reviews. Feeling informed about worst-case scenarios helps us be prepared for whatever could be thrown in our way.
Reviews: Connected to problems are reviews, ranging from those that focus on individual products to reviews of entire companies. According to Inc.,

84% of consumers trust online reviews

as much as they trust a review from someone they know.
"Best of" lists: Customers frequently Google questions that help them find the best solutions. According to research by HubSpot, from 2013 to 2017

there was a 900% increase in searches with the phrase "near me" included

. Thus, you can imagine searches like "best podiatrist near me" and "best insurance agencies near me" being very popular.
Comparisons: Consumers want to put things side by side to know how they stack up. Providing these head-to-heads can help demonstrate your expertise and make your potential customers feel informed to make the best choice possible.
To get started with content marketing, cover these topics as they relate to your products or services. Such content will inform your buyers and build trust with them.
So, how do you address these topics in the healthcare field? Let's look at some examples from across the industry.
The first question on everyone's mind: Cost
In 2013, Time Magazine published the longest article in its nearly 100-year history. At 24,000 words, Steven Brill's exposé dove into the complex world of healthcare costs. This cover article, called Bitter Pills: Why Medical Bills are Killing Us, created a stir and a flurry of responses from major industry organizations.
When making any major purchase, cost is on every buyer's mind. Perhaps in no industry is that intensified the way it is in the healthcare field.
For one, costs can vary widely, with tests, treatments, equipment, services, and products yielding strikingly different charges in different situations. (In Brill's article, he notes one test that costs $13.94 when paid by Medicare and $239 in other settings. CT scans can range from $300 to more than $12,000.)
Suffice it to say, when it comes to any transaction within the vast field of healthcare, cost is hugely important, and buyers are looking to gather information about cost with Google.
Organizations that openly address cost will drive traffic to their sites and serve customers at the same time.
Check out this article from New Choice Health covering the cost of CT scans. Notice how author Catherine Poslusny describes the range of factors that influence cost — from type of CT scan to geographical location.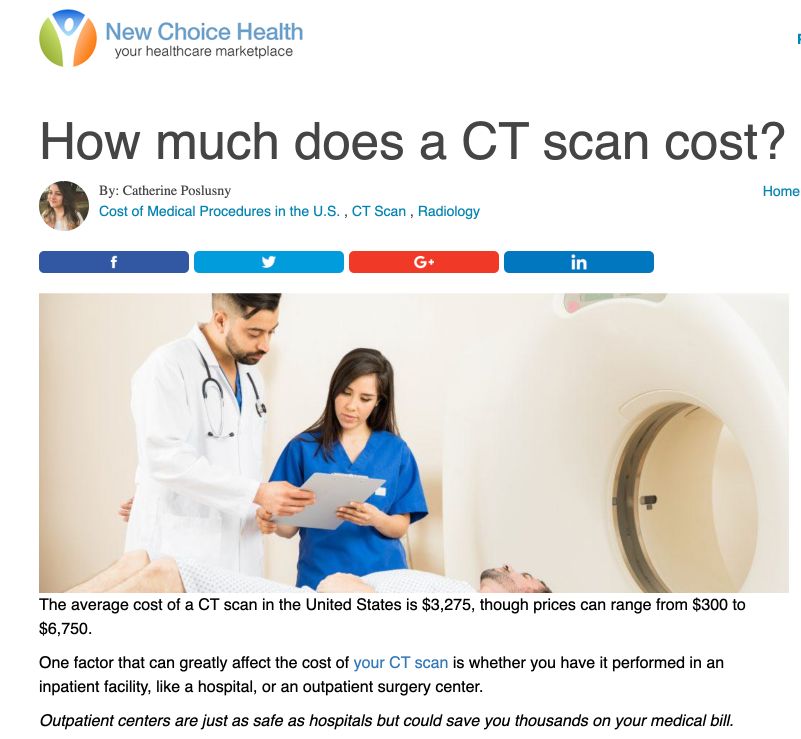 After all, if the range can go from a few hundred bucks to more than $10,000, consumers want to know what they should expect to pay — especially if they have no insurance or have a high deductible plan.
Here's a chart from the same article: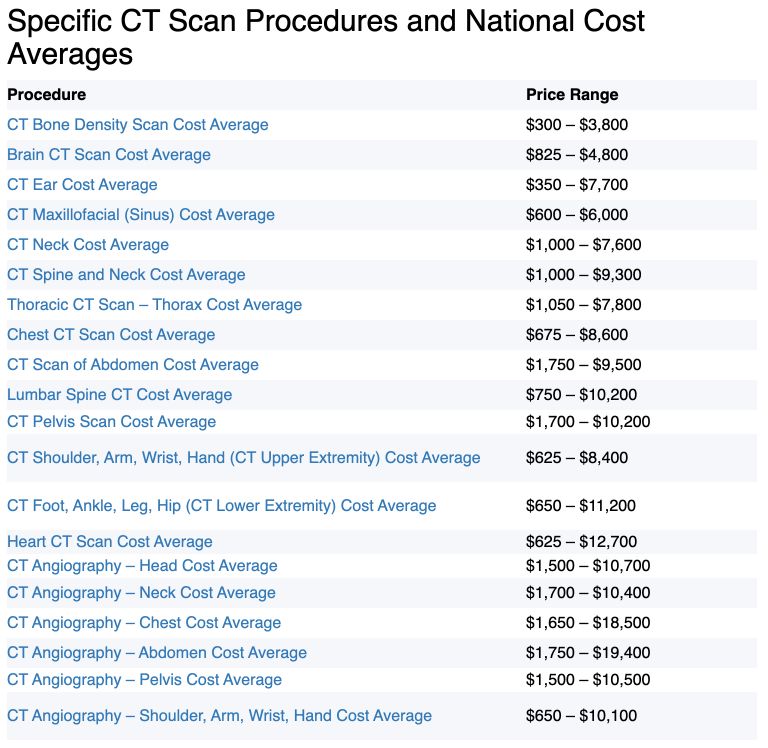 Content like this is a huge traffic play and is typically hard to find.
🔎Related reading: How to write an effective cost article for your business
Openly addressing problems
No matter what's being bought or sold, customers want to know what might go wrong. This helps assuage their anxiety and misgivings.
Writing about problems in the healthcare field can be particularly tricky, but it offers a chance to be candid with your audience. Advanced Data Systems Corporation (or ADSC) is a healthcare automation company that's been in business for more than 40 years.
They are industry leaders in trust-building content that drives traffic to their website and garners leads and sales.
Here, company BDM Jim O'Neill dives into the 7 financial challenges of opening a COVID-19 reference laboratory.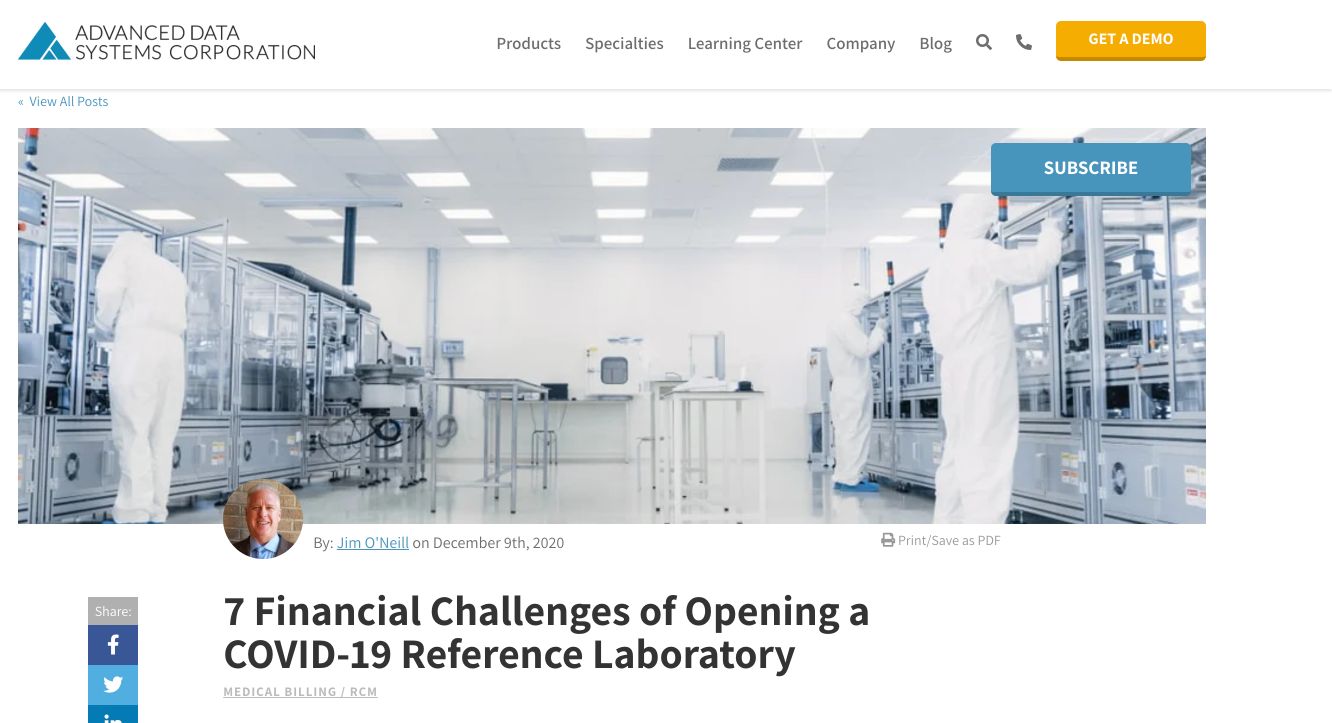 What I love about this article is that he's not out to dissuade your company from opening such a lab — just to inform you of common pitfalls that could make your venture too costly to be viable.
There's no hard sell anywhere in the article. Just good, helpful information for users who are considering this sort of undertaking.
🔎Related: The Big 5: How to write great "problems" content
Objective, candid reviews
Studies have shown that merely adding a review aggregate to a product listing will increase sales dramatically. As buyers, we want to know the experiences of those who came before us. We value the experience they can offer us.
As inbound marketers, reviews are particularly tricky. Buyers are skeptical of phony reviews and worry that reviews appearing on a company's site might be cherry-picked. This is why neutral review aggregators like Google and Yelp are so valuable.
Still, honest discussion of products and services can be highly beneficial to your audience. Beyond building trust with buyers, review-based content can help weed out bad-fit prospects. If buyers can be sure that your product is the right fit for them, the sales process will be quicker and smoother. Conversely, if they know they're bad fits, they will drop out.
While we often think that getting as many leads as possible is the goal, unqualified leads end up wasting time. They either don't move forward in the sales process or they become unhappy customers.
Here, Software Advice provides a highly scannable piece of content that reviews a well-known healthcare software service.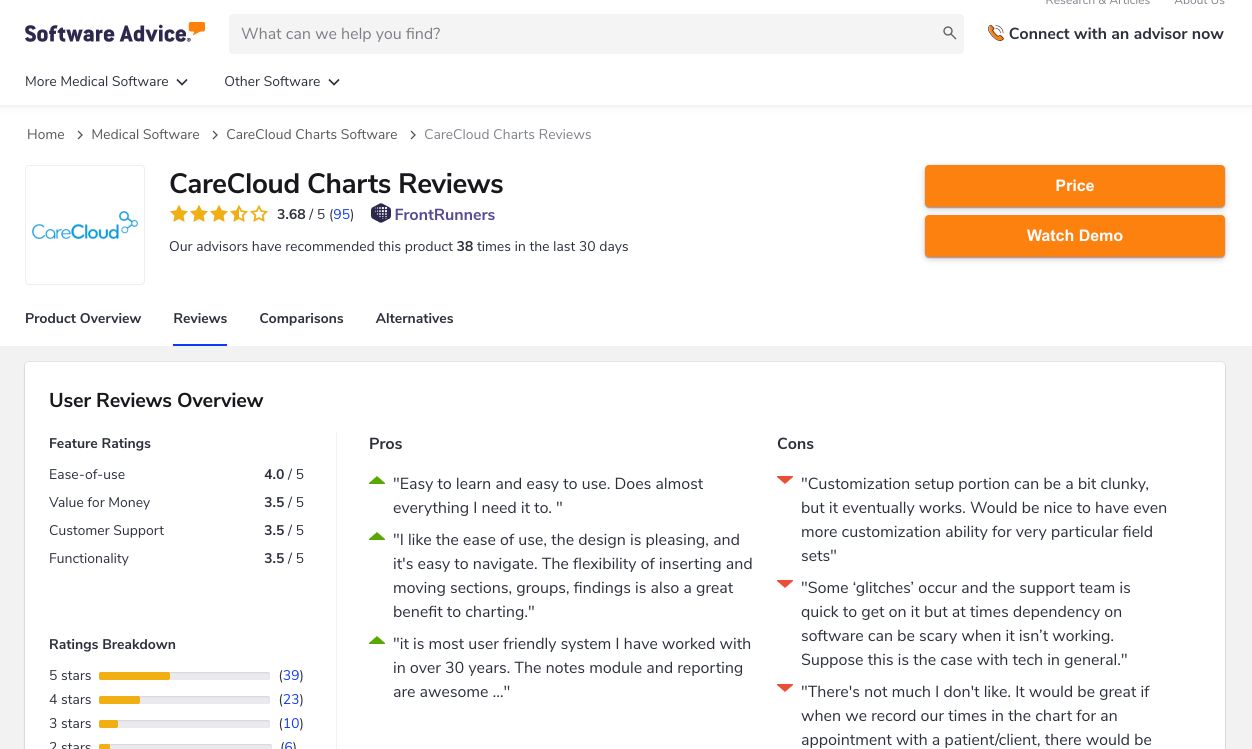 With both narrative elements and user-generated reviews, this content leaves readers feeling more informed about their options.
Offering readers "Best of" lists
Just as buyers are drawn to content about problems, they also want to see what their best options are. Searches for "Top restaurants near me" or "Best project management software" drive hordes of traffic to websites that offer such content.
Going back to ADSC, we see the most recent entry in a series of articles: The top healthcare events and conferences of 2021.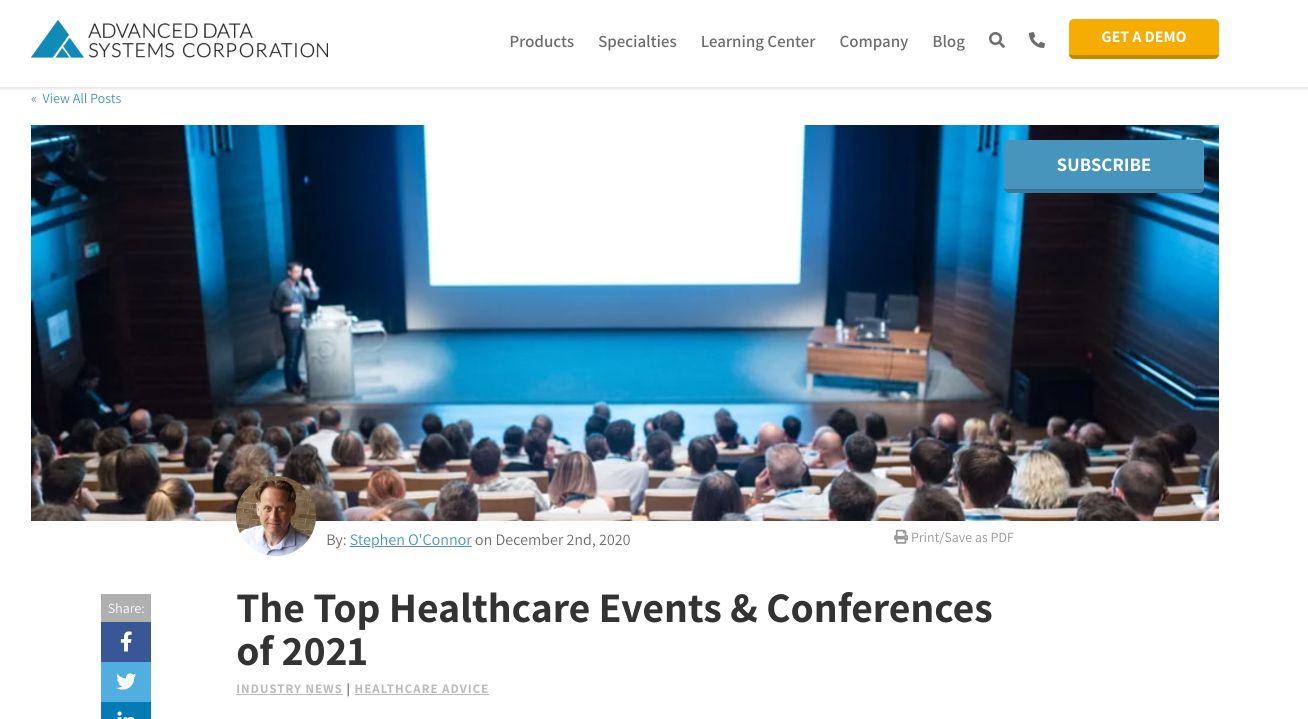 We immediately know that this article is not some yearly-updated relic. Careful attention is paid to COVID-19 protocols, noting which events in 2021 are virtual and how various organizations have bounced back from the pandemic.
Helping customers make meaningful comparisons
Whether buying medical software or roofing tiles, customers want to line up options to compare them. We're naturally drawn to content that promises a head-to-head comparison. When buyers see various attributes compared for similar products, they get into the nitty-gritty of what puts one option ahead of another.
More importantly, comparisons allow buyers to find the best option for them. After all, each customer is different. We don't want to make the decision for them. We just want to present the information so they can make the best decision themselves.
ThoroughCare is a medical software company that focuses primarily on Medicare reimbursement. Here, Russ Godek dives into a comparison that will surely help clear up confusion between two competing options. EHRs vs Care Management Software: What's the difference?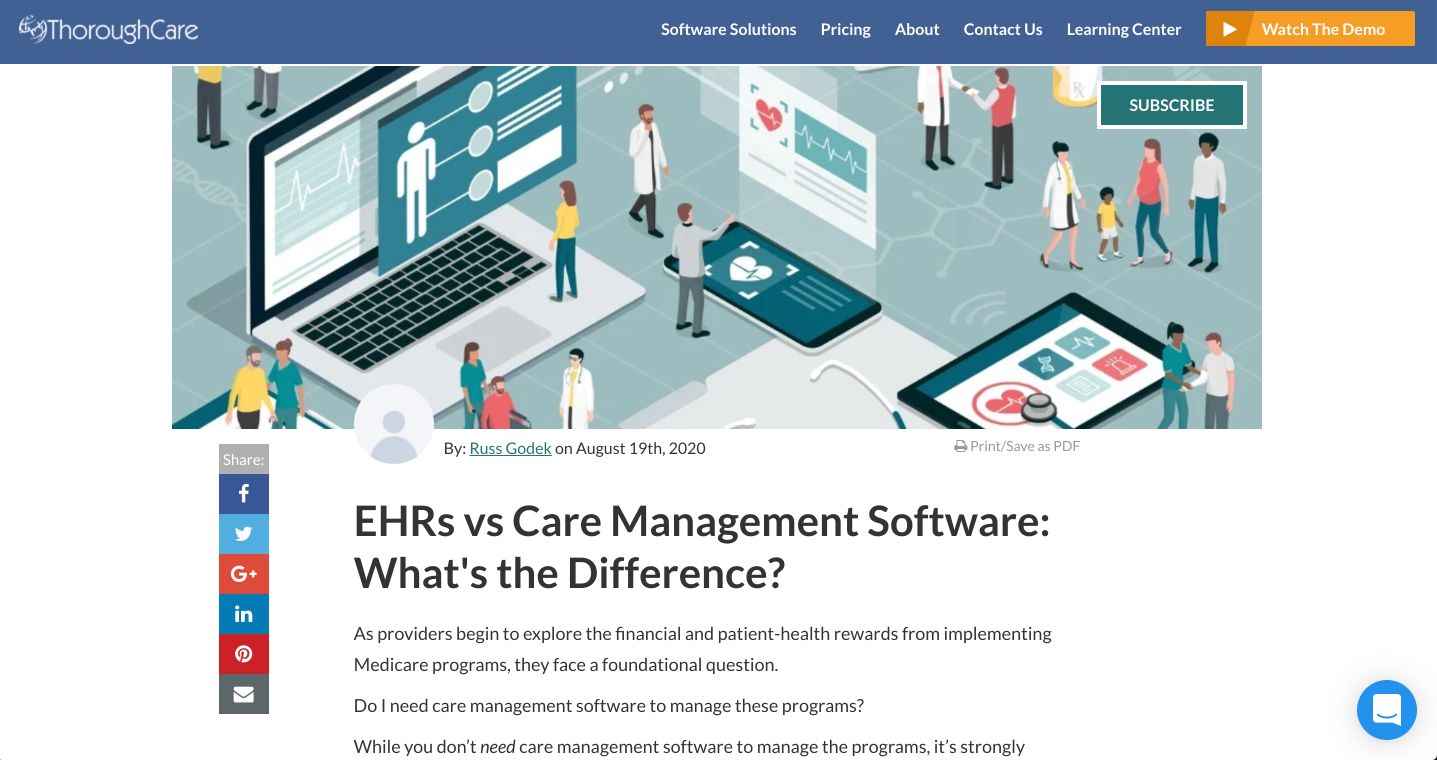 First, there is a clear explanation of each, then a thorough comparison that uses empirical data to describe common pain-points.
Any great content strategy must also include video
Writing about these five topics is a great way to get started with inbound marketing. However, just producing written content is not enough.
A true content marketing strategy is not just about the written word. Increasingly, site visitors expect to see video.
We recommend using video to address the same topics listed above. After all, when it comes to building trust, video is a game changer. When we see and hear a person speak, we start to feel like we know them. In turn, we begin to forge a connection through the screen.
Savvy content marketers can use this to their advantage, employing both written and video content to connect with as many potential customers as possible.
🔎Related: How to run a seamless, blended written and video content strategy
Getting started with your inbound marketing initiative
Embracing inbound marketing means shifting many aspects of your marketing strategy, including budget and personnel. In order to do so effectively, plan on hiring a content manager who can orchestrate the entire operation — from writing content to planning content strategy, interviewing subject matter experts, building email marketing campaigns, and more.
🔎Related: We've never done Big 5 content: Where do we start?
If video is a priority for you (and we believe it should be), consider hiring a videographer as well. Investing in hiring and training these professionals may seem daunting at first, but the pay off from a well-run content marketing initiative can be massive.
We've worked with businesses in the medical field who have seen great success in content marketing — and we believe the industry is ripe for broader implementation of the They Ask, You Answer methodology. After all, healthcare touches all of us.
Whatever corner of the industry you occupy, whoever you sell to, remember the central principle: trust is the currency of all business.
If you can create content that answers customer questions, that allays their fears, that softens their concerns, you can build trust, drive traffic, and become the trusted resource in your space.
Published on January 11, 2021