Inbound Marketing for Staffing Agencies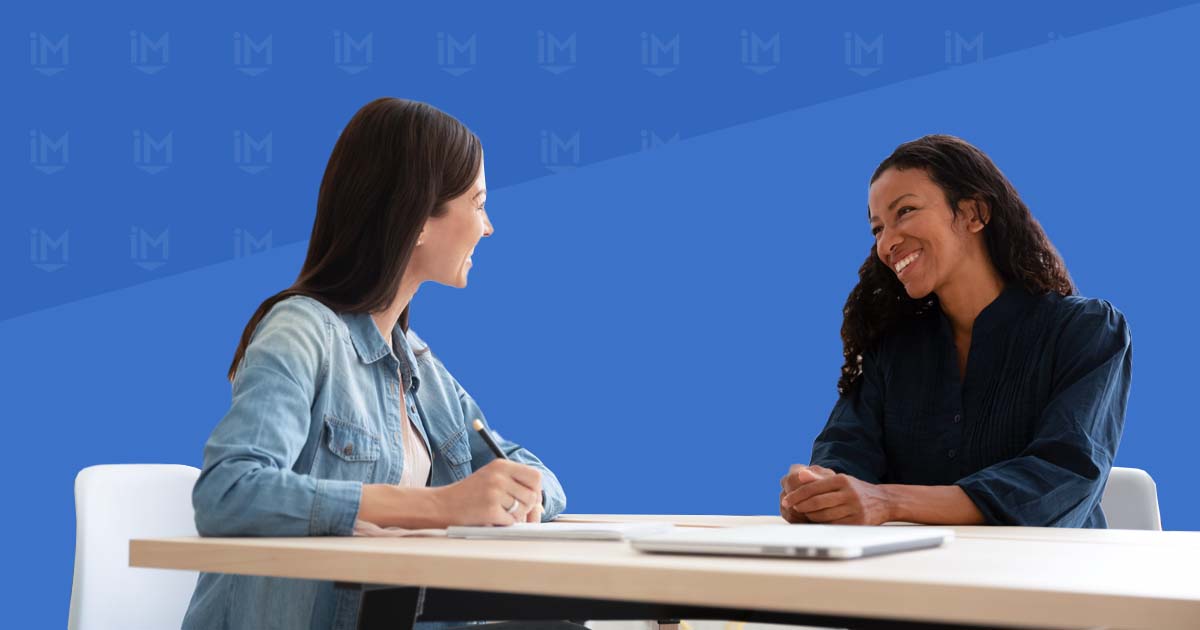 It's often difficult for staffing agencies to pull ahead of the competition — especially when traditional marketing tactics no longer work as they used to.
Every year, it seems that radio ads, cold-calling, and paid advertising return diminishing results. While these marketing channels get the word out about your business, they are fleeting and leave two important stones unturned: They don't establish your business as the No. 1 authority in your industry and they don't build trust with your prospective clients, which are both essential for growing a thriving staffing agency.
Your clients need to trust that your agency has what it takes to find them the best candidates possible — and this means you must understand their needs inside and out.
The right inbound marketing strategy can attract prospects, build trust with them, and help them become customers — all for much less than you're spending today. Below, I'll cover what you need to know to get started with inbound marketing at your staffing agency, including:
An overview of inbound marketing.
Content topics that attract more good-fit traffic.
Real-world examples of businesses like yours succeeding with inbound marketing.
Why your clients hire you
Any of your clients could search for and vet candidates themselves — but when they hire you, they trust that the investment they make in your agency will win them the perfect fit. You need to demonstrate that your agency:
Is familiar with current staffing trends.
Understands your prospect's industry.
Will research candidates thoroughly before making a recommendation, whether your client is filling a highly skilled leadership position or making a temporary hire.
It's for all these reasons that inbound marketing — a marketing method that uses compelling content to educate and build trust with prospects — is particularly well suited for staffing agencies.
At IMPACT, we teach B2B businesses like yours how to garner more traffic, leads, and sales with a simple inbound marketing framework called They Ask, You Answer. It's a more in-depth process than firing off a one-time email or ad, but our world-class case studies show that the method works.
If you're ready to increase the number and quality of your leads for your staffing agency, let's dive in!
What inbound marketing is and why it's beneficial to your staffing agency
Inbound marketing is a digital sales and marketing strategy that has replaced traditional "outbound" marketing avenues that are no longer effective, such as billboards, cold calls, ad campaigns, and one-off emails.
People are tired of being interrupted by ads.
We're now seeing that an average of 50% of adults in the United States use ad blockers on their desktop computers, and about 30% use them to block ads on their phones.
While these traditional marketing channels no longer work as they used to, inbound marketing aligns with the way buyers want to shop — by researching and finding the answers to their questions online.
Results of a Demand Gen B2B buyers' survey found that 56% of B2B buyers first discovered information about their solutions via web search (while 39% found what they were looking for via vendor websites, and 35% through word of mouth).
They also found that 79% claim content was the biggest factor in their buying decision.
The data is clear: When we use inbound marketing to create content that connects with our buyers and demonstrates how we can help them solve their problems — even when we operate in the B2B space — it becomes far easier to encourage prospects to come to and buy from you.
This means the leads that come to your site because they read your content are more educated and better acquainted with your brand, and, therefore, more ready to buy.
The inbound sales and marketing process requires hard work and consistency
While the concepts of inbound marketing are simple, they are not easy to do well.
You need to publish content at a regular cadence (we recommend three articles per week), and your content must be helpful for your clients while reflecting on the industry your clients serve.
Your buyers want to know about the solutions to their problems and the answers to questions such as:
How do I find top-level candidates in the tech industry?
Which questions should I ask candidates to see if they are a good fit for my company culture?
How can I hire a more diverse workforce in the construction industry?
What are the best ways to retain top talent in the architecture space?
Each of these questions can be answered in one piece of content, but they should be as in-depth and well thought-out as possible.
This is why we always recommend that our clients hire a content manager.
Hiring a content manager
Hiring a content manager is the first step toward being truly successful at inbound. Only then can you tackle all the topics that will draw in the right buyers and help you scale your business.
We've seen businesses attempt to add on content marketing responsibilities to staff who are already wearing too many hats, and it's never worked out. In this scenario, content creation is almost always put on the back burner and never gets the chance to function as it should.
Your content manager will ensure content is published regularly without fail. They will also:
Create high-quality content that helps your clients solve their major pain points.
Interview your company's subject-matter experts (SMEs) and capture their insights.
Work directly with the sales team to integrate valuable content into the sales process and close more deals faster.
Monitor your organic search performance and improve ranking and traffic results.
Update existing content to ensure it remains relevant and effective.
Oversee the other content-critical areas of your sales and marketing initiatives (including your website, email outreach, and social media).
As you can see, this role is truly a full-time job and someone has to own it — preferably in-house where it is far easier to capture your agency's voice and represent your brand.
Speaking of topics, here are the five that drive traffic to your site and build trust with your prospects.
5 content marketing topics that drive traffic and build trust with your buyers
No matter the industry you serve, there are five main topics your buyers want you to cover — and it is our responsibility as business owners to provide them with the information they seek.
At IMPACT, we call these topics The Big 5, and they include:
Cost: Whenever we go to a website, one of the first things on our mind is, "How much is this service going to cost me?" And when we can't find the answer to this question, we get frustrated. Even though you might not be able to publish a chart of specific costs, since your services likely vary, publish content that explains what drives costs up and down. Your prospects will appreciate your transparency and have at least some understanding of your cost structure before they reach out.
Problems: When we purchase goods and services, we want to know what might go wrong.
Your buyers are asking questions such as:
What are the disadvantages of hiring a staffing agency?
Does working with a staffing agency make the hiring process easier?
What common problems occur when using a staffing agency?
What happens if a candidate your staffing agency recommends doesn't work out?
If you can anticipate the problems your clients have and write about them, it gives you the opportunity to talk about the elephant in the room and shows your willingness to be transparent.
Reviews: Your buyers want to read reviews, whether of products, services, or entire companies. Writing unbiased reviews about the products and services your clients use to hire their staff, such as

Manatal

,

hireEz

, or

Recruiterflow

, demonstrates your knowledge of the staffing industry and shows how much you care about seeing your clients succeed.
Best-of lists: Companies frequently search for "best of" content, including, "Best staffing agencies near me," or "Best staffing companies for finding engineers." Focus on the industries you serve so you can attract the appropriate buyers for your area of expertise.
Comparisons: When buyers consider making a purchase, they want to stack up their options and weigh the pros and cons. Comparing products and services helps your buyers feel like you're helping them make the best choices possible.
Answering these questions in blog articles and videos will help get right-fit buyers to your site because when you write about them honestly, it adds another layer of helpfulness to your content and makes it better for converting leads.
You can learn more about how to write these articles by taking our online course, How To Write The Big 5.
Real-world examples of staffing agencies using inbound marketing
Now that you know which questions to answer on your website to drive more traffic, leads, and sales, here are some examples from staffing agencies succeeding with inbound that will inspire your own marketing strategies:
One unique aspect of staffing agencies is that they have a dual purpose, and therefore require two different approaches to their messaging. This is because, on one hand, they need to attract the attention of their buyers — the businesses seeking to hire top talent. On the other hand, they need to gather a pool of talent to offer as a solution to their buyers, so you will also need to create content that appeals to job seekers.
Allegiance Staffing — an agency that serves the manufacturing, hospitality, and healthcare spaces — does this well on their blog since they write for both their clients and for job seekers.
They feature a career blog where they answer questions such as:
What Are 5 Automotive Manufacturing Jobs and Their Responsibilities?
What Are Tips for Working Your Way Up to Warehouse Supervisor?
Is Working at a Hotel Stressful?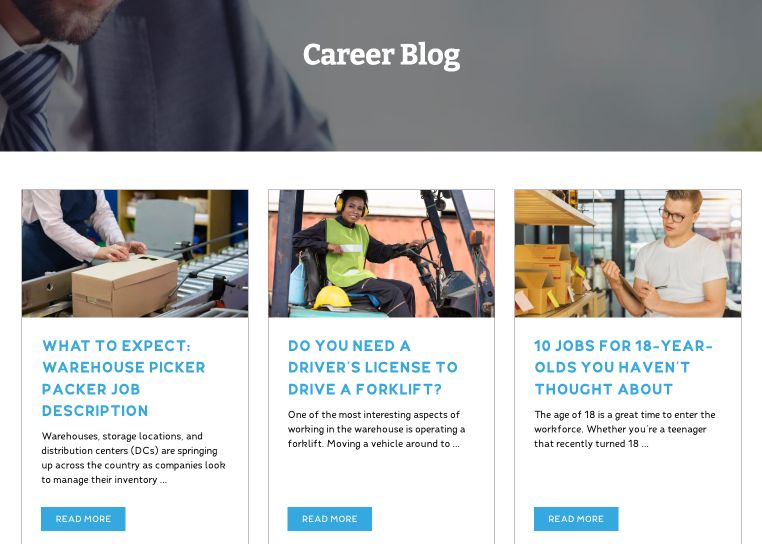 This keeps their pipeline of talent full for their paying clients.
Speaking of blogging for paying clients, Allegiance publishes a separate blog for employers that explains the ins and outs of staffing: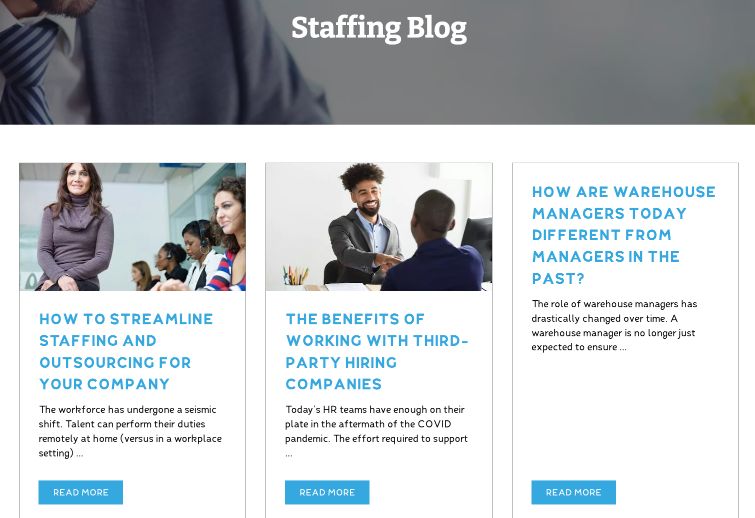 This is a great example of how to create valuable content that draws in both employers and job seekers.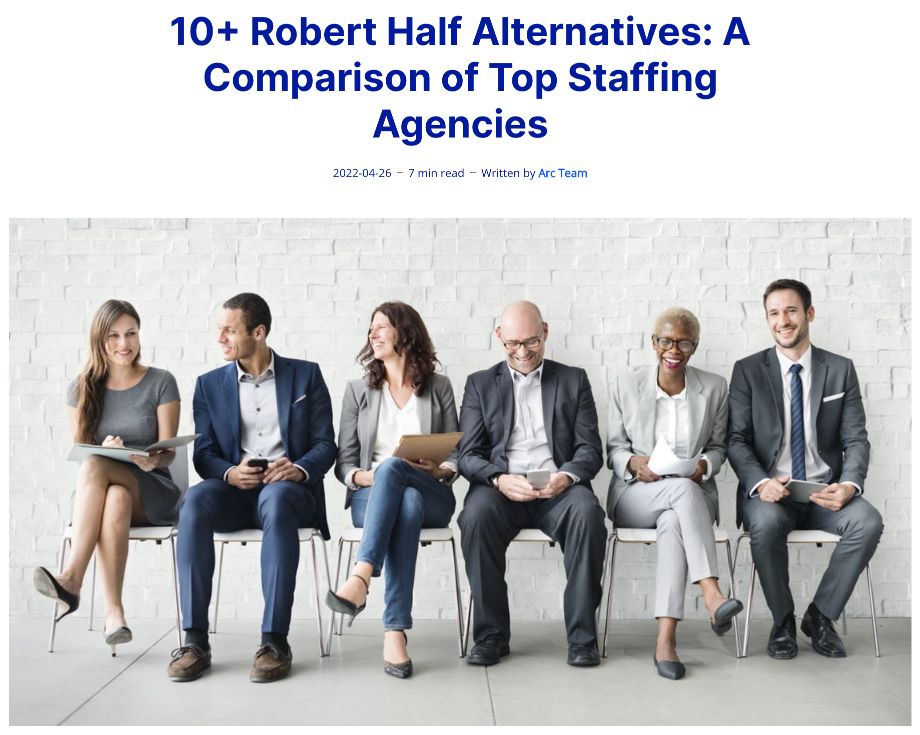 Arc helps match employers with Silicon Valley-level web developers worldwide.
In their article "A Comparison of Top Staffing Agencies," they share comparisons of staffing agencies to use other than the popular Robert Half.
They share information their clients need to consider, such as whether the agency is IT-specific, where it's located, and whether they advertise a quality guarantee.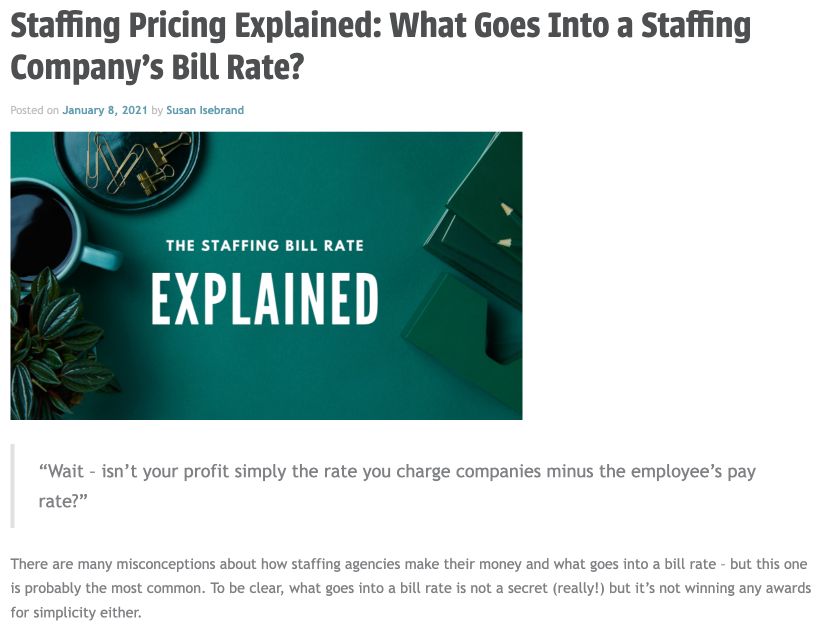 This article by Advent Talent Group, a Twin Cities-based agency that helps businesses find temporary staff, is the perfect example of how staffing agencies can write about cost. They cover how the billing process works, how agencies calculate labor and all of the factors that affect cost.
They even cover billing terms. This would be a great piece for your sales team who would otherwise need to answer these questions over the phone. Think of how much time they could save in their sales process by forwarding this article in advance of their sales calls.
For an example of a great problems article, read JC Porter's post, "The Most Common Employment Agency Problems and How to Solve Them." This Denver-based agency takes the time to educate readers about problems that can occur with finding the right candidate, timeline issues, using data in the recruitment process, and more.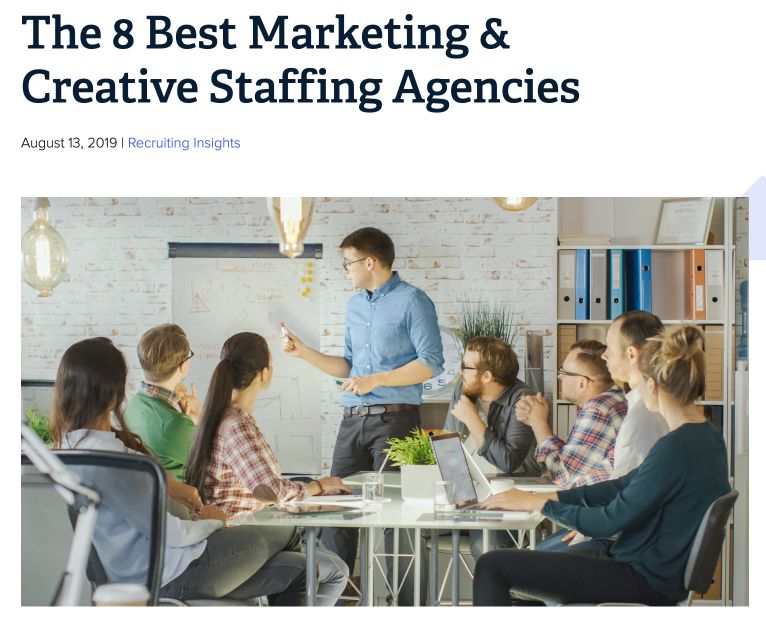 Our final example comes to you from 4 Corner Resources, a staffing agency in Orando that serves the technology, finance, marketing, and healthcare industries. "The 8 Best Marketing and Creative Staffing Agencies" shows you how to write a great "best of" article. They include helpful information about jobs each agency fills and locations they serve, and they also include information about the company.
The only thing we would recommend is not to include yourself on the list, but to offer your services toward the end so as to not appear biased.
How to optimize your content for search engines to get found
While answering your prospective client's most pressing questions will help you rank for important keywords without giving too much thought to the technical aspect of SEO, it's important to understand the basics.
These SEO best practices will ensure all the inbound marketing effort you put into your website gives you the best results possible.
1. Develop content based on target keyword research
As you develop your content strategy, use SEO tools such as Semrush and Ahrefs to make sure that when you choose your topics, you're also pursuing the best keyword choices possible.
This will help you align your content with what your buyers are searching for.
2. Use effective titles and meta descriptions
Make sure your titles use important keywords and appear clickable (meaning they appeal to your target audience).
Also, use strong meta descriptions that will get people to click on your content. This text will appear underneath your title in the search results and explain what the reader can expect by clicking on the article.
3. Optimize all images
You want your pages to load as quickly as possible, so make sure your image file sizes are as small as they can be.
Google Lighthouse is a great tool for scanning your site and finding images that might cause it to load slowly. Your CMS might have tools that help with photo optimization as well.
4. Include a number of internal and external links
Make it a habit to link to relevant articles on your site as well as those pieces not from your company. Google wants to see that you're providing readers with lots of relevant information — and not just your own.
Learn more about search engine optimization by taking our free course, Technical SEO Basics for Inbound Marketing or read our article 9 SEO Best Practices for Stronger Organic Traffic.
The best inbound marketing strategy is focusing on education
Inbound marketing is one of the best ways to educate your audience about what it is you do. Not only does it show your expertise in your industry, but it also builds trust with buyers slowly and more deeply than other marketing avenues.
IMPACT has helped hundreds of businesses grow their traffic, leads, and sales with inbound, and you can learn more by taking courses on IMPACT+ or reaching out to one of our advisors.
It's the one thing you can do to grow your business and hit your biggest marketing goals — by adapting to the way your prospects want to buy.
Free Assessment:
How does your sales & marketing measure up?
Take this free, 5-minute assessment and learn what you can start doing today to boost traffic, leads, and sales.