Inbound Marketing for Insurance Companies, Agencies, and Agents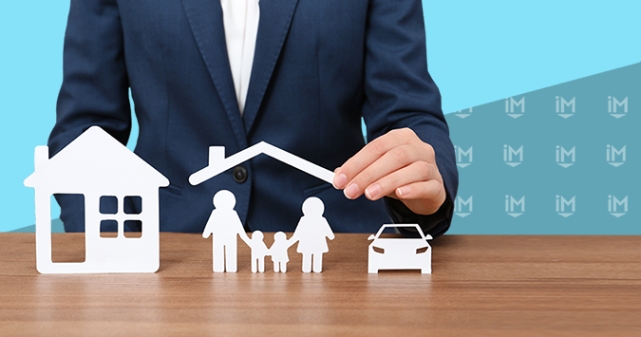 Small to midsize insurance agencies operate on an unlevel playing field.
You're up against huge multinational brands that dominate nearly all traditional marketing avenues. Not only are the big guys plastered on billboards and joking through every TV commercial break, they're also all over the digital space, from social media to YouTube and more.
What's frustrating is that you (as a smaller insurance agency or individual broker) almost always offer better service than your big competitors. You build relationships and tailor your offerings to each policy holder's needs and budget.
This is insurance done right — but it's hard to get your message out.
But there's good news. Inbound marketing offers a chance to level the playing field. Search engines can democratize the entire internet — and if the content you produce speaks to buyers, you can corner the market and reach your audience in a way that mailers and cold calling never will.
Insurance is something that touches everyone's life — often in the most painful and vulnerable moments. When an insurance business operates with trust as its core principle, it has the capability of building its customer base and carving out a niche that the huge brands can't touch.
At IMPACT, this is what we help businesses do: expand their audience, capture new leads, and grow their revenue with trust as their guiding principle. With the right inbound marketing strategies, small insurance providers can punch well above their weight.
Want to see how you can do it in the insurance field? Below, I'll spell out the critical first steps your insurance company can take to succeed with inbound marketing.
I'll cover:
An inbound marketing overview for insurance agencies
Inbound marketing basics: Start with what your customers want to know
An effective email marketing strategy
Why the website your buyers want is not as far away as you think
Ready? Let's dive in.
Inbound marketing for insurance agencies
At its core, inbound marketing is really simple. It starts off with a basic premise: The internet has changed the way people buy.
Nowadays, when customers are thinking about making a purchase, they start by gathering information online. They do this by typing questions into a search engine and looking for information.
This is where you (and inbound marketing) come in.
When you learn to do inbound properly, you can direct these searchers right to your company's website.
To do this, your company must produce content that answers these buyers' questions. This could be in the form of blog articles, ebooks, FAQ pages, videos, podcasts, or another medium.
The content you produce will show up in search results. When a visitor clicks through, they're brought to your site.

For example, if they search "Do I need nanny insurance?" in Google, your article could be the one that pops up to explain what nanny insurance is, what it costs, and how they can determine whether or not they need it.
When a company offers transparent, helpful content, these potential customers are drawn to it. After all, inbound marketing differs from traditional marketing because it avoids salesy, self-promotional content.
When site visitors find unbiased, valuable content, they begin to build a relationship with the company that published it. If they read a few articles on the same website, that company becomes a brand they recognize and trust.
Taking the first steps to get started
To get started with inbound marketing, all you have to do is answer your buyers' questions with written and video content.
Here, IMPACT client Berry Insurance, a 100-year-old local agency in Massachusetts, explains how they've used our They Ask, You Answer inbound marketing framework to drive traffic, leads, and sales.
With the right inbound strategy, insurance businesses like yours can drive traffic to their websites and build trust with prospects, who will then turn into leads and customers. And you can do this without having to rely on outbound marketing.
To do so, you'll need to develop a content strategy to guide your inbound marketing efforts.
You already have what you need to get started: A clear knowledge of your insurance agency, your industry, and your customers.
To start, just focus on the questions your customers are asking.
Inbound marketing strategy: What do your customers want to know?
The key to doing inbound well, we believe, is to answer any question your buyer wants to ask.
So, what do your customers want to know?
Start by putting yourself in your customer's shoes. Imagine it. You're sitting down in front of a computer, opening up a search engine, trying to learn more about insurance.
What do you search for?
The topics we call 'The Big 5'
Customers everywhere, no matter what they're in the market for, want to know the same basic things. We call these five topics The Big 5 because they should be on the top of every inbound marketer's list.
Start by addressing these topics in blog posts. Use an SEO (search engine optimization) checklist to make sure your content can get found. Each week, keep expanding your content library with more and more answers to buyer questions — just like the ones below.
1. Buyers want to know about cost
On top of everyone's mind is cost. Sure, it's tough to say exactly what an insurance premium will cost, but customers just want a ballpark, so be prepared to have an answer to questions like the following:
About how much can I expect to pay in renter's insurance?
What is an average monthly premium for pet insurance?
Answering questions about cost openly and honestly will build trust with your audience. Insurance agencies operate at a trust deficit to begin with, so candid, nothing-to-hide content puts people at ease.
When you talk openly about price, it becomes clear that you're invested in educating your audience.
2. Buyers want to be able to compare their options
Customers want to put things side by side to know how they stack up, so you should be prepared to do this for them in content:
Term vs. whole life insurance: What's the difference?
How does Cigna compare to Anthem Blue Cross?
Providing these head-to-heads can help demonstrate your expertise and make your potential customers feel informed to make the best choice possible.
3. Buyers want to know about problems and drawbacks
Insurance is all about peace of mind when disaster strikes. Whether it's a car accident, a burglary, or a surgery, customers count on insurance to provide stability and relief when life turns upside down.
People shopping for insurance know this. They know they're buying something they hope they never have to use — but they want to be sure they're covered and supported when they do.
Imagine topics like these:
What are the drawbacks of high deductible plans?
What can happen if I don't have enough travel insurance?
4. Buyers want to see 'best of' lists
You can bet that many potential customers are starting their journey with a search engine and a question like this:
Best insurance brokers near me
Best flood insurance plans for my budget
Best service ratings for car insurance
And so on.
As an insurance professional, you have the expertise to answer these questions and put your content at the top of search results.
After all, if a potential customer is asking any of these questions, wouldn't you want them to get the answer from you?
5. Buyers want to read reviews from previous customers
This one's a bit tougher because there is some natural skepticism around reviews posted to a company's site. But that doesn't mean reviews aren't valuable. Customer testimonials and other social proof can help assuage fears and make the buying process more familiar.
Think of ways to incorporate this into your website.
Thinking beyond The Big 5
While The Big 5 is a wise place to start, the insurance industry comes with its own unique questions that buyers everywhere want to know.
These include a million "What is…" and "Do I…" type questions. As you plan your content strategy, pull some team members together and brainstorm some questions your buyers might type into search engines, such as:
What is a 100-year flood zone?
What is an HSA?
Do I need extra liability coverage for my auto policy?
What is amortization?
Do I save money on car insurance if I work from home?
What is PMI, and do I need it?
You get the idea.
Gated content
Once you've built up a library of educational content, you can focus on creating high-value content that can help with lead generation. Perhaps it's a guidebook to everything you need to know about renter's insurance or a checklist for getting your teen driver on the road.
Site visitors could give you their contact information to download this type of free ebook. This way, you grow your audience and your mailing list.
Inbound marketing strategy: Email marketing
Everyone needs insurance, which means that everyone (at least every adult) is a potential customer. And the opportunities for cross-selling are tremendous.
That person buying insurance for their business might also need it for their motorcycle. Or their home. Or their upcoming trip to the Maldives.
As you build your database, engage with your audience through email marketing. But when you do so, focus on being helpful, not salesy. Remember to think like a customer. Picture your own inbox; what kind of emails do you want in there?
If your emails offer helpful, educational content, you will continue to build trust and deepen your relationships with your audience.
Don't succumb to fear-based content. People are already wary enough of insurance. So, instead of "You don't have enough property insurance and this will lead you to financial ruin!" offer a checklist or a guidebook to help people understand the coverage they need. You could cover topics such as:
Everything you ever wanted to know about renter's insurance (but were afraid to ask)
Teen driver checklist: Determining the coverage that fits your needs and budget
Term life insurance will give you peace of mind — and it's way less expensive than you think: Here's how to get started
Any email campaigns you initiate should invite your customers into a conversation by providing relevant content. Help them feel well-informed and that they're being treated fairly.
You can use marketing automation software to send the right emails to the right prospects at the right time.
The perfect website for inbound marketing
Often, businesses hoping to get started with inbound marketing are wary that they'll need a new website. In almost all cases, this is not true. You do not need a new website to get started with inbound marketing — you don't even need a great website.
Unfortunately, there are many website design agencies out there that will gladly take your money and sell you a full site redesign that you don't really need, telling you that it's critical to your inbound marketing program.
Not so.
Even if your current website is a bit outdated, it probably has all of the necessary functionality for inbound success:
Can you publish a blog article?
Can you interlink between blog articles or use a tag system to organize your content?
Can you use CTAs and landing pages to capture leads?
If your website can do these three things, you're probably good to get started.
Just remember, your website is for your customers, not for you. Focus on their problems and challenges. Speak their language.
Visitors will consider your site to be a better website than your competition's if you have the helpful content they need.
Your marketing strategy, evolved
If you've been doing cold calls, sending out mailers, or paying for billboard space, you've probably grown frustrated with how inefficient these traditional outbound marketing techniques can be.
Inbound marketing offers a better way forward that can help you grow your audience, drive traffic, generate leads, and increase revenue for your company — while clearly demonstrating the ROI of your marketing efforts.
It all starts with great content.
When you focus on helping your website visitors learn what they need to know, you can fill your inbound sales funnel with better-qualified leads.
Pay attention to the questions your sales team hears from existing customers and new clients. These are the questions that prospective customers are typing into search engines right now. If you can be the business to answer all of their questions about their insurance needs, you can be their insurance provider when they're ready to buy.
And if you want help with this, reach out to our team at IMPACT.
We live for this stuff.
Free Assessment:
How does your sales & marketing measure up?
Take this free, 5-minute assessment and learn what you can start doing today to boost traffic, leads, and sales.