What is email marketing?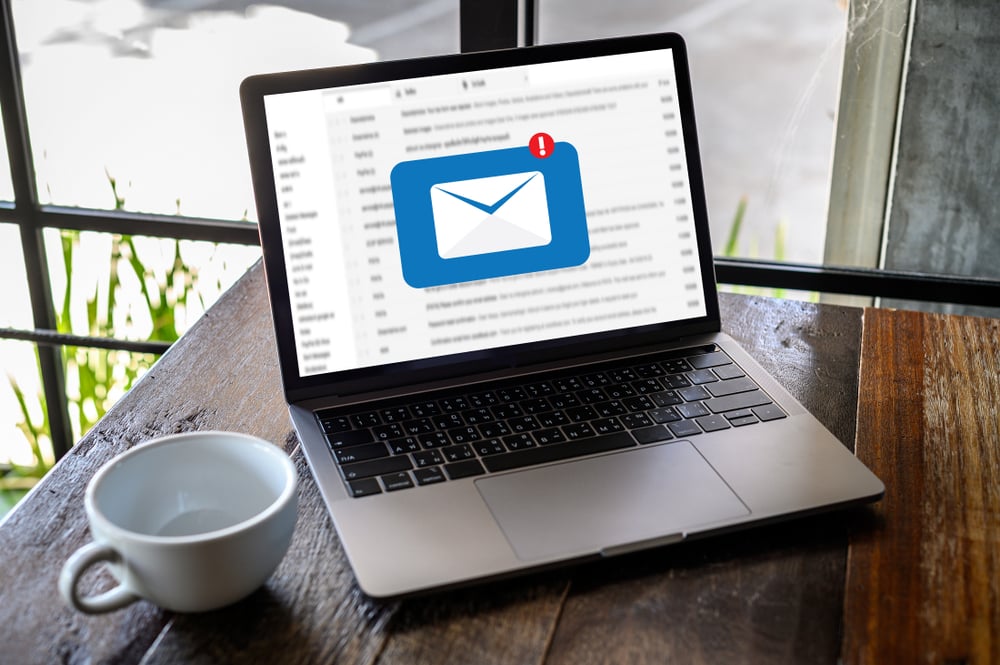 What is email marketing?
Email marketing is a way of reaching a targeted group of potential customers through email to spread awareness about a product, service, event, or offer. It also allows businesses to personalize and segment their marketing efforts, reaching the right prospects with the right message at the right time.
Email marketing is a way of reaching out to a targeted group of potential or current customers through email to spread awareness about a product, service, event, or offer.
Cultivating a database of email addresses from people who have viewed your products, consumed your content, or otherwise shown interest in your business (and consented to share their email addresses) allows you to contact people en masse who have a good chance of becoming customers or clients.
Email marketing allows businesses to personalize and segment their marketing efforts, reaching the right prospects with the right message at the right time.
Before a marketing email gets sent
However, a successful email marketing campaign starts long before you hit send. Really, email marketing begins the first time your company collects an email address.
From there, following best practices will ensure that your database stays clean and compliant, your contacts stay informed, and your emails end up in front of your intended audience and not in the spam folder.
Gathering email lists
If you're serious about helping customers and contributing value to their lives, the worst thing you can do is buy a database just to blast out emails. Instead, you should build a list by having people opt-in to receive information from you. According to IMPACT Content Marketing Consultant Jen Barrell, "the way you build a good list is to have superlative content that people can find organically. Then they can decide to opt in to receive more material."
Additionally, collecting emails from customers, clients, partners, webinar attendees, and other website visitors will help build your database. However, make sure people consent to share. Getting people to opt-in first is not just a best practice, though. If you're emailing anyone in the European Union, it's the law.
Database and list hygiene
Your email marketing efforts are only as good as your email list. Accordingly, you should frequently evaluate and clean your list to ensure accuracy. There are reputable tools that can help you purge duplicate or inaccurate data.
Inaccurate contact data can cause emails to bounce (more on that later), and this can affect your ability to send mass emails in general.
According to email marketing maven Stephanie Baiocchi,
"When you send to a poor-quality list of emails, when you consistently email people who've bounced, when you email people who've unsubscribed, it negatively affects your sender score and your reputation as an email sender, and it affects your ability to land in the inboxes of people who do want to receive your content.

Even people who've opted in, people who read your content every day, they'll stop getting your emails in their inbox if you can't keep your deliverability rate in check."
If you use HubSpot to send emails, for example, it can quarantine contact lists that are too poorly maintained.
It's no use boasting about a huge email list if duplicate data and other errors mean that the number of viable contacts is actually much lower. Such errors can also distort your testing and metrics.
🔎 Related: How master email list hygiene and improve deliverability
Automation and segmentation
Marketing automation software like HubSpot allows you to automate certain email functions. The system can send follow-up emails if someone abandoned their shopping cart or nurturing emails if a person made an appointment and then cancelled. Marketers can create guidelines and schedules to make sure emails are sent at the proper times.
Segmentation allows you to group your email list by varying criteria so that you can send more personalized and relevant emails. For example, segmentation allows you to send a particular offer only to repeat customers. Or, you might want to reach out to people in a particular geographical area.
After an email gets sent
After you send an email to a large group of people, there are several important metrics to track to evaluate the efficacy of your send.
Deliverability
As you might guess, deliverability describes the number of your emails that actually made it to your desired contacts. However, there are a few reasons your email might not have landed in an intended inbox.
Hard bounce - This refers to emails that couldn't be delivered because of a permanent reason. This could be due to a faulty email addresses or because the recipient's email server has blocked delivery. Perhaps this contact left a job, rendering their work email address moot. Or, perhaps the actual address was written incorrectly by mistake. Even more infuriating, the email might have been written incorrectly on purpose.
(At IMPACT, visitors can sign up to download certain materials. Frequently, though, we end up with email addresses like somebody@somecompany.com or mickymouse@sample.com.)
Soft bounce - These emails were not deliverable because of a temporary reason. Emails can soft bounce because the recipient's inbox is full, the email file is too large, or a variety of other reasons. If the email soft bounces, most email providers will attempt to re-deliver the email over a few days.
Different email providers have different thresholds for when a soft bounce becomes a hard (or permanent) bounce.
Spam - These emails can be delivered but are likely not "seen" by your intended recipient. Instead, the emails wind up in the spam folder in inboxes.
This could be in error, as servers use machine learning to sort and filter emails.
Stephanie explains it this way:
"Internet Service Providers (ISPs) assign sender scores to organizations that send email. The higher the score, the more likely it is that your email will wind up where it belongs. If the score falls below a certain threshold, ISPs may send the email directly to the spam folder. The score can be affected by a variety of factors including the amount of email sent, number of bounces, number of unsubscribes, and more."
Unfortunately, this means your well-intentioned message might be moldering in a sad dungeon cell along with ads for car insurance, free iPhones, and appeals from deposed Nigerian royalty.
It's worth noting that a recipient can also mark your email as spam, which banishes it to their spam folder and makes it more likely that your future emails to them will wind up there as well. It also puts a blemish on your reputation as an email sender.
Other important terms to know
Email open rate is the percentage of delivered emails that were opened by recipients. Note: this is calculated based on delivered emails.
If you send an email to 1,000 recipients but 50 hard or soft bounce, the open rate would be based on 950 emails.
There may also be a segment of emails for which delivery is never attempted at all. Sometimes this is because emails have hard bounced before or have been skipped due to exclusion criteria. If you have an additional 50 of these, then your open rate is based on 900 emails.
Open rates can vary greatly. If you're sending an email to people who have signed up to attend a particular event and your email includes important registration information, you can expect an open rate of over 70%.
Generally, a solid open rate is closer to 30%. Sometimes it might be lower.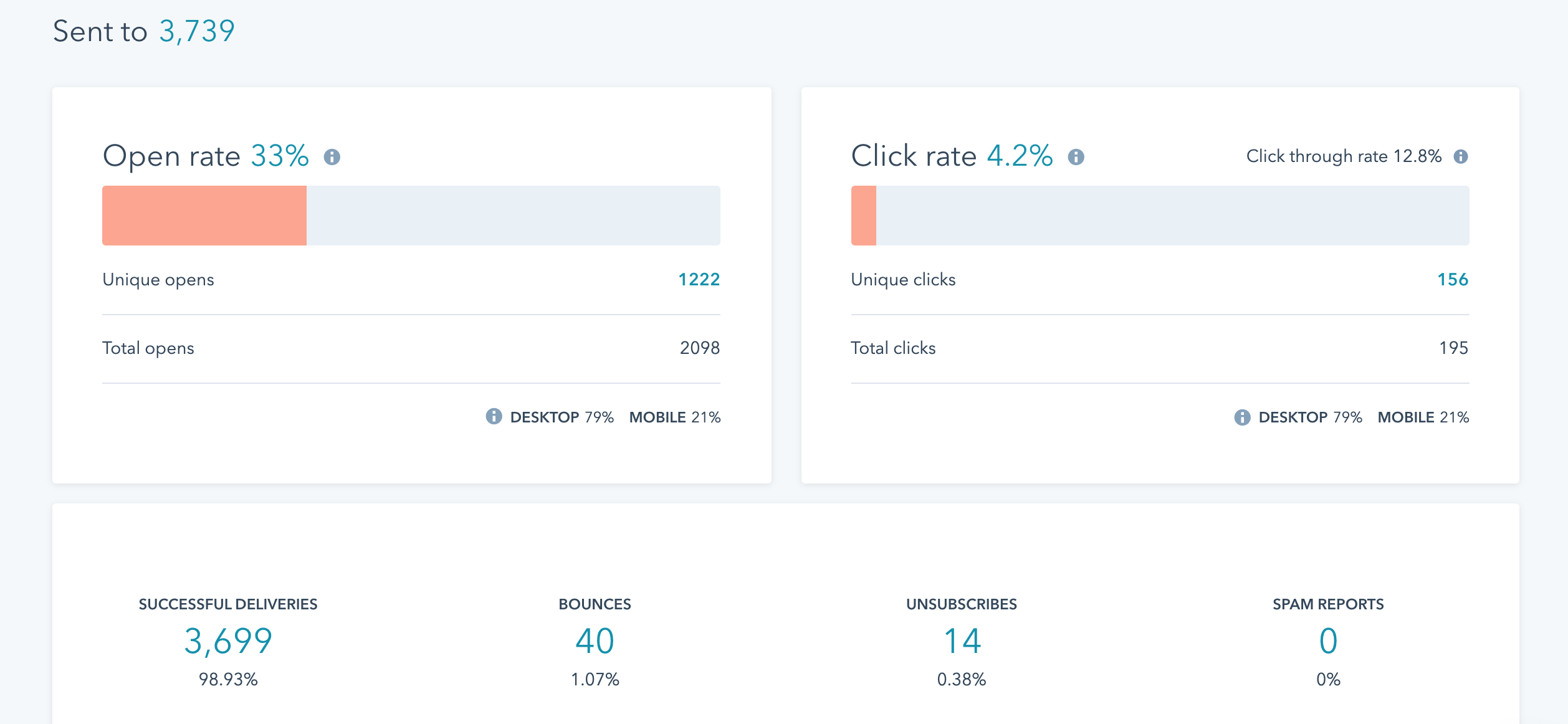 If your numbers are significantly lower, you will probably want to clean up your list, or work on segmentation. Or, you might want to make a more enticing subject line for your emails.
If it's an offer, instead of 5% off, maybe try 15%. If your email includes a video, perhaps add the word "video" to your subject line.
Click-through rate (CTR) is the percentage of recipients who clicked on a link or CTA in the text of the email. Note: This is calculated based on open rate.
If, of the 900 emails delivered, 300 were actually opened by people, the CTR would tell you how many of those 300 took a desired action.
According to Campaign Monitor, a good click through rate can range from 1% to 5%, depending on a host of factors.
Conversion rate is the percentage of recipients who convert on a particular offer. That is, they took the desired action: signed up for an event, filled out a form, or even made a purchase. Note: this, too, is calculated based on open rate.
It's important to remember that these rates can creep higher over time. While the majority of opens happen in the first hour, some people might not get to an email until later in the day or week.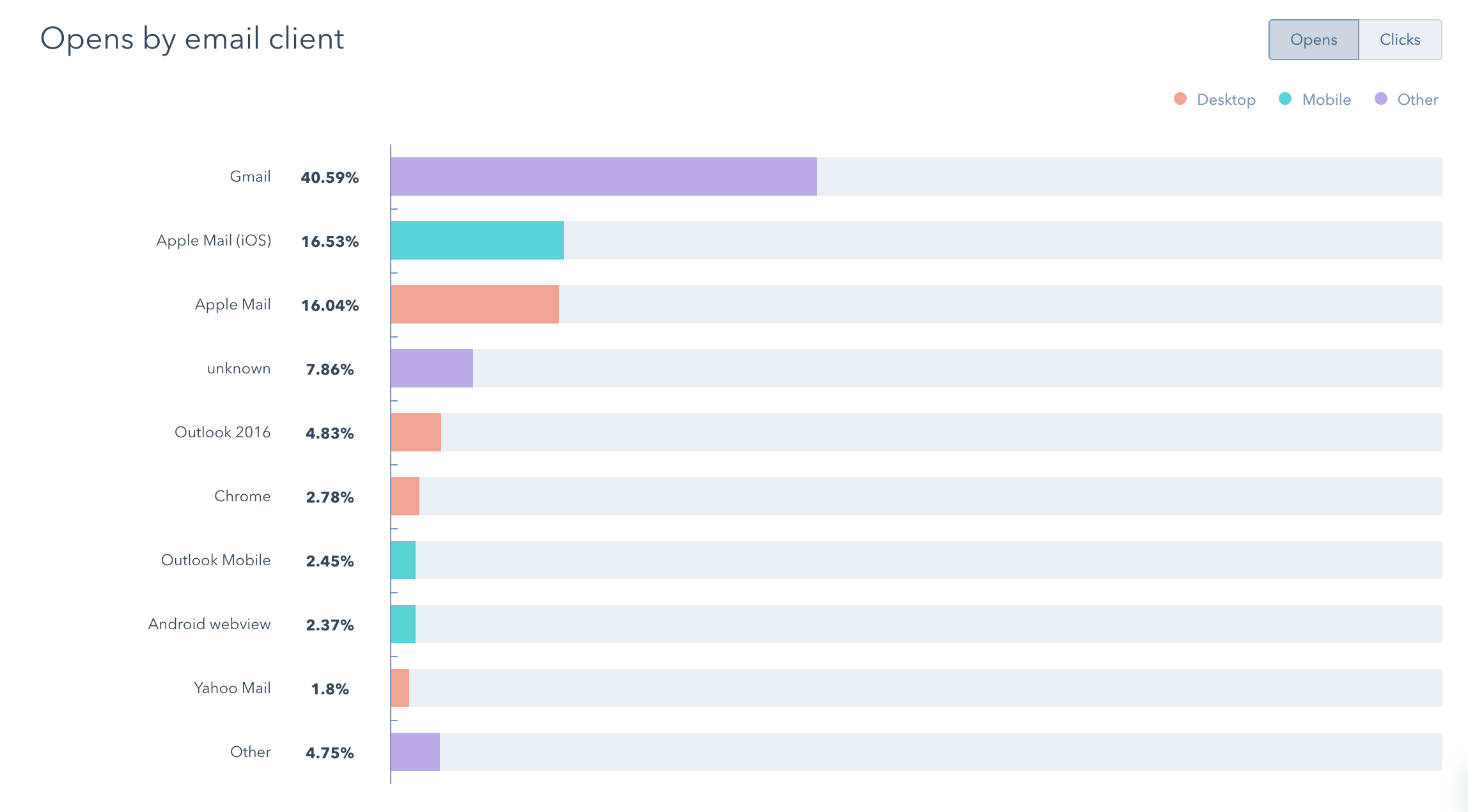 However, out of all the emails you've sent, only a tiny fraction will actually convert and become customers. That's the sad truth about email marketing. But the effort is worth it for the lifetime value such connections may be worth!
How to do email marketing better
If you're concerned about your email marketing proficiency, start with this article from Jen that will persuade you to avoid these 11 common email marketing fails.
If you're not sure about the accuracy of your database, consider this sponsored post from Insycle explaining the dangers of duplicate data or this interview with Stephanie about keeping your database clean.
In general, though, you would do well to follow these few basic tips
Test

: You should be constantly A/B testing subject lines, send times, and other variables to make sure you're putting out the best emails possible. Remember to just test one thing at a time so you know for sure which change had an impact.


However, testing will be compromised if your contact list is inaccurate. Keep that list clean!
Be honest

: Don't tempt clicks with too-good-to-be-true offers or click-bait subject lines. While these might garner a higher open rate or CTR in the short term, you are hurting yourself in the long term by damaging relationships with potential customers.


Plus, such tactics can actually be

illegal.

The

CAN-SPAM law

prohibits email marketers from using false or misleading sender, reply-to, or subject line content.

Be respectful of people's data

: People generally feel

overwhelmed with the amount of email

they receive, even with spam filters, email sorting, and GDPR. If your email seems spammy, you will further contribute to this negativity — while also damaging your sender reputation
Although email now seems far from cutting edge, it is still an important method of contact with potential customers. While there is some debate as to whether email marketing can even be considered inbound, if it is executed with the customers' needs in mind, if can certainly be helpful and inbound-y.
Conversely, we all are familiar with the deep inboxes we need to slough through each day — even when it's full of emails we signed up for.
In the few moments before you hit send, keep in mind your own experience as an email user and think of the type of content you'd like to receive.
With this (and other best practices in mind), you can end up in the right inbox, at the right time. And, hopefully, a potential customer will read your well-written subject line, consider your helpful solution, and CLICK.
Free Assessment:
How does your sales & marketing measure up?
Take this free, 5-minute assessment and learn what you can start doing today to boost traffic, leads, and sales.