What is the Inbound Marketing Methodology?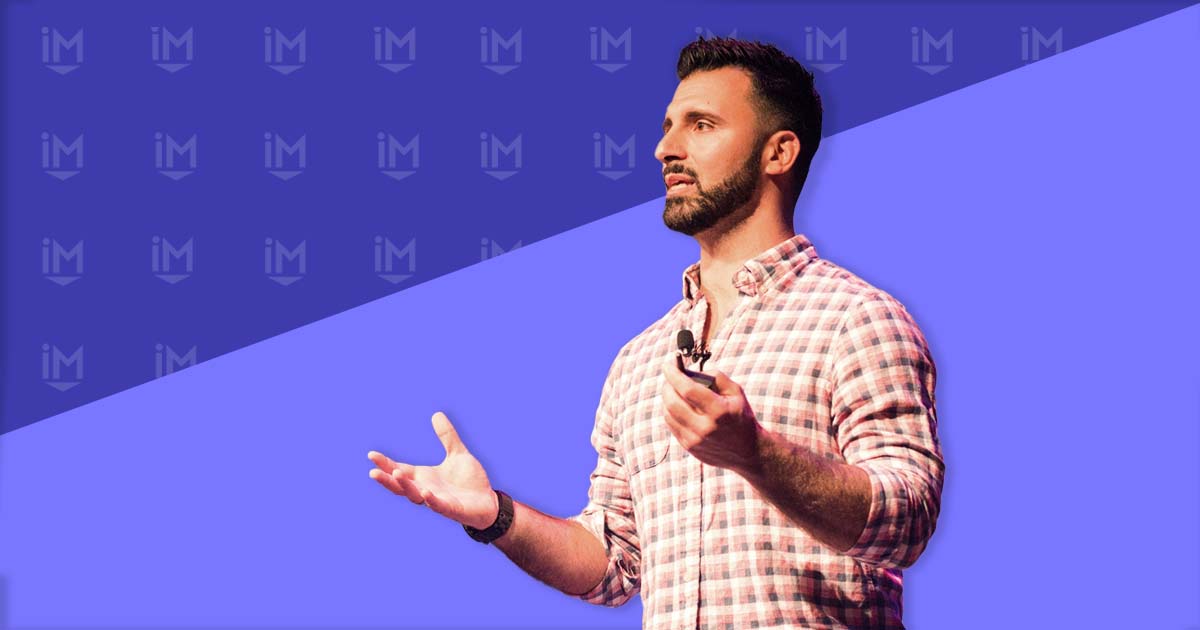 What is the Inbound Methodology?
Looking at these changes, marketers realized they needed to better understand how prospects are moving through the sales pipeline, so they could smooth out the bumps in the road and create a more seamless buyer's journey.
With this in mind, the inbound methodology originally divided the sales pipeline into four essential stages known as the inbound marketing methodology: attract, convert, close, and delight.
However, in more recent years, the inbound methodology has been updated to better appeal to the customer experience. To do this, HubSpot invented the flywheel, which is designed to fuel momentum for your business. The new stages have been divided into three key phases: attract (strangers), engage (prospects), and delight (customers). The flywheel will help you find the right people, effectively address their pain points, and provide them with the support they need to succeed once they have made a purchase from your company.
Over the years, buyer behavior has shifted and companies have had to quickly adapt to keep up with the pace.
Now more than ever, consumers are looking for ways to conduct their own research and make their own decisions (when it's most convenient for them) when it comes to making purchases.
For example, within the past six months, 79% of smartphone users have made an online purchase. That wouldn't have been a thought even five years ago.
So, how can companies cater to these evolving needs? One answer is quite simple: inbound marketing.
The inbound marketing methodology is designed with the customer in mind, to meet their specific wants, desires, and needs through relevant content and resources, such as blogging, social media, ebooks, guides, emails, and so much more.
This content is created to answer common questions, pain points, and challenges your customers face, to evolve the buying experience into a more seamless and touchless process.
Still wondering what all this means and how your company can make the change to inbound marketing?
Let's dive into the specifics of the inbound marketing methodology below to learn how you can use content to be the number one teacher in your space in the digital age.
Pulling, not pushing
Inbound marketing is effective and unique in that it doesn't force its message on your audience. Many buyers are now turned off by companies' aggressive outbound marketing strategies. Outbound marketing is marketing geared towards reaching as many people as possible versus the right people. Think billboards, print ads, cold-calling, etc. In other words, they "push" their message out to people.
No one wants to be "sold to" anymore. Rather, they want to come to their purchase decision on their own and know that it's the right one for them.
Customers ultimately want to have agency and control over the buying process. They want to feel like they bought a product because they sought it out and it's what they need, not because they fell for a sales pitch or ad.
The modern buyer now wants to be able to conduct their own research, on their own time, and in a preferred method that is easiest for them. With inbound marketing, buyers can use readily available resources about products and services from the companies they are researching to do just that.
🎓 IMPACT+ course: Digital Sales & Marketing Framework for Today's Modern Buyer
Search engine use
As a corollary to the above point, customers are using Google and other search engines to take ownership of their buying decisions. They are using these tools more and more at every stage of the buying process: researching products, reading reviews, and comparing alternatives.
In fact, before making a purchase, 81% of retail consumers conduct research prior to pulling the trigger. So, why wouldn't your brand take advantage of this opportunity to get in front of consumers and help them?
By utilizing proper search engine optimization (SEO) techniques, you can help get your content (websites, blog articles, etc.) to the top of the Google search results and in the hands of the right potential buyers.
The rise of social media
Social media is another big piece of inbound marketing and the new customer journey.
It has quickly become not only a form of entertainment and a way to connect with family and friends, but also a method to learn about different brands, get customer service, and even shop.
To no surprise in this day in age, the average U.S. adult spends more than two hours a day using social media and messaging services.
Facebook, Twitter, Instagram, and other networks make it easier than ever before for companies to connect with their customers. At the same time, it's also where buyers are sharing their thoughts on brands, services, and products.
Like search engines, if social media is where the buyers are, it's where you want to be too. Just because you aren't on social media, doesn't mean your customers aren't talking about your company and brand on there.
With inbound marketing, you stay on top of this conversation. You can do this by:
Sharing recent blog posts to provide increased visibility and showcase expertise, while driving more traffic to your website
Engaging with followers by starting or joining a conversation (like, comment, follow, etc.) to humanize your brand and connect with your audience on a more personal level.
Being even more available to customers by providing additional customer support by answering questions.
By "listening" on social media and taking the opportunity to interact with consumers in a way that is easy and convenient for them, you are meeting them where they are at it in their buyer's journey.
🎓IMPACT+ course: Fundamentals of Social Media Marketing
The evolution to modern marketing
Looking at these changes, marketers realized they needed to better understand how prospects are moving through the sales pipeline, so they could smooth out the bumps in the road and create a more seamless buyer's journey.
With this in mind, the inbound methodology, pioneered by HubSpot, originally divided the sales pipeline into four essential stages: attract, convert, close, and delight.

However, in more recent years, the inbound methodology has been updated to better reflect to the overall customer experience which HubSpot says is cyclical; it never ends.
So, the company introduced the flywheel.
The new stages have been divided into three key phases: attract (strangers), engage (prospects), and delight (customers).
The flywheel visualization encourages you to focus on finding the right people, effectively addressing their pain points, and provide them with the support they need to succeed once they have made a purchase from your company.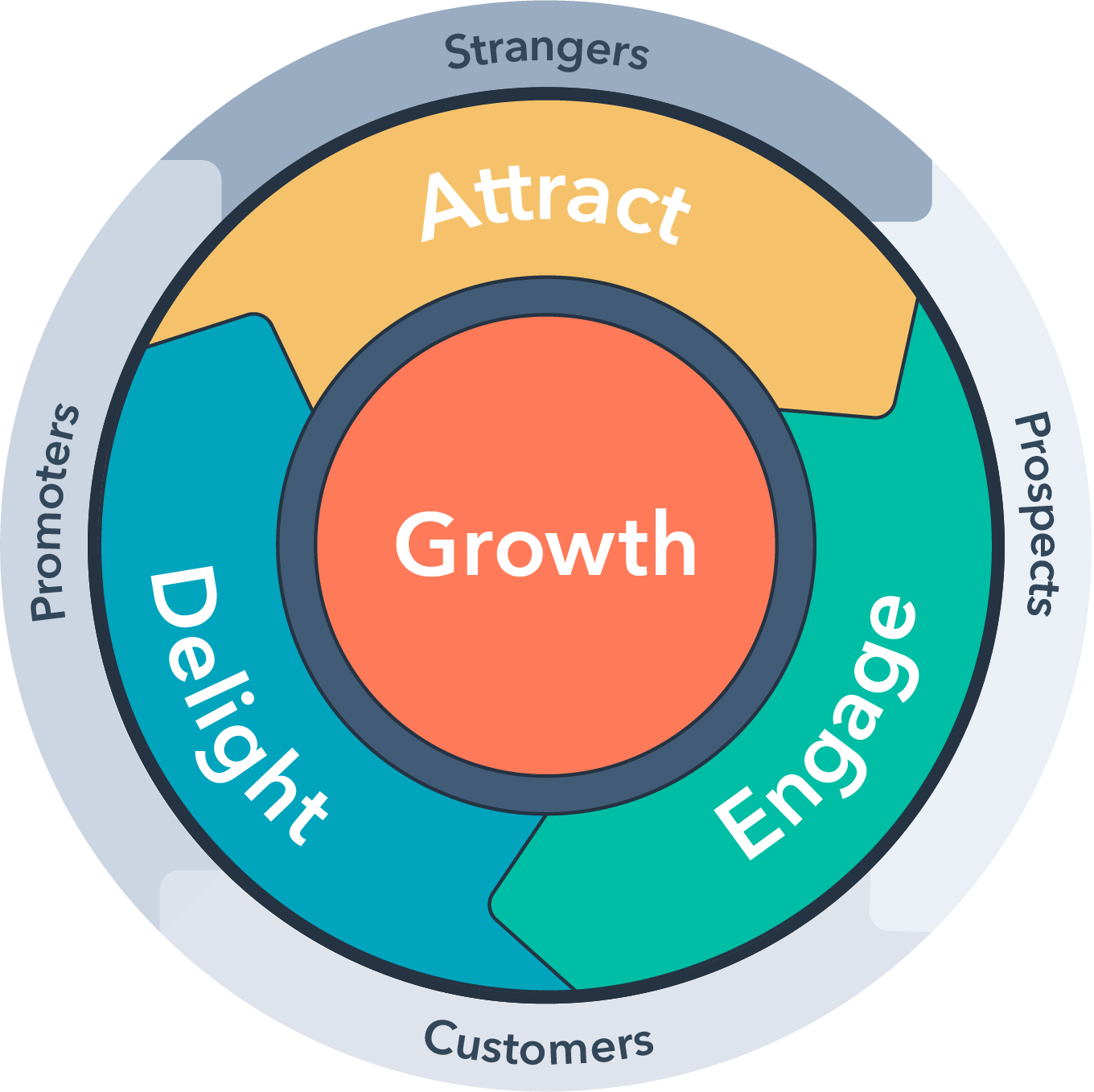 Figuring out how to cater to prospective customers at each of these steps — turning your visitors into leads, and your leads into loyal or repeat clients — is the ultimate goal of inbound marketing methodology.
Let's dive right in by talking about what you should be doing at each stage.
Attract
In a few words, the attract stage is when buyers are just entering your marketing funnel for the first time. They are "strangers" to your brand so this stage is focused on pulling the right people in with the right content at the right time (a.k.a. when they're in need and looking for it).
The right people
Ask yourself: who is it you want to buy your product? Who is your ideal customer?
Conventionally, creating buyer personas is the first step in truly understanding this perfect buyer and being able to attract them with your inbound marketing efforts.
At IMPACT, we no longer focus on buyer personas as being a critical piece of getting started with the inbound methodology. Instead, we focus on what existing buyers are already telling us — answering questions they have to help improve the chances of being found online, naturally attracting qualified leads, and shortening the sales cycle — then refining our strategy based on how this performs.
You need to know how your customers think, act, and what motivates them.
The right content
The right content consists of marketing materials that your buyers will actually seek out on their own and help them relieve their pain points.
Regardless of their specific demographics and interests, there are certain topics that all buyers tend to seek answers to. We call these The Big 5 (five topics or categories of questions that made a bigger impact):
Pricing and cost
Problems
Versus and comparisons
Reviews
Best in class
Whatever your content looks like, you need to keep a few things in mind. Your content needs to be:
Credible and high-quality,

so that you establish yourself as a trusted authority.

Valuable for your customers

and aligned with their goals and challenges.

Produced on a continuous basis,

so that people have a reason to return again and again.
The goal is to help your buyers, to educate them. You want them to see you as a helpful thought leader with their best interests in mind. This builds trust with them and, as we know, no one will buy from someone they don't trust.
To take control of your content and ensure the process is smooth, consistent, and in line with brand expectations, consider hiring a content manager. The content manager's job is to solely focus on creating content, by working with the sales team/subject matter experts, to ensure all critical customer questions are being answered and are available on your website.
Video content
In addition to writing content, your company should also consider incorporating video into the mix as well. Over the past few years, video has become more popular than ever before. It serves as a great tool for sales teams to allow prospects to "see us before we see them, hear us before we hear them, know us before we know them."
By doing this, creates a sense of trust that often can't be built simply through email or a piece of written content.
At IMPACT, we recommend focusing on The Selling 7 when creating video content:
80% videos (answer the most common questions all of your prospects ask)
Employee buying videos
Product/service videos
Landing page videos
Cost videos
Social proof/testimonial videos
"Claims we make" videos
The right time and place
The final piece of the "attract" puzzle is connecting people with content at the right place and time.
The most popular attract tools and tactics:
You can write the most helpful content, but if it's not where your audience is looking for it, it won't have the impact you desire.
Again, the key here is knowing the right way to reach your audience.
For example, your customers may love to use Facebook or they may run a Google search for "best yoga mats" and see what the experts have to say.
To reach one you'll want to make sure you have keyword-optimized pages, content on your blog, and maybe even a video on YouTube, but to reach the other, you'll want to invest in social publishing and paid ads.
Of course, there are other outbound strategies for getting your content out there, especially in-person ones such as tech talks and trade shows, but inbound is designed to be more scalable and cast a wider net. Whatever methods you find work for you are the ones you should pursue.
Engage
Attraction is just the first step; now you have to seal the deal by turning visitors into leads in your marketing database so that you can communicate with them further.
For modern buyers and long-term success, this needs to be done in a way that will set you up to build lasting relationships with them, rather than simply closing the deal for a prospect.
This is phase two of the inbound marketing methodology: engage.
The engage phase is all about lead generation. This means providing prospects with value that addresses their specific pain points, so they can learn to trust and connect with your brand enough to fill out a form, prompt a live chat, or make a purchase.
In order to convert a visitor into an inbound sales lead on your website, you need to offer them something of value in exchange. Popular conversion points and offers include:
Premium content offers (i.e. a webinar, video, or pillar)

Meetings (calls, consultations, etc.)
In inbound marketing, these conversion paths are created using:
Calls-to-action (CTAs)
The CTA is a button, link, or image that explains the next step you want people to take after consuming your content.
This could be doing anything, downloading an ebook, watching a video, receiving a discount, and so on. The goal is that it be a little more advanced, as to move the user closer to being ready to make a purchase (also known as lead nurturing).
Let's suppose, for example, that a customer has found a blog post on your website. The article's CTA could then present her with an offer to watch a free video series related to the topic.
CTAs need to be urgent, valuable, and most importantly, relevant enough to spur the visitor into action, but without coming off as desperate, and making sure that your company is there to help them with their needs.
Typically, CTAs are inserted at the end of the content, right when you've fully communicated your message and your readers are feeling the most warm and fuzzy. However, you might also see success by sprinkling them throughout the content, especially for long-form text.
🔎 Related: Call-to-action examples: 17 designed to earn clicks and generate leads [Updated for 2020]
Landing pages
CTAs that focus on content will usually send your prospects to a landing page.
A landing page is an isolated page focused on convincing the viewer to fill out the form (convert) to get a content offer, which is likely a bit longer, and perhaps more relevant to their interests, than the content that originally brought them there.
Landing pages should continue the messaging of your CTA. They should tease the visitor with a preview of the content that awaits them to get them excited and engaged, but without giving away all the goods.
In our yoga mat example, Marsha might see a landing page with a short video of an instructor performing one of the poses, so that she knows exactly what she's signing up for.
Landing pages are almost always standalone from the rest of your website, and they should have a simple, clean, and compelling design. This is to minimize distractions and force readers to concentrate on the offer before them. The sole purpose of a landing page is to capture visitors' contact information in exchange for more content that the buyer desires.
Forms
This information is captured via the third piece of the puzzle: forms.
In order to access the content, visitors simply have to provide you information such as their name and email.
Asking for visitors' contact data works because you're using a simple, powerful psychological principle: reciprocation. People are more likely to give you information when they feel that they're getting something in return for it, such as educational resources to inform their buying decisions.
Just like your CTAs and landing pages, forms need to be well-designed to maximize your chances at conversion. They should strike a sweet spot between getting enough information to be useful without turning off potential leads.
When creating a form, consider the value of the information to be given compared to the value of the content they will be receiving. Are they equivalent, and more importantly, will the customer view it that way?
Your forms should be located above the fold and highly visible on the page. It's often a good idea to have headline and button text that make it clear exactly what people are getting, like "Get your free ebook" or "Show me the videos!"
Software tools
Once you get your leads' information, you should also be storing it in a CRM (customer relationship management) system. This is a dedicated, centralized database for all of your company's contacts.
Using CRM software does so much more for your business than just appealing to your inner neat freak. CRM systems help to track your entire history of interactions with a given client or prospect.
They enable you to be able to do things like:
Suggesting relevant content based on past behavior

Automate tasks such as email followup

Prioritize lead follow-up by sales

Segment them into the most relevant emails and personalize their experience
Your competitors are using CRM software—it's no longer a question of whether you should take advantage of CRM technology, but of how.
Further engage prospects
Once you have captured a prospect's information by providing them with valuable content that will set them up for success, you can then begin to focus on different methods that will move them further along their journey through engagement.
Common tools and tactics used to further engage prospects include:
Lead scoring
Lead scoring is a methodology for determining which of your leads are most valuable by assigning a numerical score to each one.
If your inbound campaign is a success and you're getting overwhelmed with prospective customers, you need to spend your nurturing time and effort judiciously. By doing lead scoring right, you can separate high-quality, promising leads from people who just wanted more free content.
Each company will have its own formula for scoring leads, and you likely already have some sense of which traits are most important for each prospect. These factors will probably include:
Job title

Number of employees

Industry

Physical location

Location in the sales funnel

Types of content consumed

Amount of content consumed
Lead nurturing
During the engagement stage, you'll nurture each lead toward making a purchase in a way that's tailored to their individual interests, needs, and circumstances. Knowing when to reach out to customers can make the difference between closing the deal and letting it slip through your fingers.
One customer may be ready to buy right away, regardless of price or features. Another might wait to make a purchase until far off in the future or will require a great deal of persuasion.
The best thing that you can do in this stage is to send the right content to the right people at the right times. You should be producing and publicizing content that addresses each customer's pain points and concerns.
Additionally, sales teams can be serving this content directly to prospects in the sales process by practicing assignment selling.
What is assignment selling you might ask? Assignment selling is defined as "the process of intentionally using educational content you have created about your products and services to resolve the major concerns and answer the burning questions of prospects so they are much more prepared for a sales appointment."
Regularly connect with your sales team to stay up-to-date on the latest customer pain points to ensure no question is left unanswered and you're creating content that can be used.
Marketing automation and workflows
Lead nurturing is both a science and an art, and it's far from easy. You should give serious consideration to using marketing automation software for implementing lead nurturing campaigns.
These tools can trigger emails or other actions based on the content that a specific lead has consumed, contacting them at regular intervals to ensure that they're still on the other end of the line -- all without you having to lift a finger.
By managing your leads and being smart about the content you send them through automation, you can free up more time for higher-level thinking and planning: figuring out which strategies work and which don't, and reallocating resources as necessary.
Email marketing
A big part of marketing automation has to do with triggering the delivery of emails.
Depending on your lead's activity, you can use automation to send emails that deliver relevant content to encourage a purchase (i.e. a discount or success story) and slowly move them closer to making a purchase.
You can even use information you've gathered to personalize the emails that you send them.
For example, consider including the contact's name in the subject line and use their past behavior to cater the content to best resonate with them.
A/B testing software can help you experiment with different segments of your audience to determine which email techniques and best practices are most effective.
You can test nearly anything about your email campaigns: the subject line, the sender's name, the date or time of day, and the content or CTAs inside.
🎓 IMPACT+ course: Inbounder's Guide to Email Marketing
Discounts and promotions
As mentioned above, for leads who are near the bottom of the sales funnel (BOFU), providing a discount or promotion can be the deciding factor that impels them to make the purchase.
If you notice that a BOFU lead has been interacting with your content recently and poking around your website without making a purchase, now would be the perfect time to send an introductory offer.
Delight
You've made the sale. Congratulations! Now what?
Sadly, inbound marketing isn't like a fairytale: There's no such thing as "happily ever after."
You have to keep working actively to make sure people are completely satisfied with the services they receive from you, so that they stay loyal or make a return purchase. Retaining existing customers is far, far less expensive than trying to find new ones.
That's where the final piece of the inbound marketing puzzle, delight, comes into play.
Delighted customers are worth their weight in gold. Not only are they more amenable to repeat business and cross-selling and upselling opportunities, they're also more likely to refer your services to friends and business contacts.
Turning mild-mannered customers into raving promoters of your brand is one of the little joys of inbound marketing—it's the satisfaction of a job well done.
You're not a mind-reader, though (and if you are, you definitely don't need our help with marketing). You need ways to get feedback from your customers, so you can fix what's broken and keep doing the things that work.
For example, you can create surveys to capture quantitative (i.e. NPS) and qualitative information about what your customers think of your offerings:
Are they completely satisfied with the products and services that they use?

How helpful was your content during the

buyer's journey

?

Do they wish you were offering more? Is there a potential market that you're overlooking?

How likely would they be to recommend you to family, friends, and colleagues?
Once you understand where your customers stand, you can once again begin to deliver content that addresses their pain points and interests—though now taking into account that you've already made the sale.
Customer-focused content
Even after becoming your customer, people still want to consume valuable content. For example, suppose you offer multiple software products for sale. You can customize your homepage to address those that the viewing customer has actually purchased.
When you provide links to the user guides for the products that customers have purchased, blog posts that are relevant to their interests, and suggestions for other useful products, you amplify their experience on your site and make it more valuable—raising their perception of you and your offerings.
By keeping users delighted after the purchase, you'll improve your retention rates and your ability to cross-sell and upsell your offerings.
There are essentially two forms of customer-focused content after conversion: product-focused and company-focused. You can create and promote this content via multiple channels: blog posts, videos, opt-in email newsletters, etc.
The first category, product-focused content, includes information on how to get the most out of their purchase. Within this category, there are several levels of depth and detail for your content, from the quick to the complex:
Tips and tricks for using the product

How-to tutorial posts and videos

Comprehensive user guides
The second category, company-focused content, keeps customers engaged with your business as a whole:
Product and company updates

inform customers about new features and offerings, creating opportunities for cross-selling and upselling.

Webinars

or live videos on social media

are a great way to engage power users. They can interact with your product development team and submit feedback and suggestions.

Meetups and events

help users connect and share advice, making them more excited and passionate about your products.
Personalized experience
Once someone is your customer, you likely know them pretty well.
You'll hopefully have a comprehensive contact profile for them, telling you their interactions with you and your brand, their interests, etc.
Like you would your emails during nurturing, by building your website and marketing using a smart content delivery platform (like HubSpot), you can customize pages and text to show different things to different customers and audience segments, based on what you know about them.
This ensures they get the most customized and relevant experience with your brand, serving them the right content, at the right time. You can likely create this kind of experience on your website for any contact (even if they haven't made a purchase).
For example, you could customize the calls-to-action that different leads see when they read a blog post or other content. You might write one call-to-action for Marsha that emphasizes using yoga to release stress and another for Bob that focuses on the health benefits of yoga.
Social engagement and monitoring
Last but certainly not least, the final tool in your arsenal for delighting customers is social monitoring: listening to what users and prospective users are saying about your brand and products on social media.
Obviously, you can do a lot with the information you collect from social monitoring. You can stick to finding unhappy customers and fixing their issues, or you might decide to change your entire inbound marketing strategy based on the positive or negative reactions you observe.
By charting trends in sentiment and engagement over time, you'll be able to understand the performance of different inbound campaigns, find the important advocates and influential people in your field, and even find and address customers' new pain points before your competitors even get wind of them.
Once you've captured it, all of this information can be used to delight and hold onto customers by giving them a consistently outstanding experience—and as inbound marketers, that's what we're really after.
🔎 Related: Online Community Management
Why you need an inbound marketing strategy
So, now that you've read the above information, you might be thinking "what's next?"
While implementing the three phases of the inbound marketing strategy isn't something that can happen overnight, you can still get started tomorrow (or even today)! When evaluating your current marketing efforts, ask questions, such as:
How can inbound marketing specifically benefit my customers?
Do we have any content currently to provide our customers?
What type of content would our customers enjoy?
What are our customer's biggest pain points?
Who do we need on our team to amplify inbound marketing efforts?
What marketing tactics do we currently use that can easily evolve into inbound?
How can we get our sales team involved in these efforts?
These questions are just a few (but aren't limited to!) some of the key things you should be asking yourself as a marketer, as well as your company as whole, to get started on your inbound marketing journey.
Free Assessment:
How does your sales & marketing measure up?
Take this free, 5-minute assessment and learn what you can start doing today to boost traffic, leads, and sales.