9 Crucial Elements Every Homepage Should Have [+Video]
Make sure your homepage grabs prospects and leads them further down the pipeline with these simple-to-implement tips.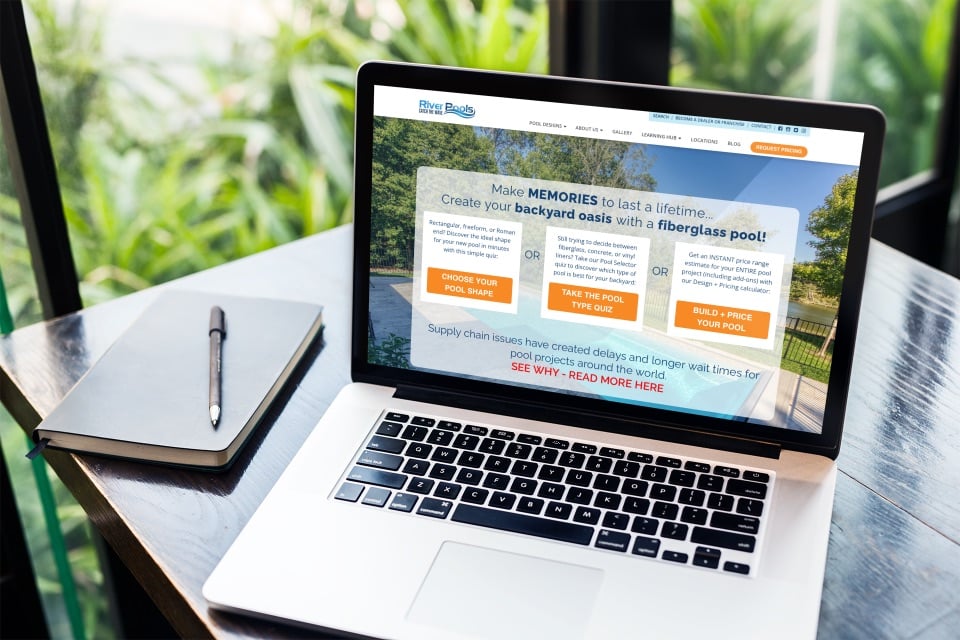 Elements every homepage should include:
Clear value proposition
Intuitive navigation
Clear call-to-action
Access to your learning center
Client testimonials
Video
Overview of services/features
Contact information
Links to social media
People put their best foot forward during job interviews.
They get fresh haircuts, don their best suits, make sure they don't have spinach stuck in their teeth — long story short, they try to make the best first impression possible.
Every time a new person lands on your website homepage, your business goes through a "job interview" of sorts. People are critiquing what they see in detail, establishing an opinion of you, and determining if you're worth getting to know further and doing business with.
Is your homepage making the right first impression?
Truth is, 90% of our businesses' websites are missing the mark — whether we're aware of this or not. After working with hundreds of clients to improve their homepage messaging and layout with a few simple tips, their websites became one of their biggest, most helpful selling tools in no time, allowing some of them increase their revenue by millions.
In this article, we'll teach you these tips, including:
How to create homepage messaging that immediately provides value for your prospects.
What your homepage's No. 1 priority should really be and why. (The reason is not what you think!)
Elements to include that will make your homepage one of your most powerful selling tools.
We'll also provide examples so you can see how businesses like yours are using their homepages to drive far more traffic, leads, and sales.
Want to learn how to drastically improve your homepage in a few simple steps?
Here's what to do.
How to create homepage messaging that immediately provides value for your prospects
As buyers, when we find services or products we're interested in purchasing and visit the company's homepage for more information, we are typically looking for answers to our questions. Maybe we want to know more about what the product or service provides us, or we're curious about how the pricing and reviews align with other options.
Whatever the reason, we are looking for information that will help us understand what's in it for us if we decide to make a purchase.
It's the same for your prospects.
When they come to your website for more information, they are not going to find value in learning everything about your company all at once (which is what most of our websites do). They expect to see how your business solves their problems.
Think of a recent purchase you either made or researched online where you had a positive buying experience. Did the company take the time to explain how their products and services meet your needs? Or did they use their homepage to explain where they were located and how wonderful they and their products are?
If you want your website to turn prospects into customers, you need to make it about how your business can meet their needs. The most successful websites explain what their business does in terms of their customers so it sounds like you're only talking about your prospect and their needs.
In this video, IMPACT principal Marcus Sheridan walks you through how to craft effective homepage messaging that speaks to your buyers.
Your homepage's top priority
Most businesses use their company's homepages to explain who they are and what they do. But this isn't the main priority for your homepage. Your messaging needs to speak to your audience in a more effective way.
The No. 1 thing your website's homepage should do? Get your visitors to the second page.
This is because when prospects land on your homepage, all that tells you is that they found you. But if you're able to get them to that second page to, for example, read more about a product or learn about your pricing, you will know much more about what they're looking for. This information will help you market to them better and help your sales team lead them in the right direction more quickly.
Knowing what your leads are looking for will improve your sales process and help your team be even more intent in their reach-out and efficient in their process.
Elements every website homepage should have to build better traffic, leads, and sales
Now that you know the messaging you should include on your homepage and what its main priority is, what exactly should you include there?
That can vary from industry to industry, but there are several elements that every website homepage needs to have:
1. A clear value proposition
Tell your visitors exactly what you do with a clear, easy-to-find value proposition. This may seem like a no-brainer, but you would be shocked at how many websites out there don't have one.
If people don't have an understanding of what your company does, who it does it for, and how it does it differently, they are not likely to stick around to find out any more. Set the tone early with a brief, focused value proposition.
Just remember to keep it clear, to the point, and customer-centric.
2. Intuitive navigation
Your navigation should be easy to understand and use for a first-time visitor — and again you need them to at least get to page 2. To do this more effectively, you want someone to arrive on your website and know exactly where they can find the information they want and need without becoming confused.
Here's what IMPACT client La-Z-Boy Southeast's navigation looks like (simple and clean):

Your homepage design should also reflect your buyer's typical behavior on your site by bringing the pages they visit most often to the forefront. For example, if your blog is your most highly trafficked page, make it easily accessible through your navigation.
Don't hide your big sellers!
3. A clear call-to-action (or two)
When someone arrives on your homepage — or any page on your website — it should be clear what action you want them to take next.
On your homepage, this is usually a "top-of-the-funnel" action, such as subscribing to your blog, and/or a "bottom-of-the-funnel" action, such as requesting a consultation.
Sit down with your team and decide what one or two actions you really want people to take when landing on your site. Having more than this will only confuse your visitor and clutter your buyer's journey.
4. Access to your learning center
Since your content is the heart of your inbound marketing strategy, encourage people to view and subscribe to your content by highlighting it on your homepage.
Your blog articles, webinars, podcasts, and other content show your expertise and helpfulness, and offer users a low-risk option to convert and start a relationship with your brand.
Consider adding a subscription box with a lead magnet or simply including a live feed of your most recent publications, like IMPACT client AIS does.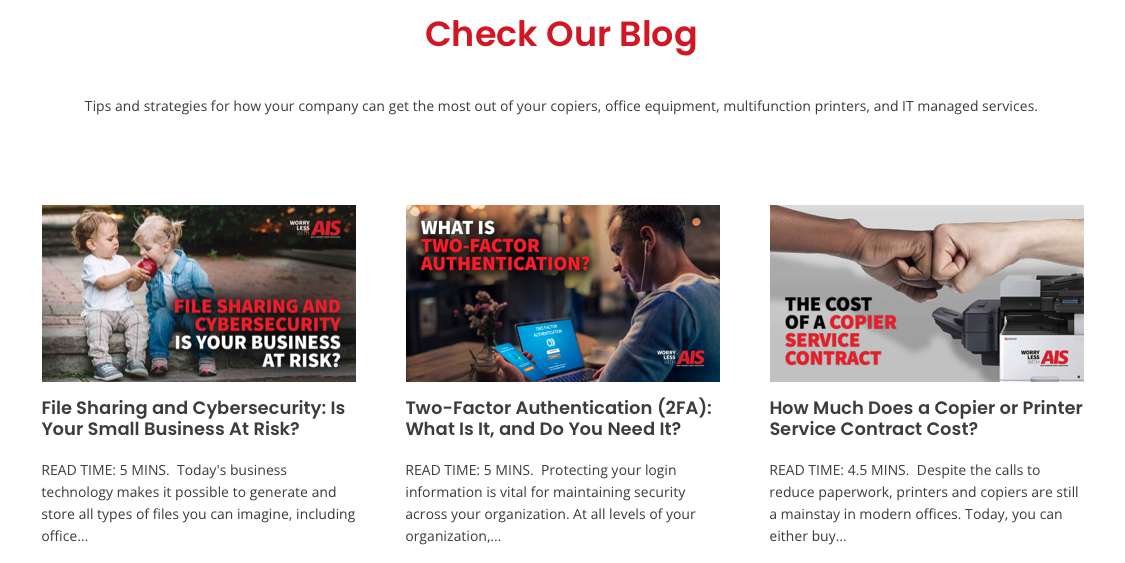 5. Client testimonials
Research shows that 79% of consumers trust online reviews and testimonials as much as personal recommendations from their friends or peers. So, if your company has positive reviews from your previous or current customers, capitalize on them!
Let your potential customers know that you're not just boasting about accomplishments. Testimonials build trust and let people know they can feel confident in choosing you — your social proof shows it.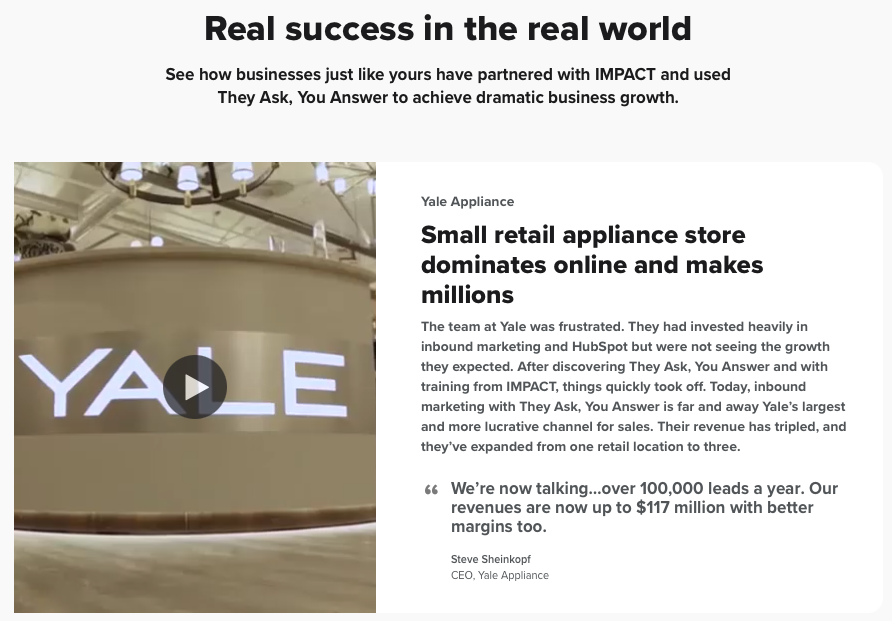 6. Video
Now, this is one feature that you don't have to implement, but you certainly can't go wrong with it. Having a quick introductory video on your homepage that explains what your business does, shows your office, and/or introduces your team is one of the easiest and most effective ways to engage a user (especially one that is new to your brand).
The video on IMPACT client Litchfield Builders' homepage is a great example: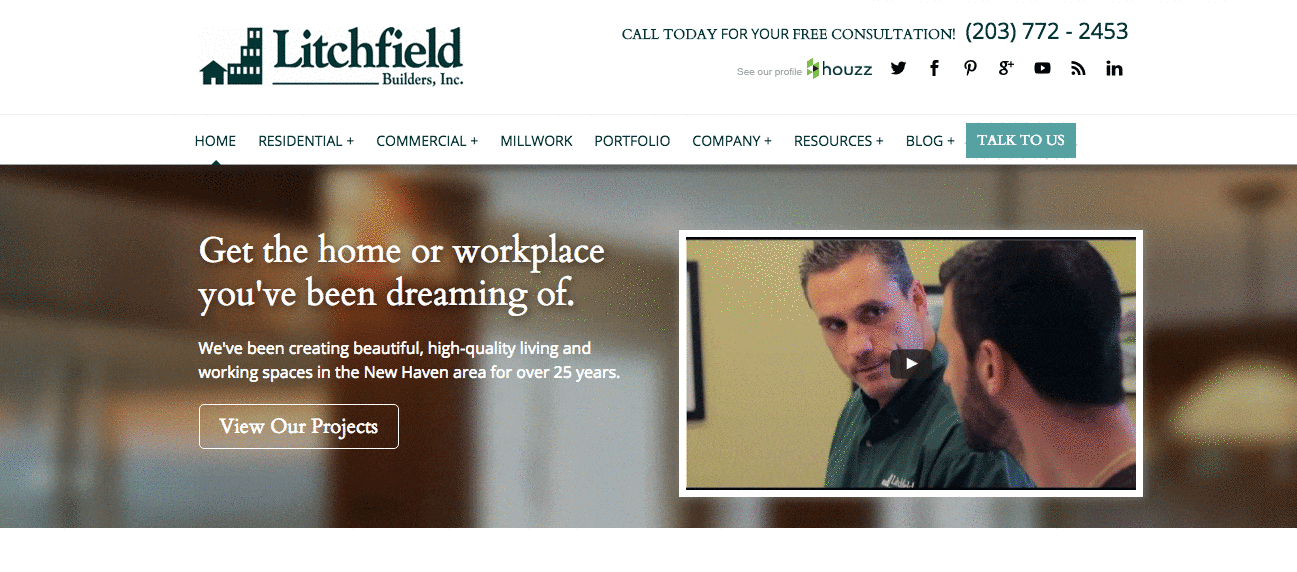 Try to keep your videos on the shorter side (less than three minutes) so that you don't lose your visitor's interest. The idea is just to give someone a quick overview of what your company can do for them not your entire origin story.
7. Overview of services and features
Your value proposition and video may give customers a brief overview of what your company does, but in terms of content, it is still important to include these features, products, or services on your homepage as can be seen on the homepage of IMPACT client Presbyterian Senior Living.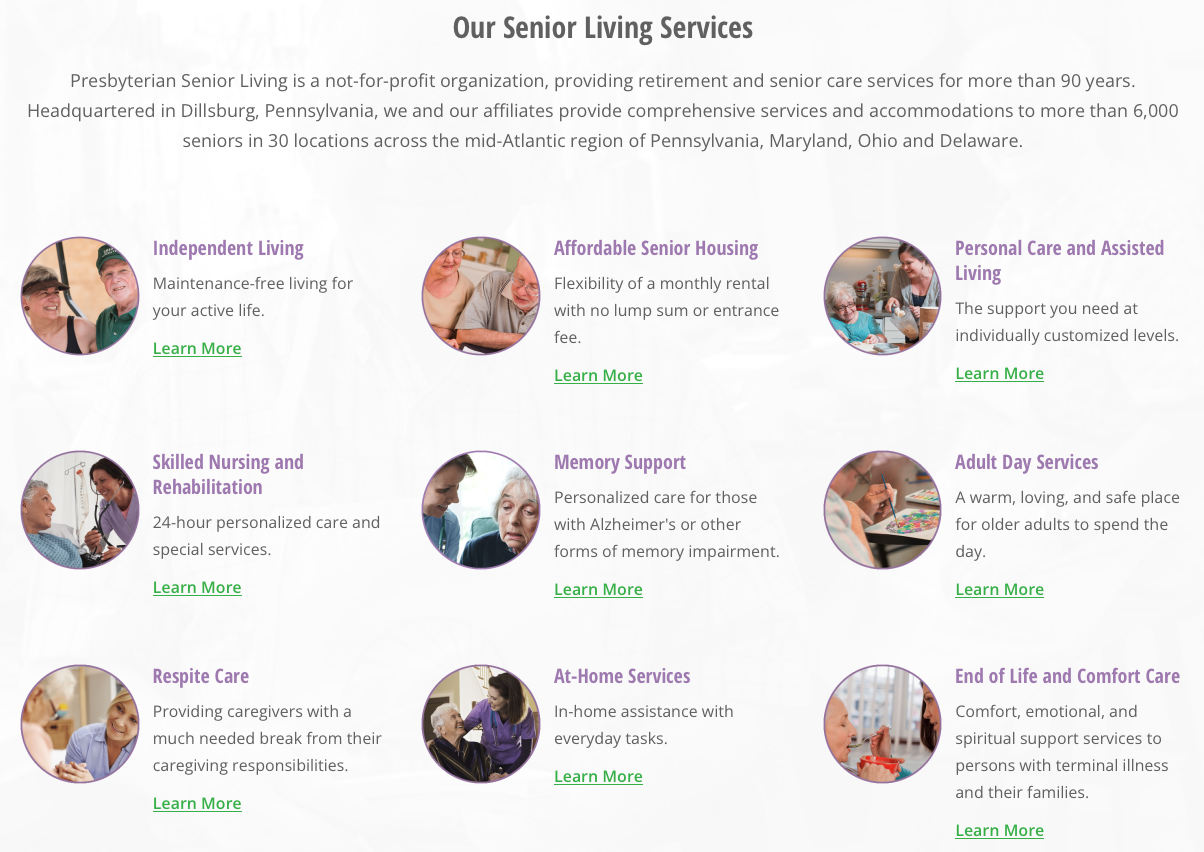 Having this information present on the page offers a bit more detail for prospects and also helps your page rank higher for those services in search engines. It also helps get your visitors more easily to the second page, providing you with more information about what they're looking for.
8. Contact information
How many times have you been in need of tech support or customer service, but couldn't find a phone number on the website to save your life?
Don't put your prospects in the same position.

Visitors should be able to find your contact information easily on your homepage. Most commonly found in the footer (like in the example from the River Pools website above), your homepage should include a mailing address, email address, and phone number in case someone is interested in reaching you.
People want to work with people. Having this information readily available offers comfort by letting people know they can get ahold of someone if need be. This also adds credibility, by making it clear that this is the homepage of a legitimate business.
If you're worried about being on the phone all day, establish "help hours" or even consider a live chat. This article will help you weigh the pros and cons.
9. Links to social media
You want people to follow and engage with your company on your social media. So, on your homepage place social media buttons in a consistent, conventional place, where people can easily find them when needed (for example, your header or footer, as Wistia does below).

Increasing your social following helps increase the number of eyes that are on your content and makes it more likely that a larger number of prospects will click back to your website on a regular basis.
Considering a website redesign?
All of these tips come from our award-winning inbound marketing framework They Ask, You Answer, which you can learn more about on our website design and development page.
This approach to homepage design will have your prospects reaching out to you and getting excited about your products and services like none other.
To learn more about how, visit our They Ask, You Answer video resource library to explore a large collection of free videos on creating a more effective website, or set up a time to talk to one of our advisors who can help answer any of your questions.
The best part? You can implement these tips on your own today — and be well on your way toward creating a homepage that drives incredible results.
Published on October 21, 2021