11 Pricing Page Examples for Business Websites (Updated for 2023)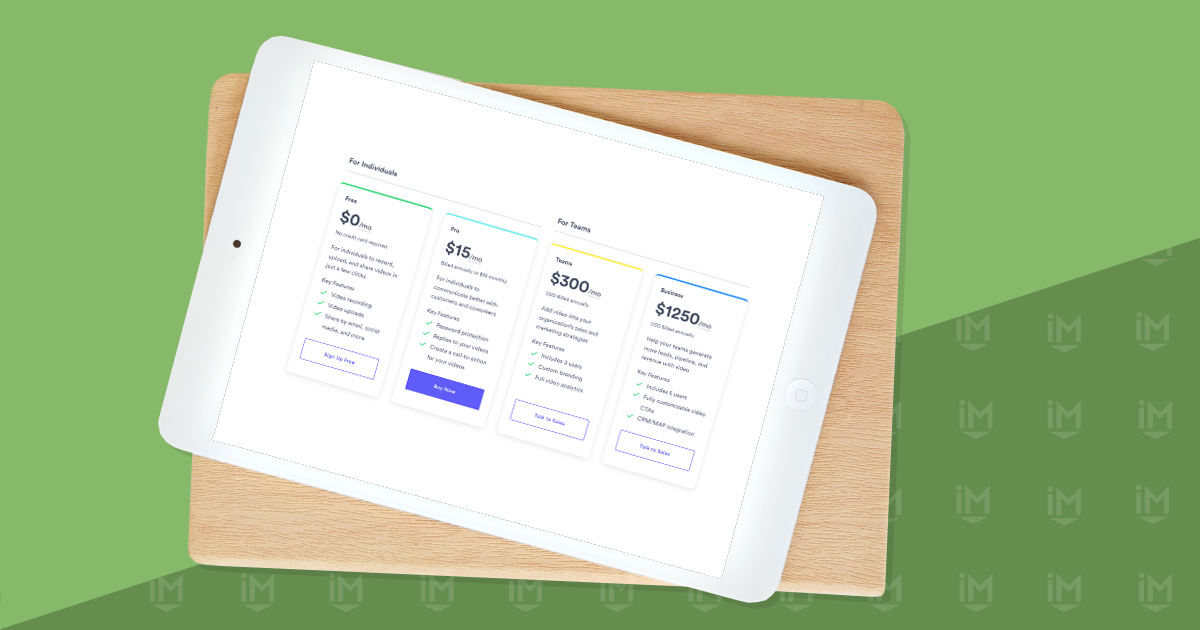 Pricing page examples for business
Vidyard: Video sharing software pricing page makes comparison quick and easy
Notion: Virtual notebook app pricing page highlights FAQs and social proof to combat objections
Zirtual: Virtual assistant company pricing page example highlights discounts
Berry Insurance: Insurance agency uses video to educate on what influences cost
Design Pickle: Design service pricing page highlights most popular plan
7Geese (Now Paycor): HR tool pricing page highlights benefits to all customers regardless of tier
Ellevest: Financial planning tool pricing page example uses toggles to offer more detail
Applied Educational Systems: Digital curriculum management tool offers video to talk through different tiers
HubSpot: Marketing automation software pricing page embraces complex options
Trello: Project management tool pricing page example includes calculator
Basecamp: Organization and project management software
As a buyer, making big purchases — think a car or your business software — can send even the calmest person's anxiety through the roof.
There may be many options to sift through, and if you make the wrong decision, it could have rippling effects across your daily life. That's a lot of pressure.
What's one thing that can easily make the shopping experience worse? When a business has a website where you can't find anything about pricing. Or worse, when they have a pricing page, where your only option is to contact them for a quote.
I get it. Talking about how much your product costs can be scary.
As a business and marketer, you're likely afraid you'll scare people away and lose sales, or perhaps your price varies from buyer to buyer so you don't see the point.
Maybe you're even worried your competitors may use it against you, but if you put your buyer hat back on, you'll realize you're frustrating more potential buyers than winning them over.
We've helped hundreds of businesses just like yours build and refine their pricing pages over the years, and in this article, we'll dive into:
Why you need a pricing page on your website
Great pricing page examples
What these pricing page examples did right (including

pricing page best practices

)
Why Do You Need a Pricing Page On Your Website?
It doesn't matter how high or "complicated" you think your pricing is, your ideal buyers (no matter what your industry) want and expect to find pricing information on your website.
In fact, 60% of consumers consider price as their first purchase criteria, while 86% think it's important to compare prices from different sellers before taking action.
When you don't enable this by not having a useful pricing page, your ideal buyers will not be so forgiving.
Instead of reaching out to get the pricing you say they need a quote for, a large percentage will abandon you for a competitor who does give them more upfront pricing information without the hassle.
As we know from Marcus Sheridan's They Ask, You Answer, in the end, this all comes down to trust.
When you hide critical purchase information like your price, customers begin to wonder and, I hate to break it to you, but they're not wondering anything positive.
They begin to think you're trying to hide something or that you're ridiculously priced and they'll never be able to afford you, so why even bother reaching out?
Modern buyers don't want to be sold to, and they don't want to have to "call for a quote" out of this fear. When you're transparent about pricing/cost on your website, potential buyers know that you're not simply out to make a sale.
You're an honest business that wants to give them all of the information they need to make an educated buying decision for themselves.
Microsoft Advertising found 85% of today's consumers say they'll only consider buying from a brand if they trust it, so if you're within budget and a good match otherwise, this trust you established through your pricing page could be the difference between a loss, a sale, or even a referral.
Best Pricing Page Examples
But what do successful pricing pages look like? And how can you have a great pricing page if you have a product or service with variable or complex pricing strategy? Those are great questions, and I have fantastic news!
Those are the exact questions we're going to answer together by examining the following rockstar pricing page examples.
1.

Vidyard: Video sharing software pricing page makes comparison quick and easy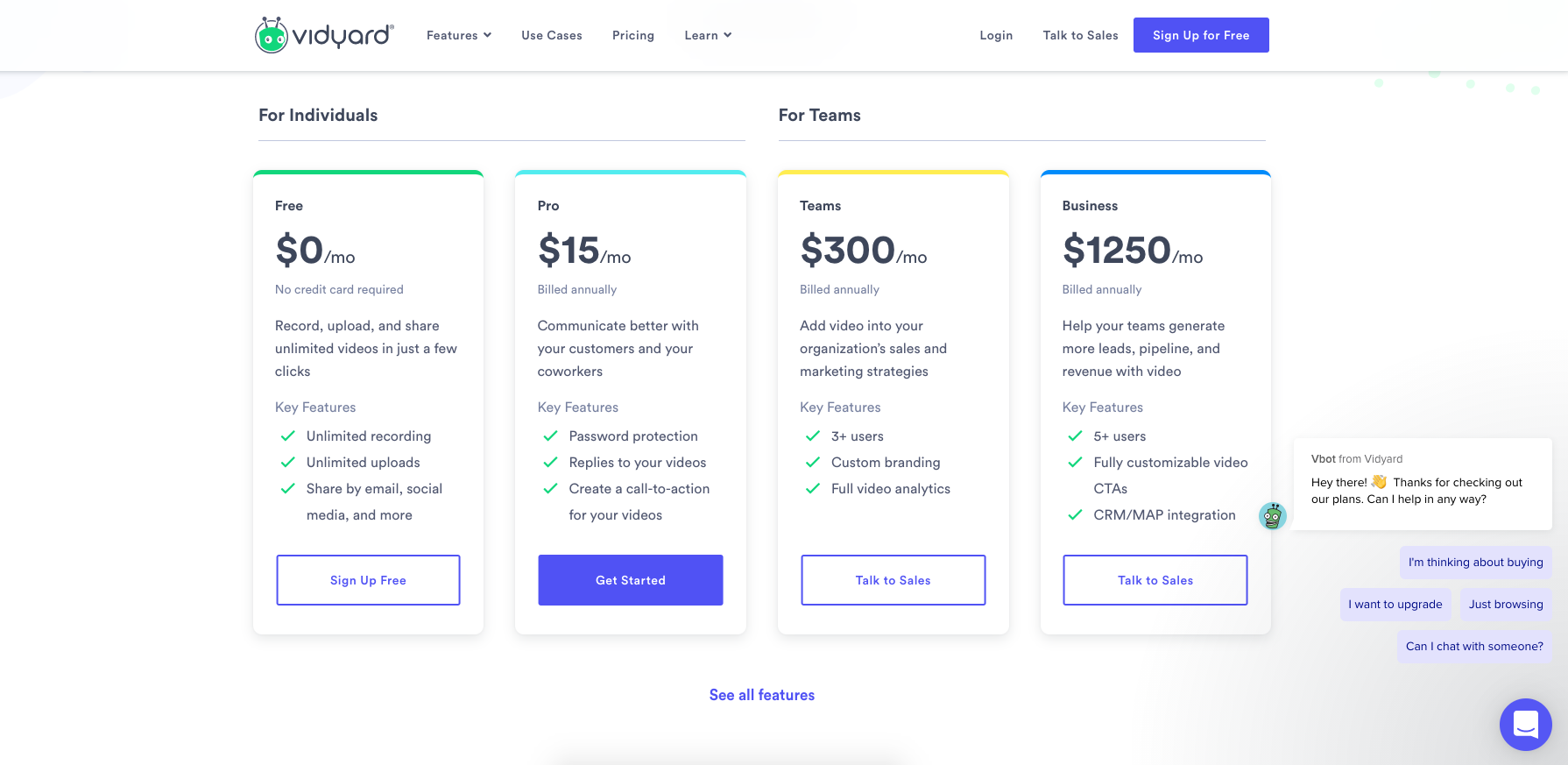 Why I ❤️ Vidyard's pricing page
Vidyard is one of our strategic partners, and I'm a fan of a lot of their marketing moves, including this pricing page.
Why exactly? I particularly love how clear their pricing options are with the use of a structured pricing table for easy comparison and the distinction between individuals and teams (a great B2C and B2B blended example).
Moreover, I love how they integrated a chatbot on their pricing page, so if anyone has questions, it's clear and easy how to get more information or even contact sales.
That means an ideal buyer is more likely to take that next step. Overall, I just love how user-friendly this page is, and how it's clearly built to meet the needs of the website visitor.
2.
Notion:
Virtual notebook app pricing page highlights FAQs and social proof to combat objections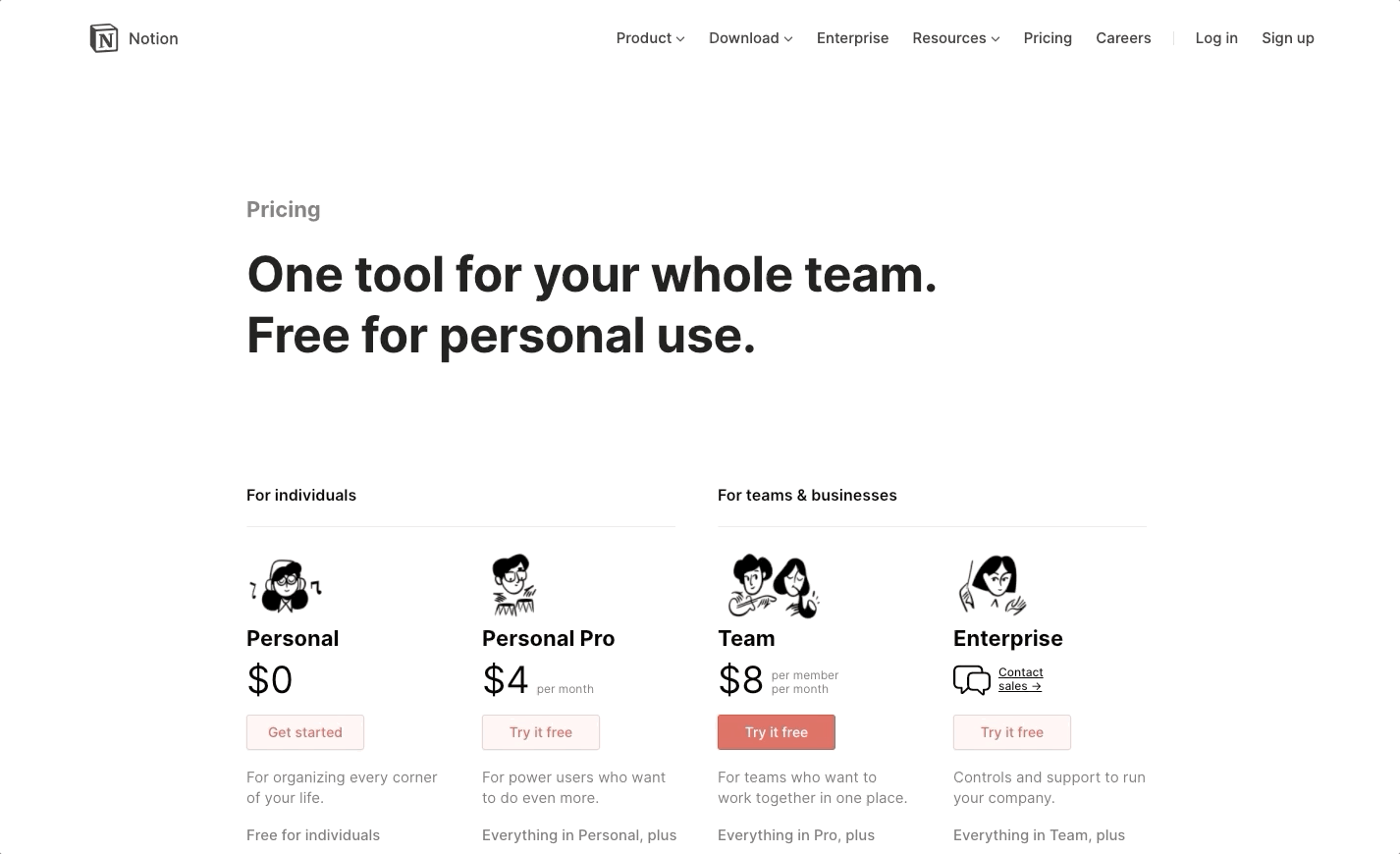 Why I ❤️ Notion's pricing page
OK, technically they provide no pricing guidance for enterprise solutions, which is not uncommon (and something I can forgive due to the complexity of most enterprises).
Still, my absolute favorite virtual notebook app crushes their pricing page with the inclusion of some really helpful features:
The ability to toggle between annual and monthly pricing options
A comprehensive pricing table with key features between tiers
A lengthy FAQ section with the most common questions they get about cost
Lots and lots of social proof at the bottom, proving the worth of the product
Seriously, they go out of their way to make people feel comfortable with their product and how it's priced, which is a great way to make buyers feel confident in the investment they're about to make. I'm also a fan of how they emphasize that you can try the team version for free. In fact, the tab and highlighted button make it clear that's recommended.
3.
Zirtual
:
Virtual assistant company pricing page example highlights discounts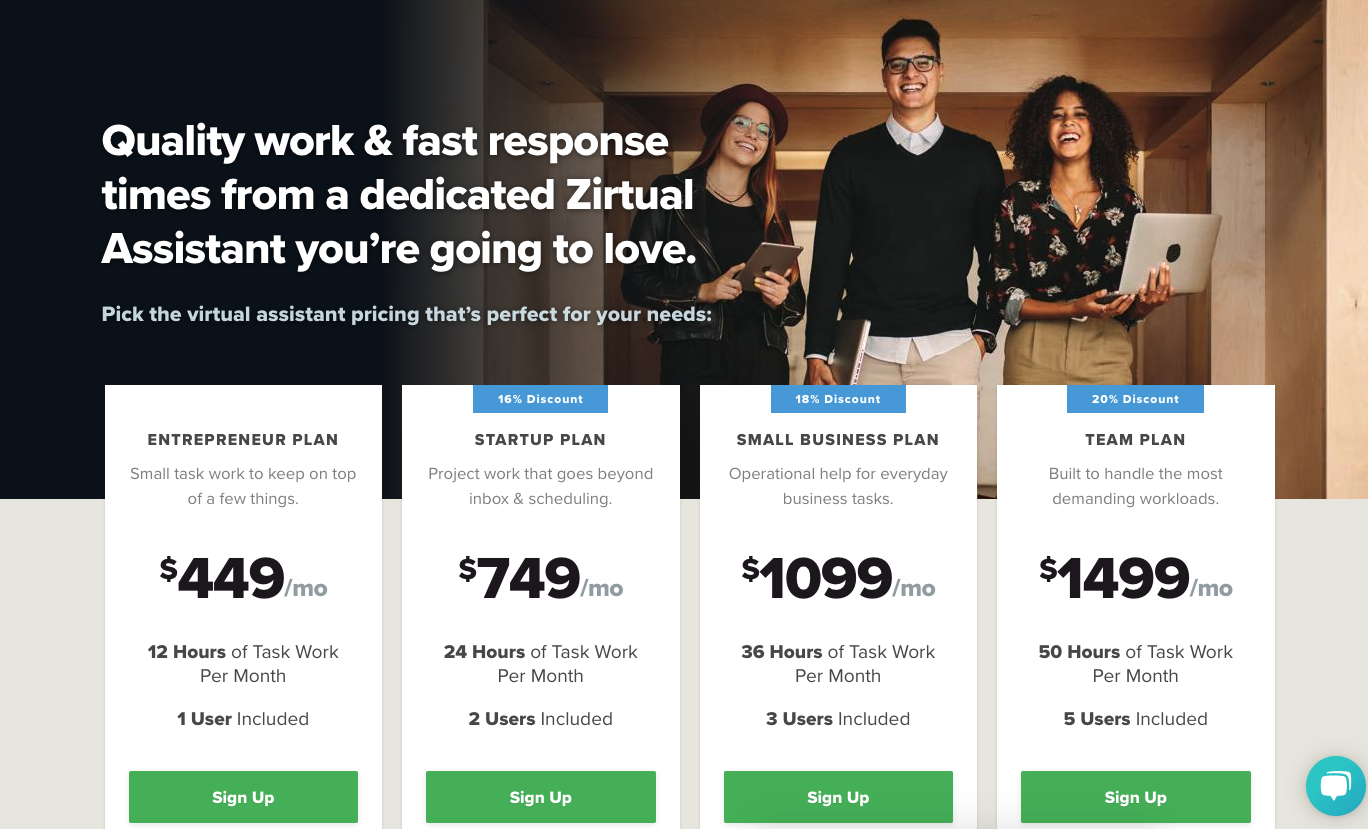 Why I ❤️ Zirtual's pricing page
One of the most understandable concerns a services-based business might have about showcasing pricing is if they cater to a broad base of different types of clients — from individuals to larger businesses.
How do you present all of those different pricing plans and ranges? If you fall into this bucket, then look no further than Zirtual for inspiration.
Zirtual, a virtual assistant company, offers their support services for individuals all the way through to small and medium-sized businesses. They not only do a great job of presenting clear pricing for each tier and making comparison easy, they also show how the pricing becomes more discounted as you scale up from tier to tier.
As you go down the page, they also highlight additional benefits, FAQs, and social proof.
4
.

Berry Insurance: Insurance agency uses video to educate on what influences cost

Why I ❤️ Berry Insurance's pricing page
"But Liz, we don't sell anything that has a fixed starting cost, and there are so many freaking factors that influence what we sell!"
If that sounds like you, buckle in for this example of a rockstar pricing page. In the insurance world, there is no such thing as a one-size-fits-all pricing model. Personal, pet, business, home, life, car... literally anything and everything can be insured, you know what I mean?
So, how on earth do you create a pricing page for something like that? Meet Berry Insurance. They're one of our digital sales and marketing clients, and their team absolutely slays it with their pricing page, even though they can't give more direct pricing grids and examples, and here's why:
They give users the ability to toggle their experience between personal and business insurance needs.
Yes, they have a "get a quote" button, but that's immediately followed by tons of valuable information about how insurance pricing works.
They have a section where they give pricing ranges for different types of insurance, so potential buyers can get a feel for how much they will be investing in each type, even if it's not a specific price tag based on their specific insurance needs.
They also have a collapsible FAQ section that targets some of the most common questions people have about why insurance is priced the way it is.
The best part of this pricing page example, however, is its use of cost/pricing video (one of the seven essential business videos The Visual Sale calls The Selling 7).
While the page doesn't offer numeric specifics, the video builds trust by teaching potential customers what goes into their pricing strategy so they have a better idea of what to expect when they do hit that button to get a quote.
In short, Berry Insurance doesn't keep their buyers in the dark. They've created a one-stop-shop for ideal buyers to feel completely educated and empowered about how insurance pricing works.
5.

Design Pickle

: Design service pricing page highlights most popular plan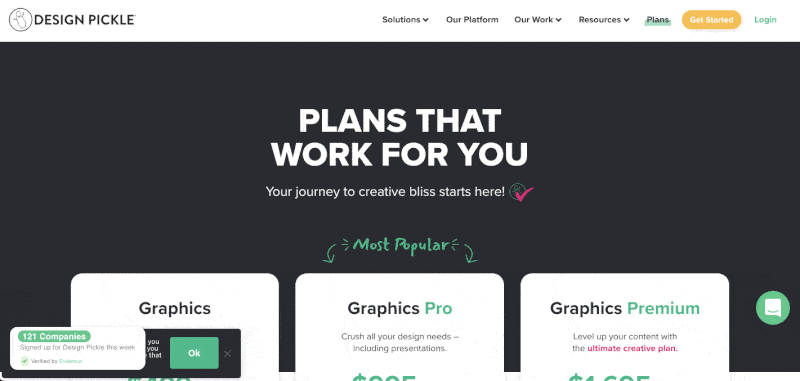 Why I ❤️ Design Pickle's pricing page
Design Pickle, another IMPACT partner, is a great example of a services-based, B2B company that absolutely nails their pricing page.
They aren't afraid to list big pricing, highlight tier differences with a handy table design, and make sure to put their most popular plan front and center. They also include a healthy dose of social proof through real reviews from trusted websites, as well as FAQs.
6.

7Geese

(Now Paycor): HR tool pricing page highlights benefits to all customers regardless of tier

Why I ❤️ 7Geese's pricing page
What is 7Geese? It was a delightful B2B platform that empowered business leaders and people managers to implement OKR goal-setting, agile performance reviews, continuous feedback, and career development plans for their people.
They've since evolved into a more comprehensive HR tool called Paycor, but this former pricing page design still remains a strong example.
What did I love about their pricing page? The headline on the page says "simple and transparent pricing" — the one thing all B2B and B2C ideal buyers crave, no matter what they're shopping for — and they deliver on that promise. I also love how they make it a point to highlight what all customers get below the table.
Lastly, I'm a huge fan of how they included real reviews and the logos of companies who were already using 7Geese, to further build confidence with their target audience.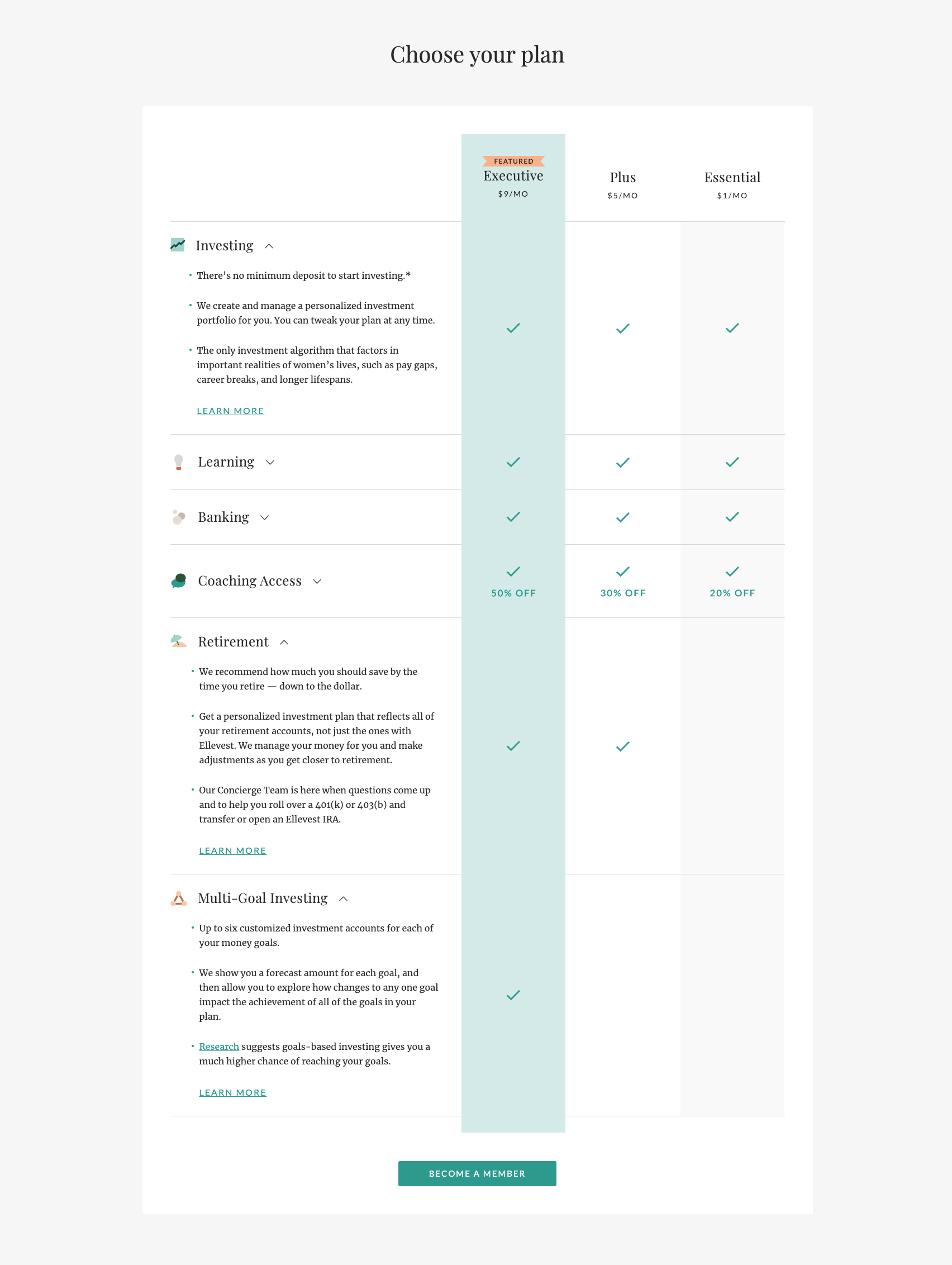 Why I ❤️ Ellevest's pricing page
When I went to Ellevest's pricing page for their membership-based deliverable, one thing really stood out to me. Yes, they have clear pricing and key features for each. However, on top of all that, for each feature, you can click to expand it (shown above) to learn more about what is included.
It's such a simple enhancement, but it's a really powerful one that provides more confidence-building detail with an intuitive, uncluttered UI for their target buyers.
8.
Applied Educational Systems (AES)
: Digital curriculum management tool offers video to talk through different tiers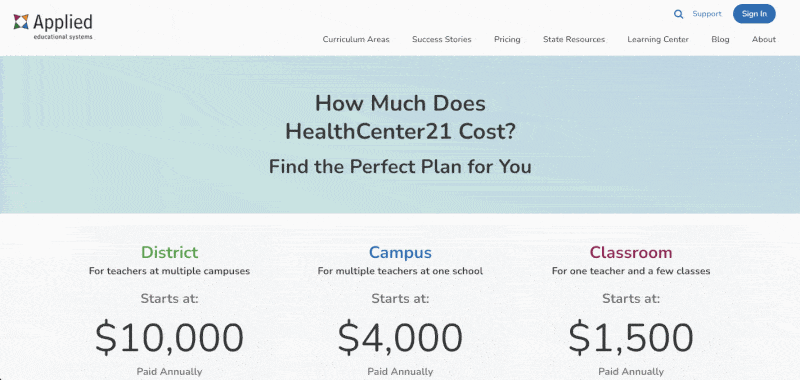 Why I ❤️ AES' pricing page
AES is another IMPACT client that takes its pricing page design to the next level by incorporating video.
While Berry Insurance couldn't give specifics on their pricing page and used their video to educate on what can make a price go up or down, AES uses video to talk through what's behind the specific levels shared on the page.
The page makes use of a lot of great pricing page best practices like using a pricing table, incorporating real testimonials, and detailing key features, so it didn't need to include a video to be understood.
However, the inclusion of one adds additional clarity (and makes the page more accessible to those who may have reading or vision impairments), and also builds trust by introducing you to a member of their team.
9.
HubSpot:
Marketing automation software pricing page embraces complex options
Why I ❤️ HubSpot's pricing page
If you have a business with multiple products and audiences, where you're concerned your pricing strategy is too complex, look no further than HubSpot for an absolute masterclass in how to nail a pricing page.
They sell five different automation platforms — sales, marketing, service, web, and operations — with three subscription tiers that don't have a single price and even a free version.
So, how did they tackle it?
They included the language "starts at" for the price noted in each tier.
They offer recommended bundles, depending on your business needs.
Allow you to toggle paying monthly versus upfront.
Show cost in different currencies for buyers around the world.
They give even more transparency and control to their ideal buyers by giving them a pricing calculator, so they can see what influences cost and why.
Bottom line, they don't shy away from the complexity of their pricing — and why should they? Marketing technology buyers (who are serious, good-fit buyers) know what HubSpot sells is going to be an investment. A big one, depending on what they need.
So, by giving them more autonomy and power to understand what they're getting into from a money standpoint only serves to create more educated buyers and empower bad-fit prospects (who will never pull the trigger on something so expensive) the chance to self-select out before sales wastes time with them.
10. Trello: Project management tool pricing page includes calculator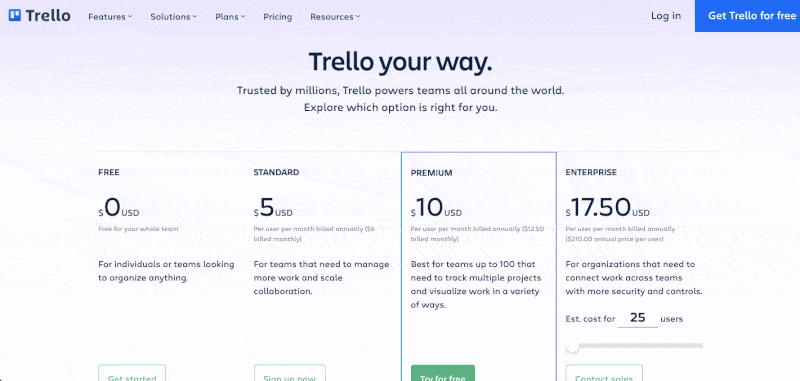 Why I ❤️ Trello's pricing page
Check out that amazing little calculator scale Trello threw on the enterprise option on their pricing page. You can literally get a customized quote for your exact number of users without having to talk to sales!
How freaking cool is that?
Seriously, this is the exact kind of user-first mindset you all should be thinking about in terms of how you present pricing to your ideal buyers. If you don't believe me, ask yourself how powerful this pricing page would be if it simply said "contact for a quote" at the enterprise level?

Why I ❤️ Basecamp's pricing page
Of course, organization and project management giant Basecamp has an out of this world, detailed pricing page, but here are the specific things I love about it:
It leads with the most common use case (business) and then follows with personal, even though the personal one is the cheaper of the two.
The pricing page copy "limited, but free" is honest and direct for their personal Basecamp product offering. They go into more detail, with clear visuals about what is not included, which is super helpful.
They not only include their own pricing, they include pricing against their competitors right on the same page! That's so helpful for companies and brands trying to do comparison shopping.
Finally, they cap everything off with a nice little FAQ section.
Go, Basecamp, go! Way to set the bar high for what a well-designed pricing page is!
Remember, you can't avoid the money talk
When we talk to companies who are cost-avoidant on their website, usually they fall into one of three buckets with their concerns:
"We'll scare away potential customers with a price tag before they understand what value we really provide."
"We don't want our competitors to know our rates."
"Our (products/services) are too complex when it comes to pricing, so there's no way we can actually create a pricing page."
Well, here is what I have to say to each of those:
You'll only scare away those who are likely bad fits to begin with. This means you're actually just saving your sales team the wasted time they would have otherwise had to spend with those folks.
Your competitors already know. Trust me, they know, because (beyond obvious industry pricing standards and ranges) you all are vying for the same business, and prospects talk. Don't hide your pricing from a place of fear, because your ideal buyers will go running to those very competitors you're trying to dupe if you don't share your pricing.
My hope is that some of the examples I showed you above is that yes, you totally can create a pricing page experience for complex pricing models that empower your ideal buyers and make them feel more confident in reaching out to schedule a demo or talk to you more about your services.
Lastly, having a pricing page, and more importantly, a transparent pricing page, is an essential part of building trust with your audience before they've even spoken to you. A detailed pricing page is just another tool that helps enable them to do their purchase research as independently as possible.
As you look ahead to how you want to transform your business website in 2022, add "create a detailed, transparent pricing page that puts the needs of your buyers first" as a part of your new business website strategy. Now more than ever, your ideal buyers are more budget-conscious and in search of companies they can trust to be forthright.
So, don't let fear result in you leaving money on the table. Moreover, understand that the most profitable and easy way to stand out from your competition is by clearly declaring on your business website, "We're happy to make it easy to understand what our products and services cost, and why. We're here to help."
Free: Assessment
Does your website build trust with buyers and bring in revenue?
Take this free 6 question assessment and learn how your website can start living up to its potential.