Website Mastery: A better redesign process for your business website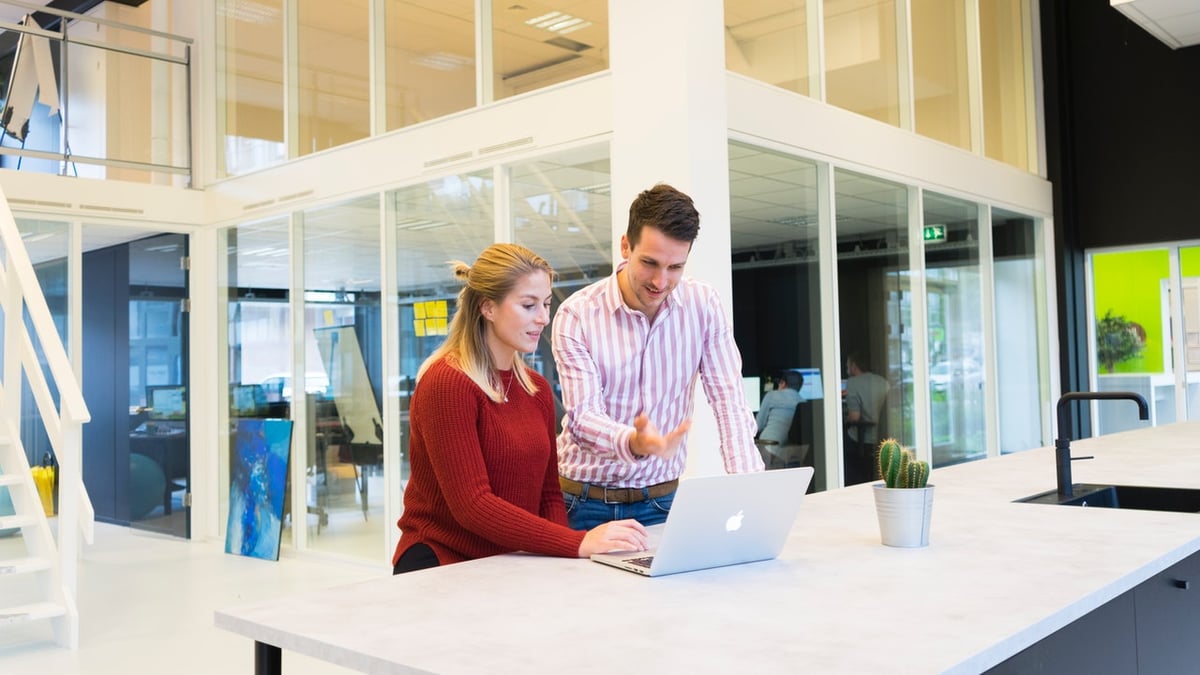 A business walks into a web design agency looking for a completely new website. After months of design and development (and tens of thousands of dollars), their stunning new site launches. But six months later, the company comes to realize that the new site doesn't meet their needs.
The site is beautiful, but traffic is flat. The few leads that are coming in aren't qualified.
The company is stuck. Do they return to the same agency and pay more for updates? Do they start over with someone new? Why didn't they get the website they hoped for?
The fact is, some version of this scenario happens way too often. Maybe it's even happened to you.
But it's not your fault. The very process of redesigning a website is deeply flawed. And to understand why clients so rarely get what they're hoping for, we have to start by looking at the process itself.
3 uncomfortable truths about website design that no one talks about
If you've got $50,000 to spend on a new website, agencies will line up around the block to take your money. There are even some who promise a brand new website in 30 days, start to finish.
It's tempting to be swayed by these offers, but there's a big catch. Actually, there are three big catches.
1. The website redesign process does not typically focus on business strategy
Think about why visitors come to a website. Unless we're talking about social media, visitors are not coming for entertainment. They want information.
Will your website provide them the information they need? Or, to back up, do you even know the questions they're asking?
If your site is beautiful but useless, how many visitors will come and stay?
When an agency sells a new site, business strategy is rarely part of the conversation. That is, how will you use the website to market and sell more effectively? There's more focus on bells and whistles — and this is a big problem.
At most agencies, the web team is totally separate from the marketing and sales team. As such, your website redesign is not seen as a whole-business undertaking.
This is backward thinking.
After all, your website is supposed to attract inbound leads with content marketing, right? It's supposed to help with the sales process. To talk about a website and not talk about broad strategy is like building an office complex without roads or a parking lot.
Sure, it looks nice, but how are people going to get there?
🔎 Related: Will a website solve our marketing problems?
2. Website redesigns are often based on guesswork and assumption, not user data
In the traditional redesign process, once a site goes live, the agency pretty much hands over the keys to the client and they go their separate ways.
This method completely disregards user data, which is critical to maximizing conversions.
Rather than building a site based on the way the agency thinks visitors will use your site, a better way is to launch the site and then test and adjust it. A/B testing, heatmaps, user pathways, and traffic data can enhance your site and create an improved user experience over time.
Unfortunately, agencies rarely invest the time or resources necessary to make use of this information. Once they've built the site and sold the site, they're onto the next project — and the client is left holding the bag.
3. The client team is never taught how to fully use its own site
Your business is changing all the time. New team members, new products, new messaging. Through it all, your website stays the same. Without in-house knowledge to make updates, build landing pages, change design elements, and perform tests, you're stuck asking the agency or hiring a freelancer.
Otherwise, your site quickly gets out of date, which is another problem.
You should have the internal expertise to be in control of your site so it can reflect your business today and in the future. After all, it's your website. It should feel like yours.
Website Mastery: Strategy, data, and users
At IMPACT, we've never shied away from challenging the norms. We've loudly proclaimed that the traditional relationship between an inbound marketing agency and a client is broken, outdated, and inefficient.
We believe the same thing is true about the website redesign process.
The fact is, the traditional approach to website redesign costs companies billions of dollars each year, both in costs and lost revenue. First, clients shell out hefty sums for websites they might not even need. Then, they're losing revenue because their shiny new site is not actually attracting traffic and qualified leads.
It's time to imagine a better way.
Website Mastery overhauls the website redesign process, focusing on strategy, data, and the people who use the site — both inside and outside of your organization.
Informed by strategy
A website is a critical component of your marketing and sales plan — but it is not a strategy in and of itself. You need a robust business strategy before you need a new website. If you don't have that strategy, we'll work with you to build one.
Optimized with data
Rather than waiting months and launching your entire site at once, we favor a more nimble approach. We build and launch core elements of your site that drive the most value and start gathering data as we build the rest. We then use these user insights to inform page design, site structure, landing page copy, conversion pathways, and more.
Built so you can use it
At the same time, we train your team to take control of the website when they're ready. Your team needs to know how to update the site, build and adjust pages, analyze website data, and test features.
This way, you have the expertise to guarantee that your site will serve your business for years to come.
So, will IMPACT build me a website?
Our team of experts can build you the exact website you need, but we never want to rip anyone off. Therefore, we likely won't build you a new website right away. Too often, businesses get sold a new website when they don't really need one, or before they're ready.
If you come to us looking for a new website, you'll fall into one of the following categories.
1. You may need a new website, but you need a business strategy first
(True for about 80% of all clients)
Yes, we can see a new website is in your near future, but you don't yet have the strategy in place as a foundation. First, you need to work with our coaches and trainers to build a solid business plan. We'll help you hire an internal team and learn to produce the content that will bring in organic traffic, build trust with prospects, and drive revenue.
If you start working with our They Ask, You Answer Mastery team, we can get going on your website once you've built some momentum and gotten things in place. This will likely be in a few months.
Website Mastery — that is, the planning, strategy, design, development, testing and training of your new site — usually lasts between five and 12 months, depending on your unique needs.
Again, we want to make sure you're getting the site you need, and we believe strategy comes first.
🔎 Related: What's included in IMPACT's comprehensive They Ask, You Answer Mastery program?
2. You need a new website and a new strategy — and we can do both at once
(True for about 15% of all clients)
This could be the case if you have the necessary budget and internal team structure already. If you can make a substantial investment in your digital sales and marketing and in your website simultaneously, we can work with your team to do both at the same time.
You probably already have a content manager on staff, for example, but maybe your inbound strategies are ineffective. You're ready for both of IMPACT's training regimens at once.
This means you'll get started working with IMPACT's coaches and trainers for a 12-, 18-, or 24-month engagement. Simultaneously, you will begin working with a website strategist on our web team to start planning your new site.
Website Mastery will last six to 12 months, with your Mastery program continuing longer if you're on the 18- or 24-month track.
3. You've got a fully-realized inbound marketing and sales strategy in place; Let's build a website!
(True for about 5% of all clients)
Congratulations, your business strategy is sound! You're keen on answering customer questions, providing value to your buyer, frequently updating your website with new content, and using this content in the sales process — and you've got the team in place to do it. This means you're completely ready to get started on a brand new website where all of that content can live.
If you're at this point, we can get started on your website right away!
And if you have a coach, they will ensure the new website fits seamlessly into your overall inbound strategy — and that your leadership is fully invested in website development and optimization.
Strategy first, website second
When businesses see their traffic or their leads fall off, they are tempted to move quickly to address the problem, which is the right instinct. However, all too often businesses reach for the biggest lever in front of them: I need a new website. They think this will solve all of their challenges, and they're ready to invest heavily to do so.
The problem with this approach is that it's putting the cart before the horse, so to speak. You might very well need a new website, but it's almost certainly not the first thing you need.
Without a sales and marketing strategy behind it, your website is unlikely to deliver value to your customers. And, if it doesn't provide value, those customers are going to bounce instead of converting — and you'll be left with a very expensive, very beautiful website that doesn't help you bring in revenue, which is the last thing you want.
For many of your customers, your website serves as their first introduction to your products and services. That site needs to be in lock-step with a broader strategy that helps you connect and build trust with those customers. Without that in place, your branding, messaging, and content could be adrift and ineffective.
At the same time, you want your site to provide the best experience possible for your visitors — and that assurance can only come if you use data to inform your site's structure and content.
But strategy needs to come first. Anyone who tells you otherwise is not concerned with your organization's long-term growth.
Website Mastery will allow you to partner with IMPACT experts to make sure your site's design and development is based on more than just best practices and assumptions.
When we make decisions with data, when we are guided by strategy, we make the best decisions possible.
Your website is a big deal. You don't want to get this wrong.
Free: Assessment
Does your website build trust with buyers and bring in revenue?
Take this free 6 question assessment and learn how your website can start living up to its potential.