6 red flags to watch for when you're hiring a website redesign agency
To make sure you're finding the right partner, make sure you're asking the right questions.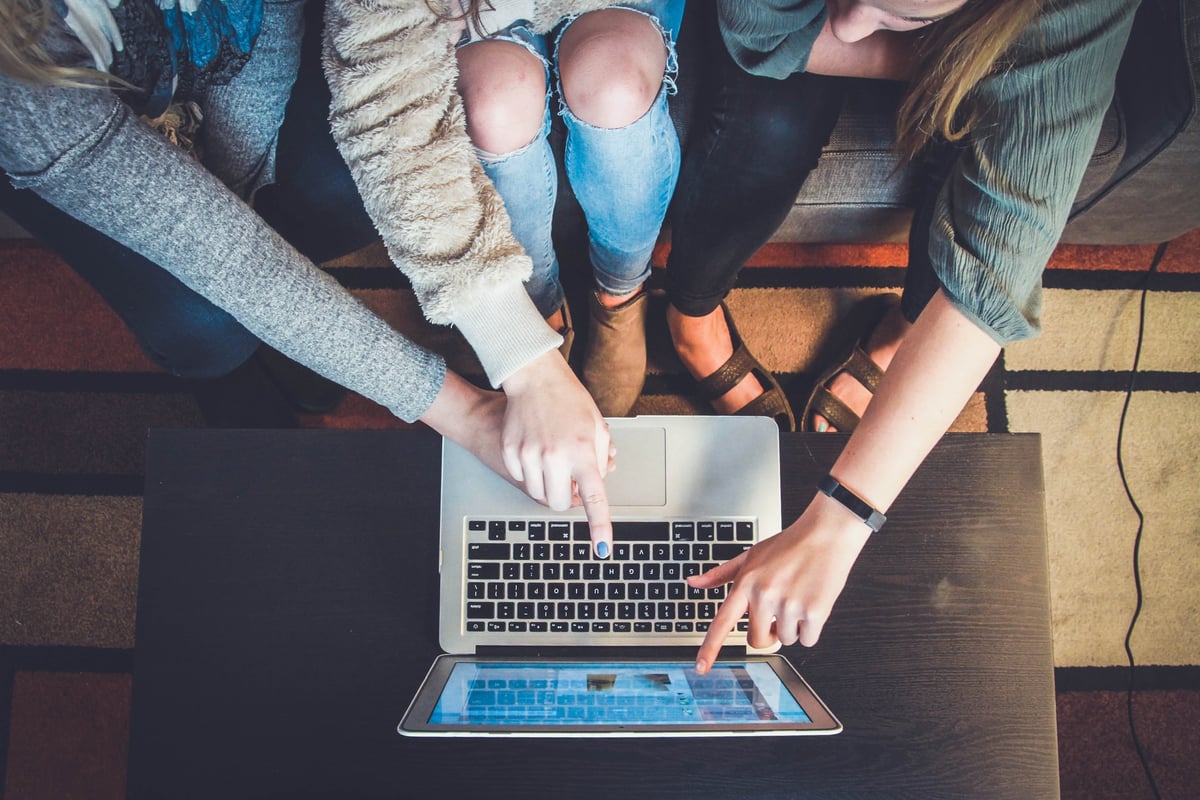 Red flags to watch for when hiring a website redesign agency
They're not asking a lot of questions about your business
They're way too confident about a tight timeline
They don't introduce you to the web team
They don't talk much about content
They make guarantees about quick results (post-launch)
There's no talk about your marketing strategy
Entering a website redesign is an exciting time for any business, but it can also be intimidating. Your website is crucial to the success of your business, and you know you need to get it right.
However, you might feel like you're at an information disadvantage when you sit down to talk to an agency. After all, you're likely talking about a project that will take months and will cost tens of thousands of dollars.
How can you know you're going to be working with someone you can trust?
Blogging works better when you write about topics your buyers care about.
At the same time, your point of contact at an agency is likely a sales rep, whose job it is to close deals. Could they be making promises their team can't keep — just to get you to sign on the dotted line?
Vin Gaeta is director of web services at IMPACT and has over ten years of experience working on website redesigns of all shapes and sizes. These, according to Vin, and things to be wary of.
If you're embarking on a website redesign (or just starting to consider it), you'll want to know how to spot potential red flags during the sales process. This way, you can be sure you're asking the right questions and listening for the right answers.
6 red flags that should send you running to a new website redesign agency
So, what should you look out for? While we're not saying any of these should be utter deal breakers, they should give you pause. And if you start seeing more than one…
Remember, always ask more questions if you're confused. Dig deeper. If you need to, speak to past clients of the agency to find out what their experience was like.
But, if you don't get satisfactory answers, keep shopping. There are a lot of great agencies out there.
Red flag #1: They're not asking a lot of questions about your business
Why it's a concern: In the early stages of a website redesign, the agency has loads to learn about your business: Everything from your revenue and traffic goals to the particulars of your industry and competition.
They need to know everything that makes your business unique.
Developers also need to know if there are any custom coding needs for your site, which could take extra time to build. Maybe it's that old home-grown calculator tool that someone built five years ago and no one knows how to maintain. Or maybe it's an API integration that's critical to your business. That sort of thing.
In order to accurately scope the project, the agency needs to know as many details as possible up front.
If an agency is giving you a price and a launch date without a thorough knowledge of the project, you should be suspicious.
There's a good chance the project might drag on longer and cost more — which could have been alleviated with more complete information gathering by the agency at the get go.
🔎Related: How does IMPACT's website strategy blueprint process work? (schedule and outcomes)
Red flag #2: They're way too confident about a tight timeline
Why it's a concern: Building a custom website is a big job that involves strategy, design, development, and testing. The fact is, many projects run long.
As a general rule, website projects take between three and six months to complete, according to Vin. If your sales contact gives you a timeframe that falls somewhere in that range, they're probably being realistic. If they're offering you a full custom site in 30 days or in six weeks, you should be skeptical.
What's more, keep in mind that the agency's sales team is selling multiple web design projects at the same time. That means that there could be a bottleneck if too many clients sign on at once. Be sure to ask about their capacity to deliver on time.
🔎Related: How long does it take to complete a website redesign?
Red flag #3: They don't introduce you to the web team
Why it's a concern: You know this, but it bears repeating: The sales rep is not going to have any connection to your actual website redesign project. That means that anything said in your meetings needs to be conveyed to the web team, whether through call notes or recordings. Or it needs to be repeated once you get underway.
Wouldn't you rather speak directly to the experts who will be building your site — before you write a check?
As your sales calls progress and you get closer to signing, you should expect to meet with a project manager or strategist from the agency's website team. If you don't, that's a bad sign.
🔎Related: Should you hire a web designer, a web developer, or both?
Red flag #4: They don't talk much about content
Why it's a concern: Here's the dirty little secret about website redesigns: it's often the content that holds the whole thing up. Think about it. If you're looking to have your entire website rebuilt, that could mean hundreds of web pages. Each of those pages needs writing on it — from "about us" pages to service and product pages.
All of that writing needs to be on-brand and error-free.
So, who is going to write it? If it's your team, you need to have the bandwidth to do so. If it's the agency, they need the manpower to get it done as well as a keen familiarity with your brand's voice and tone. If they're writing it, there is likely an approval process that needs to be set up on your end.
If the agency is not talking about content, it could get overlooked, which will lead to delays and frustration.
🔎Related: Website content creation takes longer than you think
Red flag #5: They make guarantees about quick results
Why it's a concern: If you're in the market for a new website, chances are that your old site wasn't working optimally.
You need more traffic.
You need more qualified leads.
You need better sales numbers.
Yes, a website can deliver all of these results, but be wary of agency sales reps who make lofty promises about how quick you will hit those numbers.
For anyone who's spent time in the digital marketing field, you know that website traffic is a difficult metric to predict. It can sometimes be hard to gauge which content will resonate, which campaigns will land, and which efforts will miss the mark.
Be wary of agencies that promise to 10X your traffic within 30 days of launch.
But there's a bigger issue here as well. If your website is not a part of a broader marketing strategy, you might end up with a beautiful site that does little to actually facilitate sales.
A website without the right content — that is, content that educates and builds trust with buyers — is not the guaranteed traffic driver you're looking for.
Which brings us to our final red flag.
🔎Related: Why a growth-driven design website will give you better traffic, leads, and sales
Red flag #6: There's no talk about your marketing strategy
Why it's a concern: Your website is your organization's storefront in the digital world, giving would-be customers their first impressions of who you are and what you do. Today, it is essential that every business, from mom-and-pop outfits to multinational businesses, have a viable website to attract and inform their customers.
However, a website is not a marketing strategy. The sleekest, prettiest site that doesn't deliver value to visitors will be passed over for one that does.
A robust, compelling content marketing strategy that focuses on answering the buyers' questions and establishing your brand as a trusted educational resource will truly drive traffic to your site and bring in qualified leads.
An agency can sell you a new site, but it's not going to solve your marketing and sales challenges if it's not part of a bigger, well-conceived strategy.
It's not their responsibility to evaluate or implement your marketing strategy, but it should be part of the conversation because your success is their success.
Being a smart buyer means asking the right questions
A sales rep's job is to sell website redesign projects. As the buyer, be sure that you're getting the deal that makes sense for your business. This means establishing that you and the agency are on the same page regarding all aspects of the project.
Remember, this is an expensive and critical undertaking for your business. You want to make sure you're partnering with an agency that understands your needs and can deliver on its promises.
Ask the right questions to make sure you're getting what you need.
Published on February 3, 2021