How does IMPACT's website strategy blueprint process work? (schedule and outcomes)
Any website project needs a guiding document. That's where a blueprint comes in. Here's what you can expect from IMPACT during our five weeks working together on your website strategy blueprint.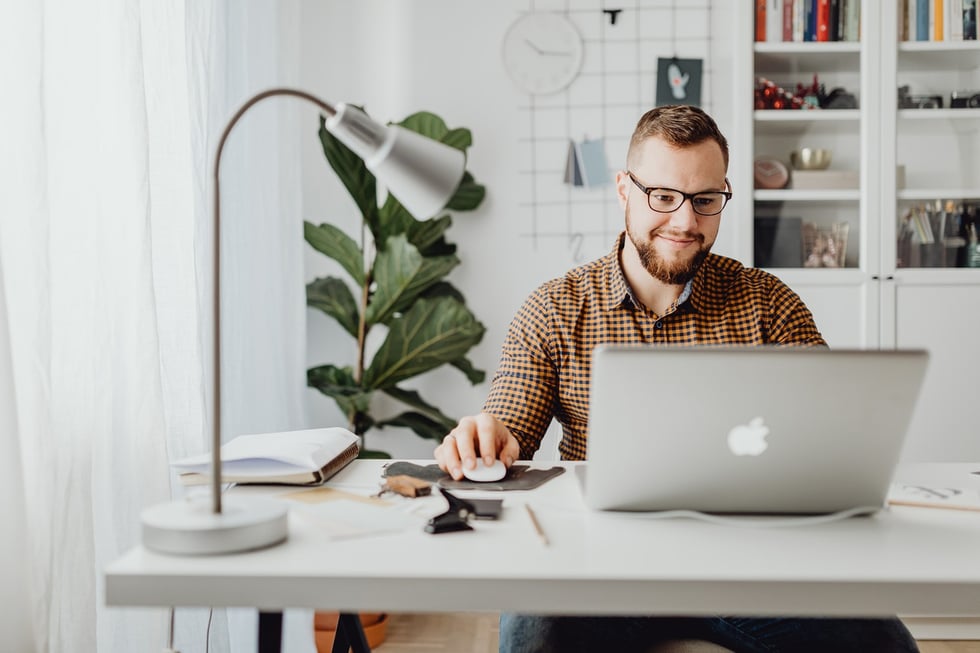 Revenue & Features Editor, Co-host of Content Lab, 15+ Years of Writing and Teaching Experience
December 18th, 2020 min read
A website strategy blueprint is an essential component of a successful website redesign. At IMPACT, the process is an intensive, five-week engagement that culminates in a bundle of resources that can guide your website strategy for a long time to come.
But while it's easy to understand a blueprint in the abstract, actually picturing it might be challenging.
That's where this guide comes in. Rather than a high-level overview, this is a week-by-week examination of IMPACT's process so you can ascertain whether or not it's the right process for you. You should also get a good idea of what your team's responsibilities will be during this time.
With that, let's dive in.
🔎Related: How long does it take to complete a website redesign?
Overview: What to know before you start
The website strategy blueprint is the first step to completing a website redesign with IMPACT. This is a standalone service, with a fee of $7,500.
At the end, the vast majority of clients begin a formal website redesign retainer with us, but this is not a requirement. We feel confident that we will prove our value to you, and you will be impressed by the insight and expertise we show in designing our plans for the website your business needs.
Over the course of five weeks, you can expect regular meetings with the same IMPACT team members you will work with if you continue on post-blueprint:
A project manager administers all aspects of a website redesign, and the same is true with the blueprint process. Expect your PM to be setting and running meetings, making sure goals are set and all communication goes smoothly.
Your strategist will guide all aspects of your website redesign, from initial planning sessions to eventual ongoing adjustments to make sure your website is user-focused.
A designer will create wireframes, mockups, and illustrations. Your designer will also help with brand vision strategy and implementation.
A developer builds the actual site, making sure it's fast, solid, and easy to update. Although you won't often work directly with a developer, you will meet with one during the blueprint process to go over tech specifications.
🔎Related: Why does the IMPACT strategy blueprint cost $7,500?
What to expect, week by week
Week 1
Even before our first meeting, we're going to give you some homework. We're going to ask your team to fill out a questionnaire that helps us get fully up to speed on your business, the limitations of your current website, and your hopes for the redesign.
We also will need access to any user data you have from Hotjar and Lucky Orange. If you don't use these analytics tools currently, you'll need to install them and initiate a free trial.
Your first meeting with our team will be a 90-minute planning session with your strategist, project manager, and designer.
From our research, we will have guided you through a value proposition map (detailed below) that outlines the ways a website redesign can solve for your customers' pains, worries, and fears.
Together, we will talk through the high-priority aspects of your website that drive the most traffic and deliver the most value to your visitors. Additionally, we will begin to brainstorm design elements that represent your brand and enhance user experience.
From this meeting, we will have what we need to begin the blueprint process.
Week 2
In the second week, you can expect a technical specifications review call. Your project manager and developer will meet to confirm technical aspects of your site like hosting setup, domain name registrar, third-party integrations, security overview, and any custom code you may have.
This allows your developer to accurately predict the backend specifications that may impact the building of the site.
You will also meet with your IMPACT team for one hour to review sitemap and style elements.
Week 3
You will have another 60-minute meeting during the third week that will focus on page strategy as well as homepage inspiration. Your team will meet with your PM, strategist, and designer.
In the background, our team is working on keyword strategy and homepage design. Once we have covered homepage inspiration, we can begin to build a sample homepage that will serve as the centerpiece of your new website.
Week 4
In week four, we send to you our initial homepage designs. This comes by way of a video we send to you.
Once you've submitted your feedback, we meet for the final homepage design review.
In the background, this is where we scope the entire website redesign project. Now that we have a clear idea of just what you're looking for — as well as all technical specifications — we can put together what the entire project will entail, including cost, timeline, and more.
This way, going into the final week of the blueprint process, we feel confident that we know how fast we can build and launch your site, the processes we'll use for site adjustments, and the budget and staffing necessary for both.
Week 5
After four intense weeks of work, brainstorming, and review, we've reached the final stage of the website strategy blueprint process.
At this point, we formally present the blueprint to you and talk through what your continuation options are.
If you're ready to move forward with a full rebuild, we are poised to get that process started at this point. You already have worked with your PM, your strategist, your developer, and your designer — and have already seen a homepage design and sitemap. Now, with your blueprint in hand and the strategy laid out, we can move forward together to build the site your company needs.
🔎Related: Website redesign cost: 5 factors that drive the pricetag up and down
Blueprint overview: What you take away
So, what do all of these assets look like? How detailed are these deliverables? How much value will you really be getting out of this process?
Here are examples of what each blueprint component will look like when you get it from IMPACT. Keep in mind, these are actual examples from other clients, so yours will obviously look different. Also, in most cases I've trimmed and cropped in order to be able to represent each item in this view format.
Value proposition map
What it is: This document details the ways your business provides value to your customers, focusing on their fears, apprehensions, questions, and challenges — and your solutions and answers.
What it looks like: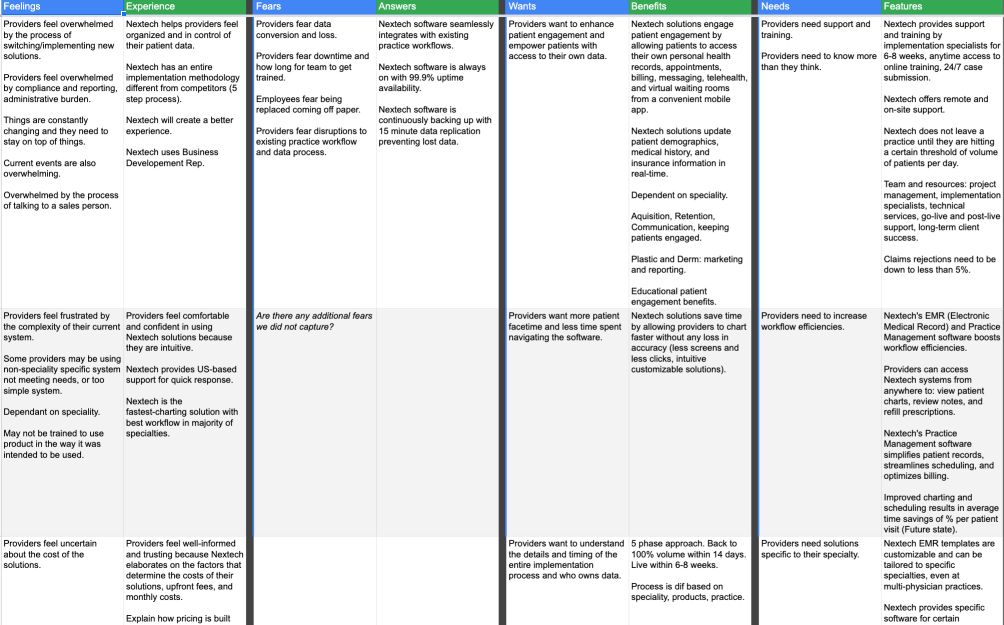 Complete homepage mockup
What it is: A mockup of what the homepage will look like on your redesigned site.
What it looks like: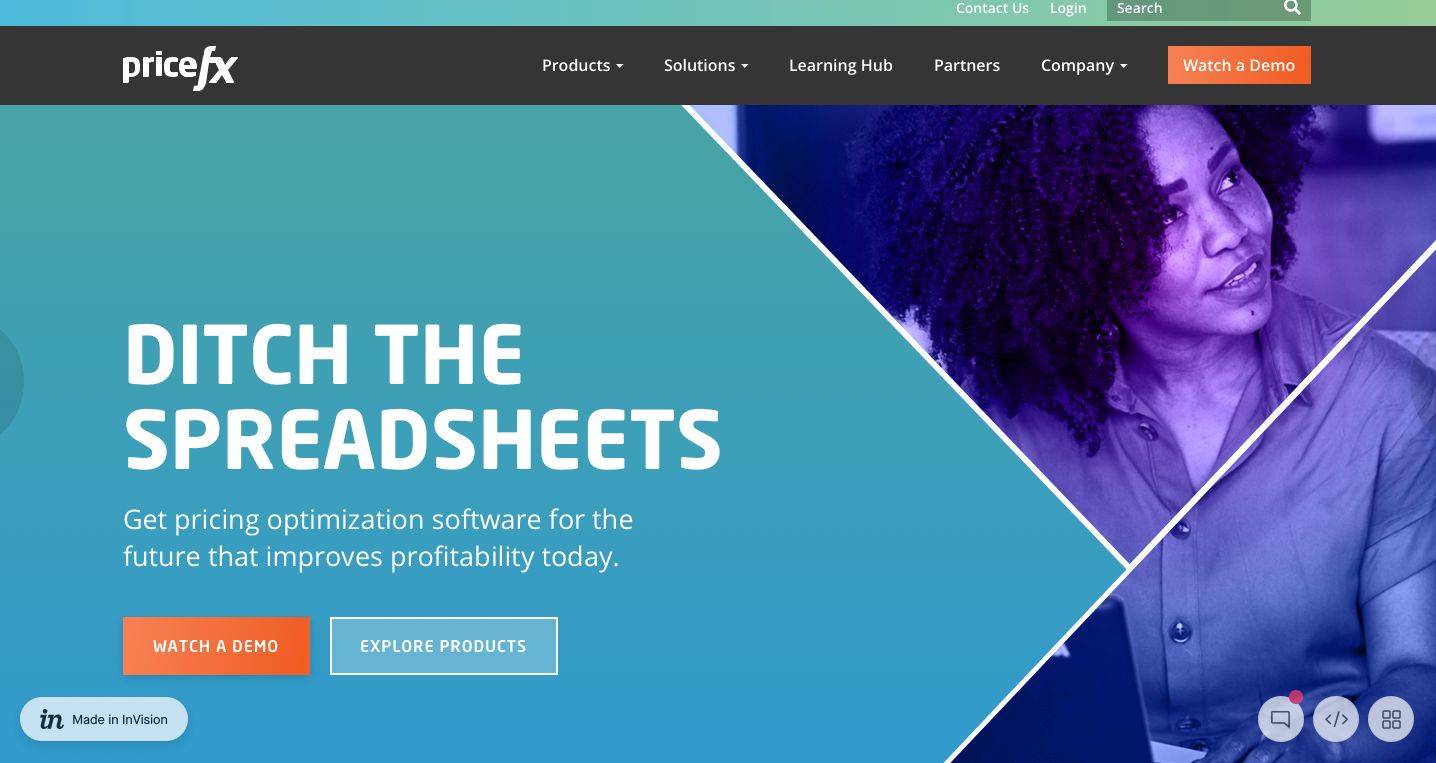 A proposed sitemap
What it is: This is a visual representation of the structure of your site that takes into account how pages are organized and how users might progress through your site.
What it looks like: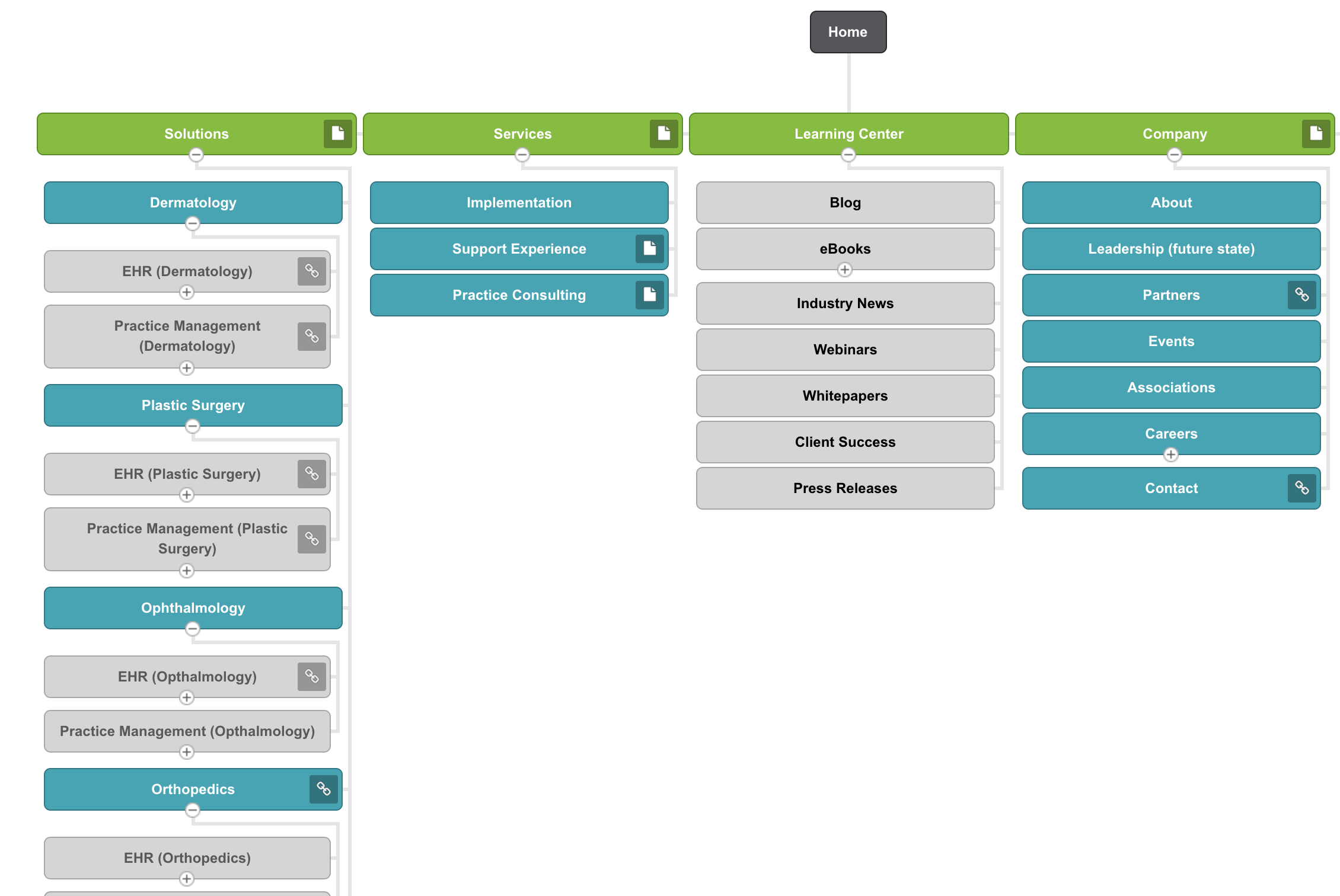 High-level page strategy
What it is: The high-level page strategy provides a detailed answer to a broad question: What is the goal of your website? For many businesses, a website should help educate your customers about who you are, what you do, and how you can solve their challenges.
What it looks like: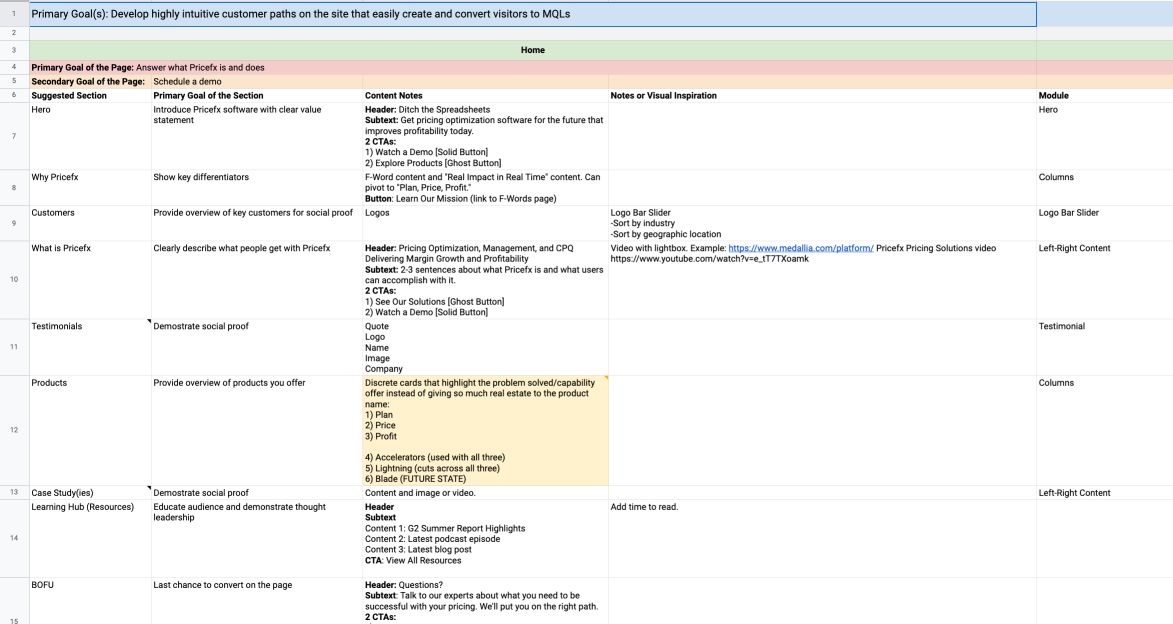 A full cost estimate of your website design
What it is: By this point, we have a very good idea of what resources are necessary to build, launch, and optimize your site. We break down what you should plan to spend for your retainer each month.
What it looks like: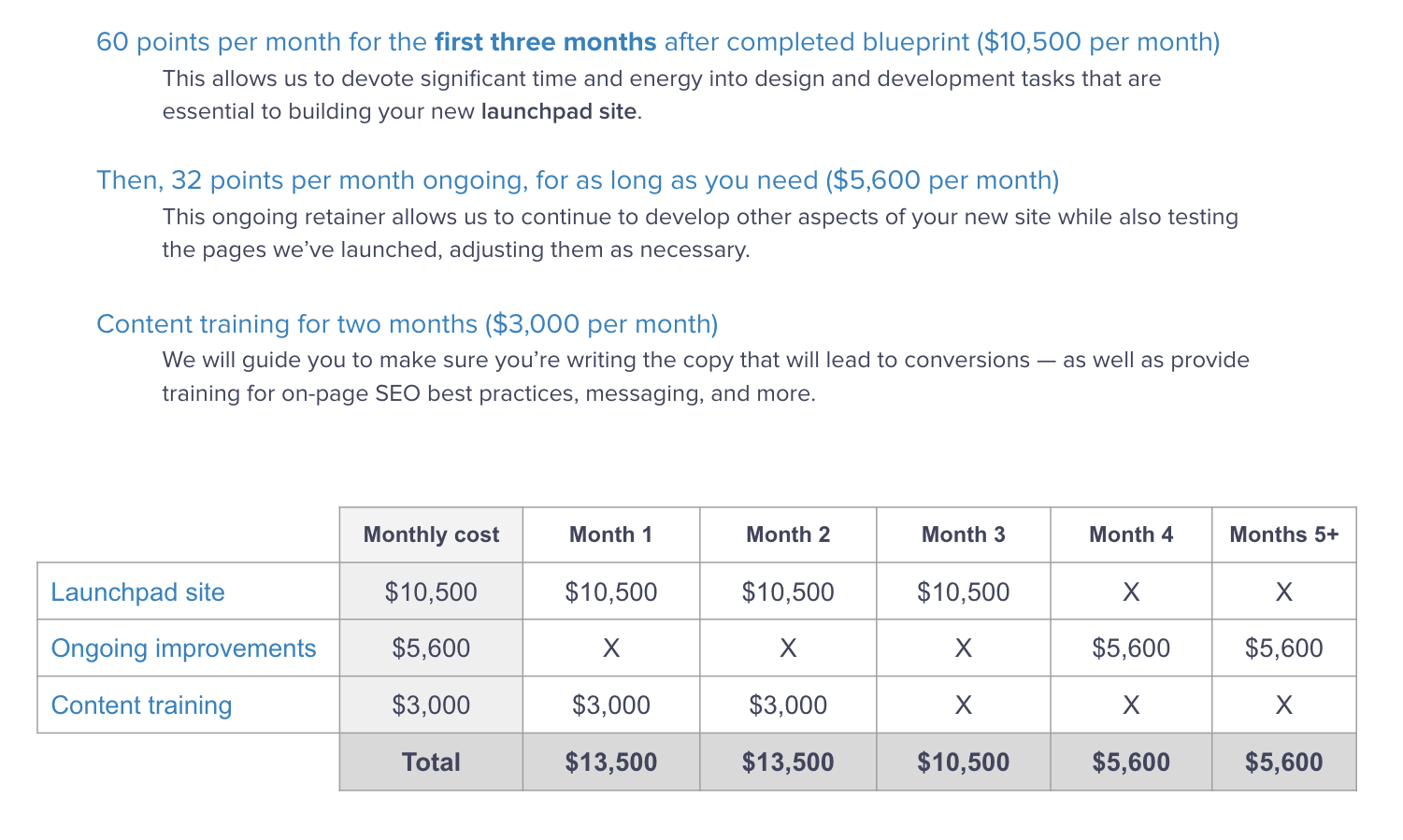 🔎Related: Why a growth-driven design website will give you better traffic, leads, and sales
Getting started with your website strategy blueprint
The blueprint process is certainly a rigorous and engaged one, but it produces the critical framework for your entire website redesign process.
Just as a builder would not break ground for a new home without detailed plans, a business must not begin replacing its old website without a thorough understanding of what they need and what they hope for from their new site.
Your project manager, strategist, designer, and developer will get to know your business and your goals, and will produce documents tailored exactly to your needs.
With these materials in hand, you will be ready to move forward in the redesign process, building the site your business needs and your customers want.