4 Ways To Recession-proof Your Website In 2024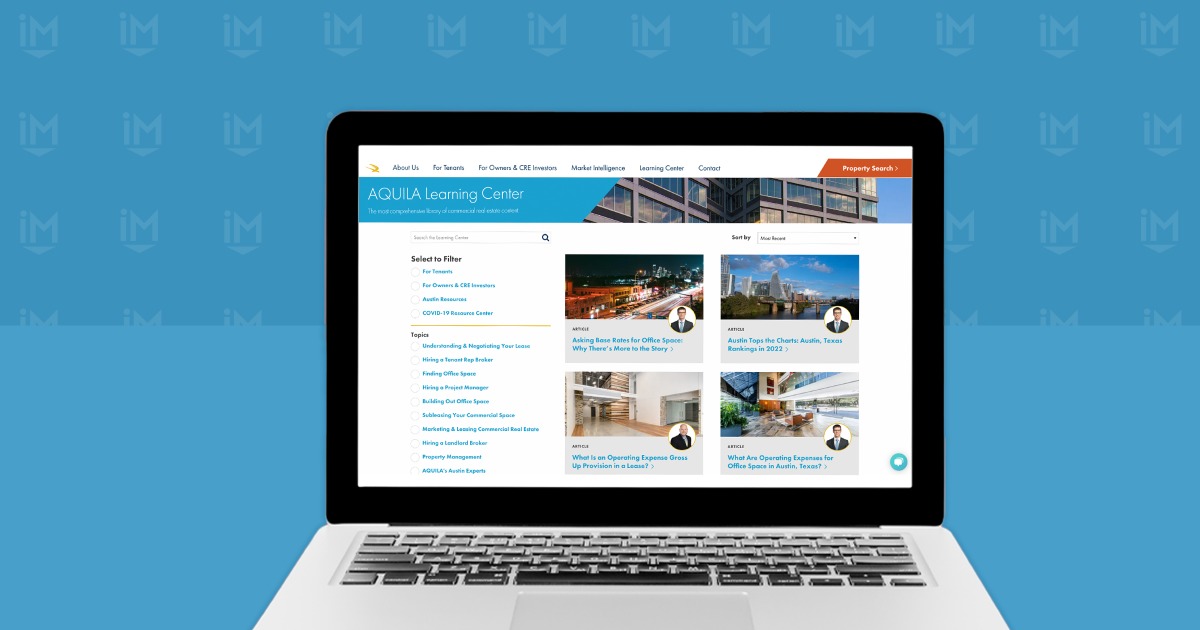 4 ways to recession-proof your website
Recommit to education
Learn digital sales and marketing best practices
Make sure your website conveys the range of your product/service catalogue
Talk about cost and value... a lot
Too often, times of prosperity make people get comfortable and lazy.
Before any major economic downturn, there are stories of businesses acting like the good times will go on forever — and that there is no possibility of hard times ahead.
Of course, hindsight is 20/20. We can't go back and warn our past selves, but we can prepare for what may be ahead.
As we look ahead to 2024, we hear the same rumblings of a possible recession on the horizon.
Some analysts appear certain of it, while others predict continued growth, even as they note inflation and supply chain issues.
Either way, it's best to be prepared.
Because so many economists and businesses missed warning signs in the past, it seems that experts are quick to temper any optimism in their forecasts, with even bullish outlooks including some gray clouds.
For small and medium-sized businesses out there, a coming downturn can be a very scary thing. However, with the right plan, you can weather the storm and come out stronger on the other side.
The key is knowing where to focus your efforts.
Top among them should be your business website. If designed right, your website should be your best salesperson day in and day out. In a downturn, it becomes an even more important asset for your business, so you need to optimize it before that time comes.
Below, I'll cover:
4 ways to recession-proof your website
Real-world steps you can take today to get started
The right outlook for going into a recession
Recession-proofing your business website
The pandemic sharpened the attention every potential customer pays to your website. People count on an updated website and updated Google Business Profile to know if you are even open for business.
Potential customers make judgments about the quality, health, and professionalism of your business by checking out your website and it's no surprise.
We've written at length about the importance of a great website to educate your audience and attract qualified leads. What we haven't written about is the way the right website can help recession-proof your business when a downturn may be coming.
Here's how to prepare your website for the storm ahead.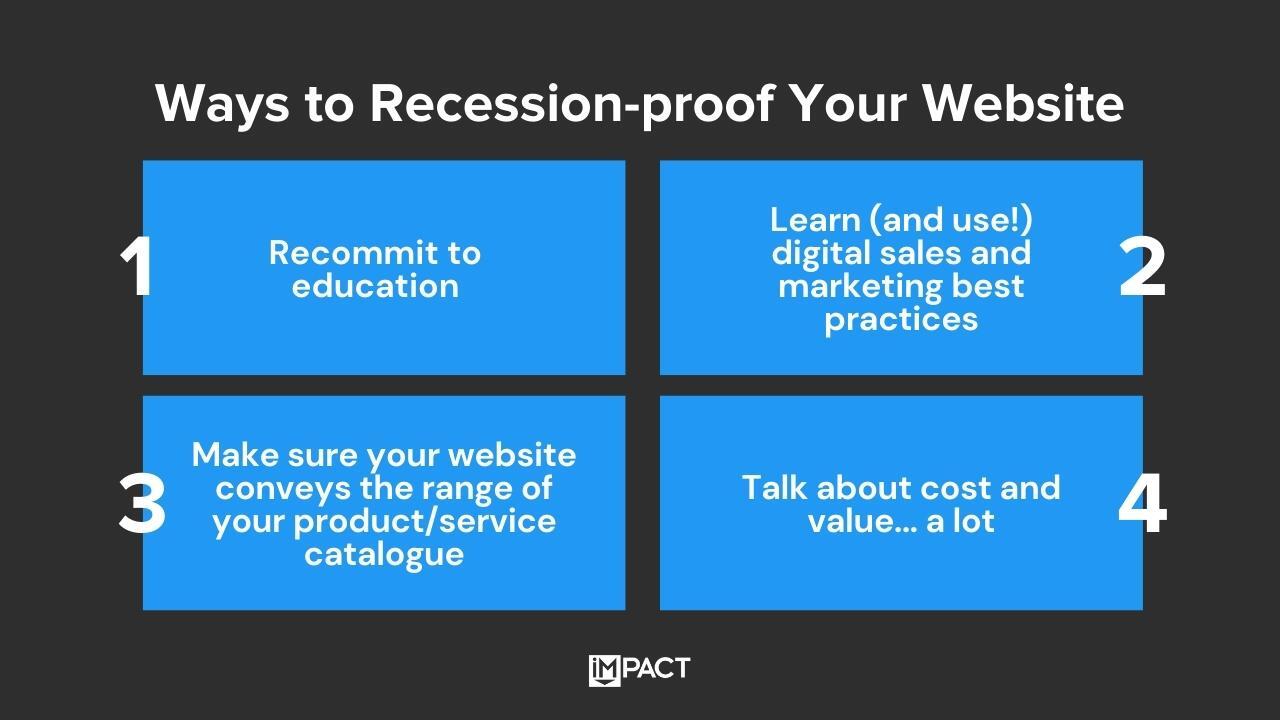 1. Recommit to education
Your website's main purpose is to provide visitors with the information they need to become customers. To do this, you should strive to make your website the most trusted educational resource in your industry.
This should be the case in good times and bad.
A trusted educational resource builds meaningful connections with prospects. When they research their problems and find that you provide answers and solutions, they are more likely to buy from you, either now or in the future.
In an economic downturn, trust-based relationships are more important than ever. In a recession, buyers are even more careful with their money. They will thoroughly research any purchase they are going to make.
Focus on The Big 5
In order to build trust, you need to provide answers to customers' most common questions. No matter what you're selling, your buyers want to know:
How much it costs
How it compares to other alternatives
What are its potential drawbacks or shortcomings
How past customers feel about it
What the best options are to consider
At IMPACT, we call these topics The Big 5.
Your website should provide content that addresses all of these topics so your customers feel well-informed.
A business that honestly answers questions is a business to be trusted. In a recession, the trusted business is the one that will survive.
What to start doing now:
2. Learn digital sales and marketing best practices
Just as you should focus on educating your prospects by way of your website, you should also focus on your own team's learning. An impending downturn should remind you of the importance of staying sharp in all ways.
Those professionals who were partying at industry events should have been bettering their own knowledge and skill-sets.
In a period of uncertainty, the competence of each team member needs to be high. Your salespeople need to know how to best use digital assets in the sales process. Your marketers need to be up to date on SEO best practices. Your videographer needs to stay on top of cutting-edge programs and techniques.
You don't want to wait for the economy to go sour to start talking about creative, effective ways to market and sell your products and services.
When your team is at its best, your website will be at its best.
What to start doing now:
3. Make sure your website conveys the range of your product/service catalog
In an economic downturn, your business may need to pivot and shift focus.
A recession isn't really time to try something completely new, but it could be a good time to explore your range — and you should make sure your website reflects that.
Let me give you an example.
At my company River Pools, our main focus is installing fiberglass pools, however, we also offer a fiberglass resurfacing service to our clients.
It certainly isn't a primary business focus, but it is something we do.
As an economic downturn approaches, we could build on this skill by producing content about it. That way, when pool owners research pool resurfacing, our website would come up. This positions us to move into a new revenue stream if the market demands it.
Again, I don't think a recession is a time to suddenly open up new facets of your business. After all, growth takes cash, and you are likely to have less of it.
Instead, I recommend positioning yourself to be ready to move into related, low-cost expansions if the market opens up.
As an added benefit, these new pieces of content can drive more traffic to your site. Perhaps a pool owner who might not normally look for a pool installer finds your business and realizes you have services or products well-suited to her needs.
Here at IMPACT, when the pandemic hit we shifted from hosting in-person events to doing virtual ones — and we invested more heavily in our online learning platform IMPACT+,
The pandemic was a time when many businesses pivoted and expanded. Lean into that experience and use it to see the opportunities around you.
What to start doing now:
Brainstorm what related services you might begin to focus on, considering the skills you have.
Add these topics to your content calendar — and then to your website.
4. Talk about cost and value — a lot
During a recession, people are watching every dollar. As I said before, customers always want to know the same five things, no matter what they're buying: cost, comparisons, reviews, potential drawbacks, and lists of their best options.
While these are all vital to the buyer's journey, nothing is more important than cost in a recession. That's why we list it first.
In order to recession-proof your website, you need to intensify your focus on cost.
If people are able to find a better deal elsewhere, why should they buy from you? Is there an added value or service you offer? Is there something that differentiates your company from others?
Additionally, make sure to focus intently on the factors that drive cost. Are there options the buyer can select that will raise or lower the price? What are they?
If a buyer is choosing between you and a competitor, price will likely be a deciding factor. You want to be able to explain why you charge what you do. Buyers respect transparency.
At the same time, start to think about potential sales or promotions that could entice business when people are more cost-conscious.
What to start doing now:
Make sure you include prices on your site. This could be via a pricing page, an article, or even a pricing calculator tool.
Start talking with your sales team. If you were to offer a 'recession-buster' package, what would it look like?
Start pulling together the necessary resources now.
Prepare for the winter during the summer
In olden times, farmers would plan all year to make it through the winter. All of their spring planting, summer labor, and fall harvesting would assure survival during the cold winter months.
Without that foresight and preparation, the winter would be devastating and deadly.
The prosperous times for your business are not times to get lazy and complacent. Rather, they are times to prepare for the winter that is always coming.
Your website is the most public aspect of your business, and with the right forethought, you can recession-proof your business — no matter what lies ahead.
Free: Assessment
Does your website build trust with buyers and bring in revenue?
Take this free 6 question assessment and learn how your website can start living up to its potential.