How to Drive Hundreds of Webinar Registrations [Case Study]

How to Increase Webinar Registrations
Start (Early) with a Partner
Establish Great Expectations with the Team
Be Clear on the Messages for Your Audience
Produce a Value-Driven Video
Promote Far and Wide
Fulfill Your Promises
Follow Up with Helpful Content
It's one thing to create the perfect webinar with a topic that hundreds (if not thousands) of people will want to spend their lunch hour participating in. It's quite another thing to actually get them to register.
Unfortunately, webinars aren't like the enchanted Iowa cornfield in Field of Dreams, at least not anymore.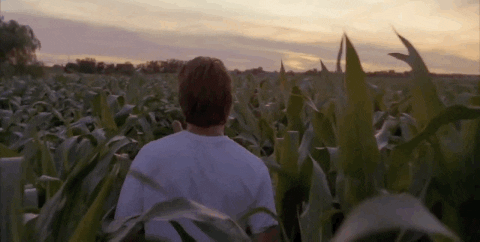 As much as we wish the phrase "If you host it, they will come" were a reality, getting a crowd to both learn about and want to sign up for your webinar takes precision, patience, and practice.
Then, however, there are certain webinars where everything perfectly fits together. A recent partnership with Wipster led to one such virtual event for us at IMPACT.
Here is the story of that webinar and the seven steps we used to drive nearly 1,000 registrants.
1. Start (Early) with a Partner
Like most things in life, the best results come when you have a strong partner on your side.
This not only gives you the chance to test ideas and develop a killer abstract, but it gives you the opportunity to combine promotional efforts and expand your reach.
A partnership with Wipster (that's our partner link) was a natural choice for us this past winter as we were developing a webinar on video production.
Wipster is a video review platform that allows teams to collaborate during the post-production process. (Here at IMPACT, we use the tool frequently and get tons of value from it.)
An initial call with Andre van den Assum, who heads up strategic marketing partnerships at Wipster, led to the decision to co-host a webinar on how to make consistent videos in-house.
From there, I pulled in Zach Basner, IMPACT's Director of Video Training & Strategy, who would be performing the webinar along with Andre.
The meeting where the three of us talked over the abstract evolved into its own mini-webinar, where Zach and Andre riffed off one another, each bringing their own knowledge and building upon each other.
This solid interaction gave a strong indication to all of us that the webinar would be informative, entertaining, and valuable to the viewers.
While you don't always have control over how well your webinar hosts work with one another, you will get an indication of their chemistry early on.
If things go well from the start (like it did with us here), then all the better. If not, make sure the meeting happens far enough in advance -- at least eight weeks -- to be able to iron out any wrinkles.
2. Establish Great Expectations with the Team
When Andre and I first met, we already knew our companies had similar goals in promoting video, but we needed to make sure we were aligned in our strategies and attendance goals as well.
To set the right expectations, everyone involved needs to be aligned about the following:
What are the goals of the webinar?
What is the measure of success?
How many registrants would be considered successful?
How many registrants will each party aim to bring?
How many attendees would be considered successful?
What are the target demographics for attendees?
How big is your target list?
What percentage of that list has attended webinars or similar events previously?
What promotional strategies will be used?
Who will host the technical elements of the event (landing page, webinar platform, etc.)?
How will promotion and post-event follow-up be handled?
The details about many of these questions will be addressed later, but the important note here is they should be answered early and honestly before anything is created.
By setting the right expectations and being consistent with them throughout the setup and registration process, everyone involved in the event knows they can rely on each other.
Document your answers to these, as well.
This will help you as you go about writing promotional copy, setting an email and ads schedule, and making sure the nurturing/follow-up process occurs without a hitch.
3. Be Clear on the Messages for Your Audience
Having discussed our goals and ideal target audience, both Wipster and IMPACT agreed that, using email and paid and organic social promotion, we would each aim to bring in 300 registrants, for a total of 600.
Both companies also agreed on who would be the best fit as a viewer: those people interested in building a video marketing strategy and agencies who helped clients build video strategies.
Our partnership had an advantage here as well since both companies' databases contained prospects for one another.
From there, we segmented our lists to match the messaging we created.
Agencies and businesses have different needs, and we wanted to make sure we were clear on why each would want to spend an hour with us.
How many emails do you get in a day (or even an hour) that seemingly have nothing to do with your interests? Our reason for tailoring the messaging was to ensure that the recipients knew exactly why we were emailing them and what they'd gain by signing up.
This is the email we sent to agencies (with the subject line: Webinar: Arming clients with powerful video 🎥):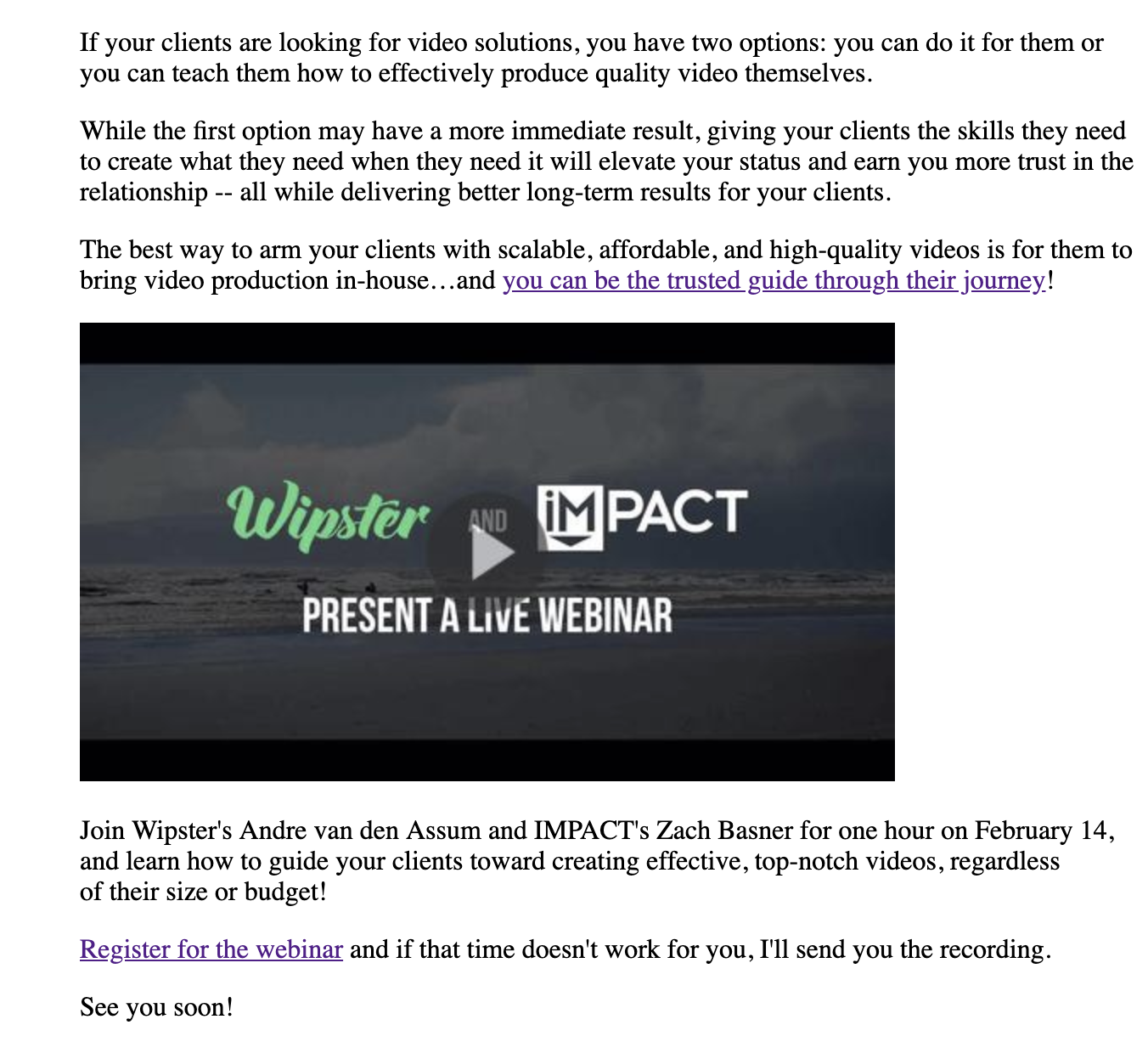 And this was sent to individuals who showed a particular interest in building a video marketing strategy (with the subject line: Webinar: Make more (and better) videos in-house 🎥):
While the messaging changed based on the audience, both emails start with addressing the problem the attendee is facing and then pivot to how the webinar can help.
They both feature a video (stay tuned, that's next), introduce the featured speakers, and contain a clear call to action.
This formula allows you to create a custom message without reinventing the wheel each and every email.
When you're crafting your emails, speak directly to your specific audiences, and if they need different messages, go ahead and create segmented lists. Talk to your recipients like a person, letting them know why they're getting your email, why they should care, and how they should respond.
With larger audiences, chances are you might have a topic that appeals to a lot of people, but for different reasons. Highlight those in your messaging, and you'll have much stronger responses.
4. Produce a Value-Driven Video
Since this was a video-based webinar, we naturally needed a video promotion.
Most of the video that we featured in emails and on the landing page was actually created over a string of emails between Zach and Andre, who set a script and storyboard.
In this case, both hosts are skilled at creating and editing video, and the result gave viewers both a great idea of what they'd learn during the webinar and the expertise of the hosts. Here's the final product:
If you have a videographer on staff, you can create a similar product fairly easily, but if that's not your company, you still can incorporate great video work into your promotions.
According to Forbes, 90% of customers say video helps them make buying decisions and 64% of customers say that seeing a video makes them more likely to buy. Plus, video marketers get 66% more qualified leads per year.
Why? Video content converts -- it strengthens your audience's emotional connection to your message, doubles click-through rates, and improves SEO.
Even a video shot with a mobile phone or a laptop camera is enough to get started in video marketing. And there are some comprehensive guides -- and, ahem, a webinar -- that can show you how to launch a video program.
5. Promote Far and Wide
When it comes to promotion, it's ideal to pull together all your assets six to eight weeks in advance of the event and don't settle on only one platform.
For the video marketing webinar, we ran three sets of emails (again, different sets were sent to different audience segments) starting roughly two weeks before the big day.
The second email was sent one week out, and the third email was delivered the day before.
Because we'd be following up with both attendees and registrants, the number of actual attendees wasn't a measure of success, but we did want people to engage with us during the live webinar, so we made sure to include a reminder email the day before to anyone who had registered.
Outside of email, explore other avenues that your audience would respond to.
In addition to email, we promoted on our website, via our newsletter, THE LATEST, in our IMPACT Elite Facebook group, and via other organic social posts.
We also devoted some budget to paid advertising, using both the video and a static image: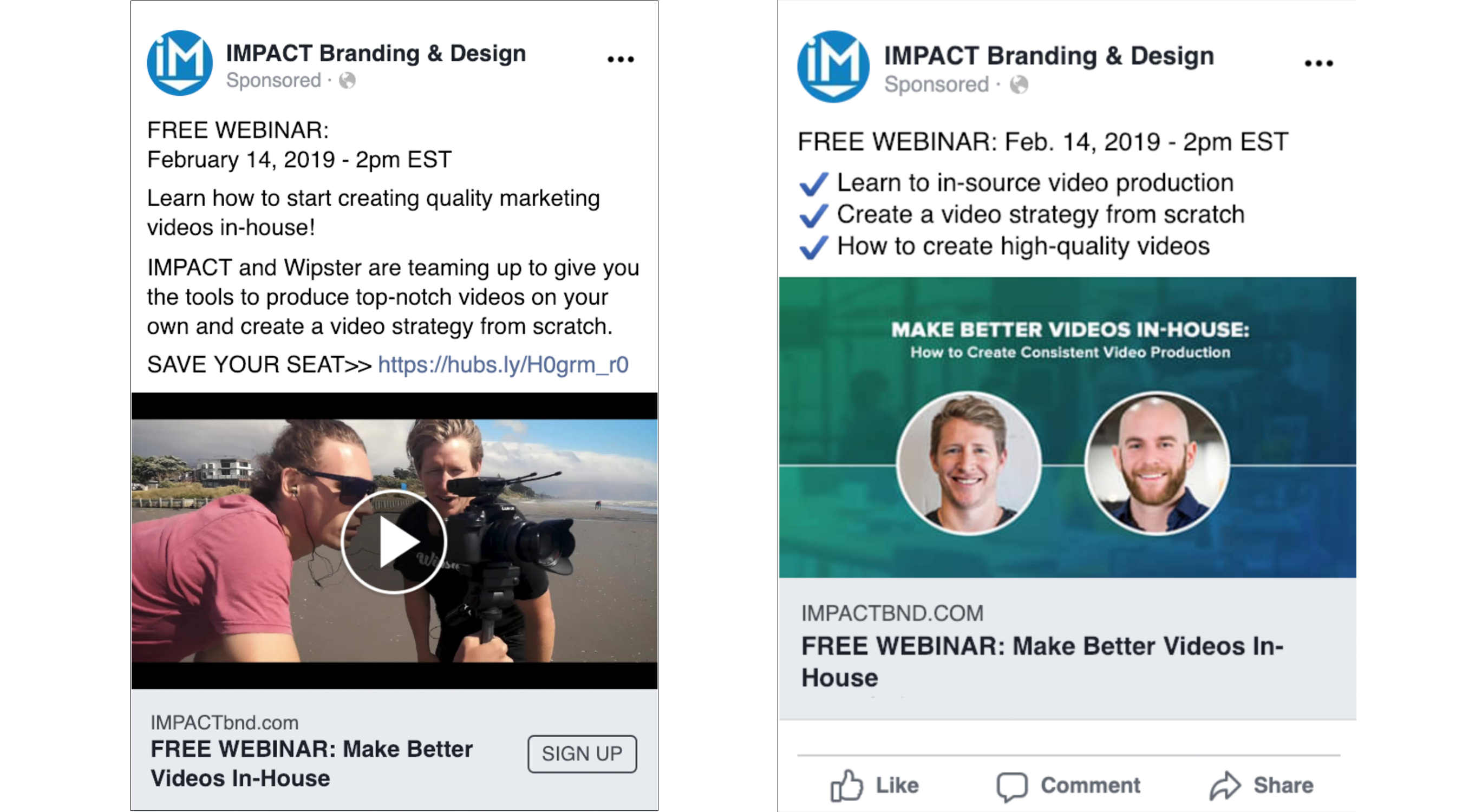 The promotion strategy for this webinar again found its strength in a good partnership.
Wipster also used similar avenues to bring in registrants. Throughout the promotion window, we shared the registrant list to keep the send list clean and messaged to the right people.
Open your promotion strategy to wherever your audience will find you and don't be afraid to test various messages, platforms, and tactics.
6. Fulfill Your Promises
All those promotions don't mean a thing if you don't deliver on your claims.
Each webinar you host builds credibility, but only if you actually share value. Your registrants are more likely to attend and sign up for your next event if they look to you as someone who fulfills your content promises and is trustworthy.
We've all attended webinars that fall short of our expectations, which usually results in high abandon rates.
With this in mind, it's crucial that your hosts provide accurate takeaways to use in promo copy so that you don't overstep or mislead your audience.
7. Follow Up with Helpful Content
Once the webinar wrapped, we sorted through the results.
Since we had already defined our measure of success, we easily labeled this as a certain one:
Number of attendees: 225
Number of registrants: 902
And just to make sure we didn't leave anyone wanting more, we followed up with attendees and non-attended registrants, again segmenting the lists and tailoring the message.
We provide content because we want others to succeed and the follow-up message contained the webinar recording as well as additional tools and resources that built off of it.
This time, the email included a more personal video message from Zach, a list of additional resources, and a reminder that he's always available to help out: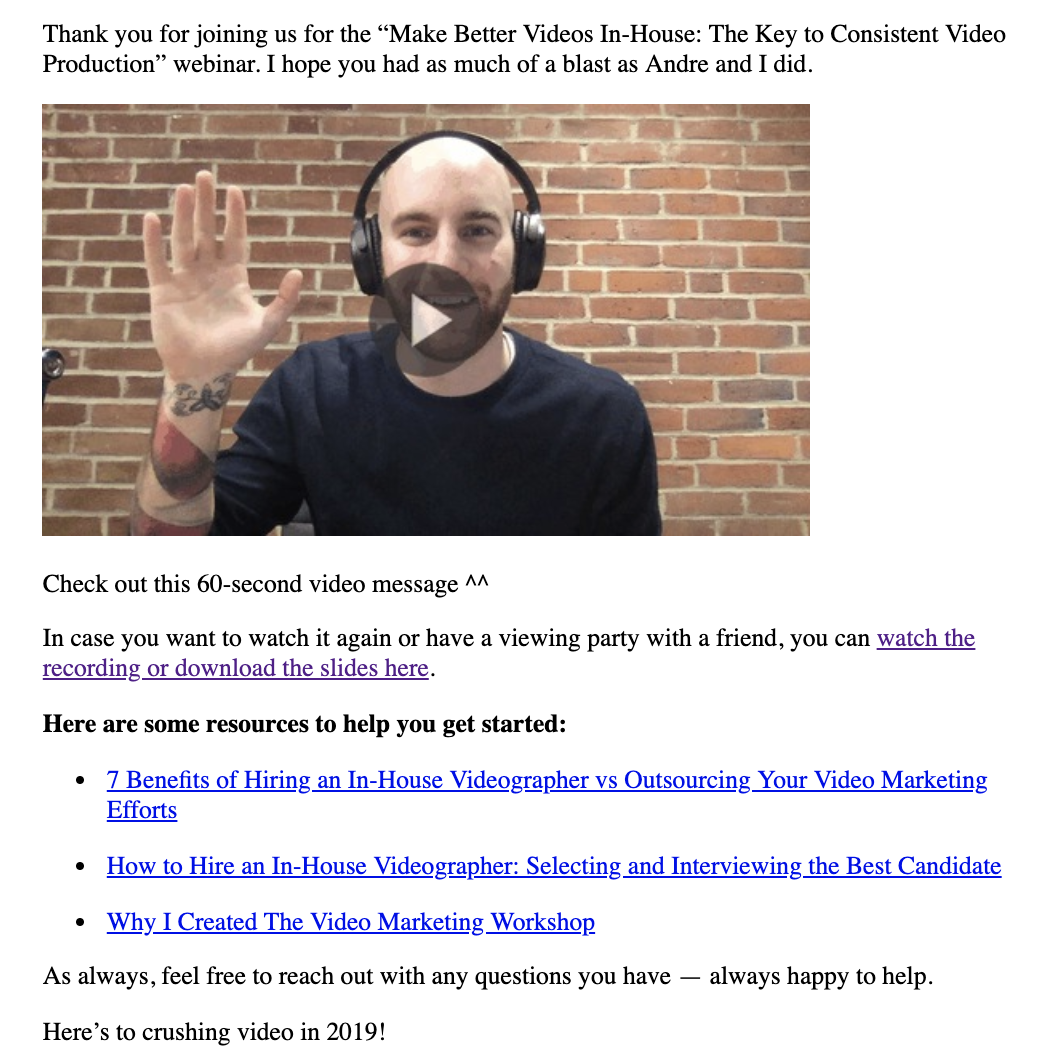 Delivering on content promised and following up with consistently good resources allows for a greater following going forward.
Don't forget about your attendees once the webinar is over. Nurture that relationship and you might find them becoming your strongest advocates.
A Webinar in Review
Of course, the best-case scenario of driving hundreds of registrants to a webinar is an inbox full thank you notes from happy attendees (and a solid amount of sales queries, but that's the subject of a different post!).
Every event offers a chance to learn something new -- what will you change, what will you keep, and how will you consistently provide value.
When planning your next webinar, think back to your last and ask yourself:
Did you and your hosts work well together?
Did you start early enough?
Did you define your goals, audience, and messaging?
Did you capitalize on your creative assets (including video)?
Did you use every promotional option possible?
Did your content live up to expectations?
Did you follow up with attendees and registrants with helpful information?
If the answer to any of these is no, you may have a huge opportunity for growth.
Even with a webinar that everyone agrees is a success, make sure to document what worked (and maybe the few things that still need tweaking). That way, every webinar can be the thing case studies are made of.
Free Assessment:
How does your sales & marketing measure up?
Take this free, 5-minute assessment and learn what you can start doing today to boost traffic, leads, and sales.