5 Big Benefits of Wipster to Video Marketers That I've Experienced First-Hand

As a marketer, you've got your video team all set up, ready to connect with your audience, but you're not just going to put any old video out into the world without checking it over first.
You'll need some kind of review process in place. Spelling errors, jump cuts, audio issues, these all can be addressed internally before you show your polished product to the world.
Reviewing your videos prevents people from seeing these mistakes and thinking less of you or your brand.
The process can range depending on the number of people in the review process, but likely the video will be passed along your marketing team, and maybe a few senior level people.
There are a variety of tools to help make this process go smoothly.
At IMPACT, we use Wipster.
What is Wipster?
Wipster is a powerful web-based video review platform that allows you to review videos with your team quickly and easily.
You can share with clients or internally via a link, and make sure you're putting out the best possible version of your video.
Here are some benefits we've experienced with Wipster:
1. More Control Over Your Account & Spending with Storage-Based Pricing
Some other video review sites have you pay per video you upload, meaning you get a certain number of videos for a certain price.
This can be extremely limiting, as you can only upload and review a set amount of content at a time. That can slow the publishing process way down.
Perks of having size-based storage like Wipster is you have more control over how many videos you store. You just need to be conscious of the file sizes you're uploading.
For example, uploading lower resolution versions for your team to review can allow you to get a lot more up there to get more bang for your buck, then just export the final at its actual resolution.
If you're budget conscious, this is the way to do it.
Plus, without a set video limit, you have flexibility to create and review more video faster.
2. Make Changes Without Fear of Losing Content
Odds are, your editor is not going to get it right the first time. Your video will likely go through several rounds of review and iteration before it's ready to be published.
Knowing this, Wipster lets you upload multiple versions of the same video and files them together.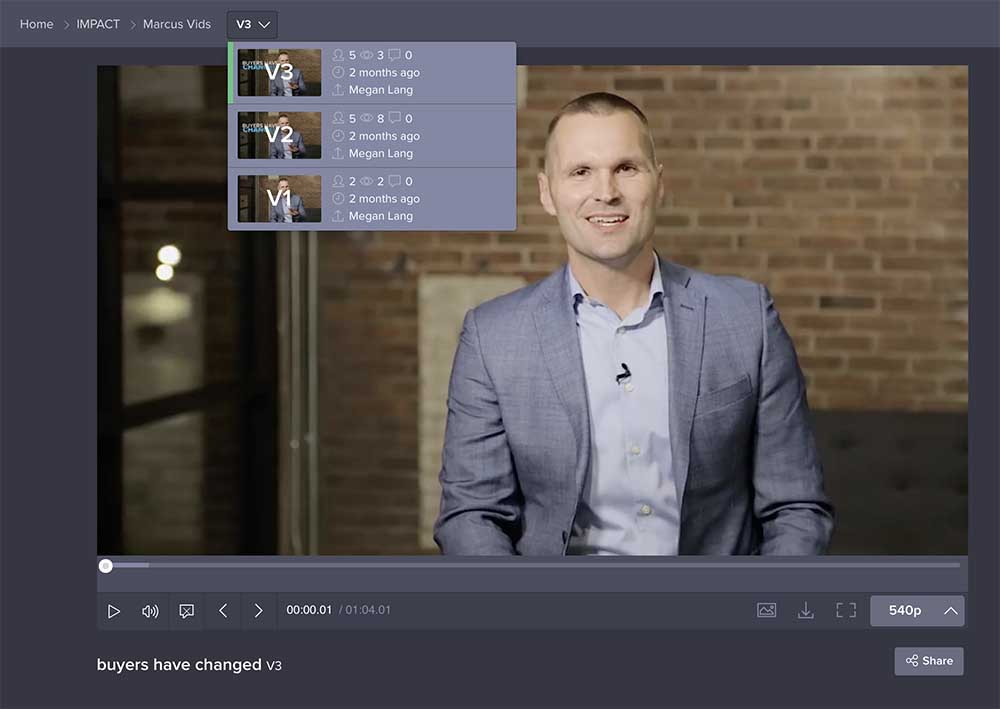 I've uploaded as many as eight versions, but you can do even more if needed.
This is great because it keeps you organized. Creating multiple versions of a video before publish is expected, but on other platforms this can messy and confusing.
If you're sending someone eight versions of the same thing with different links, one of you will likely end up looking at the wrong one at some point.
In Wipster, they let you know if what you're viewing isn't the most up to date link. This is important to save time and effort when reviewing multiple iterations of one video.
This is also great because you can go back into the older versions, look at the comments, and see what's already been changed.
Reviewers can call back to an earlier version and pick out something they liked that got trashed in the later versions without having to take up your editor's time to look through them.
Wipster makes it easy to find older versions so you can always go back, keeping your review process fast and streamlined.
3. Know Exactly Where Your Video Is In The Review Process

As I mentioned, the video creation process is hardly a "one-and-done" thing. Very rarely will someone create a video and have the greenlight to publish it; rather it needs to go through review and you need to keep track of it.
In Wipster, you can easily see where your videos are in the review process. It's broken down into four sections: New, Review, Editing, and Approval.
New is for videos uploaded in the past month, keeping recently shot videos at the forefront of you attention.
Once you share that new video out, it will move to Review. Inside that stage, it can be awaiting review, in review, or finished review.
Editing is to let your team know when a video is being worked on. If you receive edits under the review stage, and are working on them, labeling them as Editing will let your team know that you're on it.
Lastly, similar to the review stage, Approval has three phases. It can be awaiting approval, approved, or not approved. This lets your editor know if their work is done on that project.
With these easy to spot and understand buckets, there is no need to hunt anyone down to see if a video is approved or not when you can simply mark them right in Wipster.
Marketing or sales can become more independent if they know where everything is in the process, rather than asking for the videos.
You can also group them in folders and subfolders for easy access. This helps keep things organized and easy for everyone involved in the reviewing process to get those videos out there faster and more efficiently
4. Make Edits Straight Forward for Your Editor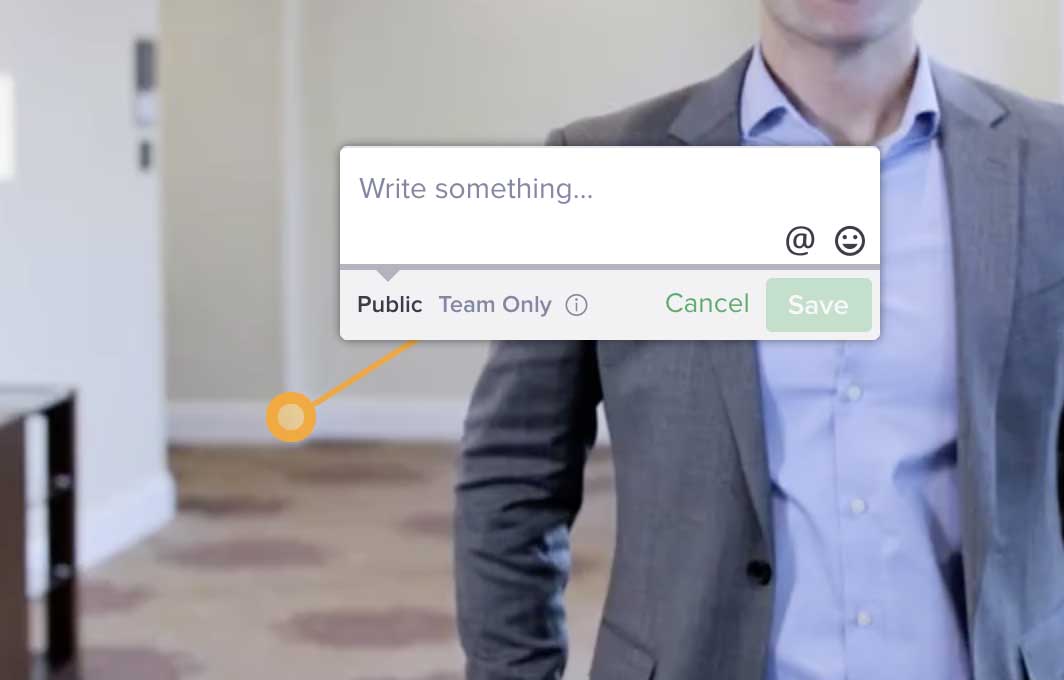 Commenting makes it easy to review with your team when you can point out what needs changing at the exact time on the video you're talking about.
You can make private comments to just those on your team as well if you plan to share externally.
You can even draw a box on the screen, if for example, you can see the mic peaking into the shot, so the editor knows exactly where to look.
The editor can also mark off these tasks as they go, as it is essentially a built-in checklist. This part saves me a lot of time, as I don't have to go through a hundred emails to see if I took care of everyone's feedback.
Comments from reviewers are essential to creating a polished video. Reviewers are there to make your brand look as good as it can possibly be. Without these comments and the subsequent edits, your videos would poorly represent you.
5. Streamline Your Processes with Integrations
As a marketer, you're likely using a lot of tools. That means a lot of different platforms to check and monitor.
Luckily, Wipster integrates with a lot of apps including Adobe and Slack so you don't have to constantly have it open or monitor it. (You can see a full list of integrations here.)
For example, you'll never miss a beat with the Slack integration- you can see exactly who's viewed, made comments on, or downloaded a video.
This saves you the process of going into each video and looking at individual information.
You can also publish directly from Premiere to Wipster, or media platforms like YouTube and Vimeo. This saves you time, especially if you're posting to social media regularly.
Be More Efficient with Wipster
To get the most out of your video team, efficiency, and clarity are key and Wipster makes that possible
With its streamlined and organized workflowQ ns communication tools, there's very little room for miscommunication, in turn, helping your team be more productive and efficient than ever.
Posting content that's been reviewed and approved assures you're putting your best foot forward for your audience, and is one step on the way to becoming a video leader in your space.
It's not the perfect application of course, but the benefits outweigh any small problems in my opinion.
It's important to do the research of course, and see what reviewing platform works best for your team, but here at IMPACT, we've had a lot of good experiences with Wipster.lo.
Free Assessment:
How does your sales & marketing measure up?
Take this free, 5-minute assessment and learn what you can start doing today to boost traffic, leads, and sales.