Subscribe
Join 40,000+ sales and marketing pros who receive our weekly newsletter.
Get the most relevant, actionable digital sales and marketing insights you need to make smarter decisions faster... all in under five minutes.
Thanks, stay tuned for our upcoming edition.
How To Write a Case Study That Speaks to Your Customers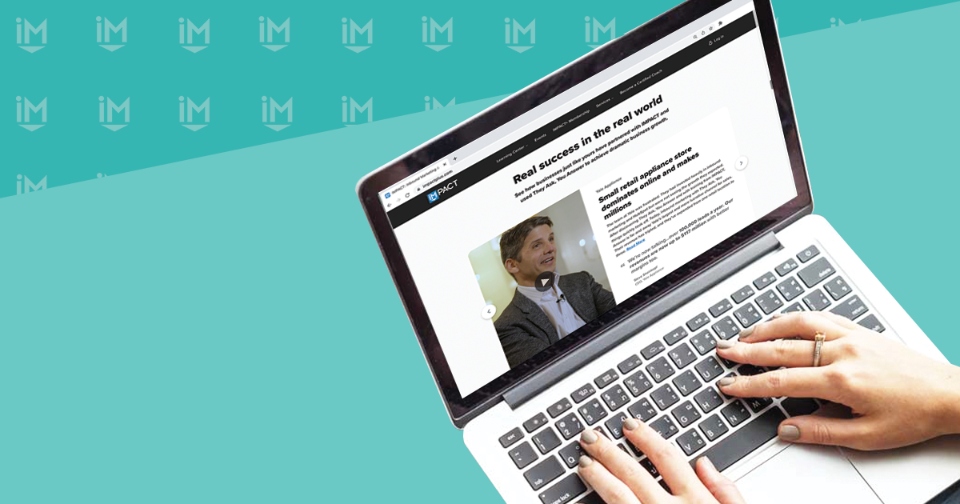 How to write a customer case study in 6 steps
Identify the need
Identify the subject
Conduct your interviews
Cover the basics (who, what, how)
Provide the right framing
Include emotion
For a prospect who's just about to make a purchase, a case study could be the most helpful piece of content they could come across.
A case study tells the story of a customer just like them: someone who faced a similar challenge and, with the help of your business, overcame it. This prospect can see themselves in the case study, and the testimony of a real-life customer will have more weight than any other marketing materials you have.
But, as with any piece of content, a case study needs to be produced in just the right way to have the most impact. Too vague and the effect is lost. Too salesy and the prospect doesn't trust it.
The best case studies are detailed without being dry, and poignant without being mawkish.
At IMPACT, we guide our clients to write compelling case studies that they can use with prospects in the sales process. Below, we'll give you the step-by-step guide we teach so that you can put this powerful tool into the hands of your own sales team.
Below, we'll cover:
What a case study is (and isn't).
How to write a case study in 6 steps.
Examples of great case studies to inspire you.
How to know if your case study is working as it's supposed to.
Ready to tell your customers' stories? Let's walk through this process together.
What is a case study?
A case study is a piece of content that tells the story of a customer's journey. Ideally, this customer struggled with a specific problem before they found your business and your solution, which alleviated the pain point.
Case studies are so effective because they balance anecdote and quantitative data, so they appeal to both the head and the heart.
Marketers, after all, are storytellers, and case studies are a wonderful chance to tell the story of a customer. Humans are hard-wired to appreciate stories of struggle and triumph, so your case study should fit right in.
A case study will usually take the form of an article, but it could be a video or other medium as well.
Most often, case studies are written with bottom-of-the-funnel prospects in mind. As someone approaches a purchase, the case study can help convince them that buying from you is a good idea.
What a case study isn't
Although a case study is marketing material for your business, it is not about you. The customer is the hero of this story. Your business is the guide that helped them overcome challenges and succeed.
Case studies should include emotion (more on that later), but they should not be sentimental or emotionally manipulative.
How to write a case study in 6 steps
Jen Barrell is a content trainer at IMPACT who works with businesses to plan their inbound marketing strategy. She has guided numerous clients through the case study writing process.
She advises a six-step process to produce a rough draft, after which you should follow your normal process for QA and publication.
These are the steps she asks businesses to follow.
Step 1: Identify the need
Before you begin, Jen says, you must determine the need this case study will solve. Ask yourself these questions:
Who are you actually writing this for?
What key problems are you trying to solve for the reader?
At what stage in the buying process will this case study be used?
Having answers to these big questions up front will save time in the long run. You want to be sure about your audience and your scope so that you know exactly how to tailor your message to suit your future customers.
Step 2: Identify the subject
Second, you'll need to determine who you'll be writing about. It could be a business or an individual, depending on what you sell, but it should be a single customer, so focus on only one.
Talk with your sales and service teams to decide on some previous customers who could be good subjects. Compile a short list of possible candidates and reach out to them, explaining the process and timeline.
According to Jen, this is a time to follow the path of least resistance. "The best case studies are created out of interviews," she says. "You want to talk with people who are enthusiastic and genuine."
In other words, if they're resistant to your initial outreach, they're likely to be a less compelling interview subject.
Step 3: Conduct your interviews
A good case study tells a story. You'll need to compile solid evidence to show the effect your business has had on that customer's life.
Did your insurance company help them rebuild after a disaster?
Did your team help them win their court case?
Did your marketing plan help them successfully launch a new product line?
Did you provide alternative solutions for their design process so they could be more efficient?
Whatever the case may be, you'll need the numbers to back it up. What was it like before, during, and after your company's involvement? What initial challenge did they face? What positive results did that customer eventually see? How long did it all take?
You'll need to do research to find the raw data to make these key points. You can get some from your team and some from the subject.
But a case study isn't just about numbers and profit. Sure, these may be your main findings, but you don't want to overlook the human element. You're telling a positive story about transformation.
In your interviews, make sure to ask questions about the people behind the numbers. Ask questions about the emotions they felt during their journey.
Step 4: Cover the basics
Any reader looking at a case study is looking for very specific information. They want to know the same thing:
Who is the customer being described? What makes their story relatable?
What were the problems they were facing? What challenges did you help solve? What other possible solutions did they try or consider?
How did your company's offerings — whether product or service — help the customer succeed?
Results: What did their success look like? How long did it take? What were the details of the experience?
If you cover these basics in every case study you write, you'll produce a consistent product that is digestible for bottom-of-the-funnel prospects in the final stages of a purchase.
Jen says, "This is a time when having a formula to follow will serve you well. Prospects might read several case studies at once, so make sure they're easy to read and well-structured."
Step 5: Provide the right framing
As the writer, it's up to you, to provide the right framing and structure to make your case study grab the reader's attention while at the same time conveying relevant facts that might feel dry.
This starts in your introduction.
Most case study intros jump right into the who-what-how without providing the context of what's to come. Instead, Jen advises using a "P-E-P" approach in the intro to hook the reader. Think of this as the welcome mat of your case study, she explains. "In your introduction, start by identifying the problem, then demonstrate your experience, then offer a promise."
Start by connecting with the reader by showing them you recognize the problem they're experiencing. For instance, if you're writing a case study that shows how your roofing company helped a customer replace their roof after a hurricane, then most likely the people drawn to that particular case study are experiencing a similar situation.
Then you'll want to provide the context of the case study by telling them who you are and the expertise you have to solve their problem. While the case study certainly isn't about your company or product, the reader does deserve to know who's advising them.
Finally, your intro should make a promise to the reader about what's to come. This is the space where you'll preview to your reader what the payoff is for reading through to the end.
What the P-E-P approach looks like in practice
For the example above, the case study introduction might look something like this:
The worry that natural disasters cause homeowners can easily turn to panic when a worst-case scenario occurs. The loss of a roof during a storm both exposes the physical contents of your home and tests your emotions. You're left wondering how long it will take to repair, if your house is safe to live in, how you'll deal with insurance, and who will help you navigate through this mess in the coming days. [Identify the problem.]

As a Florida-based roofing company, Acme Roofing has helped 20 families in the past year alone repair their homes when the unthinkable happened. Jane Smith and her family lost their roof in the last hurricane and have some crucial advice for not only making it through this trying time but coming out with a home that's both beautiful and safe for her family. [Show your expertise.]

Keep reading to find out what happened to Jane's home and the steps she took to secure a safe place for her family. [Offer a promise of what's to come.]
Any article could rely on this intro format, but case studies are especially well-served by this approach, Jen says.
From there, each section of the case study should smoothly lead into the next. Be sure to provide transitions and appropriate pacing. This should be informative, but not dry like academic writing.
Step 6: Include emotion
Be sure to include human elements that convey to the reader that this is a real story involving real people. There are emotions connected to every decision we make, and conveying these in the case study will enhance its appeal to your audience.
Was he afraid he would lose his business?
Was she frustrated by previous products that didn't solve her problem?
What did they feel when your business stepped in? Relief? Joy? Satisfaction?
Include these emotions. Case studies often come across as extremely dry, but this is one article type that can carry heavy emotion. Use the emotion of the people you got to know during the interview process.
After you've completed these steps, you'll have your rough draft. Share it with the customer whose story you've shared. See if anything needs further exploration or additional background information.
Bring together two or three trusted colleagues who can serve as editors. Avoid having too many cooks in the kitchen, though.
Then, polish and refine what you have, including the feedback of your colleagues, to create your final draft. If necessary, work with a graphic designer to create visual elements to help enhance the story.
Then, get that sucker in the hands of your sales team.
Case study examples to inspire you
What does an actual case study look like? There are dozens of ways your business could approach a case study, but don't forget those core elements. You must tell a compelling story that will resonate with your target audience: potential customers who are almost ready to make a purchase.
Example 1: IMPACT and Bill Ragan Roofing
Here's a narrative-style case study that tells the story of one of our clients, Tennessee-based Bill Ragan Roofing.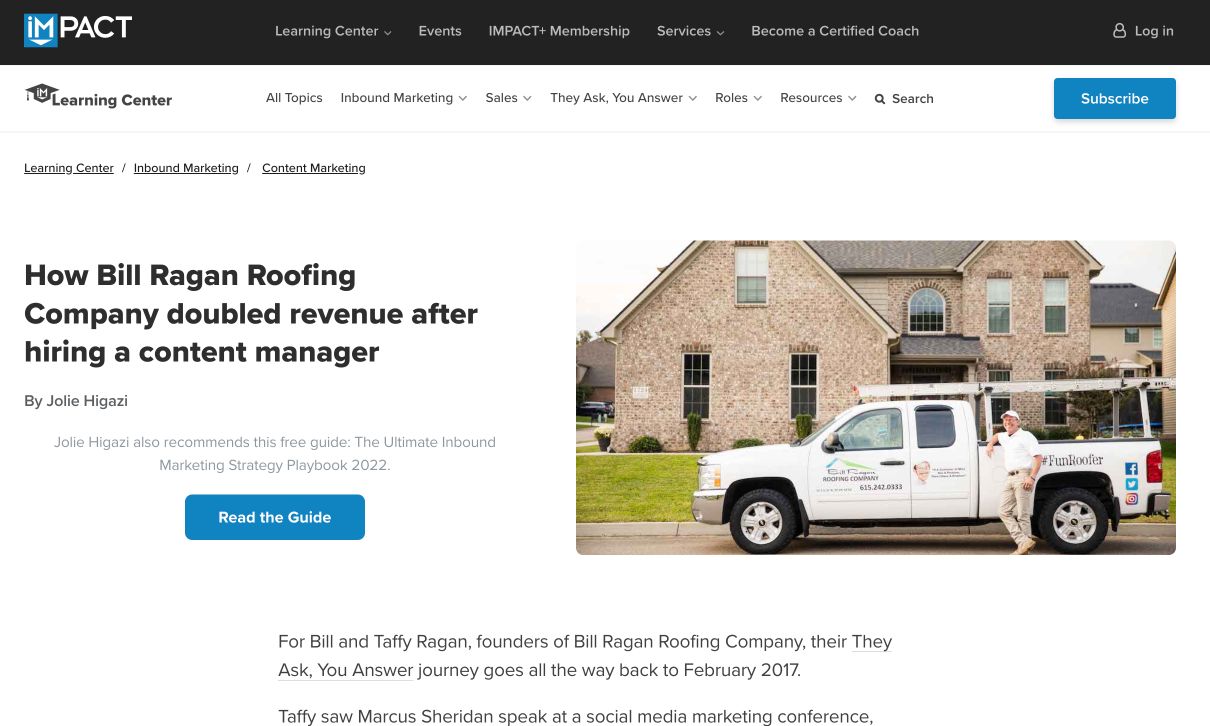 Note how writer Jolie Higazi balances the numbers and the human element. Readers feel like they're getting to know this business and want to celebrate its success.
Example 2: Screensteps and The Peninsula Jewish Community Center
Screensteps provides training software to businesses for onboarding and other instruction. Here is a case study explaining how they helped a nonprofit implement a new CRM for more than 200 employees.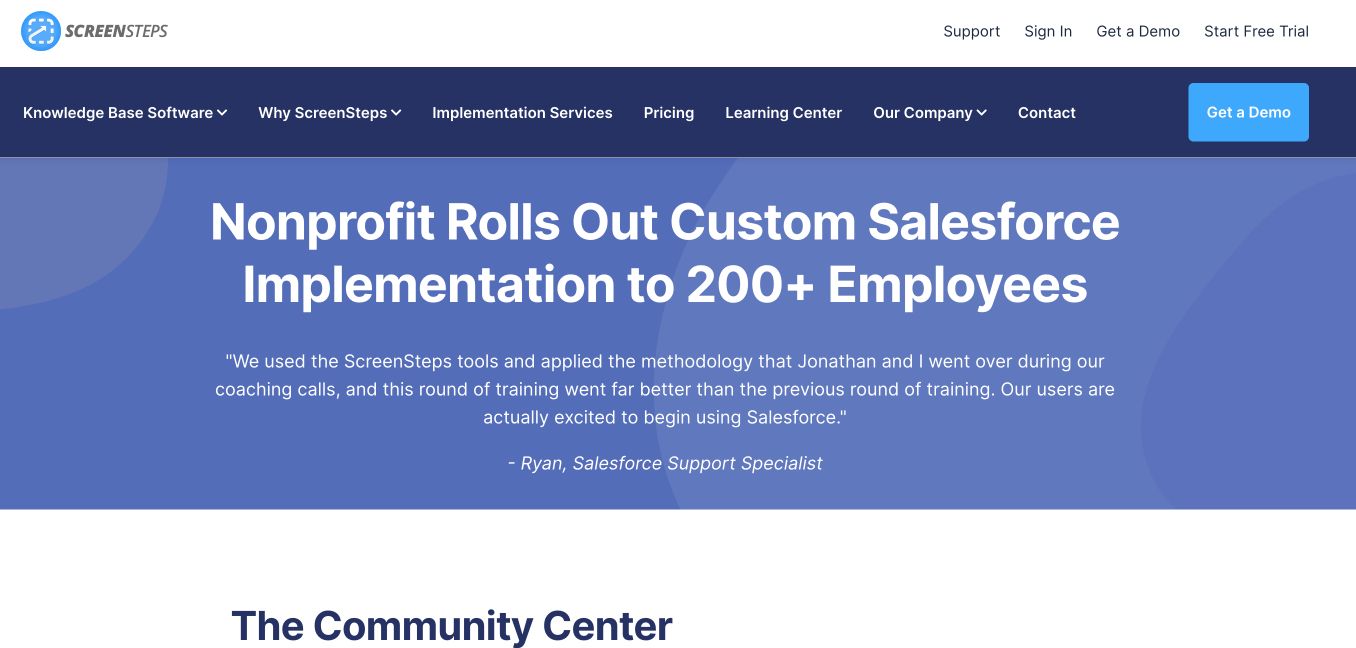 With wit and illustrations, they tell the tale in a way that is accessible and engaging. Again, this doesn't feel like research writing. It reads as a compelling narrative — and includes quotes from various stakeholders throughout.
Evaluating your case study
How will you know if your case study is any good?
Simple, says Jen. Listen to your sales team.
In most cases, case studies will be used by your sales team with bottom-of-the-funnel prospects who are close to a decision. Jen advises that marketers check in with sales reps to see exactly how the case study landed with a prospect.
Did they ask follow-up questions? Did they see themselves in it? If your case study is covering all the bases, your sales team should be raving about it. If not, go back to the drawing board and make it better.
If your case study is aimed at a broader audience, evaluate it the way you would any article. "Look at your conversion data," Jen says. "Make sure that your bounce rate is low because that shows your audience immediately wanted to learn more about what you offer."
The real-life stories your buyers need
Case studies are incredibly useful for your sales team and helpful for your buyers. However, keep in mind that they need to be regularly updated to avoid looking stale. If you tout yourself as a cutting-edge business but your case studies all come from five years ago, you might inadvertently hurt your chances with a prospect. Even a great example might not age well.
Once you produce a case study, it will be up to you to update as needed. Set aside time each quarter to read through old content and make sure it's up to date and still makes sense.
If you need help convincing your potential customers that your offerings are perfect for them, case studies are perhaps your greatest asset. Spend the time to tell these customer stories so that your prospects can learn about a real-life situation in which they can see themselves.
Free Assessment:
How does your sales & marketing measure up?
Take this free, 5-minute assessment and learn what you can start doing today to boost traffic, leads, and sales.