Inbound Marketing for Construction Companies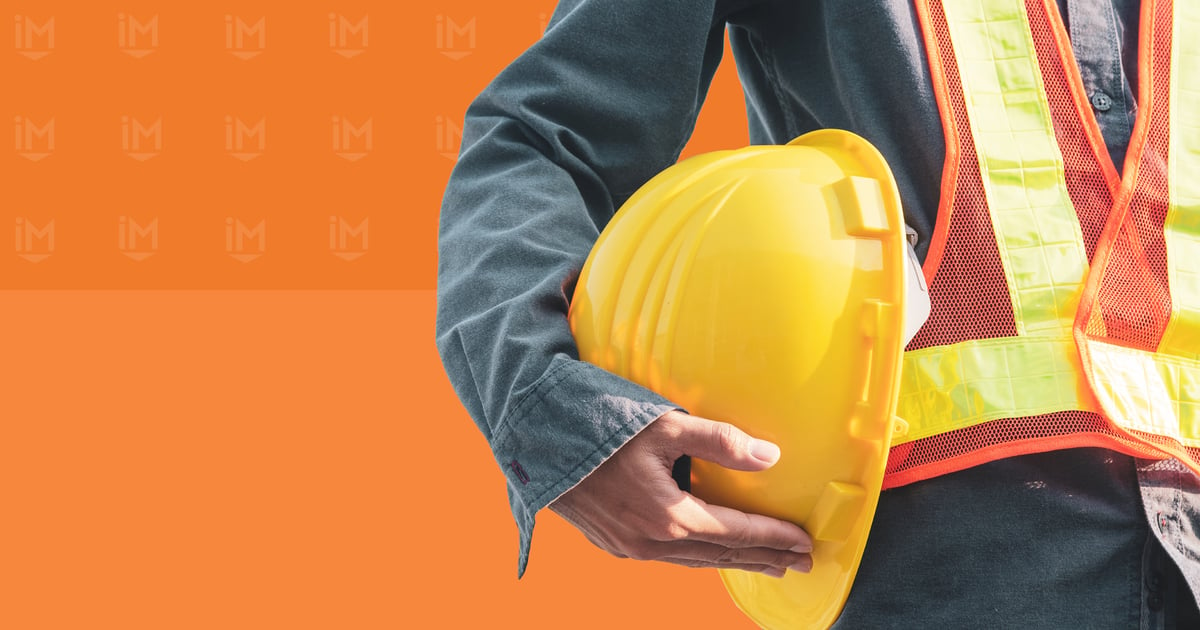 If your construction company doesn't have much of an online presence, it's safe to say you're missing out on quite a bit of business. Maybe you're wondering why leads have slowed or dried up altogether. Or perhaps you know you need to improve your website, but you're unsure where to start.
The one thing you must come to terms with is that buyers' purchasing habits have shifted.
Gone are the days when magazine ads and cold calls could be relied upon to drum up more leads. If your website doesn't answer your buyers' questions or address their challenges and offer solutions, it reduces the chances that clients will find you and feel like they know you enough to hand you their business.
Great website content has the power to move the sales needle more than we often give it credit for.
In this article, we're going to teach you how your construction company can increase leads and revenue with inbound marketing. These tips have helped hundreds of companies not only grow their online presence, but also dramatically increase their revenue by addressing topics that buyers ask but most businesses won't cover.
We'll explain how these construction businesses used their inbound marketing strategies to meet their business goals, including:
What inbound marketing is and how it can help your construction company.
How to create inbound marketing content to attract prospective clients.
The role of search engine optimization (SEO) in boosting your metrics.
That way, you can be sure to build your content in a way that generates the best results for your business.
Here's what to know.
What inbound marketing is and how it can help your construction company grow
Inbound marketing is a marketing strategy that relies on creating content — such as blog articles, videos, newsletters, and social media content — to educate and build trust with buyers. It's unlike traditional marketing methods such as billboards, magazine ads, and direct marketing (also called outbound marketing) because instead of reaching out and interrupting people, you are providing educational content that brings potential customers to you.
This method has become popular because it aligns better with the way your buyers research their options. (Hint: they're searching online! And if you want to be found, you need to be there too.) Not only that, but it's also a more cost effective strategy for business growth.
As HubSpot reports, 80% of B2B decision makers prefer to make their business decisions based on what they learn from an in-depth article rather than what they see in a fleeting advertisement, which is now thought of as more intrusive to buyers than helpful.
By creating custom content that focuses on the problem your buyer is experiencing, why they're experiencing that problem, and how you can help them solve it, you build trust with buyers and establish yourself as a major thought leader in your space.
This is a powerful marketing approach because people want to buy from companies they trust. With the right inbound marketing strategy, your prospects will be learning about their problems and how your business can help them eliminate these major pain points in a way that builds the trust needed to make that final purchasing decision.
In short, your buyers are doing the research on their own, and if you don't have a strong online presence, the chances they'll find you diminishes greatly.
Now, you might be thinking, "But our business is largely word of mouth." And we get it, but with inbound marketing, you're basically tripling your leads at a fraction of the cost by attracting buyers that would never have heard of you otherwise — word of mouth or not.
If you really want to grow your business in the digital age, inbound marketing is a game-changer.
Inbound marketing and the buyer's journey
With inbound, you can get much more targeted with your marketing strategy.
You can do this by creating content that aligns with your target audience's buyer's journey, which are the steps your prospects typically take as they learn about and consider your products and services.
It can vary from industry to industry, but there are typically three main stages to the buyer's journey:
Awareness stage: Your prospective clients have a problem they want to solve — such as "How much will replacing my windows cost?" — so they search online for possible solutions.
Consideration Stage: Once your prospects understand their problem, they begin researching all the differences between their options so they can consider them all (pros, cons, costs, etc.).
Decision Stage: Your prospects have narrowed down their options and must decide which construction company to purchase from.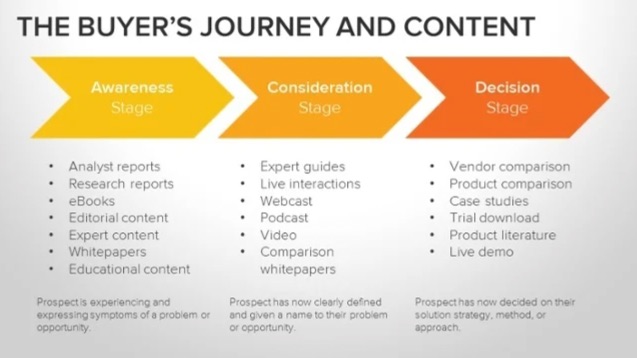 An effective inbound marketing strategy for your construction company will:
Offer prospects content that talks about their pain points early on in their buyer's journey.
Lead them along and continue to educate them as they consider their options.
Help them feel comfortable about making a decision once they've weighed all their options.
It's a delicate balance, but once it's struck, the content you create can nurture and educate your leads while helping them realize how much they want to work with you.
But the trick here is that your content can't be salesy. This means you can't throw content out there that says, "Pick us, we're the best. We've been in business for 30 years now and we really know what we're doing!"
Your buyers don't want a sales pitch. They want information.
Teach them how to solve their problems, for example:
How do you hire the right construction company for your project?
What should I know about construction timelines and cost?
What are the steps to properly plan and design your construction project?
How do I find a sustainable construction company?
What is job order contracting?
When you get in-depth with your content, prospects get to see how well you know your stuff and will either see themselves out of the sales pipeline if they're not a good fit (you don't want to waste your time on bad-fit prospects anyway) or reach out to you for more information.
How to create inbound marketing content to attract prospective clients
Now that you know what inbound marketing is and why it's important for growing your business according to today's buyers, it's time to start thinking about how to create content.
What type of content will actually attract buyers to your site?
The main rule of thumb is that you want to focus on your prospects' issues, pains, and problems and how you can help solve them, not how wonderful you are as a business (which is what a lot of businesses do).
Your content should follow the 80-20 rule: 80 percent addresses your buyer, and 20 percent explains how you can help. This will help you create quality content that your prospects are looking for and focuses on what matters to them most.
5 inbound marketing topics that drive traffic and build trust with your buyers
If you want to build trust with prospective clients, they need to:
See you as the authority in your industry.
Believe you have the answers they're searching for.
We recommend addressing every single question you hear — no matter how insignificant it seems to you — and answering it on your website as honestly and thoroughly as possible.
But first, there are five main topics your buyers want you to cover, no matter the industry you serve.
These topics are called The Big 5, and they include:
1. Cost: When we land on websites looking to purchase goods and construction services, one of the first questions we want to be answered is: "How much do construction projects like mine cost?" Yet inevitably companies refrain from providing prospects with this information because they're afraid the competition will find out what they charge (your competition already knows, by the way) or that it will scare people away. If there are costs that go up or down depending on supply and demand issues, materials, or anything else, explain them.
Buyers will appreciate your honesty.
2. Problems: Before people hire construction companies or sign building contracts, they want to know the potential problems that can happen when working with you.
Your buyers will ask questions such as:
How risky is it for commercial buildings to be constructed on clay soil?
How can you be sure your construction company hired a skilled subcontractor?
Will the construction project face rising materials costs midway through?
Are there additional taxes for adding square footage?
How do you keep on top of building codes and regulations?
When you understand how your customers think and can address these concerns before they come up in conversation, your clients will trust that you have their best interest in mind.
3. Reviews: Buyers love reading reviews and comparing their options for products, services, and companies. The trick here is to be as unbiased as possible and share true ratings. If there are negative aspects to your products and services, explain them and provide tips for your buyers to avoid common mishaps. It addresses the potential pitfalls of your offerings and also shares how your customers can avoid experiencing buyer's remorse.
4. Best-of lists: People always want to know which options are the best. Writing articles such as "Best energy-efficient construction companies in Tampa" or "Best commercial renovation ideas." Focus on your industry and area of expertise to attract the most relevant buyers.
5. Comparisons: People always want to compare their options. Make it easy for them by comparing your products and services to your own and also those of your competitors. Your buyers will feel like you're helping them make the best choice possible and will appreciate your candor.
You can address these topics in blog articles. The more questions you answer, the more helpful your prospects will find your website — especially when you are open and honest with your content.
Take our IMPACT course How To Write The Big 5 to learn more, and for more topic ideas, read "19 Business Blog Topics Your Audience Wants You To Write About."
7 content marketing videos that build trust with your buyers and fill your sales funnel
As you flesh out your inbound marketing strategy, one of the most impactful elements you can add to the mix is video.
According to Wyzowl's 2022 State of Video Marketing report, 88% of the people surveyed said they bought a product or service after watching a company's video. It also shows that about 80% of marketing teams that use video generate more leads and sales — and a stronger ROI.
In The Visual Sale by Vidyard's Tyler Lessar and IMPACT's Principal Marcus Sheridan, you can read about construction company Gordian's wildly successful video campaign that brought in $20 million in qualified deals and $6 million in revenue.
As their in-house video producer, Glenn Hughes, explains:
"Our goal in marketing is not just to generate marketing qualified leads (MQLs), but to also move the needle by guiding a prospect through the buyer's journey so we see the impact to our bottom line. We decided video would be the most useful media for achieving that goal. It allows us to humanize our brand, products, and stories and it provides us with detailed analytics for tracking engagement."
While marketers everywhere will agree video is an important aspect of inbound, most of the companies we speak to don't know where to start.
Beginning with The Selling 7 will give you the headstart you need. These videos create connections with your buyers as they educate them, and they're designed to attract more good-fit leads.
Here is what they include and why they're so effective:
1. 80% videos: Take the questions that your sales team gets asked over and over again, allowing you to answer them thoroughly in a video that you can forward to prospects before your sales calls. This shortens your sales cycle because instead of explaining these questions each time, your sales team can instead jump into your prospects' issues more specifically.
2. Bio videos: Have all of your client-facing employees create a bio video that explains who they are, what they do for the company, and what they enjoy outside of work. This gives prospects a sense of who your team is before you even meet and helps build stronger personal connections.
3. "Product or service" fit videos: These videos not only explain your products and services, but also give buyers information on who is a good or bad fit. For example, maybe your construction company constructs commercial buildings using high-grade steel and you don't use other materials. Explaining that if the buyer is looking for cheaper materials, your company might not be the right fit will weed out your bad-fit prospects from the start and attract those good-fit ones.
4. Landing page videos: Whenever people land on your site and fill out a form, they are wary of sharing their information. Who will you be selling it to? Will they be getting a million emails and unsolicited marketing content? Include a quick video that explains exactly what will happen when that person fills out the form. We have seen these simple videos increase conversion rates by as much as 80%.
5. Cost and pricing videos: Remember how we explained the importance of addressing cost in your blog or on your website? You can use video to convey this information too. Explain the market and how the different supply and demand issues in your industry affect your pricing and give prospective buyers all the options.
6. Customer journey videos: While many businesses use testimonials to attract new buyers, few use this storytelling technique which is even more effective. These three-part customer journey videos allow your customers to explain their initial problem and why they reached out to you, how you helped them solve their problem, and where they are today. This shows prospects empathy for their problems and that you'll be able to help them too.
7. "Claims we make" videos: Most companies have claims they make about their business, such as "we are the best at building energy-efficient structures" or "our staff is highly skilled." Use these videos to prove you are what you say you are. It's similar to an "about us" video, but shows proof of your claims to back them up.
Watch our course Crafting "Selling 7" Videos that Convert to get a deeper sense of what these videos are and how to create them, and read The Visual Sale for even more video marketing info and how-tos. This book is especially useful for digging into the technical aspect of video marketing and showing how several businesses have grown by incorporating video into their marketing strategy and website.
Inbound marketing examples from the construction industry
Now that you know the different topics you can address for your construction marketing strategies, here is some inspiration from other construction firms that are using inbound the right way:

IMPACT client Dalinghaus Construction serves both residential and commercial sectors and focuses on bringing high-quality work and foundation repair to the Midwest.
Their blog has great examples for how to approach Big 5 content, such as their best-of article "Best Foundation Repair Companies in Solvang, California" and the problems article "What the Heck is Slope Creep? (How to Mitigate Lateral Movement)."
We particularly like their article about the cost of foundation repair, which will show you how to talk about the different factors that affect cost and give ranges without committing to a certain price.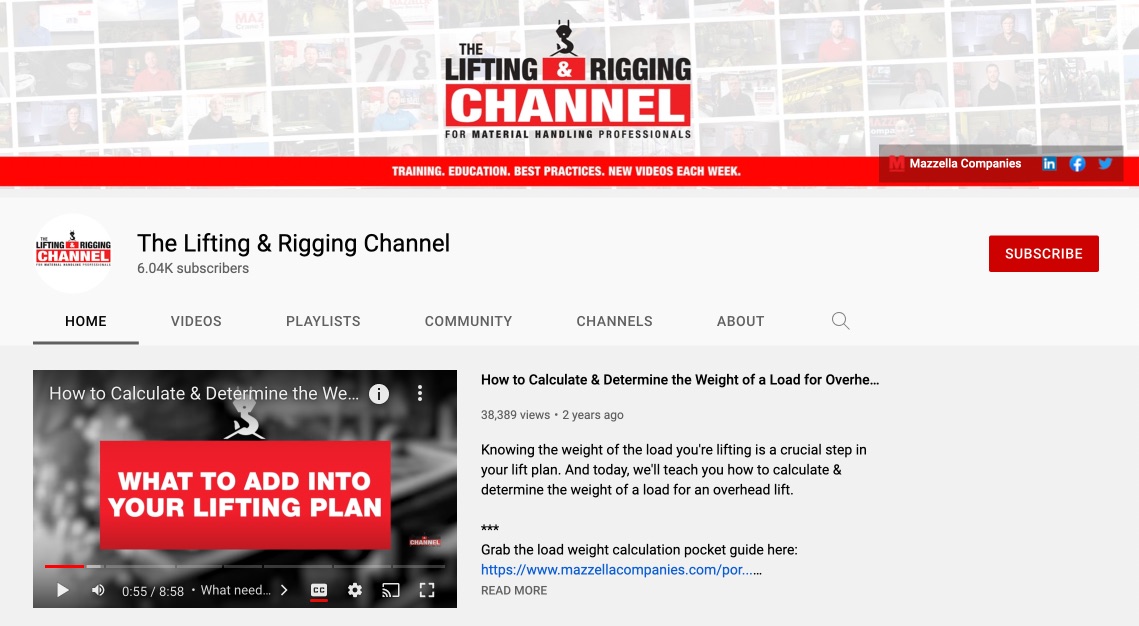 One of IMPACT's most successful case studies, Mazzella Companies, is a Cleveland-based company that offers several different solutions for the construction industry.
One of their divisions offers lifting and rigging equipment, and their YouTube channel is a great place to go for inspiration.

When you create all your inbound marketing content, where should it live?
You will need to set up a learning or resource center to function as the center of educational materials so they're easy to find.
Gordian is a company that creates technology and software for construction companies looking to simplify their estimating processes, project planning, and procurement.
Their resource center is a great example of how to organize and assemble all your inbound marketing content for a great overall user experience.
The role of search engine optimization in boosting your metrics
One of the benefits of answering your buyers' questions on your website is you don't have to give too much thought to search engine optimization (SEO). This is because if your buyers are asking your sales team these questions, others also have these same questions and are searching for the answers online too.
Despite this, it's important to focus on attracting not just any traffic to your website, but the right traffic. As such, understanding the basics of SEO will help you here.
These SEO best practices will help you understand how to use keyword research and other SEO tools to hit your traffic, leads, and sales goals:
1. Develop content based on target keyword research
Keyword planning tools such as Semrush, Ahrefs, and Moz Keyword Research will help you be sure the topics you're covering and the keywords you're using are going to get found by search engines. Certain keywords and phrases will rank better than others and bring in better-suited traffic, so be sure to use keyword research as you plan your inbound marketing plans.
2. Use effective header text and meta descriptions
Your header text will show search engines the structure of your content and help them categorize your text. While metadata is not used in the ranking algorithm like header text is, it does serve the purpose of enticing readers to click through to your content via the search engine results page (SERP), as highlighted in the example below:
For this reason, make it as informational and click-worthy as possible without being too gimmicky. Clarity and helpfulness is the way to go here.
3. Optimize all images
One of the worst things you can do for SEO is to load your website with a slew of large files that will slow your loading speeds and frustrate your prospects.
Tools such as Google Lighthouse, Bulk Resize Photos, and Ezgif, can help you be sure the visuals and files you're using are the proper size and not bogging down your site.
4. Include a number of internal and external links
When you link your content to other relative pieces of content on your site, it helps search engines piece together the topics you cover and how. Also, link to outside sources so it's not all about your site and no one else's.
In our free course, Technical SEO Basics for Inbound Marketing, our director of SEO, Kevin Church, explains the fundamentals in more depth. You can also read 9 SEO Best Practices for Stronger Organic Traffic to dive into this topic a bit deeper.
Become the No. 1 thought leader in the construction industry with digital marketing
At the end of the day, trust is the reason most people will give you their business, and inbound marketing is the answer to building that trust.
By educating your audiences on what it is your construction company does and answering all the questions your prospects have — even the difficult ones! — you'll be well on your way to creating more brand awareness and, as a result, growing your traffic leads, and sales.
It's our mission here at IMPACT to help businesses like yours reach their revenue and business goals by mastering our effective inbound marketing framework called They Ask, You Answer.
While simple, it isn't easy and requires a lot of consistency and work — but there's no better feeling for us than seeing the incredible results this framework helps produce.
To learn more about our digital marketing services, schedule a call with our advisors who can answer all your questions and help you get started on your very own inbound marketing journey.
Free Assessment:
How does your sales & marketing measure up?
Take this free, 5-minute assessment and learn what you can start doing today to boost traffic, leads, and sales.