What Is the Inbound Marketing Sales Funnel?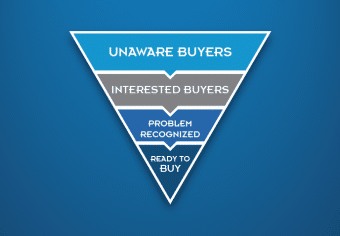 January 28th, 2012 min read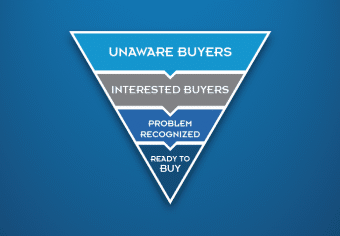 The inbound marketing sales funnel is one of the most essential components of inbound marketing. Oftentimes traditional agencies consider advertising as the core of marketing. However, regarding inbound marketing, nothing could be further from the truth. The rationale behind such an assertive claim is pure logic.
Consider this: advertising alone only generates exposure. If we decided to place the burden of sales solely on advertising we'd surely fall from the good graces of inbound marketing success. Therefore, we've created a system that embodies the necessary processes to maintain and improve the effectiveness of your inbound marketing campaign. The graphic below summarizes the inbound marketing sales funnel.
Understanding the Inbound Marketing Sales Funnel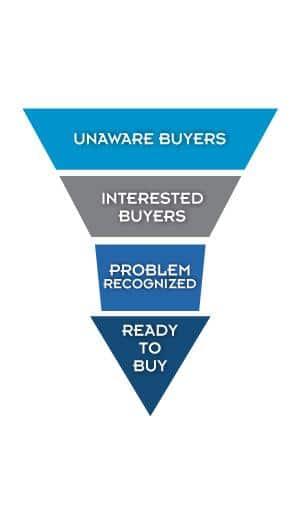 Let's explore the sales funnel in greater detail. First, the sales funnel is appropriately referred to as a funnel based on the functions required by inbound marketing. The large opening represents the largest point of exposure at which point website visitors are guided through your offer, converted as leads, and nurtured into sales. Understanding the sales funnel is simple but getting there is a horse of a different color. The following statistics provided by the Nation Sales Association clearly describes why you cannot leave your inbound marketing sales funnel in the hands of an amateur marketing agency.
| | |
| --- | --- |
| Sales Made | Point of Contact |
| 2 percent of sales | 1st Contact |
| 3 percent of sales | 2nd Contact |
| 5 percent of sales | 3rd Contact |
| 10 percent of sales | 4th Contact |
| 80 percent of sales | 5th-12th Contact |
From looking at the information above you can clearly see the campaigns are increasing and producing lucrative results as leads funnel through the campaign. Now that you understand both the marketing sales funnel and its importance, let's explore the concept further beginning with website visitors.

Website Visitors
Website visitors are located at the widest point of the funnel. Your visitors should represent a relevant segment of internet users. Creating relevant traffic is a largely a result of inbound marketing strategies such as SEO and advertising segmentation. Generally speaking you will receive a mix of both qualified who are ready to buy, unqualified leads who are still on the fence, and unqualified but interested parties.
Compelling Offer
Upon arrival your website visitors will be presented with a compelling offer. Your offers should be tailored to attract different segments of your traffic population. At this point you should be embracing the idea of accessibility and demand. As mentioned above you will receive a mix of qualified and unqualified leads. Therefore, your website should accommodate the demands of your user base. For example, a bakery may offer several incentives to click. One incentive for visitors who are ready to buy should be "Order Online and Receive a 10% Discount." Another incentive for visitors who are qualified but not ready to buy immediately should be able to "Request a Quote or Info."
Finally, for those who may be interested but demonstrate no urgency to purchase, try placing a button saying, "Subscribe for a Chance to Win FREE Goodies." Although the effectiveness of a compelling offer may differ depending on the industry type, we do have best practices to guide us in the creation of compelling offers for the general market. To get a better understanding of what offers are most compelling for your specific industry type be sure to consult an inbound marketing agency that exhibits a high level of understanding for your business.

Leads
Website visitors who click, buy, call, or subscribe are leads. This is what marketers refer to as traffic conversion. Again you can expect variant lead conversion rates based on industry and other factors as well. However, according to Fireflick the average conversion rate on all verticals is 2.3%. Keep in mind that an expert inbound marketing agency is fully capable of helping you optimize your conversion rates.

Lead Nurturing
Once you acquire your leads you should immediately initiate contact and respond with relevant communication. This is why it's so important to segment your compelling offers. Simply put when you segment your compelling offers you in effect segment your lead pool. For example, using the example above, those who subscribed to "Win FREE Goodies" should receive a different set of email responses from those who subscribed to "Request a Quote". While this may seem like a logical response most marketing agencies to do not segment lead their lead pools but instead rely on mass marketing techniques which is the very antithesis of lead nurturing. Mass marketing degrades the effectives of the sales funnel and is very different tactic.
Conversions & Sales
This point of the inbound marketing sales funnel is of course the easiest to understand. It's the point where leads convert to sales or what marketers refer to as lead conversion. Obviously, sales will convert through the lead nurturing process wherein you will employ various inbound marketing strategies to elicit a purchase response.
Putting the Inbound Marketing Sales Funnel into Perspective
The inbound marketing sales funnel is a system that works on volume and succeeds on insight. The more you know about your market, your leads, and your consumers the better equipped you are to provide them with exactly what they're looking for. Companies can measure the success of their inbound marketing sales funnel by evaluating their sales funnel at every juncture. First define the quality of your website traffic? Are your website visitors targeted or mass marketed? Second, evaluate your compelling offers. Are my offers segmented? Do they meet the demands of my industry's target audience? Third, are you nurturing your leads? Do you provide them with the information they need? Finally, are you employing strategies that invoke sales? It's important to put the entire Inbound Marketing Sales Funnel into perspective because it's the only way to gain insight on the effectiveness or hindrances on your inbound marketing campaigns. Be forthcoming if you don't have a funnel create one. If you need, help seek it. As always we are here to help guide you!
Want to learn more about digital sales and marketing?
Master digital sales and marketing when you join IMPACT+ for FREE. Gain instant access to exclusive courses and keynotes taught by Marcus Sheridan, Brian Halligan, Liz Moorehead, Ann Handley, David Cancel, Carina Duffy, Zach Basner, and more.
Access hundreds of FREE courses and keynotes