How To Set Content Marketing Goals for Growth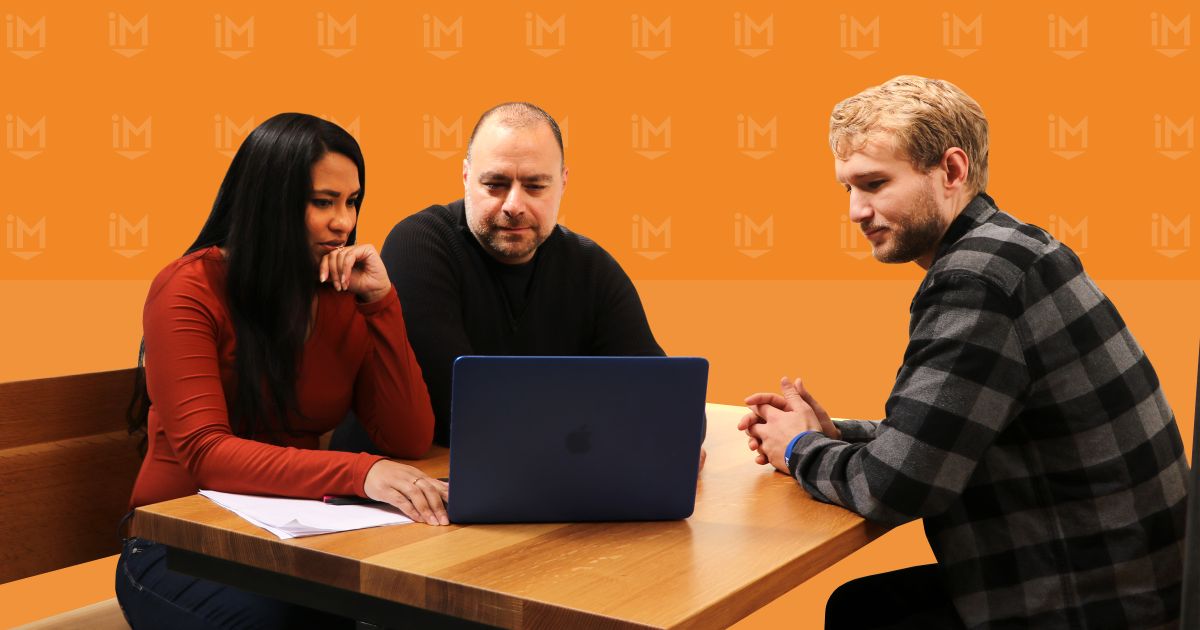 Goal setting is an act of balance.
If you go too small, you'll quickly surpass your goal and not push yourself to your potential.
Too large, and you'll never make it, and the failure will sting — even if the original goal was unrealistic.
For content marketing, the task is even more complex. You're setting goals that depend on metrics that can be especially hard to predict. Organic traffic? Conversion rate? Lead quality? Each comes with countless variables that can complicate your goal setting.
Teams often think that if they just create high quality content, new customers will come streaming through the virtual door. But it's not that simple. To build your brand and fill your sales funnel at the same time, you need to set the right goals. And let me reiterate that — the goal of content marketing is to increase sales.
If you're not sure how to set goals for your content marketing, use this as your guide.
Below, I'll cover:
Vital advice so you can set the right goals
How to set marketing and business goals for growth
Goal ownership and evaluation

How to set the right content marketing goals
I recommend goal setting in 90-day increments (in other words, once per quarter). That's enough time to get a lot done, but not so much that you feel locked into a failed experiment.

When I work with clients, we develop a plan each quarter that's just the right balance of ambitious and realistic. To do so, I always use this general rule: Push 10% beyond what you believe your current capabilities are.
This keeps you growing and striving — but prevents you from feeling discouraged by falling short.
When setting goals, we always recommended starting with the SMART framework:
Make sure your goal is:
(S) Specific
(M) Measurable
(A) Attainable
(R) Realistic
(T) Time-based
All too often, content marketing goals are filled with vague generalities about thought leadership, brand identity, and buyer personas. Stop me if you've heard something like this before: "Leadership development is a $366 billion industry. Our goal is to increase awareness with our target leadership development audience and earn more market share."
The problem with these things is they are hard to measure. SMART goals let you begin with a better understanding of what success will look like. This way, you can be sure your content marketing team is providing real value to your company. With the right goals in place, you can connect your efforts to actual revenue generated.
Make sure to use historical data to inform your current goals
Remember, business growth doesn't happen in a vacuum. Study past results to have a clear idea of what your future will look like.
Are you a retail business that does best leading into the holidays? Plan your Q2 goals accordingly. Are you a landscaping business that makes 80% of its revenue in the summer? If so, don't count on your traffic to buck the trend this winter.
Keep in mind your historical data about trends in keyword volume, website traffic, qualified leads, and new customers. Also, make sure to account for seasonality if the popularity of your products or services have a correlation with certain times of the year.

So with that, let's dive into some specifics about setting goals for your content marketing strategy.
How to set content marketing goals for growth
Content marketing goals will look different from one company to the next, but the process, I've found, should be pretty much the same. When my clients ask about goal setting, these are the core questions they have — as well as how I answer them.
'Who should set the goals?'
Goal setting should fall to the marketing leader, whether that's a VP of marketing, CMO, or other such figure. But this person shouldn't make up the goals out of nowhere.
The marketing leader should work with members of the revenue team (that is, key representatives from sales and marketing) to get input. One of the key benefits of assembling a revenue team is that it increases your marketing team's awareness of sales forecasts, sales pipelines, and what content your sales team could use to close deals. It's critical that your content marketing plans (and goals that support those plans) are in stride with your sales team.

Then, the marketing leader should assign a goal/priority owner for each facet of your plan. This could be the CMO, sales manager, or another team member. For example, the CMO might set a goal of producing a certain number of videos in the next 90 days. But the owner should be the videographer. It's critical to mention this — the marketing leader, while not directly responsible for doing all the work, is absolutely responsible for making sure the work gets done and that their team is best equipped to hit their goals.
'How often should we set content marketing goals?'
I teach my clients to plan in 90-day segments. But that doesn't mean they wait an entire quarter to check how they're doing. They track progress every week, monitoring KPIs (key performance indicators) and noting trends.
'What KPIs should we watch?'
We advise our clients to avoid putting too much stock in the king of traditional content marketing KPIs: organic traffic. Instead, we focus our goal setting on creating content that will resonate with their target audience:
Number of older blog articles optimized
Number of videos published
Keyword growth (tracked with Semrush or Google Analytics) — the number of keywords your site is ranking for in the top 100 position on Google.
Influenced revenue from content — revenue that's attributed to pieces of content that are consumed before someone becomes a customer.
Influenced contacts from content — the contacts in your CRM that have interacted with a piece of content.
Conversion rate

Traffic-to-lead conversion rate
Leads-to-qualified lead rate
Leads-to-customer rate

Sales cycle length
Again, I usually ask my clients to set goals that push them 10% past what they think is achievable.
It's important to note that you might not focus on all of these metrics in a given 90-day period, but you should monitor all of them — with goals set around specific company priorities.
Now, there might be different KPIs that matter more to your business. Session-to-keyword position tracking, bounce rate, close rate, etc. There are dozens of metrics that could be important to you. The nine listed above are the ones I use most often with my clients.
'How and when should we pivot?'
Content marketing is often a long game. An article published tomorrow isn't always crawled by search engines quickly — and won't start driving organic traffic until after that. That page will sometimes need to be live for a while before you get enough data to evaluate it.
In other words, even the most relevant content that's perfect for your target audience will take time to deliver results — unless your sales team is sending out content to leads and prospects. But if you're counting on organic traffic and views, there isn't a quick switch you can flip.

At the same time, you can't stop creating content while you wait to see how a single blog post performs in organic search. Content marketers have always got to be writing content for tomorrow while gathering data from past efforts.
That said, team leaders should have bi-weekly 1:1 meetings with every team member to get in-depth updates on each priority. This is a time to reflect on where you're at, identify what's standing in the way of reaching content marketing goals, and figure out how to overcome those challenges.
What marketing teams get wrong about goal setting
As easy as an article can make it sound, goal setting can be really hard. I've seen dozens of teams get it wrong, leading to frustration and finger pointing. Here are the most common goal setting mistakes I've seen marketing teams make:
Focusing on vanity metrics:

Organic traffic is nice, but if site visitors don't have the intent to buy, they're not going to help your bottom line. Too often, businesses write fluffy content that drives clicks, not purchases.

Not getting input from the sales team or from customers:

It is often said that marketing is sales at scale. Considering this, the goals of the two departments (or one department, if you're running with a blended revenue team) should be intertwined. You want customers to have a smooth experience and consistent messaging as they move from website visitor to prospect to buyer.


Your content marketing should serve your entire company, and getting the sales team into the process is the best way to start.


Not having 1:1s to track progress and troubleshoot: Success requires hundreds of small steps in the right direction. If someone on your content marketing team is off course or struggling, it's better to know that early so you can help your team do better.
Not reviewing metrics every week: Don't bury your head in the sand and wait until the end of the quarter to see how you've done. You should not be surprised by anything at the end of your 90-day planning cycle.
Not having trackable goals: Be sure to make your goals SMART. Don't have a goal of "building trust in the marketplace" if you have no way of measuring your progress. The good news is that you can find meaningful data for pretty much anything you're looking to measure. (I once read about a symphony orchestra tracking the number of standing ovations they got from different pieces in their repertoire.)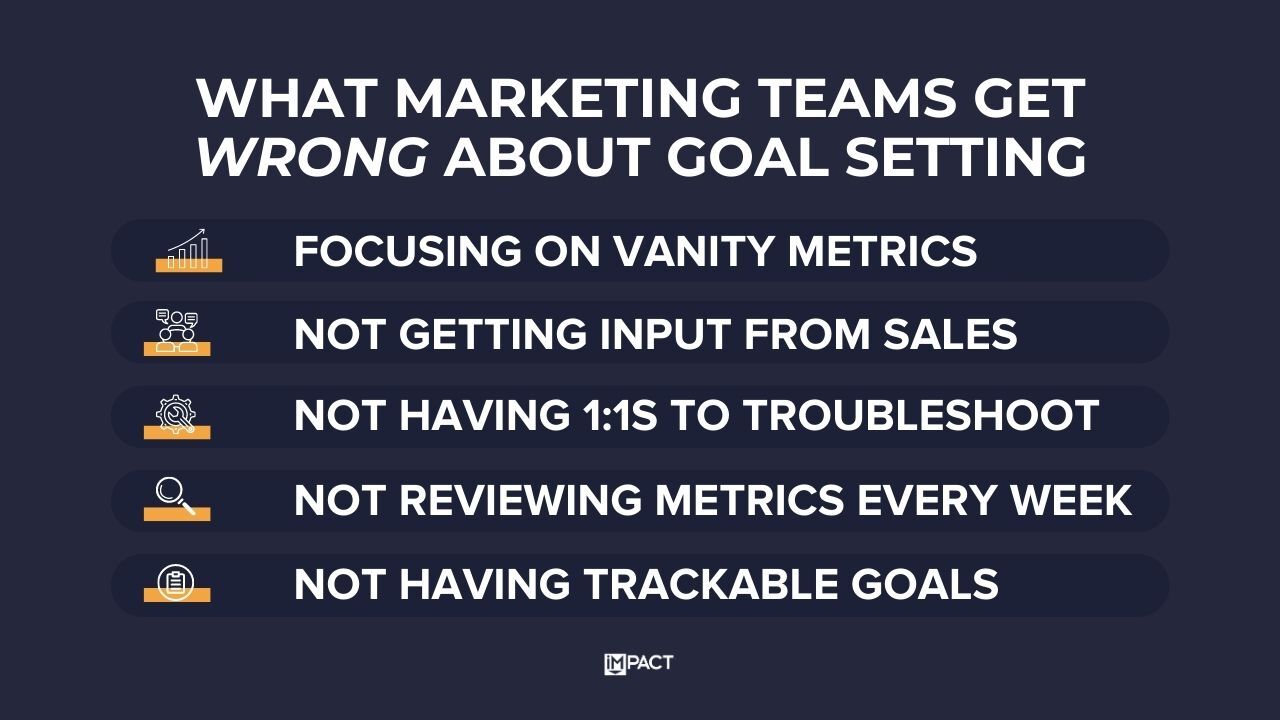 The right content marketing goals lead to success
The surest way to make certain that your content marketing efforts are on target is to align them with your overall business goals. If you're looking to boost revenue (I mean, who isn't?), your content marketing strategy should support that.
The same thing is true if your business is launching a revamped product, expanding into a new market, or starting a franchise.
Plan your future content so you can engage your audience in creative ways that offer real value. Every searcher is looking for information on a particular subject. If you can be a resource center that provides unbiased, honest answers to their questions. You can build trust that will benefit your entire company.
(At the same time, remember, content marketing is not just about bringing in new customers. You also want to build brand loyalty among your existing customers so you can bring in repeat business.)
And always remember the core value of content: customer education. For every piece of content you create, be sure to ask the same question: Will this help a site visitor become a customer? This should be the driving principle of your content strategy — and it should help you set your goals each quarter.
Free Assessment:
How does your sales & marketing measure up?
Take this free, 5-minute assessment and learn what you can start doing today to boost traffic, leads, and sales.