What Happens When You Don't Have Buy-In for Inbound and Content?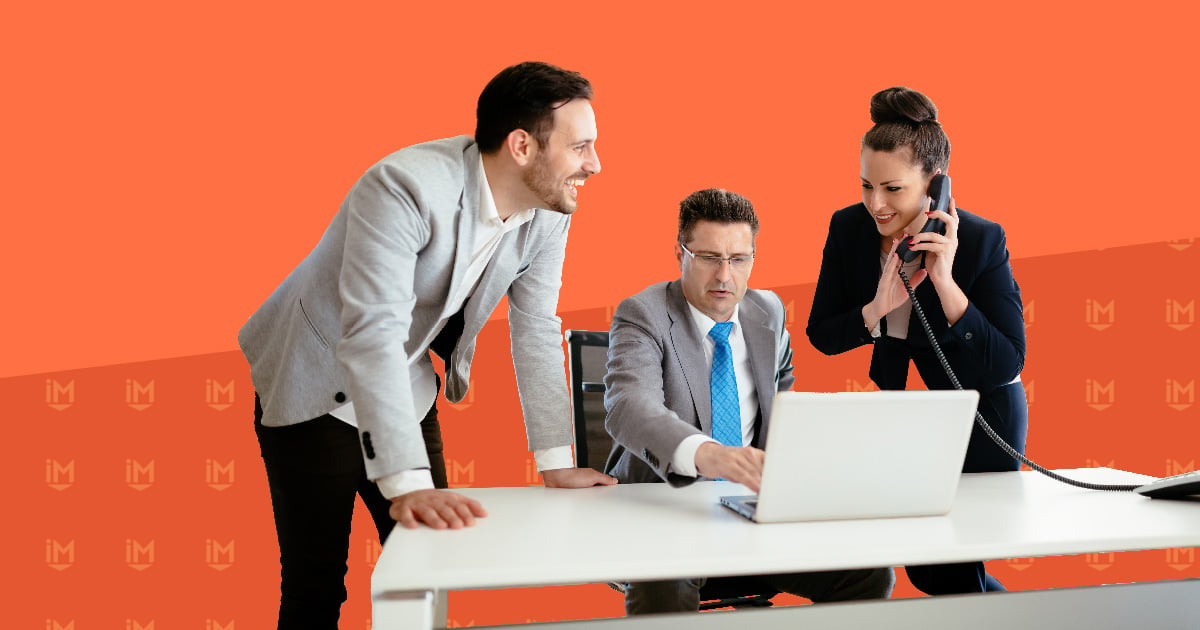 Here at IMPACT, we pretty much live by a philosophy called They Ask, You Answer.
If a random person was to peek in on our internal Slack channels, they might think we all must have been hypnotized; all you hear is this constantly reiterated reference to They Ask, You Answer.
But don't get us wrong, we didn't set out to start a new trend or anything like that. It's actually pretty much the opposite in this case. We're just doing what actually works.
Blogging works better when you write about topics your buyers care about.
What is They Ask, You Answer? (and what does it have to do with inbound?)
At IMPACT, They Ask, You Answer is our inbound marketing philosophy for one simple reason — because it works. It drives revenue, business, leads, clients, and all those fancy web metrics because it's about giving people what they want.
It aligns with how people naturally buy. There's no deception, no switch-bait.
They Ask, You Answer is an inbound approach to doing business in which you aim to be the best teacher in your space.
It involves creating great content that answers the questions potential customers have, including the tough ones about price, problems with your product, and who your competitors are.
By doing this, the leads you get are able to educate themselves and start to build trust in your brand.
And they get to do this on their own terms before ever talking to a sales guy (or girl). And this is ideal, especially since reports show that 88% of consumers do research online before making a purchase.
Sounds great – so why wouldn't you get buy-in, right?
Well, the thing is these are the topics that most business leaders don't want to talk about on their sites.
It's that outdated "fish on the hook " sales mindset; the idea that you need to be cautious about doing anything that might scare away a prospect from wanting to do business with you.
Most companies much rather leave those difficult questions to the sales team once they have a contact on the line (no pun intended) with them.
However, as we'll dive into more below, this mindset also means that sometimes the type of fish on the hook are ones you have absolutely no interest in catching.
They Ask, You Answer turns that mindset on its head and aligns sales with marketing.
In order to see that hockey stick growth pattern in traffic, leads, and revenue, this alignment between sales, marketing, and the entire company needs to be present.
What is inbound and content buy-in exactly?
Content and inbound buy-in happens when everyone in the organization (note: the whole organization, not just the marketing department) is on board with the philosophy that success in your business comes from being the best teachers in your industry through the content you have on your site.
This means the team isn't pushing back when you want to write an article that dives into the factors that influence the cost of your product or service, for example.
Buy-in looks like your company working as a cohesive team, not in everyone's own little bubbles.
It also means content is being used not just for marketing, but also in the sales process, for assignment selling, and for qualifying leads.
The work that marketing does isn't just for the marketing department; it becomes something the whole organization can use.
Inbound and content buy-in looks like all members of your team understanding and valuing the importance of answering your clients' questions and using those questions to guide everything they do.
What inbound and content buy-in is NOT
Having organizational buy-in doesn't mean work becomes roses and daisies, though.
It's still hard work to crank out the amount of quality content you need, follow the best practices, stay on top of SEO updates, trends in your industry, and keep your site performing the best it can be.
The work you put into your job when you don't have buy-in, however, compared to the results you'd get if everyone was on the same page is like squeezing an orange for drops of juice versus just pouring yourself a glass.
Sure, it may "work," and there's something to be said for working hard and putting in lots of effort, but how sustainable and effective is it?
What happens why you don't have buy-in?
Basically, not having buy-in is like running your car on empty.
"At the end of the day, you're throwing your money away if you don't have buy-in from leadership and decision makers," says IMPACT Content Consultant Justine Timoteo.
"It's sad to see clients invest so much – their money, time, resources – and never be able to hit that 'publish' button. Without buy-in, your company is going to stand in its own way of being able to truly see success."
Christi Wharton, also a Content Consultant at IMPACT, agrees: "It can be so frustrating when the company isn't all on the same page. You're always facing pushback from the other members of the team."
When you don't have buy-in, you are not set up for content marketing or inbound success.
After all, the number one reason inbound doesn't work isn't because of budget, industry, or anything like that: it's because of lack of support within an organization.
An organization without buy-in for content and inbound faces a tough, uphill battle. Here are some examples of what that could look like.
You have a strained "island" marketing department
Not having buy-in can equate to having a strained one- or two-person marketing team expected to achieve awesome results and "do their jobs" without needing outside assistance from other departments.
This isn't to say all small marketing teams are in organizations without buy-in, but among organizations without buy-in, it seems to be a common trend to push all marketing responsibilities on one or two people instead of taking a more well-rounded approach, like everyone in the organization (your subject matter experts) contributing content, for instance.
Do you ever catch yourself thinking, "How can I accomplish X, Y, or Z without needing anything from the sales team? How can I make this inbound thing work in my own little marketing bubble?" If so, you're probably in a company without complete content/inbound buy-in...and you're probably pretty frustrated at the lack of consistent growth in your company.
Prospects can't find you
In our experience working with hundreds of clients, getting found by your potential prospects requires creating the type of content that gives tons of value and answers the questions your visitors are asking.
If your company (especially your sales team) is not bought into inbound and content, then it's pretty unlikely that you're creating the content your prospects are looking for when they're trying to educate themselves about your product or service.
This is why the companies practicing inbound the best are the ones at the top of search engine results pages.
You're wasting time in the sales process
On a related note, much of the sales process, when you boil it down, is very repetitive.
People are asking the same questions about the same concerns, and you are likely giving the same answers.
If your sales team is spending their time answering the same questions over and over again from their prospects, their efficiency at closing deals is going to be stagnant.
If you're not using content to educate your prospects and arm your salespeople with the content they need for assignment selling, you're probably not working as efficiently as you could be.
Plus, if you're not publishing content that helps people understand if they're the right match for your company, you're likely wasting time on unqualified prospects. More on that below!
You're spinning your wheels dealing with unqualified leads
How many times have you had leads come into your sales department, and after getting excited and spending all this time talking with them, you realize they aren't a good fit for your company?
The time that your sales team is wasting with these leads that will never become customers can be drastically reduced by having the right content on your site; content that helps answer the critical questions that help people qualify or disqualify themselves before ever getting to a salesperson. (Note: "everyone" is rarely a qualified prospect for a business.)
Without inbound and content buy-in, you're probably spending a good portion of your time dealing with people and businesses who simply aren't a good fit.
So, I don't have buy-in. What can I do?
You may be thinking about what you can do if you don't have company buy-in.
First, it's best to ask yourself what's preventing your team from getting all on the same page?
Maybe you can get everyone together and have a conversation, a meeting to get people excited about They Ask, You Answer and creating content.
Round up everyone in a room, from customer service to sales, to marketing, to the leadership executive team, and get everyone on the same wavelength. Look at it like a huddle before a big sports play.
Talk about the habits you have as buyers, and how you feel when you have to go digging for information before you make a purchase, only to find that much of the information you need either isn't available or requires a phone call with a salesperson.
Discuss how your company can use content to create that trust and bond with prospects before you ever see them. And talk about how sometimes developing that trust requires tough, but honest conversations that you can't shy away from.
At IMPACT, we've found that this is the most effective way to get people on board with inbound, content, and They Ask, You Answer.
It's the difference between forcing someone to begrudgingly go to the gym to get in shape, versus really getting someone excited about the life they can have if fitness is a part of their daily life.
Getting real support from your entire organization makes inbound more sustainable. It doesn't just die out a week or two after the meeting because "real life" and "normal work routines" kick back in.
It creates a lasting shift in the business mindset and if you have leadership fully bought in too, you can ensure there is accountability that everyone is on the same page and going in the same direction.
Come on, drink the Kool-Aid. Get your company on the same page so the hard part of your job isn't constantly figuring out how to walk the fine line, and you can instead focus on crossing the lines that your competitors won't.
If you can manage to get everyone together and on the same page just from an internal conversation, more power to you!
But if you're up against some ingrained and outdated ways of doing business, you might not have much success trying to convince everyone on your own and might need some reinforcements. There's that old saying that even a prophet is not welcome in his own town. In that case, there's help available for you. Talk to us about our Inbound Culture Workshop.
Published on June 27, 2019