What Happens When You Don't Have Buy-in for Your Inbound Strategy?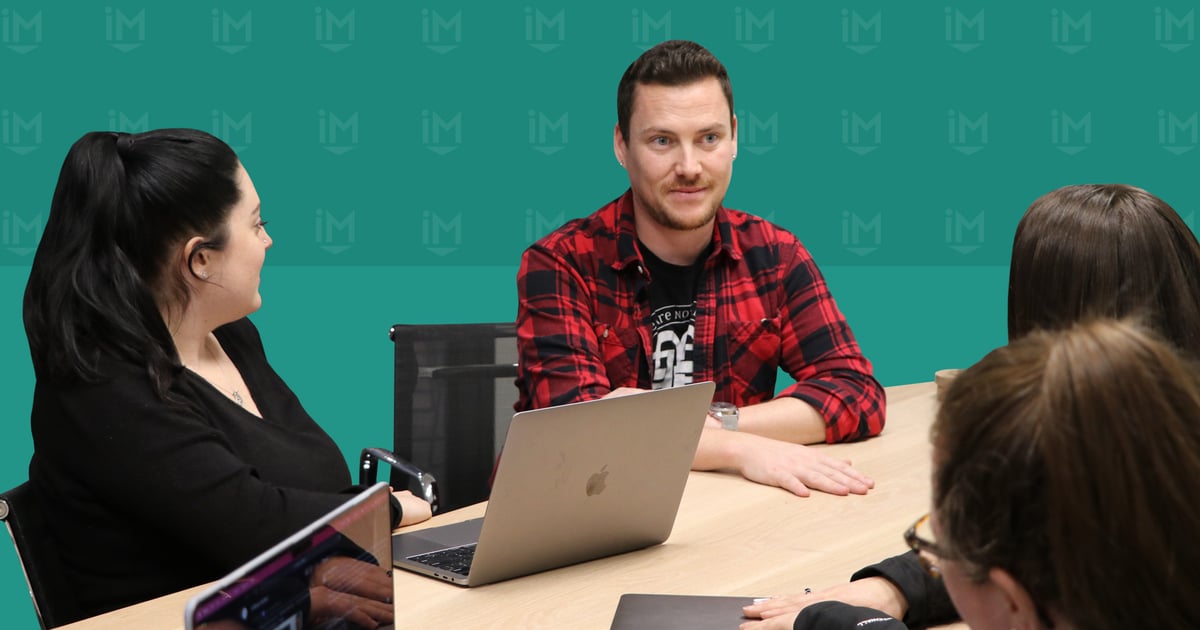 "A chain is only as strong as its weakest link."
"If they're not working with you, they're working against you."
While these phrases are cliche, they do come back to one very true message: teams are a collective.
To function at their best, teams need everyone — from the highest leader to the newest intern — delivering their best work, working toward the same goals, and supporting the same vision.
This is especially true when it comes to implementing something as far-reaching as the inbound methodology in your business.
Contrary to popular belief, inbound is not just a marketing initiative. It touches every part of a business from sales prospecting to return customers.
That's why, for it to truly succeed, everyone in an organization needs to be fully bought-in and committed to helping the strategy succeed.
But what is 'inbound buy-in' exactly?
Inbound marketing isn't simple. It's a multi-faceted strategy that takes long-term commitment to see it fully come to fruition.
When we say someone is "bought-in to" inbound we mean they fully support it and are ready to commit to it.
Hiring the right team members takes time.
Articles take time to research and write.
Website pages take time to design, not to mention get indexed and found in search engines.
Videos take time to produce and edit.
All of these are valuable assets that can get found in search engines, educate your audience, and get shared in the sales process to combat objections — however, none of this may be possible if people aren't bought-in.
Inbound buy-in happens when everyone in an organization recognizes that inbound methods will help set your business up for greater success, particularly creating content that positions you as the most trusted teacher in your space.
For example, it means the team won't push back when you want to write an article that dives into the factors that influence the cost of your offering or the problems that may arise with it.
It also means content isn't seen as "just a marketing thing," but also as a tool for closing new customers and delighting existing customers.
Inbound buy-in looks like all members of your team understanding the value of answering audience questions and using those questions to guide everything they do.
The dangers of not having inbound buy-in
Not having buy-in for your inbound strategy is like trying to build a house on quick sand. It may look stable at first, but it's not strong enough to stand the test of time.
When senior leadership doesn't understand or support what you're doing with inbound, you're less likely to get the budget, resources, or autonomy you need to fully put your strategy into action.
They also likely won't help create the culture, processes, or precedent needed to get everyone else on board.
An organization without buy-in for content and inbound faces a tough, uphill battle that can manifest in several different ways:
The marketing team will feel isolated
Not having buy-in can lead to your marketing team feeling like their unsupported and "on an island" so to speak.
Perhaps they won't receive the budget they need to buy tools or build out their team. Maybe they won't get the time they need with other members of the organization because their work is not seen as important.
Overall, this can lead to an unproductive, ineffective, and even unhappy marketing team.
You'll produce low-quality content that doesn't get found
So much of inbound success comes back to creating high-quality, authentic content that honestly answers your buyers' questions.
However, authenticity depends heavily on capturing the unique insights and voices of your team members.
If your company (especially your sales team and subject matter experts) are not bought-in, you'll likely have a much harder time creating the caliber of content needed to rank in search engines and win over your audiences.

You also will be limited in your ability to create content to effectively help in the sales process.
You'll have a longer, less effective sales process
Speaking of the sales process, when you don't have full buy-in for inbound, your sales team will likely miss out on valuable resources and practices to help improve their sales process.
Marketing may have trouble getting subject matter experts to dedicate time to being interviewed or writing and reviewing content that can be used for assignment selling. (Sales reps may even refuse to use the content they do get their hands on it.)
Assignment selling enables sales reps to address major prospect objections and questions before they even have their first sales conversation by sharing content.
This way, when the two groups do connect, they spend less discussing generic questions and more time focusing on the prospect's specific needs, and actually closing deals.
Unqualified leads will continue to waste your time
How many times have you had leads come into your sales department, and, after spending an hour talking with them, your reps realize the leads aren't a good fit for your company?
When you share educational content that can be used for assignment selling, buyers are better equipped to figure out on their own if yours is the solution they truly need.
High-quality, honest content tells them what it's realistically like working with you, and let's them decide on their own if you'll accomplish what they need and if they can afford you.
In turn, you'll drastically reduce the time your sales team spends on leads that will never become customers.
How to get inbound buy-in at your organization
To get buy-in for inbound marketing, you need to get everyone aligned.
You need to make sure they understand the value and their role in making it a reality.
We've found the best way to do this is by rounding up everyone in a room, from customer service to sales, to marketing, to the leadership executive team for what we call an "inbound culture workshop."

In this meeting, sales, marketing, and leadership sit down to be educated on the inbound methodology together. They hear the same call to action and the reasons behind it. They share in the experience.
You need talk about the habits you all have as buyers, and how you feel when you have to go digging for information before you make a purchase, only to find that much of the information you need either isn't available or requires a phone call with a salesperson.
Discuss how your company can use content to make this experience better and, make prospects trust and want to work with you in the process.
Leadership will understand what it takes to succeed and why inbound needs to be made a priority. Your sales team will learn how content will help them sell way more in less time, as well as their role in helping the marketing team create it.
Overall, when done right, a workshop creates a lasting shift in the business mindset. This is especially true when facilitated by someone outside of your company.
Need more guidance on how to help build a culture of inbound at your business and get people bought in?
Check out our free course "Building a True Culture of Inbound with They Ask, You Answer" and our free guide, "The Ultimate Inbound Marketing Strategy Playbook 2023."
Free Assessment:
How does your sales & marketing measure up?
Take this free, 5-minute assessment and learn what you can start doing today to boost traffic, leads, and sales.