What is a Content Strategy? (Definition + Templates)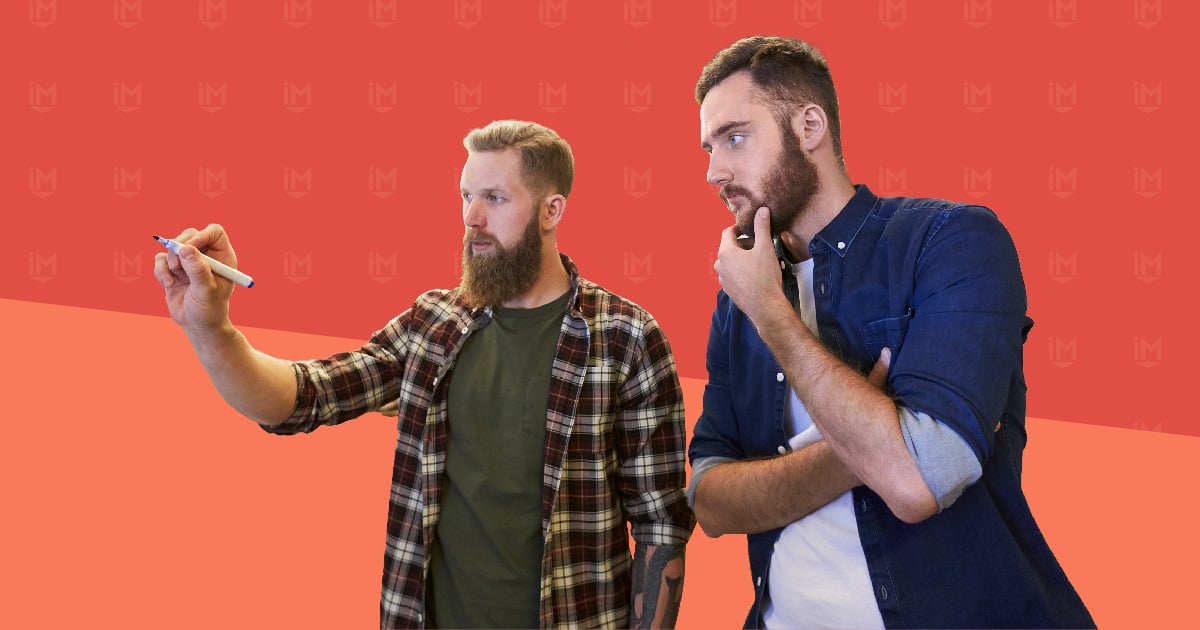 What is a content strategy?
A content strategy is a full company document that illustrates how the content your organization creates will impact every facet of the business.
Your strategy will provide a holistic view of where you as an organization want to go and how your content will help you get there.
Successful content marketing is more than just publishing a blog post here and there, crossing your fingers, and waiting for the website traffic to come rushing in.
You need a strategy to organize your efforts and achieve your business goals — but that's easier said than done.
Too many businesses set off and try to "do content marketing" without a really clear idea of what they're trying to achieve and how they're trying to achieve it. As a result, they get frustrated, claiming content marketing doesn't work for us.
This is what happens when you don't have a plan.
Without a sound content strategy in place, the content creation process can get messy. Content ideas get lost in the shuffle, organic traffic fluctuates, and business goals get missed.
So, if you're lacking a clear content marketing strategy, this one's for you.
I've seen successful strategies from both sides. First, as a content director, and now as a content trainer, where I coach dozens of businesses on how to grow their revenue by producing valuable content.
Below, I'll walk you through:
What exactly is a content strategy?
What needs to be included in your strategy
How to put that strategy into action at your company
If you're looking to develop a content strategy, this one's for you.
What is a content strategy? How is it different from a content marketing strategy?
A content strategy is a full company document that illustrates how the content your organization creates will impact every facet of the business.
Your strategy should provide a holistic view of where you as an organization want to go and how your content will help you get there. But it took me a long time to realize this. Let me back up and share my story.
There are times as a marketer when everything just falls into place. You update your editorial calendar, check out your traffic metrics, post a few company updates on social media, and get caught up on your Slack messages.
Everything's clicking. Heck, you might even be humming "Walking on Sunshine" as you close your laptop and start your evening.
That was me a few years ago. I was a content director at a mid-sized B2B business, years before I made the move to content trainer here at IMPACT.
This was back when people commuted to downtown offices, when there was an evening rush to get home from work, and when I felt that the marketing world was moving in sync with my personal good vibes soundtrack.
Then my desk phone rang.
Leadership had been in a meeting all day long. I knew there were a few questions that might come up but, hey, I knew my stuff. I wasn't worried.
"Jen, can you send over your content strategy?"
Easy peasy. I had just updated the editorial calendar. It had the title of every blog post we would be publishing this quarter. I said I'd send it over right away.
"Nope, not the editorial calendar, the content strategy. Can you send that to us by tomorrow?"
Oh, crap. You could practically hear the record scratch.
Umm… Sure…
And just like that, my confidence was gone. Here I was, directing the content of a growing business, and I wasn't sure what exactly they wanted.
I had what felt like all the questions:
"What is a content strategy?"
"What does a content strategy actually look like?"
"How is it really different from the editorial calendar I'm already using?"
"What does the content strategy do?"
"Is anyone really going to use this or is it just something leadership thinks they need?"
What I was sure of, though, was that everyone I passed during my commute home knew I was a fraud — and it was only a matter of time until my bosses and coworkers knew this too.
Quite frankly, I thought the editorial calendar was my strategy. What was I missing? And why were they asking for the strategy anyway? Here I was, hitting my goals to publish content consistently. Wasn't that enough?
No, Jen, was what popped in my head as I slumped away from the office toward home, trying to hide from everyone in my path. No, it's not.
Lack of a content strategy exposes much deeper problems
To put it mildly, it wasn't a fun position to be in. And let's be honest, even writing this now is causing me more anxiety than I'm comfortable with.
The real pressure weighing me down at that moment was the knowledge that I truly believed creating content would work. I had fought for the position I had and for leadership to support this effort.
But if I didn't provide a strategy that turned on the leads, this was all going to go up in smoke.
Looking back, I can easily spot the issues:
My organization was relatively new to

content marketing

. We had been publishing usable content consistently, but there wasn't much of a plan beyond that.
I had been building an editorial calendar full of common sales questions, but I still wasn't certain that the sales team was using the content we were producing. While they were happy to give us a list of questions they fielded, it was clear that the sales team still saw their jobs as completely separate from marketing.
Leadership claimed to be fully bought in on content, but they were only behind the concept as long as it produced immediate results and as long as marketing produced the entirety of the content. (So, like, not really bought in at all.) And now for the big one…
Our content was driving organic traffic, but it wasn't converting to actual sales.
And, yeah, it's easy to look back a half-dozen years and poke holes at a situation that clearly wasn't perfect. The funny thing is, it wasn't until I came to IMPACT that I fully realized what a true content strategy actually was.
But that wasn't it.
I also started to see the conditions needed for a real content strategy to exist.
Now that I'm at the other end of the Zoom line, talking with people who are sitting where I used to sit and who are feeling the pain that used to keep me up at night, I can spot when a content strategy isn't working (or doesn't exist at all).
Get set, 2016 Jen, I'm about to answer your questions.
What is a content strategy really?
Let's get one very important detail clear from the start — a content strategy is not a marketing document. While your marketing experts might craft a content strategy, theirs isn't the only department that owns it.
A content strategy is a company-wide document that illustrates how the content the organization creates will impact every facet of the business. Your strategy will provide a holistic view of where you as an organization want to go and how your content will help you get there.
This is why it's crucial to have the entire company fully bought in to the content strategy. Everyone has to agree on the outcome for your strategy to be successful.
In essence, your content strategy serves as a service-level agreement (SLA) for all departments to understand the importance of content to the business's success and to document their role in how the plan is executed.
What does a content strategy look like?
As much as I'd like to tell you that the best content strategy should be six pages set in 12 pt Proxima Nova font, it's not up to me. This is your document, and you know better than me how to communicate with the rest of your coworkers.
For many, the content strategy is a document, divided into clear sections that walk readers through the plan element by element. For others, it's a more complicated spreadsheet with tabs for days.
And then there are those more visually-minded:
Note: There are 1.4 B results in Google for what a content strategy looks like, some with an outstanding array of colors and shapes. You do you.
Your strategy is unique and should be created and presented in the format that will most resonate with both your leadership team and your coworkers.
What's included in a content strategy?
Though I can't show you one single content strategy template to rule them all, I can tell you precisely what should be included in your content strategy document. Basically, I can now better define the rules for you.
A content strategy is a wide view of how content is managed, produced, and used throughout the organization, so think of the bigger picture in your strategy document.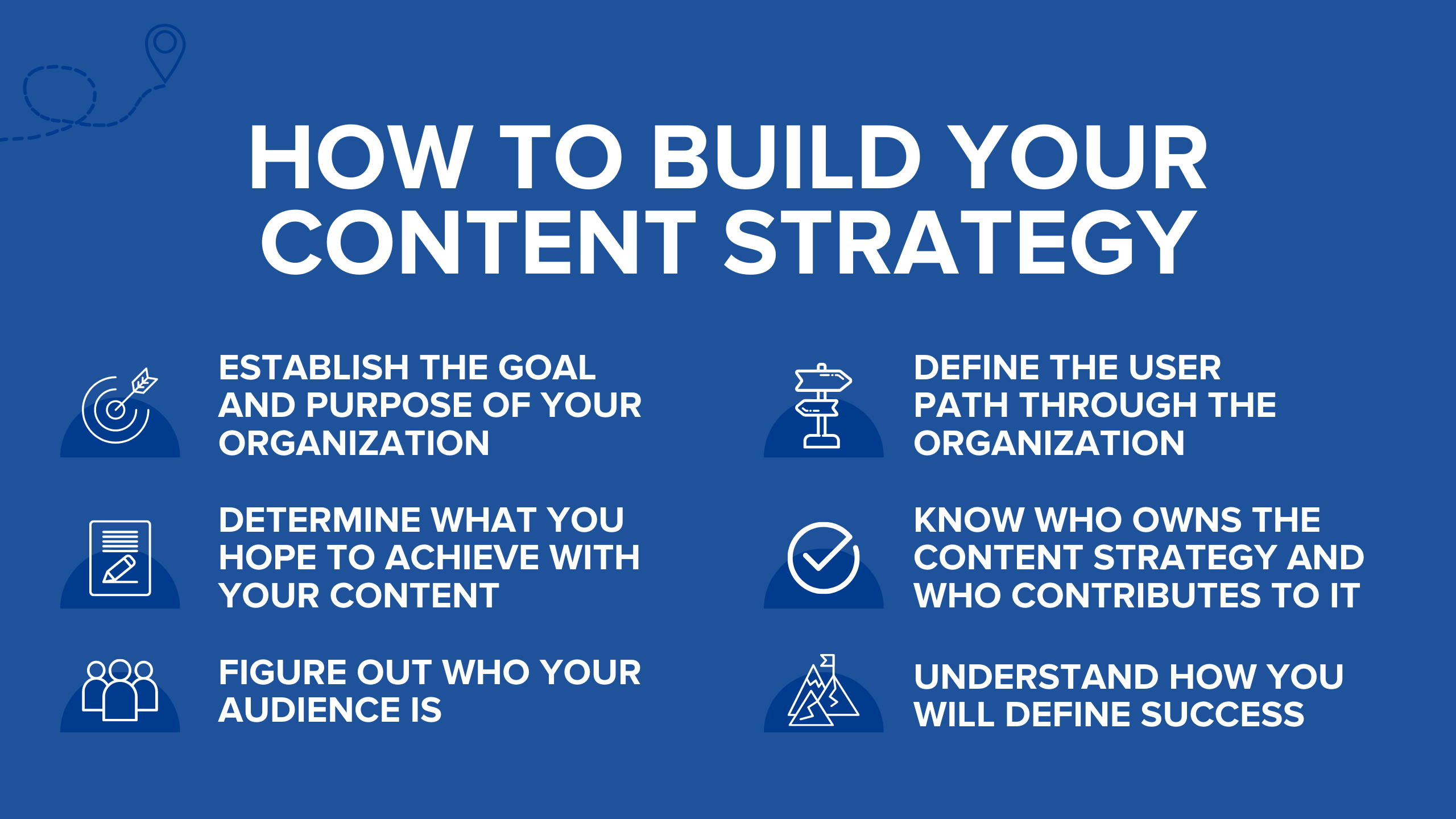 The more granular items, though important to you, don't necessarily have to live in your strategy (we'll get to that later).
Here are the items that are best to include in a content strategy document. Each point provides a foundation for the next, so it's best to tackle these in order.
1. Establish the goal and purpose of your organization
Like I said earlier, start broad. What is your company's purpose or mission? As a group of employees, what are you setting out to do?
Your content should align with the company's overall why and should drive results that directly relate to the bottom line. But if you don't know what that is, then how do you know in which direction to aim your content?
It's easy to think that content marketing is all about search engines and organic traffic. It's not. It's about advancing the mission of your organization.
2. Determine what you hope to achieve with your content
Now we zoom in a bit.
As you set goals for your content, remember to keep every factor in mind. Think about the resources at your disposal: people, tools, time.
You need to have a purpose behind your content before you even begin to define your strategy.
How will your content contribute to the overall goals of the company? What you establish in the section above will have an immediate bearing on this part of the document.
3. Figure out who your audience is
Don't feel bad if the answer to this question doesn't come as easily as you think it should. Defining a target audience for your content can be a tricky exercise for even the most seasoned teams.
Depending on what you establish as the purpose of your content, you may be targeting prospects for a defined line of business or an audience for a variety of products or services you provide.
You might even be expanding your content audience far beyond your prospect audience.
It all depends on your goals and purpose.
For example, here at IMPACT, our content team adheres to a publisher model to guide the content strategy. So we create content positioned to several audiences:
Customers
Businesses actively engaged with our sales teams
Those who may convert to prospects at some point in the future
People who have a general interest in marketing but may never engage with our services
Each of these target audience units is targeted because of how we've defined our company and content purpose and goals.
Based on your goals, who will be best served by the content you create? What content formats will resonate with this target audience? What platforms?
4. Define the user path through the organization
Now that you know your target audience, it's time to create a plan for how your audience will engage with your content as they move through the buyer's journey. This is the part of the content strategy where we marketers get to flex our tactical muscles.
Here, you'll have the chance to set the roadmap for how you'll attract your audience and guide them through their buyer's journey with you. You'll want to include major themes and campaigns that will be covered, as well as how each piece of your content arsenal will work together.
This section could include a range of stuff, from actual assets to market research tools, and more.
Tactical elements to include in this section include (but certainly aren't limited to):
Written content, including articles,

pillar pages

, CTAs, and historic optimization
Podcasts
Learning centers
Key events
Content promotion and amplification
If you're reading this list and thinking that these make up your editorial calendar, you're right. Though your calendar isn't an appropriate stand-in for a content strategy, it does makeup one part of it.
Just make sure you provide context to the calendar you establish. Some editorial calendars only include written content. While others might actually be split into multiple spreadsheets or documents.
Instead of merely pasting the calendar link into your strategy document, explain how each piece works with the others and how you plan on using these to interact with your audience.
5. Understand how you will define success
How you define your content marketing return on investment (ROI) is the final step in your audience's journey with you. It's not enough for them to engage with you and what you've created. After all, we want the people reading, watching, and scrolling to actually do something.
Determine just what it is you want them to do, explain how you'll measure it, and finally decide how often this will be done. So much of what you include here depends on the goals you established earlier, so refer to those as you create your definition of success.
That said, there are some common marketing ROI metrics and benchmarks you might want to include, such as:
Blogs published
Keyword growth
Traffic totals and sources
Impressions
Clicks
YouTube channel subscribers
Average click-through rate
Average position
Contacts created
Contacts by sources
Monitoring your content metrics will allow you to measure your success and be able to spot opportunities for improvement.
The benefit of having this documented in your content strategy allows you to clearly celebrate a win or defend your position to make a change, depending on what the numbers tell you.
6. Know who owns the content strategy and who contributes to it on an ongoing basis
Finally, you'll want to include who owns the content strategy you've created and who the stakeholders are.
Yes, this is a company document and everyone has skin in the game, but the strategy itself needs someone to nurture it along and make sure it's being followed. This often lands in the lap of the content or editorial director. But for small companies, this could be a marketing manager or whoever is overseeing marketing activities.
Of course, though, the owner of the strategy won't be doing all the work — not on my watch, at least.
You'll need to document how other departments and key players will take part in content creation and distribution.
Here's where you'll include the sales team's role in sourcing topics and using content as part of the sales process. This is where you'll identify the need for subject matter expers throughout the organization to sit for interviews, write articles, record podcasts, or produce videos.
Leave no stone unturned when it comes to highlighting the importance of each employee's role in fulfilling the strategy. This should, hopefully, prevent surprises down the road.
Successful content marketing is always a concerted effort, so be sure to weave that into the very fabric of your strategy.
What doesn't belong in a content strategy?
I'm too Type A to say not to sweat the details, but there's no need to weigh down your strategy doc with extra marketing materials that have little connection to the big picture.
I love a solid content style guide as much as the next girl (OK, probably more so, given that I once admitted to wanting to use the IMPACT style guide as a pillow), but it's safe to leave these kinds of documents out of this — no matter how comforting they may be.
Here are some items you can omit from your strategy:
Topic brainstorms
Results of a content audit
Branding guidelines
Content style guide
Article examples
Organizational structures
Monetary contracts
After reading that list, I know what some of you are thinking:
"Jen, why shouldn't those be included? Those are all related to how we execute our content strategy… right?"
You are absolutely correct. They are related to how you execute your strategy, but here's the critical thing to keep in mind — these different pieces are not the strategy itself.
Topic brainstorms can be outcomes of the strategy, but they are not the strategy. Your content style guide covers the editorial rules of the content you will create, but (again) it's not the strategy.
See what I mean?
Now, if your content strategy is housed online (in a Google Doc, an online Wiki, etc.), you can include a list of links to these items in an appendix of related documentation. But remember, you should not consider them as centerpieces of your strategy.
How often should you update a content strategy?
Where we once might have created a content strategy to last for a year or more, life just doesn't seem to work on a long-term basis like it used to.
That doesn't mean you'll have to start from scratch every time you update your strategy, but it does mean you'll want to schedule regular maintenance. I suggest creating a strategy for a year and planning to revisit it every quarter.
The flexibility of working on a 90-day schedule provides an extra layer of freedom to respond to changing influences, especially when planning the more tactical elements. This also allows you to dig into the metrics and make adjustments as needed.
You've created a content strategy, now what?
The goal of creating a strategy document isn't just to be able to check a box, attach it to an email to the CEO, and then hope to stay under the radar until the next request.
Creating a strategy that the entire organization aligns with and rallies around can and should be a company-changing event, prompting everyone to get excited about pitching in and being part of making it a success.
In short, your content strategy must become a part of your company culture for it to really increase organic traffic, generate leads, and fill the sales funnel.
The key here, though, is to get everyone on board. And that's totally easy, so we won't dwell on that.
Oh, wait…
There are three parts to having your strategy adopted by the entire company:

First, you need buy-in from the top. Your leadership needs to understand the benefits of content marketing and why adopting a content philosophy needs to be a company-wide initiative.
Client-centered content also relies heavily on knowing what questions your customers have, and that means that sales will need to be intimately involved in the content production and distribution process.
Aligning sales and marketing is key to a successful content strategy (not to mention a pleasant work environment).
OK, but how do you do that?
IMPACT hasn't been exempt from the tale-as-old-as-time sales and marketing mismatch. But we've recently made major steps toward solving this by creating a revenue team, where the sales team and key members of the marketing group come together once a week to sing Kumbaya talk about revenue-generating content.
The last part of the alignment puzzle is, well, everyone else: your coworkers, your work spouse, your nemesis, the new guy, the person whose home office background has you daydreaming of renovating your entire apartment every time you get on a Zoom call with him.
These are the people you'll ask to do some pretty heavy lifting when it comes to content production. So, how can you entice them to happily take part?
Bring your people together over content
When content becomes a business initiative, the people who participate in that cornerstone strategy become the company rock stars. You can celebrate their work by calling them out in team meetings, by featuring their articles in company newsletters, or by sharing their work in a Slack celebration channel.
Every time a deal closes, look for the content that played a role. Share a few examples with the team.
It's up to you how you'll reward the top performers, but it's important that you make them feel appreciated (because, after all, you really will appreciate them).
While you're handing out praise, also discuss the progress of the content strategy and make sure everyone has a clear understanding as to what the goals are and how you're progressing.
Nothing motivates like success.
Having a completed strategy can prompt a euphoric sense of accomplishment, but creating a content strategy itself isn't the success metric.
To those who are nurturing the strategy, success is achieved when you can draw a direct line from the content created to a sale, knowing that line passed through multiple people and departments, each of whom had a stake in the ultimate win.
That's something that should have everyone — from sales to leadership to marketing — walking on sunshine (for real this time).
If you're looking for help creating your content strategy, talk to one of our advisors. We help businesses simplify their content marketing every day, so they can reach their potential customers and drive more sales.
Free Assessment:
How does your sales & marketing measure up?
Take this free, 5-minute assessment and learn what you can start doing today to boost traffic, leads, and sales.