HubSpot vs. Pardot for marketing: a head-to-head comparison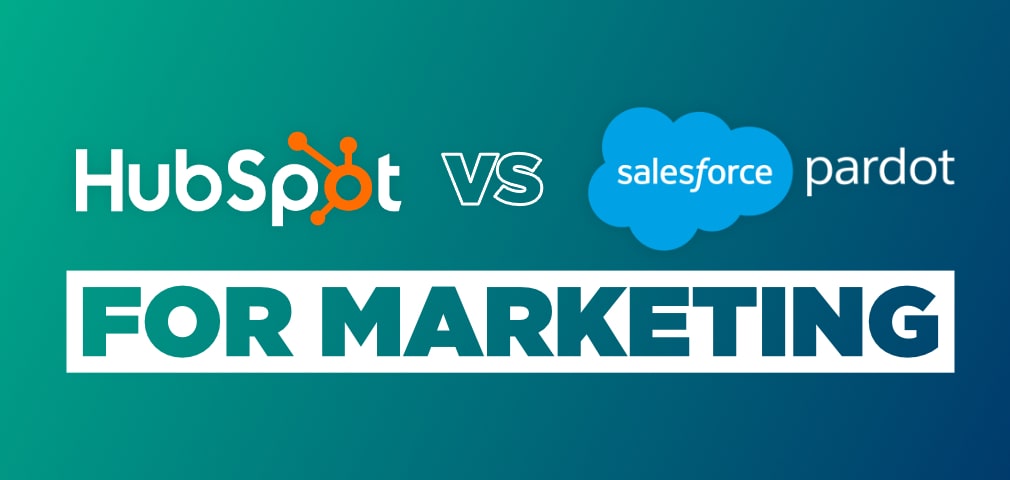 HubSpot vs. Pardot
Pardot is ideal for Salesforce users looking for a marketing automation solution who want to have the ability to scale up to true enterprise-level features. It is more suitable for companies that have larger teams and who might need a more custom solution. HubSpot is ideal for small to medium-sized businesses with no coding ability, but who want the benefit of also being able to scale while maintaining great features that are easy to use.
It's 2021. Having an extremely capable marketing platform is a must for your company.
Let's say you are ready to upgrade or you are in need of utilizing a marketing platform for the first time. You've done the research and you've landed on two. The most popular two: HubSpot and Pardot.
How do you decide?
There are many factors to keep in mind when comparing these platforms.
They are both extremely great marketing tools, but deciding on which one is best for you is going to depend on things like cost, which features are important to you, and which CRM you are using or want to use (since they both don't play nicely with every CRM).
Below I will look at what it is like to use both platforms so you can see which one is right for you.
Why you need a marketing platform
First off, let's make sure you are clear when it comes to why you need a marketing platform. A marketing platform like HubSpot or Pardot are going to empower your team to up your marketing game significantly.
You will be able to:
1. Send personalized marketing emails to your contacts
Being able to personalize your marketing outreach makes it more relatable and helpful for your contacts. You will be able to better provide helpful information based on what they have told you about their challenges.
For example, if you collect information about a contact's industry, you can send them industry-specific information that is more relatable to their situation.
2. Create marketing automation for segmenting and communicating with your contacts
Being able to automate and segment your marketing communications will allow you to send more personalized content, and help you send nurturing campaigns to new leads, provide helpful information as soon as a contact interacts with you, or even send your internal team a heads up once you have someone interested in learning more.
For example, you can create automation to commence once a contact submits your quote form that will notify your team and let your new lead know exactly what they can expect as next steps via an email.
3. Create reports to track your marketing efforts
The success of your marketing efforts depends on if you are able to show how effective you have been through reporting. These platforms can help you show who has been engaged with your site and content from a contact level, and how that content has helped closed deals to report on actual ROI.
For example, you can create a report that shows deals that have closed from contacts that have entered your website through your blog, or have engaged with your blog before closing.
4. Optimize your website with features like chat, forms, and improved landing pages
HubSpot and Pardot also make it easier to add and improve upon website features like live chat or bots, forms, and landing pages.
Live chat can help visitors easily interact with your team when they need help.
Using bots can even allow you to help before someone reaches a member of your team by pointing a visitor in the right direction. For example, you can feature the most common questions your team gets, and point visitors in the right direction on your website.
Being able to create landing pages will help you make pages that are heavily topic-focused and easy to interact with — without the distractions of a normal webpage.
Marketing with Pardot and HubSpot: Similarities
Pardot and HubSpot are two of the most popular marketing platforms available. Because they solve many of the same challenges, there are similarities between the two platforms.
Marketing automation
Pardot offers an extremely robust marketing automation solution. HubSpot offers a very similar automation solution with HubSpot workflows. Both offer great solutions with similar feature sets. The differences are fairly minimal, as both allow you to use marketing and sales activity to create automations.
Marketing automation is key to efficient and smart communication with your contacts. With either marketing automation solution, you are able to deliver marketing emails to contacts based on their actions (more on that below).
Automation also allows your marketing team to provide better insight to your sales team by way of automatic sharing of information about new leads.
The automation visualizer on both platforms makes it easy to create a robust automation process, and it provides many different actions like adjusting lead score, sending out emails to leads, and even creating different branches within the automation based on how a contact is interacting with your content.
HubSpot has a slight advantage when it comes to the automation user interface, and makes it intuitive to create your different automations.
This is important so you can set up actions that run in the background and are automatic based on your contact's actions so your team isn't responsible for manually sending out emails or notifying your internal team.
🔎 Related: The complete HubSpot workflows guide: everything you need to know
Email marketing
Pardot does a great job of providing helpful and powerful tools for email marketing.
Pardot allows you to use out-of-the-box email templates or create custom email templates that match your preferences. There is also a visual editor for those teams that do not have someone who can code their email templates.
HubSpot offers something very similar with its marketing email tools. The HubSpot drag and drop email editor allows you to easily create the email templates you need.
HubSpot does a better job than Pardot with letting you create the templates you need easily with their drag and drop tool because of how easy it is to use.
It is also easy to perform A/B tests for emails in Pardot and HubSpot to see which templates or content structure is getting the most engagement. This can help you find which templates, subject lines, and send times are the most effective with your audience.
Lead scoring
There are great lead scoring tools in Pardot and in HubSpot. Lead scoring allows you to identify where your leads are in their buying journey. This will help your team understand what type of engagement might help that lead, if they are a qualified lead, or if they are ready to talk to your sales team.
🔎 Related: 7 super common HubSpot lead scoring mistakes you can't afford to make
With Pardot and HubSpot, you are able to score leads based on different interactions like website visits, website searches, which forms they have filled out, and how they have engaged with your emails. Both platforms also offer different types of predictive or automatic lead scoring. This means the platform will automatically score a contact based on certain actions and who it believes is likely to close.
The lead scoring on both platforms are very comparable in terms of their features and customization, but if you are looking to really rely on lead scoring, Pardot does a better job of offering a more complex solution with their AI powered predictive lead scoring. More on this below.
Other similarities
There are tons of similarities between the two platforms to note. The features above are just some of the ways you can use both platforms. Below are other features available on both Pardot and HubSpot:
Form building and lead capturing
Native CRM capabilities
Landing page builders
Marketing reporting
Differences between Pardot and HubSpot for marketing
While there are many similar features between HubSpot and Pardot, there are fundamental differences that can really be the deciding factor when comparing the two.
Pardot AI features
Pardot offers a ton of AI features to make your life easier. This is one of the biggest differentiating factors between the platforms.
While you are able to create lead scoring criteria (as mentioned above), Pardot also has a predictive feature called Einstein Lead Scoring. This automatically points out leads that it thinks are most likely to close based on the user's profile, and it will only get better the more you use it. This will help you prioritize which leads to interact with, and which companies you would be a good fit for.
Pardot Einstein allows you to monitor and analyze data from Pardot and Salesforce to help prioritize work for your sales and marketing teams. This includes the predictive lead scoring mentioned above, as well as things like campaign insights.
HubSpot does offer some AI features like predictive lead scoring and database management assistance. However, HubSpot does not take advantage of AI to the extent that Pardot does. Simply put, Pardot offers more.
Price
Price will obviously be a big factor when making any software decision for your company. Pardot can start at a higher price point and can get extremely customized and expensive with its enterprise solution.
For many businesses evaluating marketing platforms, an unanticipated cost is related to contacts in your database. Both HubSpot and Pardot charge based on how many contacts you have, and this can add up quickly. No price discussion is complete without addressing contact pricing.
So, while Pardot is more expensive, it starts you off with more included contacts, with tiers starting at 10,000
HubSpot starts with a 1,000 contact limit for its lower tier and jumps to 10,000 with its Enterprise tier, meaning that having contacts over these thresholds results in additional charges.
🔎 Related: HubSpot pricing: Your guide to everything HubSpot costs for 2021
Pardot offers a 10,000 contact limit with each of its tiers except the premium tier, which offers a 75,000 contact limit.
HubSpot recently changed the way it charges for contacts with their new Marketing Contacts model. This new billing structure allows you to pay for only the contacts you are actually actively marketing to, and not every contact you have in your account.
One of the biggest price differentiations between the platforms is that HubSpot has a free version and Pardot does not.
HubSpot's free marketing tools are fairly advanced, too. You get access to features like email marketing, form creations, landing pages, list segmentation, live chat, and more. This is perfect for teams looking to dive into a marketing tool without having to spend a lot of money.
CRM connections
The CRM your team uses with its marketing platforms is just as important as your marketing tools. Your CRM is what houses all of the information you have collected on your contacts. Both HubSpot and Pardot have native CRMs they can be connected to. HubSpot has the HubSpot CRM and Pardot connects to Salesforce. Both are extremely great options.
The difference is that HubSpot can also work well with other CRMs, like Salesforce.
HubSpot has a native Salesforce integration that allows your team to work within the Salesforce CRM and sync information back and forth between the platforms. HubSpot also has other integrations that can help you connect to other popular CRMs if you are not married to Salesforce.
Pardot does not work well with HubSpot or other CRMs. If you are looking for the platform that works best with Salesforce, Pardot is a great option. However, if you are looking to use another CRM, HubSpot is a better option.
Integrations
Both platforms feature a wide variety of integrations that you can connect to. This is a benefit of both of these platforms being very popular.
HubSpot's marketplace offers many great integrations, including the Salesforce integration mentioned above. Pardot does have integrations, however, they are more for connecting Salesforce rather than Pardot. This means that Salesforce will be your main data hub when connecting to other platforms. Your Pardot data will go to Salesforce and then out to any integration. Same thing with data coming in. A connected platform will send data to Salesforce that you can then send to Pardot to access it.
You will want to understand your tech stack before committing to either of these platforms, to know if they support the other tools you are using for your company. It is important for your marketing tool and CRM to connect to your other platforms in order to make sure the data you are working with is consistent and up to date as it moves between platforms.
If you are using HubSpot for marketing tools, but Mailchimp for email marketing, you will want to make sure there is an integration to connect the two platforms so that email activity information is syncing to HubSpot.
Scalability
Both platforms exist in an extremely robust ecosystem. You are able to use either HubSpot or Pardot for marketing, and then scale into other tools if needed. However, each platform does this a little differently.
HubSpot offers website development, allowing you to create and host your website on its CMS hub. HubSpot also offers tools for your sales team, services tools, and as mentioned, a fully capable CRM.
Pardot has the advantage of being able to scale with Salesforce, which is the most popular CRM in the world and is used by many enterprise-level businesses. Salesforce can open up many options in terms of scaling your business outside of what Pardot can offer by taking advantage of the Salesforce suite of products.
So, which is right for you?
Deciding which marketing platform is right for you is going to come down to several factors.
Pardot is ideal for Salesforce users looking for a marketing automation solution who want to have the ability to scale up to true enterprise level features. It is more suitable for companies that have larger teams and who might need a more custom solution.
Pardot is best for those who are looking to live in the Salesforce ecosystem, as it does not play well with other CRMs.
Pardot can also get fairly complicated based on how customized you are looking for your account to be, based on your business needs. Features like creating marketing emails and landing pages are not as user friendly as HubSpot. The platform is just not as easy to use and has a steeper learning curve.
HubSpot is ideal for small to medium-sized businesses with no coding ability, but who want the benefit of also being able to scale while maintaining great features that are easy to use.
HubSpot is also great for those who might already be on another CRM and want to open up more marketing features for their team like better marketing emails, easier web page development, and content production.
If you are looking to get help with training your team on HubSpot, make sure to check out IMPACT's HubSpot training services. IMPACT has helped train many businesses to onboard onto HubSpot, and make sure they are getting their ROI when using HubSpot.
Free Assessment:
How does your sales & marketing measure up?
Take this free, 5-minute assessment and learn what you can start doing today to boost traffic, leads, and sales.