Best HubSpot Integrations: 22 to Supercharge Your Marketing and Sales
Best HubSpot Integrations
Vidyard
Salesforce
Drift
Gmail
Insycle
Lucky Orange
Zapier
CallRail
Typeform
SurveyMonkey
PandaDoc
Google Search Console
LinkedIn Sales Navigator
WordPress
Shopify
Zoom
GoToWebinar
Sigstr
NeverBounce
Facebook Messenger
Eventbrite
Slack
As marketers, we are constantly looking for new technologies to help make our lives easier, and our efforts more efficient.
With this in mind, the thought of limiting yourself to just one marketing tool can seem daunting, but if that tool is HubSpot, you don't need to worry!
I can't speak for all marketing automation platforms, but on HubSpot, even if there's something the platform doesn't do natively, there's likely an integration on HubSpot Marketplace that allows you to bring information and functions from other apps and web services into your account.
As a marketer, this is extremely valuable, as it allows you to get a more complete look at your data from multiple platforms in one place.
And, more importantly, it allows you to use the data from other platforms in HubSpot to segment contacts, trigger workflows, add personalization, and much more.
HubSpot is always working hard to improve its integrations (what it's now calling apps) to connect all of your favorite tools with your HubSpot account.
This allows you to accomplish even more.
Take a look at some of our absolute favorite HubSpot integrations that are sure to make your life easier.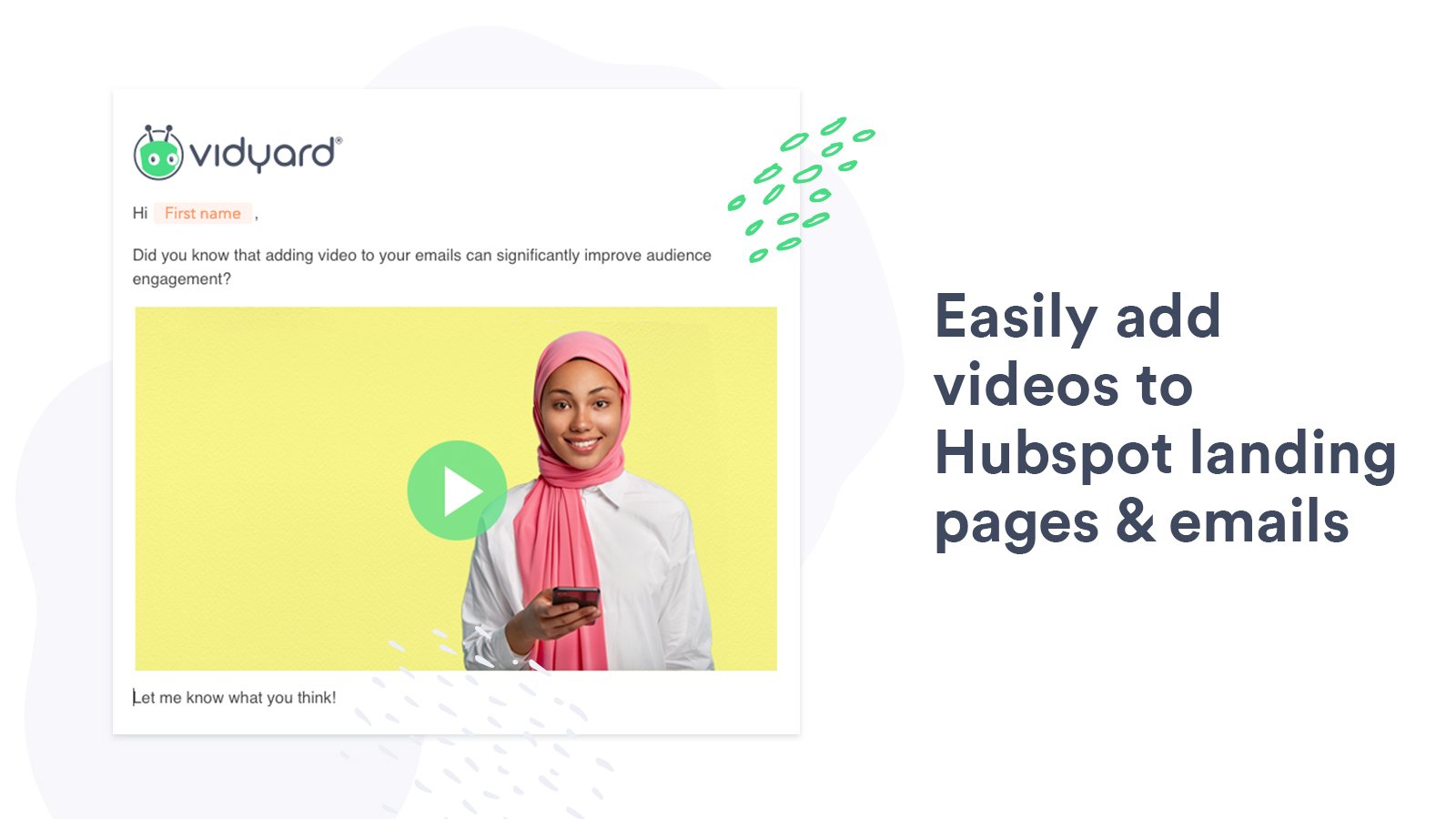 It goes without saying, but video is a must in every modern sales and marketing strategy.
If you're using Vidyard as your solution, investing in the Vidyard integration for HubSpot is the most effective way to collect and view useful data points about your contacts' interactions with your videos within the marketing platform.
Benefits of the HubSpot-Vidyard integration include:
Converting viewers into leads: The integration allows you to add CTAs and forms directly into your videos.
Tracking video engagement to improve content and sales follow-up: In your HubSpot CRM, you can see what videos your prospects are watching and how much of them, so you can improve the content and give more context to your sales follow-up.
Triggering automation based on views: You can use data gathered in HubSpot from your Vidyard videos
Keep in mind that this integration is different from the Vidyard-powered HubSpot Video. That is a free tool for HubSpot users that does not include data integration.
The Vidyard integration is available in three different plans starting at $300 per month.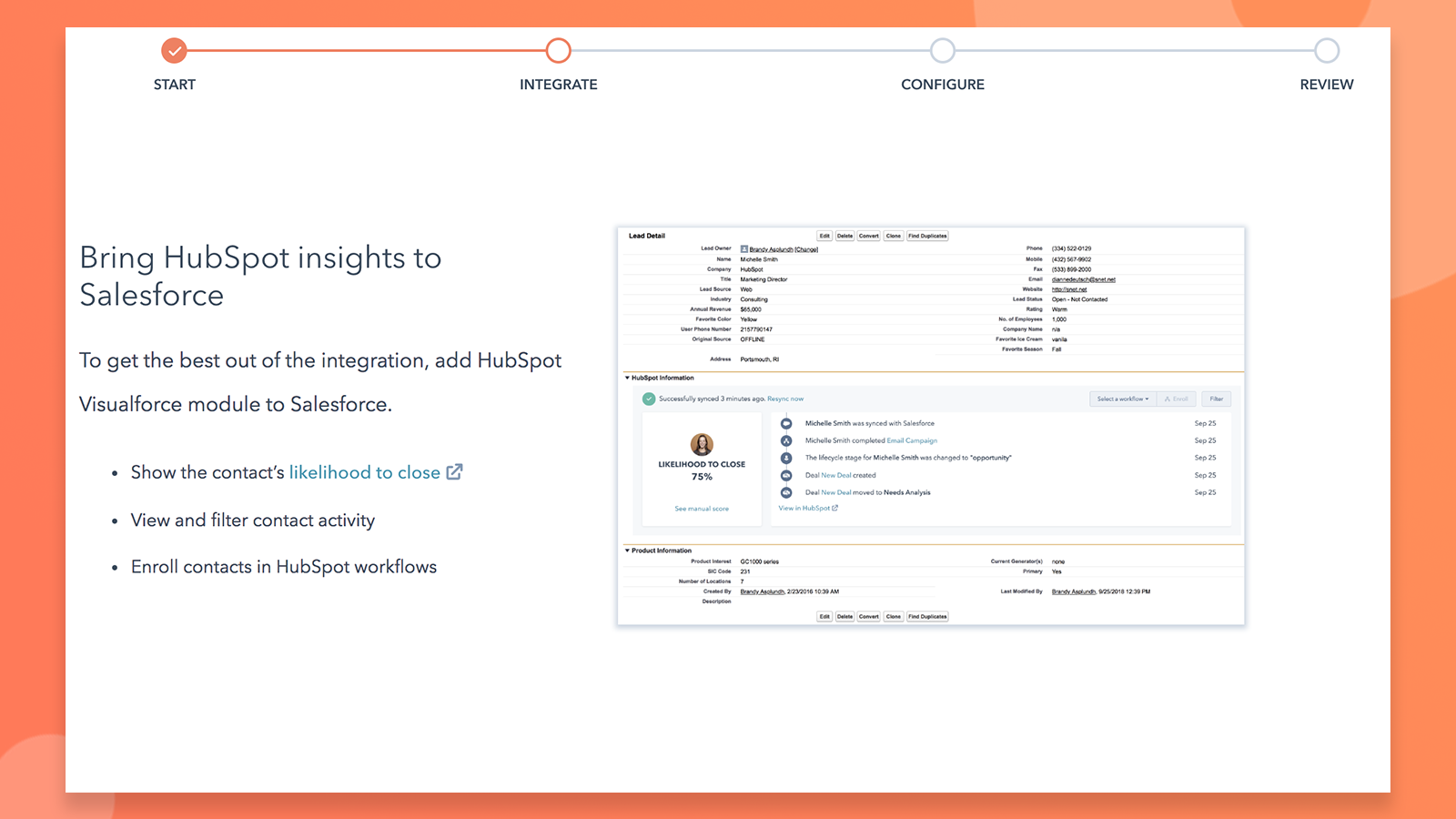 Ever since its earliest days, HubSpot has been extremely Salesforce-friendly. Even after the introduction of the HubSpot CRM, it has never claimed to be the right answer for every company, especially for large, enterprise-level organizations.
That's why if your sales team relies on Salesforce, this integration is essential.
The Salesforce integration allows you to combine the power of your Salesforce CRM with lead data from HubSpot Marketing to improve lead interactions and close more deals.
Benefits of the HubSpot-Salesforce integration include:
Bi-directional sync: HubSpot and Salesforce stay seamlessly connected at all times, but still allow your to choose which records get shared.
Seamless sharing of marketing data to sales: The integration automatically sends lead data l

ike email opens, form submissions, and web activity to sales to inform their prospecting and follow-up.

Improved lead intelligence and scoring
Revenue reporting: Generate detailed reports on your marketing performance using opportunity and revenue data from Salesforce.
The Vidyard integration is offered in two plans starting at $75 per month.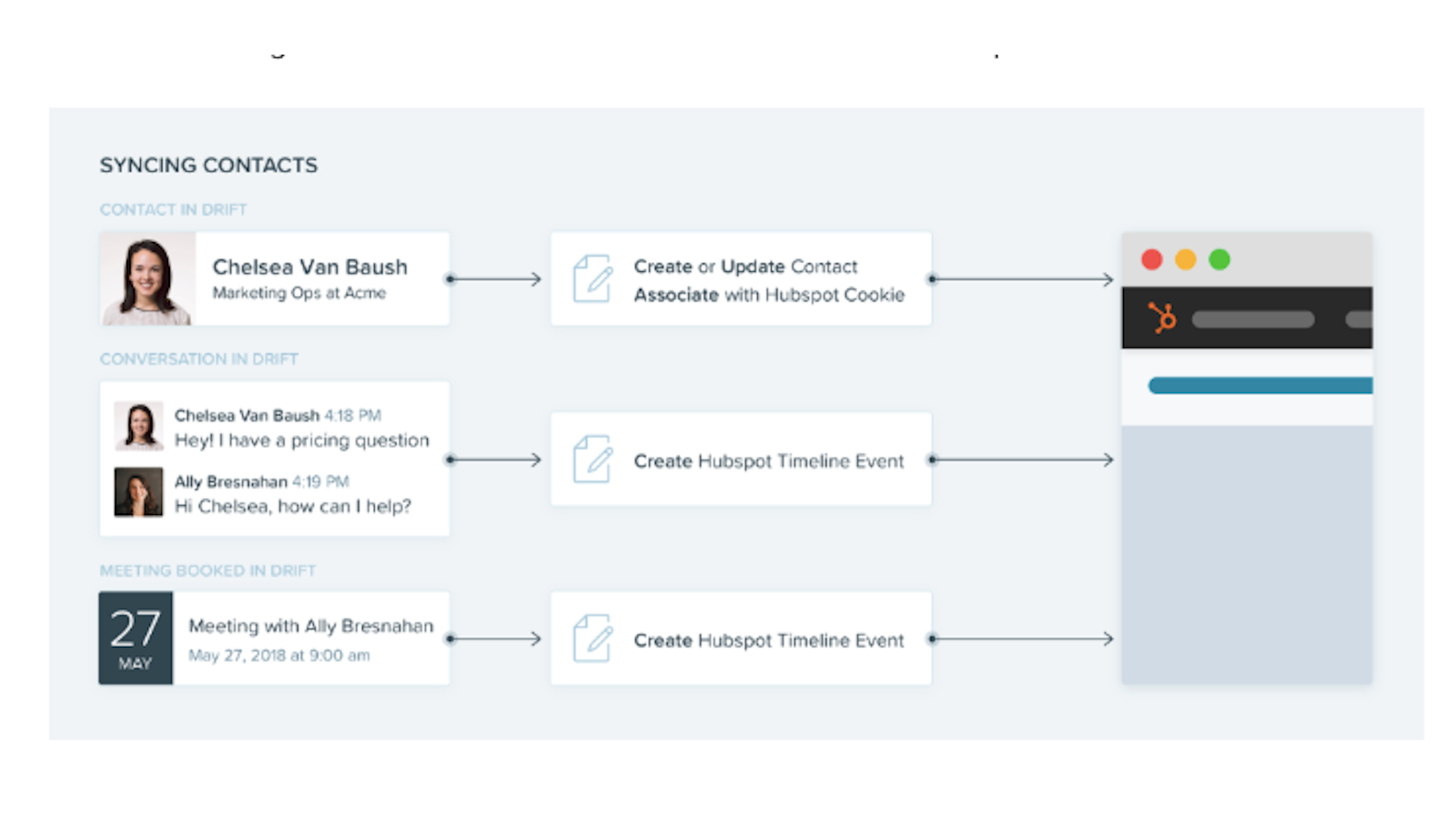 While the HubSpot CRM has a native live-chat tool called Conversations, this may not be right for everyone. A great alternative is Drift, started by former HubSpot executive David Cancel.
With Drift and HubSpot, not only can you talk to people on your website, but you'll be able to see all of that activity right inside of HubSpot's contact timeline so you can tailor your next sales and marketing outreach.
Further benefits of the HubSpot-Drift integration include:
Starting conversations: 98% of the people who come to your website will leave without ever doing anything, but with Drift, you can change that simply by saying hello and starting conversations with the people who are live on your site right now.
Chatbot: With Drift, your team doesn't have to be constantly monitoring the chat on your site. The Drift integration Drift can always help your customer get help from the right person on your team.
Lead capture and email: With Drift, you can capture emails and send campaigns to your customers. This keeps everyone in the loop and ensures that your customers can't miss your next big announcement.
The Drift integration will run you $4,800 a year (about $360 per month).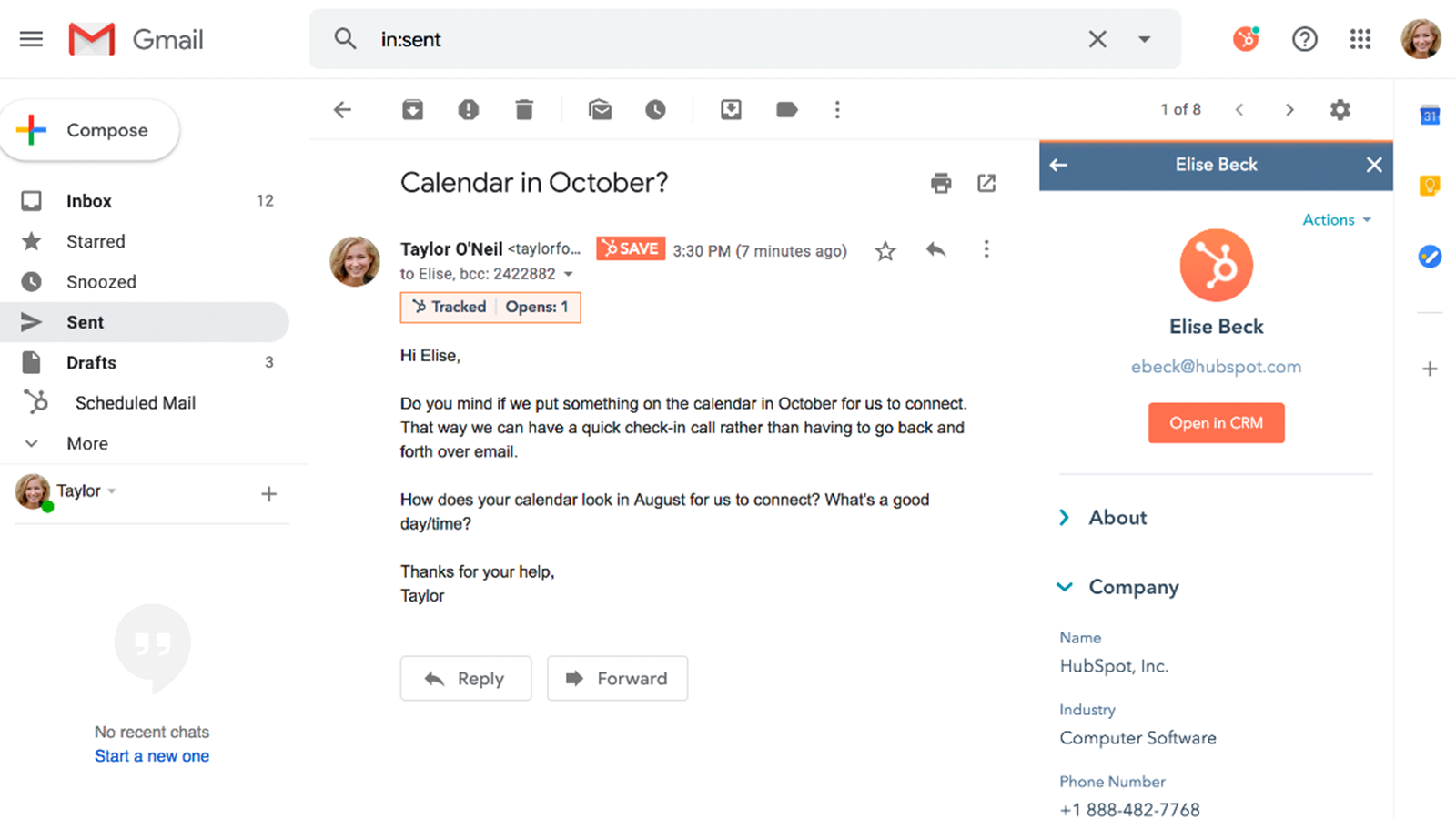 Emails remain an integral part of sales and marketing and HubSpot understands that many teams (IMPACT included) like to use their native email client to send and track sales emails. That is why the Gmail integration is HubSpot's most popular integration.
The more information you can log in a contact record, the better and this integration allows whoever is looking at a contact to see all the communication that has been happening in Gmail in that contact's HubSpot record.
Benefits of the HubSpot-Gmail integration include:
Tracking email opens and clicks in real-time: In Gmail, you will be able to see the clicks and opens of a single email without having to venture into HubSpot and vice versa.
Get access to meetings, templates, and sequences in Gmail: With this integration, you will also be able to access your HubSpot tools like your meetings link to quickly book meetings, as well as templates to reply to your contacts.
The Gmail integration is free to get started with.
Don't use Gmail? HubSpot also has integrations for other email clients including Outlook.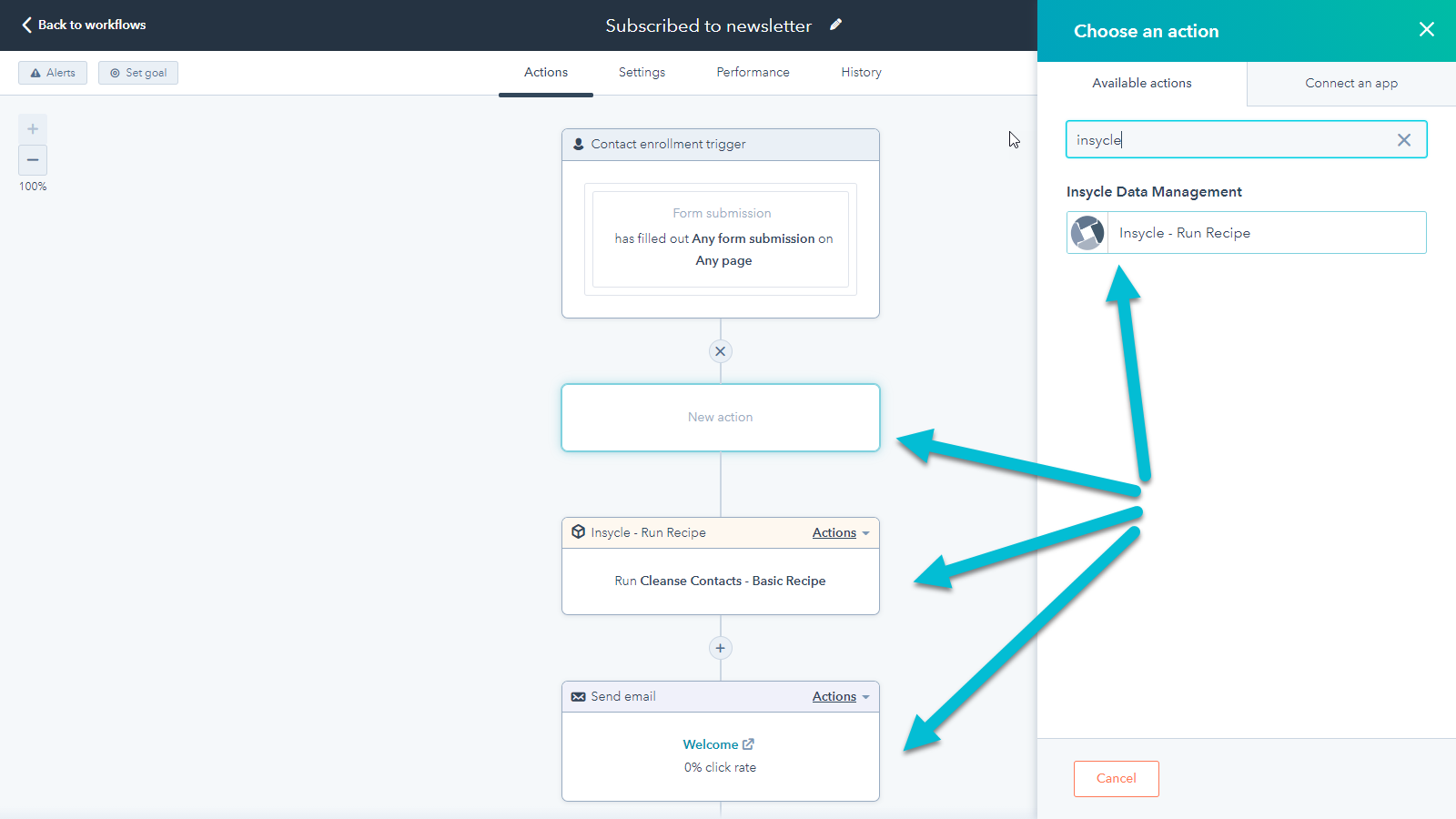 Insycle is a data management tool our IMPACT team swears by. In a nutshell, it enables you to keep your HubSpot contact database clean, meaning free of duplicate or inaccurate information, formatting inconsistencies, and duplicate records among other things.
With the Inscycle-HubSpot integration you can:
Automatically fix common data input issues as a visitor fills out a form:

For instance, if someone types their name in all caps or makes a typo in their email address, Inscycle can correct it before it gets saved in your database.

Bulk merge duplicate records
Create consistent formatting for names, phone numbers, job titles, etc. to help improve segmentation, lists, and reporting
Find bad data and improve contact and company data quality
Insycle is available in five plans and is free to get started with during the COVID-19 pandemic.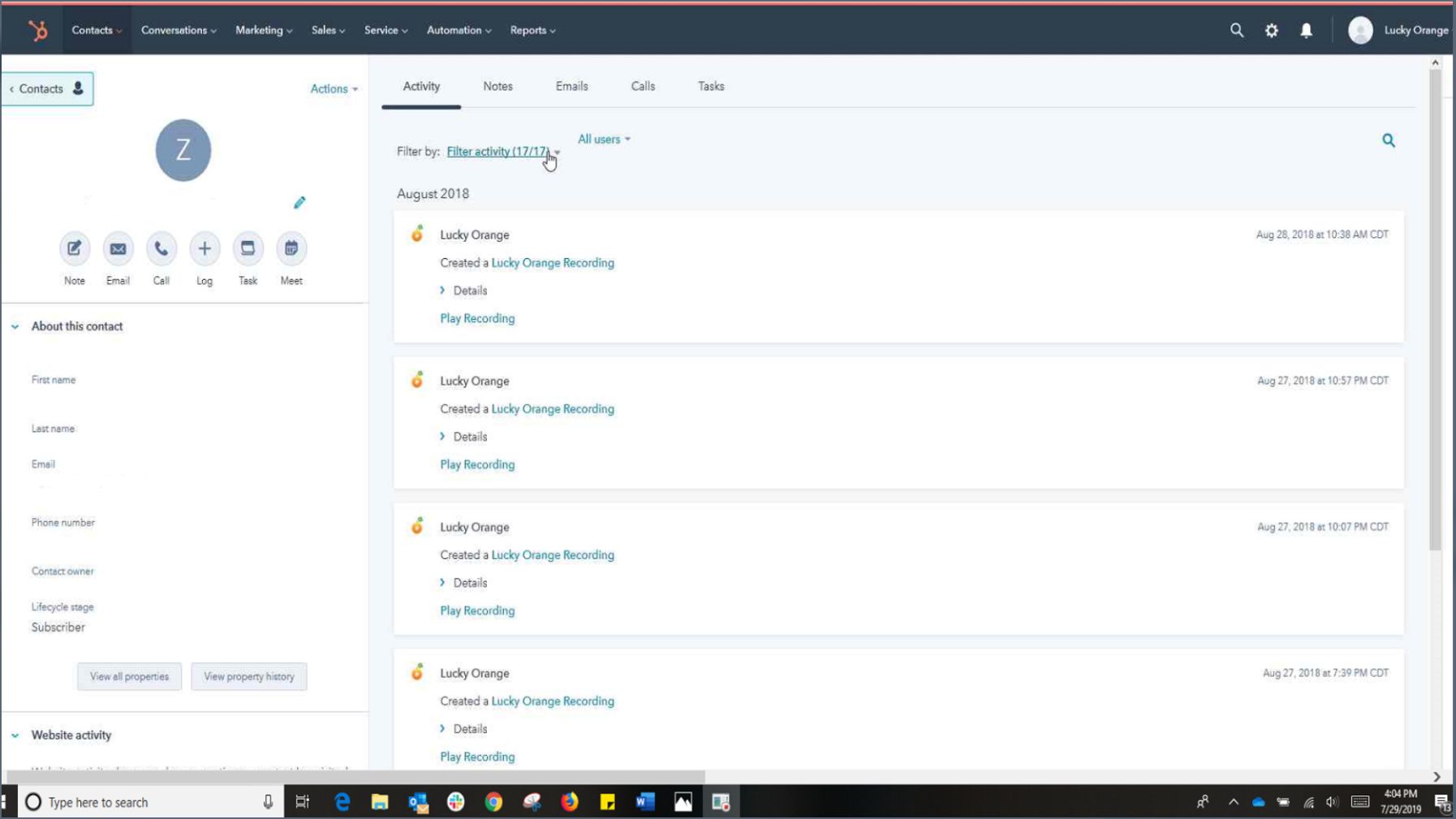 Lucky Orange is a heat mapping and analytics tool that gives you detailed first-hand data on how users navigate and interact with your website. This includes which pages they have visited and recordings of their sessions.
With the HubSpot-Lucky Orange integration you'll be able to:
Attribute recorded activity to your contacts: This integration can assign session recordings to a specific contact and let you view the recordings in the contact's profile. This also includes a timeline showing you how the user interacted with your site.
Lucky Orange offers a free trial, with pricing starting as low as $9 per month.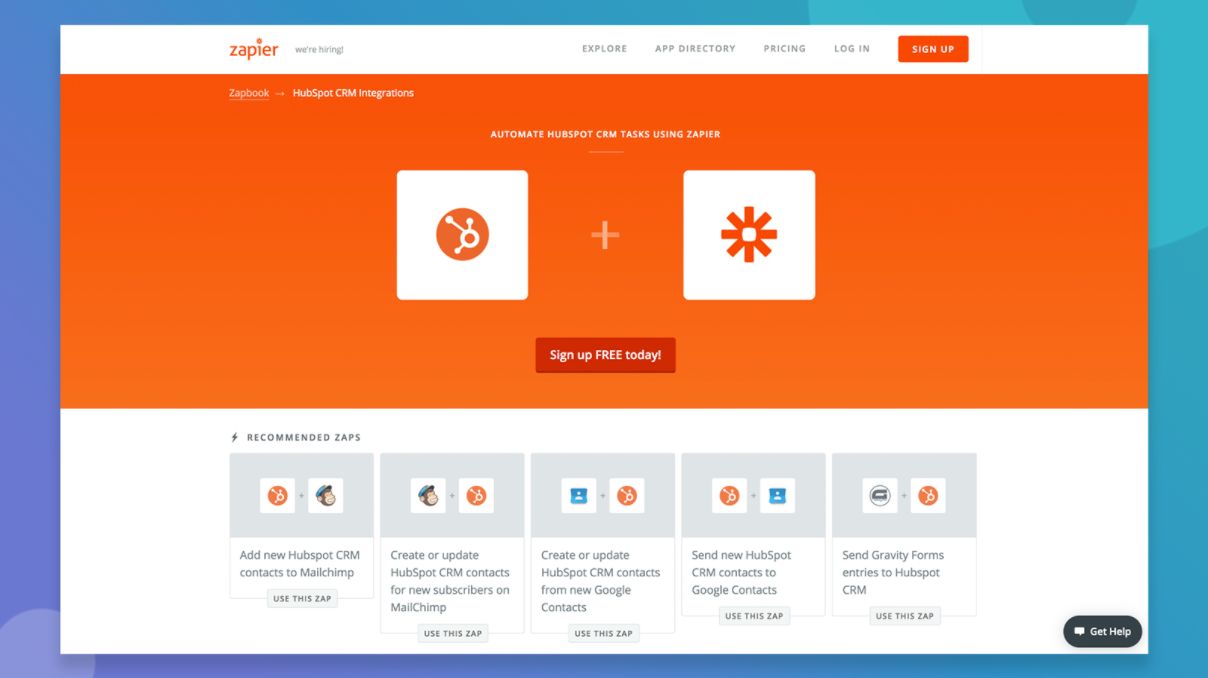 While HubSpot has some great automation abilities, the Zapier integration allows your to do even more externally with tools like Gmail, Dropbox, Slack, and Twitter among others.
Benefits of the HubSpot-Zapier integration include:
Multi-step "Zaps:" Multi-step Zaps let you automate multiple tasks with a single trigger. You can automatically send new contacts or form submissions from HubSpot to other apps you use, capture data from other sources, and send it to HubSpot.
Filters: Filters are used to trigger Zapier after specific, customized conditions are met. This helps make sure actions get performed only on the items you want. For instance, you can set up a filter to only capture emails that contain a specific domain, or only from customers who purchase a specific product.
Search actions: Automatically look up contact information from other sources whenever a new HubSpot form submission is received and update your contact with additional details. This is great for using data from other sources in the same Zap rather than having to create different automation.
Zapier is free to get started with. Paid plans start at $19.99 per month.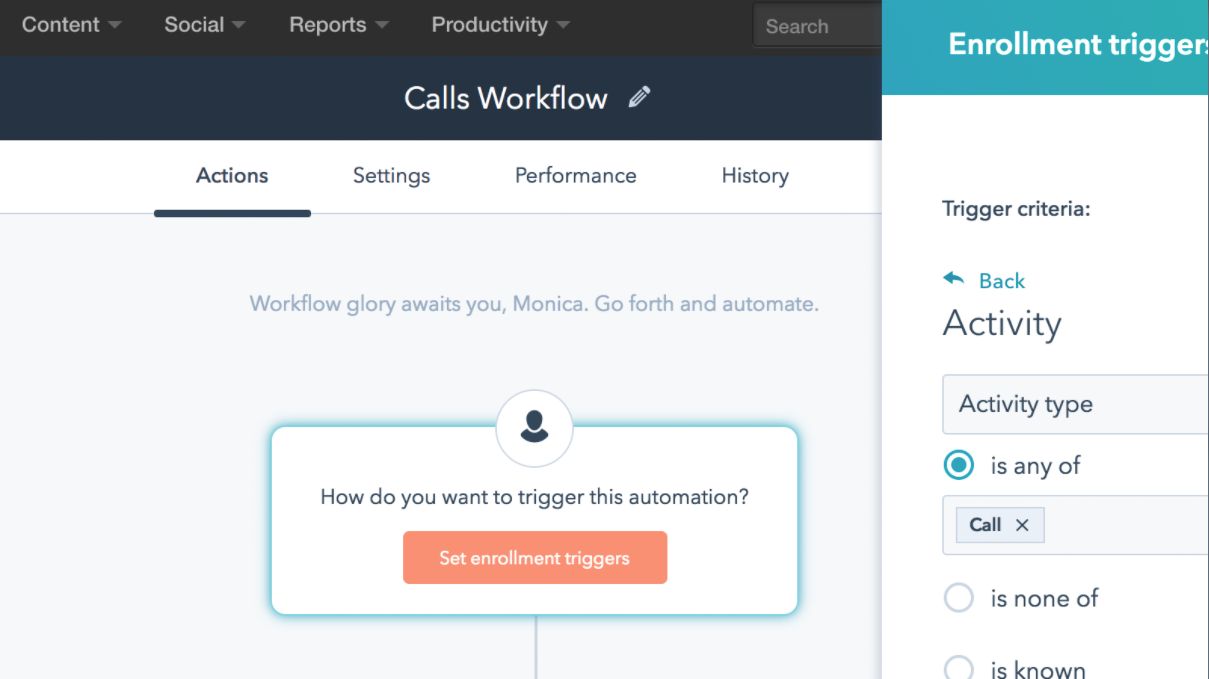 CallRail is great for businesses that rely a lot on phone calls and text messaging in their sales and marketing efforts. HubSpot has a built-in solution for outbound phone calls, but if you want to log/track/trigger automation from calls coming into your business, you need a third-party integration like CallRail.
With this integration, HubSpot users can view their inbound phone calls alongside other lead activities, and create automated workflows that trigger events based on phone calls.
Other benefits of the HubSpot-CallRail integration include:
Integrated call tracking and analytics: CallRail enables you to bring offline activity and insights into your online efforts by tracking all of those touches in your HubSpot records.
Creating workflows based on call activity: With full control over when you want CallRail to send calls into HubSpot, you can create specific segments and workflows based on your inbound call activity.
The CallRail integration begins at $45 per month.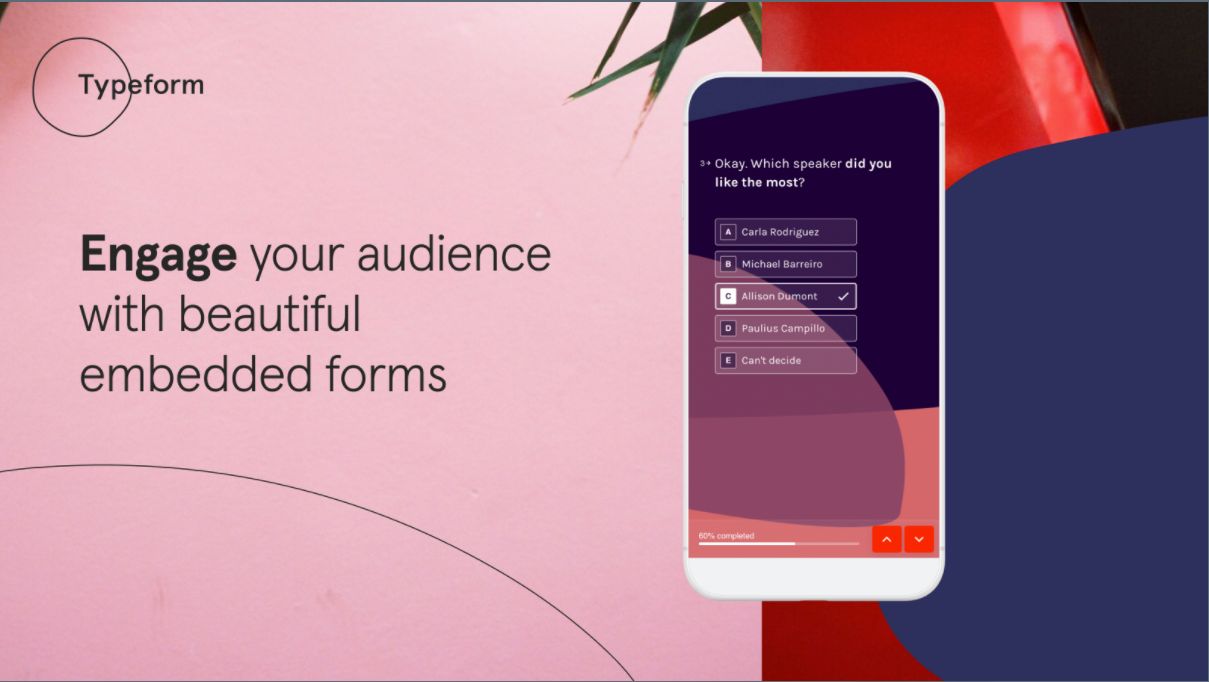 While forms on HubSpot are great, Typeform expands the customization you may be looking for with forms, quizzes, and surveys. With the HubSpot-Typeform integration you can:
Create aesthetic and visually dynamic forms that are mobile-ready
Map form fields to HubSpot properties: When creating a form, you are easily able to map each field or survey answer to a property in HubSpot to be stored in your CRM.
Create a personalized user journey: Show people different questions depending on how they answer, with Logic Jump.
Segment audiences and fine-tune follow-up: With the integration, you can segment your audience by outcome, source, or score so your follow-up via HubSpot is more relevant.
The Typeform integration will run you $35 per month.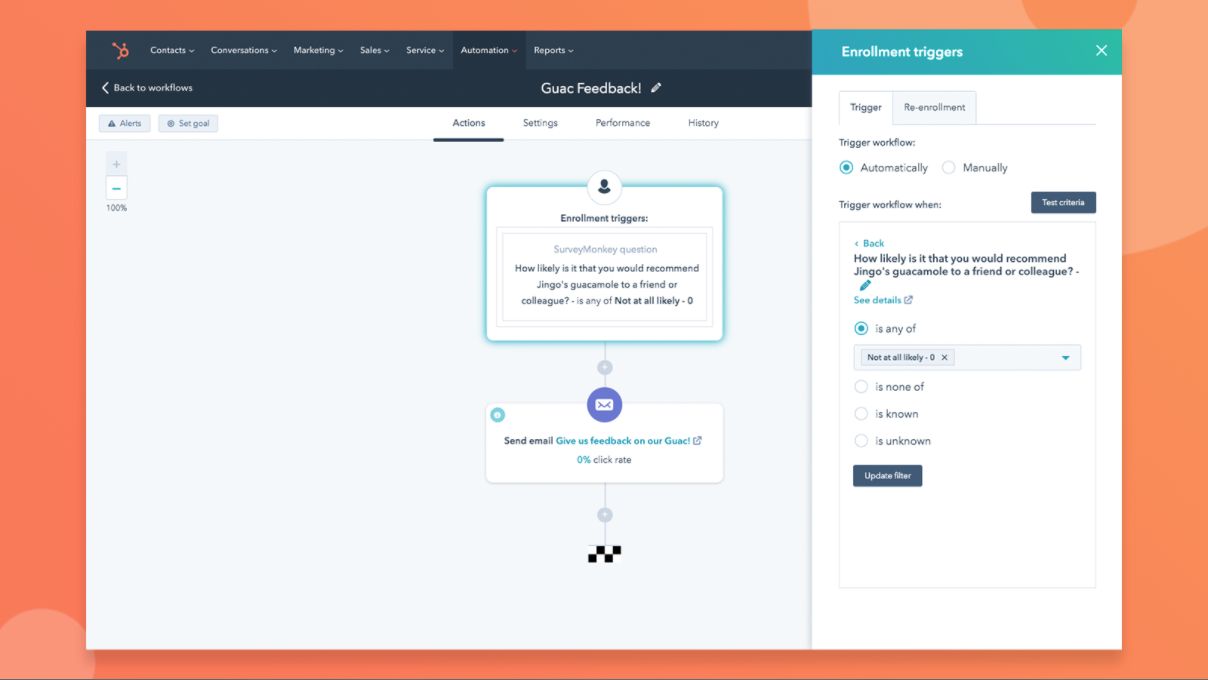 While we're on the topic of forms...
You've likely heard it time and time again — your websites and marketing are not for you, they're for your customer. What better way to know what they want to see out of these assets than by asking them? That's where SurveyMonkey comes in.
This integration not only significantly enhances your surveying capabilities on HubSpot, but also what you can do with the data afterward. Features include:
Automatically syncing responses in HubSpot:

When someone fills out a survey you've synced with HubSpot, you'll see the response on that contact's timeline.

Create new contacts from surveys: If the person filling out a survey is not yet in your database, a new contact will be automatically created for you in HubSpot.
Triggering automation: Integrating your surveys with HubSpot enables you to further segment your contacts, score them as leads, and trigger relevant workflows.
The SurveyMonkey integration is available starting as low as $32 per month.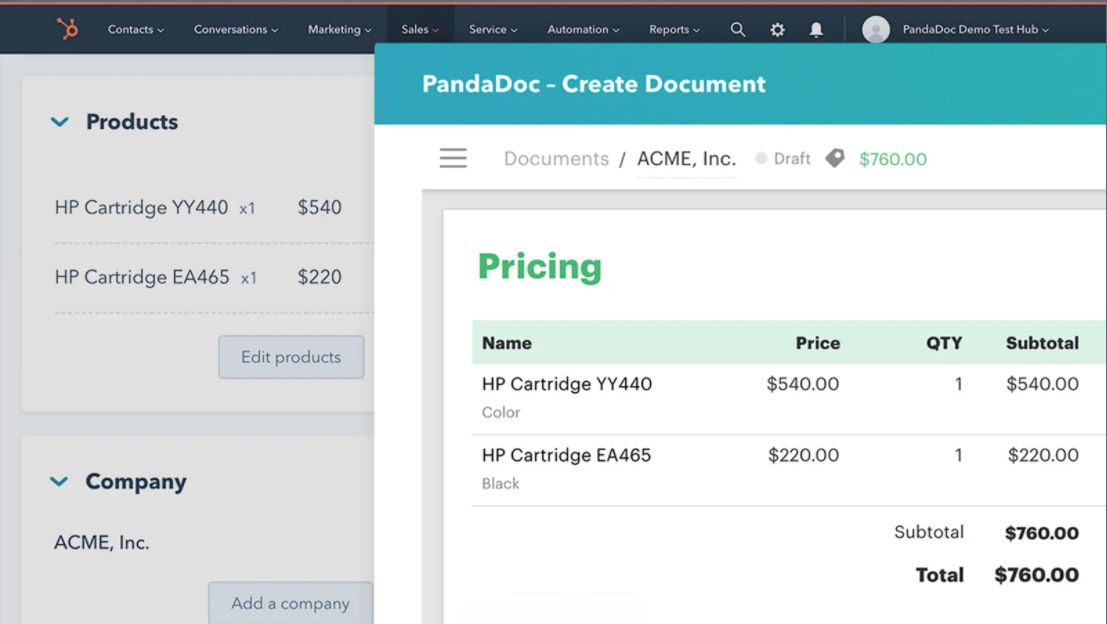 PandaDoc is a powerful SaaS for creating, tracking, and executing all of your organizational documentation and also securing electronic signatures. With HubSpot, you can track all of this information within your CRM contact record.
With the HubSpot-PandaDoc integration you can:
Create documents directly in HubSpot: "Build professional-looking proposals, quotes, and contracts without leaving CRM. Generate and customize new documents in minutes using editable templates or uploading your documents right from the PandaDoc module in Contacts, Companies, or Deals objects."
Autocomplete sales documents with data in HubSpot: Grab a template and the integration does the rest, automatically pulling contacts, dates, signatures, and any other custom fields from your CRM and adding them to your PandaDoc-powered proposal. It can even pull pricing information for your products.
Seamless CRM updates: Once you've created and delivered a document to a prospect, you'll be alerted instantly in the CRM when they open, comment, or complete the document.
The PandaDoc integration is available for as little as $49 per month.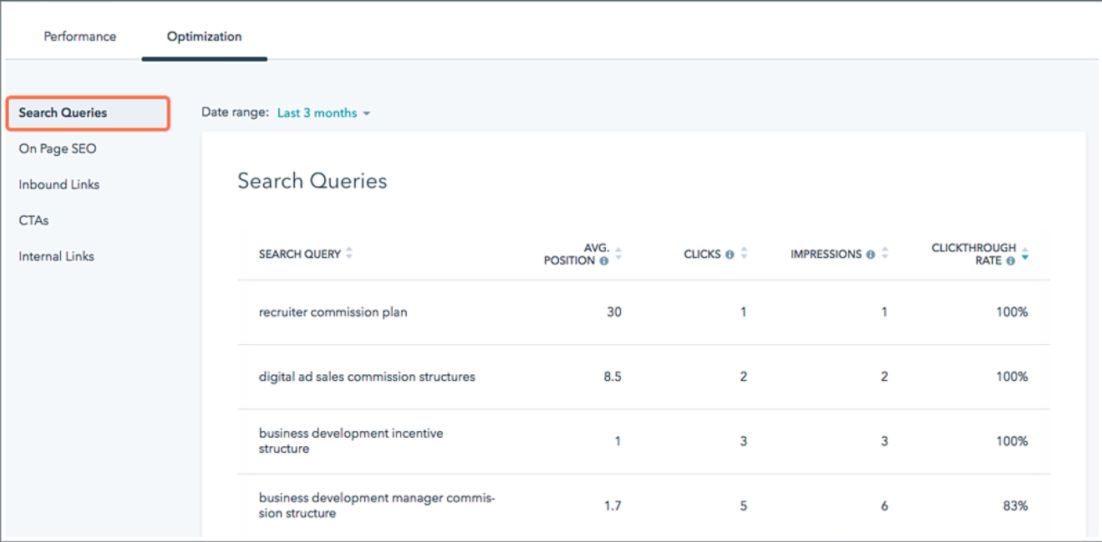 Google Search Console is the tool that allows webmasters to check the indexing status of their websites within the search engine and optimize their visibility. In 2018, Google released this integration that, as they state "...will surface more data about where your content appears in Google's search results and how often search visitors are interacting with the site when it appears on search result pages."
Benefits of the HubSpot-Google Search Console integration include:
Page analytics: In HubSpot, you will be able to see page analytics like impressions on a Google Search results page, clicks from that page, rank, and more.
Search terms that show your content: You will also be able to see which search queries people are searching in order to find your contact on Google.
This integration is free!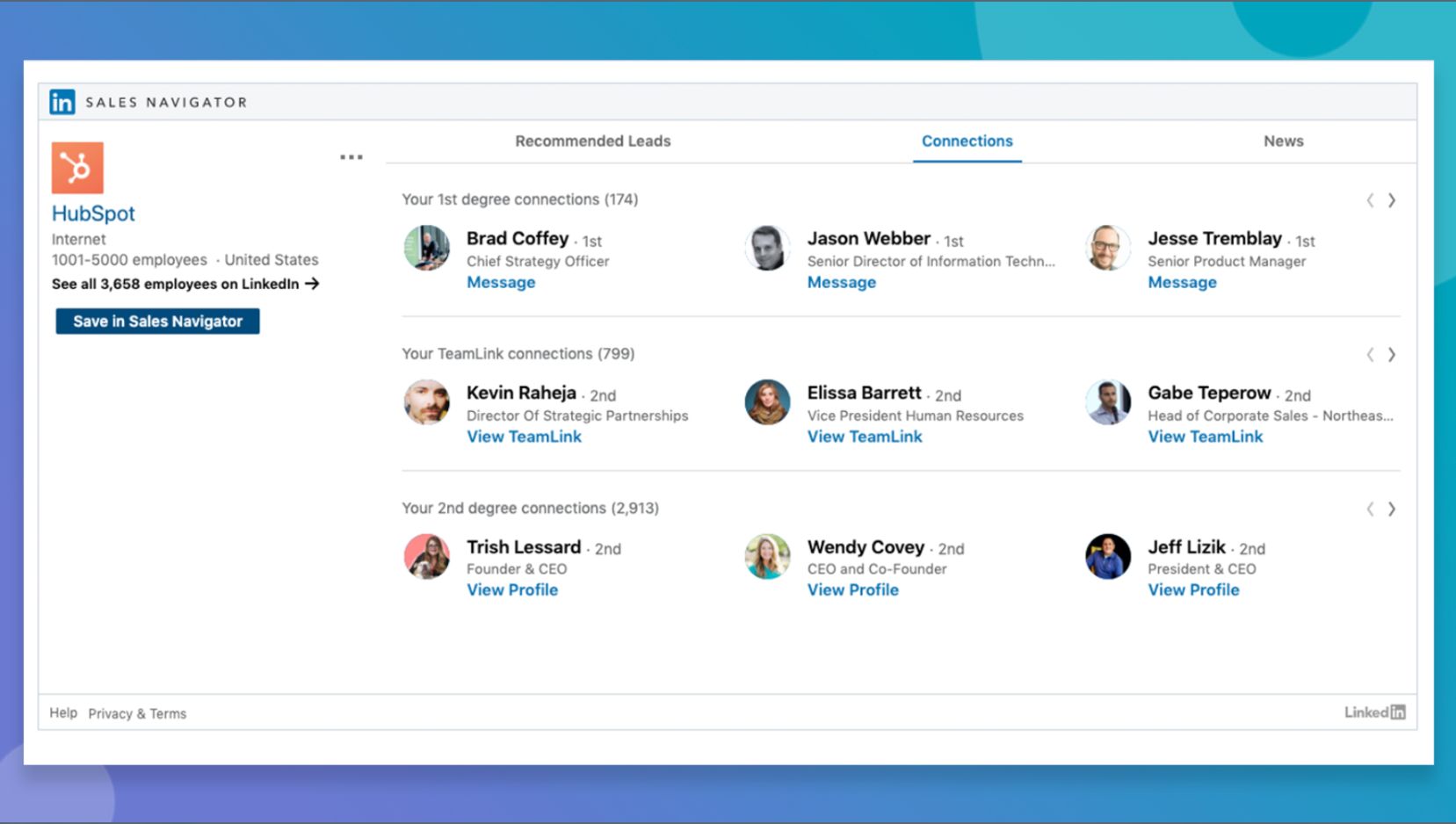 In recent years, LinkedIn has increasingly proven itself to be a powerful tool for B2B prospecting. If your team is currently using LinkedIn Sales Navigator to view information about prospects, then this integration is a must. With it, you can:
Get LinkedIn information in HubSpot: With the integration, you are able to get LinkedIn information right in your CRM on your new leads and prospects found through the Sales Navigator.
Engage with prospects in HubSpot: In HubSpot, you will be able to send InMail and use some of the Sales Navigator tools like Icebreakers, Get Introduced, and Related Leads.
The LinkedIn Sales Navigator Integration is $134.99 per month.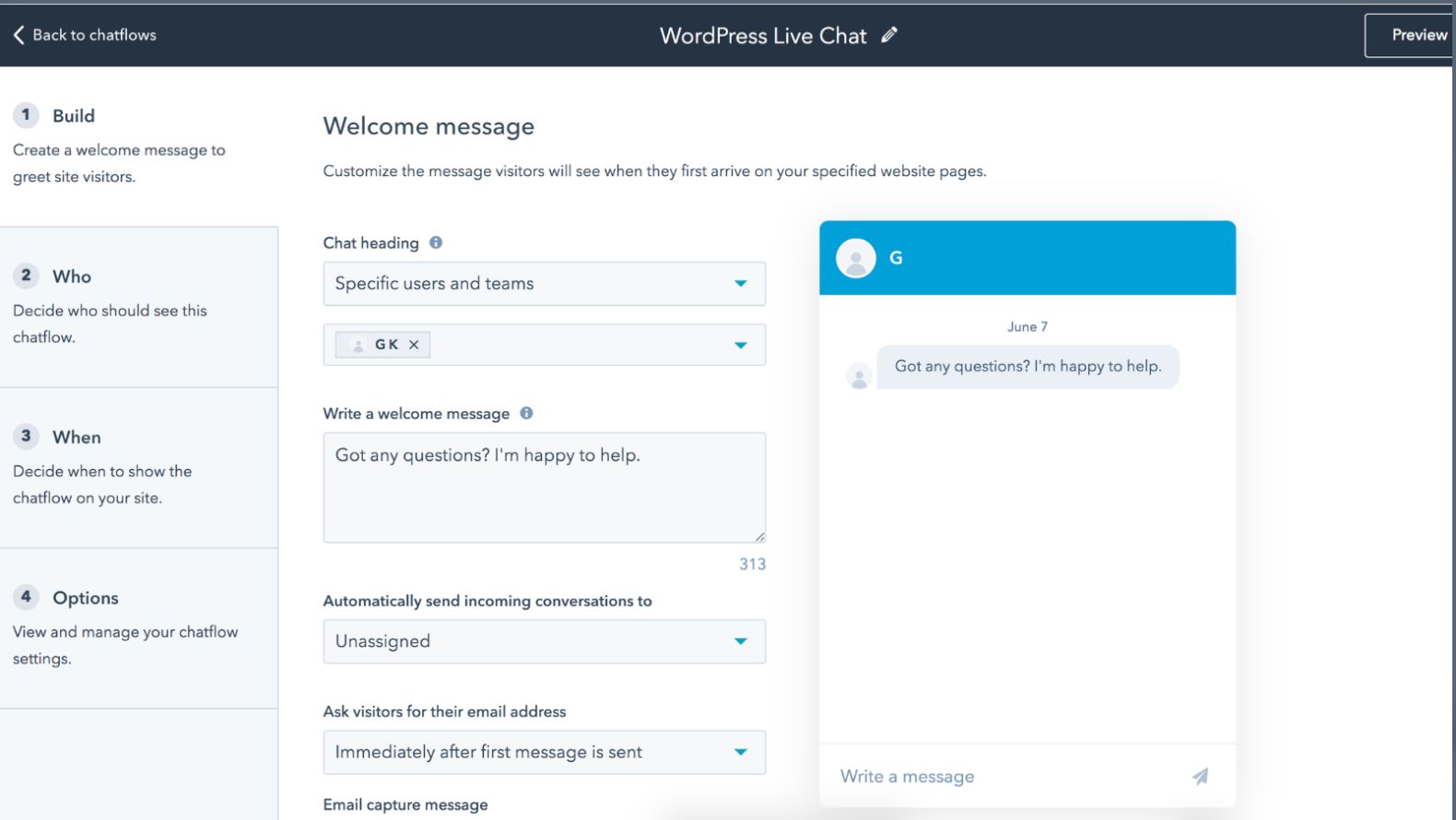 Like Salesforce, WordPress is one tool that HubSpot has always made an effort to integrate with. If your website is not hosted on HubSpot, there is a good chance, WordPress is your CMS of choice and if it is, this integration is extremely valuable.
With the HubSpot-WordPress integration you can:
Manage contacts across both platforms: The WordPress integration allows you to track and manage contacts that come from non-HubSpot lead capture tools that you might have on your WordPress site (i.e.

Gravity Forms, Contact Form 7, Ninja Forms, and more)

.
Easily add lead capture tools on your WordPress site: The WordPress integration allows you to use HubSpot lead capture tools like forms and pop-ups on your WordPress site. You will be able to use HubSpot's drag-and-drop builder to do this.
Add live chat to your website: Your website visitors can ask questions and you can respond using live chat.
The WordPress Integration is free to get started with.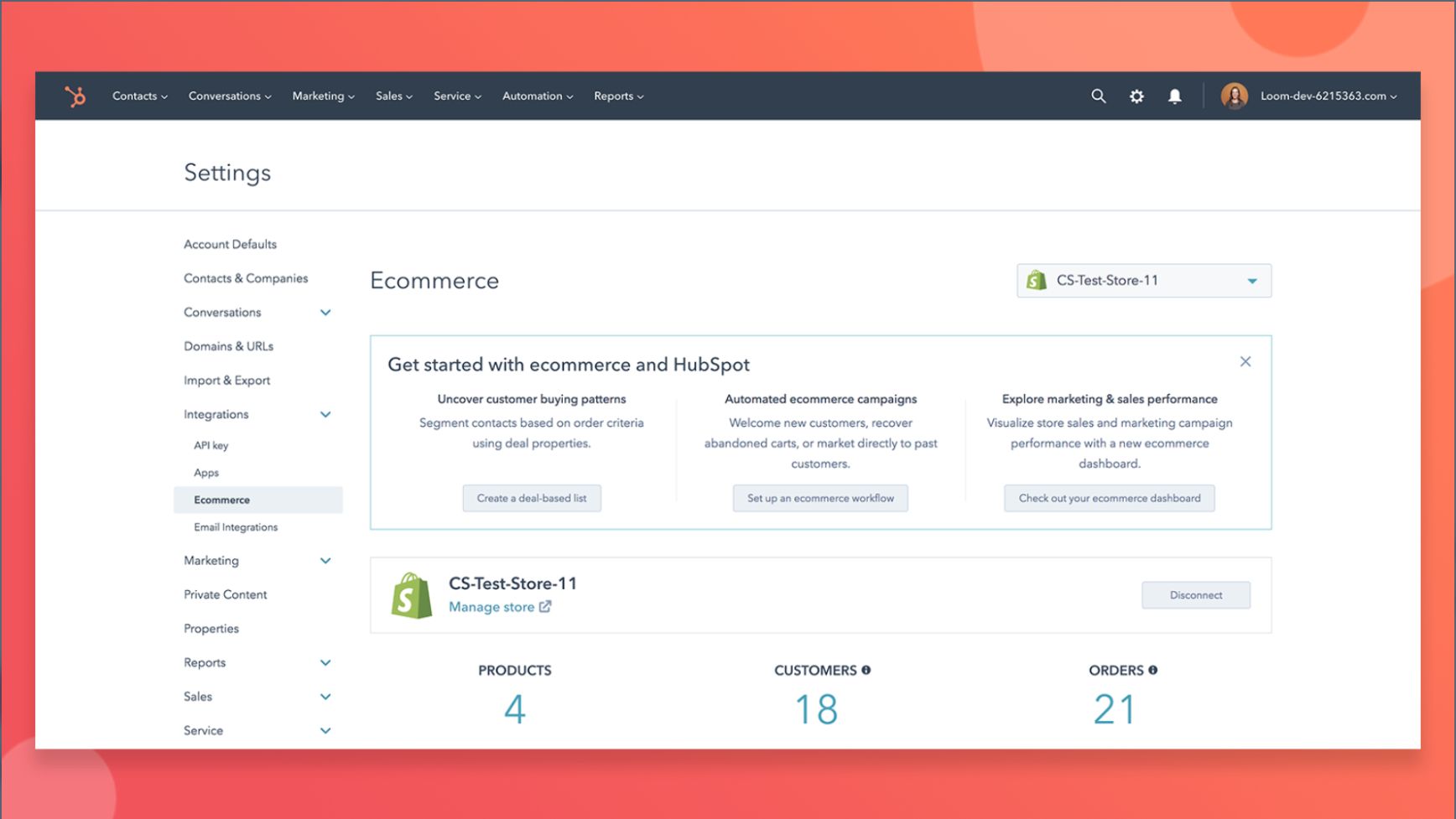 If you are using Shopify as your e-commerce platform and you use HubSpot, stop what you are doing and download this integration. With it, you'll finally be able to use your e-commerce data in HubSpot to take advantage of list segmentation and workflows based on what that contact has purchased from your store.
Specific benefits of the HubSpot-Shopify integration include:
Syncing Shopify customer data into HubSpot: With your customer data in HubSpot, you can segment customers based on the products they've purchased, how much they have spent, and how long ago that purchase was.
Automations based on shopping habits: Knowing what a customer has purchased, you are able to then build workflows and automation based on their purchase history. This can include post-purchase follow-ups, abandoned cart emails, and win-back campaigns. This also helps with product promotion based on the products a customer has already purchased.
Collect, analyze, and report on Shopify data in HubSpot
The Shopify integration starts at $29 per month.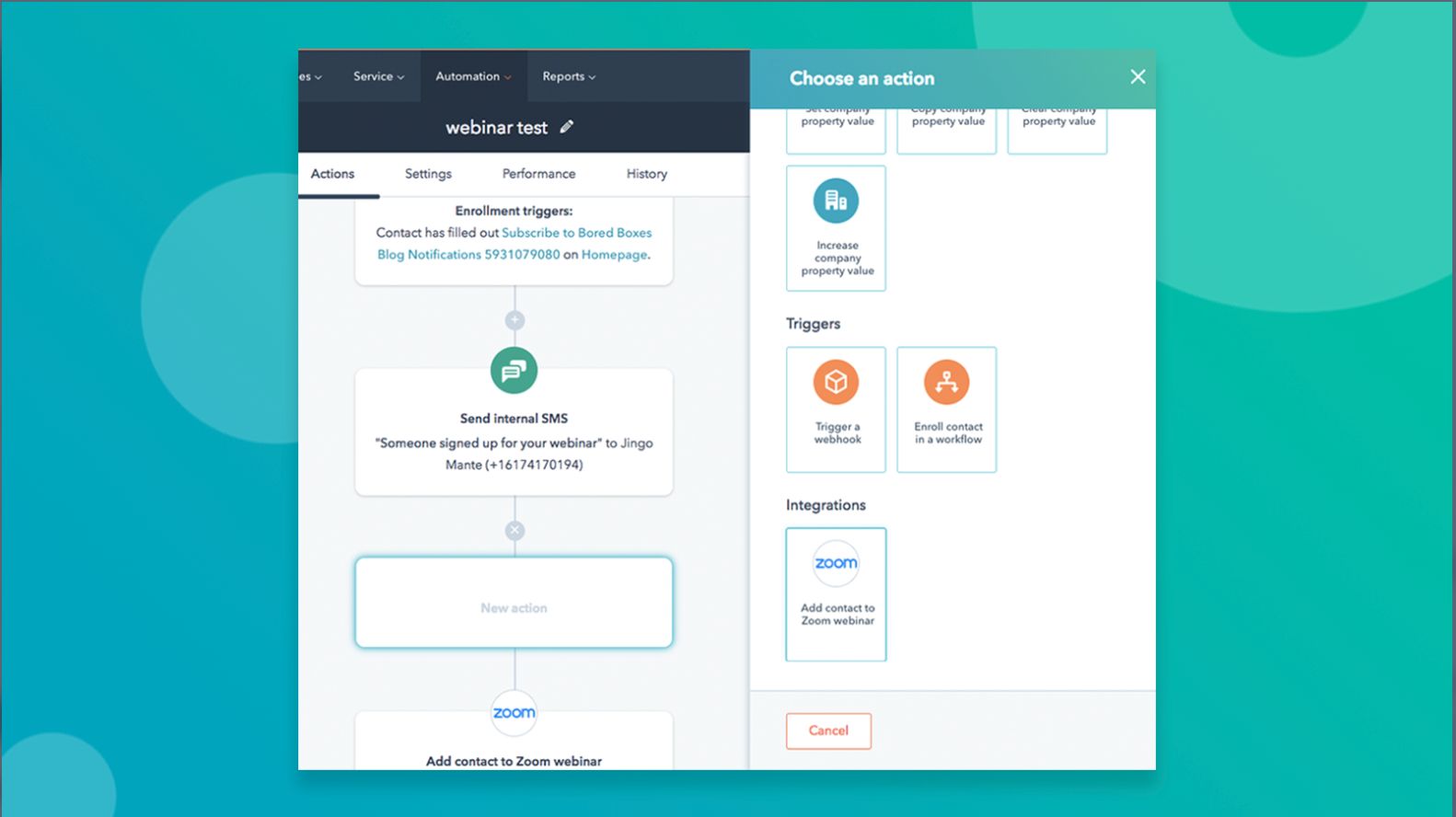 If you're like IMPACT and use Zoom for all of your video meetings and webinars (and who isn't since COVID-19), then the HubSpot-Zoom integration is a lifesaver. It allows you to:
Integrate your Zoom information with HubSpot Meetings: The Zoom integration allows you to easily add your Zoom dial-in information to any meeting scheduled through your HubSpot meetings link. This helps make every prospecting call a Zoom meeting.
Track Zoom webinar information in HubSpot: This integration allows you to pull in contacts that sign up for your Zoom webinars into HubSpot's CRM in order to continue to have all your contacts in one database.

The integration also will sync Zoom data to a contact's timeline, including if they attended/did not attend, how long they attended for, how many webinars they have joined, and more.

Promote your Zoom webinars with HubSpot workflows: After registration, you can trigger follow-up in HubSpot via emails, etc.
The Zoom integration is free to get started with.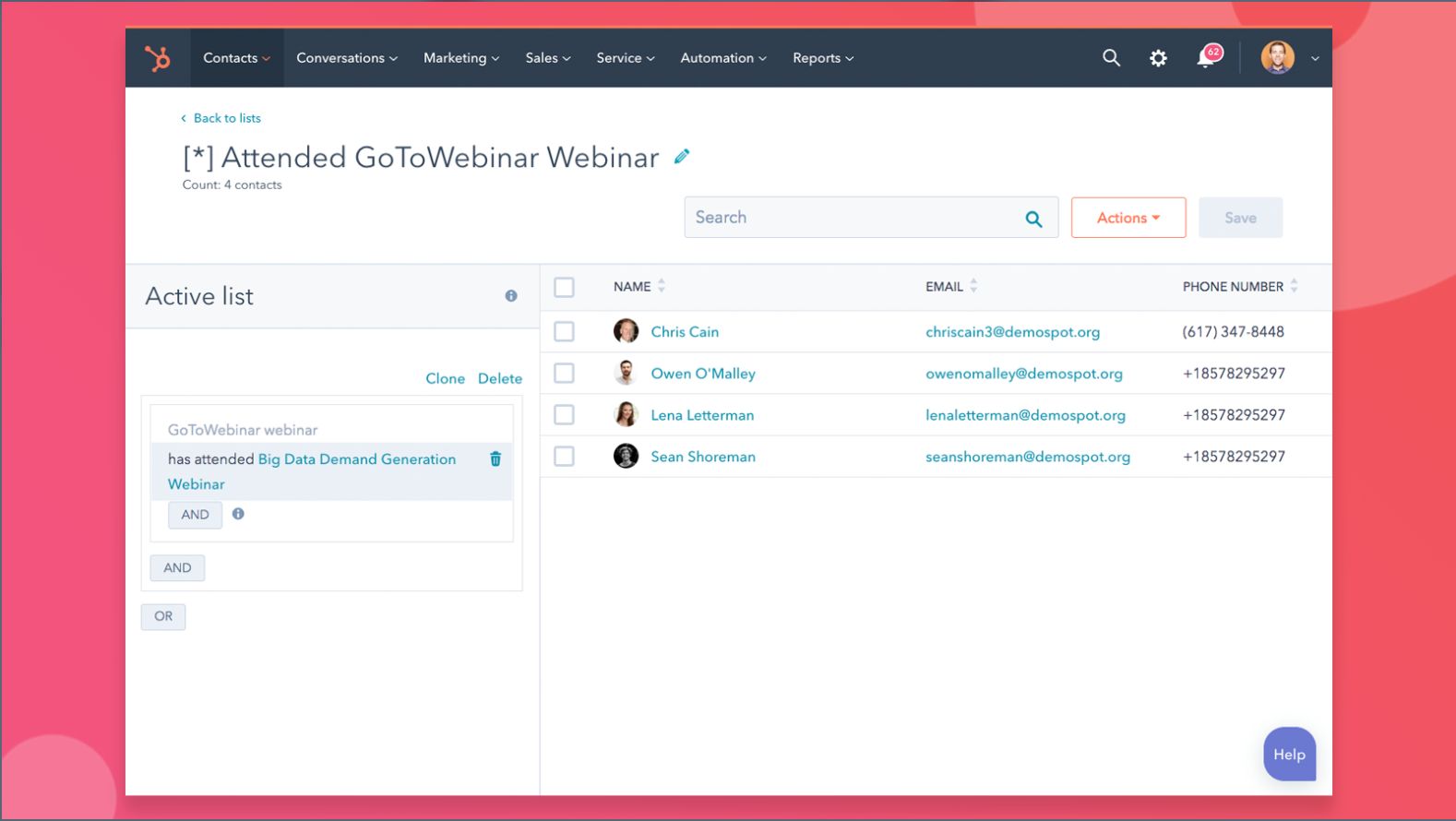 If GoToWebinar is more your style than Zoom, there's a solution for that as well. The HubSpot-GoToWebinar integration allows you to:
Use HubSpot landing pages and forms for registration: Create landing pages and forms on HubSpot to promote and have users sign up for your webinars. This allows you to keep your landing pages all in HubSpot and gives you the flexibility to create your landing page using your existing HubSpot template.
Create new contacts from registration: If a new contact registers for your webinar, a contact will be created in HubSpot.
Collect webinar data in contact records: Just like the Zoom integration, the GoToWebinar integration allows you to collect relevant webinar data in HubSpot in order to do things like enroll contacts in workflows, create lists, and send follow-up emails.
The GoToWebinar integration is $49 per month to get started with.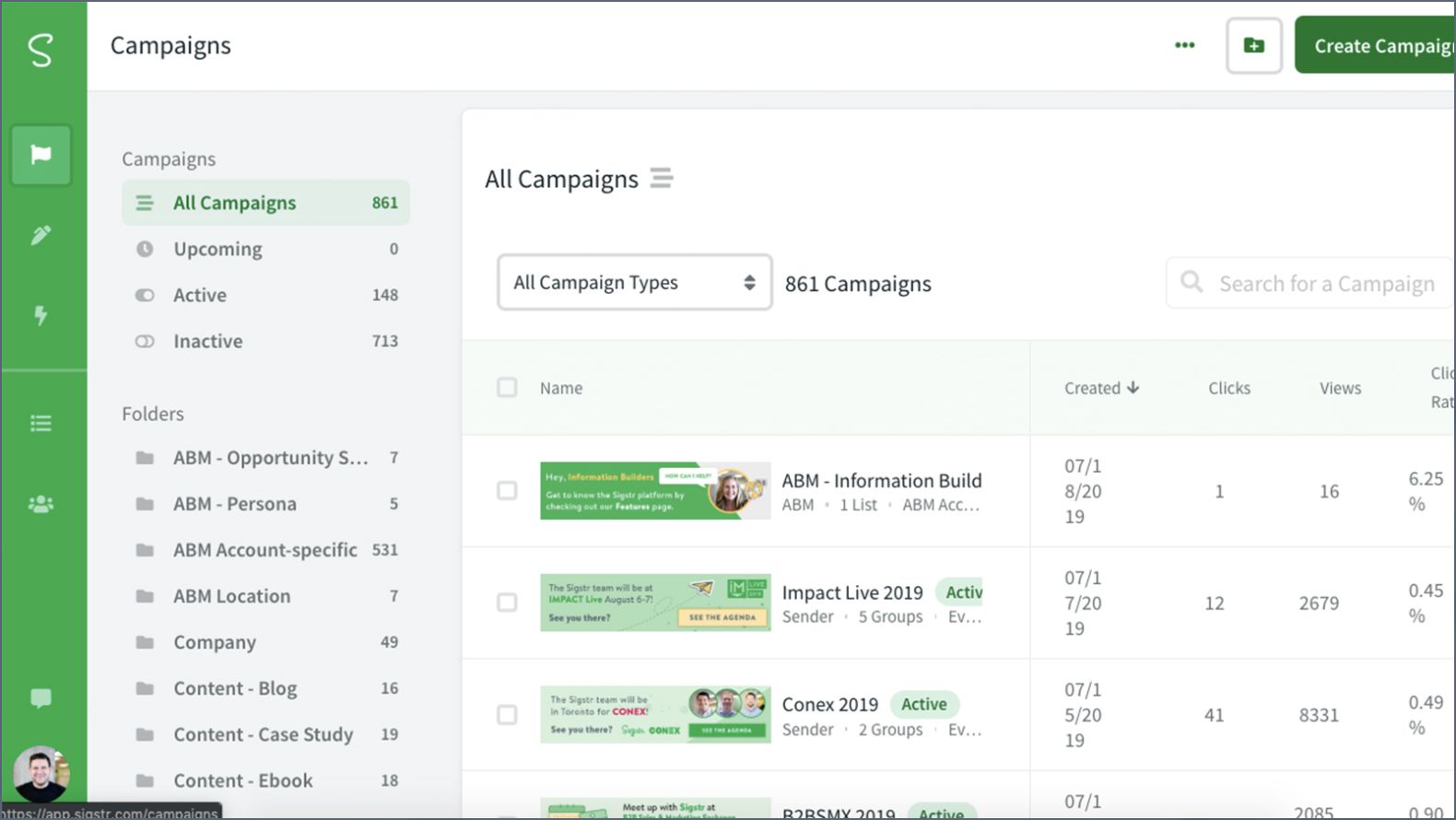 With so many of your employees sending out emails every day, Sigstr is a great way to align the entire organization and capitalize on their email reach by managing and providing promotional content in their email signatures.
Benefits of the HubSpot-Sigstr integration include:
Track conversions in HubSpot: When you sync Sigstr and HubSpot, you'll be able to easily choose the HubSpot landing page you want to include in your Sigstr signature email banner. This allows HubSpot to add the correct URL parameters in order to measure how many views, form submissions, contacts, and customers are influenced by your Sigstr email signatures.
Target email signatures based on the contact: You are able to sync your contact lists in HubSpot with Sigstr in order to add a custom signature banner based on what you know about your contacts.
Collect Sigstr information in HubSpot: Automatically enroll contacts in workflows or add them to lists based on how they interact with your email signature.
The Sigstr integration is $49 per month to get started with.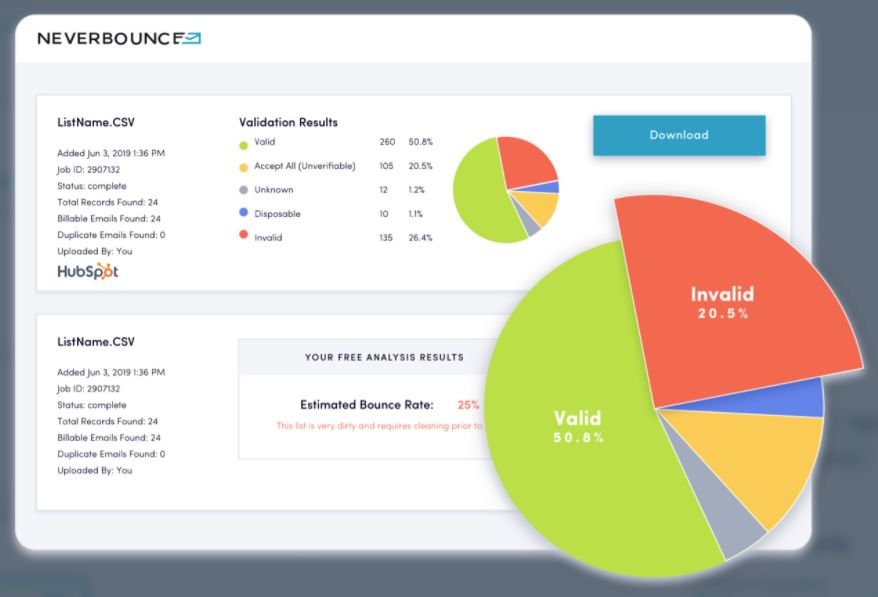 NeverBounce is a bulk verification and list cleaning tool that can significantly help improve your email deliverability. With the NeverBounce-HubSpot integration, you get real-time email verification to ensure that no send is wasted.
Features include:
Real-time Verification: NeverBounce can clean 10,000 email addresses in as little as three minutes. It never relies on old data.
99.9% guaranteed delivery
If the tool didn't sound too good to be true already, you can even get started for free and pay as little a penny per address.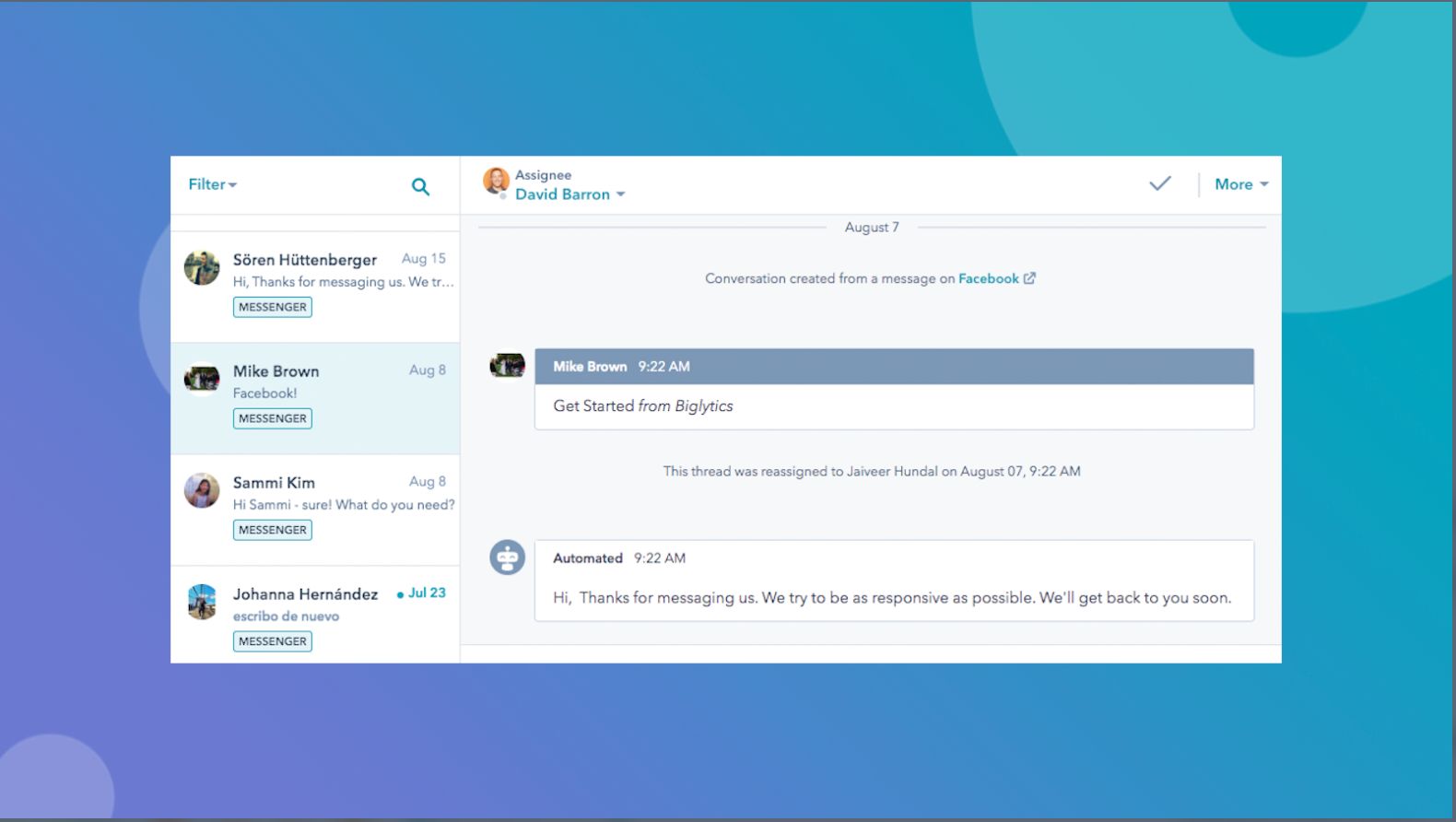 Facebook Messenger on Facebook business pages gives organizations the opportunity to have more one-to-one conversations with their visitors on a platform they're "hanging out" on and HubSpot has done a great job of incorporating it into your CRM with this integration.
Benefits of the HubSpot-Messenger integration include:
Managing Facebook Messenger conversations in HubSpot: You're able to manage all of your communication with a contact in HubSpot. Not only are you able to stay in the conversation inbox to communicate with a contact, but you will easily be able to see all the communication you or your team has had with a contact in general. This includes chat from your websites and email. You also have your normal abilities in your inbox like creating internal comments and routing chats.
Create a bot for your Facebook page: With the Facebook Messenger integration, you will also be able to create chatbots for your Facebook page in HubSpot, just like you would be able to for your site. This is great for times when your team can't chat with your contacts on Facebook at that moment.
Route visitors to the right contact or rep: Make internal comments, route chats* (paid seats only) to assign the chat to other sales or support reps, create tickets, and more.
Report on chat data in HubSpot
The Facebook Messenger integration is free to get started with.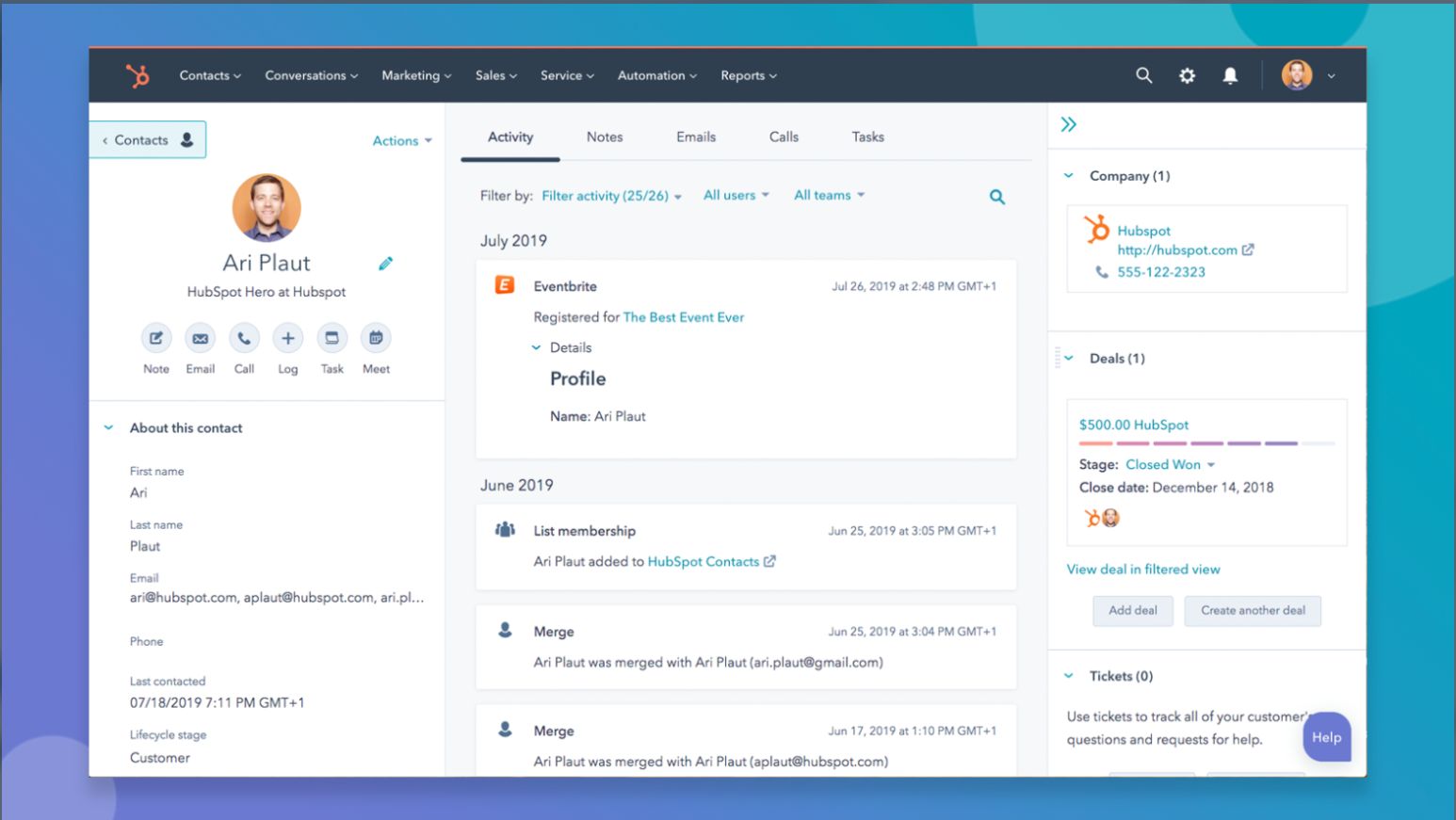 In-person events are extremely valuable in our digital world, but keeping track of them within HubSpot can be a challenge. Connecting your Eventbrite account to the platform can help you keep track of your event attendees and their activity with your brand and website all in one place.
Benefits of the HubSpot-Eventbrite integration include:
Create new contacts: If someone who is not in your database registers for your event, this integration will automatically create a contact in HubSpot.
See your contacts go through your funnel: This integration allows you to sync your Eventbrite contacts into HubSpot in order to see how they are interacting with you before and after an event.
Easily communicate with your attendees before and after an event: Promote your event to your attendees and keep them up to date through email, all within HubSpot. You'll also be able to keep track of who went to the event in order to send follow up communication.
The Eventbrite integration is free to get started with. Additional fees apply for for-profit ticket sales.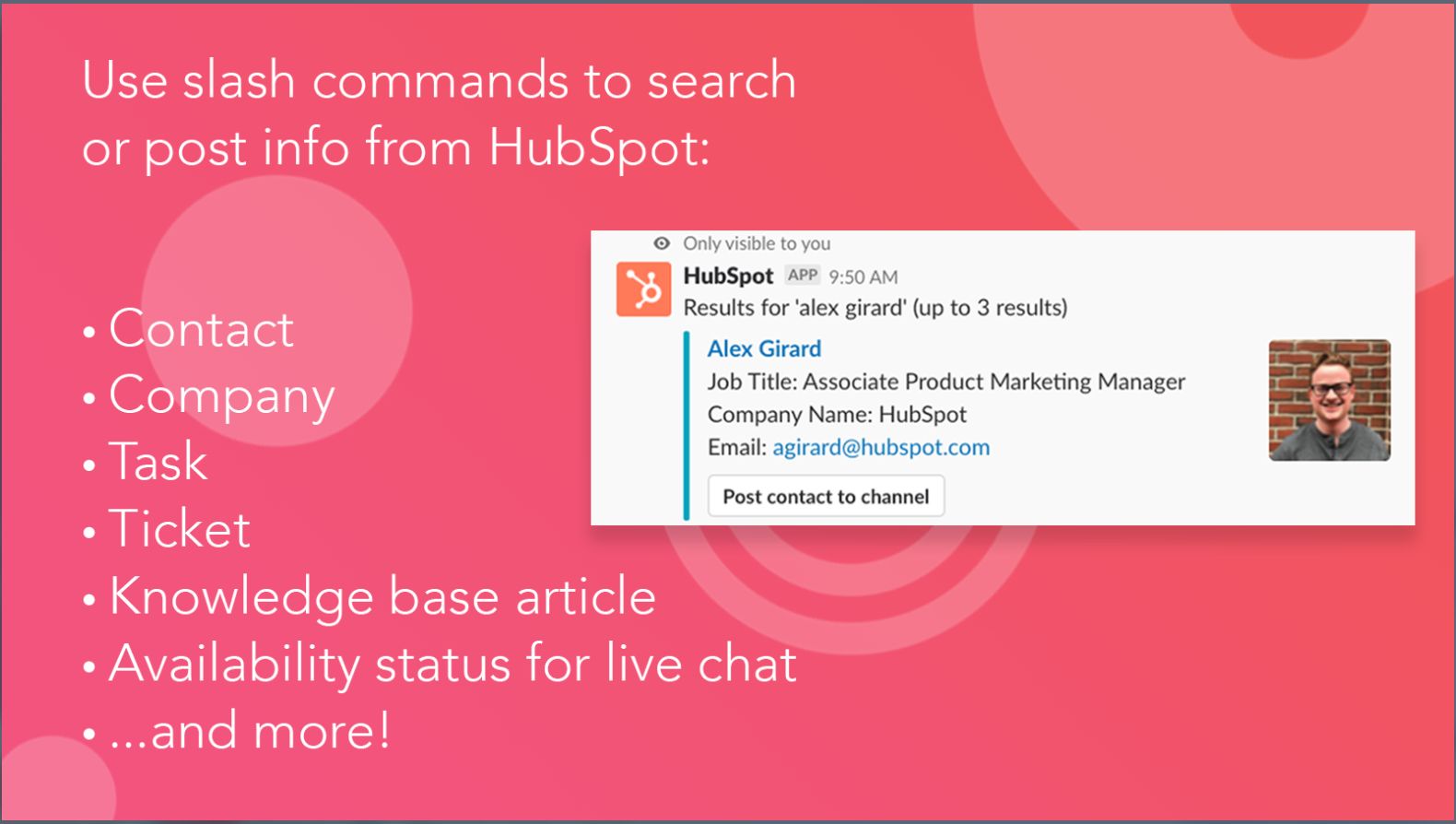 Slack is the go-to choice for internal communication for a lot of businesses. Thankfully, the HubSpot-Slack integration lets you do much more than just communicate with your colleagues.
Benefits of the HubSpot-Slack integration include:
Quickly add a task or ticket in HubSpot from Slack: One option the integration adds to your Slack app is the ability to create tickets and tasks. Without having to leave Slack, you can select the ability to create a task that will later sync with your CRM. You will also be able to use a slash command to search for a specific ticket to bring that information into Slack to share.
Get HubSpot notifications in Slack: Since many of us spend a lot of our time in Slack already, the Slack integration allows for HubSpot notifications in a specific Slack channel in order to keep track of all of the notifications coming in. You are also able to easily jump into HubSpot from that notification to take action.
HubSpot chat in Slack: The Slack integration also works well with live chat, team emails, and bots. Once integrated, you are able to get notified in Slack of new conversations, see the conversation status in that notification, and also reply back directly within Slack.
The Slack integration is free to get started with.
Find the right HubSpot integration for you
HubSpot offers a wealth of functionality, and integrations can serve to take the tool even further. While these are some of our favorite HubSpot integrations, there are tons more to check out!
Make sure to see if the tools you are using can be connected to HubSpot in order to make your database more powerful than ever!
Free Assessment:
How does your sales & marketing measure up?
Take this free, 5-minute assessment and learn what you can start doing today to boost traffic, leads, and sales.