7 super common HubSpot lead scoring mistakes you can't afford to make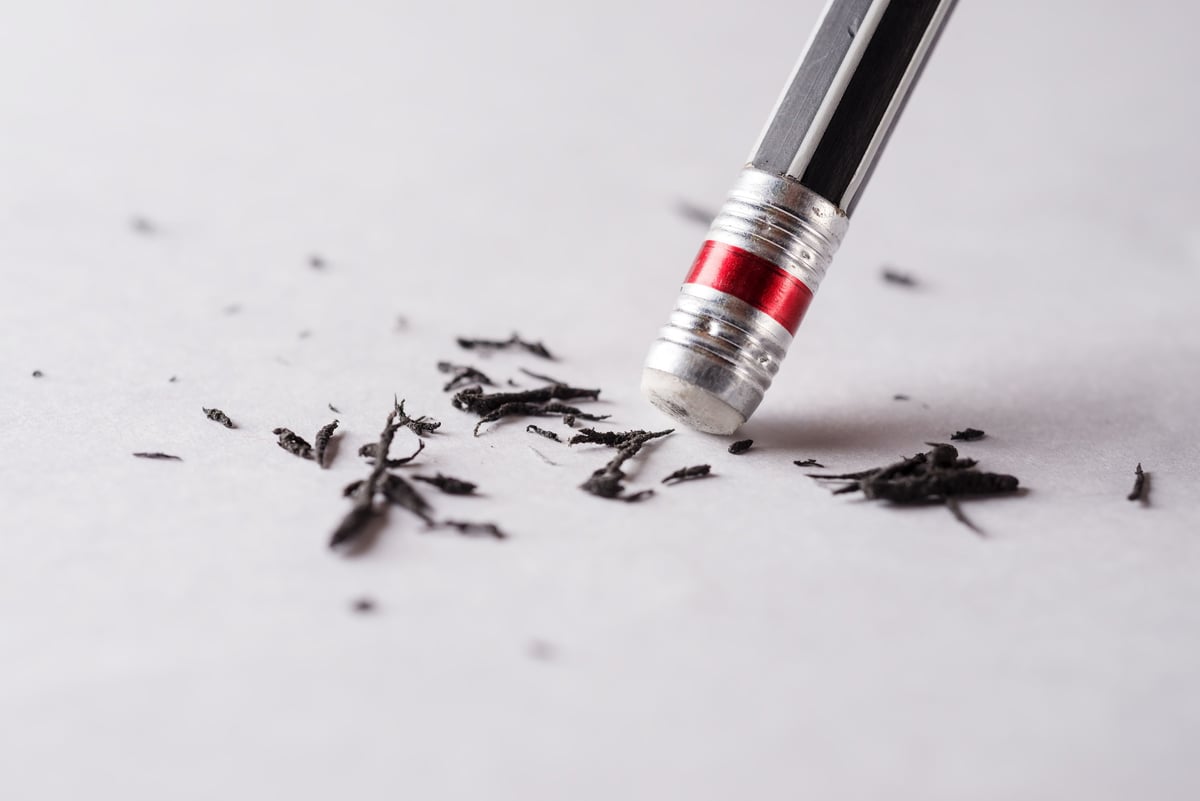 HubSpot lead scoring mistakes:
You don't have a clearly defined ideal customer
You don't have clear definitions for MQLs or SQLs
You haven't done the prep work
You're not leveraging intent behaviors
You're not incorporating automation
You don't have a follow-up plan
You're not iterating on your lead scoring success
Lead scoring was supposed to be the HubSpot feature that solved all of our digital sales and marketing problems. A simple system of checks and balances. Cold-hard math to help your marketing and sales teams focus their collective efforts on the most qualified business opportunities.
Join the IMPACT coaches for a deep dive on a new topic every month in our free virtual event series.
If you've tried to implement lead scoring at your organization, you might have come across a very common problem: Setting up a lead scoring system that actually works is hard.
It's damn near impossible to get right (especially on the first try!) and most organizations quickly give up on it all together.
But I'm here to tell you: You can't afford to give up so easily on lead scoring.
2021 is just around the corner, and perfecting your lead scoring process is the only way to stay aligned, stay focused, and keep driving growth at your organization.
Lead scoring should be a foundational element to your 2021 digital sales and marketing strategy. Your team has limited bandwidth, which means you can't afford to spend time on low-quality leads.
🔎 Related: How to do HubSpot lead scoring the right way in 2020
A great lead scoring system helps you recognize the key indicators that a lead is headed for the closed/won column. It takes time and effort, but intifying the hallmark signs of future success will help your team stay focused on meeting their lead generation and revenue goals.
In short: You need to do everything in your power to ensure you're only spending time with the most qualified leads who are ready and willing to engage in a productive conversation.
How can we do that? By avoiding these nine common mistakes when setting up HubSpot lead scoring.


Mistake #1: You don't have a clearly defined ideal customer
Organizations that are hyper-focused on growth may consider all "money in the door" as good for business, but the truth is that all customers are not created equal.
Some customers aren't actually an ideal fit for your business.
Sure, they may be willing to buy from you, but if your product or service fails to meet their needs, they may leave a bad review or tell a friend to never buy from your business. They may not grasp the full value of the product because it wasn't a good match for them since the get-go. That type of negativity can hurt your bottom line (and create headaches for your team.)
Without an ideal customer in mind, it becomes next to impossible to determine what an ideal sales qualified lead looks like and set the criteria you need with a lead score.
That's why the first step to identifying top-quality leads is to identify your top-quality customers.
If you work in the B2B or service industry, look at your book of business and find those ideal clients — the ones you love working with, the ones who you can build a long-lasting relationship with. And then ask yourself, what makes them so special and how can I find 25 customers just like them?
If you're more focused on B2C, look for repeat customers who are willing to sing your praises on social media or other online review sites. Those are your brand evangelists, and you need to study their buying habits so that you can find 50 potential customers just line them!
When you have a clear vision of who you eventually want to sell to, it's easy to identify the best fit leads that you should grade highly in your lead scoring process.


Mistake #2: You don't have clear definitions for MQLs or SQLs
Having a clear picture of your eventual buyer is essential to driving traffic leads and sales, but understanding the phases that a typical buyer experiences on their buyer's journey is also important.
For a major purchase, a prospective buyer doesn't become a customer overnight. Typically that prospect will experience the classic phases of awareness, consideration, and decision before going on to make their final purchase.
While the buyer is going through this journey, your marketing and sales teams need to recognize what stage of the journey the buyer is currently experiencing, and classify that lead as "marketing qualified" or "sales qualified" so that you can reach out to them accordingly.
But how can you ensure that your lead scoring system is identifying enough marketing qualified leads (MQLs) and sales qualified leads (SQLs) if your sales and marketing teams can't agree on what those terms mean?
Lack of marketing and sales alignment is a common organizational problem, but if left unchecked, this misalignment can lead to missed opportunities, frustration, and finger pointing on both sides.
Imagine a marketer insisting that a lead is ready to "buy, buy, buy" when in reality, the lead is barely marketing qualified and still early in his or her consideration stage. Pushing sales to reach out to "close the deal" will turn off the prospect, and be a total waste of time for the sales rep.
Creating a simple service level agreement (SLA) can help the two teams see eye-to-eye and establish a stronger working relationship.
A service level agreement is a document that establishes agreed upon terms between two teams or two departments. For marketing and sales, this document is a great opportunity to define what a mutually agreed upon MQL and SQL actually look like (so that you can construct your lead scoring criteria accordingly!)


Mistake #3: You haven't done the prep work
As I've said time and time again: Lead scoring is HARD! This is not the type of project that you can knock-out on a Friday afternoon.
A well-defined lead scoring strategy takes planning and forethought. It also takes a lot of prep work to:
gather feedback from your team on the best lead scoring criteria
define an easy to use scoring scale that will resonate with your team
map out all scoring elements on paper before adding each element into the HubSpot Score property one by one.
The amount of prep work largely depends on how robust you want your lead scoring strategy to be — but at minimum you need to determine:
What point increments your lead scoring structure will function off of (i.e. are you grading on a 10-point scale? 100-point scale? Or something in between?)
What point threshold a lead needs to meet to be considered an MQL or an SQL?
Are you focused on positive scoring activities (i.e. +10 points for viewing a pricing page) or negative scoring activities (i.e. -50 points if last page seen is more than 90 days ago)?
Will you include any knock out" activities" that would instantly disqualify a lead from entering your sales process (i.e. -999 points if the contact's email domain is a competitor)?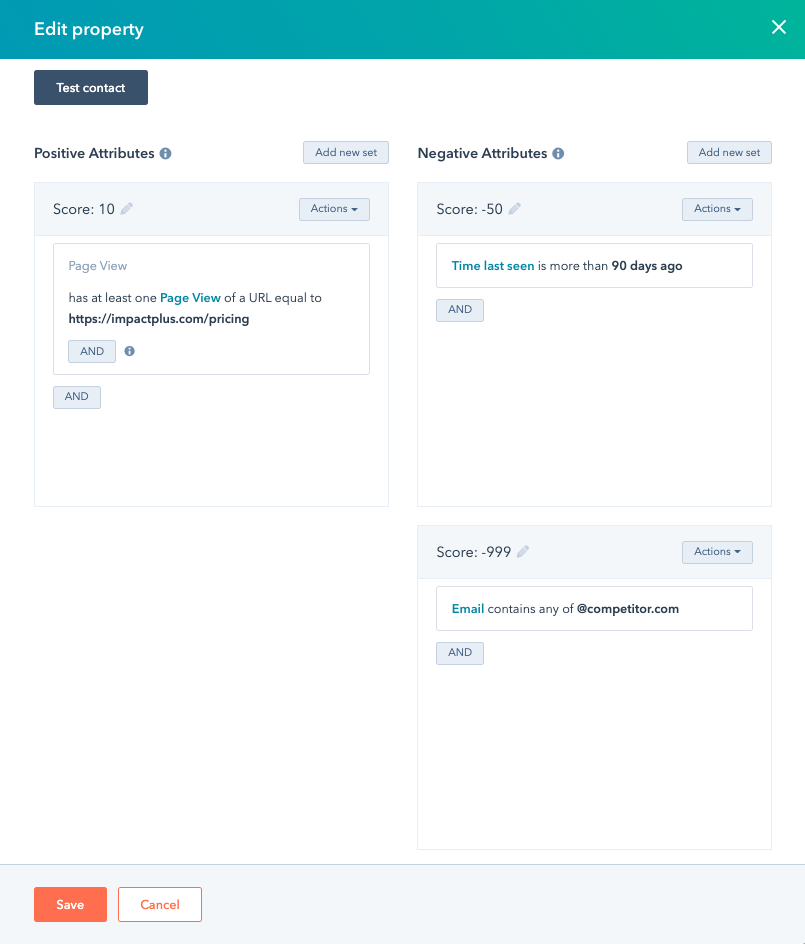 Spending the necessary time up front to prep and establish a strong framework is essential for long term lead scoring success, but keep in mind that spending too much time up front can be detrimental to your progress.
The best HubSpot lead scoring systems are often simple and to the point. You can always add intricacies and complexity over time, but when you're launching your first iteration, follow the tried and true KISS principle (keep it simple, and straightforward!)


Mistake #4: You're not leveraging intent behaviors
Another key element of prep work is looking at the marketing and sales data you already have in your HubSpot portal and incorporating this information into your lead scoring criteria.
With any new HubSpot portal, one of your first set-up activities is to install the HubSpot tracking code on your website. This snippet of code allows you to monitor website traffic, capture analytics, and track meaningful engagement as your website visitors convert into leads.
This activity data is the key to unlocking your buyer's "intent behaviors" (i.e. the typical actions a buyer will take on your website, that will eventually encourage them to engage in the sales process) and incorporating them into your lead scoring system.
If you've been using HubSpot for a while, you likely have a treasure trove of web analytics history that can help you unlock the secrets of these intent behaviors.
Look for patterns in web analytics history contact properties that indicate whether or not a lead is ready for a serious sales conversation. For example, perhaps several of your current customers viewed at least 30 pages or visited one particular high-converting blog post before reaching out to sales.
All of these activities can give you insight into what behaviors show "intent" to buy.
Digging into the analytics history of your contacts database can feel overwhelming at first, but here's a simple exercise to help you get started.
First, click on the contacts tab in the upper left corner of our portal, and navigate to the contacts page. This area of the tool allows you to filter and sort through all of the contact records in your database.
Second, select "more filters" and start whittling down your contact records to only focus on high-quality opportunities.




For example, add a filter where "recent deal amount" is greater than or equal to $5,000.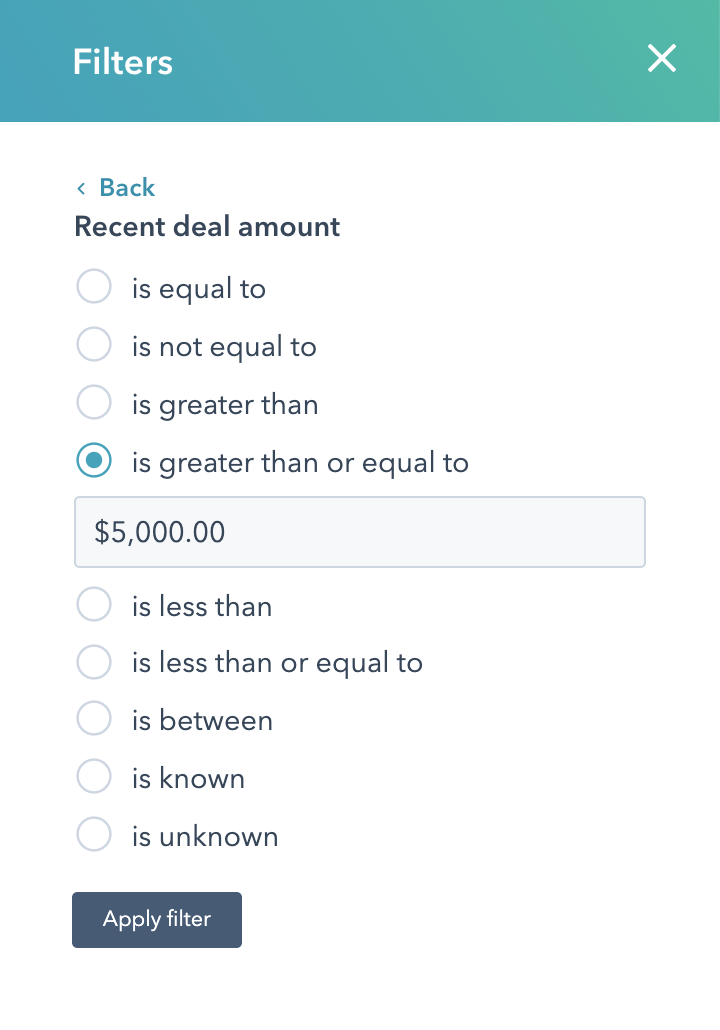 Third, once you have a filtered list of contacts that have at least one associated deal greater than or equal to $5,000, select the "table actions" button and only select columns that could indicate how these leads engaged with your website before converting from a lead into an opportunity.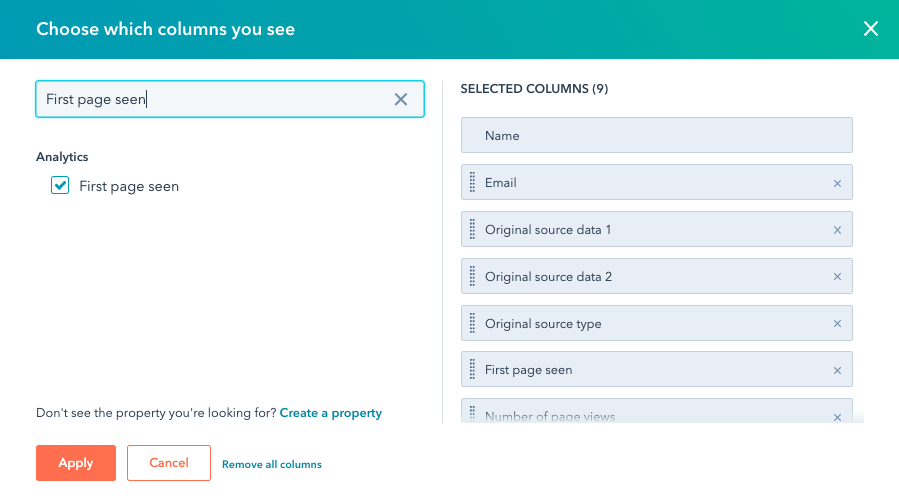 Finally, sort your newly added web analytics columns and look for patterns. Is there a particular blog post that keeps coming up as the first page seen? Do high value opportunities tend to have a higher number of page views?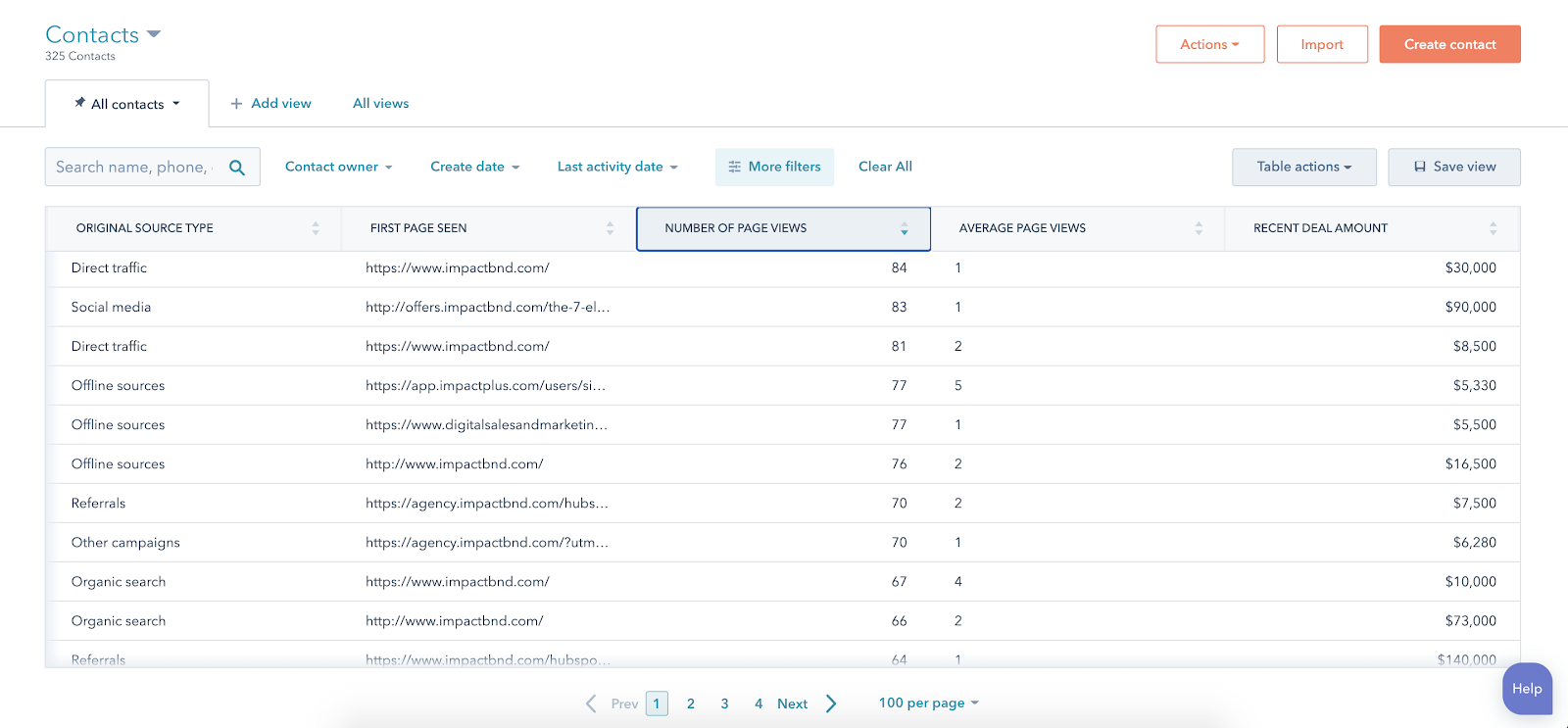 By answering these questions, you can ensure that your lead scoring structure matches the reality of how prospects interact with your website, and engage during the sales process.


Mistake #5: You're not incorporating automation
Once you have HubSpot lead scoring dialed in and accurately predicting qualified leads, it's time to start leveraging workflow automation to ensure that the most qualified leads are rising to the top of the pile.
Create simple internal workflows to automatically upgrade a leads lifecycle stage once they reach a certain threshold.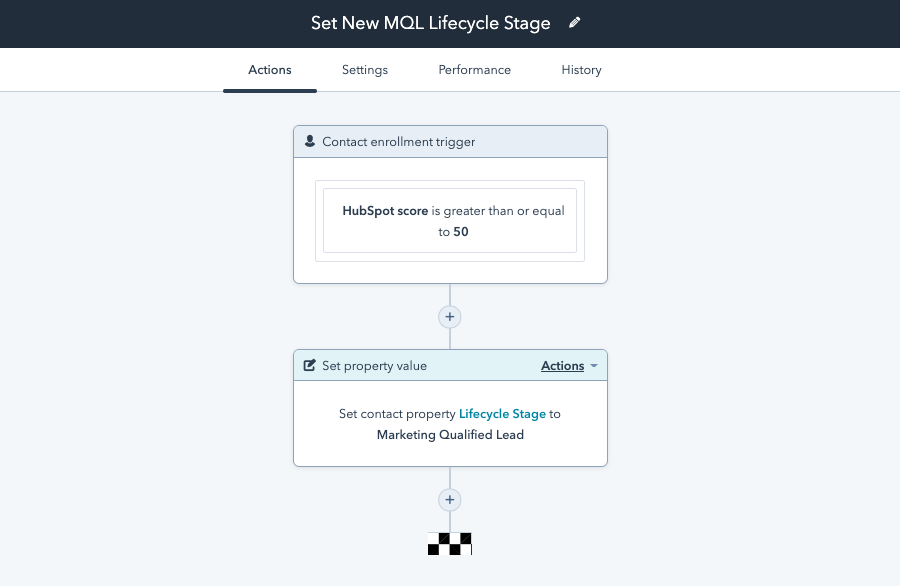 Once a new lifecycle stage has been set, you can also use workflow automation to automatically end in-app notifications, Slack updates, or even assign appropriate follow-up tasks in third-party applications such as Asana.
Another way to leverage automation in lead scoring is to create nurturing workflows.
As a general best practice, lead nurturing should always inform lead scoring and vice versa. This means that if you want to increase a contact's lead score, your nurture paths should encourage contacts to reconvert on key forms, or visit areas of the website that will help to educate them on their buyer's journey.
If lead scoring is set up correctly, these actions will also correlate with gaining more points, and ultimately upgrading from a lead to an MQL, and then from an MQL to an SQL.


Mistake #6: You don't have a follow-up plan
So let's assume that lead scoring is properly set up, and you're regularly generating top-quality leads that represent real business opportunities for your organization.
Sounds like a slam-dunk win, right? Not always.
Identifying top quality leads is the hard part, but once you overcome that hurdle, the next step is decide what you're going to do with those high-value leads that's different from your current lead conversion strategies.
After all — these leads are the best you've got. You know that they represent your greatest opportunity to increase revenue and hit your desired KPIs. Don't screw up a great opportunity with a poor follow-up plan.
In your service level agreement (SLA) between marketing and sales clearly state what sales will do with the highly qualified leads that marketing worked so hard to produce.
Ensuring there's a proper hand-off, timely outreach, and informative follow-up materials to secure long-term success with your lead scoring program. Because, at the end of the day, if your team doesn't follow-up with its most qualified leads, all of this time and energy will be wasted.


Mistake #7: You're not iterating on your lead scoring success
Finally! You've reached the promised land:
Your lead scoring system is on point.
You're regularly capturing and converting high-quality leads.
You can easily identify which leads represent your strongest business opportunities.
And, your sales team has a streamlined approach to treat these highly-qualified leads the right way to ensure the best outcomes.
You're done right? Well… not quite.
Success with HubSpot lead scoring can be extremely short lived if you fail to iterate.
But the beautiful thing about HubSpot lead scoring is that as soon as you add or update your lead scoring criteria to the HubSpot lead score property, each contact's score is added automatically.
As you make iterations over time, HubSpot will automatically analyze all historical data and instantly spit out an up-to-date lead score. There's no "waiting for the results to come in." You can start stress-testing your criteria, and seeing if your educated guesses panned out.
And even when every aspect is firing on all cylinders, you should never adopt a "set it, and forget it" mentality.
Buyer behaviors change, and your product and service offerings will evolve over time.
To stay ahead of this curve, you need to constantly ask yourself: "Is this lead scoring criteria still the best fit? Or is there more I could add here?"


The bottom line
As we enter into 2021, growth driven organizations need to stay aligned, stay focused, and ensure that marketing and sales are only devoting resources to high-value opportunities.
HubSpot lead scoring can be an essential component to your organization's long term growth strategy — but only if you take the necessary steps to avoid these all-too-common mistakes.
While success with lead scoring is by no means guaranteed, you can start by holding yourself (and your team) accountable to making these crucial improvements on a regular basis.
Marketing and sales should continue to work together to iterate on your success (and ensure the longevity of your lead scoring program!)


Join the IMPACT coaches for a deep dive on a new topic every month in our free virtual event series.
Published on December 2, 2020