In-house Marketing vs Agency: What's Best For Your Business?
With thousands of marketing agencies and options out there, here's how to find the ideal partner that will earn you the strongest ROI.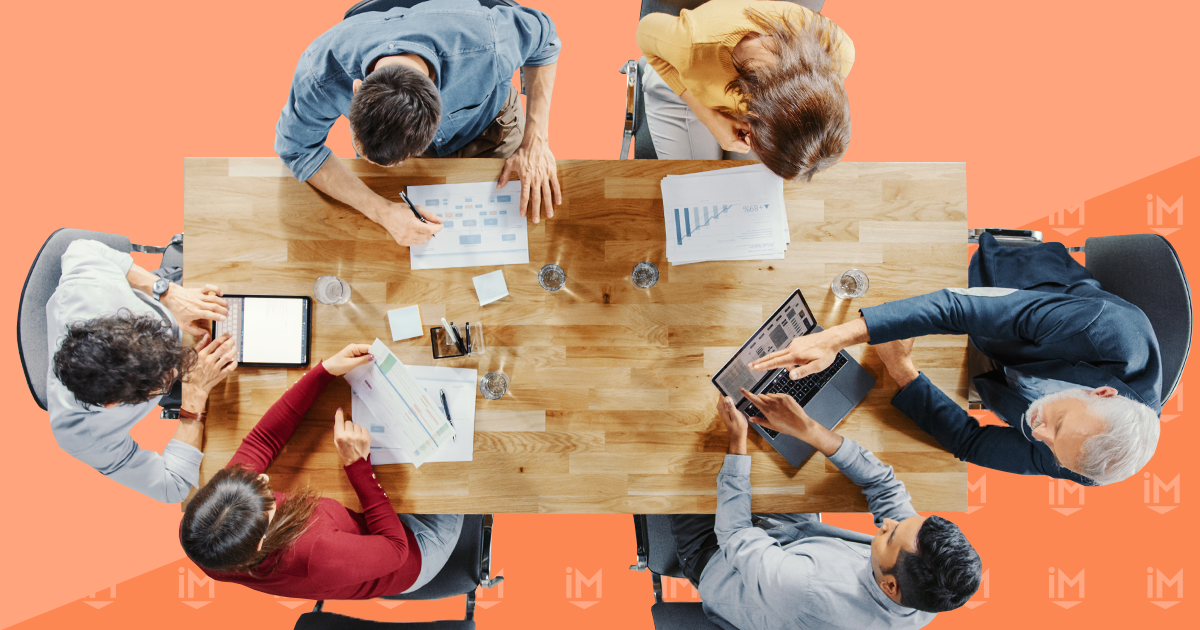 When companies decide to invest in growth, they often get to a point where they need to choose between marketing in-house or hiring an agency to do the work for them. If your business is anything like the ones we speak to while reaching this decision-making fork in the road, you're not sure which is the best option.
You want to grow your business and drive revenue, and you know there's a lot of marketing work to be done. You need to build your brand and increase leads and sales, and you need a partner that can help you get there — yesterday.
Maybe you've tried hiring an independent contractor or freelancer in the past, and it didn't work out. Perhaps you're hesitant to take the plunge with any of your options because you're afraid to waste more time and money chasing ineffective marketing strategies.
You want to know that the choice you make is going to help your business get the best ROI possible. These are big decisions that can be costly in money, time, or even team morale.
Here at IMPACT, we teach our clients the value of bringing their marketing initiatives in-house. This move, along with our award-winning They Ask, You Answer framework, has helped some of our clients grow their businesses by millions of dollars — but we also understand this model isn't right for everyone.
In this article, we're going to explain how to choose the right option for your business, be it an agency that provides coaching services (such as IMPACT) or not. While it depends heavily on what partner model is right for your needs, there are some things you should consider while deciding.
In this article, we'll be exploring:
The benefits and drawbacks of hiring an in-house marketing team.
What to know about hiring a marketing agency.
Other marketing hire options to consider for your business.
Here's how to determine if you should hire and develop your own employees or rely on an agency to do all the work for you.
Join the IMPACT coaches for a deep dive on a new topic every month in our free virtual event series.
Hiring an in-house marketing team
Hiring an in-house marketing team might seem out of the question for your business. Even if you're a medium to a large-sized corporation and can afford to do it in-house, you might be wondering if it requires too heavy a lift on your end.
While it might sound like a bigger undertaking, there are several benefits.
Pros of building an internal marketing team
As mentioned previously, IMPACT teaches and coaches businesses how to hire in-house content creators and marketing professionals.
And we've evolved our business model to switch from doing all the work for our clients to teaching them how to do it themselves for several reasons:
In-house marketing teams capture the soul of your brand better than any agency can. When you have an internal marketing team, you're "their only client." As such, they have the capacity to understand your brand more deeply than most agencies or freelancers will ever be able to. This institutional knowledge is reflected in every marketing strategy they develop.
You can utilize the talent you have already. Every business has someone on board who knows your products and services inside and out. They are typically on your sales team, and when you bring your marketing services in-house, you can better utilize these subject-matter experts to relay important decision-making information to your buyers.
In-house marketing teams can get things done faster. When you have a team of marketing employees 100% dedicated to working on your company's marketing, things get done faster. No waiting for the agency to get back to you, no wondering about promised deliverables — you will have high-quality, brand-specific work delivered fast every time.
More control over the outcome. When your marketing team is in-house, you never have to worry about leaning on an outside agency to provide you with deliverables. Your team can be more agile, and they are more invested in the outcome of marketing strategies because it's in their own hands.
Better sales and marketing alignment. Imagine creating content in-house that actually helps your sales team close more deals faster. When agencies take the reins, they rarely interact with your sales team. Their marketing efforts and the people responsible for generating revenue couldn't be more siloed. But when your sales and marketing align — as we teach our clients to do with

revenue teams

— it becomes easier to zero in on the content that will help your sales team land more sales, versus guessing what might help.
Get faster results. When we teach businesses how to do inbound marketing on their own, they can get started immediately and see results from their marketing efforts in three to six months. When you hire an agency, the onboarding process alone can take up to three months. In that time, they are getting to know your business and its ideal buyer and what makes them tick. They also need to learn how to capture your brand's voice. When you do it in-house, your team already knows who you are and what you do. As such, they are able to jump right in.
Along with the favorable outcomes of hiring an in-house marketing team, there are also a few drawbacks to consider.
Cons of building an internal marketing team
Hiring an in-house marketing team isn't for everyone.
Here are some of the cons you should be aware of before diving in:
You'll need to hire new staff members. If you do decide to take on the internal marketing team, you will need to make a few additional hires, such as a content manager or videographer. In essence, you are becoming a media company. Though many businesses might be intimidated by that realization, we can tell you that the businesses we've worked with sometimes end up hiring extra marketing team members because this move is so successful.
Hiring new employees means having to pay additional salaries. A

content manager

who has the knowledge and experience to lead your internal marketing team will cost on average $75,672 (

according to Glassdoor

), but this could vary based on your market and location. You might pay between $40,000 to $120,000, depending on your company size or the candidate's level of experience.
You need to train these staff members. It's almost impossible to bring on one hire who has all the skills you need to run a high-performing digital marketing program. To attract and retain top talent in the content arena, you need to provide ongoing training and growth opportunities that will keep the members of your in-house team engaged and challenged. These professionals are desirable and will require significant salary increases, promising career opportunities, and an investment in their continuous learning if you're going to retain them, or else they will be poached.
With more staff comes more responsibility. Additional staff members require paperwork, onboarding, one-on-ones, up-to-date job descriptions, performance reviews, raises, career-path conversations, supplies, tools, and so much more. You also have to manage employee issues, including hiring mistakes, personnel conflicts, employee turnover, and unplanned time off.
There is no pause button if things don't work out. If there are performance issues, you can't request that work stop for a period of time or tell your in-house marketing team "The project has ended." You actually have to fire people. And if you make hiring mistakes, it takes a lot more time, effort, and resources to fix them.
Now that you understand the pros and cons of hiring in-house, here's what to consider when hiring a marketing agency.
What to know before hiring a marketing agency
Many of the businesses we help grow with inbound have turned to some outside marketing resource at one time or another.
More often than not, it becomes a laborious process for both parties involved.
Although it is possible to produce effective content that way, it is never going to be as effective as it would be if an in-house team owned the content creation process and you were able to crowdsource content from your subject matter experts.
We used to be a digital marketing agency that did all the work for our clients, and we always struggled to get the tone and style of the brand so the content felt authentic. Our staff was burnt out from trying to please everyone, and our talent was spread thin.
Because your business's messaging is the soul of your brand, it's imperative to get it right, at least if you want to see significant results from inbound.
Still, some businesses want to consider hiring an agency for various reasons.
Pros of hiring a marketing agency
For businesses that do not want to bring their marketing initiative in-house, here are the pros of hiring an agency.
Agencies do all the work for you. They develop your strategy, produce your content, film your videos, and write your emails. You don't have to worry about doing anything except being in the room to provide feedback on the work. Many companies don't feel comfortable relinquishing so much control over the process, but some are just fine with handing that responsibility to an outside organization.
Agencies tend to be good at managing their capacities. Should a few people working on your account be on vacation at the same time, an agency can typically adapt to make sure all of the activities required still get done. Having an in-house team means relying on the availability of each person.
Agencies have a large pool of talent. They can provide you with a holistic array of talent, including professionals with experience executing strategy, driving tactical implementation, managing your software needs, creating content, and providing graphic design and web development.
Larger agencies are better at cost management. More advanced digital marketing agencies have sophisticated ways of managing their costs. So unlike the independent marketing contractor that has one cost, say $200 per hour, for all of the activities they perform, agencies will estimate their work, charging the right amount and placing the right people on activities to provide the optimal value for clients. However, some agencies do charge extra if the work needs to be redone.
They manage their own staff. If you're not happy with the style or performance of the work being produced, digital marketing agencies can typically switch out people on your account quickly and without the need to cancel an agreement, fire someone, or put in tons of time and paperwork.
Here are a few of the cons.
Cons of hiring a marketing agency
Hiring an agency might appeal to you, but there are some cons to consider.
It's difficult for agencies to capture the essence of your brand. While this model is a good fit for some companies, it's our experience that many end up unhappy with the results because the work they get back "doesn't sound like us" and lacks authenticity. This results in slower content production, labor-intensive editing, and constant back-and-forth with your account manager.
The work can take longer to get started and fixed. A common complaint of agencies is that it takes longer to get started. They can be slow to respond and get things done or fixed if there's an issue with deliverables. The agency needs months to understand your business before it can even start creating content for it, and if you request a revision, you might have to wait a while for a response.
You will always be depending on an outside source. When you hire an agency to do the work for you, you will always depend on them for the work. Once you stop writing checks, the campaigns shut down and you lose access to agency expertise. When you hire in-house, you might pay similar fees for a coaching service that you pay for an agency to do the work, but once your team knows how to create high-quality work on their own, you no longer need to pay for the coaching service. As the age-old adage goes, "If you give a man a fish, you feed him for a day. If you teach a man to fish, you feed him for a lifetime."
It's difficult to keep track of your return on investment. Marketing agencies typically focus on deliverables they think will work for your business and rarely utilize your sales team to be sure the content actually drives revenue. The content might draw traffic, but more often than not it lacks the ability to convert leads into sales as effectively as it would if the content was created to solve the root selling pain points of your sales team. Thus, your ROI can be hard to tie back to those services.
Hiring an in-house marketing team or an outside agency aren't the only options for your business. You can also consider these other two solutions.
Other marketing hire options to consider for your business
Maybe you're thinking that neither hiring an agency nor in-house staff is the right choice for your business. You might also be wondering what other options you have.
You can also hire an independent contractor or freelancer to help with your content needs.
Hiring an independent marketing contractor or freelancer is a popular option for many business leaders. These professionals are often hired for their expertise in a particular vertical or industry and typically provide a consultative relationship. They're also frequently hired for their ability to execute particular marketing activities and provide the deliverables themselves.
Independent contractors and freelancers can have a wealth of knowledge. Many of them have left successful careers to start their own one-person operation and have a lot of talent.
The best ones will provide a personal level of service that's valued by their clients and become trusted advisors.
Independent contractors are not treated as employees; therefore, they are not subject to payroll taxes or state and federal employment laws, which is a benefit over hiring an internal team, but many of the cons are similar to hiring an agency.
They can never understand your brand like an in-house marketing team does. They are also limited in their ability to provide a full array of service offerings. For example, they may have great ideas and a vision for how to help you reach your marketing objectives, but they may lack the technical expertise to execute it. This may cause you to need multiple independent contractors (strategists, content creators, designers, developers) to really get the job done.
You also may think that hiring an independent contractor is your least expensive option, but that's often not the case. Someone who has a high level of expertise could run you around $200 per hour. If they're providing you with 15 hours of service a week, that's around $13,000 per month, which is more than or around what a typical agency would cost you. And, unfortunately, some of that time will go to activities that probably don't warrant $200 per hour.
How working with IMPACT can benefit your business
IMPACT is a marketing agency that offers They Ask, You Answer coaching and training for your in-house staff. Essentially, we exist to phase ourselves out. We help you to make content and videos that generate revenue and sell more effectively with virtual and digital means. We also work with your leadership, sales, and marketing teams for about 18 months.
Our main objective is to help your business learn how to generate so many leads and sales on your own that you'll never need to work with us again.
We also help you stick to your commitments and avoid mistakes so you can see the results you're looking for even faster and work with your sales team to make sure all that content you produce is effective at converting leads and landing sales.
If you're ready to see a stronger return on your marketing investment and take charge of your own digital marketing destiny, schedule a call with our advisors and we can answer any questions you may have.
Creating your own in-house marketing department might be just the thing you need to finally grow with inbound.
Join the IMPACT coaches for a deep dive on a new topic every month in our free virtual event series.
Published on February 8, 2022