3 Signs it's Time to Switch Marketing Agencies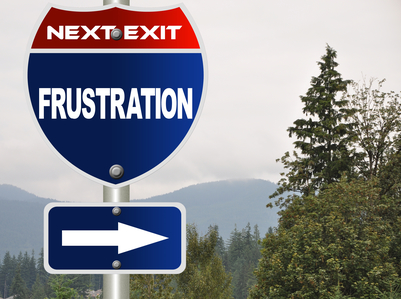 Is it time for you to switch marketing agencies?
If you're unsure if your current marketing agency is capable of delivering on all aspects of executing a powerful marketing campaign, it might be time to reconsider your options and how you're allocating your marketing budget.
We've identified 3 signs that will help you identify if your marketing current agency is successfully achieving your companies goals and if it's time to switch marketing agencies.
Signs You Should Switch Marketing Agencies
1. Communication Issues
Communication shouldn't be a one-way street. One of the biggest signs it might be time for your company to look for a new marketing agency is when communication issues develop.
In order for your marketing agency to successfully implement and execute your inbound marketing campaign, members of your company and your marketing agency need to have a prompt, open line communication.
Smart marketers understand that successful marketing campaigns are born from balancing the relationship between the company and the marketing agency. It doesn't come from an agency just delivering work, and it also doesn't come from clients trying to do it on their own.
Is there a disconnect between your marketing agency and your company?
Here are some signs you might have communication Issues:


Unproductive phone calls; agency has trouble providing timely answers


There's a delayed response to your emails


Poor account management; there's no single point of contact


Poor project scope alignment


Missed deadlines


2. Agency's Inability to Produce Content on a Regular Basis
Consistent, quality content published on a regular basis is the backbone of every successful inbound marketing campaign. Creating fresh content gives current visitors a good reason to come back to your site while also attracting new prospects. If your marketing agency isn't producing content on a regular basis, you're losing the opportunity to gain new leads as nurture your current leads to work further down your sales funnel.
The biggest reason agencies aren't able to produce the volume of content necessary is due to their lack of industry knowledge and expertise. How can you expect your agency to produce content when they don't have any resources or knowledge of your industry? Unfortunately, they cannot. In a recent study released by Gerson Lehrman Group, more than half of the respondents reported that agencies don't have sufficient industry knowledge while clients felt their agencies had not conducted sufficient research.
The reality is your company – or marketing agency – needs to be producing remarkable content regularly. If your agency isn't producing new content on a regular basis, it could pose a serious problem to the growth of your business. Not only will your website perform better with a content marketing strategy, but it will also drive repeat traffic.
It is important to keep in mind that website visitors are more likely to purchase your product or service if your content is recent and relevant to their needs. Showcasing your company's knowledge and industry expertise with consistent content is crucial if you're to have any marketing success in the mobile age.
3. Not Driving the Results Promised
Are the business goals outlined in your contract coming up empty?
Many times, you'll come by these "fly by night" marketing agencies that make empty promises. And sometimes, while the agency in question may not be a dishonorable one, they simply aren't generating the results you need in order to make the partnership a good investment. If you are beginning to question the results of their marketing efforts, it might be time that you switch to another marketing agency.
Too many companies stick with an agency due to fear of change of complications from switching. But the bottom line is if your business goals aren't being met, your investment will only go from a bad one to a terrible one.
Companies that switch are unsatisfied with:


Revenue


Website traffic


Qualified leads


Size of social media following


A great marketing agency won't simply just take orders and carry out tasks. Instead, they'll suggest and identify how to improve and create a GamePlan for achieving your business goals.
If your agency is simply waiting on instruction from you, and carries out tasks as they are assigned or needed, chances are you aren't experiencing the results you need. Not all agencies use these practices. It's time to make a change.
Still not sure if you should switch marketing agencies?
For more answers on whether you should keep your current marketing agency or switch to an inbound marketing agency, check out our newest Ebook. You'll find all of the answers that you're looking for!