Why You Might Want to Hire a Marketing Coach Instead of an Agency for Your Business
Hiring a marketing agency isn't always the most effective way to increase traffic, leads, and sales. Here's what to consider if you want more than mediocre results.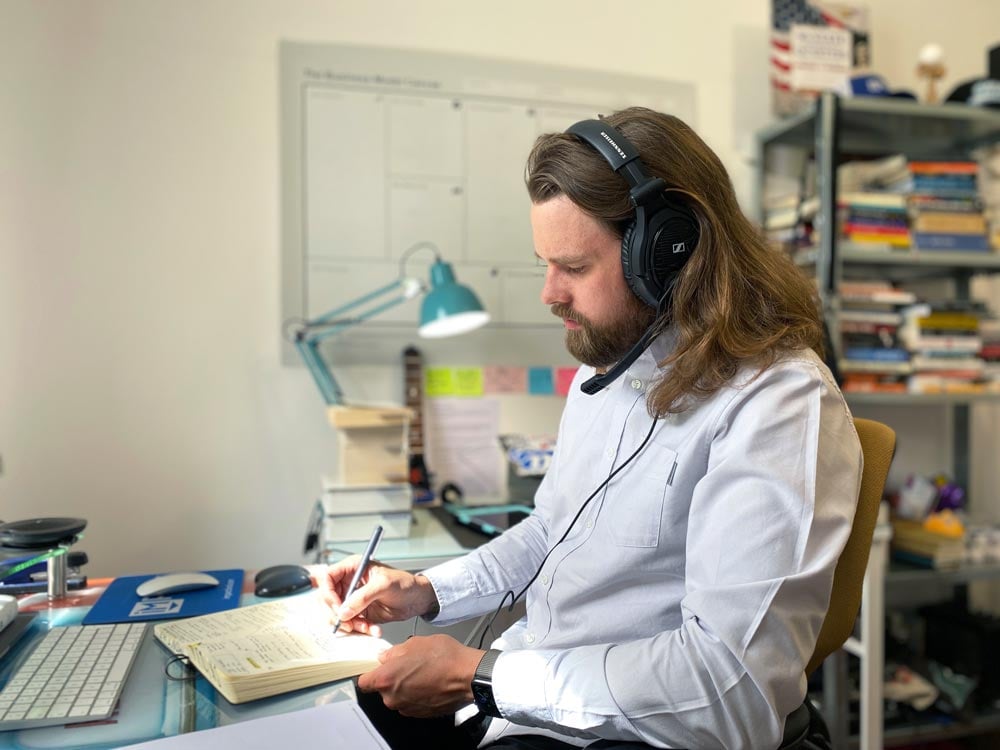 Reasons to hire a marketing coach instead of an agency:
Marketing agencies don't know your industry and business like you do.
Project timelines and quality will always suffer.
Investing in coaching helps bring your content marketing in-house.
Working with a marketing coach saves your business time and money.
For companies looking to ramp up their inbound marketing efforts, it's common to hire a marketing agency thinking it's the fastest way to get from point A (developing a marketing strategy) to point B (incredible financial success).
If you're like many of the business owners we talk to, you might feel like the content creation process requires too much time and financial resources to properly accomplish in-house.
Many large and small businesses alike fall into this trap and allow third-party marketing agencies to take the reins on all aspects of the content marketing process.
While it might sound like outsourcing your content to an agency will get your business on the track to success much faster, this is typically not the case.
IMPACT used to be a do-it-all-for-you agency ourselves, so we get it! But we've learned a lot about what works and what doesn't when it comes to growing businesses with inbound since then.
In our experience, after working with hundreds of B2B and B2C businesses that are frustrated with lackluster content marketing results, we've realized that marketing agencies often play a large role in this disconnect.
In this article we explain:
Problems most companies face when working with marketing agencies or marketing consultants.
Benefits of using a marketing coach versus an agency.
How to pick the right coach for your business.
If you're going to generate the incredible traffic, leads, and sales you know inbound marketing can deliver (and it can), hiring a coach instead of an agency is something you should thoroughly consider.
Here's what you need to know to make the best possible choice for your business.
Join the IMPACT coaches for a deep dive on a new topic every month in our free virtual event series.
Problems most companies face when working with marketing agencies
When it comes to hiring an agency to take charge of your inbound marketing, scaling up the content marketing strategy for your company will always be challenging — even ones with impressive portfolios.
This is because, as IMPACT Director of Training Justine Thomas explains:
"They're doing everything, soup to nuts. They're coming up with a strategy, they're pitching it, and they're implementing it. But most of the things agencies strategize about are recycled ideas they've used with other clients. What works for Client A may not work for Client B, and so more often than not, your success will be hit-or-miss."
When content and inbound marketing is done right, your content represents the soul of your business. And in a content-saturated marketplace, it's more important than ever to make sure it represents your business's unique voice — at least if you want your digital marketing initiatives to be effective.
Here's why working with an agency makes it difficult to achieve incredible results with inbound.
Marketing agencies don't know your industry and business like you do — and never will
One of the biggest setbacks we see businesses that work with outside marketing agencies struggle with is that the content being produced for them doesn't sound like them. (A lot of businesses experience this when hiring freelancers too.)
It's very difficult, if not impossible, for a third-party business to capture what you do and who you are as a company if they aren't focused solely on you — and with other clients to juggle, they will never be able to.
Agencies don't have easy access to your subject matter experts, and they can't speak to your target audience on behalf of your business in a natural way unless they're embedded in your organization and closely tied to your brand for an extended length of time — so the result is always going to be that your content misses the mark and sounds like everybody else's.
This will make it much harder for your business to stand out and succeed with inbound, and for businesses looking to become the No. 1 resource and thought leaders in their industry, this immediately places you at a disadvantage.
Project timelines and quality will always suffer
For your content to be truly effective, you need to produce at least three pieces of high-quality and high-intention content per week. Depending on an outside source to complete this task forces you to place the following list of to-dos in someone else's hands:
Plan what content is published and when.
Perform keyword research around that content.
Create that content for you.
Further optimize all the content for SEO.
Add high-quality images.
Publish that content consistently on your website and relevant channels.
Promote the content on your social media, in newsletters, etc.
Relying on an agency to do this for you three times per week is entrusting the part of your business that can make or break your success to another company, meaning you have far less control over what your business is doing to grow its revenue.
Most agencies can only produce about four pieces of content for their clients per month, because between juggling client projects and doing all the work, most marketing agencies are already stretched thin.
The only way to succeed with inbound marketing is by going all in, so when you hire an agency to do the work for you, that choice alone immediately sets you back.
Benefits of using a marketing coach vs. an agency
With hands-on inbound marketing and business training, your company will finally be able to rise above the competition and see amazing results much faster and more efficiently than would have been possible depending on an agency.
Here's why you should consider it for your business.
Investing in coaching vs. an agency helps bring your content marketing in-house
Creating content that speaks to the needs of your customers and target market is one of the most important things you can do to meet and eventually exceed your business goals — and there's no better way to do it than by bringing it in-house.
We've seen this story play out time and time again: Businesses that are the most successful with inbound marketing are the ones that rely on their own subject matter experts, writers, and videographers to get it done.
You will no longer rely on your agency to nail your voice and make your content sound unique. By using the people in your company that already make up the voice of your business, you're literally tapping into the resources you already have.
Working with a marketing coach saves your business time and money
You might be thinking that hiring an agency to do the work for you will save your business time and money, but when you work with a coach instead, there are a few advantages.
Working with a coach helps your business:
Eliminate the learning curve, which can be significant for agencies that need to learn all about your business. This means faster implementation and accelerated results.
Plan for a limited investment. Hiring a coach to train your own team on how to master inbound guarantees that you don't need to invest forever. You will always need a marketing agency or outside marketing expert once you hire them to do the work for you. When you hire a coach, their main focus should be on training your team so well that they can eventually do it on their own.
Align your leadership, sales, and marketing teams for an even stronger chance at success. We often allow our teams to work in silos, which creates huge barriers to creating quality content that moves the needle. Hiring an agency widens that gap and eliminates the chance for your marketing and sales teams to work cohesively. Marketing coaches teach your teams how to create content your sales team can use in their process and that makes them more efficient.
Train your team how to use the expensive tools you've purchased. Many of the companies we've worked with have purchased cutting-edge sales and CRM software. Trusting your agency to use these tools on your behalf is like letting your teenager borrow your brand-new car. They won't care for it like you do! A coach will teach your team how to use these tools so they are worth your investment.
It all goes back to the saying, ​​"Give a man a fish, and you feed him for a day. Teach a man to fish, and you feed him for a lifetime." By hiring a coach to teach you how to do inbound marketing in-house, not only will you have empowered an agile marketing team to create more effective content in your company's voice, but you will have nurtured a skill your business will have from that day forward, allowing you to choose your own destiny and take control of your financial success.
Here's how to pick the perfect coach for your business.
How to pick the right coach for your business
The next important step to take after you've decided to ditch the agency for coaching sessions, is to find the right one who can train your team and inspire them to create the best work. In short, you want to find the perfect match for your business.
Here's what to look for:
Someone who coaches using a strong inbound marketing framework. If you hire any old marketing coach, chances are they'll be teaching your team the same things the other businesses in your industry are learning. You want to find a coach that teaches a specific, effective framework that will give your team a better chance of success if they're able to follow that framework closely.
A coach that is strong enough to be an authority figure. You do not want someone coaching your team who wants to know what you think or what you suggest they do. There should always be room for collaboration, but the best coach knows exactly what you need to do and how to do it. If they constantly ask what you think, chances are they don't have a strong direction for your business, and they won't be able to coach your team into catalyzing effective change.
A proactive learner who is always on top of an ever-changing landscape. If your marketing coach is teaching you the same talking points and methodology she was teaching 10 years ago, she's irrelevant and could lead your team astray. You want someone who understands new marketing strategies and how the inbound marketing process is changing — and it changes constantly — so they can lead your team in the right direction.
Someone who isn't afraid to provide constructive feedback. If everything you're doing is great, then your marketing team isn't learning and you're not getting very far. You need a coach who isn't afraid to call out when things need to be better. It will make your team and business better too.
A coach you can rely on and trust. Having someone coach your team on how to do inbound marketing is one of the biggest first steps you can make for your business that will help it grow. It is an important decision to make, and you need someone at the wheel who is dependable and who you can trust. You need to know the advice they give you is worth following, because why else would you need them?
Also, be sure your coach has lots of experience helping companies like yours grow with inbound from both a marketing standpoint and business. While some coaches might be strong at marketing, they might not understand a lot about business.
Having a coach that understands both aspects of business is beneficial to working with your teams and ensuring what they do impacts your bottom line.
Find the perfect inbound marketing coach today
While it's tempting to hire a marketing agency to take care of your strategy and messaging, you will never get the results you're looking for unless you bring the most important pieces in-house.
Things like an effective marketing strategy, content creation, and data analytics are all parts of the marketing process your business can't afford to hand off to a company that will never get what you do.
Here at IMPACT, we've helped thousands of B2B and B2C companies like yours take charge of your own inbound marketing strategy and make millions in revenue with a simple-to-implement framework called They Ask, You Answer.
Our coaches are highly trained in this framework, and will teach your team how to accelerate your inbound marketing success and increase sales.
Set up an appointment with an advisor to find your perfect match today, and find a coach who will work with you one-on-one to get you started on your They Ask, You Answer journey.
You can also learn more about the They Ask, You Answer approach to inbound marketing with our free course, They Ask, You Answer fundamentals with Marcus Sheridan, and start building your strategy today — in-house — using the people who care about the success of your company most.
Join the IMPACT coaches for a deep dive on a new topic every month in our free virtual event series.
Register Here
Join the IMPACT coaches for a deep dive on a new topic every month in our free virtual event series.
Published on October 26, 2021