IMPACT vs New Breed vs SmartBug: Which agency is right for me?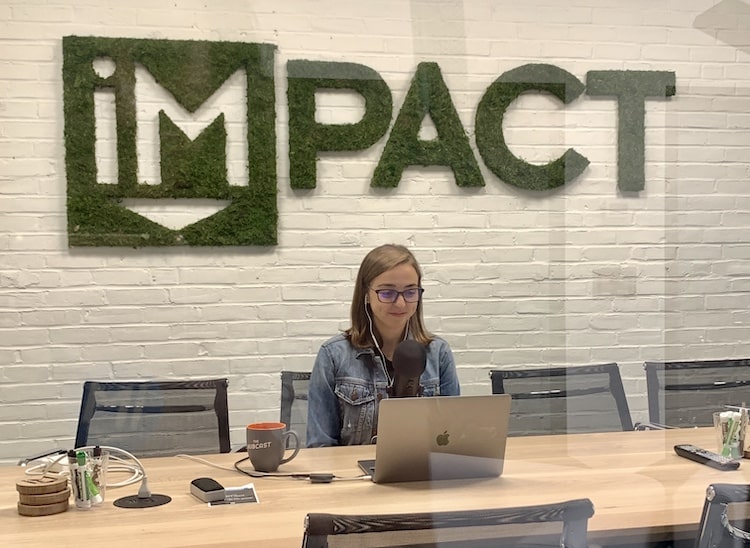 It can be overwhelming to be on the hunt for a marketing agency for your business. After an initial online search, you quickly discover there are dozens upon dozens (upon thousands) of them, and they all claim that they're different and unique.
At the end of the day, you're looking to drive results for your business, and maybe even to do it with an agency you'll build a great, trusting relationship with — hopefully not one you feel like you need to manage to keep everything on track.
When prospects talk to our sales team here at IMPACT, they sometimes have their search narrowed down to just a handful of agencies that they're doing more research on to make their final decision.
It's not uncommon for SmartBug and New Breed to be among the top contenders with IMPACT, and after all, it's the three of us on the top of the HubSpot Certified Agency Directory as the highest-rated Elite Partners.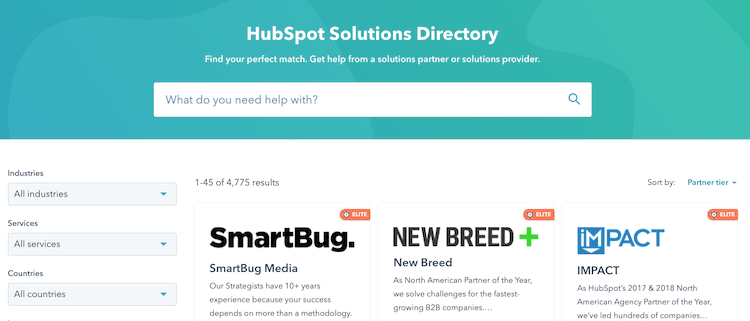 In fact, our sales team gets asked about other marketing agencies so often, we've even written about the best inbound marketing HubSpot Partners and best content marketing agencies.
We don't mind acknowledging other agencies and the benefits they have to offer. We know we're not the only agency out there. And since we see things a bit differently than many of our competitors, we also accept that we might not be best fit for everyone.
IMPACT is pretty vocal on its stance that the agency model is fundamentally broken, which is why our services run differently than those offered by a traditional agency.
For that reason — and because we fundamentally believe that building trust is the highest currency for any business — we have no reservations about giving you a brief walkthrough of the main differences and distinguishing features between us and our two main competitors so you can make the best decision based on what you're looking to achieve for your business.
Both SmartBug and New Breed do great work for their clients.
With that, let's dive into the marketing philosophy, services, typical clients, pricing (when available), awards, and additional learning resources each of these agencies offer to help make your decision.
There may be some information we're unable to provide here if that agency doesn't have it on their website, but this should give you a basic framework.
It's our hope that by the end of this article, you feel much more confident about your decision to work with any of these agencies.
SmartBug
SmartBug is an award-winning and respected marketing agency with more reviews than any HubSpot agency partner in the HubSpot Partner Directory. They were founded in 2007 and are headquartered in Irvine, California.
Marketing philosophy
SmartBug follows the principles of inbound marketing, with a heavy emphasis on following the data and analytics.
Their trademarked Intelligent Inbound marketing strategy focuses on making data-driven decisions that may combine marketing efforts like paid media, paid search, social, and branding on top of traditional inbound marketing.
Services
SmartBug offers numerous services that can either complement an existing marketing department or serve as an outsourced one.
They provide strategy, content creation, campaign implementation, and customizable websites, all while strictly following the inbound methodology.
Their services include:
90-day Inbound Marketing Campaigns
Website Design
Paid Search and Social
Sales Enablement
Creative and Branding
Video Marketing
Public Relations
5-Hour Training Programs
Content SEO
A differentiator SmartBug offers is that they are also technology partners with Marketo.
Typical clients
SmartBug is a great agency choice for a B2B or B2C business that wants to utilize an agency as an extension of their marketing department, or for companies that would rather outsource most of these marketing activities to drive success for the business.
SmartBug's industry specializations include financial services, technology and software, and professional services.
Pricing
Prospects can fill out a quote request on their site to get pricing for the services listed above.
While we don't have any backend data, their average clients anecdotally spend somewhere in the ballpark of $7,500 to $12,000 per month.
Related: How Much Does Working With A HubSpot Partner Agency Cost?
Additional educational resources and events
The company's annual conference, SmartBugapalooza, is an annual training and team-building event for their internal team.
They offer a free 15-minute intelligent inbound marketing quiz that delivers a custom report with actionable recommendations to improve the marketing strategy at your company.
They also have a weekly podcast, SmartBug on Tap, featuring conversations from the team on topics such as demand generation, marketing automation, brand loyalty, and digital strategy.
They offer monthly webinars about a variety of HubSpot-related topics (e.g., attribution modeling, ABM, etc.).
SmartBug also publishes content on their blog about once a day about marketing strategy, sales enablement, web development, creative, and PR topics.
Awards and recognition
SmartBug has earned over 100 awards, is a HubSpot Elite partner, and was 2018 HubSpot Global Partner of the Year.
They've won several Comparably awards (including for Best CEO, Best Work Life Balance, Best Company Culture, Best CEOs for women), and has been listed on the Inc 5000 list for three straight years.
There's no question that SmartBug delivers great work. They have more than 300 5-star HubSpot reviews.
Team
SmartBug is a remote team of 80+ marketing experts across 32 states (and two provinces). They don't hire any interns or offshore staff. They have a 4.8 rating on Glassdoor.
So, who is SmartBug a good fit for?
If you're a business with about a $7,500/monthly budget that has marketing activities that you'd like to outsource to a third party agency, either because you don't have the team (or want to invest in an internal team) to manage it, if you have a team but they're focused on other tasks, or if you want outside marketing experts doing the work, SmartBug can be a great fit.
In addition, if you're looking for a HubSpot partner that also has expertise with Marketo, they may be a great option.
More reading: The Problems with Working with a HubSpot Partner Agency
New Breed
New Breed is an inbound marketing agency offering marketing services and technical expertise with migrations and integrations for HubSpot and Salesforce. It was founded in 2012 and is based in Burlington, Vermont.
Marketing philosophy
Like SmartBug and the majority of other HubSpot partners, New Breed follows the inbound marketing philosophy and offers numerous services to help get that implemented.
Services
New Breed's team is prepared to do the work for you in content creation, buyer persona analysis, conversion optimization, and more technical needs like CRM and platform migrations and integrations.
They also offer an initial Growth Acceleration Workshop to kick off your engagement with a half-day deep-dive presentation on your buyer personas. This workshop may be a prerequisite for some other services as well.
Other services include:
Inbound marketing
Blog Writing/Content Development
Search Engine Optimization
Website Strategy
Conversion Optimization
Paid Advertising
Sales Enablement
Platform migration
CRM Migration
Marketing Automation Migration
Salesforce audit
In addition to being a HubSpot Elite Partner, NewBreed is a partner with Salesforce, Adwords, and InsightsSquared.
Typical clients
NewBreed is a great agency choice for a B2B company that wants an outside agency to be the one that drives marketing and sales success for the business. Whether you have a marketing team that's focused on other tasks, or if there is no investment strategy in building an internal marketing team, NewBreed can be a great choice.
They specialize in industries such as SaaS, IT services, telecom, manufacturing, and business services.
They're also great "techies" in that if you're dealing with a migration or integration project, they have a great track record to help you through it.
Additional reading: The Biggest Misconception of Client/Agency Relationships
Pricing
Prospects can fill out a quote request on their site to get pricing for the services listed above.
While we don't have any backend data, clients on average can expect to pay about $7,500 or more per month.
Additional educational resources and events
New Breed hosts the Adding Value Podcast, which has 20-30 minute episodes about inbound marketing topics, including content development and components of a sales-ready website, for example.
They offer a free HubSpot grader to determine how your inbound marketing is doing overall and a free HubSpot audit to pinpoint problems and show how they can help.
They also offer a free content audit and conversion optimization assessment.
NewBreed publishes about once a day on their blog with topics around content development, demand generation, inbound marketing, inbound sales, marketing automation, website strategy.
Awards and recognition
New Breed was HubSpot's North American Partner of the Year for 2019, and they were listed on Inc 5000's Fastest Growing Companies 2019 List. The company was also listed as one of the 51 Best Places to Work in Vermont in 2020.
Team
The New Breed team is entirely based in Vermont. They have between 50-100 employees, and they had announced plans to hire 30-40 additional people over the next year.
They have a 4.5 rating on Glassdoor.
So, who is NewBreed a good fit for?
NewBreed can be a great fit for a B2B company willing to spend about $7,500 monthly in budget to get content and other inbound tactics done by an agency.
In addition, if you have a sizable migration or integration project you're working through, chances are that NewBreed can help you through it.
IMPACT
IMPACT is a digital sales and marketing company focused on educating and training business leaders who have a growth mindset.
Through our digital marketing agency services, events, online publication, training programs, and virtual communities, we empower businesses and their leadership teams with the education, tools, and support needed to take their careers, and their companies, to the next level.
IMPACT was founded in 2009 and is headquartered in New Haven, Connecticut.
Marketing philosophy
IMPACT coaches adhere to the business philosophy of They Ask, You Answer, which has stricter standards and requirements than traditional inbound marketing.
Our focus is to help businesses who want to grow their sales through digital while learning how to do it themselves, so as to eliminate long-term dependency on an agency partner.
Services
IMPACT offers consolidated and individualized digital sales and marketing services, primarily focused on coaching and training our clients toward independence and mastery, as we help businesses grow and support their in-house marketing departments.
Here's what we offer:
Unlike most agencies, IMPACT does not offer content or blog creation services. Instead, our content trainers coach companies on the best practices to create content in-house that drives traffic, leads, and sales for your business.
IMPACT is a Google Partner, Meta Business Partner, Digital Marketer Certified Partner, and Vidyard Certified Partner.
Typical clients
IMPACT clients are in the B2B or B2C space (and sometimes both).
Clients typically have at least $3M in revenue with at least one dedicated salesperson and one dedicated marketing person, with the goal to grow over time.
The industries we specialize in include business services, construction/renovation, e-commerce, finance and insurance, medical/wellness, and software technology companies.
There are seven key qualities in IMPACT's ideal client:
They are looking to grow and improve their companies by teaching
They are values-based and vision-oriented
They are disciplined and financially sound
They are active learners
They invest in training and building great teams
Their sales teams depend on leads
They are open to growing their marketing team
For more detail on what each of those mean and to see if that's you, check out: Who is IMPACT's ideal client?
Pricing
Each of our services has clear pricing on our website so you know what you're getting into.
The clients that see the most success in working with IMPACT engage with us for an average of 12 to 18 months, and spend on average, between $8,500 and $15,000 per month.
Contracts can be cancelled at any time with 30 days notice.
Additional educational resources/events
IMPACT offers numerous learning resources and events to help business leaders be the best experts and teachers in their space.
Events
IMPACT hosts a series of events throughout the year, with the most notable being Digital Sales & Marketing World (formerly called IMPACT Live) where nearly 1,000 attendees gather for Connecticut's largest event for marketing, sales, and leadership teams. The event has had keynotes from notable speakers like Brian Halligan, David Meerman Scott, and Ann Handley.
Throughout the year, IMPACT also hosts numerous virtual marketing and sales learning days such as Digital Sales and Marketing Day and the Virtual Sales Summit, which have had more than 1,000 registrants.
IMPACT team members also regularly host HubSpot User Groups (HUGs) in different cities across the country.
Content publisher
IMPACT publishes between 18 to 25 pieces of content per week, which include blog posts, news reactions, and digital sales and marketing videos and podcasts.
Before we continue, you may be thinking, "That's three or four pieces of content published per day! Why in the world would they publish that much content?"
IMPACT's mission is to be the #1 teacher to its audience of growth-focused leaders and businesses in the digital sales and marketing space.
And as teachers, we need to adapt to the needs of our students — in this case, our digital sales and marketing audience — when they ask new questions, and seek information in different ways.
In addition to producing more content than our competitors, IMPACT is also set apart in the topics we cover: from news and updates in the industry, Google algorithm changes, marketing and sales trends, tactical advice for growing your marketing and sales teams, effective leadership, best practices for content, website strategies, paid media, best tips for HubSpot tools, and tips to track ROI from marketing activities.
Newsletter
Over 45,000 digital sales and marketing professionals from around the world have subscribed to IMPACT's thrice weekly email newsletter, THE LATEST. (If you haven't yet, check it out. It's fun and informative.)
Online training
IMPACT offers IMPACT+, an online course learning platform that offers free and paid courses for digital sales and marketing professionals.
Guides for self-learning
As a company that puts an emphasis on teaching companies how to fish instead of doing the fishing for them, IMPACT offers resources for motivated business leaders to take the best practices and implement it themselves, without needing to hire an agency.
These include:
More than 40 free comprehensive guides, inbound success playbooks, and templates
Numerous podcasts and YouTube videos
Free recordings from previous events in IMPACT+
IMPACT also offers a free Scorecard for companies to get graded on how well they're doing compared to other companies implementing inbound marketing.
Community
IMPACT has grown an inbound marketing and They Ask, You Answer community in IMPACT Elite that has more than 6,000 members on Facebook.
IMPACT also offers intimate monthly virtual peer groups in IMPACT+ for content managers, sales managers, videographers, HubSpot users, and executives to have an opportunity to meet with others in the same role who are implementing the They Ask, You Answer methodology to learn from each other's mistakes and share successes.
Awards and recognition
IMPACT is a HubSpot Elite Solutions Partner and was named the HubSpot Agency Partner of the Year in 2017 and 2018. The company was also the 2019 Digital Marketer Agency of the Year.
IMPACT is an Inc, 5000 company and Inc. named IMPACT as one of the Best Workplaces of 2018.
Fortune named IMPACT as the #18 Best Small to Medium Workplace in the New York region.
The company was also awarded as one of the Best and Brightest Companies to Work for in the Nation in 2018 and 2019. It was also awarded Boston's Best and Brightest Companies to Work For in 2018 and 2019.
Team
IMPACT is a team of 70+ marketing, design, and development experts on-staff and full-time from 18 states and 3 countries. We thrive on a culture of experts with personality, humor, and a passion for teaching.
IMPACT partner Marcus Sheridan is the author of the Forbes-reviewed book They Ask, You Answer, from which the company bases its business philosophy. The book was named the best digital marketing book of all time by Book Authority.
IMPACT has a 4.7 employee rating on Glassdoor.
So, who is IMPACT a good fit for?
We're glad you asked!
IMPACT is NOT a good fit for a company that wants to outsource their content production or other inbound marketing activities, like campaign implementation, ABM strategies, and other inbound tactics.
However, IMPACT is a great fit for businesses that see the value in both learning and teaching. They are willing to do what it takes to invest in training their team so they can own their own success instead of relying on an outside agency to "do it for you."
And our good fit clients also want to become the best teachers in their space, educating their own prospects to make strong purchasing decisions.
When it comes to HubSpot support, paid media, and website projects, our experts take a hands-on approach to get technical activities done, but we want to make sure we're guiding you along the way.
Related: Hiring an Agency: 35 Questions You Should Be Ready to Answer
Things to consider when choosing an agency
At the end of the day, SmartBug, New Breed, and IMPACT each have a proven track record of success with their clients: the deciding factor really comes down to what you're looking for.
If you're looking for an outsourced agency to serve as your company's marketing department, you're likely better off with SmartBug or New Breed. If that's you, and you're a B2C company, SmartBug will likely be your best bet.
If you're a Marketo user, SmartBug may be a good fit. If you have technical integrations or migrations you're working through, or are heavy into Salesforce, New Breed may be a good go-to-techie fit for you.
If you're looking for a different approach than traditional inbound, or have had limited success with inbound in the past and you're ready to do something different to start to own your success, IMPACT's heavy focus on training and development may be a good choice so you're ultimately not dependent on an agency forever.
If you're willing to make the investment in your in-house team and want to make sure they're trained up to be steering your sales and marketing departments to success, you may want to go with a more "teach me" versus "do it for me" approach.
If you're wondering if that's you, consider these questions:
Do you want to be reliant on an agency?
Do you want to own your own success, or rely on a marketing agency to try to achieve it for you?
Are you willing to invest in your own team, or would you rather outsource your marketing activities?
It all depends on what your needs are, what you're willing to invest in, and how you want your company to grow.
Before you make your decision on which agency to go with, check out this article about why we believe the traditional agency model is fundamentally broken, and what you can do about it so the money you're pouring into an outside vendor is actually reinvested in further developing and training your own team.
Make sure you educate yourself on the best questions to ask when hiring an inbound agency, and if you think IMPACT might be the right fit for your business, we'd love to have a chat with you about what that relationship could look like.
Free Assessment:
How does your sales & marketing measure up?
Take this free, 5-minute assessment and learn what you can start doing today to boost traffic, leads, and sales.