Inbound Marketing vs. They Ask, You Answer: What Are the 5 Key Differences?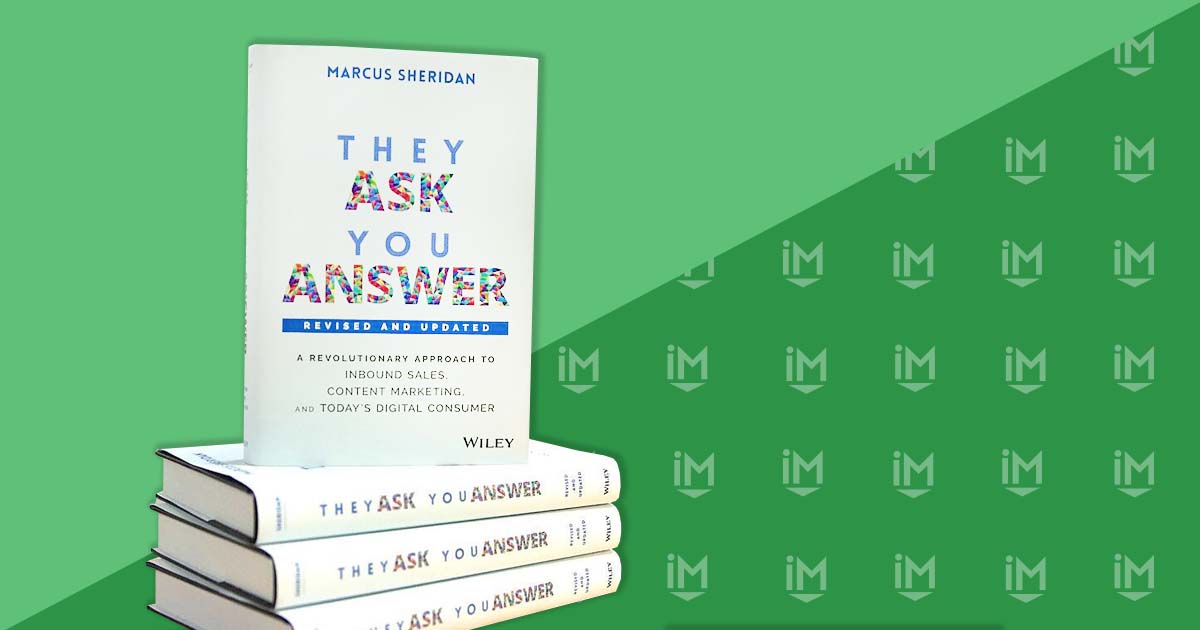 When you work for a company that's coined the name of a new business philosophy, believe me, you get used to people asking all sorts of questions about it.
Many are curious as to how it's actually different from more well-known strategies.
With They Ask, You Answer having so much in common with inbound marketing, it's natural that the comparison requires some clarification.
So, how is They Ask, You Answer different from inbound?
I don't blame you for asking!
In fact, I'm glad you did.
As you read on, you'll see that inbound and They Ask, You Answer aren't opposites or competing methodologies. Rather, there is considerable overlap.
But, there are important differences — especially in those areas where They Ask, You Answer expands upon inbound and sets the bar a bit higher.
Squares and rectangles
I find it helpful to think back to grade school when my teacher gave us a puzzle to try to get our brains turning (or maybe it was just to keep us quiet for 15 minutes):
"All squares are rectangles, but not all rectangles are squares. Explain why and how this works."
If you don't remember that one from school, mull on it for a hot minute!
<minute elapsed>
Okay, here's the reasoning behind it:
A square is defined as a figure with four equal sides and four right angles.
A rectangle is defined as a figure with opposite sides being equal length and four right angles.

The looser, broader definition of the two is the rectangle because it doesn't require that ALL sides are the same, but just the opposite ones.
The more strict and specific of the two definitions is the square, which requires that all sides are the same length.
In this light, you can technically think of squares as just overachieving-minded rectangles: they meet standards of having the opposite sides equal, and they happen to take it one step further by having adjacent sides be equal as well.
Therefore, a square is always a type of rectangle, but a rectangle isn't always a square.
You'll see that comparing inbound and They Ask, You Answer works much in the same way: They Ask, You Answer is the square to inbound's rectangle.
There's a decent amount of overlap, but there are different standards set for each.
And just from the start, I feel the need to disclose my political views on this: squares aren't better than rectangles. They're just different.
I have a rectangular coffee table in my living room that just wouldn't jive the same if it was a square. The same goes for my desk – it does what I need it to do and wouldn't have it any other way!
It all depends on what you're looking for.
In the same way, They Ask, You Answer may set a higher bar than inbound, but just because it's the philosophy we at IMPACT follow and coach our clients through doesn't make it the right fit for every business out there.
As we'll discuss, it comes with a fair number of challenges and requirements that some organizations might opt for a looser inbound strategy. And many may see great results with it!
However, there are some companies that, either due to their competitive landscape or lackluster results from past efforts, are willing to go the lengths to try another strategy and, in turn, find great success with They Ask, You Answer.
One isn't right and the other isn't wrong.
They're just different strategies for different companies, and the right choice ultimately depends on what you're looking for.
With that, let's dive in.
What is inbound marketing?
Inbound marketing is the methodology of attracting prospects and customers, primarily through online content, engaging with them, and hopefully delighting and satisfying them enough to become customers.
Inbound is a business philosophy rooted in helpfulness, which can extend to inbound sales (handling inbound calls with prospects), and ultimately inbound organizations, where priority is placed on creating positive relationships with both buyers and employees.
Inbound is opposed to interrupting people's lives like with old-school "outbound" marketing strategies.
Instead, inbound relies on producing helpful content to get the right prospects to engage on your site through various downloads and forms, and to eventually make a purchase.
Content, which is typically written with detailed buyer personas in mind, lives on the site, is promoted through search engine marketing, social media, email marketing, and potentially some paid advertising.
At the end of the day, inbound is about being helpful and creating content that helps the prospect make a buying decision.
Blogs, eBooks, online guides, and videos are key tools to accomplish this.
What is They Ask, You Answer?
They Ask, You Answer is an inbound business philosophy characterized by obsessing over answering your customers' and prospects' questions about your product or service in a radically open and honest way.
After all, if more than 70% of the buying decision is made before a prospect ever reaches out to a company's product or service, those things need to be addressed on the site.
They Ask, You Answer can be thought of as a specific type of inbound: it shares some features but ultimately sets a stricter definition for success.
It's focused on creating online content like blogs, guides, and video and incorporating them throughout the sales process.
While the concept of answering customer's questions isn't anything radical or groundbreaking, it was officially named and described in a book with the same name by Marcus Sheridan. This business approach helped Marcus's pool business survive the 2008 recession.
The key to this methodology is building trust by addressing the things that customers want to know, even if it's things that might make the business uncomfortable or topics that traditionally might be thought of as better left until a sales appointment or phone call.
For example, this radically honest approach includes talking directly about who is not a good fit for your product or service, and being open about even the problems or downsides to your offering, and even acknowledging when a competitor's option might be better in specific situations.
Content is used and shared online, and is also actively used by the sales team to help them shorten the sales cycle by assignment selling, or using content to better qualify and educate prospects prior to sales appointments.
Also, the content is designed to catch the bottom of the funnel with prospects that are asking specific questions about a certain product or service, like cost, reviews, comparisons, best-of lists, and problems.
This makes the content immediately useful for sales enablement.
At the core, trust is key.
How are inbound and They Ask, You Answer similar?
Both inbound marketing and They Ask, You Answer are philosophies focused on attraction rather than interruption for business prospects, primarily through online content including written blogs, downloadable guides, or videos.
They both involve search engine optimization and lead nurturing, and embrace helpfulness over salesiness.
Both strategies have a goal of attracting leads and customers and using content to help them along their buyer's journey stages.
At the end of the day, They Ask, You Answer is a specific type of inbound marketing that takes inbound best practices one step further in some distinguishing ways that we'll discuss below.
5 key differences between inbound and They Ask, You Answer
Inbound and They Ask, You Answer both put an emphasis on content and helpfulness, but the main areas they differ pertain to what topics that content includes, who's involved in its creation, how they build trust with it, and how it's ultimately intended to be used within the organization.
1. Core tenets: helpful vs. trust
Both inbound and They Ask, You Answer prioritize helpfulness, the difference is to what degree.
For They Ask, You Answer, it's not enough to just be helpful: the business also needs to be seen as a trusted teacher in its space.
As Eric Dunn, strategic consultant at IMPACT, explains, it's an important distinction to be made:
"I see inbound's fundamental philosophy as being 'helpful' and They Ask, You Answer's fundamental philosophy being 'think like a teacher.' There can be overlap for sure, but They Ask, You Answer digs deeper and asks business owners to step into their buyer's shoes and educate them."
If you think back to your favorite teacher, there's a degree of helpfulness and trust associated with them, in addition to all the additional expertise they provide.
For example, it's normal practice for They Ask, You Answer businesses to write — you read that correctly — write, not bash/downplay/trash-talk, about their competitors honestly and openly, even mentioning their positive attributes.
An inbound company might not see the need to go quite that far with their content.
2. Key parties involved
Inbound marketing can be an initiative owned completely by the marketing team — or can be outsourced to an agency or freelance partner.
Because this is mainly a marketing initiative, there typically isn't much cross-team collaboration required – and for good reason: we all know it can be challenging to get marketing and other departments (namely, sales), on the same page.
They Ask, You Answer is a business initiative that requires heavy collaboration between marketing, sales, and leadership, and focuses on in-house produced content, typically through a full time content manager and full-time videographer.
With They Ask, You Answer, the biggest challenge is typically getting organizational buy-in to adopt the philosophy across the business. When it's just seen as a marketing initiative, there's often no cross-team collaboration to create and use the content.
This is a huge leak in the process and robs most businesses of the hockey-stick growth they were looking for, and it's normally a matter of time before they grow frustrated and abandon the whole initiative.
They Ask, You Answer requires an investment in hiring certain key players in-house instead of freelancing or going through an agency.
3. What content topics are created
Both philosophies also generally have different ways of how their content strategy is decided upon.
With inbound, topics are typically generated by the marketing team. Topics may fit into a broader content strategy based on what will be helpful content, or best suited to certain keywords.
With They Ask, You Answer, the primary focus is sales enablement content that sales prospects are asking over and over again. It's centered around creating content that prospects and customers want to know about, even if it's uncomfortable for the business to address.
Jen Munoz, a strategic consultant at IMPACT, sheds light on this difference:
"In organizations, there is always a tension between what sales want the marketing team to make for them and what the marketing team thinks is best, often skirting the sales team's asks (which may possibly be coming from customer questions!).

They Ask, You Answer is a mindset change for how the sales and marketing teams interact and collaborate on a common goal — opening up to the sales team who are reciting prospect feedback constantly and needing the marketing team to support these queries."
At the end of the day, businesses adopting They Ask, You Answer lean heavily onto their sales team members to determine the direction that the content strategy needs to go to best serve their prospects and customers.
4. How content is used
Content is also used somewhat differently by inbound and They Ask, You Answer companies.
With inbound, content may be promoted via social media, email newsletters, and perhaps paid advertising.
All of the above also applies with They Ask, You Answer, but there is additionally a heavy focus on assignment selling and getting content into the hands of sales people as a sales enablement tool.
Jen explains this: "Inbound is a marketer's game, but They Ask, You Answer is about how the sales team uses that inbound content to make sales and for the website to convert traffic."
Content that's not being actively used in the sales process hints that the team isn't fully on the same page about why the content was created in the first place.
That's why They Ask, You Answer requires such a high standard for what cross-team collaboration and buy-in is required for success.
5. Important metrics and gauging success
While both philosophies rely on metrics and often utilize a platform like HubSpot to track contact engagement, the way of gauging that success may be slightly different.
With inbound, page views, sessions, social media engagement, keyword rankings over time, and form submissions are often given priority of importance.
As IMPACT's strategic consultant Gemi Hartojo mentions, however, these can sometimes be "vanity metrics" that don't actually help move the needle or tell the full story of what's happening for the business.
Now don't get me wrong: These metrics also have a place with They Ask, You Answer, but there's more of an emphasis on getting unqualified leads out and qualified prospects through the funnel faster.
In other words, the focus is on sales spending less time with bad fits, and making their time with good fits even more efficient.
For this reason, close rates for salespeople are important metrics to gauge success with The Ask, You Answer, as well as tracking (when possible) the specific content viewed along prospect's buying journey.
Wondering if They Ask, You Answer is right for your business?
At the end of the day, inbound and They Ask, You Answer aren't opposing forces or alternatives, rather, they're steps along the way to a journey of building a better relationship with your customers and prospects.
While They Ask, You Answer comes with its own challenges and unique difficulties, we see the great results it can bring when businesses do it right.
But it's definitely not the best fit for everyone, as it really requires a company-wide dedication to building trust with your prospects, even when it can be uncomfortable, scary, and counterintuitive.
Our consultants work with business leaders every day to specifically identify the things holding them back from building trust with their prospects so they can ultimately achieve the success they're looking for.
If you're wondering if They Ask, You Answer is the right methodology for you, check out this Scorecard in IMPACT+, our online learning platform, to see where your business ranks when it comes to building trust with your prospects.
Free Assessment:
How does your sales & marketing measure up?
Take this free, 5-minute assessment and learn what you can start doing today to boost traffic, leads, and sales.