8 Types of Lead Magnets Guaranteed to Convert More Traffic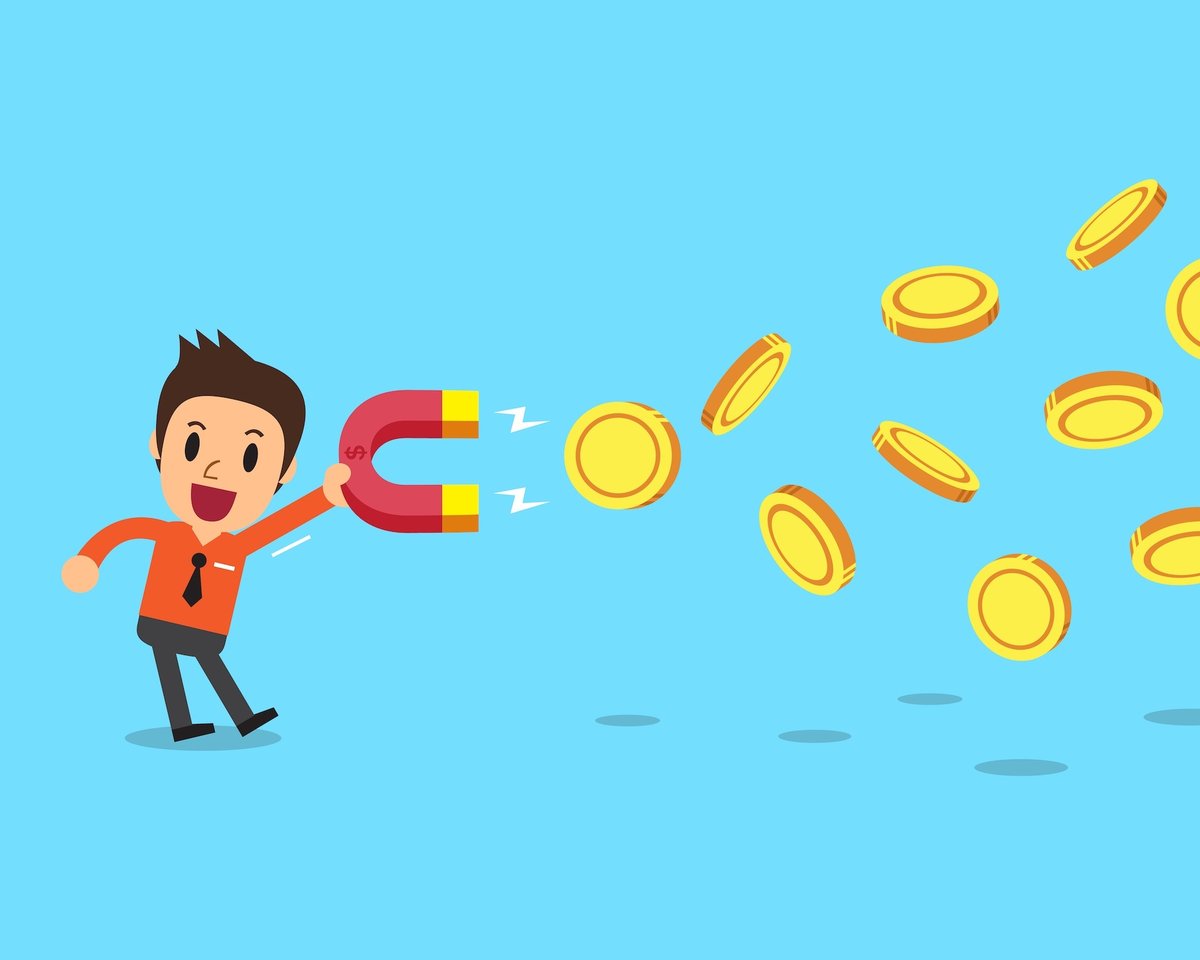 As content marketers, we have three main goals that fuel all of our efforts: drive new and returning traffic to our website, convert that traffic into leads, and nurture those leads into becoming customers who are excited about our brands' products and services.
In order to accomplish these goals, we need to first create quality, educational content that visitors love. Through our blog articles, website pages, and social media posts, we attract strangers to our site, give them answers to problems they're experiencing, earn their trust by providing them with helpful content, and hopefully gain new customers who love our products and services.
In many ways, the online relationship between brand and consumer parallels that of people looking for relationships online: you come across someone's dating profile, like what you see, learn a few things about them, start thinking "maybe they're the one," so you contact them to propose you get married.
Wait! What? Get married? Already? It kind of seems like a few steps were left out of there. Where was the first date? Where were the romantic gestures? Where were the arguments over where to eat for dinner? Where were those whole "getting to know each other steps?"
Why Lead Magnets are Important to Content Marketing
If you think it's crazy to make the leap from just being introduced to someone you think you could marry to immediately meeting them at the alter, vows in hand, then why is it acceptable in our content marketing efforts to skip right to decision stage offers without having our customers get to know us while we get to know them?
This is a problem we see time and time again in brands' marketing efforts: companies putting out amazing articles and videos their visitors find valuable, only to have a CTA for an offer at the bottom that jumps right into "Get a Free Consultation" "Get a Quote" "Take this Trial" "Purchase this Service NOW."
Sadly, too many companies have the end goal in mind without thinking about what the consumer wants out of the relationship. Maybe they want to be wooed just a little. Maybe they'd at least like a first date where they can really start to get to know you. Maybe they want to see your house before they move into it. In short, there needs to be more lead magnets targeting the awareness and consideration stage of the buyer's journey before we ask them to join us in holy consumer matrimony.
And if you need a refresher on The Buyer's Journey and what these stages are, check out this article by HubSpot.
All too often we see companies with killer content and very little to no awareness stage offers. When pressed as to why their websites are lacking this type of content, they usually say they didn't know they needed to have any, or that they don't know what they could be promoting that visitor's would like to see. They have grown so accustomed to getting married everyday (either because they're polygamists or because this analogy isn't perfect) that they've forgotten how to date and woo their consumers.
In this article, we're going to show you 8 types of awareness stage offers that are amazing lead magnets. Or to continue with the relationship metaphor, we're going to show you how to take your consumer on a first date so amazing they'll want to brag to their friends about it and say, "I think I just found the company for me."
And, to be fair to those that worked to create these pieces of content, we will mostly be talking about the types of offers and looking at landing pages for the content offers (unless they don't require you to fill out a form for their content). If you really want to see the offers themselves, you're going to have to fill out a form and let them take you on that first date. Prepare to be swept off your feet.
1. Checklists
Checklists are among the easiest and most helpful pieces of content you can create. They give your prospects an actionable list of things to do or points to consider when researching the problems they are looking to solve. In many cases, they can be condensed versions of the lengthy article of yours that they just read.
Let's say you're trying to buy your first home. You're in the dark as to the process. What steps do you need to take? What order should they be taken in?
Wouldn't it be nice if you had a quick and easy checklist to help you stay on track as you shop for your dream home?
This checklist makes the buying process so much easier when it's broken down into a visual format. You can save it to your desktop or print it out and tack it to your fridge.
Checking each box off as you go will help you feel closer to accomplishing your goal of buying a house.
Need another example of a checklist? Take a look at one of our very own: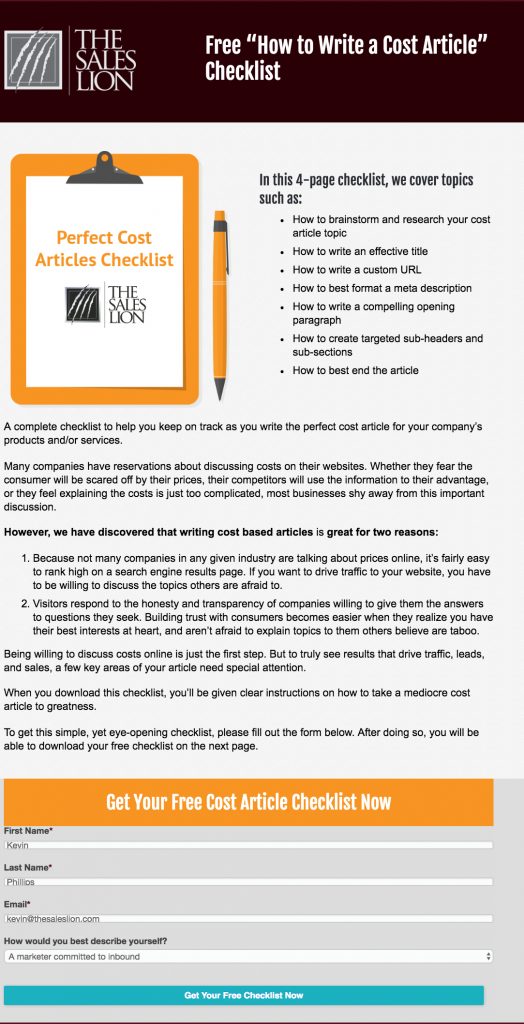 This checklist came at the end of a fairly long article (over 3K words). Nobody in their right mind is going to be able to remember all the tips and tricks we gave, so we created a downloadable checklist that condenses all of the most important information discussed.
This way, when you're out writing your own article discussing the costs for your product/service, you can make sure you're getting the most SEO and user experience value possible by referencing the checklist.
Sure, it's kind of like taking your date to Chilis for the first time you get together, but it's cheap, easy, and as long as the conversation is good, it will be worth it to them.
2. Guides
Content that takes a little more effort to put together would be information guides and buyer's guides.
In these guides, you're helping somebody make a more well-informed purchase decision by putting all of the most important information they'll need in a downloadable PDF.
Let's say you're thinking of getting a new car, and you just read an article explaining your various finance options. Through this article, you're now thinking that maybe instead of purchasing a vehicle, it might be better for your situation to lease a vehicle.Wouldn't it be helpful instead of going back to Google and researching all of your vehicle lease options that there was an offer for a guide explaining those options? Our friends at OSV had a feeling you'd appreciate that kind of info (and they also have a huge selection of guides on all things related to car financing.)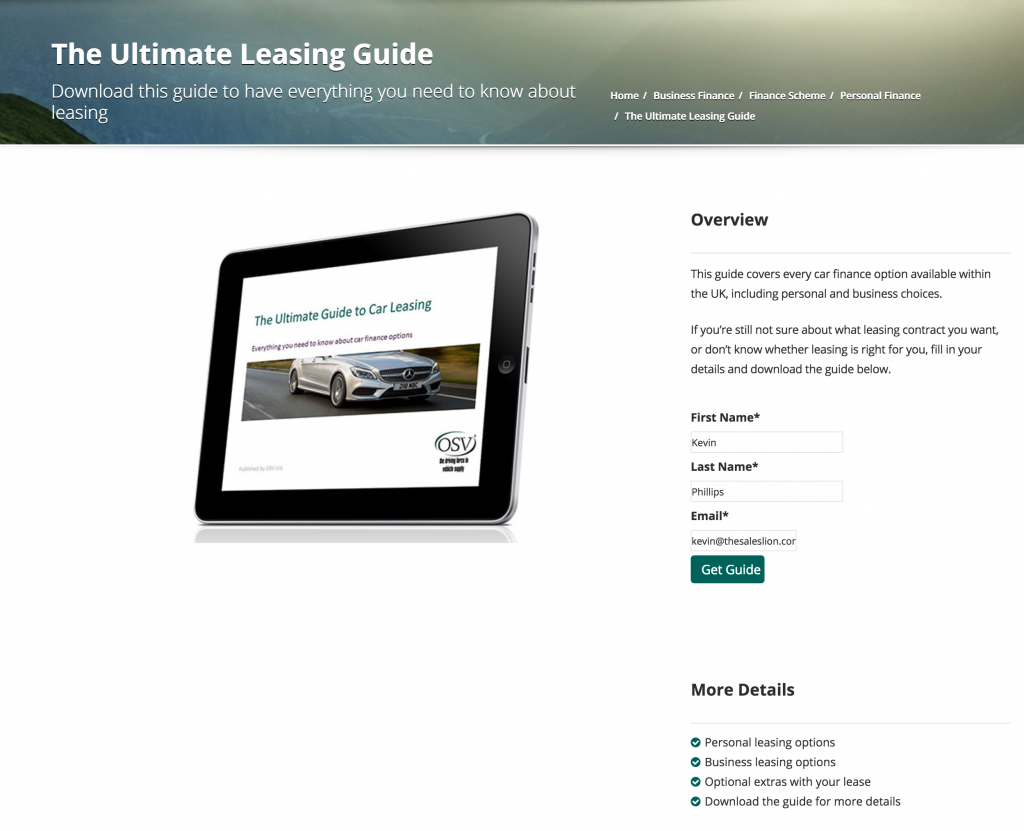 After taking a look at this 21-page guide, you should have a much better idea of all of your personal leasing and business leasing options as you select your brand new car.
Another great type of guide you can create is a buyer's guide. Do you have an awesome product you'd like your buyers to know more about? Why not put everything a consumer would need to know about purchasing that type of product in a helpful buyer's guide (not information about the product itself, that comes later in the Decision stage as a product spec sheet).
If you want to see a buyer's guide done right, download this guide on CT Scanners. It's jam packed with essential information for purchasing a CT Scanner for your hospital or medical practice including topics on what type/model might work best for you, how much you can expect to pay for a new or refurbished scanner, and what you need to know about warranties and additional software you might need.
And, even though we're not talking about landing page best practices, take note of how they used a video to further entice you into downloading their guide.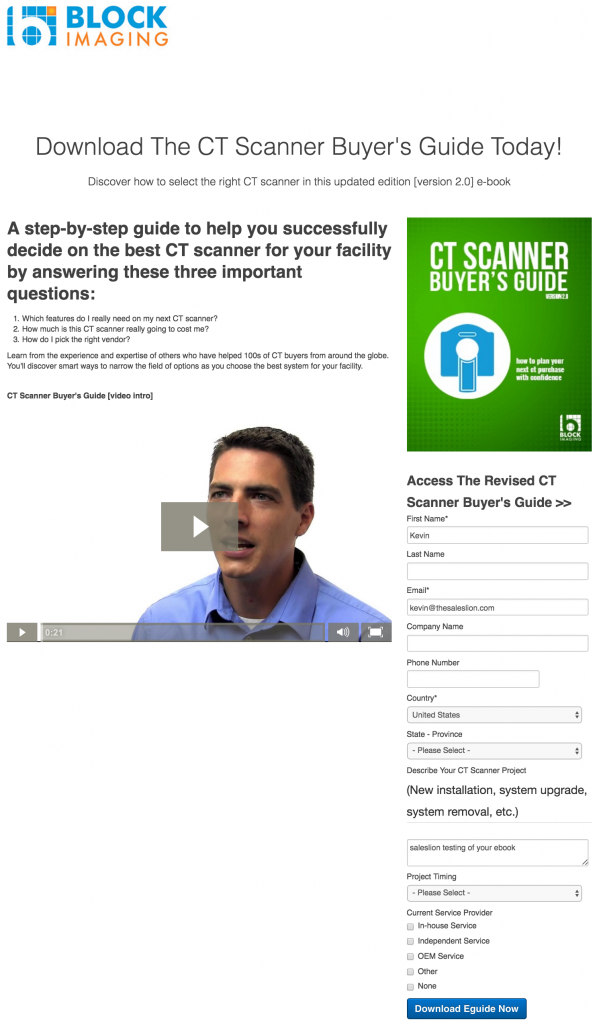 3. Ebooks
Creating an ebook is pretty similar to creating a guide. In fact, we're not even sure there's a major difference between the two other than the name. Both are jam packed with information about a particular topic meant to help you make the best buying decision possible. If you look at the following example, you'll see that it uses both "ebook" and "Guide" in its title. So why did it make this list? So you couldn't look at this article and say, "why weren't ebooks on the list" or "why weren't guides on the list?" And to just give you a few more examples to download great content to help you create some killer ebooks or guides yourself.
Here's an awesome ebook from our friends at Pro Lessons on everything you'd need to know about purchasing your first guitar: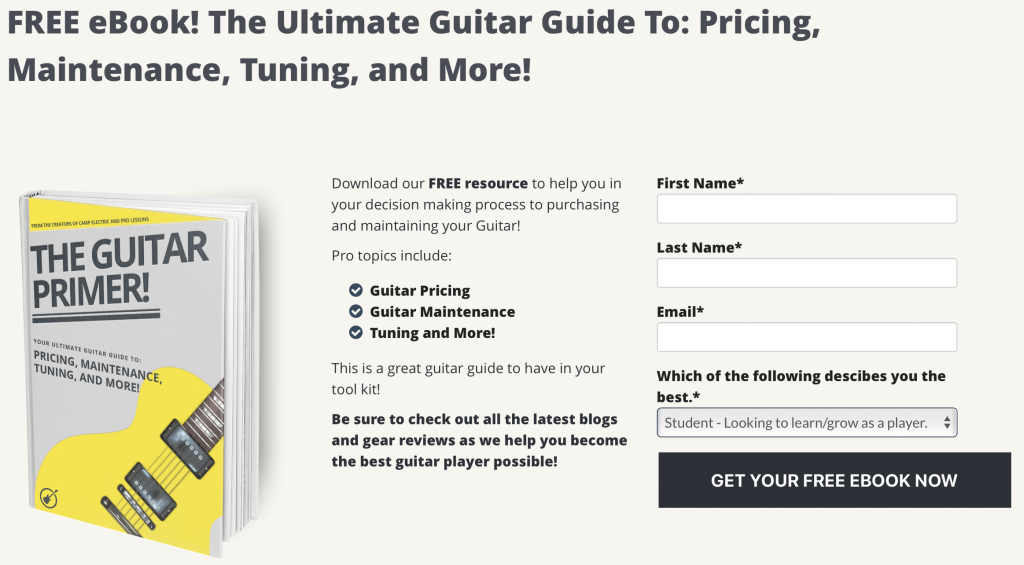 Here's a pro tip for those folks struggling with creating an ebook: If you've written at least 5 articles on a particular subject, you probably have enough information for a comprehensive ebook (especially if you've written articles based on The Big 5). Simply take the most important elements from each blog article, put them in a logical order, create or use a prepackaged template, and presto: instant ebook.
This makes it easier for your audience to get all of that information in one place, rather than have to chase down each article you've written, or worse, read one article of yours and then go back to Google to look up more info that you had, but they didn't see.
Ebooks and guides are like taking your date to a nice restaurant. The kind you make reservations for a table, not the kind you are given a buzzer to alert you when a table is ready. They're classy, but not over the top.
4. Combo Offers
What can you do if you have two (or more) great offers that just aren't generating the amount of leads you feel the content warrants? Sure, you could go back and rework the content, check to see if there's any issues with your landing pages and CTAs, or you might just scrap them altogether (just kidding. Do NOT do that).
This is the exact problem The American Business & Technology University (ABTU) ran into when promoting two separate pieces of content geared towards active duty military members & veterans looking to use their GI Bill for school. Rather than go back to the drawing board when these two pieces of content weren't performing as well as hoped, they decided to combine the two offers.
You can check out the offers yourself here.
You might not be persuaded by just dinner or just dancing. But dinner and dancing. Who can resist?
5. Gated Long Form Content
Let's say you wrote an exceptionally brilliant article on a topic. Your Magnum Opus of blog articles, if you will. We're talking over 5,000 words about everything you could possibly need to know about a topic. You know the value your audience will gain from reading it, and you want to put it out there so it's easily found through search, but you still want to capture leads with it.
How could you possibly turn a blog article into a premium lead magnet?
Well, we set out to answer that very same question with our article, The Ultimate List of HubSpot Pros & Cons.
When you land on the article, you get the first 1,800 words for free, but to access the other 3,400 some odd words, you're going to have to fill out a form.
By this point, a prospect will be able to judge by the quality of the first 1,800 words if it's worth giving their information for the rest of the article.
Getting back to the dating metaphor for a second (we know you've been wating for it), this is like driving to dinner separately, and after, asking your date if they'd like to jump in your car to head to the movie together. By this point, your date will know if it's time to bail or continue getting to know you (trust me. It's exactly how my first date with my wife went. And it was at a Chilis, so yes, checklists work just fine).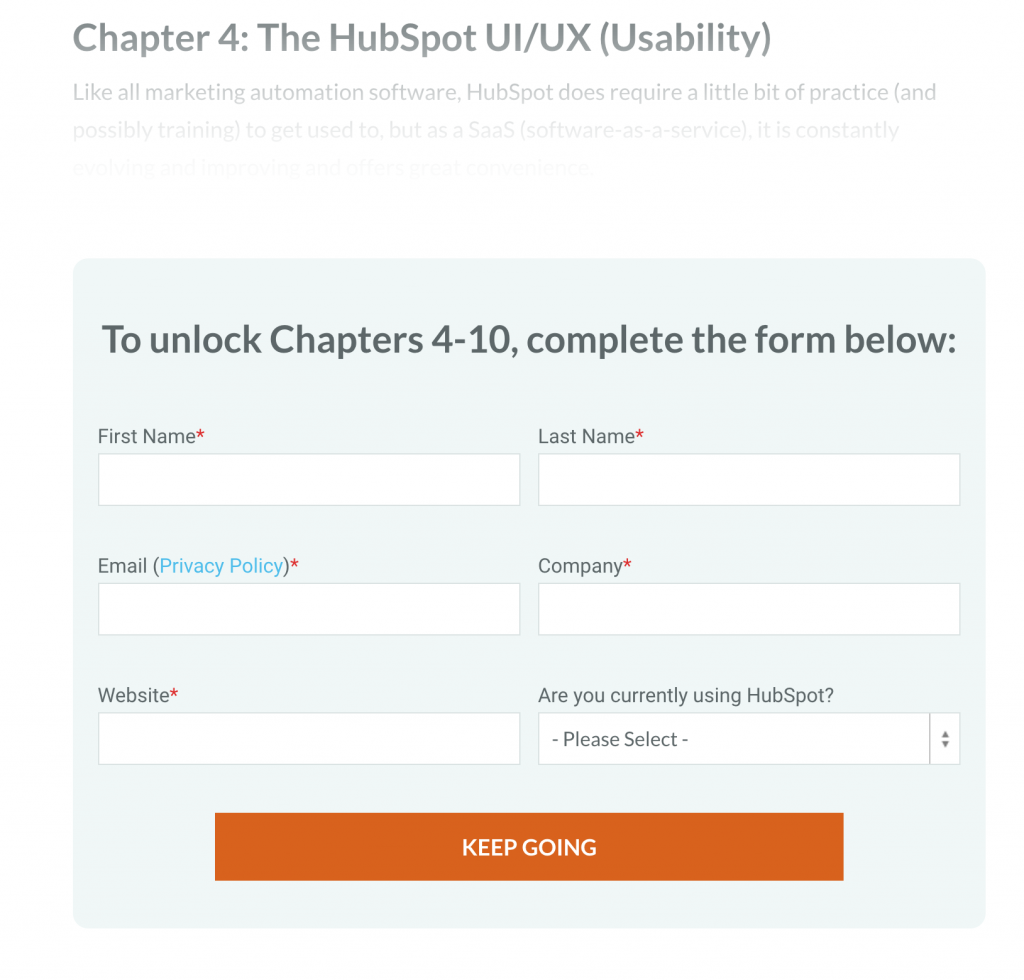 6. Turnstile/Gated Video Content
Does your company produce incredible video content? Would you like to know how to turn those videos into lead magnets? Try using turnstiles in your videos to generate more leads. Turnstiles can be tricky to use, so use them at your discretion, and check your metrics every now and again to determine their effectiveness.
In short, turnstiles can be put in the beginning or somewhere in the middle of a video. It's a way of saying to the viewer either A) To watch this video, please let us know your name and email address, or B) If you want to continue watching this video please give us your name and email address.
If you use turnstiles at the beginning, your viewer should probably already know that the content of the video is something worth watching, otherwise you'll see terrible metrics of very few people signing up to even start. Using turnstiles mid video can also be tricky as it does interrupt their viewing pleasure. However, if they really dig the content, they'll be willing to give up a little information about themselves to finish.
Pro tip: if using turnstiles mid video, make it optional to NOT give you their information. Allow them to skip the turnstile (you can always use a CTA at the end). They could end up feeling cheated after enjoying the first 20 minutes only to be told they have to give you a kiss if they want to finish their meal.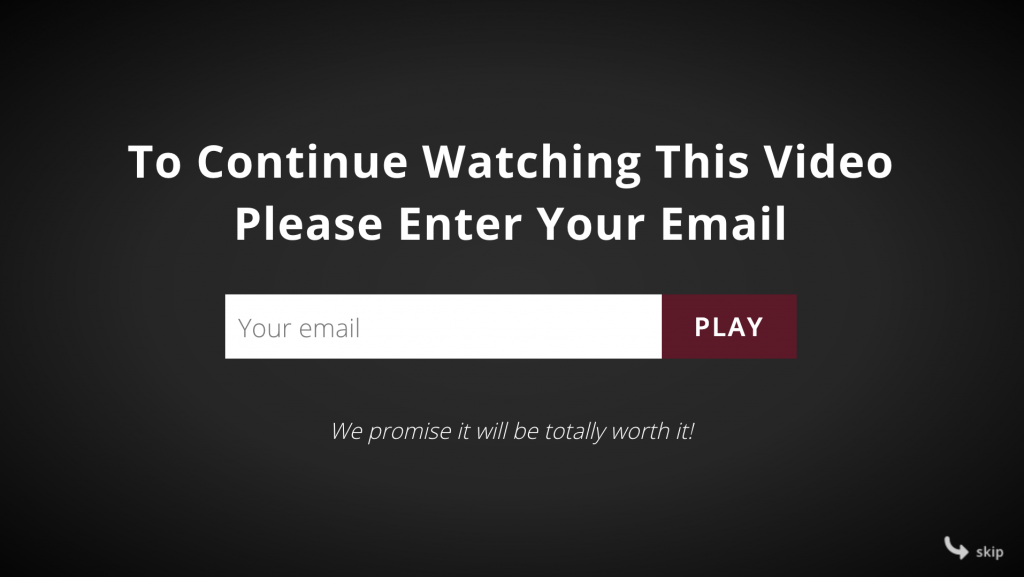 7. Live Chat
Have you considered using Live Chat on your website? What better way to connect with prospects in the moment, than allowing them the option to talk with someone at your company right then, at their convenience.
We recently started using a Live Chat messaging app from Drift.com and it has already proven its worth. Visitors to the site can read an article, and rather than have to send us an email with their questions they can get immediate answers.
And with Drift, we've found it incredibly easy to get back to prospects in a timely manner as it integrates with Slack, HubSPot, Wordpress, Zapier, and more. So even if you're away from your desk at the moment, you'll get a notification that there's a prospect asking questions, and you can send them a quick reply as you sprint back to your desk. And when you capture their email address, you can always get back to them later so that you never lose a lead.
In a lot of ways, live chat is kind of like speed dating (I think. I never really tried it): your date gets to sit right in front of you as they quickly rattle off everything they're looking for in a company. If you've got the goods, they'll ask for a second date. If you don't, they move on. You really have to be on top of your game for this one.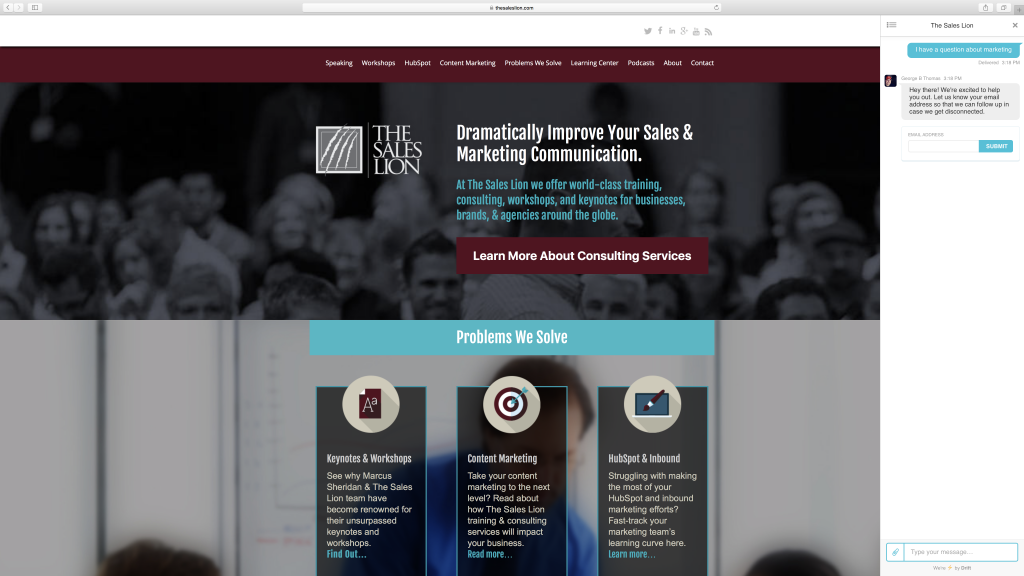 8. White Papers
White papers are a little old school and have, in many ways, been replaced by the sleeker, much cooler ebooks and guides. White papers are kind of like formal college research papers. They're very well researched articles with lots of supporting documentation. They're not often light and fun like blog articles and other content offers, but kind of stuffy and dry. However, the information within can be very valuable to prospects that want to move past the fluff and dive right into the nerdiest of answers to their questions.
If you're going to force us to come up with a dating analogy, it's when you and your date move right past all the typical first date talk (the weather, favorite movie, etc) and dive right into the important questions (family life, life goals, do you want kids?)
For an example on white papers, we're going to turn to the masters of inbound marketing: HubSpot.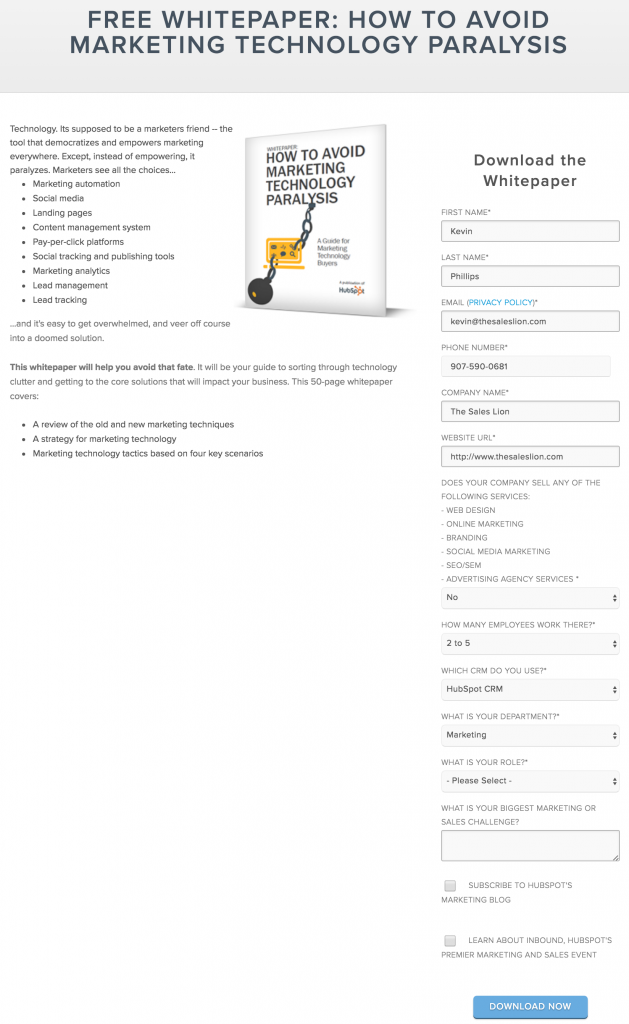 Well there you have it folks, 8 lead magnets to help you capture more leads and look less like a creep who asks to get married on the first date.
And don't forget: these offers aren't just important for your prospects. They're great for you too.
As they're filling out the forms to get your offers, you're able to ask them questions about themselves that will help you decide if they're a good fit for you.
Your ideal partner shouldn't simply be someone else who wants to get married as much as you do. Ask questions in the forms (either here or on the second date) that help you determine if they're a good fit for your business.
You should want to focus your follow up dates on the prospects you really want to do business with, and not drag along prospects that it would just never work out with. Awareness stage offers is where both parties can get a sense if there will be nuptials said down the line.
Free Assessment:
How does your sales & marketing measure up?
Take this free, 5-minute assessment and learn what you can start doing today to boost traffic, leads, and sales.