Online course: How to create a video sales and marketing strategy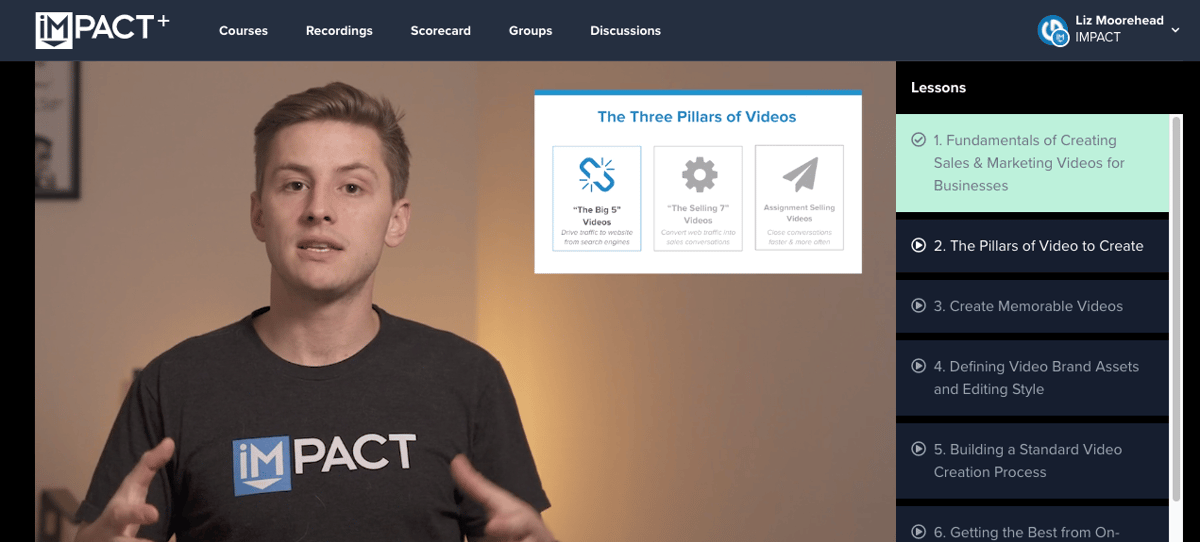 Welcome to the year 2020, where all of us digital marketers, business leaders, and sales pros must agree on the following three statements:
If you're not using video as a core part of your content marketing strategy, you're doing it wrong.
If you're not using video on your website in specific and strategic ways, you're doing it wrong.
Finally, if you're not using video in your sales process, you're doing it wrong.
That's right, if you want to increase revenue through sales, as well as traffic and lead generation through your marketing efforts, you must absolutely and unequivocally embrace video.
Period. Full stop.
Why you need video in your digital strategy
Now, there's a solid chance you read the three statements above and thought to yourself:
"Liz, you're a great gal — you've got moxie, you're a laugh riot, and you're an absolute whiz when it comes to wrangling commas. But right now, video sounds like a nice-to-have rather than a need-to-have in our digital strategy. Quite frankly, we've got bigger fish to fry."
As someone who has admitted... let's say a "distinct aversion" to being on camera in any way, shape, or form, I have two things to say to that:
I hear you, and I understand why you might feel that way — especially right now, when you can only focus on the activities and efforts that are proven beyond the shadow of a doubt to work.
You need to trust me when I say video is one of those "mission critical" initiatives for your business. I guarantee if you do video for sales and marketing the right way, you will see incredible results.
For example, here's a quick overview of how video is proven to shorten the sales cycle, so you can close more deals faster:
See? I wasn't kidding.
And, in the wake of the coronavirus (COVID-19) pandemic, video is now more important than ever to bring in-house as part of your digital sales and marketing strategy.
But how do you do it?
I'll be honest, I've always been frustrated by the lack of succinct, self-guided digital training options around video for sales and marketing.
Well, until now, that is...
Finally, a painless way to learn the right way to do video for your company
Will Schultz is one of the lead video trainers for our clients here at IMPACT. You may remember him from greatest hits such as:
Now he's back with a brand new course in IMPACT+ (available with a pro account) that will teach you everything you need to know about building a scalable and sustainable video sales and marketing strategy!
He'll also teach you how to setup the infrastructure you need within your company to make the video sales and marketing magic happen.
What does this video sales and marketing strategy course cover?
Look, I know a lot about commas and zilch about video, so I'm going to let Will's course introduction video do the talking...
Looks amazing, right?
Well, if you want to gain access to the rest of the sessions, create a pro IMPACT+ account — $99 per month. Although there are a bunch of courses available with a free account, as well.
What you will learn in this course
The fundamentals of creating sales and marketing videos for businesses.
The three video "pillars" (video categories) you need to create to drive traffic and revenue, and empower your sales team.
How to create videos that are not only educational, but also memorable.
How to define the brand assets and editing style that's right for your company.
How to build a standardized video creation process.
Finally, how to get the best out of your on-camera talent in a way that makes them feel comfortable, confident, and ready to create more videos — even if they loathed the idea of getting on camera.
Now, go forth, create your pro IMPACT+ account, and build the video sales and marketing strategy that will empower you to crush your most audacious goals
Free Assessment:
How does your sales & marketing measure up?
Take this free, 5-minute assessment and learn what you can start doing today to boost traffic, leads, and sales.