3 ways sales pros can make a great first impression (while selling virtually)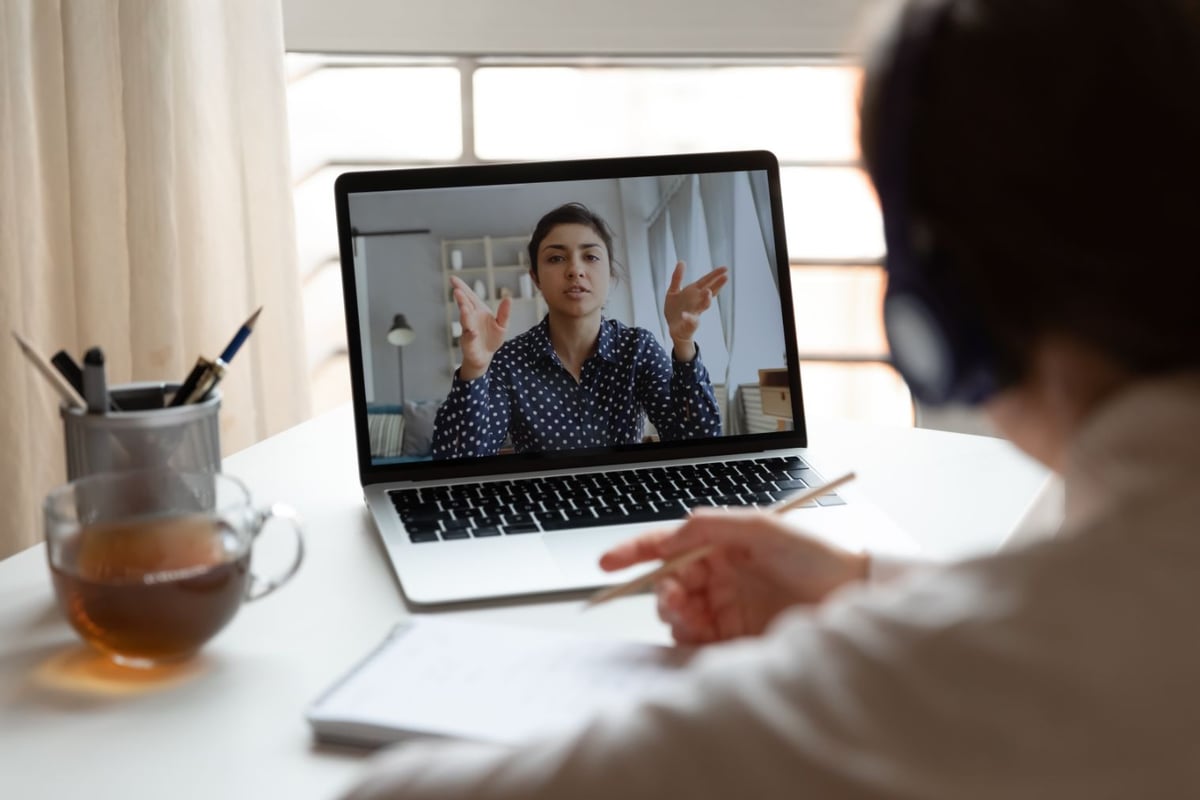 Do you know what people think of you when they meet you for the first time? Is there a difference between making a good first impression online versus in person?
It only takes a few seconds for someone to form an impression of you. In fact, most people form an impression within seven seconds and can make accurate judgments of others within one-tenth of a second.
That means there's A LOT riding on your first impression.
But, here's the good news: You have control over the first impression you make.
The role of virtual selling in how sales professionals are strengthening existing relationships and building new ones has never been more important.
This ability to adapt to, and overcome, significant change – like a lack of in-person contact – has become a competitive differentiator in sales.
Today, I want to share three ways you can make a powerful first impression while selling virtually.
1. Brush up on your virtual etiquette
The majority of your meetings are now being held virtually.
On the one hand, virtual meetings are great for the sake of efficiency. You save time by eliminating the need to travel to and from the venue.
On the other hand, virtual meetings aren't the same when it comes to relationship building. It's much more challenging to establish rapport and trust. This means creating a great first impression is essential to elevating your virtual meetings, and ultimately, your success as a sales pro.
But, how do you do that?
Whether it's a video or phone conference, there are certain elements and etiquette you HAVE to consider before you connect with your audience.
When you're meeting in-person, these "rules" seem obvious. In an online meeting, it's easy to get distracted or think someone won't notice as you scroll through your newsfeed or answer a quick email, but trust me, they do.
When in doubt, just practice common courtesy. People want to be heard, seen, and respected during an online meeting—just like they do everywhere else.
Here's a full checklist for your video sales calls and meetings but I want to emphasize the following:
Turn your video on and look into the camera
Introduce everyone during the meeting, and give everyone a chance to contribute
Bring energy and enthusiasm to the meeting
Pay attention to the tone of your voice
Notice your body language and facial expressions (Smile!)
Don't multitask
Turn off your notifications and silence your phone
Don't stare at your phone while other people are presenting
Don't interrupt other people when they're speaking (or attempt to speak over them)
While different meetings will have different "rules," these are some basic practices to create a smooth online meeting experience and create a positive impression.
2. Review your digital footprint
In today's digital world, a first impression doesn't start the moment you meet someone. It started the minute you created an online presence.
Long before you ever find yourselves face-to-face, it is common in the business world to do a quick Google search about the people you're about to meet.
So whether it's LinkedIn, Facebook, Twitter, Instagram, YouTube, your blog, or website, you are creating a brand for yourself and what people can expect of you on these platforms.
Are you proud of what you're putting out there? Will it create a good professional impression?
Your reputation as a sales professional isn't just based on what people say about you, it's also what your digital footprint says about you. It can make the difference between prospects responding or passing you over.
This is especially true for LinkedIn and B2B sales.
Did you know that 49% of buyers research sales reps on LinkedIn and 50% avoid reps with incomplete profiles?
That's why you need to ask yourself if your profile is in ship shape.
Your LinkedIn profile picture is one of the biggest opportunities to make a strong visual first impression. Top sales professionals use these best practices to make their profile pictures shine:
Dress appropriately for your role
Wear attire that's complementary to your complexion
Smile genuinely to appear approachable and confident
Use a clean, appropriate background
Make eye contact
Wear minimal jewelry, buttons, and headwear
Likewise, your headline (that line of text that appears just below your name) is another prime area of real estate on your profile. Write an attention-grabbing tagline that compels prospects to learn more about you. Use this space to differentiate yourself and showcase the value you offer buyers.
For example, if you write: "Sales Director at ABC Company | Empowering small businesses to grow online," you're offering two crucial bits of information. First, your job role. Second, your experience and goals, empowering small businesses to grow online.
You need to use an intriguing statement that makes the buyer wonder how you can help them, which then gives them all the more reason to connect with you.
To stand out from the crowd, select a profile picture that makes you shine as well a strong headline that shifts the focus away from you to the buyer.
Done right, you'll ace that first impression.
3. Rethink how will you start the meeting
At the beginning of a virtual meeting, there's a certain level of uncertainty or awkwardness.
Can everyone hear me? Who should speak first? How much small talk is right? When should we get down to business?
Part of your job as a sales professional is to put your prospect at ease.
You can't let small talk drone on and on, but you need to replicate the same kind of human connection you get during an in-person meeting.
Asking "how are you?" seems like an appropriate question, but it's boring and typical. And, you're likely to get a default response like "fine, how are you?"
Sure, you could ask that but it doesn't exactly open up the conversation or create a good initial impression, does it?
Instead, consider asking a question like: "I see you're located in Pittsburgh, I'm taking a trip there in a few weeks. Do you have any recommendations for things to do or see?"
This type of open-ended question prompts an interesting response. It also demonstrates you've done a little bit of research and you're genuinely interested in what they have to say.
You could also consider these alternatives for opening your meeting:
"I was looking at your LinkedIn company profile, and saw that one of your major projects this year is … " Referencing their LinkedIn page and company goals proves you're interested in discussing something of value to them rather than just pushing your products and services.
Has this been a busy time for you? I don't always like to ask people about being busy, but I use this conversation starter if someone seems distracted or not engaged. Sometimes acknowledging their busy-ness can hook them in and get them to open up.
"One of my clients, [name] at [company], mentioned to me you are [looking for, might be a good fit for] … " Talking about a mutual connection gives you instant credibility. Your prospect will be curious to know why her contact thought she might need your product or service.
In virtual meetings, there are fewer opportunities to interject your uniqueness, your essence, your emotion — the parts that make you human.
Finding a way to create that human connection with your buyer will help you set yourself apart from other sales professionals who are more concerned with closing the deal than opening the relationship.
More than ever, buyers value trusted relationships.
People form an impression of you even before you open your mouth, but carefully considering your opening line will determine how you will be remembered.
To make a great first impression when meeting virtually, or in any setting for that matter, you need to immediately add value and engage the listener.
First impressions matter
You know this. It's no stunning revelation. But the stakes are reaching new heights, as buyers have more options and are less patient than ever.
As a sales professional, you not only represent your professional brand, you represent your company's brand. You're an extension of the product, service, or solution.
This makes it even more important to be thoughtful about what you say and do during meetings, how you present yourself online, and why your buyers should be compelled to listen to you.
There's definitely a difference between in-person meetings and virtual meetings, but one thing is for sure, people are still making a snap decision about what they think of you.
There's a lot that goes into making a good first impression. We want to help you make it count.
Join us on Thursday, September 24th at 1 pm ET for a 60-minute virtual workshop that teaches you a formula for success when meeting new prospects and clients.
Bonus! IMPACT readers get to join for FREE when you register here.
Free Assessment:
How does your sales & marketing measure up?
Take this free, 5-minute assessment and learn what you can start doing today to boost traffic, leads, and sales.