Virtual Selling: Video Sales Call Prep Best Practices (+ Video)
Taking sales conversations, brick-and-mortar purchasing, and showroom experiences all virtual are massive challenges. But for video sales calls, specifically, the key to successful adaptation to this new selling medium is all in preparation.
Liz Moorehead also recommends this free course: Fundamentals of Virtual Selling.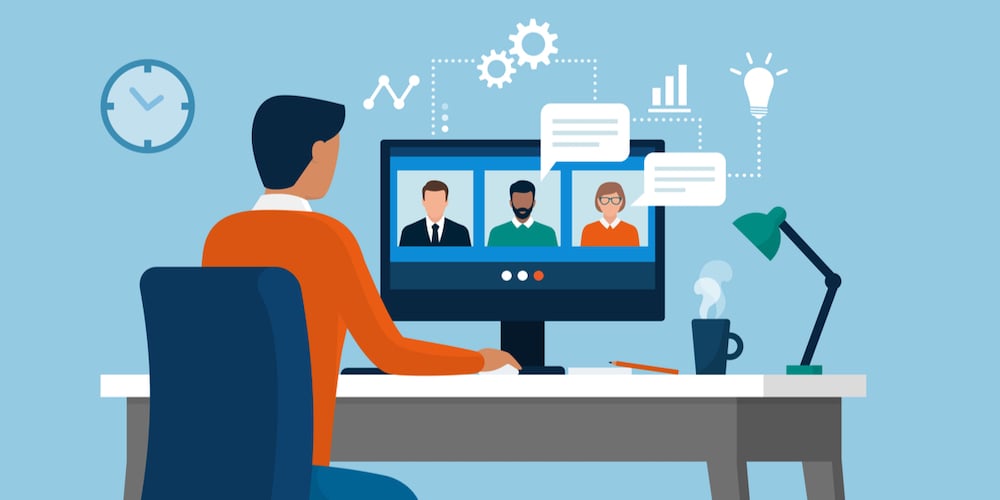 How should you prepare for a video sales call?
Taking sales conversations, brick-and-mortar purchasing, and showroom experiences all virtual are massive challenges. But for video sales calls, specifically, the key to successful adaptation to this new selling medium is all in preparation.
But how do you prepare the right way for a video sales call? You're in luck, that's exactly what we're going to uncover together in this video.
Now, let's dig more into the details
Ah, video sales calls.
Pro Course: Fundamentals of Virtual Selling
They are no longer the future. They have been the present day reality of sales pros like you for awhile now and have been since... well, since we all were forced via coronavirus quarantine to become the best of friends with our houseplants, cats, dogs, birds, partners, spouses and children, 24 hours a day, seven days a week.
It's been a real hoot adapting to all of these changes, am I right?
Taking sales conversations, brick-and-mortar purchasing, and showroom experiences all virtual are massive challenges. But for video sales calls, specifically, the key to successful adaptation to this new selling medium is all in preparation.
🔎 Related: 8 virtual sales call best practices you need to know
And that's exactly what we're going to be talking about today — every single thing you need to do to prepare for a video sales call, so you can maximize your chances of closing more deals faster, even in the age of COVID-19.
First, you need the right video sales call equipment and setup
Before you book your next video sales call, you need to get your virtual selling equipment house in order, and those fall into two categories:
The video sales call equipment itself
Your space and physical location
You can't bank on your winning charm alone to close a deal.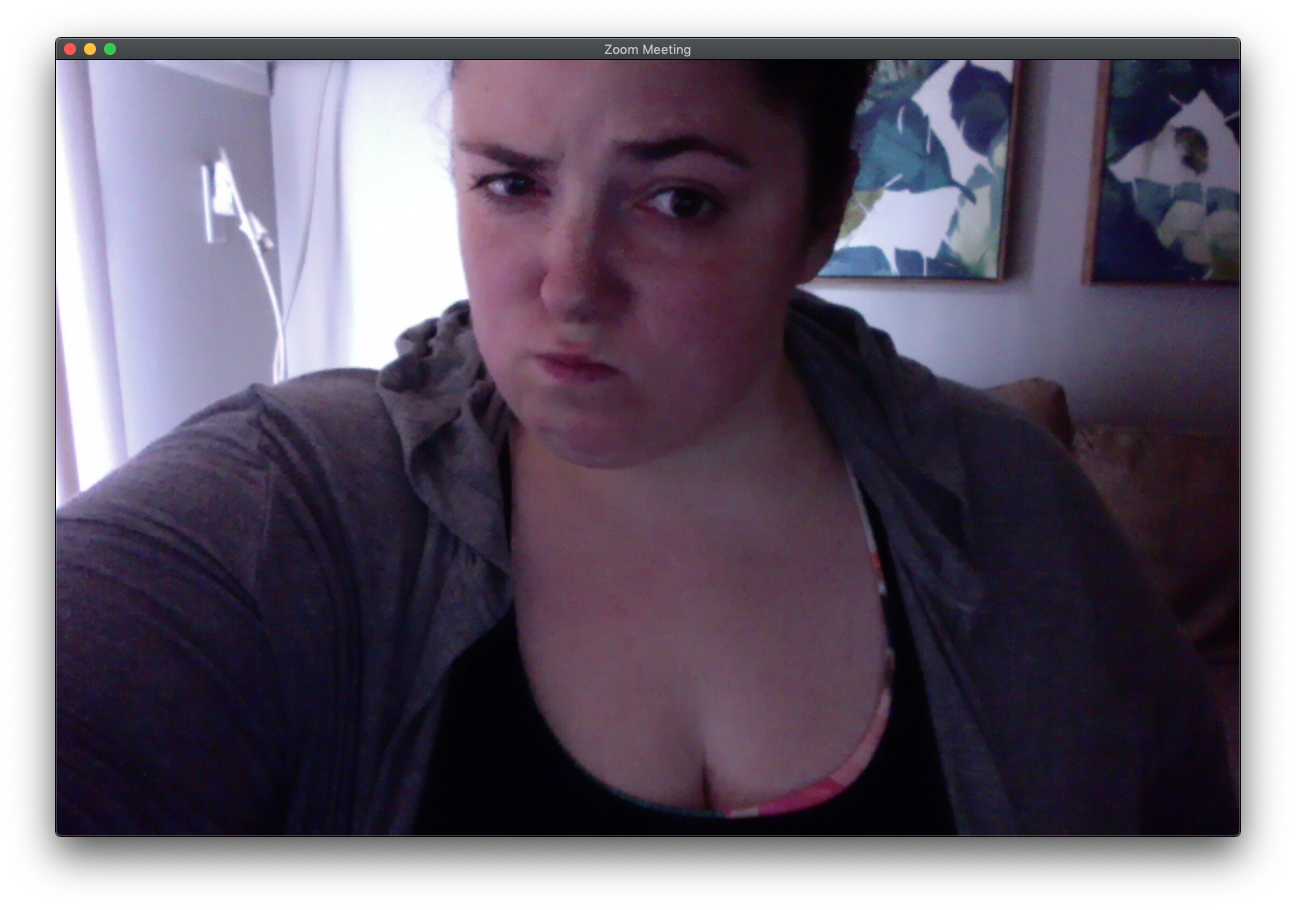 You can't charm your way out of bad lighting.
And although all of us are likely a little more forgiving of this "new normal" of having to work from home, you should still be doing all you can to mitigate interruptions and put your best virtual presentation foot forward.
Video sales call equipment
The categories of video sales call equipment you need are:
The right desk
We recommend a standing desk, as you tend to put forward a much more natural, organic, welcoming posture when you're standing during your sales calls. If you're someone who likes to stand for sales interactions and sit for general behind-the-desk work, don't worry. Most standing desks have a mechanical or manual way to lower and raise your desk. Alternatively, you can go for desk riser that you can put your computer on only for moments when you need to have the standing position during a sales call.
Great lighting
This can be accomplished by buying a webcam that has a light attached to it, positioning your desk near a brightly lit natural light source, or a standalone lighting attachment for your computer. Regardless, you need great lighting that is consistent, bright, and not too washed out. So, test out your setup in advance and get the lighting just right. That way you're not doing so before the call.
High-quality camera solution
This may be the built-in web camera on your computer, or you may want to invest in a separate web camera. (Some folks on our team have a DSLR-esque setup, while others — due to great lighting or other factors — can rely on their system camera or a web camera like one from Logitech.) Your video should be crisp and clear, not something that looks like you're coming to someone live from a cave in the moutains.
Crisp, clear audio
Again, your built-in computer microphone may work just fine. But if you have a busy household (or have any general concerns) invest in a great mic or headset solution. For example, I love my Blue Yeti microphone. I've been using it for years, and have had zero complaints.
Reliable video conferencing solution
We love Zoom, as do many others. But there are a ton on the market, so find the one that best meets your needs... and is also super user-friendly, so your prospects don't need to be experts in order to use it.
Stable internet connection
Steady streaming of high-quality audio and video simultaneously requires a strong internet connection. You may need to shell out extra bucks to meet your new bandwidth requirements, but it'll be worth it. No one likes getting the dreaded "internet connection unstable" error during a call, or hearing that you've frozen and no one can hear you anymore.
🔎 Related: 6 essential video sales call tools and tech you need (+ examples)
Your space and physical location
Look, I know we're all limited when it comes to our locations. We don't always have a choice. Still, I don't care if you're going to be broadcasting from your basement, a yurt in a far-off land, some sort of underground bunker, or your teenager's bedroom because you think you have the best light there.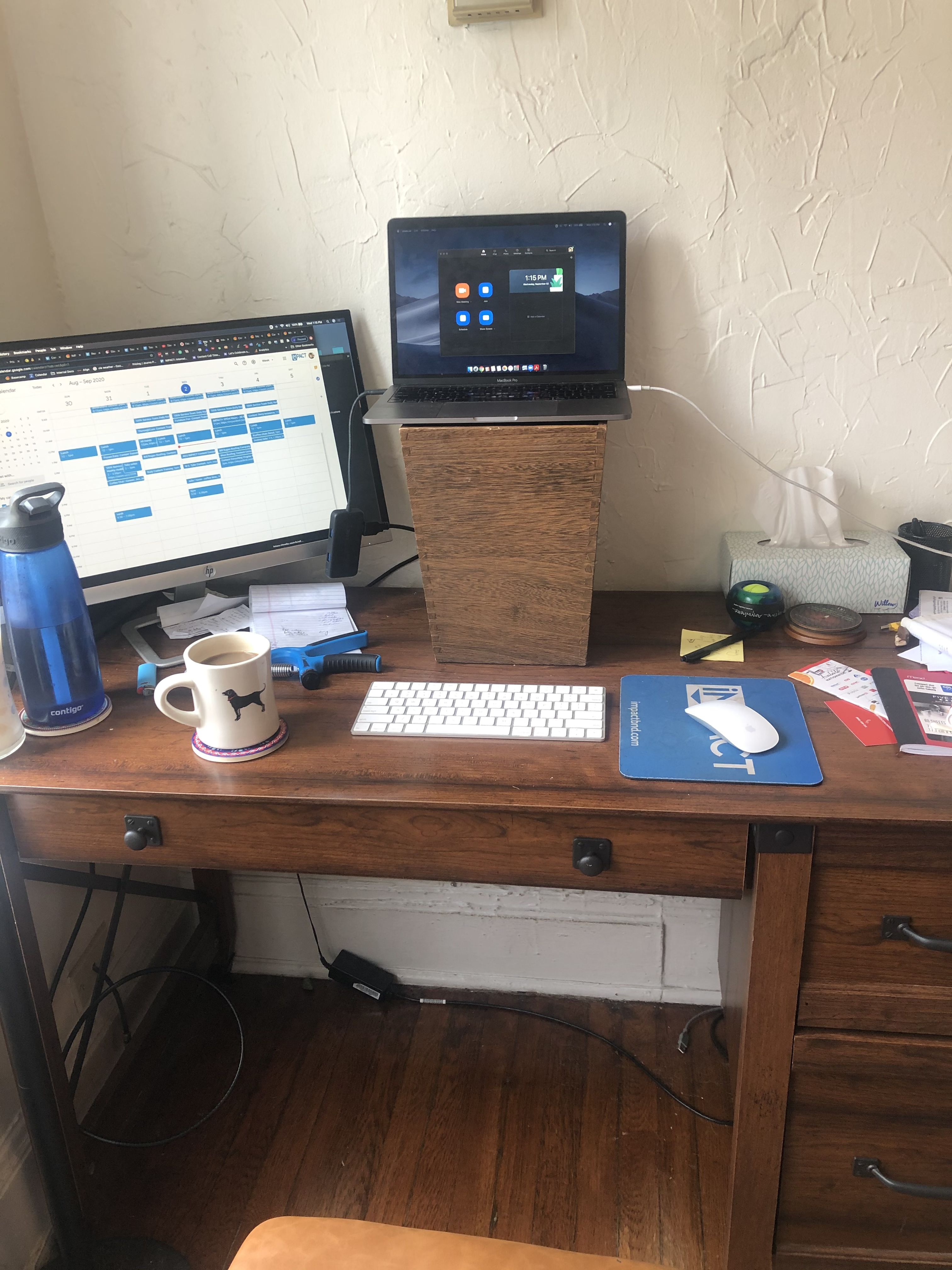 Even members of the IMPACT team have had to get... creative.
When you're choosing where you're going to be for video sales calls, here are a few things you'll want to keep in mind before you make your final choice:
If you're not able to invest in a good lighting solution, it needs to be will lit, with big windows that let a lot of natural light in.
But avoid big, road-facing windows, so you can minimize a lot of outdoor traffic and neighborhood noise leaking into your call.
Preferably, anywhere you decide to shack up for your calls should have a door you can close, if you don't live alone.
Finally, to your prospects, wherever you settle in shouldn't be too visually distracting. I know you can't always control that, but don't make your environment the standout on every call. You should be the main focus.
Second, you need to prepare yourself for your video sales call
Much of this will be similar to how you structured sales calls in the past — or at least I hope it is, because preparation matters — but it's even more important now, given how much face-to-face trust-building can no longer occur.
Set an agenda and purpose for your meeting
We have a saying at IMPACT — "No agenda, no attenda." There is no such thing has simply winging a call or saying, "Hey, let's meet tomorrow for an hour about [fill in the blank topic]." The same should be for your sales call. Not only will creating a set purpose and a supporting agenda that is specific help you feel more prepared, you'll also make your prospects feel more confident.
Plan what you're going to wear
That's right, in addition to making sure your lighting and physical setup are all good to go, you'll want to look your best. For example, while I prefer to wear black, neutrals, and other dark colors, I know for public-facing calls I need to wear brighter jewel tones. (Due to my coloring, black attire tends to make me look really washed out.) Additionally, you may want to dress up or down, based on the knowledge you have of your prospects.
Set any "at-home" expectations you may need
If you have a "boisterous" household and you're still working from home, set expectations with your family in advance about your call. If it's just you and a partner, roommate, or relative, let them know you won't be available. If you have children, set clear expectations that you will not be available. You may also want to post a sign on your door that you are not to be disturbed, if you have the ability to do so. Bottom line, don't wait until someone interrupts you to let them know that you're busy trying to close a deal, heh.
Test your setup and check your background
You don't want to wait until you've hopped on the call with your prospect to see that you have an unfortunate poster or inappropriate trinket happens to be visible. So, while you're making sure you're well lit and looking like a dapper sales rockstar, critically scan your surroundings from the perspective of your prospects. Do you spot anything that might be a turnoff or a distraction? If so, move it out of sight before you hop on your call.
Practice with your sound and technology
Get used to using your microphone, test your sound, test your video camera solution, take your PowerPoint presentation for a spin, try toggling back and forth between screensharing mode and talking head mode, and so on... do all of those things in advance, so you work out any kinks in advance. You want to seem in control, calm, and collected at all times during your call.
Finally, prepare your attendees for your call
That's right, you need to get your attendees ready for your call. It's not just about you. And the more preparation you take care of for them, the better sales call you'll have and (again) the more trust and confidence you'll instill in your prospects.
So, here's what you need to do:
Send your agenda to your prospects in advance
They should know exactly what the purpose of your call is, as well as what you'll cover. Plus, by sharing the agenda in advance, they can add amendments to it, if they have other topics they wish to cover.
Set the expectation that it will be a video call
Here's how Marcus Sheridan recommends you set this expectation with your prospects may feel a little camera shy at first: "For this meeting, it's critical that we both have our cameras on. You need to see me clearly and get to know me. At the same time, I need to see you, especially because what we're going to be discussing is very important. And if you're not fully understanding what I'm explaining, I need to be able to notice that, as well. Will you make sure your camera is on?"
Send a tutorial on how to use your video solution
No matter how common video conferencing has become, do not immediately assume that your prospects know how to use whatever your preferred platform is. So, in addition to including whatever join link you may require for your video call, include a personalized one-to-one video (we love Vidyard's free personalized video solution) that explains to someone how to join your call. The great thing is that you can record this video once and share it with any prospect, as long as you don't include a ton of personalized details in it.
Confirm attendees in advance
Once you send out your invite, one to two days ahead of your call, reach out to make sure everyone is still all set to join, and confirm whether or not anyone else needs to be invited. (This may also be a good time to send out your instructions on how to join the video call and remind them of the agenda.)
Still looking for more ways to up your video sales call game?
It's a whole new world out there for sales pros and teams like you. And sometimes simply having the right tools and agenda isn't going to cut it. You want to understand more of what you need to do to succeed in what is now a video-first world.
Good news is we've got you covered!
Here's what you can do right now
Additional IMPACT+ resources that can help
I also strongly urge you to check out the following IMPACT+ resources below (for which you need an account, even for the free ones) to help level-up your soft skills for video sales calls.
I know it's a lot of change to embrace. There have been plenty of other sales pros just like you who were nervous about making this change at first who are now thriving. All it took was a commitment to video — you've got this!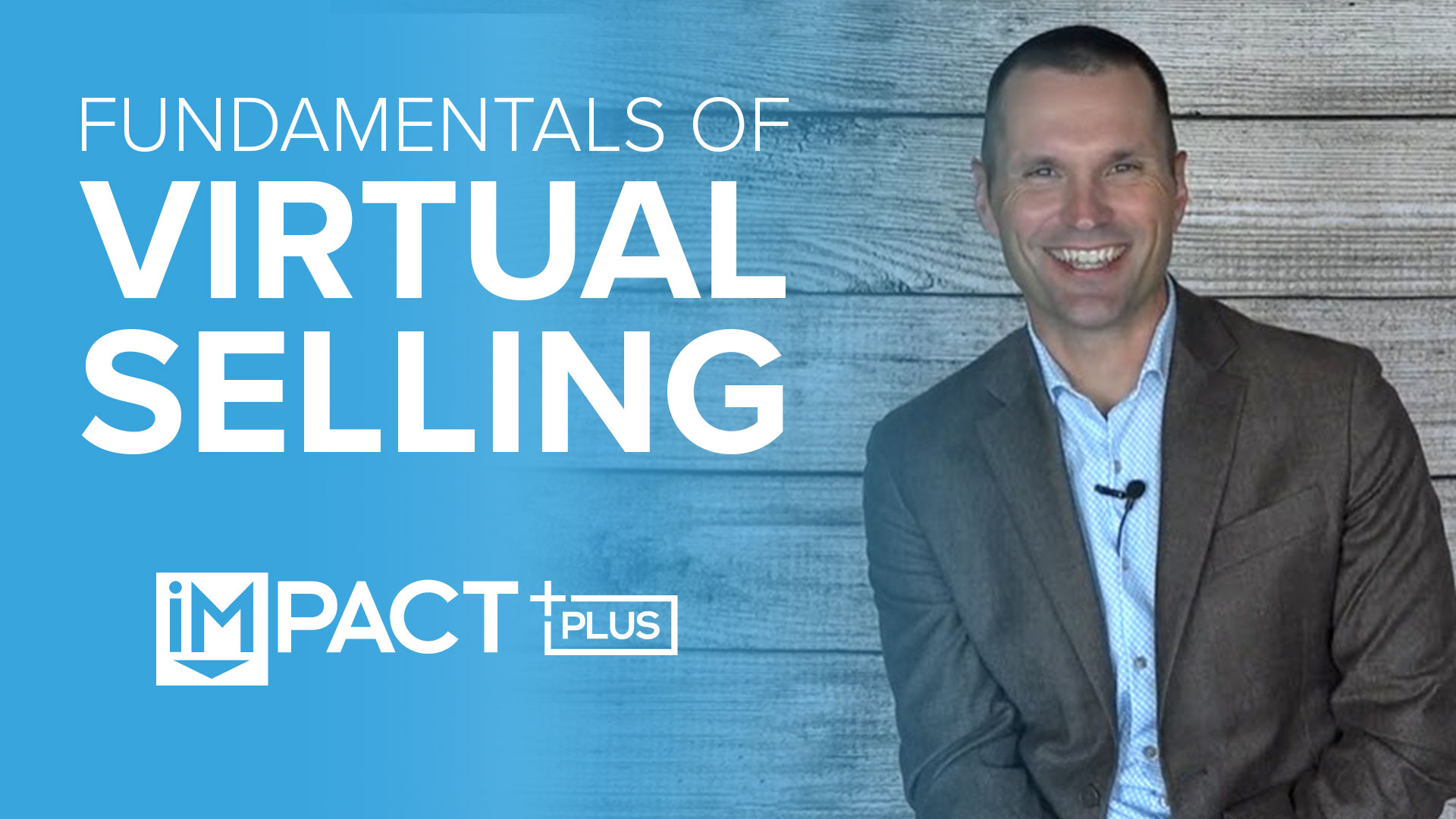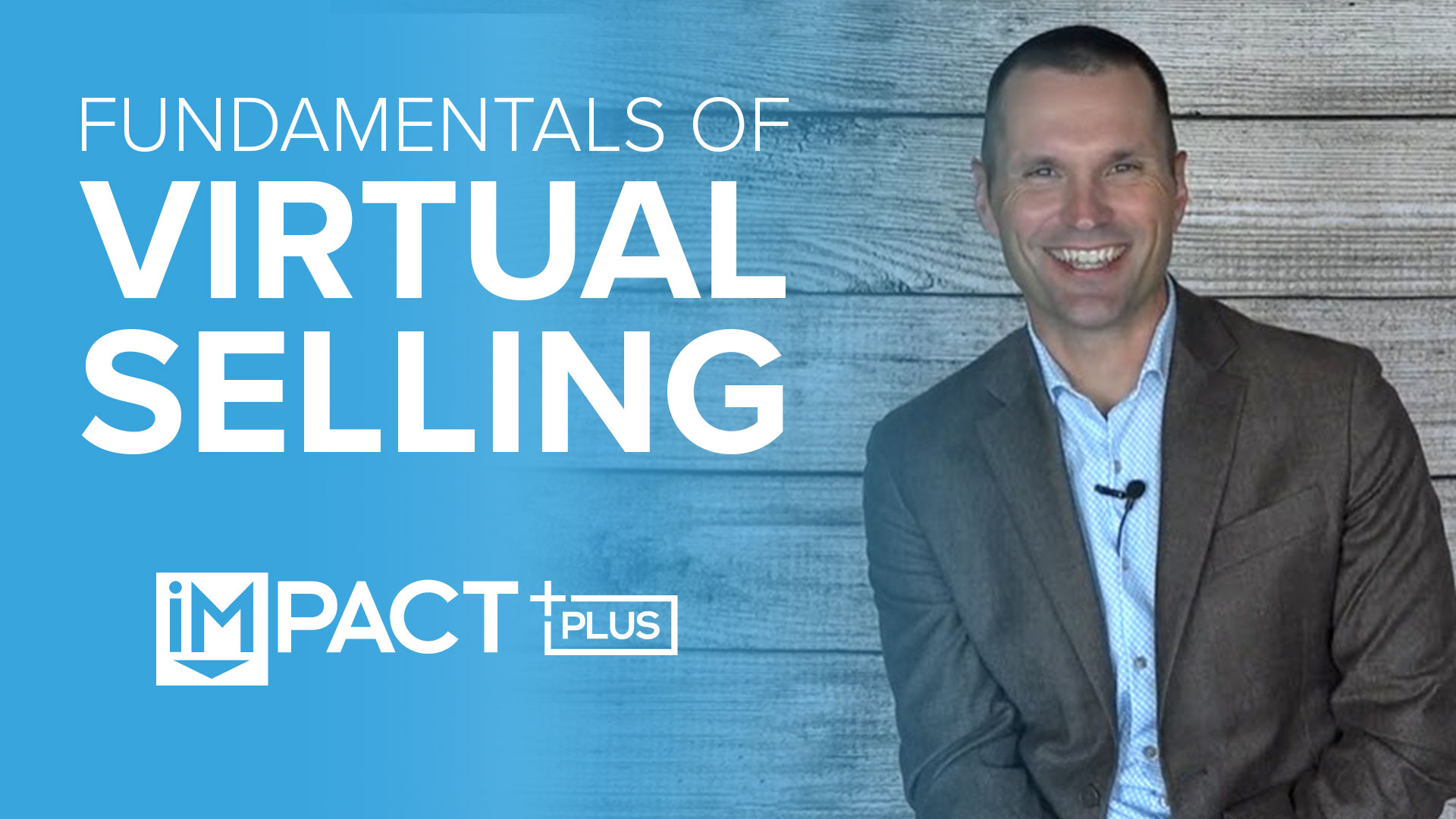 Pro Course:
Fundamentals of Virtual Selling
Learn how to close more deals in a video-first, virtual workplace
In this course, you will learn:
How to use video through different stages of the sales process
How to use video to improve engagement and increase revenue
How to measure your success with virtual selling
Published on November 13, 2020