What is Email Fatigue? Here's How to NOT Annoy Your Subscribers.
As marketers, we all send a lot of email.
Some get contacts read and engage with it, and some don't. It comes with the territory.
But even when you send the same email to contacts of the same persona and lifecycle stage, you can get different responses.
Why is that?
Despite taking similar marketing actions and landing themselves in similar segments, your contacts have different email behaviors.
One might want to engage with every email you send every day/week, but another might be better served receiving an email once per month.
When you overload certain contacts with too much email, you risk losing them to what's called email fatigue.
In order to combat this, we are all looking for that perfect frequency for sending emails.
Are we sending too many? Not enough? Just right?
How can you find the balance, that Goldie Locks sweet spot, of not fatiguing your contacts and still sending them the content they want to see? To get your contacts to appreciate more emails, rather than worry about sending them too many?
Well, in this post, we'll walk through the ins and outs of email fatigue, what's causing it with your contacts, and how you can put some spark in your contacts that may already be fatigued.
But first, let's dive into more about what email fatigue is.
What is Email Fatigue?
Email fatigue is a state that occurs when consumers get tired of receiving email. They start to ignore messages, delete them, unsubscribe, or even worse - they send your emails to their spam folder.
Email fatigue happens to everyone, and is a lot more common than you might think. Almost 75% of Americans surveyed are overwhelmed by the number of emails they receive.
In fact, last year MarketingSherpa found just 15% of email users thought the messages they receive from marketers were useful. That's pretty weak.
Not only should that make you cringe, but also make you worried about your deliverability rates if your contacts feel you're emailing too frequently.
Causes of Email Fatigue
Most email fatigue is the result of either sending contacts material that is irrelevant to them, or sending emails too frequently.
Simply put, sending the wrong message to the wrong person at the wrong time can make your contacts tired of getting your emails.
Now, this isn't to say there is no way to get around fatiguing your contacts, or that there is no way to avoid email fatigue other than by sending less emails.
Three-quarters of consumers still believe that email is the preferred form of communication from brands, they just don't like getting information irrelevant to them.
How Email Fatigue Can Derail a Campaign
If emails aren't personalized to your subscribers, segmented, or initiated by a specific user behavior, you'll fatigue your whole database faster than you can say "unsubscribe me from all future communications".
If that happens, you're not just down a contact.
Unsubscribes or being marked as spam can have a HUGE impact on revenue, especially if more and more of your emails get caught in spam filters.
Check out these stats on how relevant emails improve engagement with your brand:
Now, you can draw your own conclusions about how well those numbers translate into revenue lost, but one study found that because of spam filters and over emailing (email fatigue), nonprofits lose on average about $15,000 of revenue per year.
Imagine what it could do to your for profit organization.
Combatting Email Fatigue
To avoid email fatigue from the get-go, go back to the root causes: 1. Irrelevant information 2. Too much information.
Start there.
Increasing the value subscribers get from your emails is step one, then you can nail down the perfect cadence for your different lists and personas.
How to Measure Your Level of Email Fatigue
In order to avoid or eradicate email fatigue, you need to measure how fatigued your lists currently are.
If you're using a tool like HubSpot or MailChimp, use the data provided to monitor for signs of email fatigue.
Decreased Engagement: Clicks, Opens, etc.
Trends such as a gradual decrease in email engagement numbers, like opens, are a common symptom of email fatigue and should be investigated further, especially in a segment of contacts that have been historically engaged.
Another metric to consider is your click-through rate (CTR).
If you already have a baseline of your CTR, use it to see whether creating more relevant and personalized emails makes a difference.
With that baseline in place, you can scale up or back your monthly email send rates. Most companies are sending 2-3 emails per month in response to their CTRs, but this depends on your unique audience.
Clues to what types of content customers enjoy are not hard to find.
If you dig deep into your the pages your contacts view most, what they've clicked on in the past, or how often they are on your site, you'll likely find the golden nugget of information you need to boost engagement in your next email-marketing campaign.
A tool like SeventhSense makes evaluating the levels of email fatigue in your database easy. If you use HubSpot, it integrates directly with the platform, creating lists for you based on your contact's historical email behavior.
Know Your Customers, Then Build Your Strategy
The more you understand your audience, the more you'll minimize email fatigue and build lasting loyalty.
Here are a few of the pieces to consider:
Granular List Segmentation
Give the people what they want!
List segmentation helps you only deliver the most relevant, customized, and personalized content to your subscribers.
The more specific the lists, the better you can share content that directly speaks to their interests, and become a welcoming sight in their inbox.
Content Mapping/Pillar Content
Now that you know a lot about your lists and different segments, take their behaviors and map a path of content to send them based on their buyer's journey.
Arrange your content by which audience is getting what content at what time. This gets the right content to your readers when they're mentally ready for it.
Send Time
As you determine the optimal frequency for emailing your contacts, you also need to determine the optimal sending time.
Depending on their personal routines, contacts may open emails at different times. SeventhSense can help you identify when specific contacts are opening and reading your emails, allowing you to maximize efficiency and increase the probability that they will click through.
For some programic emails, like blog notifications or newsletters, you may want to aim for consistency.
If your email is of true value, subscribers can then learn to expect and plan around receiving them.
From the get-go, send this kind of communication at the same time to set the right expectations.
In order to test when the best time to email is you can send different segments emails at different times, just make sure that it is consistent within that segment.
Check Your Load Times
Testing how your emails load and look in different email clients is an important part of any campaign. You want to make sure that experience is as you intended and that is consistent whether someone is on Gmail or Apple Mail, iPhone or Android.
Avoid images that are really big or load slowly, or design aspects that might not look stellar on a mobile device. Your emails need to be a pleasure to read for all contacts.
Take the Constructive Criticism
You are going to get people that unsubscribe from you. It's okay. Don't take it personally.
Use them as a learning experience. Dig into the why and solicit feedback from them. More importantly, listen and act upon it.
Some trends will be obvious, like if more people unsubscribe from emails promoting offers than they do from blog subscriptions.
What can you take away from that information? Maybe your blog content is great, but your promotions aren't attention grabbing enough to get users to act.
Recovering from Email Fatigue: Re-engagement Campaigns
So, what if the damage is already done and the email fatigue is real?
Sometimes re-engaging low-quality leads who have lost interest in your brand is not worth the potential "Marked as Spam" reputation for your domain.
Unengaged subscribers drag down your performance metrics and can hurt your deliverability overall, so it's best to know when to cut your losses and focus resources on those that show an ongoing level of interest.
This doesn't mean members of your fatigued list are all lost causes, however.
An effective way to rekindle your contact's love for your brand is to deploy a re-engagement campaign.
The best way to start a re-engagement campaign is a simple workflow triggered based on a certain duration of non-engagement.
At that point, there are a few approaches to try:
"We've improved, check us out"
Sometimes contacts lose interest in your content, so doing an editorial revamp and notifying your low-engagement contacts is a good way to keep them hooked.
StruckAxiom did a good job of this when they launched their new site: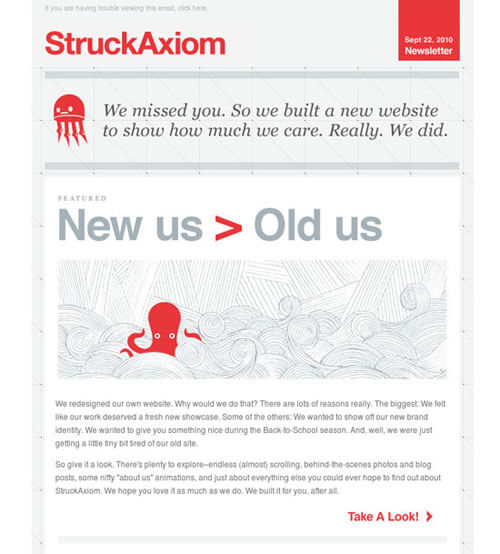 The "Long time no see" offer
Run a campaign specific to these contacts that gives them something great, something just for them. Show them how you value the relationship.
Here's a great one from Pinkberry: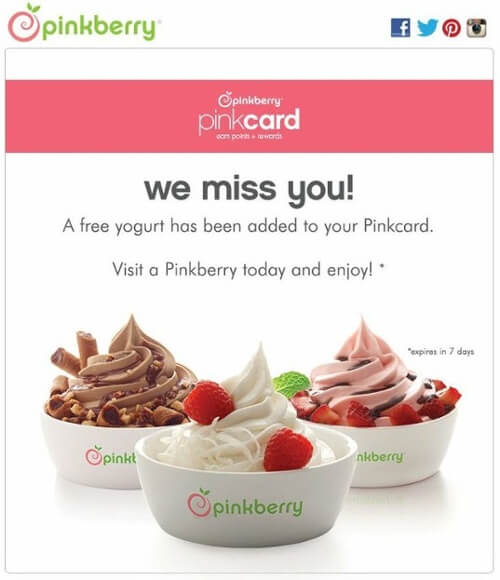 Free fro-yo? Come on... who can say no to that?
The Ultimatum
The classic "should I stay or should I go" conundrum. Sometimes this is a good approach to let contacts know what they'll be missing out on if they don't engage. This works well because you can clean your lists at the same time, as contacts that don't re-engage should be removed from your lists.
Here is a great example of this from ReturnPath: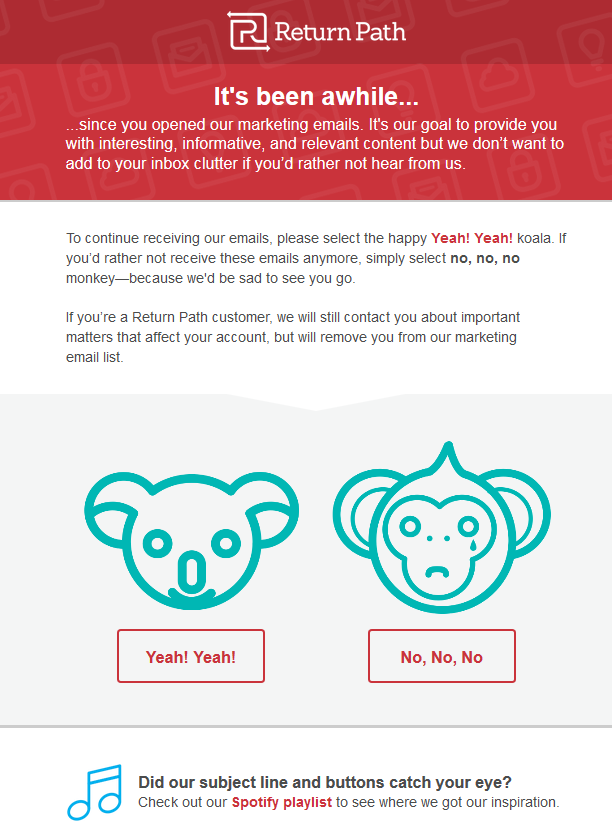 It makes an ultimatum look cute. Can't do better than that!
If you need a little more help, check out these 10 awesome tools to kickstart your re-engagement campaign. Or, here are some more great examples of re-engagement campaigns
Subscription Updates
Another option is to offer a down subscribe option. This gives your readers the ability to take a pause from your emails for a specific amount of time without unsubscribing altogether.
This can significantly help your metrics as your unsubscribes go down and your CTR isn't affected by recipients not opening your emails.
This is especially helpful during the holidays, when everyone and their mother is emailing their lists. This way your emails don't get lost in the weeds.
You can also implement a preference center.
Preference centers let your contacts know you care about their time and give them a lot more control over their inbox.
Check out HubSpot's preference center for some inspiration, and send yours out to contacts with low engagement to let them reclaim their inbox.
Takeaways
Email fatigue is inevitable. How you handle it is what makes the difference.
Use your contacts that have low engagement as an opportunity to try new content and strategies to see how you can win old customers back and get new sales.
Dig into the root of the problem and understand your audience. And frankly, don't neglect common sense. If you wouldn't want to receive an email you're sending, it's likely your audience wouldn't either. Email others the way you want to be emailed.
Send your contacts thoughtful emails at the right time and you'll keep your subscribers engaged and promoting your brand.
Free Assessment:
How does your inbound marketing measure up?
Take this free, 5-minute assessment and learn what you can start doing today to boost traffic, leads, and sales.
Get Started
Free Assessment:
How does your inbound marketing measure up?
Take this free, 5-minute assessment and learn what you can start doing today to boost traffic, leads, and sales.
Published on June 20, 2018