Instagram Spotted Testing New Features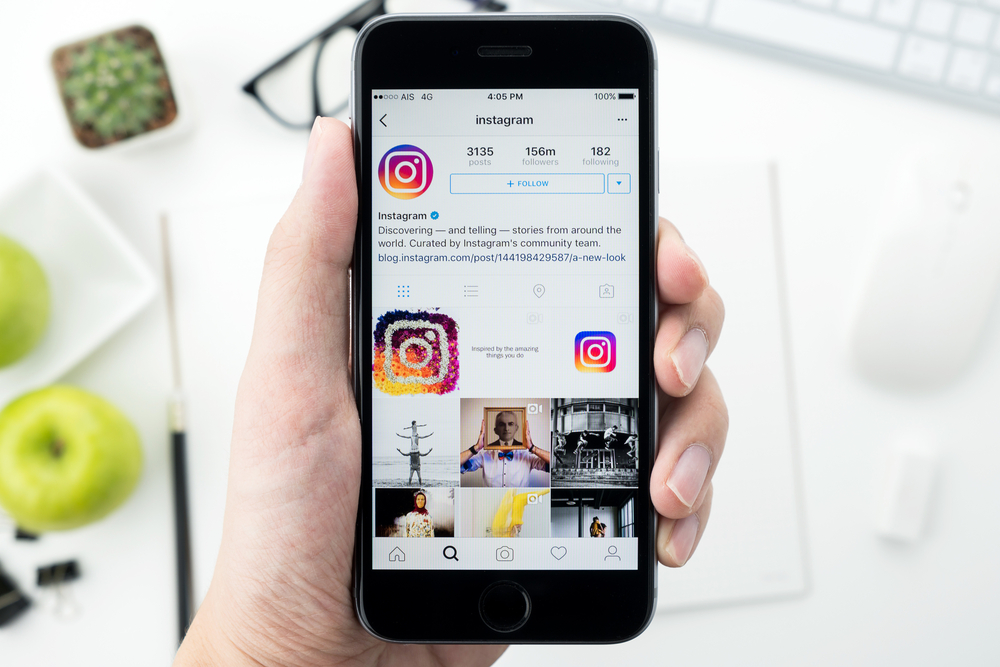 Instagram has been spotted testing several new features for its users, including an all-new layout mode for Stories, redesigned camera icons, new Boomerang options, and a notification filter.
Jane Manchun Wong, who is well known for sharing unreleased social media features on her Twitter account, @wongmjane, broke down the new features she's spotted in a blog post on her personal website.
While these features are not confirmed by Instagram, sightings of these tests indicate that we're likely to see updates of the features described below, even if the released versions appear slightly different after several iterations.
With that being said, here's what Instagram's team appears to be quietly testing in small batches.
"Layout Mode" for Stories
Currently, when posting an Instagram Story, you're more or less limited to the one photo either taken with one of Instagram Story's camera options or uploaded directly from your camera roll.
Users have the option to make that photo bigger or smaller, add text, stickers, or other details, but aren't typically able to customize further without seeking a third-party app for support.
To allow users to add more variety, Instagram has been spotted testing different pre-built layouts that can be used when creating Stories.
It currently appears that there are six layouts to choose from:

According to Wong, users can upload photos to slots in the layout template individually, or use their phone camera to take each photo in real time.
It's currently unclear if users need to fill all slots with photos, or if some can be left blank and have colors or text instead.
In any case, this certainly opens up possibilities for users to make Stories more dynamic and visually interesting.
For brands, this can help convey more information in a single story, like multiple products included in a single sale.
The feature also enables brands with limited design resources more bandwidth to create these types of posts without needing a custom design each time.
However, it's important to note that there are already many apps on the market that offer photo layouts custom-built for Instagram Stories — so Instagram will need to ensure it's matching the quality and ease of these other existing services if it want this feature to be adopted by users.
Redesigned camera icons
As you probably know, Instagram offers several different "Camera" options for Story uploads, all of which have their own unique effects.
Currently, when you add a Story, you can navigate these options via a swipe-able set of words at the bottom of your screen.

Wong now reports a new design being tested, where all Camera options will feature their own easily-recognized icons.
This may seem like a small update, but it could be indicative of something bigger: possibly more Camera options to come?
Thinking about it, Instagram has added several new camera features in the past few years, including SuperZoom, Music, and Stop Motion. All of the new updates have required users to swipe through several options to get the one they want, so making them more easily recognizable by their own icon and color gradient is a logical next step.
However, it's possible Instagram is also doing this to establish a better system for more options added down the line.
That's not to say that these may already be in the works, but it is something to consider!
Also, did you see the new icons already include a "layout" option? Possibly a sign the Stories layout templates are close to launch.
More Boomerang options
Boomerang has been an Instagram fan-favorite for some time now.
Boomerangs are short, auto-looped videos that capture small movements and offer a fun way to add life into otherwise static images.
For example:
Now, it appears that Instagram wants to give users even more variety for their Boomerang Stories.
As you can see in the chart above, Instagram is reportedly testing five new Boomerang options to add on top of their original feature.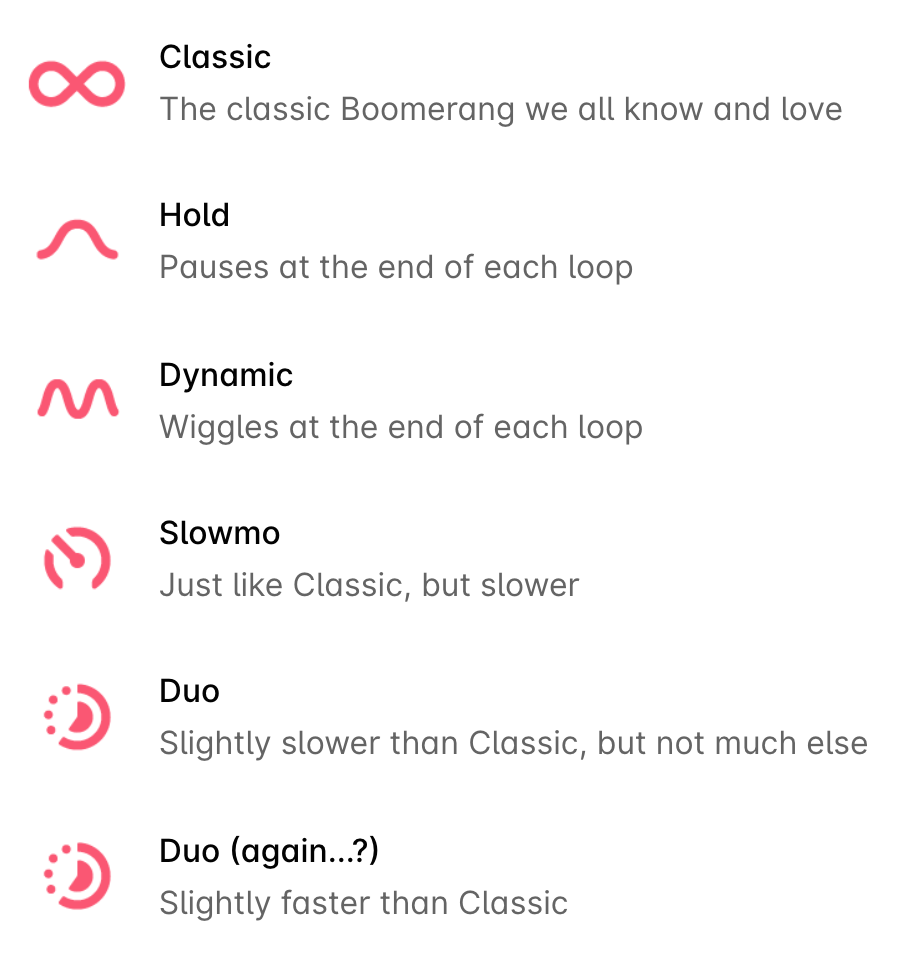 For more information on how each animation differs, Wong demonstrates each one in action in her blog post.
Having these extra Boomerang features in place simply offers the user more options to add their own desired look and feel to their posts.
Notification filters
As many updates as Instagram has gone through, its notifications center has remained more or less the same.
A user's notification's tab hosts all information relevant to their account, including new followers, comments, likes, tags, and more.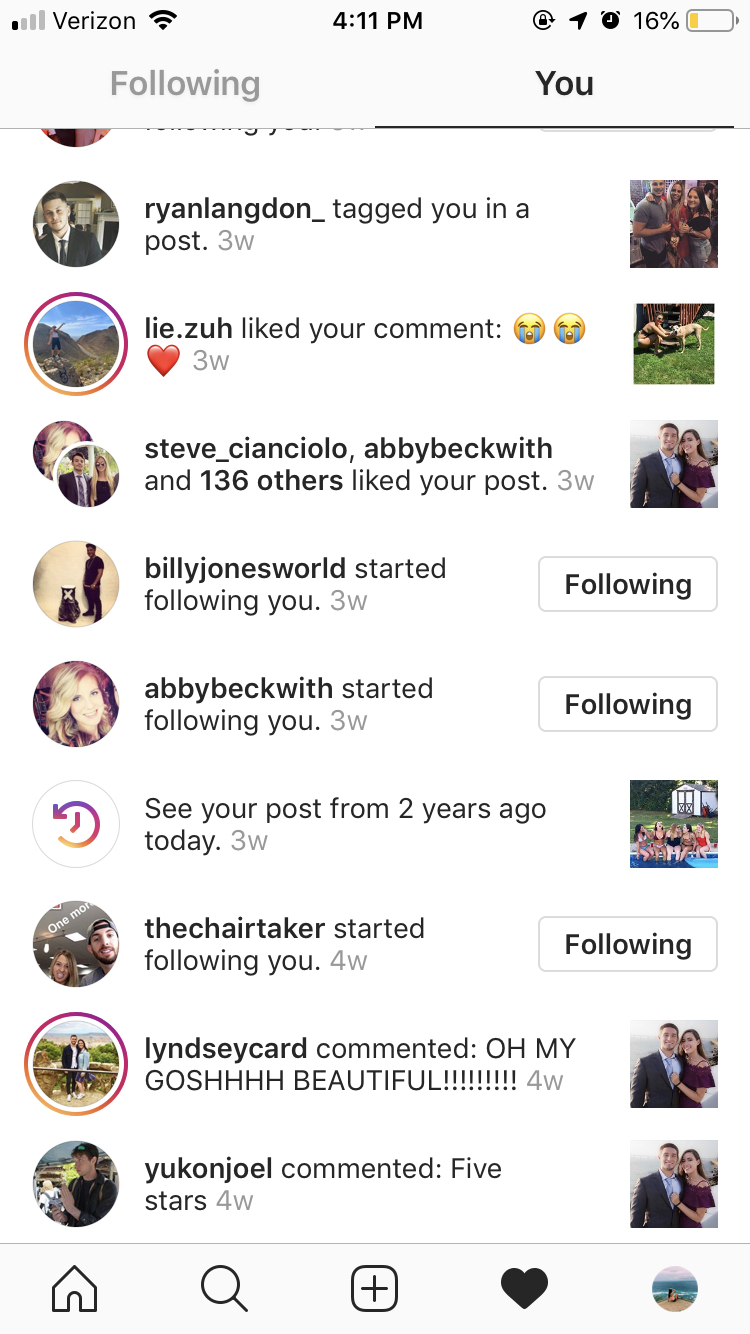 For active users (or even those that just have active followers) this can get messy pretty quickly.
Now, Wong reports that Instagram is working on a way to break through this cluttered tab and find the notifications that you're looking for more easily.
The platform has been spotted testing "notification filters" that will allow users to highlight the interactions that they want to see from the tab, hiding all other types.
Instagram is working on Notifications Filter. Finally!

I wrote a blog about this unreleased feature:https://t.co/jdCEHAIaOB pic.twitter.com/9JoAmUaIVK

— Jane Manchun Wong (@wongmjane) August 15, 2019
For both brands and users alike, this is a simple yet valuable update that will make it easier to view specific interactions with your profile.
Final thoughts
Social platforms like Instagram should be continually working on developments to enhance the experience of their users — and thanks to people like Wong, we can have a first-hand look into these tests.
Again, while the final features may be slightly different than what appears in the tests above, it's important for marketers to stay on top of these updates to better prepare for what's to come.
For more information on the latest social media developments, I recommend following @wongmjane on Twitter to see what's to come with these features and others.
Free Assessment:
How does your sales & marketing measure up?
Take this free, 5-minute assessment and learn what you can start doing today to boost traffic, leads, and sales.