WIX vs. Squarespace: Top 7 differences and similarities to know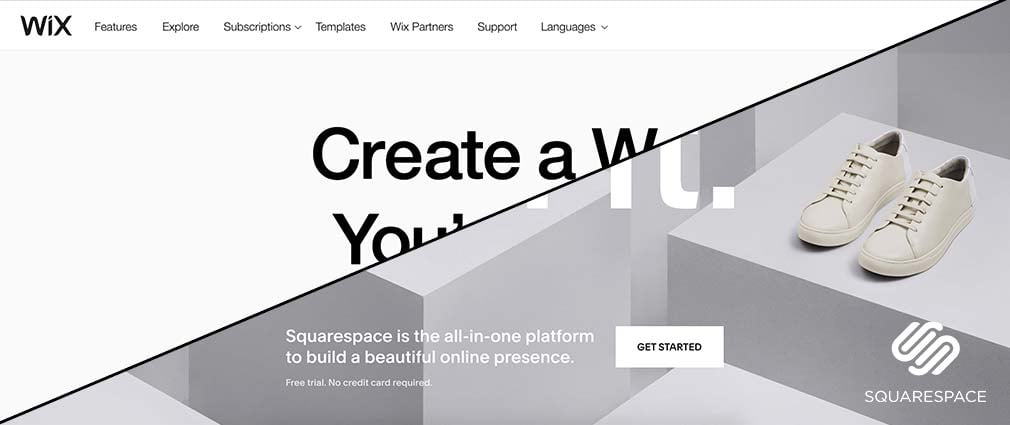 When it comes to drag and drop website platforms, Squarespace and WIX are certainly two of the bigger players you'll hear about.
On the surface, both platforms offer a variety of sleek and modern templates to choose from, so it's initially challenging to see which platform is truly better for the user in terms of features, services, and value.
Some of us remember the days when WIX was not even worth using, but more recently, the company has made some pretty significant leaps in its products and has redesigned its entire experience.
Squarespace has always stayed pretty consistent with its product, and has now created a seamless all-in-one platform that makes website creation and finding add-ons less of a hassle.
With these baselines in mind, how do you know which has the better e-commerce tools, template editor, blog, or support? The answer is to put these tools in a head-to-head comparison, analyzing the key features each promote and weighing the pros and cons.
In this article, we are going to do a deep dive into some of the crucial aspects of each of these two platforms in terms of:
Ease of Use
Design Templates and User Interface
Blogging
E-commerce
Metrics
SEO
Customer Support
Customer reviews
Pricing
Looking for a quick conclusion? Skip to the end of this article to read the overview on how the tools stack up.
Ease of use
One of the first things that comes to mind when pitting two website builders against one another is how easy it is to navigate in the respective platforms. The name of the game today is speed and efficiency. Besides, what's the use of a website building if it's too challenging to build anything?
Let's start first with how the websites onboard you to using their platform.
WIX onboarding
Before getting started with WIX, you need to create an account (previously, you could go through the whole setup process without one).
Once you get past the login, you are introduced to a self-configuration tool that helps lead you to the templates they believe fit your needs the most by asking you a series of questions.
They start off with asking who the website is for: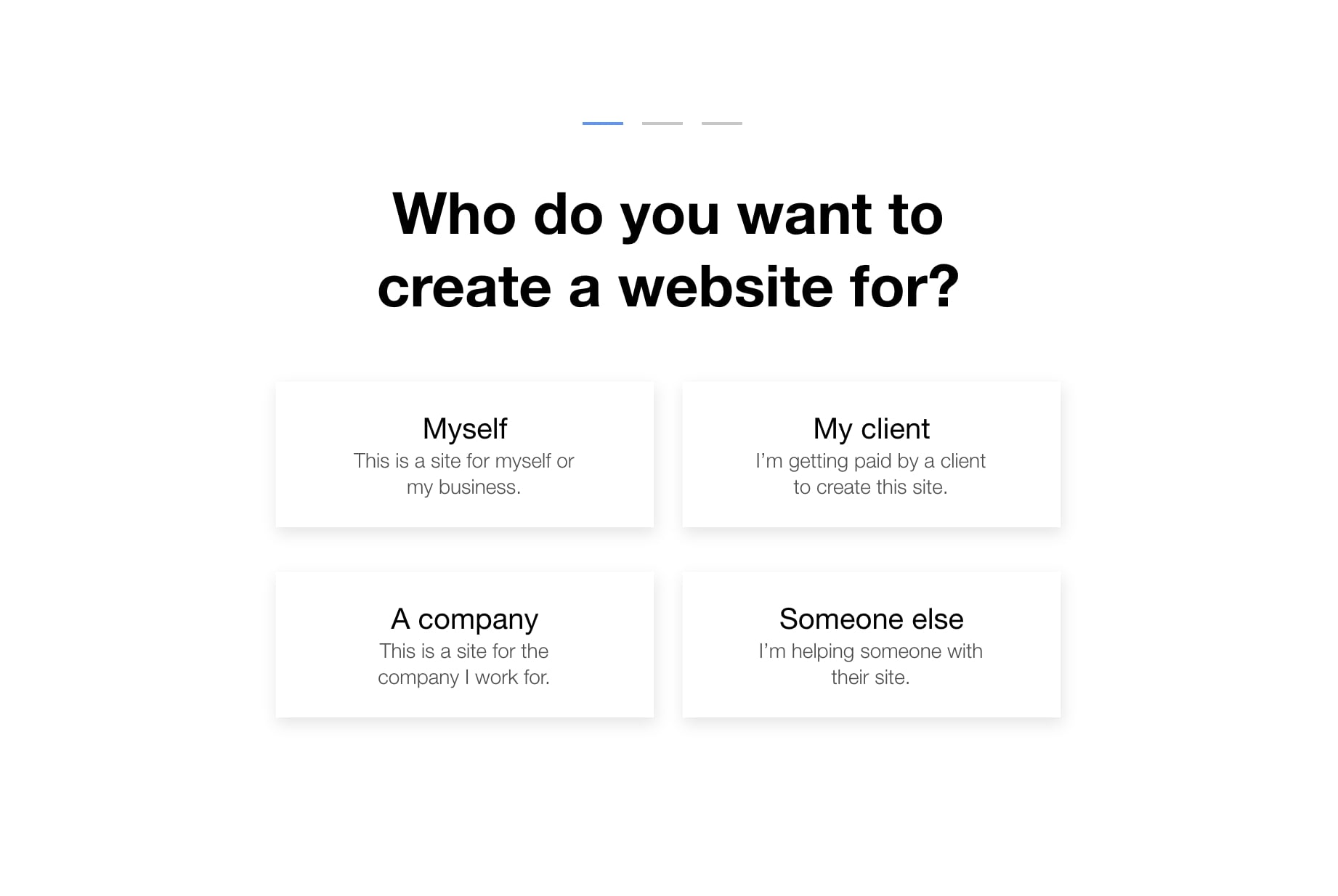 Depending on what you select here, the questions will increase or stay the same in quantity.
Secondly, they gauge your experience level with websites. This helps them make sure they serve you templates that will be at your level.
From here, the quiz progresses by asking if you're part of a company, and if so, what your roll and and company size are.
The tool ends by asking what type of industry you are in. Here are some of the most popular ones listed on the question: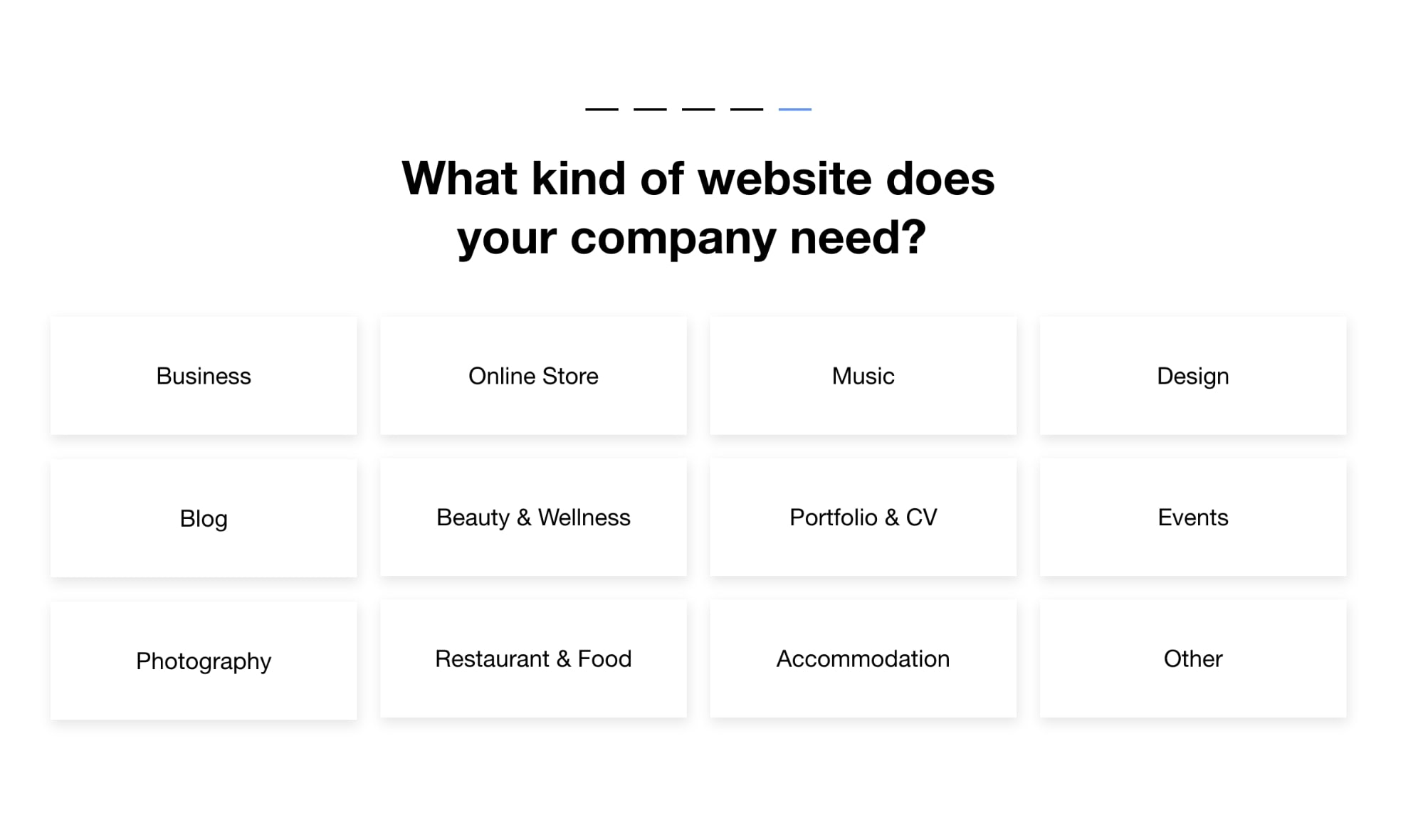 Upon selection of your industry, you're then brought to the template area that lets you select exactly what type of template you might be looking for.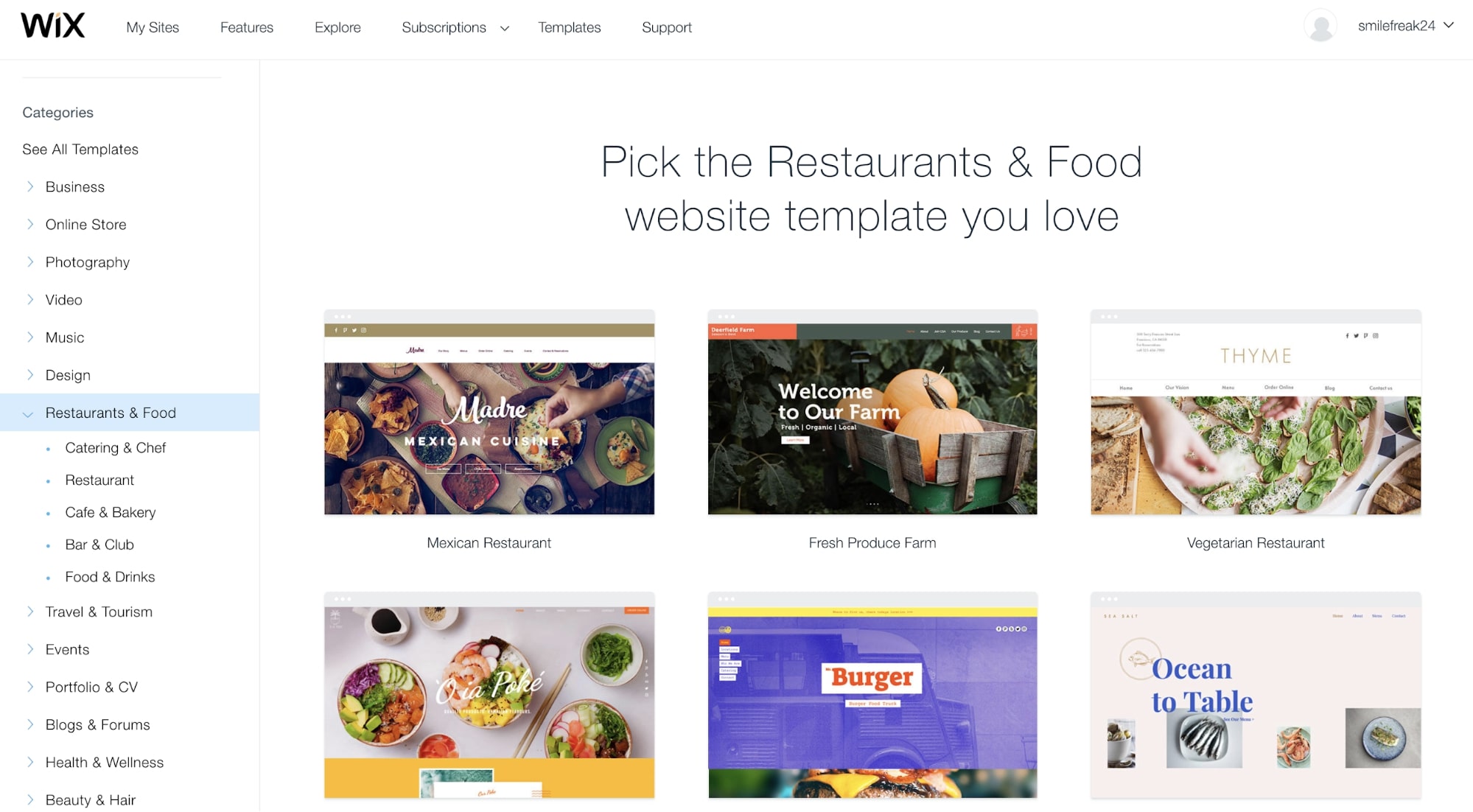 Selecting one will bring you into the editor where you can begin modifying the content and design.
Overall, this experience with WIX is more time consuming, but it does help you efficiently get to templates that are most closely aligned with your business and your website needs.
Squarespace onboarding
Squarespace has a slightly faster path to get you started on its templates. But, similar to WIX, they too have you go through a questionnaire before they send you on your way to view all the templates.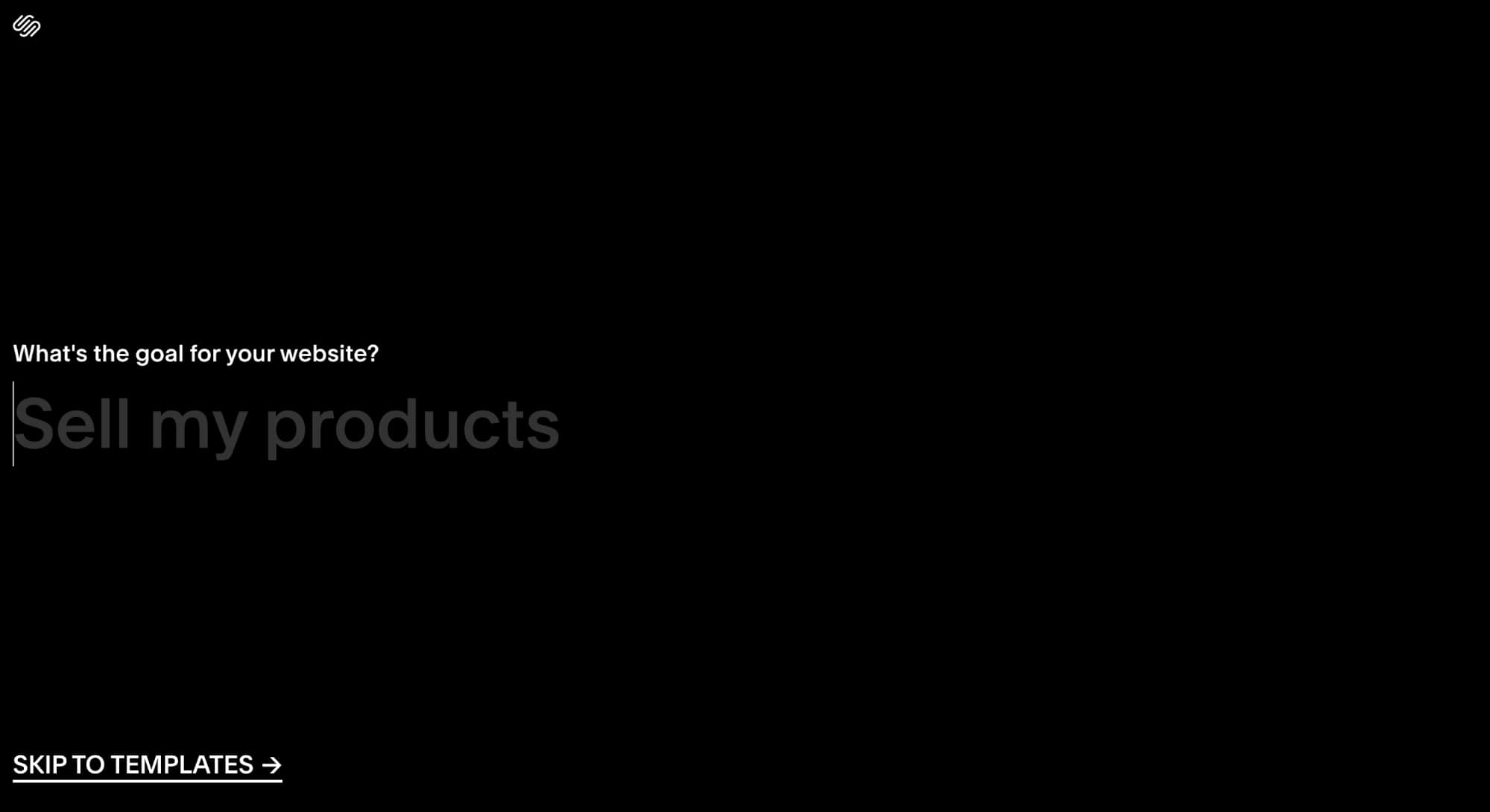 On their site, they have a text area for you to enter your website goal. It's open-ended, but the tool does limit you to only 40 characters, so you can't get too detailed!
If your goal is easy for the tool to understand, it sends you right to the template lists, otherwise, it asks if you would like to answer additional questions to figure out your website needs.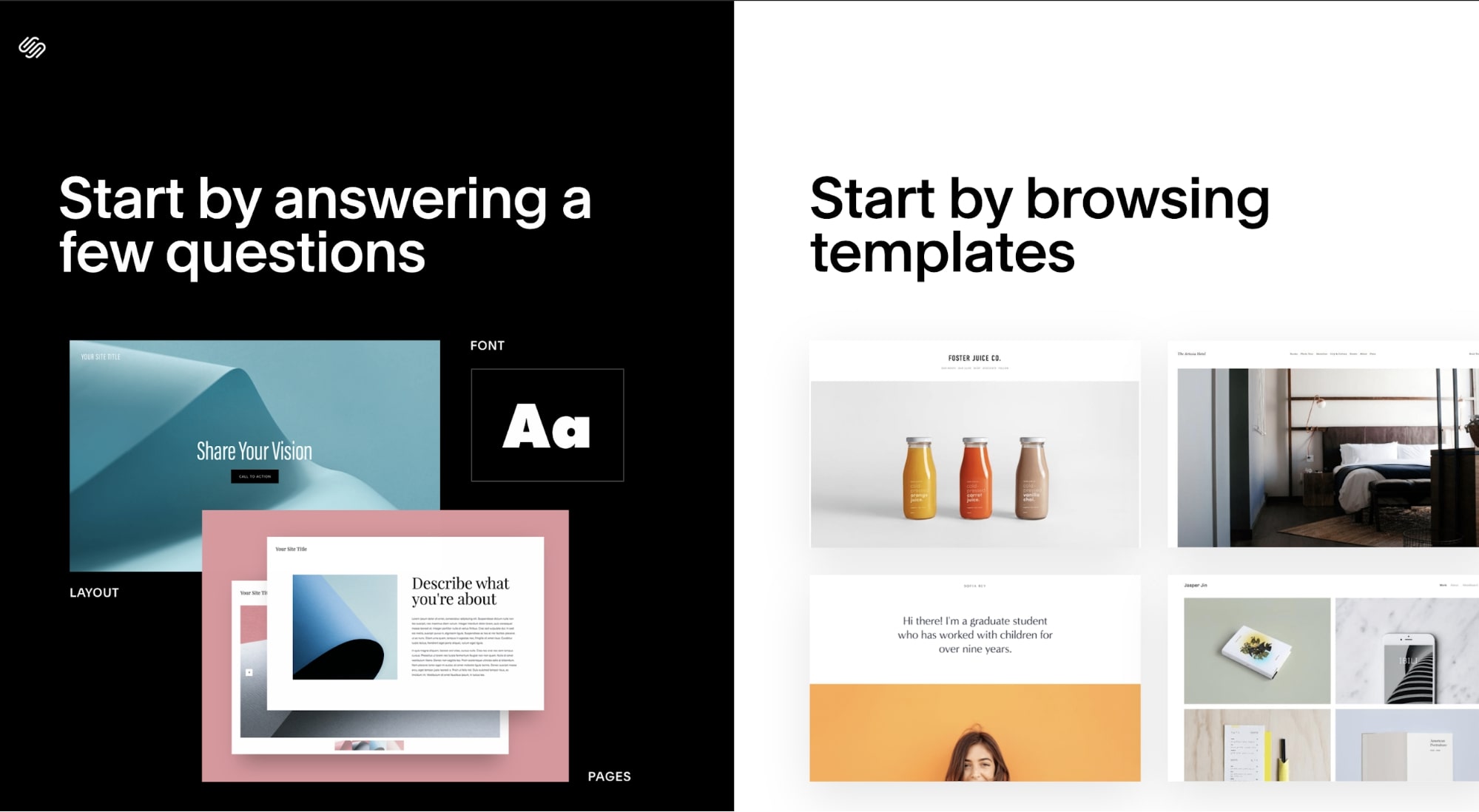 If you choose the questions route, Squarespace focuses more on asking you, from a design perspective, what you are looking for. For example, it asks what designs you prefer (think: fonts and imagery) and serves up a template that you worked to complete.
This means if you aren't decided on the design direction you want to take, this type of quiz may not be ideal for you. But, if you're a design-savvy individual who wants your template to look a particular way, this experience might resonate with you more.
Before entering into the editor, it's here that Squarespace asks you to to sign up for an account. But with how far you've come, how could you not!
Design templates and user interface
Now that we've established how the two get you started, let's see how their template editors stand up to one another.
At their core, both WIX and Squarespace are drag-and-drop WYSIWYG (What You See Is What You Get) website builders. This means when you select a template, you have the option to add any additional sections you want and place them where you want on each page.
But the two start to differ in how much editing their drag and drop building actually allow.
Let's take a closer look at each.
WIX design templates and interface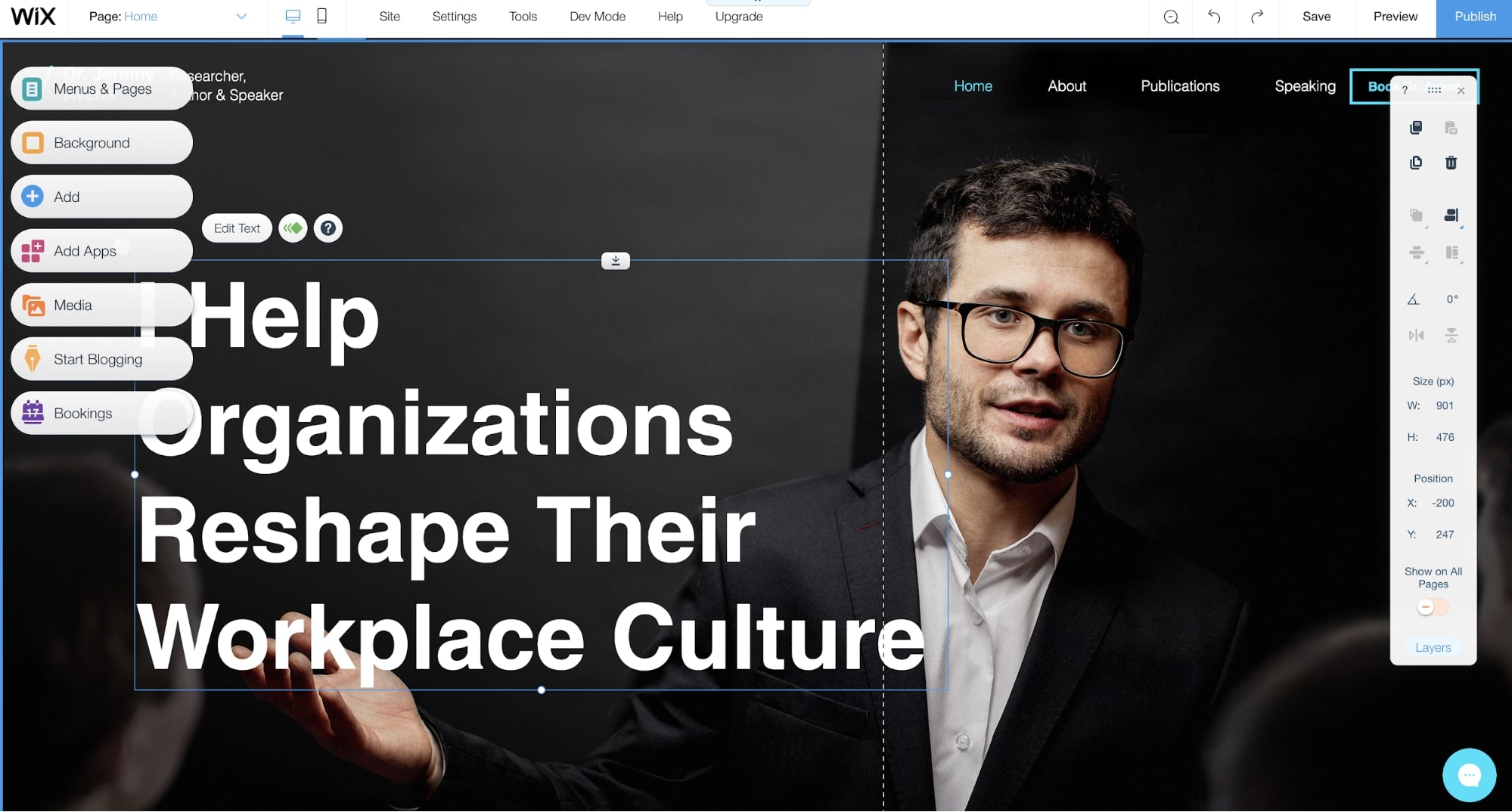 WIX editor
WIX template editor gives users the ability to drag and drop, rearrange, or replace just about any module on the page wherever you want. To give you a few guidelines, there are some dotted lines around the modules that indicate areas you shouldn't drag your content into. If you do, you risk there being issues when people resize to view it on mobile devices.
The editor also allows you to resize sections, and even animate how they come in on the page, which can be the perfect thing to add the finishing touches to your site.
Depending on the elements you've selected, you have varying degrees of customizability. On headings and buttons you can adjust colors and sizing. But, if there is a case where you want to take a background of a section and change its color from white to blue, the template, or the way you built the section, may not allow you to do that.
What's also interesting is that WIX allows you to specifically customize your mobile view when in the mobile editor to avoid sections that may be clunky when they respond to a smaller device.
One drawback to the editor is the navigation only lets you go to two levels deep. This makes slightly larger sites a bit tougher to organize, especially if you have an e-commerce store.
I've also noticed that the more pages you add, the slower the editor is to load. Not a major downside, but can become a pain if you find it takes too long to make small page updates.
Squarespace design templates and interface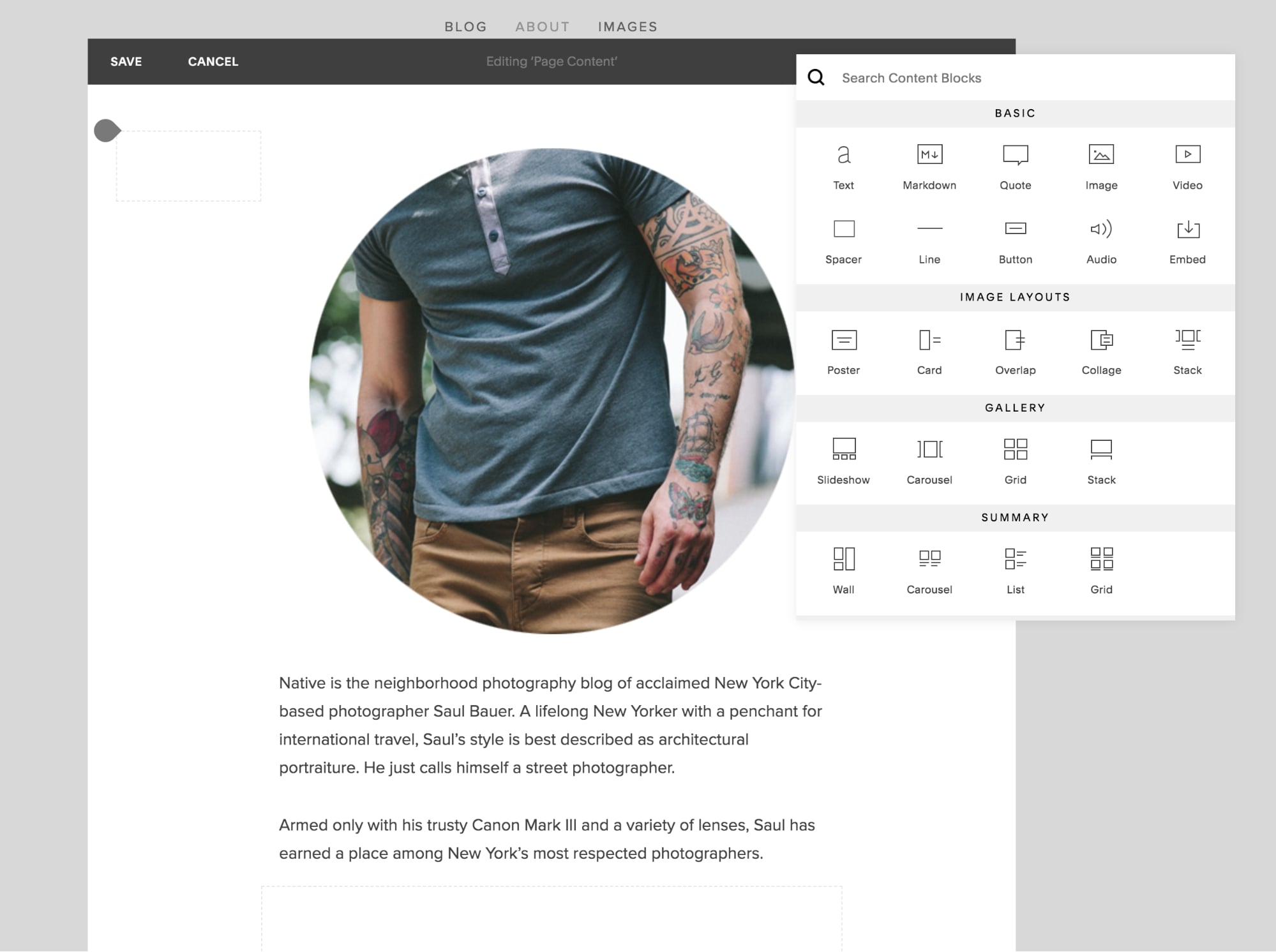 Squarespace Editor
With Squarespace, templates are also organized by industry, which is great if you need help choosing the best template option. And, if you ever want to change it, you can jump right back into the available choices and switch to a new one.
When it comes to editing the templates, Squarespace's template editor focuses on modifying sections, known in the tool as "blocks." Examples of blocks could be an image and text next to one another, an image slider, or just some text.
Most squarespace templates contain many of the same features; editable site styles options, galleries, blog posts, products, and events sections, and access to their built-in content management tools.
But some templates have unique customization options, such as per-page footers or headers or sidebars, special banners, or parallax scrolling. Squarespace has a full list of all the templates and their customization ranges here.
All changes are done via a sidebar where you can edit your pages and your design.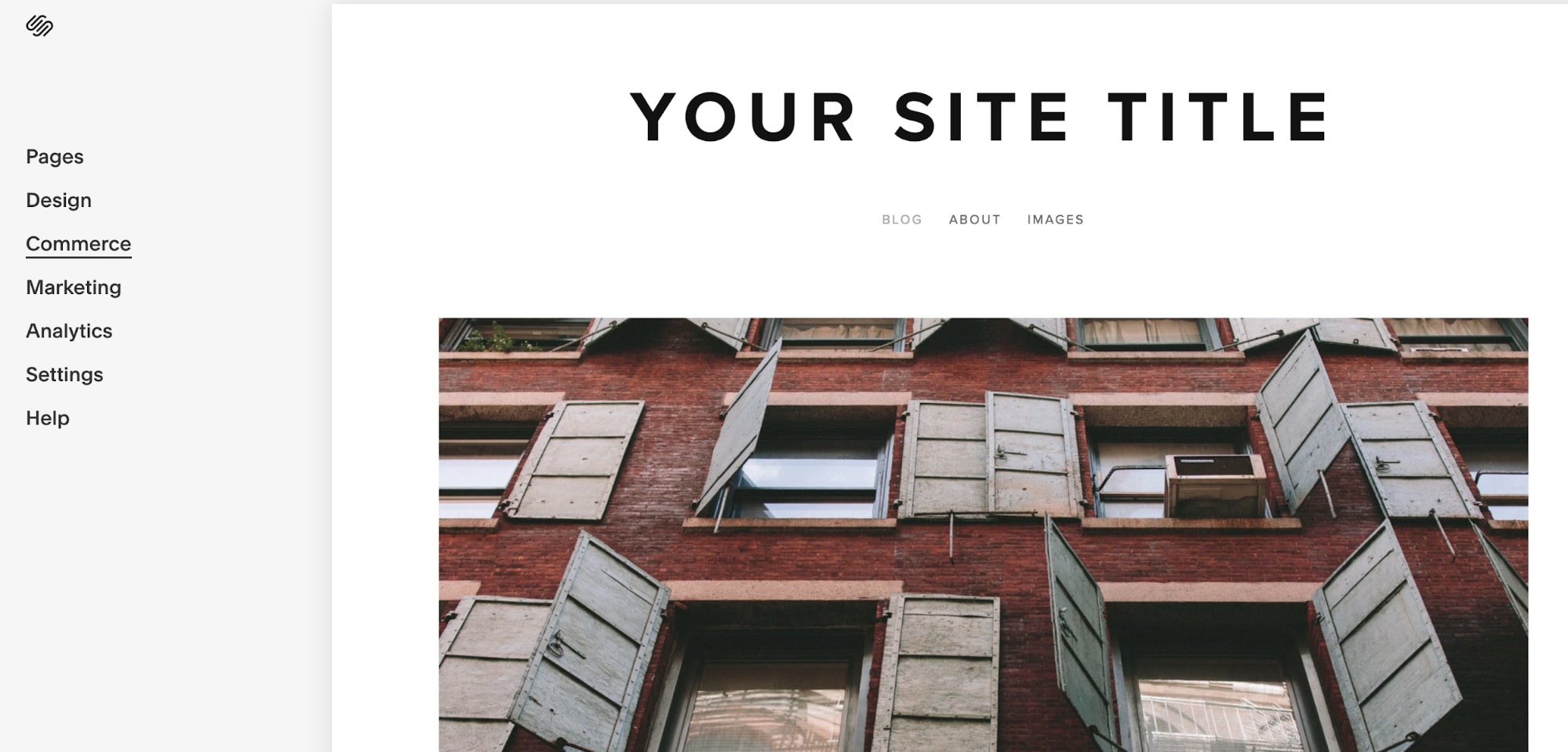 Main Sidebar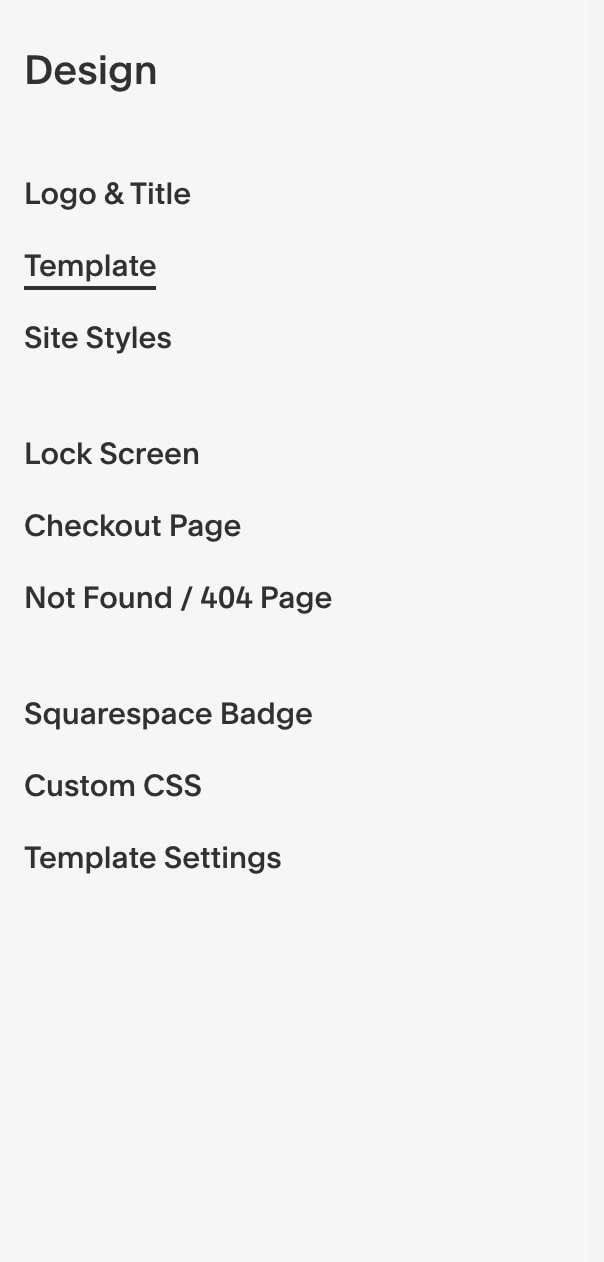 Design Sidebar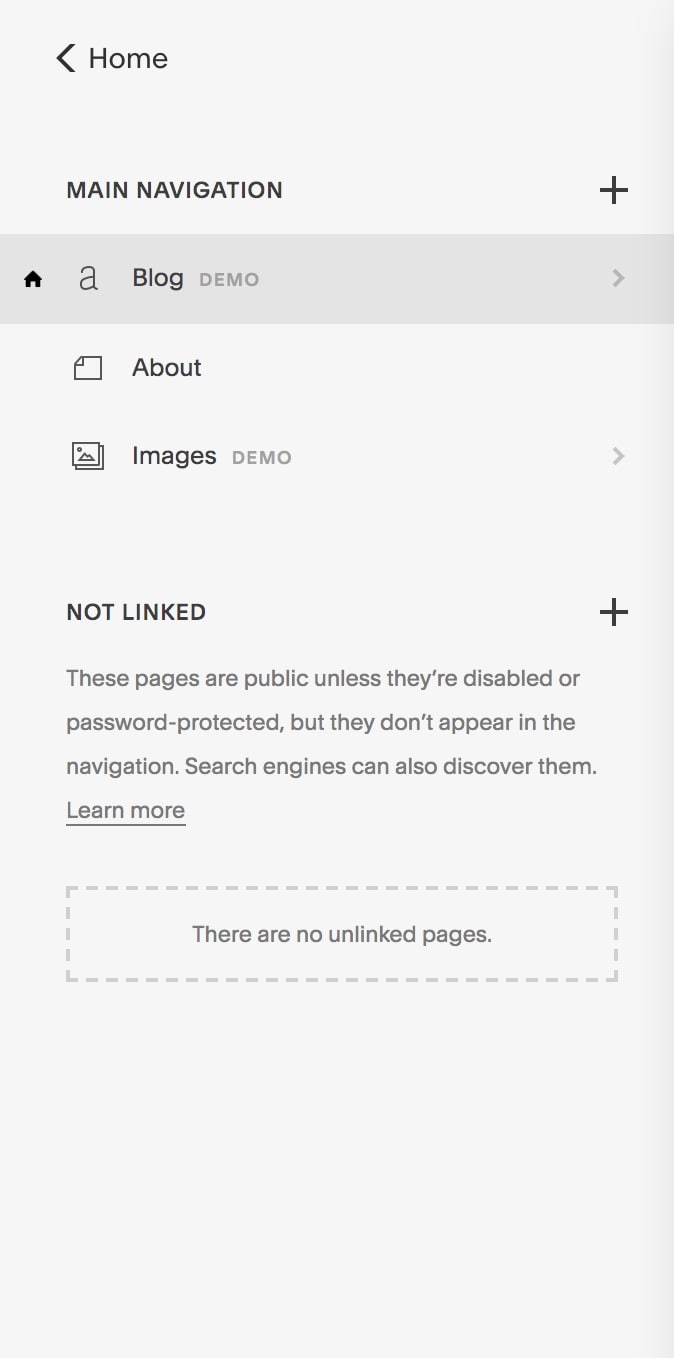 Pages Inner Sidebar
The Pages sidebar gives you a list of pages on your website. Here, you can jump into each individually so you can modify blocks.
With so many areas to hover over and change, it can be a little complicated at first to understand what does what, but after you get your bearings, the editor becomes fairly intuitive.
For those who are more tech savvy and prefer editing the template code, Squarespace may leave you frustrated as there's no way for you to edit the source code. So if long term you anticipate yourself wanting to create more custom experience outside your template, this limitation is important to keep mind.
Metrics
Both WIX and Squarespace have their own variations of metric dashboards, but Squarespace has them built in, where as WIX needs to have them added on through its app center.
With WIX, you use its app marketplace to select the analytics tools to add.
Any traffic analytics tools will offer fairly similar metrics to Squarespace, but the dashboards will vary.
I'm not going to spend time going through every app offered by WIX, but regardless of what type you're looking for (traffic analytics, SEO, etc), there will normally be more than one option to choose from. So if you don't like how one tracks, you can select a different one and test that instead.
The marketplace is also the hub of any integrations you want (such as Mailchimp, Hotjar, CallRail, etc).
In Squarespace's personal plan, you have visibility into metrics such as activity logs, geography, Google Search Keywords, popular content, RSS subscribers, site keywords, and traffic sources (the data you see is dependent on what plan you have, you can see full details on what's visible based on your plan here).
Some of the dashboards you can see in upgraded plans include cart abandonment, form and button conversions, purchase funnels, sales by products, and traffic alerts.
What's nice is all these dashboards are already built into Squarespace, reducing the need for you to seek add-ons.
Squarespace also supplies optional integrations, although adding them requires you to access different places depending on what you want.
SEO
When it comes to SEO, WIX and Squarespace are pretty neck and neck.
Both highlight that their websites are mobile optimized and contain schema markup for accurate rich results, XML sitemaps, free SSL certificates, and default meta tags.
WIX also promises that users of its templates will receive rapid load times and even allows you to edit page info that's showed when a page is shared on social.
Squarespace flaunts the idea that its sites are run through Google's Mobile Friendly tool, so you know any mobile site is up to high standards before it enters your hands.
Overall, both seem to do a pretty great job at making sure your sites are prepared to check off the basics and some of the advanced SEO needs. Both WIX and Squarespace even supply SEO checklists that should be reviewed to verify you aren't missing any major items before launch. WIX even as its very own WIX SEO Wiz that helps create a personalized SEO plan to identify areas of improvement for your site.
Support
With a quick Google search, you'll discover both platforms' support centers. Both give you a list of guides that are organized by a variety of topics (Billing, Analytics, Templates & Designs).
Clicking into any of these topics will bring you to one of their helpful guides with internal links if what you've selected doesn't entirely answer your question.
If you're unable to find your answers here, both platforms have additional support features for you to choose from.
Squarespace gives you the option to either email a representative or do live chat for more immediate answers. Email is monitored 24/7 and is convenient for questions that aren't dire emergencies. Live chat is open Monday to Friday, from 4am ET to 8PM ET, which is great if you don't have time to wait.
Squarespace does not offer any call support, which can be a challenge for those who prefer to communicate over the phone.
Unlike Squarespace, WIX does have call support, and depending on your preferred language, the call center operates 24/7.
Checking their website also lets you know how long the wait time is, and if it's too long, they give you the option to request a callback.

The other option is to submit a ticket, as you would with Squarespace. While they are also constantly monitoring their emails, they will likely respond back to your request within the next 24 hours.
WIX currently does not have a live chat feature, but it is listed as a feature request on their website, so it may become a reality in the near future.
Pricing
Before you even pick you plans, it's important to mention that both platforms offer free 14 day trials and four paid plan options which need to be selected when your trial ends. Once you dive into the prices and features themselves, the platforms do have a few glaring differences.
Overall, Squarespace plans are slightly more expensive than the plans WIX offers, but it's important to note the features of each vary. So depending on your website needs, paying a few dollars more may not matter.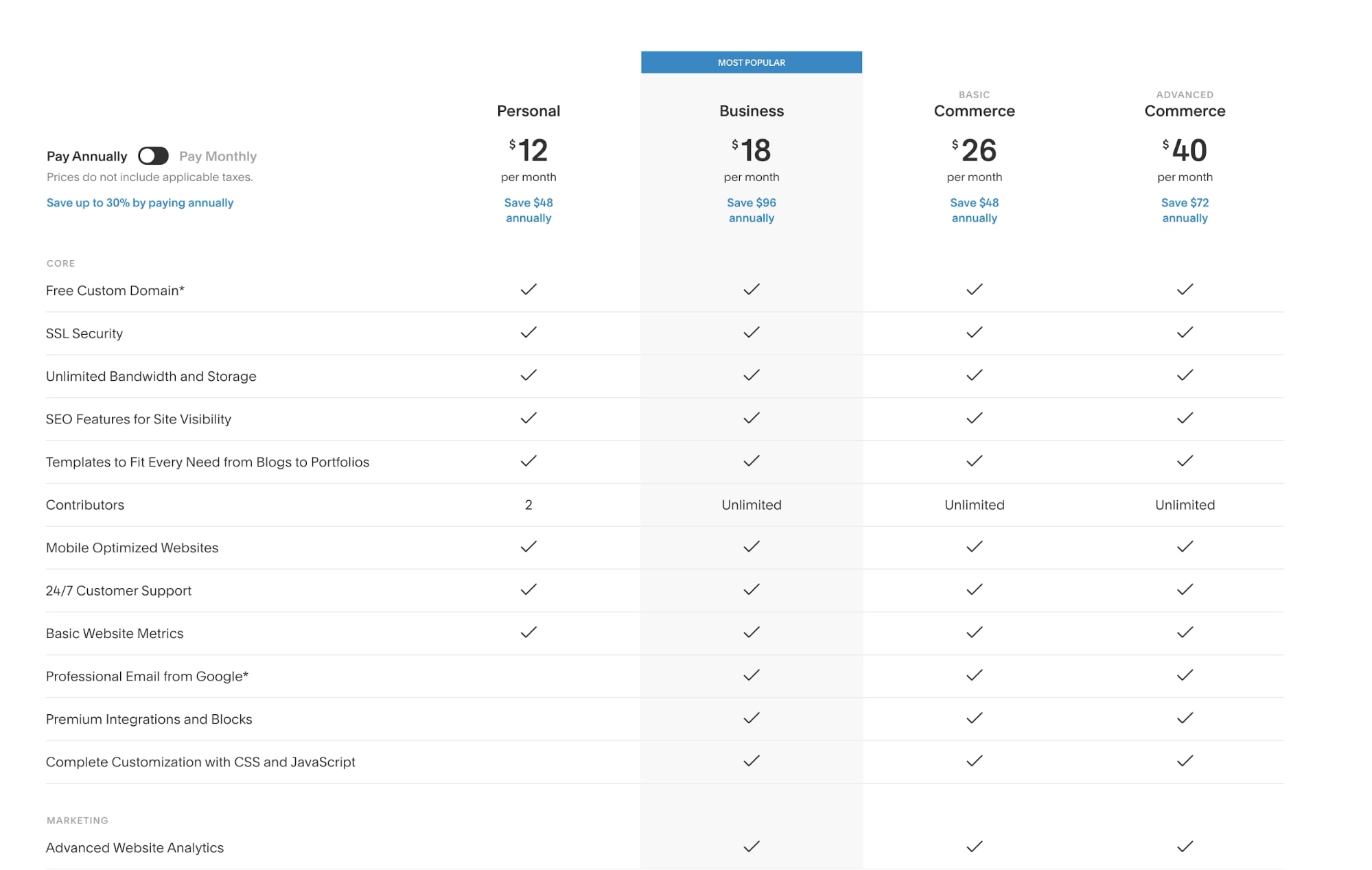 Here is a more in-depth layout of those pricing monthly vs annually:
Annually
Personal - $12/mo
Business - $18/mo
Basic Commerce - $26/mo
Advanced Commerce - $40/mo
Monthly
Personal - $16/mo
Business - $26/mo
Basic Commerce - $30/mo
Advanced Commerce - $46/mo
All plans give you free domain registration for the first year as well as unlimited bandwidth and storage, 24/7 Customer Support, and website metrics.
I suggest you only use the personal plan if you aren't too concerned with metrics and don't want to have anything to do with customizing your website style or functionality.
Once you move into the business plan (their most popular) you can then start selling online. But, it's important to note that there is a 3% transaction charge. So it's not recommended for those looking to make a purely e-commerce site.
The basic plan unlocks additional tools, such as mobile-optimized checkout experiences, or the option to sell on Instagram. You even have accounting dashboards and visibility into customer accounts.
In the advanced plan, you can now focus on cart abandonment, flexible discounting, and shipping tools to help you handle some of the more daunting aspects of managing an online store.
WIX's pricing plans come in a little cheaper than Squarespace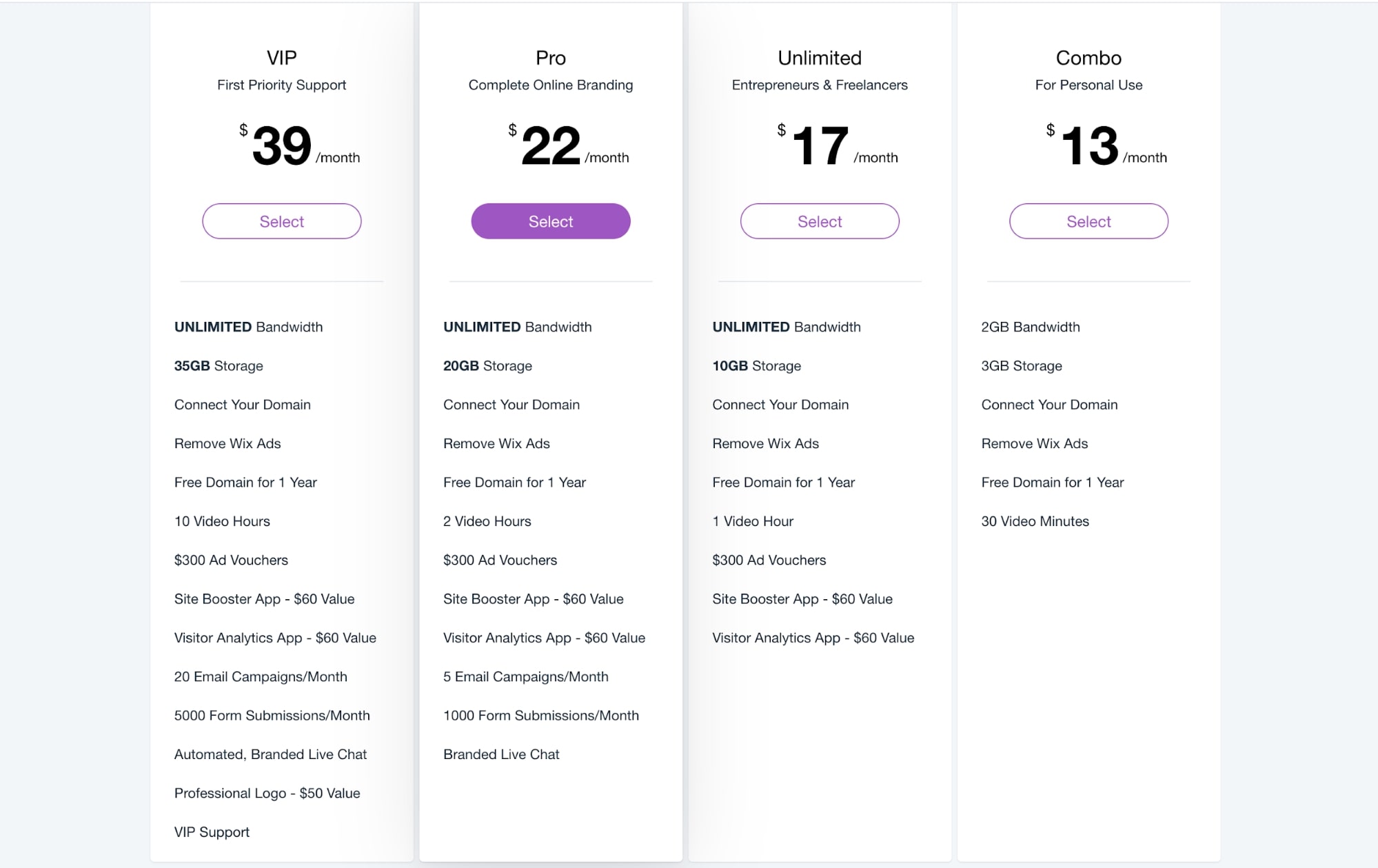 Annually
Combo - $13/mo
Unlimited - $17/mo
Pro - $22/mo
VIP - $39/mo
Business Basic - $23/mo
Business Unlimited - $27/mo
Business VIP - $49/mo
Enterprise - $500/mo
*Pricing will decrease monthly if you choose to lock in for yearly or longer.
The personal plan at $13 is by far the cheapest, but you are limited to only 2GBs of bandwidth and 3GB of storage, as opposed to Squarespace's unlimited feature.
In the unlimited plan, you gain access to a $300 voucher to Google Ads, Bing Ads, and local listings. You also get the premium versions of the site booster app and visitor analytics app.
From there, the Pro and VIP plans adds in unlimited bandwidth and increased storage while also introducing email marketing, marketing campaigns, form submission captures, and live chat, with VIP adding in a custom logo and premium support.
Any of the business and commerce pricing plans begin introducing features such as online payments, free commissions, and varying quantities of stored email campaigns and form submissions.
Some of the features, such as cart abandonment and advanced shipping that Squarespace business plans account for aren't added by default. Instead, you would need to head to the WIX app store and select apps that will monitor these things for you.
So, which is better: Squarespace or WIX?
When it comes down to it, the best option is going to be dictated by what your comfort level is with creating websites and and how advanced you need to get.
WIX gives you a high-degree of control and practically allows you to create your own website styled however you'd like, which is pretty incredible for those who are particular about how they might want sections positioned and organized
Squarespace offers and initial design hurdle when getting used to it, yet limits your control, which arguably makes the tool easier to use and less prone to sites looking broken on accident.
If you're going to a more e-commerce-focused website, both will give you similar features, but there is some piece of mind in knowing Squarespace has many of the desired metrics built into the tool, whereas with WIX you need to add them one by one.
At the end of the day, I say to experiment with both in a trial period and see which clicks with you more — and that should help dictate which platform to choose permanently.
Free: Assessment
Does your website build trust with buyers and bring in revenue?
Take this free 6 question assessment and learn how your website can start living up to its potential.