3 Reasons I Used to Hate Wix.com for Business: What & Why That's Changed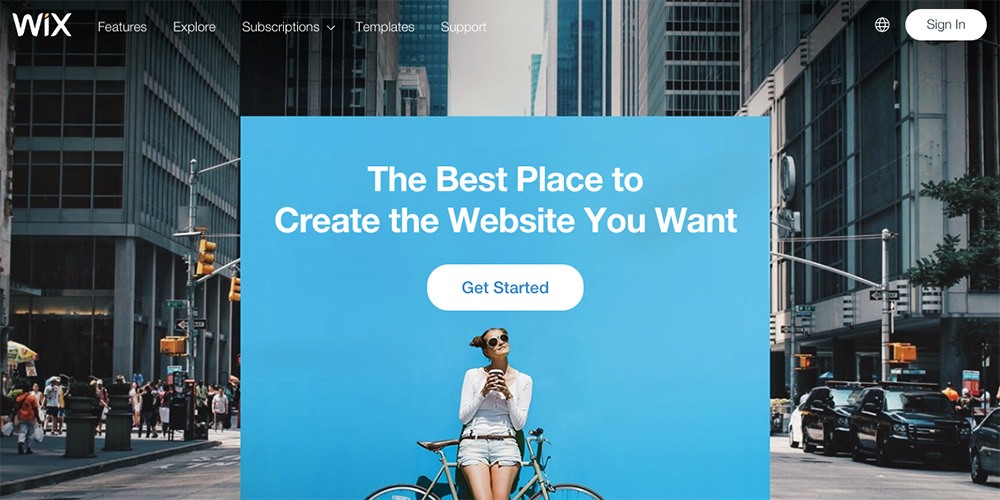 I have a confession to make. Sometimes things evolve in extraordinary ways and you have to eat your words.
Back in 2013, I was two years into my inbound design career.
At that point, I was just starting to come into my own with not only designing for the inbound world, but building websites that were turn-key for business owners.
That feeling of being able to design a great looking, conversion-driving site and then empowering my client with the ability to use and maintain the site was second to none.
It was where these projects were starting that was so concerning.
Time and time again, I met with business owners who had attempted to build a site themselves and then received absolutely no return on effort.
The one commonality? "I built it on Wix.com."
So, I went on a bit of a blogging rampage. I wrote an article that was straight from the heart and touched on every major pain point my clients were feeling, the same ones I was correcting.
It went totally nuts. Chances are if you are here now, you've read that original article --But, I'm here to set the record straight.
It's 2019. Things in the marketing world have changed a little in the last six years.
Wix.com and its business website design options have changed, for the better.
1. SEO
My single biggest gripe back in the day were the results (or lack thereof) that Wix.com users were seeing on the platform. A lot of this was due to SEO.
Back in 2013, Wix.com was extremely limiting in terms of what it could offer users in terms of education and implementation of an SEO strategy.
The biggest disadvantage was the inability to control simple things like URL structures, but things have changed dramatically. Due in large part to user feedback, which deserves kudos in its own right!
New Tools & Plugins
Wix.com now offers Wix SEO Wiz, which is comparable in nature to a plugin like Yoast for WordPress.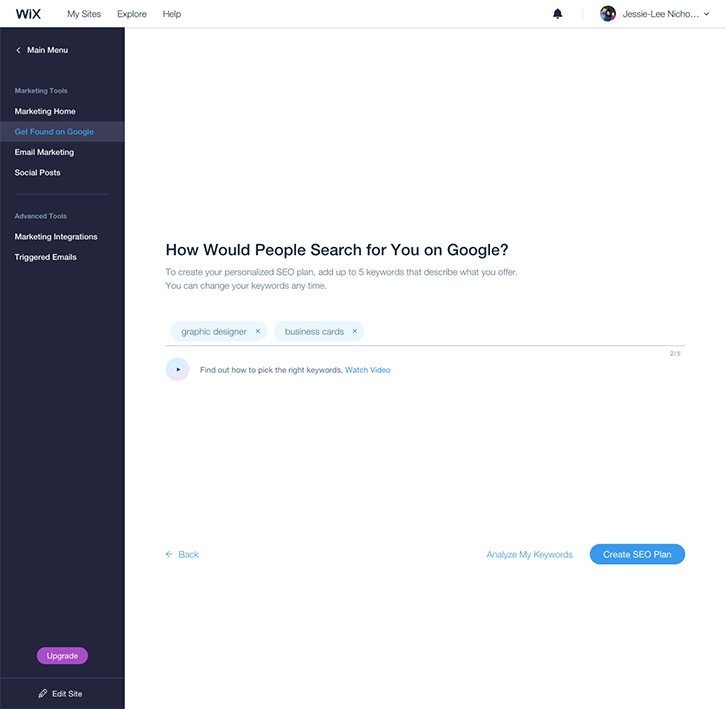 Not only does this new tool provide a step-by-step guide for users to improve their ranking on Google, but more importantly teaches the average website builder a go-go the importance of these actions. Now, that's pretty damn inboundy.
Wix SEO Wiz helps users create a personalized plan for their unique site by suggesting keywords and helping optimize a site based on location.
If a user is extremely green to SEO, they even provide a checklist tool to alert the user if crucial steps have been missed.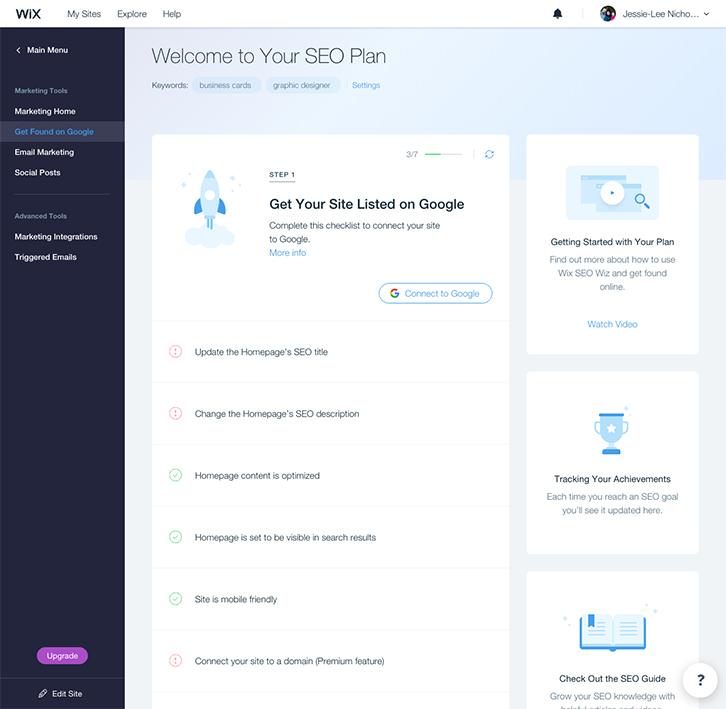 This is a huge win!
Better yet, they are offering third-party apps in the Wix App Market.
These can make your site's SEO backend as simple or as complicated as you like based on your level of expertise.
The level of complexity may be dependent on how deep your pockets run, but the possibility remains there.
Now, the catch here is that some are pay to play. You can do a lot with a site for the right price, but that is true on any platform.
URL Structures
This used to be my single biggest gripe.
Prior to 2016, Wix.com website URLs included a hashbang (#) which was being served through javascript and at the time was not readable by search engines.
Even more troubling, at the time, all "pages" were canonical and simply tabs of the homepage, which did not allow them to rank on their own.
Yikes.
Fortunately, in 2016, Wix.com heard its users loud and clear.
They removed the hashbang from their URLs, providing users with clean (user and search friendly URLs that improve the usability and accessibility of a website by being immediately meaningful and representative of the content on a page) URLs and complete control over them.
Inner page URLs are completely clean and parameter-free. HUGE.
In the same spirit of providing the user with the ultimate control, pages were released from self-canonicalization. Although, if you know how to use canonical URLs responsibly, the option is there.
Prior to these recent tool improvements, Wix used rel=canonical tags on pages other than the homepage.
These tags told search engines that every page on your site was simply a duplicate of the home page. Obviously, that has some serious SEO implications when it comes to duplicate content.
Having released pages from self-canonicalization, users can responsibly use canonicalization, when necessary, to prevent Google from assuming content is a duplicate when in fact, it is not.
2. Site Ownership
2013 me used to get really upset about this. Actually, 2019 is equally as passionate about this.
As a designer, I, of course, want my designs to uphold their integrity by never, ever having an untrained hand touch them.
While sadly, this isn't realistic, I still stand firm that every single website owner should be just that, the sole owner of their website. In fact, they should even go so far as to be empowered to use and maintain it. Gasp!
This was one of my biggest challenges with the Wix free website promise in 2013.
Unless you were willing to pay to play, your website wasn't owned by you meaning your content and assets weren't yours for the taking. Once committing, you were stuck where you were unless you were willing to start over from scratch.
This is pretty scary. Your content on the web wasn't yours, that web property was owned by someone else. It's equivalent to having the ability to decorate a house, but at the end of the day it really isn't yours.
This still isn't an uncommon practice, so despite the website builder you are using, I would be sure you are reading up on the facts of domain and site ownership before putting all of your eggs in one basket (host).
Today, Wix has taken a hard look at their site ownership policies and has updated them to be user and customer-centric. They even have a snazzy interface that breaks it down for you.
The platform has now taken a clear stance on site ownership, one that makes me feel much more comfortable than it did six years ago.
They note the differences in who is considered the owner between free and premium sites, and they are completely transparent with the user on how site ownership is determined.
Spoiler alert: in both cases (free and premium), it isn't Wix!
No matter which builder or platform you choose to design and/or host your website, always, always have control over your site and your content.
3. Mobile Sites
It's not news to anyone that the mobile revolution is here and it isn't changing anytime soon. If your site isn't responsive or optimized for mobile, you're more than just a little behind.
Back in 2013, responsive websites were just starting to become non-negotiable, but, there was another option, that just wasn't cutting it -- the mobile site.
Mobile sites were sites that were completely separated from their desktop counterparts. They were optimized to display only the most relevant content to a user on mobile. This is what Wix relied on at the time and, in most cases, these sites were a total flop.
They were too difficult to maintain next to a desktop site and they weren't providing the user with a seamless experience from desktop to mobile.
Wix has since ditched the mobile site in favor of the industry standard responsive website.
What's really unique is the experience they are providing their customers having built an entirely separate mobile site editor.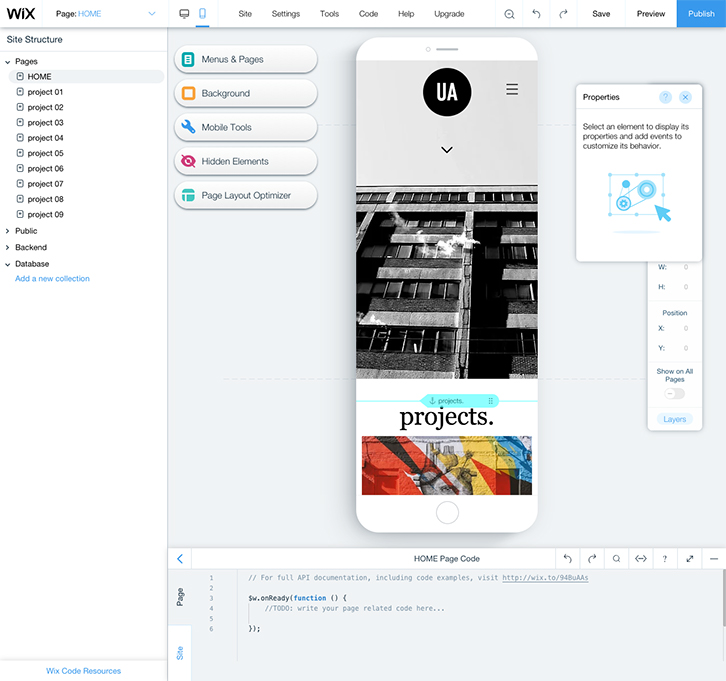 Now, this shouldn't be misinterpreted or confused with a separate mobile site. The editor simply provides users with an interface that allows you to refine site aesthetics based on device size.
So, this is the real hard part.
Even as a seasoned web designer, it's hard to envision how every single element on a site will break down once it starts responding to devices.
While it's impossible to view a website on every device in existence, this editor provides users with the ability to edit elements that seem a little "off" beyond the traditional mobile breakpoints.
Even Photoshop doesn't let you do that!
Once you create a site, this mobile editor is automatically generated and fully built into the platform. It isn't an additional add-on and it isn't anything you have to activate.
The really nice thing here is that when you make a change in the desktop editor, the content change is reflected on the mobile site.
As well as vice-versa. So, the user doesn't have to maintain two sites, but still understands the visual complexities of each.
Wix is allowing users to create the most consistent experience possible for the end-user. This results in a site that not only looks great across devices, but also establishes some serious credibility.
No matter how large or small your business, or your web team, you can create a top notch experience for an end-user that is totally device agnostic. That's powerful.
What's New With Wix?
So, here is where I am really going to blow 2013 me out of the water.
I used to cringe every time a Wix commercial interrupted my regularly scheduled televised event. It was a slap in the face to me, a professional web designer, always touting that anyone could build a website and it's 100% free!
Well yes, that is true.
Anyone can build a website for no cost at all on Wix, but that doesn't mean it's going to turn out effective, nor does that mean that person should be creating said websites.
But I've matured. And so has Wix.
Wix has seen us, professionals. They heard us and they developed a product that would appeal to all of our needs as creatives.
Wix Code is a product aimed at professional web designers and developers.
Their platform has some serious strengths for the everyman, so, why not take advantage of a kick-ass platform, while giving the professional community the ability to work with traditional methods of design and code? It's a win-win, right?
Wix knows it's up against other builders, but it's also up against the open-source platforms the professional crowd knows and loves (i.e: WordPress).
Wix Code is their response.
Straight from the Wix Code landing page:
"Wix Code makes it easy to build web applications and robust websites. It's serverless, hassle-free coding. Set up database collections, create content rich websites, add custom forms and change site behavior with our APIs. All built with the stunning visual components of the Wix Editor. Plus, anything you create is SEO compatible."
It's growing more sophisticated every day as more professionals are providing feedback that is moving the platform forward.
Wix Code gives the professional community total control, while providing users with the same comfortable interface they are used to.
It's a major win for a platform that traditionally positions itself toward the everyman. Maybe we'll all live in harmony yet!
So yeah, actually anyone can do it!
So, Would I Use Wix to Build a Client Website?
So, to a degree, I need to eat a little crow.
To reasonably defend myself, things were different six years ago.
Website builders were really just starting to become accessible, and hey...we've all had to learn a thing or two after a couple of harsh feedback sessions. Wix was no different.
However, they listened, intently, to articles like mine and were able to innovate their product for the better.
Today, I'd be willing to try Wix with my team -- but, I do still have some questions.
Before I would recommend this platform to a client, I would want to get some current user feedback on how much a Wix website costs to be completely custom-designed and developed (with Wix Code) with the appropriate add-ons to fully optimize the site for the user (the client using the backend of the site).
I'd then weigh this cost against platforms I know to be tried and true, for instance, HubSpot and WordPress.
To take it even further, I'm curious to understand how Wix integrates with lead generation tools and platforms like HubSpot. Are they worth the cost and the technical integrations to use in tandem? Or will one always outweigh the other?
Is there truly an advantage to the dual system? Or, does Wix have a response to the all-in-one marketing platform in the works? Or, is this simply possible with addons from the Wix App Market?
And, regardless of the advancements made to the platform, you also have to keep in mind that a tool is not a replacement for a strategy.
Despite the platform you choose to build on, a site isn't going to be successful without a well thought out strategy and roadmap for execution.
Whether it is Wix, WordPress, HubSpot, or otherwise, you need to start with a well-thought-out website strategy if your website is going to be a success.
Free: Assessment
Does your website build trust with buyers and bring in revenue?
Take this free 6 question assessment and learn how your website can start living up to its potential.