3 Ways to Unlock More Marketing Budget From State of Inbound 2015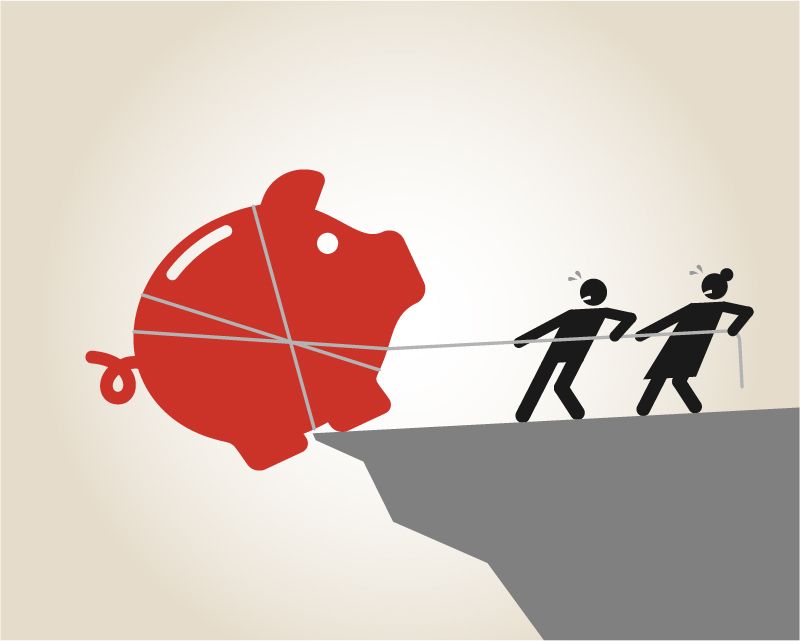 Like many people, I have a love-hate relationship with money.
I love it when I have it (this is basically me), but I absolutely despise it when I don't.
The same can probably be said for a lot of small and medium-sized business owners reading this. When cash flow is healthy and consistent, budgeting is a breeze, but when you're pinching pennies, it's a struggle trying to decide where to make cuts.
Unfortunately for us, Marketing is frequently the first casualty during times like these, but in its annual industry report, State of Inbound, HubSpot has uncovered several trends that can help cushion the blow.
What is State of Inbound?
For those of you not familiar with it, State of Inbound is a data-packed industry report compiled and released by HubSpot every year since 2008.
To put it together, the company surveys thousands of Marketers (both HubSpot users and non-users) about their Marketing budget, goals, challenges, and tactics, then wraps it up in a neat little PDF package.
This year HubSpot polled a whopping 3,957 people from a variety of different backgrounds and industries.
In this article, I'll detail three of the biggest trends uncovered from their responses and explain how you can use them to unlock more Marketing budget in 2016. Let's get to it!
1. Drop Traditional Outbound Paid Advertising
I'm going to be frank. (Don't worry, you can still be you.)
Many young Marketers have dreamt of SuperBowl commercials and billboards in Times Square, but these Outbound methods are proving less and less effective every year -- and State of Inbound shows that 2015 has been no different.
While it should come as no surprise that, of those who favor Inbound, 37% named paid advertising (print, outdoor, and broadcast outlets) as the most overrated Marketing tactic, it may come as a shocker that 32% of primarily Outbound companies feel the same way.
Just take a look at this chart from this year's report:
Nearly one-third of people investing in Outbound paid advertisements admit that they're not all they're cracked up to be. That percentage even hikes up to 42% amongst people who saw positive ROI from Marketing.
What does this mean for you?:
While every business and buyer persona is different, if Outbound paid advertising is not showing positive returns, slash it from your strategy. (The same goes for any outlet that's costing more than it's bringing in.)
These traditional outlets are notoriously expensive and eliminating their costs will free up more of your Marketing budget for less expensive and more effective Inbound methods.
Regardless of their Marketing budget, industry, or audience (B2B, B2C, or nonprofit), the State of Inbound found that companies are 3x as likely to see a higher ROI on Inbound Marketing campaigns than on Outbound. So, stop holding onto your Outbound past glory.
Take a look at your analytics and allocate your Marketing budget in what's proven.
2. Win Over an Executive Sponsor
Another big trend HubSpot's report uncovered was that as you climb the corporate ladder, approval and perception of Inbound Marketing increases as well.
Among managers, Outbound is still seen as the best Marketing medium in terms of generating ROI, but as titles advance to non-executive VPs and directors, Inbound catches up, eventually even surpassing Outbound methods with 31% favoring it at the executive level.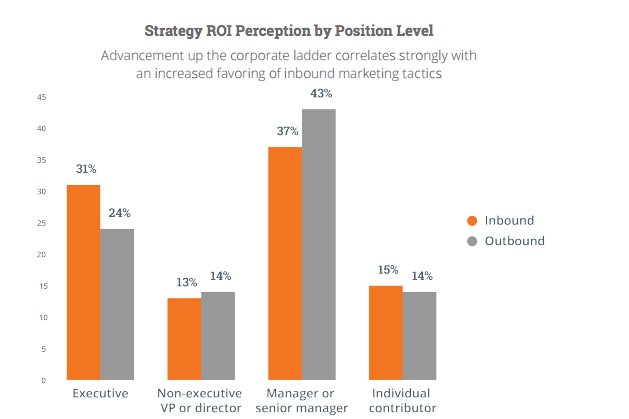 What does this mean for you?:
Use this positive reputation to your advantage.
Inbound Marketing has a lot of naysayers, with its initial ramp up period and less intrusive approach.
Because of this, more traditional Marketers may be wary of investing the time and money it takes to get an Inbound initiative up to speed, but if you have a decision-making executive on your side, you're far more likely to have your campaigns approved, along with the budget for them.

As with most departments, getting executive buy-in is the biggest hurdle to having your budget approved, but as the report shows, it's easier than ever to get this support for Inbound Marketing.
When it comes to selling your organization on Inbound, start from the top. This high-level approval will help get you the budget you need and deserve, and the support will ultimately trickle down through the ranks.
3. Track and Prove Your ROI
The easiest way to win over the executive sponsors mentioned above (and to earn yourself some more budget bucks) is to let your numbers do the talking. In other words, prove your Return on Investment (ROI).
Of the nearly 4,000 respondents to HubSpot's survey, those who showed positive Marketing ROI were twice as likely to receive a higher budget the following year. (Or to put it another way, they were 9x less likely to have their budget cut. Phew!)
What does this mean for you?:
For the second year in a row, the State of Inbound found that the act of proving ROI is the top Marketing concern of most organizations surveyed -- but it doesn't have to be.
The Marketer's struggle with ROI usually stems from a lack of tracking and reporting of analytics from the very beginning.
So, let's fix that! As we enter the new year, take the time to determine what key metrics truly reflect your organization's growth and success and establish a regular way of tracking and recording them for analysis.
With this hard data in hand, you'll be able to more easily prove the effectiveness of your Inbound Marketing strategy to your decision makers.
Heck! Even if it isn't super effective initially, you can still make your case. Out of all of the people who "failed" with Inbound in this year's survey, 81% still saw an increase in their Marketing budget the following year.
This just goes to show you, if you're monitoring and tracking your numbers, chances are you can find some credible data to support your cause to your decision makers, but if you aren't tracking your numbers, it's purely your word against theirs.
Key Takeaway
2016 is right around the corner and most organizations are planning their budgets right now. Sit down with your team to thoroughly examine the current state of your Marketing strategy with the trends outlined here. Cut what's not working and make your case for what will with qualitative support. With these tools in hand, your Marketing budget can be boundless.
Free Assessment:
How does your sales & marketing measure up?
Take this free, 5-minute assessment and learn what you can start doing today to boost traffic, leads, and sales.