B2B Lead Generation 101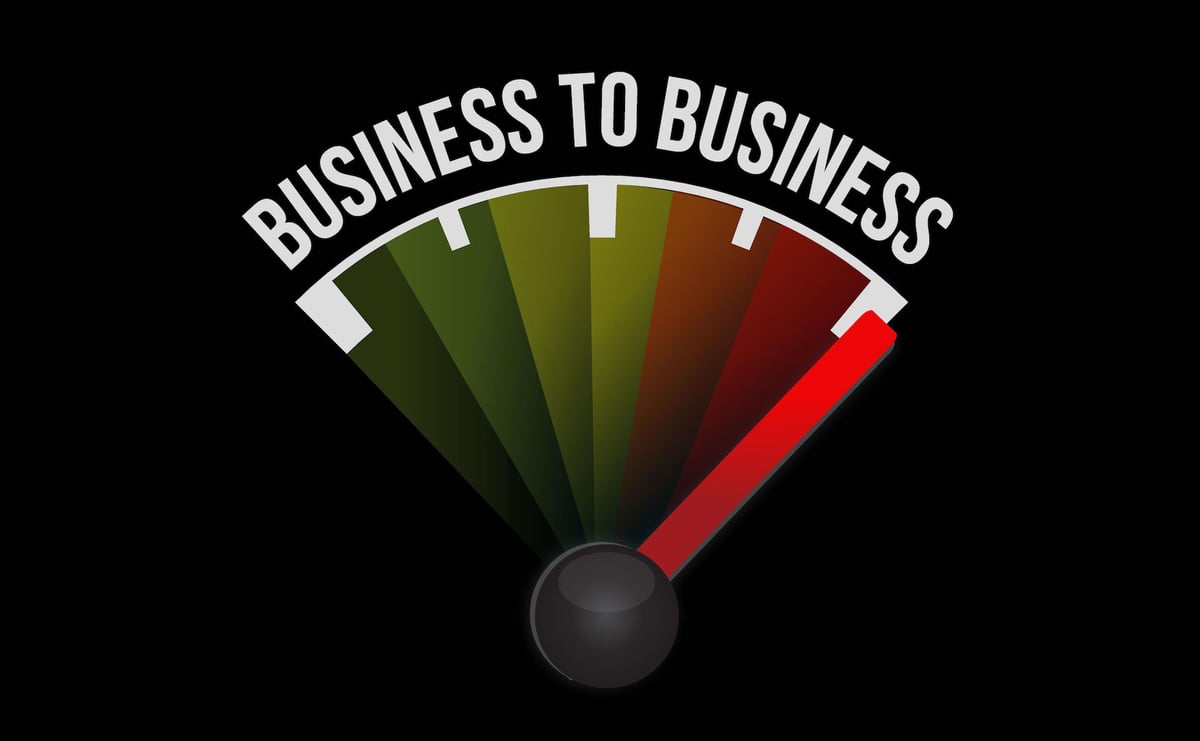 So, you've taken the steps to get your business setup and you're excited to get started; there's only one thing missing -- qualified leads that you can convert into customers.
Lead generation is our specialty.
In this article, you'll learn how to use inbound marketing to generate more B2B leads than your business can handle.
The best part of all is that these strategies can be used by practically any business in any industry.
16 Statistics About B2B Lead Generation
To get a better picture of the state of B2B lead generation, take a look at these statistics curated by Capterra:
1. The biggest challenge B2B marketers face in regards to lead generation is generating high-quality leads (61%). (Source: B2B Technology Marketing Community)

2. The most effective B2B lead generation tactics are inside sales, executive events, telemarketing, tradeshows and conferences, and email or electronic newsletters. (Source: MarketingProfs)

3. For B2B software marketers, however, the top sources of new business are organic search, SEM/PPC advertising, and word of mouth referrals. (Source:Capterra)

4. 84% of companies that have a CRM have a lead scoring process in place to determine the quality of leads. (Source: Direct Marketing News)

5. 37% of B2B marketers are using marketing automation to generate leads.(Source: MarketingProfs)

6. 44% of B2B marketers have generated leads via LinkedIn, whereas only 39% have generated leads through Facebook and just 30% through Twitter. (Source: ReachForce)

7. B2B marketers say that their greatest barriers to lead generation success are the lack of resources in staffing, budgeting, or time. (Source: B2B Technology Marketing Community)

8. B2B companies that blog generate 67% more leads than companies that don't. (Source: WebDAM)

9. Nearly 50% of B2B marketers' lead gen budgets will increase this year,compared to 44% that will remain the same and 7% that will decrease. (Source: B2B Technology Marketing Community)

10. 71% of B2B marketers use content marketing to generate leads. (Source:MarketingProfs)

11. 49% of B2B marketers site social media marketing as the most difficult lead generation tactic to execute. (Source: eMarketer)

12. Between 5 and 10 percent of qualified leads convert for the majority of marketers. 25% don't know their conversion rates! (Source: B2B Technology Marketing Community)

13. People are more likely to visit a B2B tech company's website after seeing a tweet from the company, getting them one step closer to becoming a lead. (Source: KoMarketing Associates)

14. 49% of B2B marketers are heavily engaged in mobile marketing for generating leads. (Source: MarketingProfs)

15. Content marketing generates 3 times as many leads as traditional outbound marketing, but costs 62% less. (Source: Demand Metric)

16. Over 50% of B2B marketers do not use direct mail to generate leads.(Source: B2B Technology Marketing Community)
Build Your Website for Your Buyer Persona, Not Yourself
Generating leads will be terribly difficult if your website isn't built to convert.
A common mistake that business owners make is creating a website that they like.
It doesn't matter what you like.
What matters is what your buyer persona likes, wants to hear, see, and read. Your persona should feel like your website was created specifically for them.
Because it is.
Attractive Design
Even though we all say you shouldn't judge a book by its cover, we still do it anyways.
Your design should speak to your persona.
If you're targeting PPC specialists, your website should look very different than that of a company who is targeting graphic designers.
Graphic designers are artists and appreciate cutting-edge design that expresses creativity. PPC specialists are data-driven and relate more to straightforward, functional design.
But how do you know what design your buyer persona likes? That's easy -- look at the websites of the top brands in their industry and mirror that design. When your website looks familiar, your persona instantly knows they've found the right place.
Relatable Copy
The same principles from your design also apply to your copy.
Too many businesses go on and on about themselves without focusing on their persona.
All of the copy should be focused on letting your persona know what's in it for them; the value or solution they'll receive by working with you.
That doesn't mean you shouldn't have an about page or any information about your brand story, it just means that those things need to be written in words that will resonate with your persona.
The tone, style, and actual words need to match the way that your buyer persona communicates.
Sticking with the example above, artists are more likely to relate to metaphors, while PPC specialists will appreciate statistics.
When your brand speaks the same language as your persona, they see you as one of them and this makes you more trustworthy.
Be the Authority in Your Niche
What better way to generate leads than to be in a position where they want to find you?
That's exactly what happens once you've established yourself as an authority and expert in your niche.
Being an "authority" doesn't mean you have to be the biggest company or know more than everyone else, it just means that you have to be credible and you have to know more about your niche than most people.
Establishing your brand as an authority takes a lot of time and effort, which is why most of your competitors won't do it.
Also, it's not a strategy for the shortsighted. You've got to be in this for the long-haul because the benefits increase exponentially over time.
The good news is maintaining your authority gets easier and easier -- the most difficult period is building your brand up from nothing.
Create Valuable Content
The most fundamental element of inbound marketing is creating high-quality content-- with an extra emphasis on "high-quality."
81% of businesses have reported their blog as useful or critical to generating leads.

Most businesses have a website nowadays (although, I'm still shocked on a regular basis when this isn't the case) and a quickly-growing majority of those websites have a blog.
Far too many businesses, however, are not getting nearly as many leads from their blog as they could because they are publishing content that has no value to their buyer persona.
Due to the massive amount of bad information online about inbound marketing, business owners have been given the impression that a blog filled with "10 Reasons Why We're the Best Company in Town" type of posts is all it takes to generate leads and that simply isn't the case.
To generate leads with blog content, you need to create content that your buyer persona is already looking for.
Why does your persona go to Google in the first place? Why would they happen to find your content online without you advertising it to them?
Your persona is looking for content that:
Helps them solve a problem
Answers a question they have
Provides advice to improve their business
Connects them with useful tools and resources
All you have to do is give the people what they want!
What typically happens is your lead finds your free content and if it seems valuable enough they'll test it out. Once you've helped them with one thing they'll be more inclined to read more of your content and implement that advice as well. The more value they gain from your content, the more they will view you as an expert or an authority.
Since we are all conditioned to equate price with value, they'll start to wonder "If this is what they provide for free, their paid stuff must be really good."
Realistically, some leads will never convert no matter how much value you provide. Maybe they can't afford your product or service, maybe they don't need it, or it could be any number of valid reasons. There are some things that are always going to be out of our control.
However, this is why creating valuable content shines over mediocre content. They might not every make a purchase from you, but they are definitely more likely to share your content with others and recommend your company to others if your content has helped them in some way.
Dayna Rothman, Director of Content Marketing at EverString, shares several valuable tips for B2B content production:




Create diversity in your content. Your buyers have unique consumption wants and needs, so make sure your content comes in multiple formats. Your buyers are also at varying stages in the buyer journey—make sure you have content that speaks to each stage, so you can accelerate your buyers to close.
Instead of focusing on a wide top-of-funnel, think more strategically about targeting the right leads and accounts. By using predictive marketing tools and strategies like Account Based Marketing, you can have a more targeted approach to lead generation by honing in on your ideal customer profile.
Make sure you have a diverse program mix in your demand gen plans. You should be engaging in both organic and paid campaigns to drive traffic to your website to generate leads. Think about audience building and lead generation on social media, and consider engaging in paid programs like paid email sends, content syndication, paid webinars, and more to drive leads into your funnel.
Publish Content Consistently
If you want your brand to be an authority in your niche, you have to show up consistently.
Being an authority is more than being viewed as an expert. You also have to be viewed as professional and reliable. Consumers like predictability with companies, but B2B customers expect it.
Do you want to get the most from your inbound marketing? Then you have to commit. Pick a schedule for posting new content and stick to it.
Once a week at the minimum. More is better, as long as the quality doesn't suffer.
Be realistic and pick a schedule you can stick to. The companies who post valuable content daily have an entire team dedicated to it. One person can't handle it all alone while trying to run a business.
You don't want new leads to show up to your website and immediately turn around because it looks like a ghost town -- and you don't want warm leads to cool off because you publish content too infrequently.
Include a Call-to-Action (CTA)
The CTA is what guides your leads through the buyer's journey and allows them to engage with more of your content.
CEO of BeSmartee, Tim Nguyen, gives the following advice:
A very easy technique for generating B2B leads from your website is to use "exit detection". When you suspect a visitor is about to exit your website, you give them a call-to-action (CTA). The CTA can be anything of value to your target market. For example, let's say you are an e-commerce website. You can offer a coupon code that expires in 24 hours. Or perhaps you sell business consulting. You may offer a free 1 hour introductory session, but your visitor has to sign up right now.

Using this technique we've been able to increase our private launch conversion by 200%. The code is readily available and can be implemented by a web programmer in hours. Be careful about being overly aggressive, meaning don't show the CTA each time the visitor visits your website. This can become annoying. Most available exit detection plugins are smart enough to track whether it's the same user within the same session and adjust accordingly.
Where you place your CTAs isn't the only thing thing that matters, you also need to consider what your CTA says.
Makenzi Wood, Acquisistion Marketer at Visual Net Design, shares the following advice:
To get more B2B leads, companies need to use better, more relevant calls to action on their website. "Learn more" doesn't really prompt a professional to give you their information; "Let's start your project" is more action-oriented and cuts through the clutter while getting to the point. A/B test your CTAs to determine which is more effective at converting leads on your website.

Companies also need to map out the customer's journey across their website. It's almost like leaving breadcrumbs for your customer—after they look at your services, where do you want them to go? Leave "breadcrumbs" like a downloadable piece of collateral or invite them to sign up for a newsletter. Once you figure out the ideal customer journey, you can measure where users drop off and improve your site accordingly.
Provide Free Resources
Offering a free resource is a sure-fire way to boost your authority and kick your lead generation into overdrive. Providing a free resource gives you an opportunity to collect the contact information of leads, because you will typically email the resource to them.
Free resources include:
eBook
White paper
Video tutorials or interview
Audio recording
Webinar
80% of users said they would register for a whitepaper/eBook, while only 31% would register for a webinar.
Free resources boost your authority because the level of value is (at least it should be) higher than the content on your blog, but the resource is still free. The resource needs to be more comprehensive than a blog post so it becomes something that your persona wants to keep on-hand to refer to many times.
Again, this goes back to influencing how your persona perceives the value of your brand. The better your free resources are, the better they will perceive your paid products or services to be.
*Expert tip: create free resources that are better than your competitors' paid resources and the market will naturally see you as the authority.
Your persona will share your resource with colleagues, which means that you won't get to collect the email addresses of those people. For that reason, it's important to provide a brief bio on your company and contact information in the resource -- because it's likely that the people who end up with a copy of your resource will have never heard of you before.
Go Where Your Leads Are
The power of inbound marketing is that it results in leads seeking you out, instead of the other way around.
However, you'll get more leads quicker if you go where they are and draw them back to your website.
Social Media
Twitter and Instagram get all the attention, but don't forget about the true B2B social network -- LinkedIn.
LinkedIn is 277% more effective for lead generation than Facebook & Twitter.
The social media you are most active on will depend on where your buyer persona is most active. It doesn't matter which social media has the most users, is generating the most buzz, or where you have the biggest following.
What matters is engagement.
Social media is not about popularity, it's about community -- especially in the B2B market.
B2B customers are savvy and won't be easily impressed with how many likes or followers you have. If you can successfully build a small, but active, community around your brand you will generate more leads than a large following of people that aren't engaged.
In a post on the Crazy Egg blog, Jeremy Smith provides valuable information proving the value of LinkedIn for B2B lead generation:
Use LinkedIn for B2B Lead Generation

LinkedIn consistently ranks the highest among social media platforms for its B2B lead generation value. Mediabistro's visual representation makes this clear:

Image from Mediabistro.com

Research from the Content Marketing Institute and MarketingProfs showed that more B2B marketers use LinkedIn than any other platform.

LinkedIn is a massive gathering of professionals. As the social media big boys go, it's the biggest and brawniest in terms of the greatest number of professionals, the largest percentage of decision-makers, and the highest per capita income per user.

What's more, it's viewed as mature and sophisticated, as opposed to the often-misunderstood nature of Twitter or Google+. Put simply, the kind of businesses that have B2B relationships are more likely to be on LinkedIn.

But again, like the other social media channels, LinkedIn doesn't generate leads all by itself. Here's what you need to do to make it work.

Be present and active. Every social media presence requires that you both have an account and do something about it. Get online, and start being active. Connect with your colleagues and other industry professionals.
Make sure that your company has a robust LinkedIn account. Now, you need to make sure that your company's presence is clear. Completely fill out your company's spot on the network. This is distinct from your own personal profile, and it is essential for B2B leads.
Join groups. LinkedIn has a huge variety of groups that you can join. You can easily find a group that contains professionals who are likely to become your leads. Here's my LinkedIn group page. It looks like there are nearly 2 million groups I can join (1,924,327).




Join conversations. LinkedIn is like a massive cocktail party, minus the cocktails. There are constantly people huddled in groups, talking about everything. Being active in these conversations means being a stronger marketing presence among people who matter.
Look for help. Sometimes, the best way to encourage a lead is to ask for help. A little quid pro quo goes a long way toward starting and solidifying valuable professional relationships. I've used LinkedIn to find qualified people in my industry who can help me with a project, point me in the right direction, or recommend a solution to a quandrum. These people who help me — in or outside of my network — are useful leads.
Pay for lead collection. If you want to go the direct route, LinkedIn has an integrated lead collection tool.

This tool allows users who come across your company to request a contact. These are genuine warm leads.

Be aware, in order to use the lead collection tool, you must first open an advertising account with LinkedIn, which obviously is going to cost money. Who said that social media leads are free? When the leads come, you'll get a look at the visitor's LinkedIn account, and be able to contact the person via LinkedIn or email.

Bottom Line

In spite of the upswing and potential of social media, it hasn't proven particularly successful for actual high-converting leads. In order to see ROI from these sources, you've got to have a process for converting the leads. In order to get the most leads, and get the best leads, you should 1) Use CTAs and links to your website, and 2) Put most of your efforts into Linkedin lead gen.
Guest Posting
Publishing guest content on major publications is one of the simplest ways to generate a ton of leads.
Just because your persona hasn't found the content on your website doesn't mean they aren't regularly consuming content online.
Websites like Entrepreneur, Business Insider, and Huffington Post are read by millions of people every single day. Wouldn't it be nice to get your brand in front of those people? You can and it's easier than you think!
First you need to figure out which websites your buyer persona reads. Although there are some benefits to guest posting outside of lead generation, you really won't gain much from submitting guest content to publications that your buyer persona doesn't read.
Then you'll want to find out what their requirements are for submitting a guest post and send your pitch to an editor.
Believe it or not, you don't have to have a big company or well-known brand to get accepted. Major publications are under tremendous pressure to pump out a lot of good content. All you have to do is provide good content and send a professional pitch to the editor -- that's it.
Of course, the more you are seen as an authority, the less picky they will be about your guest post -- and the more major publications you contribute to, the more authority you gain.
Not only will you generate more leads directly from your guest posts, but these leads will be warmer than leads who find you through Google because you've received the seal of approval from a major publication that they trust.
You can then add more social proof to your website by adding a "featured in" section that highlights the publications you've contributed to. This adds to your authority and helps you gain the trust of leads generated from all sources who end up on your site.
Online marketing consultant, Brandon Seymour, had the following to say about guest-blogging:
One tactic that I've found to be highly effective for generating leads is guest blogging on industry-relevant sites. In addition to helping small businesses build up their SEO through link-building, guest blogging can be an excellent lead-gen source.

I've written a variety of articles for several industry-leading sites and many of them have sent me some great referral clients. You can even get creative and structure the content in a way that pre-qualifies your leads.

For instance, I wrote an article on multi-location SEO—most businesses with multiple locations (such as chains and franchises) have more money to spend than smaller single-location businesses. As a result, several of my most valuable clients found me from this one article that I wrote for Search Engine Journal almost a year ago now.

In fact, this particular article generated over $40,000 in revenue through direct referrals. In a nutshell, the more credibility you can establish on websites that your potential customers or clients trust, the more likely they'll be to do business with you.
Industry Forums
You might not hear about this as much, because it can be hit-or-miss, depending on your niche.
There are businesses who rely almost exclusively on forums and subreddits to acquire the majority of their leads because their buyer personas are highly active there.
The key to being successful with this strategy is to not promote yourself too heavily because most forums don't like that and it will get you banned. It's okay to let people know about your business, but you shouldn't bring it up in every post. Instead, focus on helping as many people as possible. As you build up your reputation within the community, people will start asking about your business and start recommending you.
This all goes back to being the authority. If you are the go-to resource within the community, who do you think they will turn to when they are ready to purchase the product or service you offer?
This strategy isn't for everybody, because it does take time and not all niches have an active forum. However, most businesses overlook these powerful lead generation sources, so it's certainly a strategy that can set you apart from the competition.
Generating High-Quality B2B Leads Takes Time
Marketers are impatient by nature, so it's understandable to be frustrated with your initial lack of results. The folks over at SalesForce explained it nicely:
There are quicker and dirtier lead generation techniques that can be used to bring in potential customers right now, but in the long run, these won't be as profitable as those leads that you draw in through the targeted and steady process of effective inbound marketing and lead nurturing.

The lead generation methods and tactics you put forth are not nearly as important as how well you target your potential customers. The better focused your lead gen campaign is to your prospects, the likelier they'll find relevant content they want, and that will yield higher odds that they'll convert into paying customers.

However you end up generating leads, be it through direct mail marketing, telemarketing, email, social media, or any other technique, the more clearly you can identify and pursue your ideal client, the sharper your razor-edged focus is, the more successful your strategy — and ultimately your business — will be.
Free Assessment:
How does your sales & marketing measure up?
Take this free, 5-minute assessment and learn what you can start doing today to boost traffic, leads, and sales.