6 best business YouTube videos you'll want to copy in 2021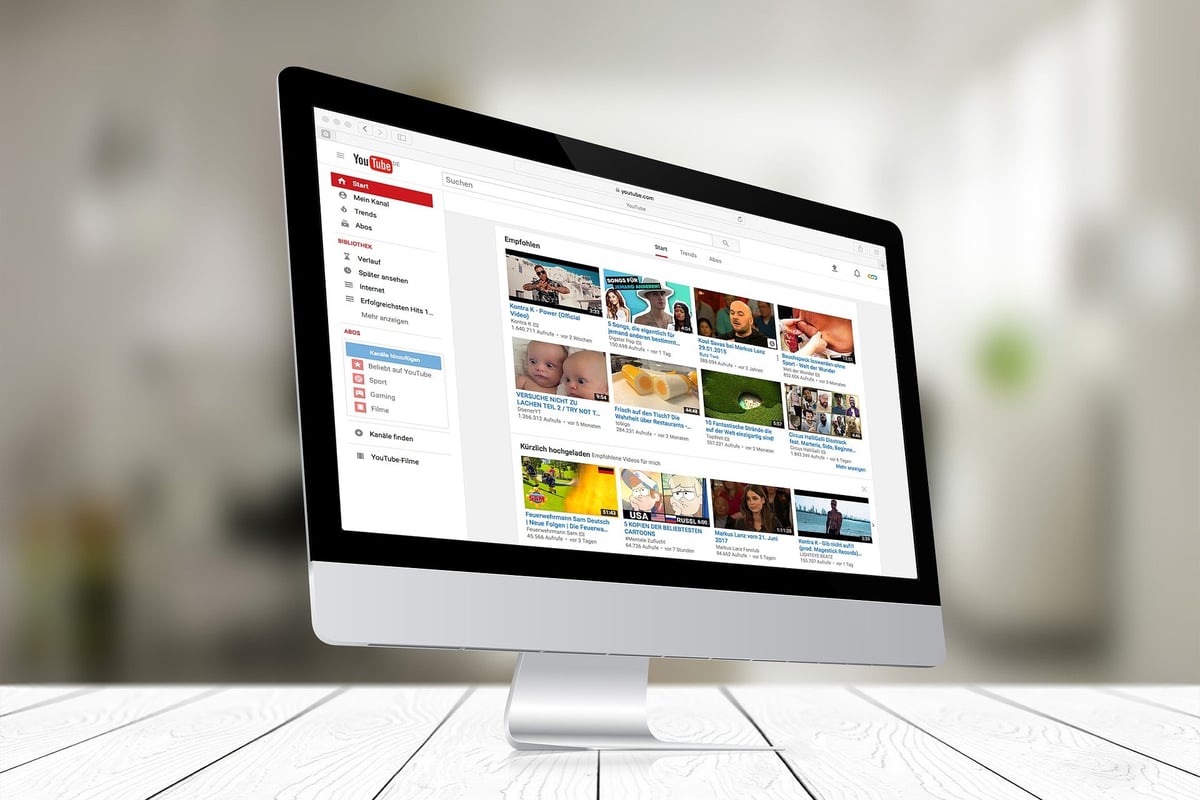 Best Business YouTube Videos
Slack
Visit California
Adobe
Fire and Ice
Descript
GSM
The horror show of 2020 is coming to an end. As we move forward into the next year, it's clear that producing video will still be at the top of everyone's list — maybe even more so than in the past. It's estimated people will spend 100 minutes a day watching online videos in 2021.
YouTube, as ever, remains the most popular site for viewing videos, with over two billion users and 500 hours of video uploaded each minute. YouTube is also awesome for marketers because of all that its interface offers.
It sets audiences up for success by letting marketers suggest other videos, allowing users to skim through chapter titles to find what they need, and encouraging them to click through to related content.
YouTube is a great way to introduce people to your brand — and keep them interacting.
Bringing your brand to YouTube
There are tons of best practices for YouTube to make your videos the best they can be.
In all you do, you'll want to make sure you follow some of these tips from Marcus Sheridan: make your videos highly educational, sincere, and fun.
YouTube differs from other video sites because you can tailor your videos to the platform. You have a lot of opportunity to be specific with what you're saying to make sure your audience stays with you and keeps watching your content.
YouTube can help your brand grow and connect with new audiences, so as we reach the end of the year, let's take a look at some of the best business videos and what you can take away from each for your video efforts next year.
These are six of my favorites because of the content, the quality, and the creativity they display.
1. Case study perfection from Slack
Let's first look at Slack and their case study. What this video does well is show the pain points the client was experiencing before they started using Slack.
Case studies are always a great way to show off your hard work and earned success while earning trust with your audience.
This case study's real power is the interviews. The clients are specific about which features helped their company. You get to hear real people explain why they like the program and how it helped them grow, and the effect is powerful.
2. Visit California's quick video campaign
Technically, this is a few videos — not just one. This is a kind of campaign I don't get to see too often, but I was impressed with it! The videos are short but effective. The marketers make great use of the playlist option on YouTube, sending you through the many different and beautiful landscapes of California.
Using relatable text messages you might send to people while on vacation in these locations makes you feel like you're really there.
Bunching short videos together keeps people on your channel and gets them exploring the option they think looks best. These kinds of quick video series can be effective if you have a wide range of products or services and want to give a quick overview or feel for them.
3. A heartfelt demo with Adobe
A great way to reach your audience on an emotional level is with a topical video.
Adobe posted this awesome video honoring heroes on the front lines of the pandemic. Maybe you wouldn't expect a creative company to be the one to do this, but the effect is very touching, and it humanizes the brand. While it is topical, the beautiful art also shows off the program's abilities.
Even if the pandemic ends next year, there are always global issues that your business can focus on. A positive and empowering message is timeless.
4. A toasty review with Fire and Ice heating and air conditioning
Fire and Ice is an HVAC service company located in Alabama — and they're also a client of ours. What I love about this video is how in depth the review is. Also, it uses YouTube's chapter feature for easy skimming.
The review covers a lot of ground. They talk to you from an unbiased perspective about every question you might have about the product. You would walk away from this video with little to no uncertainty, and that's impressive.
5. A fun and quirky product video with Descript
This is such a fun and creative product video from Descript, a San Francisco-based company that builds tools for media creators. Descript offers a software program that you can use to edit via text from your video's audio.
The video has an awesome tempo, fun bright colors, good graphics, and examples of how to use the product. It's also a fun way to do a voiceover that I haven't seen in a while.
This video serves as a good reminder that informational product videos don't have to be the usual straightforward info dump. They can be fun!
6. GSM Industrial's company culture
GSM Industrial is a small scale metal shop out of Pittsburgh. This one's from 2018, but it's still a great example of a company culture video to emulate next year. What's great here is the authenticity. They could have easily shot a few of their executives in a clean office, but they decided to do this patchwork machine shop vibe that really lets you know what they're all about.
Incorporating real working people in this video makes the company come across as grounded and connects with the viewer on a personal level.
You can also see how much planning went into the scripting process, and how much they cared about the finished product. I will always stand behind the idea that pre-production is the most important part of video production. This is clearly evidenced by the effect of this video. I can only guess how much went into scripting and planning.
A video like this would be a great asset to introduce people to your YouTube channel and encourage them to check out the rest of your content if they like what they see.
Grow your channel, grow your brand
There are so many ways YouTube can benefit your company. Whether it's the expansive user base eager to learn, or the interface's ability to keep people on your channel, you can't ignore YouTube as a business.
As we move into next year, take note of what these videos did well. Use elements from each that will work for your brand.
Take advantage of YouTube's growing numbers of users and views. If you're stuck or don't know how to get started with marketing videos, check out Will Schultz's free IMPACT+ course that covers the fundamentals of video production. His course will get you jumpstarted on creating awesome video content.
From there, it's up to you! There are fewer barriers to entry than ever before. You can even get started with a smartphone! Get inspired by the awesome examples above and make it work for you.
Free Assessment:
How does your sales & marketing measure up?
Take this free, 5-minute assessment and learn what you can start doing today to boost traffic, leads, and sales.