Virtual Selling: 6 Essential Video Sales Call Tools and Tech You Need
Best virtual sales tools and technology
Standing desk or elevated computer arrangement
High-quality web camera (built-in or attached)
Reliable video conferencing platform
Bright, natural (or artificial) lighting setup
Clear, crisp audio solution
High-speed, stable internet connection
At the start of this year, when I imagined what my new life in New England would be like, I was so excited. Finally, I was going to have my own place. I felt ready to take on the world — and raid every HomeGoods within a 30-mile radius of my new apartment in East Haven, Connecticut.
Then, of course, the coronavirus (COVID-19) pandemic hit. A little over six months later, I am still kicking myself for having gotten rid of all my office furniture before my move, because I am still... sigh, I am still working out of my living room: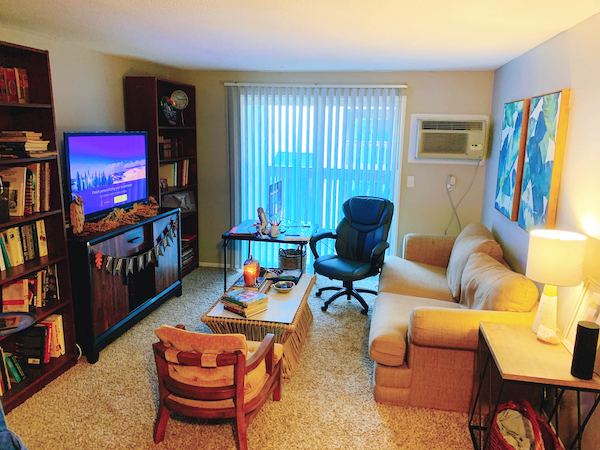 ...with an awkwardly placed folding card table crammed between my coffee table, the couch, and the sliding door to my balcony, and my iMac sitting on top of a hardcover copy of The Complete Notebooks of Henry James.
For those of y'all in sales, you're struggling with challenges others don't understand
Of course, I'm not unique in having these gripes. (And I'm one of the lucky ones. I'm not a parent having to balance a full-time job and homeschooling or hybrid e-learning with my children. I just have a cat with boundary issues.)
What was casually referred to as "the new normal" quickly became not-so-new for all of us, as days became weeks, weeks became months, and months became... well, more months. Now, these awkward home office situations are simply "normal," right?
But whereas I now simply have to wrangle commas in my living room, you folks in sales are dealing with a whole different and much, much more complex can of worms.
🔎 Related: 8 must-know virtual selling best practices for sales teams
Depending on your industry and what you sell, some or all of your sales process used to be conducted in person... now that can't happen. And, unlike your marketing counterparts (or colleagues in other parts of the business), you're under a higher level of "optics" scrutiny, because you are the first "face of the company" your ideal buyers interact with.
Oh, and if you sell products that depended on any sort of in-person or "showroom" environment, your whole company has had to rethink how to take those experiences virtual, like our pals at Yale Appliance had to do.
Speaking of virtual, you're also having to learn an entirely new set of virtual selling best practices, as you attempt to adapt your in-person sales processes and calls to your new video reality, because you can't just drag and drop what you were doing before into the present moment, with no changes whatsoever.
Wow, I'm exhausted just typing all of that out. And y'all have to live that every single day from now until... well, whenever the world decides stabilize, right?
Virtual selling isn't going anywhere
Well, not so fast, says Marcus Sheridan:
The thing is, Marcus isn't wrong. Virtual selling is here to stay, even if sometime in the future we're allowed to, you know, hug each other again or stop interacting with each other from behind sheets of plastic, masks, and face shields.
Thankfully, if you're willing to embrace this fact, there are plenty video sales call checklists, success stories, and cautionary tales out there that will empower you to become a virtual selling all-star.
But if you want to get to that level, you need to know more than how to prep for a video sales call — you also need the right tools and technology that guarantees when a prospect gets on a video call with you, they feel confident, they trust you, and they feel comfortable with you.
Tools and technology that, again, others in your company may not need for their virtual calls and video conferences.
1. Standing desk or elevated computer setup
Before the pandemic, our sales team was already remote, so we've had some experience for some time in the virtual selling world. We've also spent the past six(ish) months coaching sales teams how to kill it with virtual selling. And one of the top best practices we drill into sales teams is that you should be standing.
If you stand during a sales call, you'll be more natural, you'll be less likely to slouch, and you'll come across as more animated and inviting. When you sit, there's a better chance you may (without realizing it) slouch, slump over, or appear otherwise disengaged — even if, in reality, you're riveted.
In order to stand during sales calls, however, you'll need to invest in a standing desk or an elevated computer setup, so your camera isn't pointed up looking at your chin. (No one wants that.)
There's the "no cost" route
If you have zero extra dollars to spend, you can get creative to make this work. I know this for a fact, because I polled fellow IMPACTers and some of the setups they shared were MacGuyver-level in their creativity...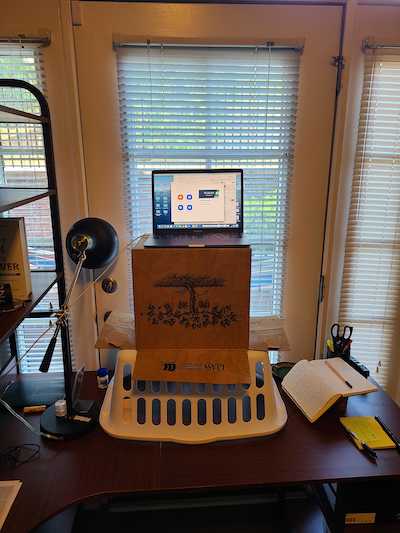 IMPACT Content Trainer Brian Casey on the fly sets up a wine box stacked on a laundry basket on his desk for his content consulting calls. Scoff all you like, but until he shared this photo with me, I had no idea this was his setup. (And if you need to go this route, your prospects won't know either.)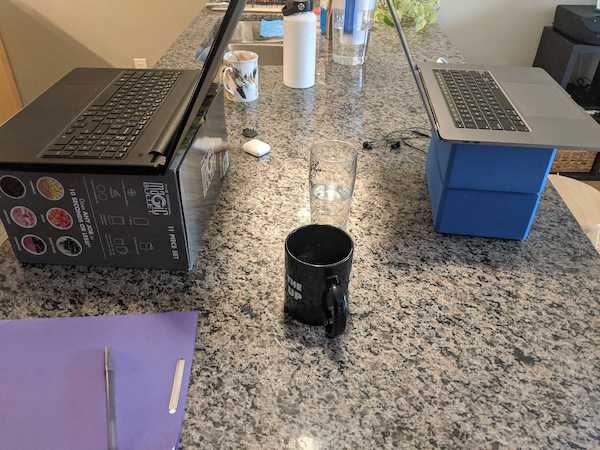 IMPACT partnerships guru Nick Bennett and his fiancée had this dueling set up at their kitchen island. Brownie points for achieving their ideal standing height levels with a Magic Bullet blender box and yoga blocks.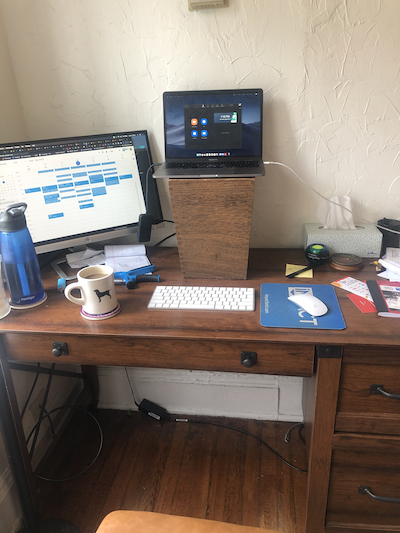 The wood matches so closely that I almost didn't realize IMPACT Content Trainer Jolie Higazi's desk setup includes a coordinating wooden waste basket, which she uses during her client calls.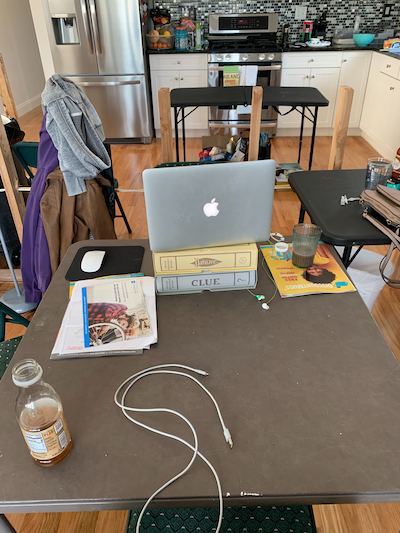 And IMPACT VP of Talent Natalie Davis had this rogue setup in her new house when we were first forced into "full-time remote mode." She's since upgraded, but I'll share that in the next section.
This "no cost," MacGuvyer approach is the right choice for you if:
Duh, you don't have any money to spare at the moment.
You have a little bit of spare change, but you're not sure what you want yet.
You have a little bit of spare change, and you don't want to spend a ton on equipment you may not need in a few months. (You little optimist.)
There's the "some cost, no new desk" solution
If you're worried about the lack of structural integrity you may find with a yoga block or wine box/laundry basket-based solution, but you're also not ready to pull the trigger on a standing or electronic sitting-and-standing desk that costs a lot of money, there is an "in between" solution.
Natalie's graduated setup from her kitchen table above is a great example: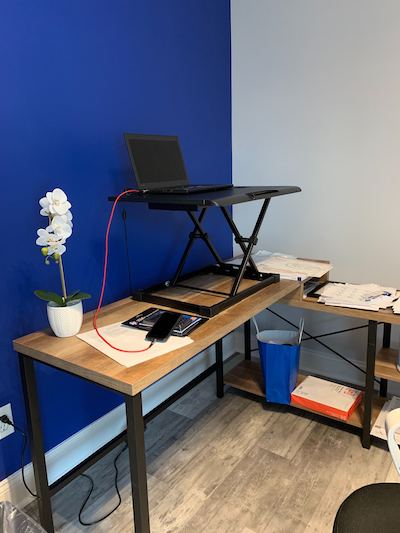 Instead of a new standing desk, she has a little riser underneath her computer that brings it easily to standing height, for her video calls.
These are called "standing desk converters," and there are ton of them you can buy right now on Amazon. You can spend as much or as little as you want to, with some under $100 to others that are $200+, depending on your needs.
Finally, there's the "be a standing desk boss" solution
Let's say you're the sales pro who is ready to go all in with the standing desk solution. Even if you go back in an office, you know virtual selling is a "here to stay" reality in your 2020-and-beyond sales process, so you want to invest in the right tools now. You may bring them into the office or you may be working from home (at least part-time) for the foreseeable future.
🔎 Related: The only video sales call checklist you'll ever need
Regardless of your situational specifics, you know Magic Bullet blender boxes, yoga blocks, and Henry James compilations simply won't do. That means you need a standing desk.
Unsurprisingly, many of IMPACTers have the same mindset...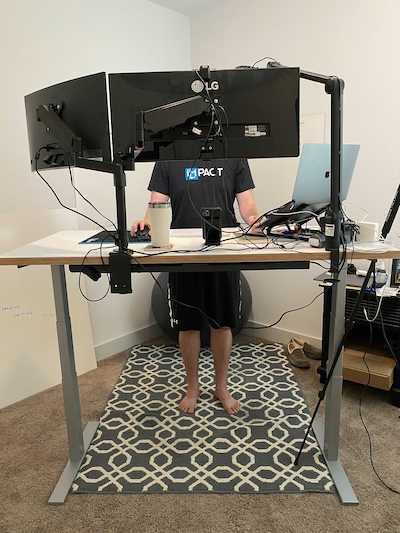 IMPACT Director of Product Morgan VanDerLeest literally looks like he could take over the entire world with his standing desk setup... which is more like a command station, which would not surprise me. His setup is manufactured by All Steel, but his wife found them on Facebook Marketplace.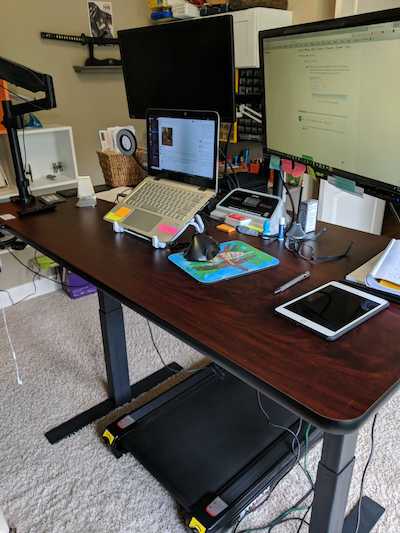 IMPACT technical SEO partner and Narrative SEO founder Franco Valentino not only has a standing desk, he has a tiny little treadmill. What's super awesome about this desk is that it has a little button so you can scale the height of the desk easily to suit your needs. Franco found his desk at Titan Fitness.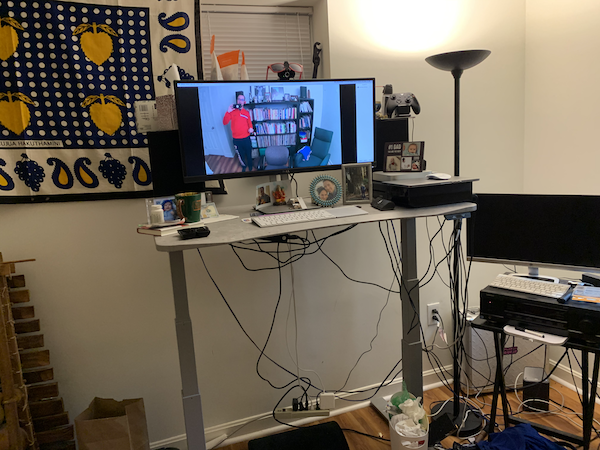 IMPACT sales master Marc Amigone has his setup down to a science, as he's been doing remote and virtual sales calls for years. While not as wide as other standing desks, it still gets the job done. Marc got his standing desk from MojoDesk.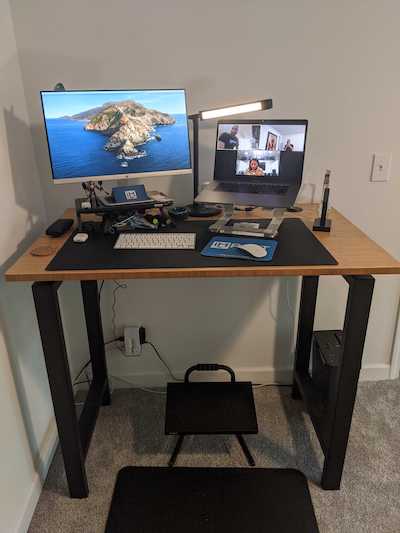 Thankfully, Nick also upgraded his setup from yoga blocks and Magic Bullet boxes to this beauty. Because, apparently, a sales life tied to a kitchen island just wasn't a great long-term solution. (What a diva, am I right?) This particular standing desk came from a brand called UPLIFT.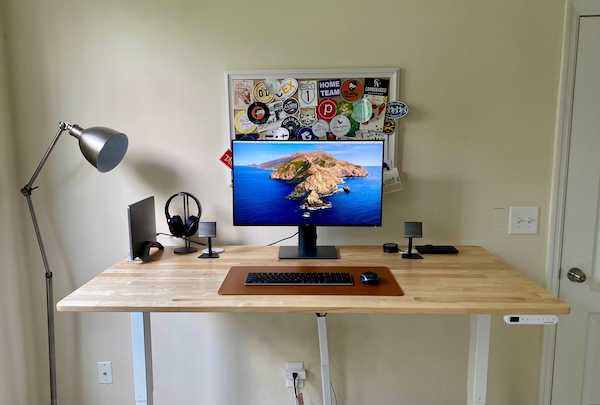 ...but Nick wasn't the only one to go the UPLIFT route. IMPACT HubSpot Trainer Joe Bachir also has UPLIFT to thank for his killer setup.
When it comes to standing desks, there are hundreds — if not thousands — of options for you to choose from. That's why this isn't a list of specific standing desks. Literally, just go onto Amazon and type standing desk to get a small taste of what I mean, because there are so many freaking options.
Actually, wait. Don't do that... yet.
If you're looking for the right standing desk for you, there are two factors you absolutely must consider before you start Googling or searching on Amazon for "standing desks" to make your remote selling dreams come true:
How much you are (or aren't) willing to spend. (Seriously, the price ranges are wild. Set your boundaries and your budget before you start pulling a Top Gun by having your mouth write checks your body can't cash.)
What features you absolutely must have. (For example, if I were in the market for a standing desk, I'd want one where you can mechanically adjust the height of the desk with the touch of a button. Those manual ones where you have to take everything off your desk to change the height? No, thanks.)
OK, now that we've got your foundation — your desk — all sorted out, it's time to move onto the next item on your list.
2. High-quality web camera (built-in or attached)
Here's the deal, closers. It doesn't matter how much of a spaceship your standing desk is. If you're relying on some low rent, Blair Witch Project-esque web camera with resolution that looks like this: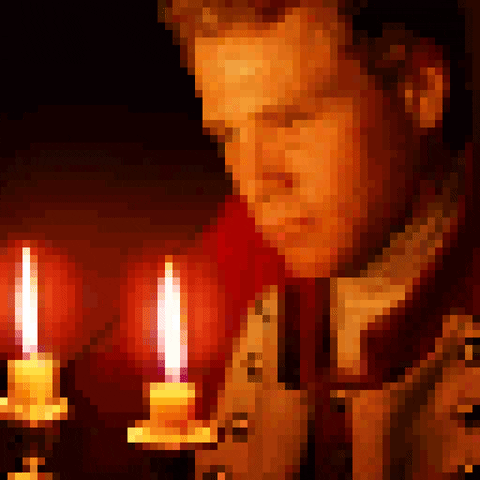 Your prospects will mentally check out within the first 30 seconds of your discovery call. This isn't 1994, and we aren't all still playing Mad Maze on Prodigy, so you need to use web camera that doesn't make you look like you're coming to your ideal buyers live from a cave.
If you have a laptop or desktop computer that has a built-in web camera, those will often be serviceable under two specific conditions:
Your computer (and thus, your camera) isn't so old that it's probably eligible for the technology equivalent of social security.
Your lighting (naturally or artificially supported) is bright an inviting. Often, you'll experienced diminished quality under low-light conditions. (But we'll talk more about lighting in a later section.)
For example, my home computer is a 2015 iMac. It has a built-in web camera that is serviceable for the internal calls my role calls for:

Your built-in web camera may be fine. Mine is OK, but I'd likely spring for something with a higher resolution were I in a sales role. Also, keep in mind that higher quality web cameras are better at capturing light.
🔎 Free IMPACT+ course: Fundamentals of the visual sale for sales pros
So, I'd recommend quite literally taking a hard look at yourself in your standard web camera set up and ask yourself, "Is this resolution and image quality good enough to put my best foot forward with prospects on sales calls?"
If not, then you need to go on the hunt for a solid web camera. Just like with standing desks, however, the same rules apply. Set your budget first, and also keep in mind you get what you pay for.
Personally, I'm a big fan of this little guy from Logitech: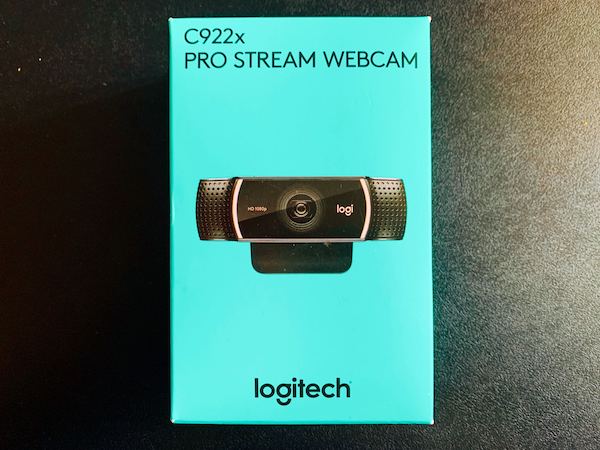 Logitech has been a go-to of mine for years for technology, and this HD 1080p web camera gets the job done for under $200.
🔎 Related: Zoom releases at-home video conferencing solution for $599
3. Reliable video conferencing solution
We live in a video-first world, folks. So, if you think just picking up the phone or using an audio and screen sharing-only solution is going to cut it, you are sorely mistaken. You need to get on-board with a video conferencing solution that works for you.
There are a lot of options for you to consider, but here are a few of the big ones I think you should take a look at.
Zoom
We use Zoom at IMPACT, and I love it. Keep in mind that if you cheap out and go the free route, you will have a hard limit of 40 minutes for calls, with a visible countdown starting with 10 minutes to go. But it's worth the cost.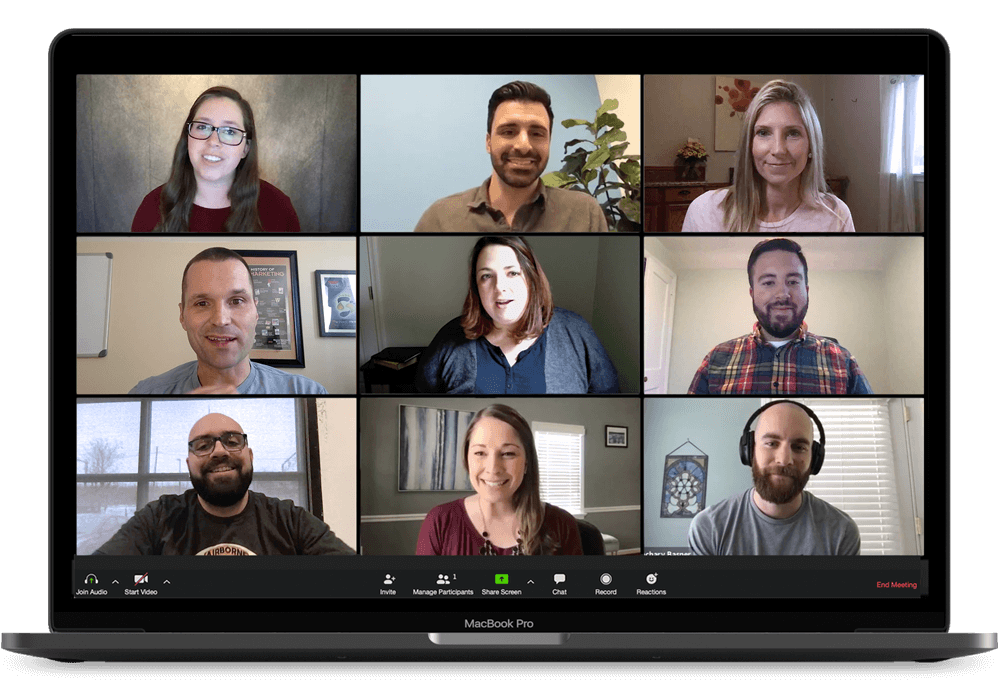 It's easy to use, it's a standard that a lot of others are using and familiar with, particularly if you're in B2B sales. It also has cool features like waiting rooms, polling, breakout rooms, screen sharing, and more.
Google Meet
Google Meet galloped onto the scene earlier this year as a more lightweight video conferencing solution. Since a lot of companies already use Google Apps for their email, calendar, cloud-based spreadsheet and word processing solutions, and so on, its seamless integration into the calendar app: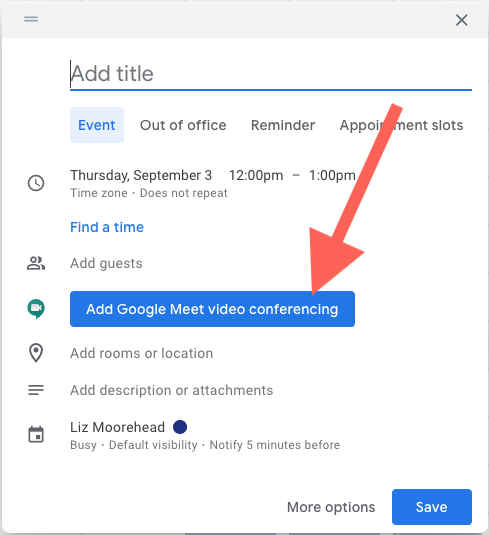 Functionality of this web conferencing solution is slated to increase over time, and Google Meet provides three tiers of pricing: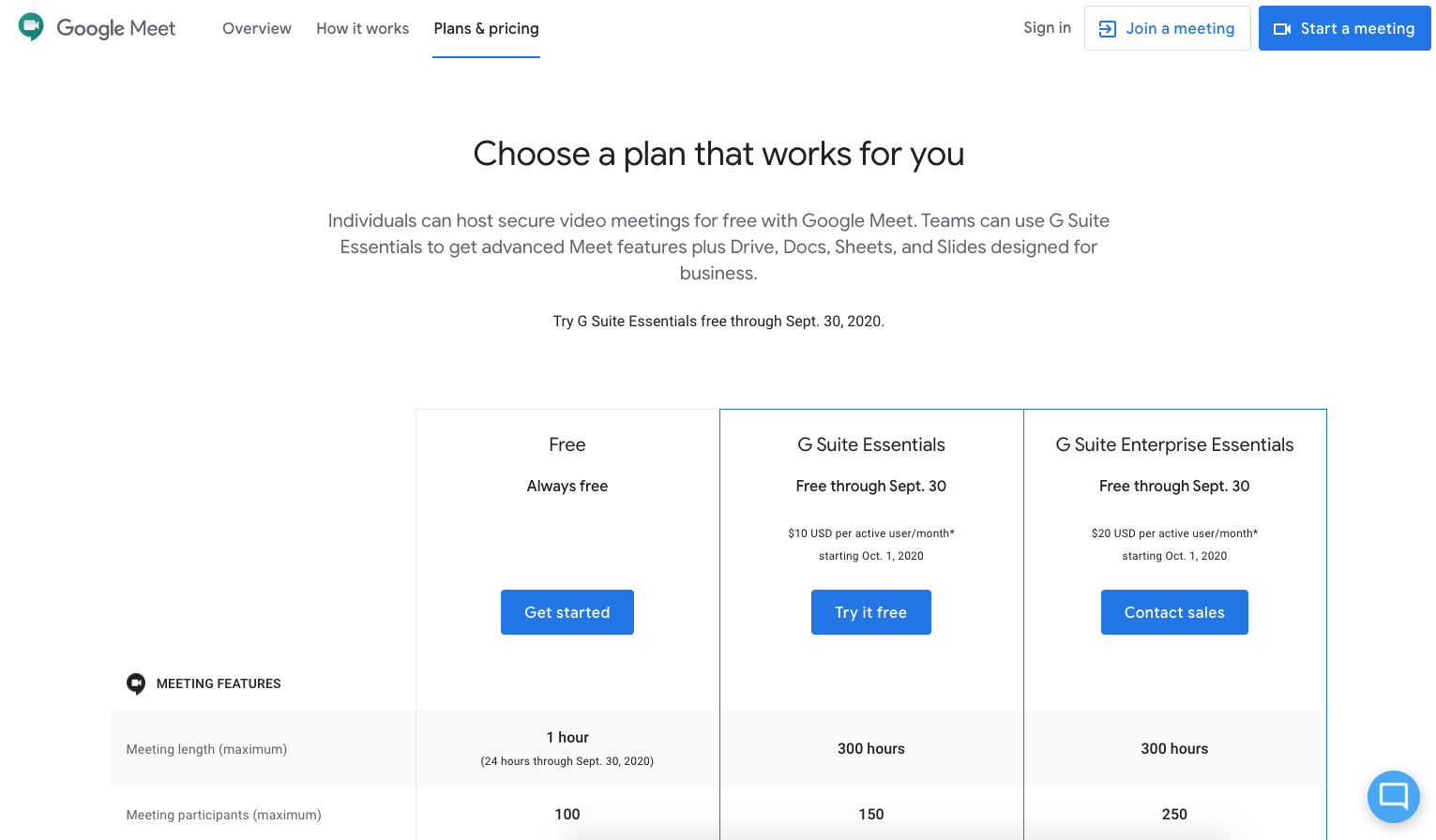 Learn more about the different features for each tier.
I don't have experience with Google Meet personally, but keep in mind that while Google is a powerhouse, it's still a very, very new product. It holds a lot of promise, but you may not want to gamble your sales calls being guinea pigs for Google Meet.
WebEx by Cisco and GoToMeeting by LogMeIn
I don't know why I lump these two in my head, but I do. I've used both WebEx and GoToMeeting in the past both as someone who runs meetings and as an attendee. Every single time, I've found the experience in both capacities to be clunky, counterintuitive, and requiring (in some cases) a strange number of downloads or emails to join, activate, or otherwise facilitate a meeting.
I know a lot of enterprise-level companies swear by them, but I tend to find them better suited for use cases like very large, one-to-many meetings. For example, an investor relations call — rather than a one-to-one or one-to-small group sales calls where you want a feeling of human-to-human connection.
🔎 Related: 6 mistakes you can't afford to make on a video sales call
Look, there are a lot great things about both of these platforms; there's a reason why they've been around for so long. But if you're looking for an easy-to-use, intuitive video sales call platform, these two (in my eyes) are the virtual selling equivalent of someone with a master's degree showing up with a two-page resume and five references to be a hired as a barista.
If, on the other hand, you are in the market for a super robust, enterprise-level video conferencing solution that will extend beyond use on your sales team, you may want to consider them.
4. Bright, natural (or artificial) lighting setup
How likely are you to feel confident and trusting enough to give someone your money in exchange for goods and services rendered if they showed up to your sales call with them, and they looked like this: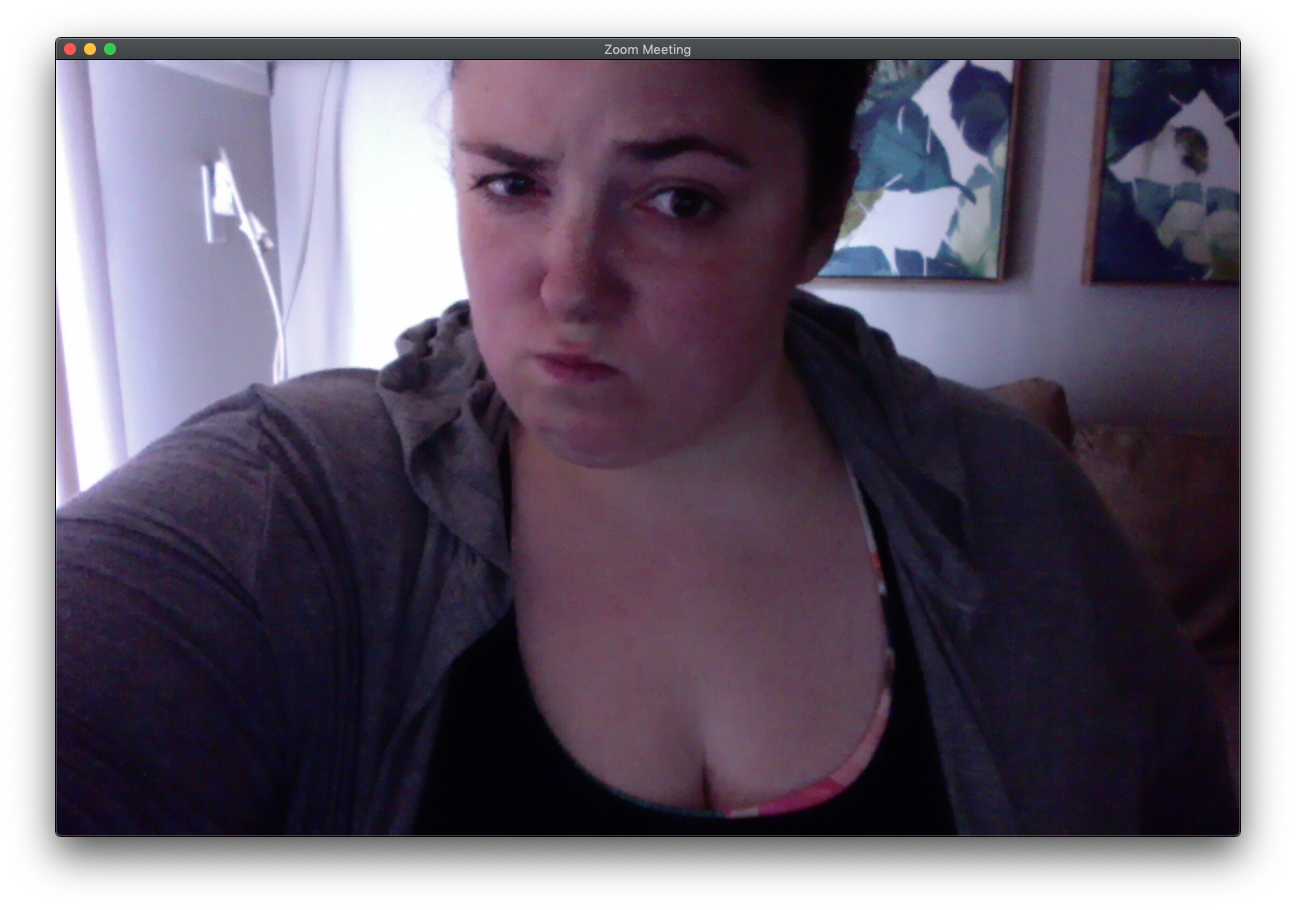 "Give me your money... or else!"
Now, take a look at this: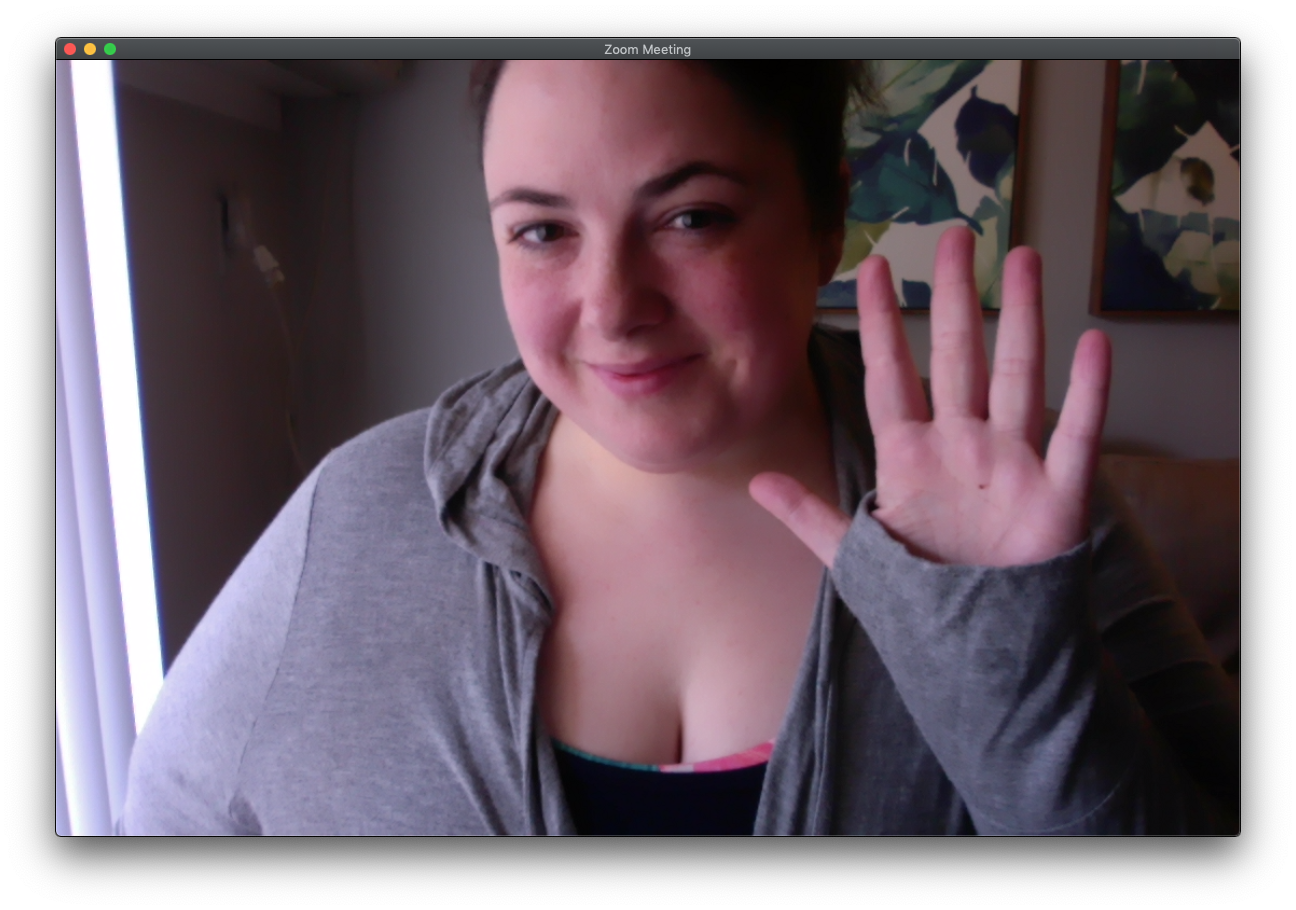 Crazy big difference, right?
Well, it cost me absolutely zero dollars to achieve this transformation. I simply made the choice to have my desk by a source of natural light, and then I opened the blinds. (Although I would recommend you not show up to sales calls in gym attire, as I am here. Like I said before, there's a reason why I am not in sales.)
Natural lighting (or artificial lighting made to look natural) will always win out over low light or awkwardly placed lamp lighting conditions. I know, I know, we're all fighting against the work-from-home elements, but lighting is so absolutely critical.
🔎 Related: The ultimate getting started guide for video in the sales process
It sets the atmosphere and tone for your entire call. For instance, if you showed up to a call with lighting conditions similar to my first example, it would not matter how bright your smile was. Dark, pixelated lighting in your sales calls creates an uninviting, menacing feel.
If moving your desk near a natural light source isn't an option — or you're willing to cough up a little dough to guarantee consistent lighting for all calls, since Mother Nature may not always cooperate — you can purchase a mountable light for your computer setup: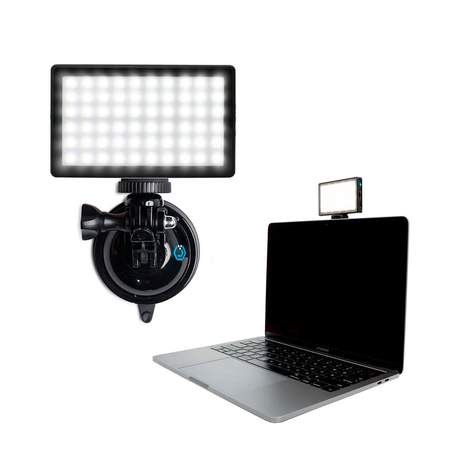 LumeCube is a great option for under $100. I have a few friends who absolutely swear by LumeCube for their video conferencing lighting. But there are also scores of other options out there.
Cheaper clip-on ring lights, web cameras that have a lighting ring already built-in to the device, and so on — in this case, your budget is going to drive what you choose. So, determine what you're willing to spend before you go shopping, since you can spend as little as $15 or well over $200, depending on what you decide to go with.
5. C
lear, crisp audio solution
Much like a built-in laptop or computer camera, your standard computer microphone may work just fine. But you need to be honest with yourself if what you have is serviceable, or if you're dangerously close to sounding like this:
If you're not sure, test it out.
Record yourself with your native, built-in computer microphone, or ask a friend or colleague to be brutally honest about your audio quality. If you've got a problem or you're someone who doesn't ever settle for "good enough" on your sales calls, you're going to need to buy a mic.
Microphone options
In this case, I have a very specific recommendation: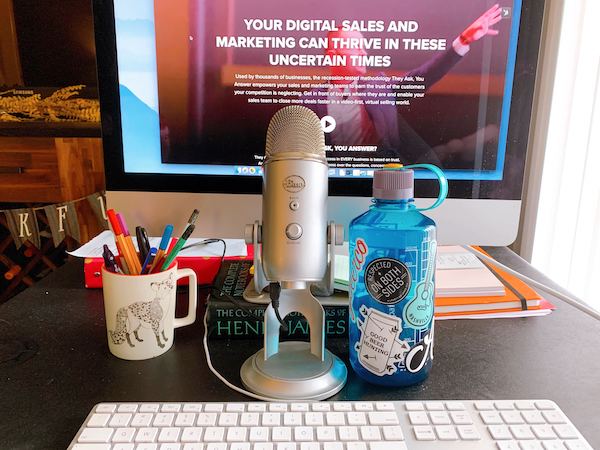 Ah, my Blue Yeti mic. It's like the little black dress of computer mics. I use it for both podcast recording and video calls, so I can personally attest to the fact that the audio quality is always *chef's kiss* perfection.
It clocks in at $129. Yes, there are cheaper options, but with audio being such a critical component of any virtual call, it's worth it. I've also been using mine for over three years, and this bad boy is still in pristine condition.
If you don't want a big mic on your desk, you can also go with a lavalier mic, which clips to your clothing: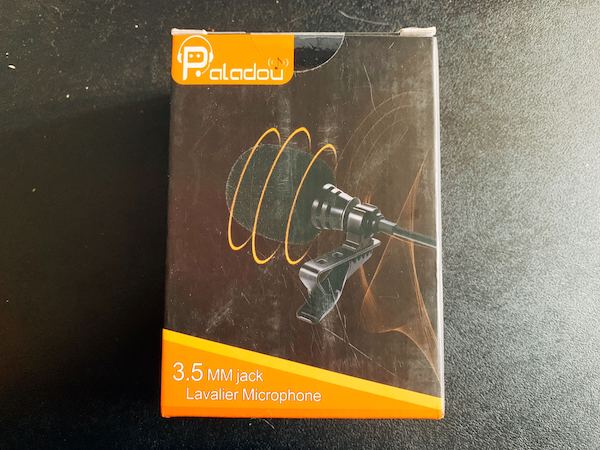 The thing to keep in mind with a lavalier mic, however, is that it can easily turn into a bad quality experience (that you can't always hear), if it's rubbing against your clothing the wrong way or accidentally muffled.
Please do not rely on AirPods or headphones
I cannot tell you how many times I've been on a call where someone is wearing AirPods or headphones with a hanging mic where there are issues... horrible feedback, scraping or scratching noises, or other issues due to facial hair, clothing interference (like a high collar).
The worst part is that, if you're the culprit, you can't hear yourself creating these issues. You'll only find out if someone tells you there's a problem — the kiss of death on a sales call. (Seriously, the number of beards that have wreaked audio havoc on my video conference calls is absolutely mind-boggling.)
Also, AirPods and other headphones just don't have the same crisp quality as going with a nice microphone. You'll always sound a little bit like you're broadcasting live from inside a shoebox. So, trust me when I say even just a built-in microphone in your computer is often better than those two options.
6. High-speed, stable internet connection
I don't know who needs to hear this, but you can't cut budget corners with your internet connection. Video conference calls require a lot of stable bandwidth in order to support simultaneous video and audio streaming, with no interruptions.
Otherwise, you'll experience the dreaded error of:
"Internet connection is unstable."
There is nothing more of a sales call buzzkill than crappy internet. I don't know if I need to really push hard on that point, but seriously, y'all. Get your internet in order, so you can avoid awkward freezing, abrupt disconnects, or other connection-based disruptions.
Remember, technology doesn't trump virtual selling best practices
It doesn't matter if you have the best camera, mic, and lighting on the planet. If you're not also investing the time to learn the best practices you need to fully and properly embrace video in your sales process and virtual selling, you're wasting your money.
So, here is exactly what you need to do if you're still in the process of ramping up your video sales call skill sets:
It's a whole new world out there, and I know it's overwhelming. We're all learning together at the same time. But don't forget that your success with video sales calls is totally within your control. You've got this.
Free Assessment:
How does your sales & marketing measure up?
Take this free, 5-minute assessment and learn what you can start doing today to boost traffic, leads, and sales.