How to Build a World-Class Marketing Team on a Limited Budget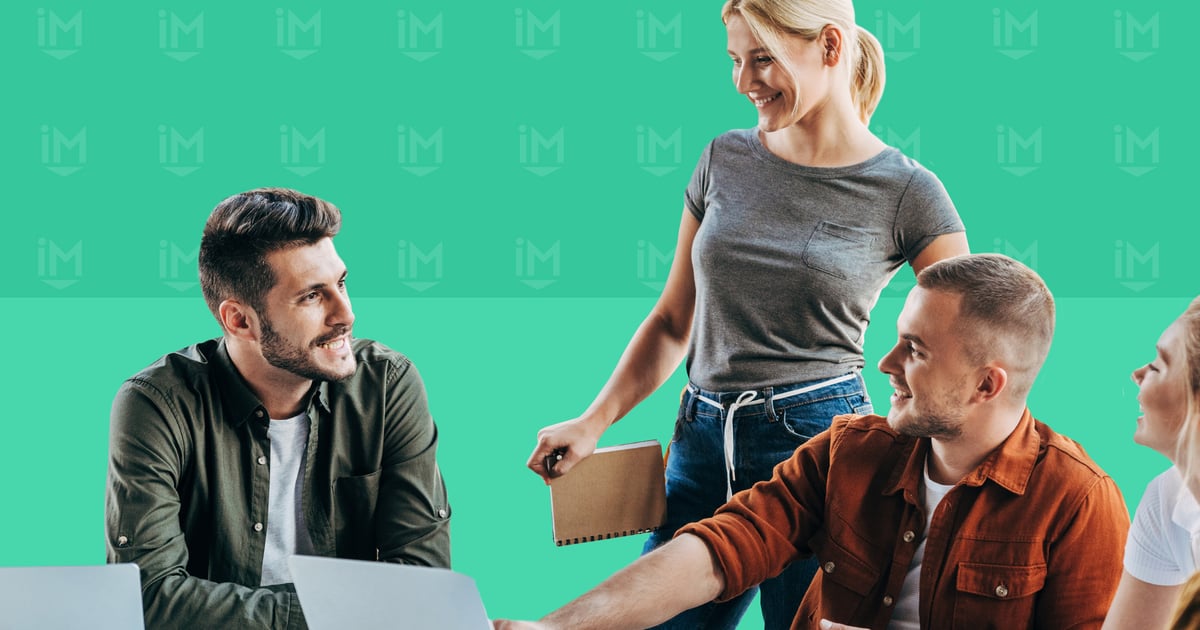 My parents immigrated to the United States in the early 1980s and, as a first-generation American, "The American Dream" is something I've heard a lot about in my life.
Owning a home, owning a car, and getting a higher education — these are just a few of the things that tend to make that list, but in 2022, amid record high inflation, achieving The American Dream is far more expensive than it was when my mother and father first arrived at JFK.
For many, owning a business is a central part of their identity — of their American Dream. And this is more expensive than ever before.
Every business is facing increased overhead costs ranging from office space and utilities to higher salary demands in a tight labor market and the negative effects of the COVID-19 pandemic.
This makes investing in something as multifaceted as marketing — especially when bringing execution in-house as you would if you choose to follow They Ask, You Answer — feel like a heavy financial burden.
But it doesn't have to be.
As a small business ourselves, IMPACT has spent over a decade growing with a lean, yet effective marketing team and we help our clients do the same. In this article, I'll share some of what we've learned, including:
What a successful marketing team should look like
Tips to help you build a marketing team on a budget
Ways to stretch your marketing budget to get even more out of it
First off, what should your marketing team look like?
At a bare minimum, there are five essential roles you should have filled on your marketing team.

Now, this doesn't necessarily mean five people or team members. Depending on the size of your company and your needs, the headcount of your marketing team can vary. At my first job, I was a marketing team of one. When I started at IMPACT, I was one of three. Today, I'm one of 10.
It simply means you should have these five areas of responsibility accounted for:

Head of Marketing
Content Manager/Writer
Video Manager/Videographer
Graphic and Web Designer
Web Developer
Head of Marketing
As the name implies, this person will manage the marketing team and oversee the strategy and all of its pieces (written, video, social media, etc.).
This person should be strategic, tech-savvy, proficient with data and tools like HubSpot, and able to act as a liaison with the sales team and leadership team to ensure all of marketing's work is aligned with the organization's greater goals.
This person may also be called the Director of Marketing or Chief Marketing Officer, among other things.
Content Manager
Almost everything in modern marketing comes back to content. So, to really get your initiatives off the ground, you need someone to own your content strategy and its execution.
We typically call this person a content manager, but again the title may vary depending on seniority, experience, and exact responsibilities.
Your content manager ensures that you are:
Publishing educational blog articles (we recommend at least three per week)
Producing engaging and conversion-optimized website copy
Producing social content
Sending effective emails and newsletters

Aligning with subject matter experts

to continually take their knowledge and expertise and get it up on the website
This person likely will be producing at least some, if not all, of your content, depending on the size of your team.
Video Manager/Videographer
A videographer or video manager is to video what your content manager is to written content.
Your videographer is a natural storyteller who:
Oversees everything the company does with video in marketing
Ensures you are producing at least two educational videos per week that may appear on your blog, YouTube, or website
Strategizes or creates any video assets needed for your marketing or sales teams
Coaches team members to be more comfortable and proficient on camera
Films and edits all of your video content, depending on the size of your team
Between educational videos for your website and YouTube, and sales enablement videos used by reps to close deals faster, there is certainly no shortage of video content to create.

Plus with 84% percent of people saying they've been convinced to buy a product or service by watching a video, not adding video to your toolkit is like leaving money on the table.
Graphic and Web Designer
Modern buyers are visual, which makes graphic design extremely important in your marketing strategy.
A graphic designer's job will be to take your content and create visuals that aid in the delivery of the message.
This includes, but is not limited to, website designs, eBooks, infographics, reports, and social media graphics.
Website Specialist
A web developer's job will be to bring your vision for your website experience to life. This will include building website pages, and possibly even more advanced things such as self-selection tools, depending on your needs.
Depending on the complexity, they'll be in charge of monitoring and updating your website as well as working with your designer and team overall to determine the most technically effective way to execute your strategies.
Expanding beyond basics
As you grow, you may find you want to have multiple people in these roles or add specialists such as an SEO, social media, or paid ads expert, but when you're on a budget, the roles outlined above are the essential ones to keep in mind.
Tips for building a world-class marketing team on a budget
Now that you know what you need, let's dive into how to get it on a budget.
1. Look inside your company first
When it comes to promoting and "selling" your business, you need someone who knows your product or service and your culture better than anyone.
This is especially true and necessary for creating content that answers your buyer's most urgent purchase questions, such as price, the best alternatives, and the rest of The Big 5.
No one knows these things better than your existing team. A new hire could eventually get up to speed, but if they are trying to move quickly, they won't grasp nuances of processes that the internal team is already intimately familiar with.
All that said, when building out your marketing, start by recruiting or evaluating the existing talent on your team. You may already have the passion and skills needed to fill the roles mentioned without hiring someone new.
Note: This doesn't mean you simply add the workload of creating content or video onto the already full plate of a member of your team. It means, if possible, shifting them into a new role and reallocating their old responsibilities.
Do they need some marketing training? Online platforms, such as LinkedIn Learning, HubSpot Academy, our very own IMPACT+, and Marketing Made Simple, can help get them up to speed.
2. Consider hiring outside of marketing
When it comes to hiring marketers, especially those in content roles, don't limit yourself to just those who come from a marketing background.
For instance, today, the line between journalism and marketing is blurring dramatically.
In fact, journalists share many of the same skills as content marketers. They have a love of writing, are skilled editors, have excellent interviewing skills, embrace social media, love analytics, numbers, and measurement, and usually have solid video editing skills.
They also have many soft skills such as understanding what makes people tick, being organized and goal-oriented, and thinking outside the box.
With all of this in mind, consider hiring individuals with backgrounds in journalism, English, or communications. You can always fill in critical blanks with online training.
A full-time content manager's salary can range from $50-$90K+ a year, while a journalist's is just around the $60K+ mark.
3. Be open to part-time or remote team members
Thanks to technology and the COVID-19 pandemic, we've entered a "gig economy," where more individuals opt for freelance, part-time, or contractual work rather than full-time positions.
Many people are also open to remote positions for companies located hundreds of miles away from them.
Use this to your advantage.
An old teammate once told me about his bookkeeper who built her business harnessing the power of stay-at-home moms who had either previously worked as administrative assistants or had advanced degrees but chose to stay at home.
She employed over 15 women who only worked on a project basis, but this allowed her to capitalize on highly skilled people at part-time hours and wages.
When just starting to build out your marketing team, it's worth considering stay-at-home moms, dads, students, remote talent, and anyone looking for flexible work who has the credentials and capability to produce high-quality content.
This will allow you to be more creative with your compensation and perhaps save quite a bit.
I also recommend looking at community colleges, chambers of commerce, networking events, unemployment offices, co-working spaces, community associations near you, or meetups to see if there are qualified folks who would be willing to join the team.
If you do your research, there is likely a huge network of people who are eager to work on a project basis or like-minded people who don't mind supporting your cause.
There may even be barter opportunities that can help build not only your content, but your business relationships.
4. Start with freelance for design/development
Design and development are crucial pieces of your marketing.
However, as they usually support your content and greater strategy, it's likely a function you can fulfill with freelancers or outsourced talent when you're on a tight budget.
Rather than hiring full-time team members to fill these roles, consider using tools like Design Pickle, UpWork, or Fiverr to find pros who can work on your projects as needed.
Though you won't have as much flexibility for ad-hoc needs or revisions as you would with internal hires, with a good brand kit and guidance from someone on your content team, you should be able to produce high-quality results at a fraction of the cost.
Stretching your marketing budget
While all of our tips so far have been about saving money while looking for talent, the remaining will help you redistribute your marketing budget to invest more heavily in talent.
5. Start small with your equipment
Video content is a must, but when getting started, your equipment doesn't need to break the bank.
For instance, you can use your smartphone. Today's smartphones produce great images, not to mention that they are always with you.
You can have your team shoot videos, conduct interviews, showcase products, or even "go live" at any moment. Anyone in your company can do it.
If you are boot-strapping, enlist a coworker to be your camera person or invest in a simple tripod. While high-quality production is great in the long run, when you're on a budget, these things are not critical.
(Heck, less produced video is even the preference for many audiences and platforms like Instagram and TikTok.)
You can also consider using Zoom (Free or start at $149/year), Google Hangouts (Free), or QuickTime to record videos or interviews using your laptop camera.
For sales efforts, we love enlisting Vidyard's free Chrome extension to record personalized sales email videos or talking head videos. With the ability to share your screen and camera at the same time, it offers flexibility for creating valuable educational content.
Speaking of freebies...
6. Capitalize on free tools
Starting small with your tools can help you free up budget to dedicate to hiring talent or investing in other areas.
For instance, HubSpot recently released a free version of its CMS to allow users to start building their website and publishing to a blog.
It's also free to create profiles and publish on social media and to get started with many other valuable tools like:
Big results from a small budget
Times are tough and money is tight, but that doesn't mean you have to neglect your business or your marketing.
Building a world-class marketing team on a budget is completely doable and the tips we shared are just the beginning.
Need more guidance on how to put these tips into action, find your ideal team members, or get started on your inbound marketing and sales journey? Talk to an advisor on our team.
Free Assessment:
How does your sales & marketing measure up?
Take this free, 5-minute assessment and learn what you can start doing today to boost traffic, leads, and sales.