Subscribe
Join 40,000+ sales and marketing pros who receive our weekly newsletter.
Get the most relevant, actionable digital sales and marketing insights you need to make smarter decisions faster... all in under five minutes.
Thanks, stay tuned for our upcoming edition.
Sales Training: How Much Does It Cost?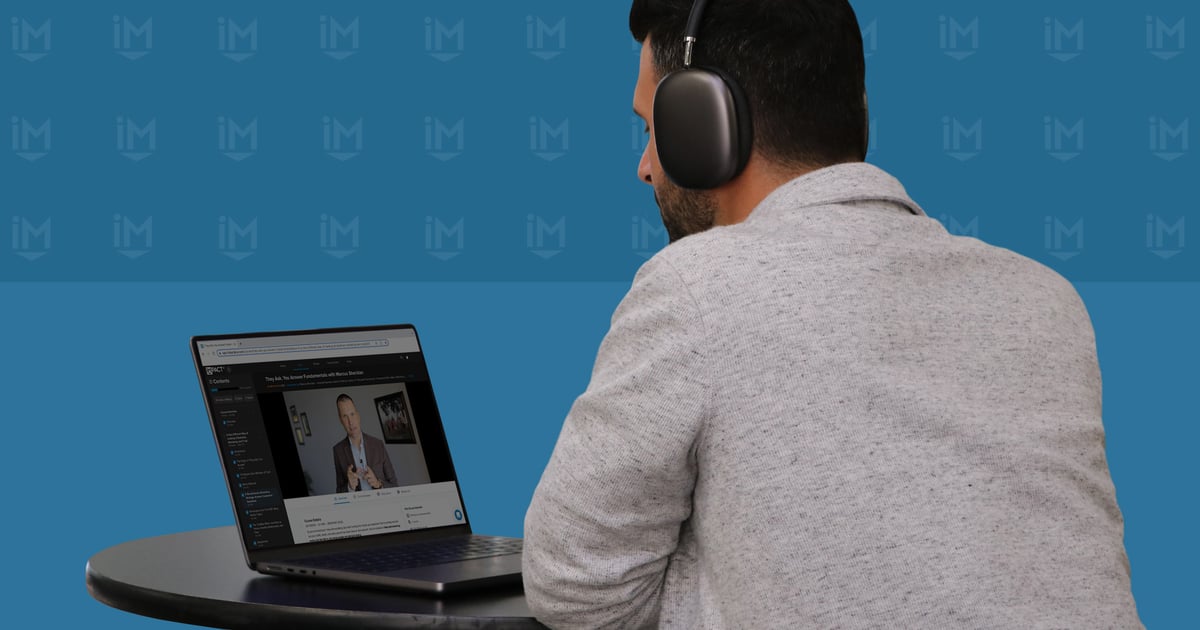 How much does sales training cost?
There are thousands of sales training options, from free online training to highly customized programs for large sales teams.
While the costs can vary widely, you can expect to pay between $400 and $3,000 for a reputable sales training program.
Every year, it gets more and more expensive to run your business. To keep up, you expect your team to increase sales so you can meet your business goals.
Many business leaders look to improve the performance of their sales team by investing in a sales training program. These sorts of training initiatives are big business: U.S. companies spend more than $70 billion on sales training each year.
With a limited training budget, you need to know that the dollars you spend on training are going to come back to your business as increased revenue.
With that in mind, let's look at some sales training options and what you can expect to spend on them.
Remember, sales training comes in all shapes and sizes — from free online options to fully customized training programs for enterprise-level teams. Below, I'll break down some different options and what you (and your team) can expect to spend on each. I'll cover:
The price range of sales training
Representative options for every budget
Some pro tips to improve the effectiveness of any training you do
Why you should invest in sales training
A business cannot prosper without sales, and there are graveyards littered with organizations that wasted away because they couldn't get prospects to buy.
Whether you're a solopreneur or a company of thousands, sales success is vital to your growth. The better your sales conversations go, the better your bottom line.
But sales is hard. In 2021, less than a quarter of sales professionals exceeded their quota.
Improving these numbers takes time. In addition to sales training for your frontline sales reps, you should audit your entire sales process, including prospecting, sales enablement, pipeline management, and communication.
Sales performance depends on a dizzying number of variables, and the more you can improve each one, the more you'll see your team sell.
For this reason, sales training is a crucial investment for companies of all sizes and types.
For the most successful sales teams, ongoing training is part of their culture. Sales reps are reviewing calls with their managers, practicing role-plays with their colleagues, regularly attending online workshops, and reading books to stay on top of their game.

If organizations don't create a training budget and invest in their teams, their sales performance will suffer.
The cost of sales training
So, what should you expect to spend on sales training? You probably won't be surprised to learn that sales training runs a wide spectrum in terms of cost. There are free options, and there are options that cost tens of thousands of dollars.
In general, what you're going to pay will vary based on a few factors, all of which are pretty obvious:
The amount of personal feedback: In general, the more individual attention you get, the more you'll pay.
The "prestige" of the teacher: The more well-known, the more you'll pay.
Program duration and number of participants: The longer the training and smaller the cohort, the higher the cost.
The degree of customization: If you want your sales training content catered to your business or industry, expect to pay more.
While the costs can vary widely, you can expect to pay between $400 and $3,000 for a reputable sales training program. However, there are numerous free (and cheap) options for those with smaller budgets, as well as high-end options for larger teams.
One final note: This is by no means meant to be an exhaustive list of the best sales training programs. There are literally thousands of options and hundreds of companies out there that promise to help you improve your selling. The examples below merely represent a range of price points.
Now, let's dive in, starting with free options.
Free sales training options
Don't look down your nose at free sales training programs. These are resources that you can consume on-demand, and some grant certifications as well.
Online training
HubSpot Academy:

Inbound Sales Certification


For those of you in the inbound space (and let's be honest, everyone wants to be in inbound these days), this free, three-hour course (plus exam) offers a great overview of how you can use inbound principles to enhance your sales skill set.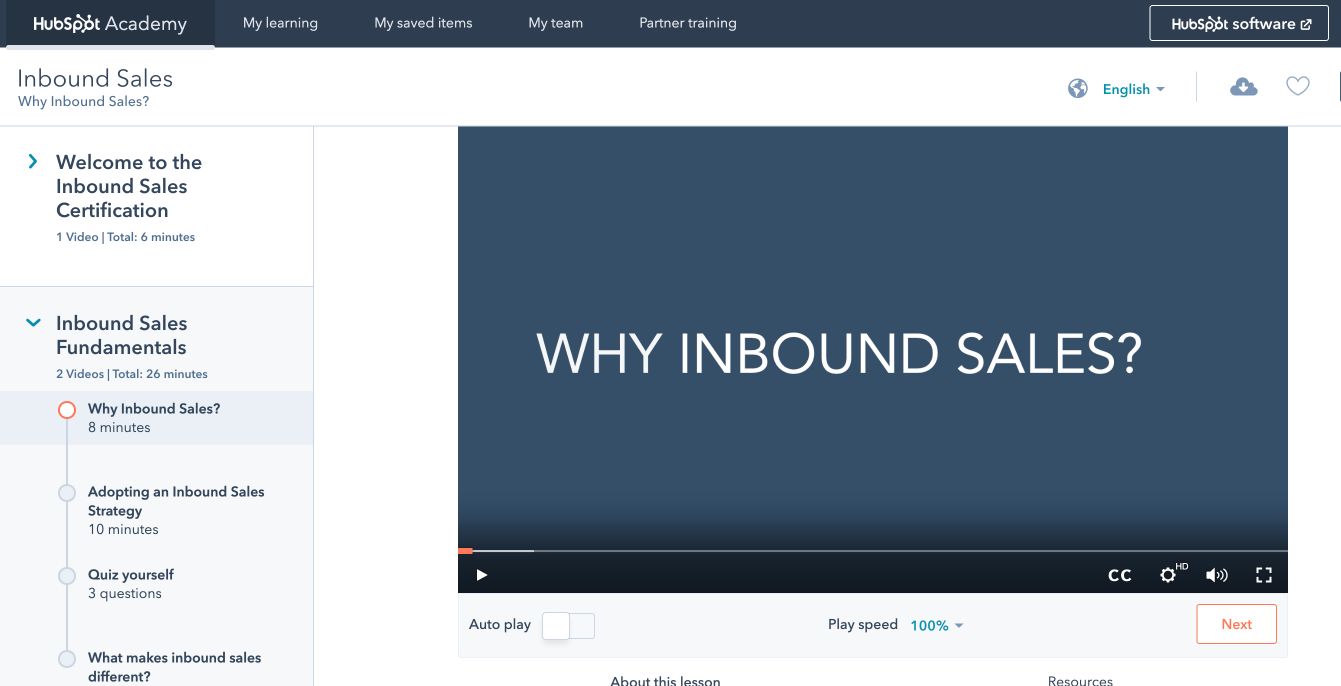 IMPACT+:

Fundamentals of They Ask, You Answer with Marcus Sheridan


This free course offers a new approach to sales that focuses on buyer education and trust. Marcus explains how savvy sales reps are using his framework to shorten the sales cycle and improve close rates. From there, you can take free courses that focus on prospecting, 1:1 video technique, and sales enablement.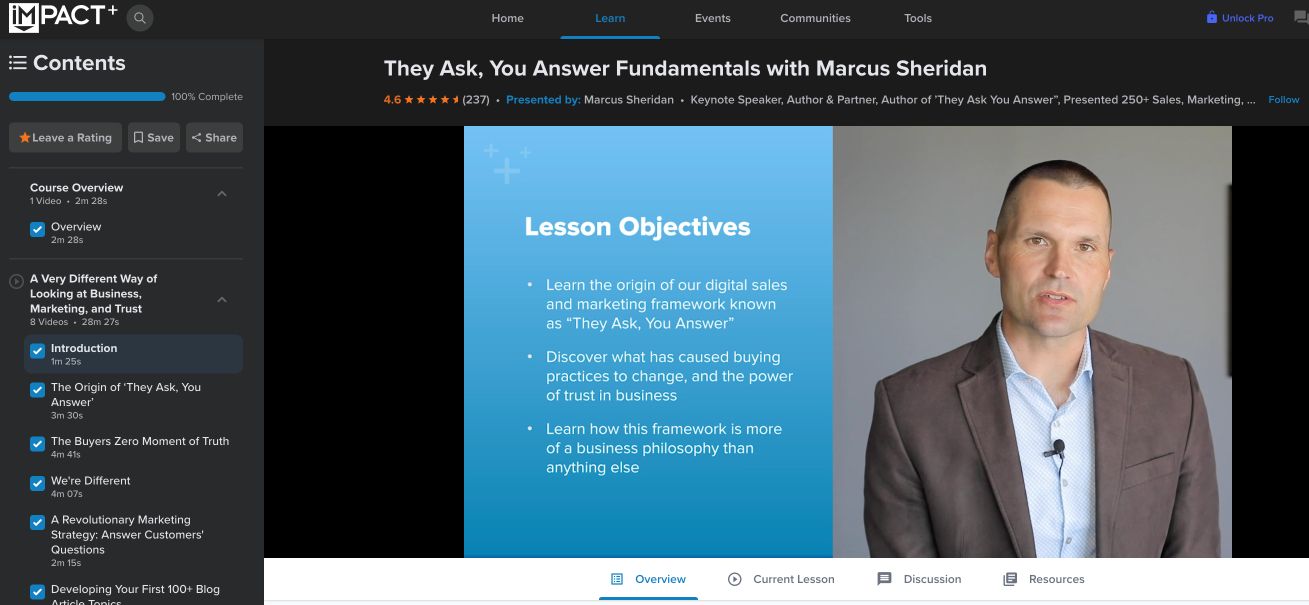 Coursera:

Successful Negotiation: Essential Strategies and Skills


There are hundreds of sales and marketing courses on Coursera. This one, put on by the University of Michigan, offers 17 hours of instruction on several sales-related topics. It's free to enroll, but to earn the certificate at the end you'll need to pay $90.
Sales Scripter:

SMART Sales System Training Program


This is another example of a great free resource out there. In 13 hours, you'll receive instruction in a range of sales skills, from writing sales scripts to how to prospect on LinkedIn.
Books and podcasts
Each year, there are whole libraries of new books written about sales — and weeks' worth of podcast content. While these resources don't offer you the interactivity of traditional training, they can be a vital supplement to learning you do through other pathways.
Gap Selling

by Keenan challenges traditional sales techniques so salespeople can break through and close more deals.

The Challenger Sale

by Matthew Dixon and Brent Adamson explains how great salespeople build the right relationships with their customers.

The Sales Hacker Podcast

puts out weekly episodes with top business luminaries who share their stories and advice.

Sales Logic Podcast

seeks to build your confidence by addressing the most challenging questions in sales. Episodes drop weekly.
Pro tip: Want to multiply the learning you get from a book or online course? Take it with a friend or form a book group. Research shows that when you discuss ideas and engage with concepts, you're more likely to retain what you learn.
Mid-level options: Certificates and courses ($400-$6,000)
There are thousands of online and in-person options for sales training, so picking the right one will come down to your budget, time frame, and area of focus.
Major universities offer sales certificate programs to enhance your skills and build your resume.
For example, check out this option from Northwestern's Kellogg School of Business:

Mastering Sales: A Toolkit For Success

. This 10-week online course includes live lectures, activities, and homework. Those who enroll can expect to dedicate 4-6 hours each week, and the cost is $2,210.

UCLA offers a certificate in

Professional Selling and Sales Management

that mixes online and in-person learning. The program is designed to be completed in half a year (full-time) or 18 months part-time, and includes courses on business ethics, market research, and customer prospecting. The cost is close to $6,000, including all fees and course materials.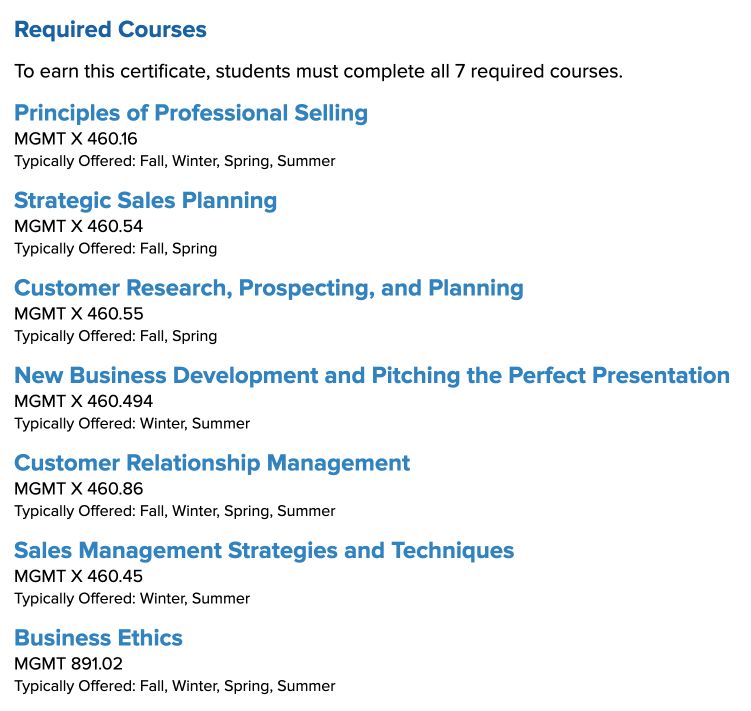 If you're not interested in the university route, you can work with a reputable sales training company like Dale Carnegie. Their

Dale Carnegie Sales Training: Winning with Relationship Selling

program offers franchised learning opportunities all over the world. Three full-day sessions (or eight shorter ones) will run you $2,195. You'll get hands-on instruction from certified trainers to help you develop and implement a sales strategy.
JB Sales offers individual

access to its online learning platform

for $395 per year (or $800 for lifetime access). The company guarantees its results, so you'll get your money back if you're not happy with what you've learned. Members get access to online master classes, monthly live training sessions, and certification options.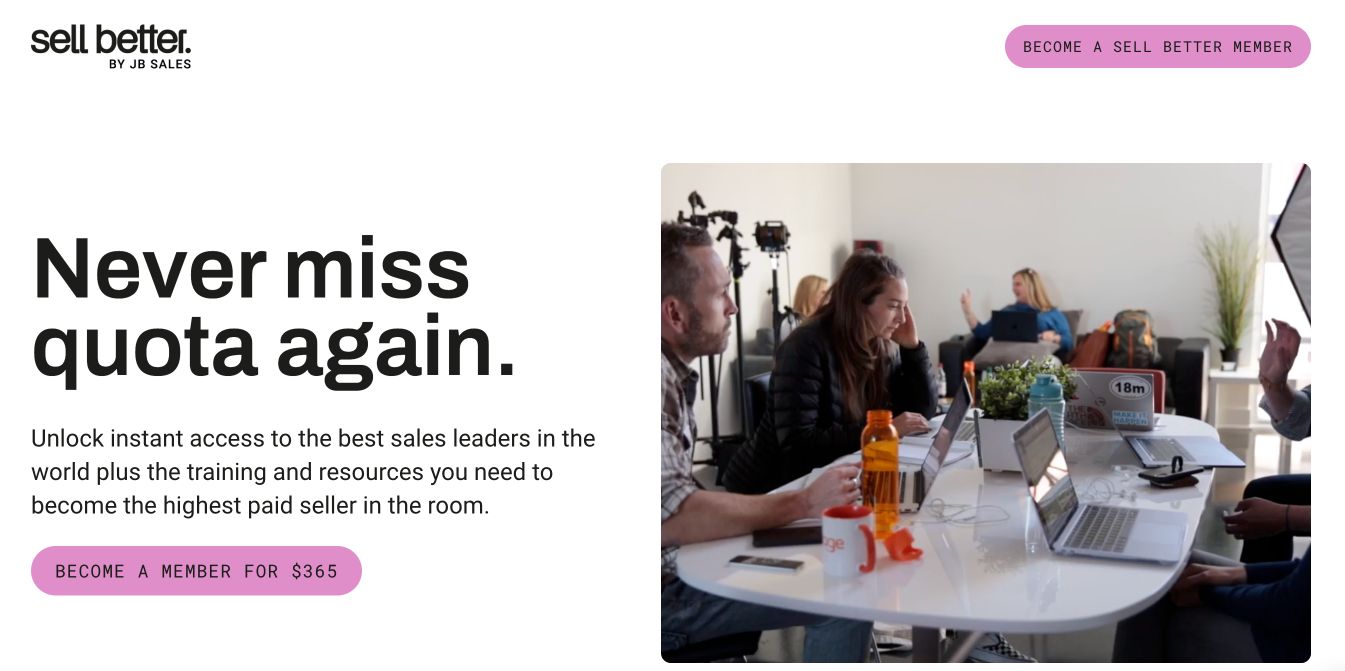 Pro tip: Many of these options offer online communities and forums for connecting with other sales professionals just like you.

Make use of these!

Network with your peers and see if anyone will be willing to practice what you've learned. When you do low-stakes role-plays, you maximize your learning.
High-end sales training cost: Customized group instruction ($10,000 and up)
At the top end of the sales training pyramid are customized learning experiences. These could occur on site at your location or online, but you're paying a premium for a personalized training program.
This type of training prices out most buyers, so it's specifically for corporate group training and high-earning individuals who are looking for that extra edge to advance. At this level, price is highly customized based on the needs of the client and the number of participants.
Organizations like Hoffman and Rain Group offer programs for teams to reach the next level. Here, a Rain Group spokesman explains what the company does.
If you're in the market for this kind of tailored program, talk to your network to try and get a recommendation. See what options have been most impactful for others. Then reach out and negotiate. If you're a high-end client, firms will fight to win you, so take advantage of that position.
Note: You'll be expected to pay travel costs if you're looking to have an on-site training program.
Pro tip: You can make the best sales training even better by actively incorporating it into your company culture after the training ends.

Before your training starts, form an "accountability pact" with your team that helps you keep practicing what you learn. During the training ask for materials and recommendations for bringing what you learn into long-term practice
Find the training you need
According to the U.S. Bureau of Labor and Statistics, there are over 13 million salespeople in the country. That's over 8% of the total labor force in the United States.
But recently, that number has been shrinking as salespeople play a smaller and smaller role in customer purchases. Today, buyers are looking to self-educate, only reaching out to a sales rep when they are in the final stages of their buying journey — if they reach out at all.
In such a competitive marketplace, it's imperative that sales teams stay on top of their game, sharpening their skills with regular training and self-study.
The options above can help you do just that.
Free Assessment:
How does your sales & marketing measure up?
Take this free, 5-minute assessment and learn what you can start doing today to boost traffic, leads, and sales.