Creating a 1:1 Video Culture That Sticks [Film School For Marketers Podcast, Ep. 10]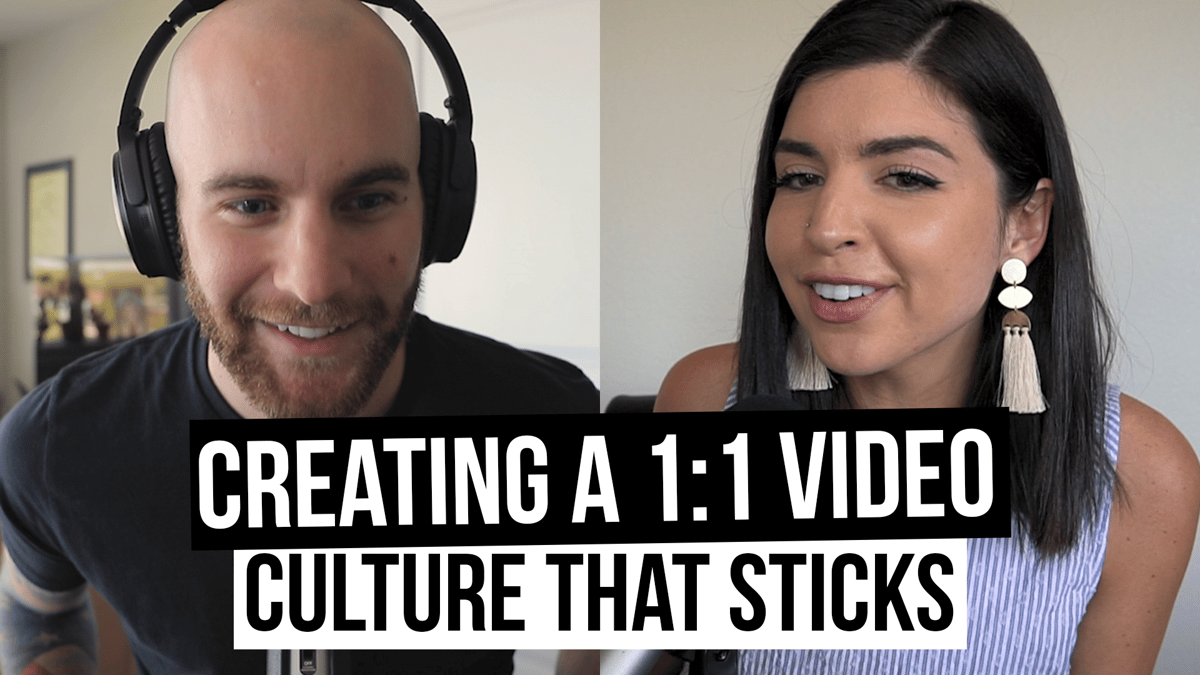 1:1 video culture is something we care deeply about at IMPACT.
The culture isn't just within our marketing and sales teams, it's something every team here takes advantage of.
From our service team to the internal communication of our mostly remote company, 1:1 video has helped build stronger communication and trust across multiple fronts.
If you're wondering, what is 1:1 video?
1:1 videos are personalized video messages that are intended for a single person. Look at it like a voicemail or email outreach to someone, but just in video format.
In this episode of Film School for Marketers, Zach and I talk all about 1:1 video culture, what it is, why it's important and how you can help create a culture that sticks.
Listen to the full episode here (or scroll down to watch the video):
What is 1:1 video culture? Why should my team adopt it?
1:1 video culture is about adopting the usage of 1:1 video whether it be for your prospects, clients, or teammates.
1:1 video in general is becoming a more well-known tool, but there are still many companies out there who don't know much about it -- which overall means we could all do a better job of building awareness of it.
Why should your team adopt it?
It goes back to why is video important in the first place.
We are all in the business of trust. The reason video is important is because it helps build trust much faster. It's all about using tools and technology that's going to help us communicate with prospects, clients and teammates and make them feel more comfortable.
What are the most common pushbacks you'll get and how do you overcome them?
Whenever a new tool or tactic is brought into a team or company there tends to be a sense of fear. Reason being, not many people like change.
When new things are introduced, it's natural for us to poke holes in them because we feel uncomfortable.
We walk through the different objections we hear and how you can overcome them to help build a culture of 1:1 video within your team or company.
I'm terrible on camera/no one is going to want to see my face
If you start the journey thinking that other people are better at video and that you aren't great on camera, you're not going to see results.
If you do accept that it might not be perfect when you're first getting started, but understand that it's a tool that will help you communicate better with your prospects then it'll begin to get easier.
We talk about ways to encourage yourself, and others on your team to get more comfortable.
It takes too much time
We often hear that video will take too much time and that it's much faster to write an email.
Video really should only take you a minute or so to record, if not less.
With that being said, we uncover why people think it takes a lot of time and how you can ultimately become more efficient with it over email.
People are going to think it's creepy
This is one of the most common push backs we hear, that the person receiving the email will think it's "creepy."
Zach talks about video consulting clients he works with and how he requires them to send one video message per week to prospects or clients.
He doesn't see people responding thinking it's creepy, but instead sees that his consulting clients in turn get video messages back from the people they reach out to.
He talks about the perception of video amongst recipients and what he's witnessed when working with companies to produce 1:1 videos.
It just won't work for my industry
Many people in more professional industries tend to think that 1:1 video won't work for their business for a few different reasons that Zach and I discuss.
One of them being that people feel that the video needs to be perfect, or that the quality of the video isn't good enough for them to use.
We talk about the perception that recipients have, even in a more professional industry, and what their standards are.
How to ensure your team stays onboard with 1:1 video culture and doesn't fall back into the comfort of email
There are many different reasons people lose momentum with new tools or processes.
One of the biggest reasons people stop using 1:1 video is that they haven't set goals which means they aren't able to track success and the effectiveness of video.
Zach and I talk about how you can help your team not lose momentum through setting goals and measuring the right things when using 1:1 video.
When you think of more produced video projects, it's important to have buy-in from the top down in order to be successful as there are many moving parts and in order to make it happen it has to be agreed upon by the entire organization.
With 1:1 video, however, one person can decide to start using it and that person will be successful and their success doesn't have to rely on top down approval.
If you want your company to be successful across the board with it, chances are it won't be one person from the bottom that can make it a priority or culture, but something that needs to be encouraged from the top down.
Whether that is someone as high up as the CEO, or even a Director of Sales.
We'd Love To Hear From You!
First, subscribe to our Film School For Marketers Podcast.
Second, leave us a review on iTunes or share the love with fellow marketers and sales professionals who could benefit from our content.
Lastly, have a question or idea for a future episode? Let us know!
Free Assessment:
How does your sales & marketing measure up?
Take this free, 5-minute assessment and learn what you can start doing today to boost traffic, leads, and sales.