Subscribe
Join 40,000+ sales and marketing pros who receive our weekly newsletter.
Get the most relevant, actionable digital sales and marketing insights you need to make smarter decisions faster... all in under five minutes.
Thanks, stay tuned for our upcoming edition.
Will coronavirus change the way we work after the quarantine?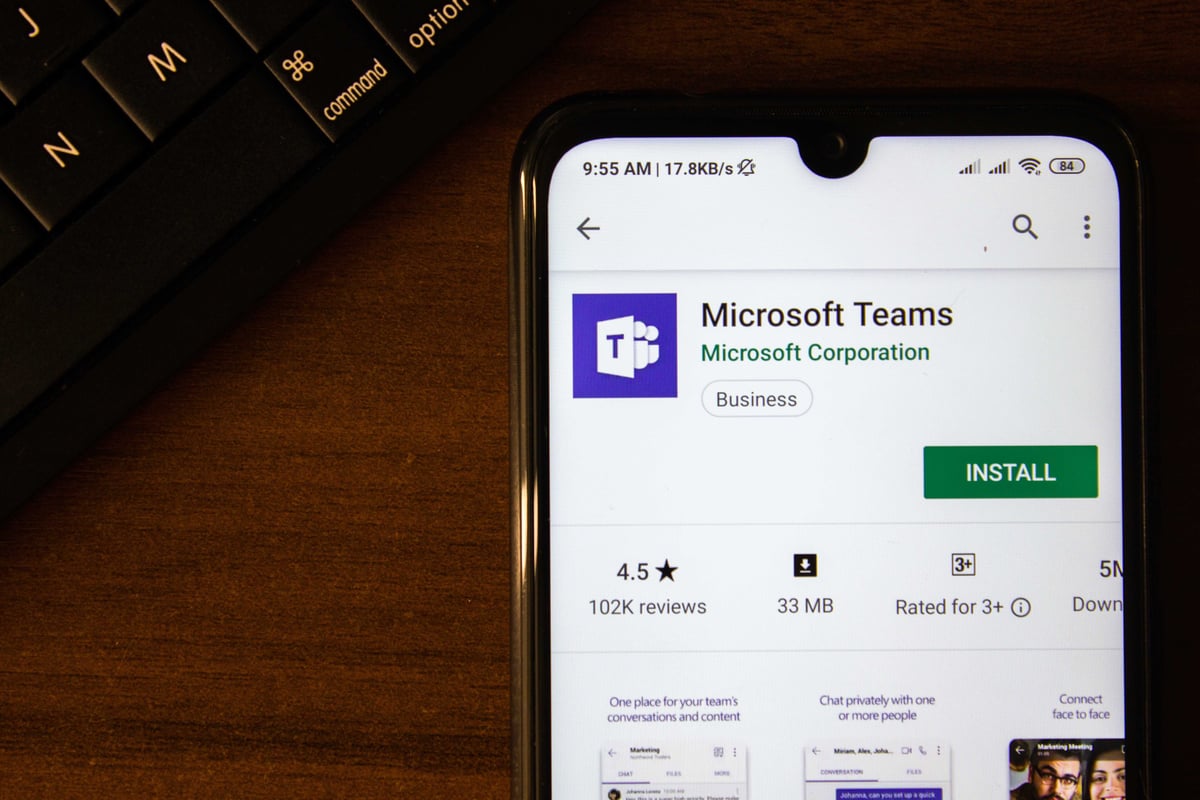 In the last month, I've probably spent more time on video calls than I have in my entire career.
Whether it's spending an entire day in Zoom working with my colleagues, hosting a virtual event for our audience, or joining virtual trivia nights and happy hours with friends and family, video conferencing has become my main medium for work, communication, and socialization in the age of social distancing.
And, I'm not alone.
As coronavirus has changed the way we live, work, and communicate, it's no surprise that companies like Microsoft are seeing surges in demand for remote working services and tools such as the Teams app.
The question is, is this virtual world here to stay past COVID-19? Microsoft thinks so.
The COVID-19 pandemic sends Microsoft Teams usage surging
For most businesses across the country and the world, remote work has become the new normal. In response, demand for tools like Microsoft Teams has soared as users flock to the meeting and video capabilities of the platform.
According to a new report by Microsoft, users are tapping into video twice as much as before the outbreak, hitting a new daily record of 2.7 billion meeting minutes in a single day, a 200% increase since mid-March.
Quick adjustments to meet demand

As stay-at-home orders quickly blanketed the globe, Microsoft noted immediate spikes in technology use, as noted below.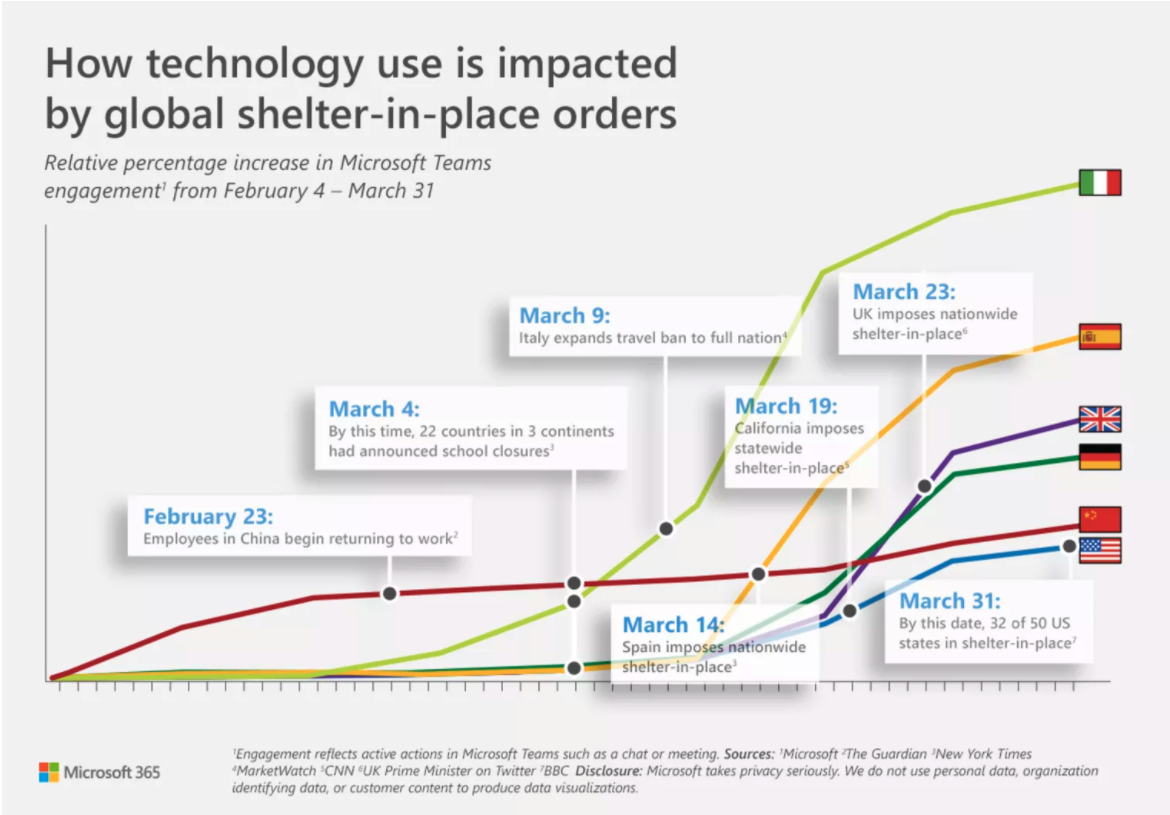 (source: https://www.theverge.com/2020/4/9/21214314/microsoft-teams-usage-coronavirus-pandemic-work-habit-change)
Microsoft has had to be ready to make quick pivots and adjustments to keep up with this level of global demand. For instance, as more businesses are holding virtual events or large-scale corporate meetings virtually, Microsoft had to increase user limits on its streaming service from 10,000 users to 100,000 users.
To match video conferencing giant Zoom, Teams has now introduced virtual backgrounds and is close to releasing features that will allow for more meeting attendees and include a new gallery view.

Microsoft has also noted a rise in hardware sales on items like webcams and laptops as people are outfitting their home offices.
Will these remote work trends end as we flatten the curve?
It's hard for anyone to say where we'll be even a few weeks from today. But, to get a sense, Microsoft is looking at trends in China and Singapore where social distancing orders are starting to lift. What they are seeing is not a return to "business as usual." Instead, it's a whole new normal.
Even after China lifts some coronavirus restrictions, Microsoft is still seeing twice the number of new users on the Teams app per day.
In all likelihood we'll see something similar here in the U.S. It will be a slow return to normal — we still don't know just how slow that will be.
What can businesses do to adapt?
Many businesses have struggled over the last month to adapt to a virtual workplace.
Even if your business wasn't set up for a virtual world, you can still get on track. Remote tools like Microsoft Teams, Zoom, and Slack are all in hot demand right now, and for good reason. They are simple to use and will allow your team to stay connected, even when you can't be in the same space.
While it's easy to get set up with these tools, it's another story to get your team comfortable using them.
Not everyone is comfortable on video, but getting your team to regularly use video communication not only helps keep a sense of normalcy in your company culture, but it will also help keep your team connected to customers and prospects and keep your sales pipeline flowing, even in a pandemic.
Here's a good example.
As I'm navigating planning a wedding for the fall in the midst of the coronavirus outbreak, I had a few in-person florist appointments get canceled after social-distancing measures took effect. When I suggested that we do Zoom calls instead, two businesses were reluctant but agreed.
I realized that they were used to a system of in-person consultations and were wary to go virtual.
Once we got on the calls, I was able to share my screen to show pictures that I would have brought to our in-person meetings and we had extremely productive conversations.
One business owner told me that she never would have thought to do video calls and now she's going to suggest it to her other brides so no time is lost.
It might not be what you're used to, but the virtual workplace is where we are right now and likely where we'll be for the foreseeable future.
According to Microsoft's Corporate Vice President Jared Spataro, "I really feel this will be a turning point for how we work and learn because there are just some very real practical things happening that will mean we'll never go back to the old way."
With all the tools we have at our disposal, the virtual workplace doesn't have to be a setback. It can provide us with opportunities to streamline, take advantage of new technologies, and make our way of working and communicating even better.
Free Assessment:
How does your sales & marketing measure up?
Take this free, 5-minute assessment and learn what you can start doing today to boost traffic, leads, and sales.