How to Fix Your Struggling Sales Video Click-Through Rate [Film School For Marketers Podcast, Ep. 21]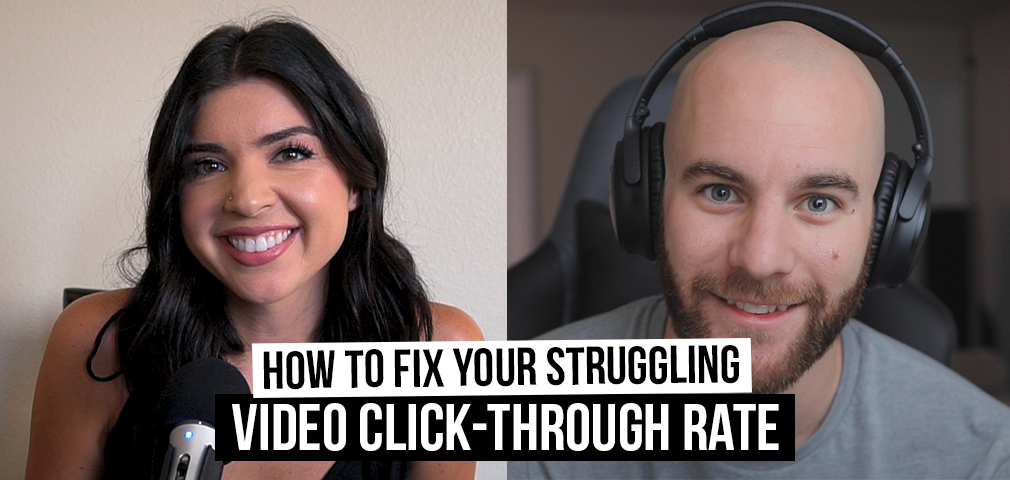 Welcome back to the Film School for Marketers podcast!
Our topic today was inspired by a question we got in the Film School for Marketers Facebook group from a member named Kayla.
Her post said:
"We have been incorporating 1-on-1 video into our multi-touch prospecting campaigns recently. Our sales team has been using Vidyard...but are not getting any views on their videos when they send it via email!"
Listen to the full episode here (or scroll down to watch the video):
Today, talk about what to do if you're having trouble with your video click-through rates in sales emails and other things that might be preventing your video from even getting through to contacts.
What do you do if your video thumbnail is not getting any clicks?
First, figure out if it's a click-through issue. You should be testing out your thumbnail with different animated images to see if helps improve the click through. Try the following:
Animated thumbnail, not still shot
Do not make the thumbnail of just yourself
Include a whiteboard with the person's name
Include a whiteboard with a question that is tied to the person's pain point
Do a screeenshare of their LinkedIn or website (do not do if of your own website)
Also think about the psychological moment the person is having. What are they going to be thinking in this moment when they see this.
What about people who aren't leveraging an email tool like HubSpot and aren't able to track these things?
First, you should be investing in something that will allow you track these insights and help you make informed decisions.
If you don't have a tool that allows you to track your open rate, with something like Vidyard, you can track click-through rate of your video.
What if people aren't opening the emails?
Add the word "video" to your subject line. Other great ways to include it are:
[I recorded a video message for you]
X-second video message (Include the duration of your video)
I recorded a X-second video message for you
Optimize everything in your email
Your video should serve a purpose. Don't throw one into your email just for the sake of having it. Keep in mind how you can best incorporate text with the video and how they can work together.
In the copy of your email, let the person know how long the video will be. You should also be aware how long your email is. Use copy to peak their interest and get them to watch the video verse sending your typical whole email and including the video.
What to do if the thumbnail isn't making it into the email and what to do if those links aren't being clicked?
If you're working in financial, legal, healthcare, or government, there is a high likelihood that filters on incoming email correspondence will block images.
When this happens it doesn't matter what your thumbnail looks like because it won't get through. There are also times when a link to the video in an email won't even work.
We spoke with a client at IMPACT Live who is in the financial space who was having this problem and one of the things we recommended was leveraging LinkedIn as a way to reach out with a video message.
For others that are able to link video without thumbnails, we talk about what we'd recommend you think about when coming up with the copy to link the video to.
Meet us at INBOUND19!
To close out this episode, if you're headed to INBOUND next week, make sure to let Zach and I know.
We'd love to connect and chat all things video!
We also have something super awesome going down at the IMPACT booth in Club INBOUND.
Our team will be doing 15-minute website critiques, we call Website Throwdowns. Spots fill up fast so make sure to sign-up here ahead of time.
We'd Love To Hear From You!
First, subscribe to our Film School For Marketers Podcast.
Second, leave us a review on iTunes or share the love with fellow marketers and sales professionals who could benefit from our content.
Lastly, have a question or idea for a future episode? Let us know!
Free Assessment:
How does your sales & marketing measure up?
Take this free, 5-minute assessment and learn what you can start doing today to boost traffic, leads, and sales.