4 Qualities Any Inbound Marketing Agency Really Worth Working With Has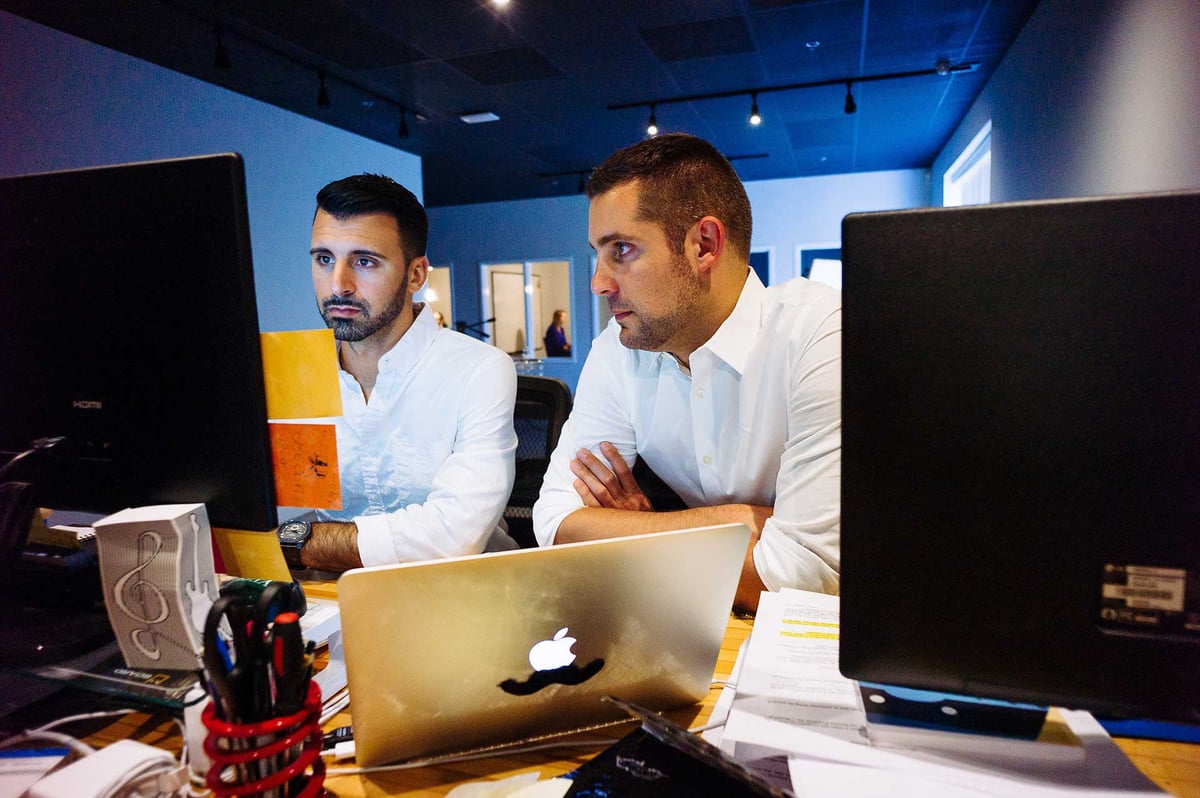 So, this is my first attempt to just shake the rust off for this, the first article I'm privileged to publish on the IMPACT Marketing Blog.
Hi! My name is Nick Salvatoriello and I just joined the IMPACT team in January as an inbound marketing strategist.
What that really means is I'm one of the first people prospective clients get to meet with to discuss what their marketing goals and needs are and to help assess who is a really great fit.
Usually, this means having consultative calls covering what those marketers need to do within the organization, what they're trying to accomplish, and what the team at IMPACT provides in terms of value and skills and talent to the organizations that hire us.
So if you're reading this, I'm going to assume a few things. One - you're actually the type of marketer that has some really serious growth goals for your organization. You've got some momentum and resources behind you that you can invest in leveling up your marketing and getting to where you need to be.
At least, I hope you are. Inbound marketing is one of those things that if you put resources into it (as well as in the right people and processes) it will return back to you with interest, but I'm getting ahead of myself.
First, let's talk why did I choose IMPACT as my next home after HubSpot?
Before IMPACT, I worked at HubSpot Inc. where my primary focus was working with the 3000+ marketing agencies around the world that make up the HubSpot Agency Partner channel.
This is a global community which IMPACT has been a leading member of for many years, so I knew Bob and his team very well through the many Agency Partner events and trainings we hosted over the years.
I had great respect for what he and his leadership team had built with IMPACT. They were such great contributors to the Agency Program, they stood out in the community.
They didn't just take for themselves, but gave lessons, reports, ideas, and even team members back to HubSpot and back to their fellow Agency Partners in the community.
Just like I felt when I first came across HubSpot, I felt like IMPACT believes what I believe, we have similar values. So, when I started looking for my new opportunity, Bob and I decided to begin the process that brought me onto the team.
The way he told it to me, the biggest motivator to bring me on was really one reason and one reason only -- because the marketing community around IMPACT's blog, content, and website is exploding. There are more marketing leaders reaching out to the agency than ever before.
It's exploded a lot in seven months and the amount of interest people have in IMPACT, the lessons it's learned and, has to share is incredible. The amount of conversations and interactions people have with them, the demand for consultations, it's all grown so much that IMPACT almost can't keep up with it all.
Bob is so committed to this community that his team has helped build, he was looking for someone else who could host strategic marketing conversations with the marketing leaders, like you, who visit the website every day and are using it to level up.
So, Bob and his team were looking for someone with passion and deep experience in the inbound movement to add additional horsepower to IMPACT's ability to engage with this awesome community and I was excited to be that guy for such an organization that is so passionate about helping businesses like yours achieve success.
What You Need to Remember About Working With Inbound Marketing Agencies
That was my experience and why I chose IMPACT as my next home after so many years helping other HubSpot Agencies to grow. It was an easy sell for me, but the thing is, if you have ever worked for an agency or even hired an agency, you understand it's not always an easy buying or selling experience.
The digital marketing industry moves fast and seems to get more complicated by the month; Marketing leaders struggle to keep up and make confident decisions as to who to invest in for help.
One thing I have learned over the last few years working with agencies and their prospective clients has been that selling inbound marketing services to other companies is not like selling widgets, and for those companies we sell to, it's not like buying widgets either.
It's a very personalized, very creative product, and each agency is unique in how they deliver.
That uniqueness is often defined by their team and that is what clients are buying - your team.
What you can access in terms of the team, the skills, the passion and values from one agency cannot and will not be the same as what you get from another.
This is because, in a services-based business, so much value is driven by the people doing the work, the people who you will be engaging with and interacting with week to week.
After all, you're not just creating great marketing but potentially evolving and changing your old organization in that market. If I've learned one thing working alongside the IMPACT team, you'll see they're constantly evolving, but more on that later.
It's a big deal for an agency to partner up with an organization and for an organization to partner up with an agency because, again, it's not just hiring people who turn up the cranks. You're hiring a team to really partner with you and as a result, you're going to change your behaviors and how you do things.
This relationship is about getting to know people, getting to know teams, management and processes, and philosophies and over time, integrating those as extensions of your own team. .
4 Overlooked Things I Look for in Any Inbound Marketing Agency (I Work For
or
Hire)
When I think about my decision to join IMPACT and what other digital marketing leaders should look for in any marketing agency they'd considering working for or hiring, I think it comes down to four outstanding qualities:
1. Agile Marketing
One is the investment in process.
Is the organization using the right processes to get things done? Because we're now all digital and digital is software. To me this means looking for organizations using scrum and agile marketing. A book I'm reading right now, Hacking Marketing by Scott Brinker, really covers this topic extensively.
This is not the future of marketing, it is the today of marketing.
This is what you need to be doing and it's not easily done. It takes investment in often a whole new set of practices including:
Planning loosely and responding to change

Focusing on fast iterations

Testing and using data to improve

Collaborating versus working in a silo
This is why I valued the tremendous investment that IMPACT made to bring their team into the modern era over the last year and a half or so. I could see this was going to help me go farther with my own investment of time and resources..
They're constantly leveling up their processes and the skill sets of the team members and in turn, the talent available to clients. What did I learn that having an "agile run" marketing team means? It means you have a team that's always going to be focused on efficiency, agility, and constantly learning and curating the process.
This is not just for the work they want to be doing internally, but the work they're doing with clients. In our weekly sprint retrospectives, the team is constantly asking, "How could we do better, what did we not do well, how can we fix that, how will we change our plan based on this or did do well to avoid the areas that did not work?"
2. Investment in Sales
Number two is the team's evident focus on building its sales machine.
Having worked with hundreds of other agencies who are making the evolution into full inbound service organizations powered on HubSpot, the sales engine that IMPACT has built to follow up with and engage their inbound leads is extremely impressive. The commitment to adopting state of the art tools and processes here is not something many other HubSpot Agency Partners have done.
Here's a few things I observed in place that impressed me right away:
They have a system for working the CRM, scoring the leads, hand off to the next person in line in the team process. Again, it's not an insignificant investment in people, time and energy, and resources to make that happen.
However, it's also something that many organizations could put in place with a little executive sponsorship from the top to make that investment. The good news is the HubSpot Sales tools are pretty affordable. Many of the features available for free to get started with and then after that it's making incremental steps to rolling it out and iterating on your process as you go.
3. Investment in Talent
IMPACT is committed to finding the best people in the field possible.
It's not just people who are located in their own headquarters in Connecticut (although they do have some of the best marketing talent from that state) but also, going further afield to recruit the best talent in major tech hubs like here in Boston.
We have top team members joining us from Philadelphia, Austin, from hubs in the midwest...Natalie and Bob want to connect with any talented marketer & sales leader they can find in the U.S..
This quality is most evident in the systems for the management of remote teams, like the comprehensive use of collaboration and web conferencing tools but most of all, the investment in full time team members who just focus on talent management, talent acquisition, and basically, culture and team happiness.
You can feel it in the organization that it's a fun place to work.
People are happy. People feel valued. They feel that this is a place where there's a work-life fusion going on in the way people work. It doesn't feel like they're just drones marching into the conference room for every meeting, it's people who are excited for the next opportunity. .
This of course this was something I found to be really attractive. I learned after four and a half years at HubSpot, if you're not having fun, you're not going to do great work. These folks were doing great work and they were having fun while doing it. Check.
4. Culture Fit
When I started to learn how IMPACT put checklists in place that qualified for right cultural fit, I was impressed. I realized that if we're going to do this right, if we're going to help the prospective client, those organizations like yours, we've got to make sure that we have the right fit.
Making sure that we see the world the same way and operate with similar standards isn't just for the prospect's own protection, it's also protecting IMPACT and making sure that we have the right fit clients to work with.
I saw that when they talk about a bad fit client, it doesn't mean the client or their organization is bad. It just means they might not be a compatible match for our culture or processes.
And if there's one thing IMPACT is dedicated to it's making sure that we generate is win-wins. If we click with you culturally and we "get" each other, we trust each other, we're going to be partners in being bold and doing great work together.
We're not looking to just get a bunch of random organizations to do business with us. We really want the right fit kind of organizations to be, kind of, a part of our family, if you will, even it's just for a short time period; just a few months or just been a year or two.
That's really why I'm here.
IMPACT is kicking butt.
They're doing things in their own marketing that I didn't even see HubSpot doing.
I had been able to be a part of some incredible marketing teams leading industry in a lot of ways at HubSpot but IMPACT is always looking to see what those best practices were that HubSpot was trying and then take it a little bit further. -- Be very experimental and that's another part of the philosophy that IMPACT practices here, being willing to experiment and trying them down.
In some ways, I'm even an experiment. For me, partnering up with IMPACT is an experiment, I love that philosophy and that environment. So I'm excited for that.
Key Takeaway
So that's why I'm here -- to help tell that story to people; help them understand what it is that makes IMPACT a great fit for some organizations.
I'm also here to understand what the organizations are that could potentially work for us -- what do they need, what do we help them with, how could we potentially pass on a lot of things that we're learning, the cuts and bruises and stuff that we've been through the minefield first.
We want to help people see their way through certain things, again, not just marketing wise, IMPACT has learned a ton in that area, but also maybe management and team-wise, maybe process wise.
That's why we're not going to be for everybody.
To thrive in this fast-changing digital world, you to need change and not every organization wants to do that. A lot of organizations just try to stay in course.
They just need vendors to help them execute within that lane for years, but for those marketing leaders that want to grow, you need partners to help them become a stronger change agent organization.
I want to talk to you. I want to help you.
I can't wait to see what we can accomplish working together. I can't wait to share out some of the lessons learned with all of you who read our blog every week.
Do you have questions I can answer? Let me know so hopefully, we can work together on continuing to level up and usher in the future of modern marketing at all the organizations.
Free Assessment:
How does your sales & marketing measure up?
Take this free, 5-minute assessment and learn what you can start doing today to boost traffic, leads, and sales.