6 most common revenue team meeting problems (and how to fix them)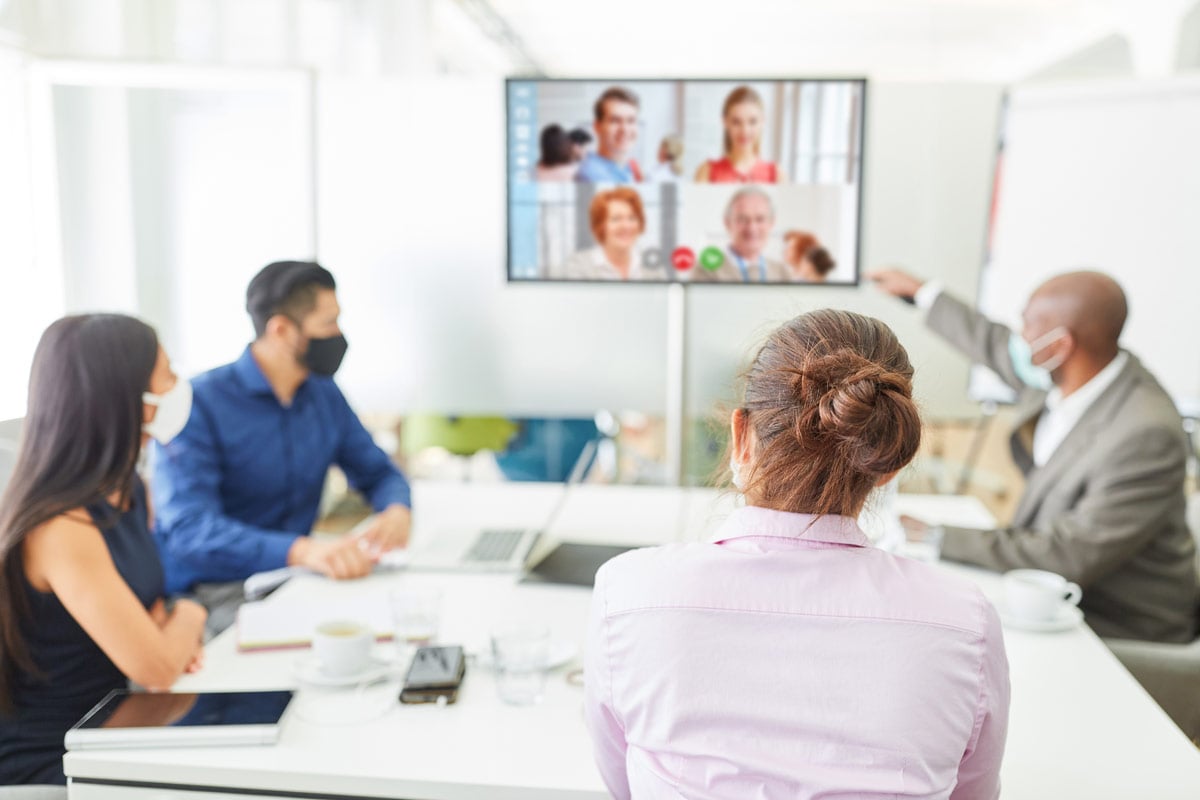 Common Revenue Team Meeting Problems
Lack of buy-in from participants
The perception that this is a marketing presentation
No clear agenda or purpose for the meeting
Not focusing on revenue-driving topics
No one understands how content is performing for the sales team
No clear next steps or action items
Be honest, how many meetings have you joined recently that could have easily been done over email?
If you're thinking too many, you're not alone.
We've all experienced that feeling after walking out of a meeting or closing out a Zoom link and thought to ourselves "Why did we just have a meeting about that? What are we going to do next? And can I get that hour of my life back, please?"
Even though many of us are suffering from virtual meeting fatigue these days, we don't have to let those bad meetings define our work schedules. In fact, we can use those experiences to teach us what not to do in meetings and focus on how to better value our team's time.
Revenue team meetings are no exception.
As a digital sales and marketing coach here at IMPACT, I have helped organizations of many sizes get their revenue teams up and running effectively.
Some large companies with multiple verticals and specialized sales teams have created more than one revenue team to focus on one vertical at a time, while smaller businesses where the only sales rep is also the owner of the company are now meeting regularly with their one-person marketing team.
No matter the size of your company, the makeup of your teams, or the number of sales staff, there are always a few speed bumps with getting your revenue team meetings moving like a well-oiled machine.
If you're about to kick off your first revenue team meeting at your organization or you're a few meetings down the road and just looking to avoid some common mistakes, the first thing to recognize is that you've already overcome your first big obstacle — getting your team's willingness to participate.
Establishing a revenue team is not an easy task.
Bringing your sales and marketing teams together in general, let alone for regularly scheduled meetings, is a common pain point for most companies. If you're in one of these departments, you've ultimately seen how silos can form and build walls around both teams.
It typically stems from a lack of communication, being disconnected from one another, and not having a clear understanding of how both teams can and should be working as one unit.
So if you're bringing sales and marketing together at your company to regularly discuss your shared goals and vision for closing more deals and winning more trust, then you've already taken a big step in the right direction to improving that inter-team communication.
But what's next? You don't want to waste anyone's time with another pointless meeting that could have otherwise been done over email, Slack, Basecamp, or some other communication platform.
Over the past few months, I have seen remarkable successes and alignment amongst some revenue teams, but I've also seen heated arguments derailed conversations, and attendees completely disengaged.
Both experiences have given me a strong understanding of what brings some teams together, and what might drive others apart. After sitting in on a number of revenue team meetings, I have compiled a shortlist of the six most common mistakes and problems that consistently pop up during these meetings.
I'll break each problem down one by one, along with tips and tricks to help you avoid these common pitfalls, and how to fix them when they pop up.
1. Lack of buy-in from participants
This is probably the most common problem with organizations that are just getting their revenue teams established — and one that needs to be tackled early on in the process.
When people don't know why they are involved, what this meeting means to them, and their role at the company, then buy-in can quickly fall apart. You may notice fellow teammates are staring at their phones all meeting, showing up late, not participating, and making excuses for why they can't attend.
This can happen when organizational leaders or facilitators of the meeting do not clearly communicate the "why" behind the revenue team.
Some or all of the sales reps may not be entirely sure what this meeting is all about. All they know is their sales manager told them they need to show up.
I once joined a client's virtual revenue team meeting with a group of 10 people, five of whom were in their cars, three of which were driving.
The individuals driving were disengaged, and obviously extremely distracted. Disclaimer, please do not operate a motor vehicle and attempt to join a revenue team — DWR (Driving While Revenuing) is not safe, and is strongly discouraged.
These distractions manifested because expectations were not set before the meetings.
Solution: Create a vision for the team and communicate it regularly
I sat in on a client's very first revenue team meeting recently and the owner of the company kicked off the conversation by answering the question "why are we here today?"
The next week, the owner kicked off the meeting with the exact same question, but this time he called on a sales rep to answer for the team. This allowed for a new voice to communicate their "why" and sparked a conversation from additional sales reps, each sharing how they planned to individually contribute.
Try this with your team.
After going around the room and hearing everyone express why they're here, along with how they intend to participate, have your facilitator collect these answers and write down a clear vision for the team.
You can share that vision at the start of every meeting as a reminder to the whole team of "why are we here today?"
This will serve as a reminder to the team of what needs to be achieved; that you have a shared goal of educating your buyers, building trust faster, and generating more revenue for the company.
Solution: Make sure everyone fully understands assignment selling
Assignment selling is the process of intentionally using educational content you have created about your products and services to resolve concerns and answer questions in the sales process.
When everyone truly understands what assignment selling means, how to do it, and why it's important, you'll get a deeper level of buy-in and commitment from everyone involved.
Whether you're a content manager writing the articles or a sales rep sharing these educational resources in personalized emails to prospects, assignment selling knowledge is critical to a strong and effective revenue team.
Before your first revenue meeting, share the following articles with your team:
Ask your team to review these before you meet, and in true assignment selling fashion, if they have not read the articles before your first meeting, reschedule for another time and ask for their commitment before booking a new time.
2. The perception that this meeting is a marketing presentation
If your marketing team is doing all the talking at a revenue team meeting, then you're not doing it right. This is not a time block on the calendar set aside for a marketing presentation to sales and leadership.
The revenue team meeting will most likely be facilitated by someone from marketing, but this is ultimately a time to hear from sales.
Ask them incisive questions and give them individual opportunities to share their ideas.
One of my clients summed this up beautifully at the beginning of his meeting by saying "This is a time for us to have a dialogue, not a monologue."
A dialogue means the marketing team does not do all the talking. Everyone needs to participate —- share their thoughts, ideas, concerns —- and be a part of the conversation. Getting a dialogue going is not always easy. It takes effort by the facilitator to ask good questions, call on people individually, and get the sales team involved throughout the meeting.
"The revenue team meeting is a time for a dialogue, not a monologue."
Solution: Engage every sales representative
During your meetings, make sure your marketing team asks every salesperson a question and that everyone's voice is heard.
Your sales folks speak with your customers and prospective buyers every day. Marketing needs to find out what they're hearing. Without their feedback, you wouldn't be able to create content that will ultimately help them educate prospects throughout the sales process.
When are they getting push back from prospects in the sales process? What concerns and worries did they hear from someone this past week that triggered them to think "I wish we had an article or video to calm this person's concern?"
Do your best to create an environment where the sales team feels like they are the center of the conversation.
Here are a few insightful questions to engage each salesperson and get the conversation flowing:
In the past week, what concern or question did you hear from a prospective buyer? And if you had an article or video that answered that question, how would that help you do your job?
What article or video on our website have you shared the most with clients or buyers in the past week?
What article or video have you shared with a prospect recently that ultimately helped lead to a sale?
Are you including links to articles and/or videos in every stage of the sales process? If not, where are we missing an opportunity to educate our buyers?
3. No clear agenda or purpose for the meeting
This really comes down to the facilitator — a role that is vital to the success of the revenue team. This person will create the agenda, help define the purpose, schedule the meetings, keep each team member engaged, and make sure the conversation stays on track.
And remember your audience here, you're working with and corralling ideas from sales and marketing people. Two groups that typically lean towards type A, with large personalities, and generally speaking, people who like to talk.
Don't let the conversation go off the rails, which can very easily happen. I once saw a client kick off his first revenue team meeting by asking "so, who has some topic ideas?"
That type of question is not going to cut it for this crowd. You'll get bulldozed by all sorts of random ideas that have nothing to do with content that will answer people's common questions.
This is why it's important to create an agenda, share it with your team ahead of time, and stick to it during the meeting.
Solution: Create and share an agenda in advance
The solution here is obvious. You need to create an agenda — but what should be on it?
If you're looking for some initial ideas, check out the article What is a revenue team? Which outlines four common questions to ask in each meeting that will help you stay organized and on track.
What assignment selling content (written and video) has been published since you last met and how is it valuable?
What assignment selling content (written and video) is currently in the production pipeline?
How has the previously published assignment selling content (written and video) been performing for sales?
What questions are you currently being asked by buyers in the sales process that should have a piece of content created for it?
This is a helpful blueprint for an agenda, but not mandatory for every meeting.
Mix it up when you can, but keep the conversation timely and purposeful.
I've seen some organizations get really creative with their meetings, including a revenue team watch party, where, after publishing a set of three new videos, an organization's videographer would showcase them for the rest of the team.
He even brought in popcorn and sodas for all the attendees in the office, and mailed popcorn bags (un-popped) to all the remote employees.
They spent the first 15 minutes of the meeting watching the videos, and the next 45 minutes discussing how and when these videos could be used in the sales process to educate their buyers.
Solution: Use the Sales Content Sandbox spreadsheet
To keep track of all the questions and topic ideas raised by your sales team, make sure to use the Sales Content Sandbox spreadsheet.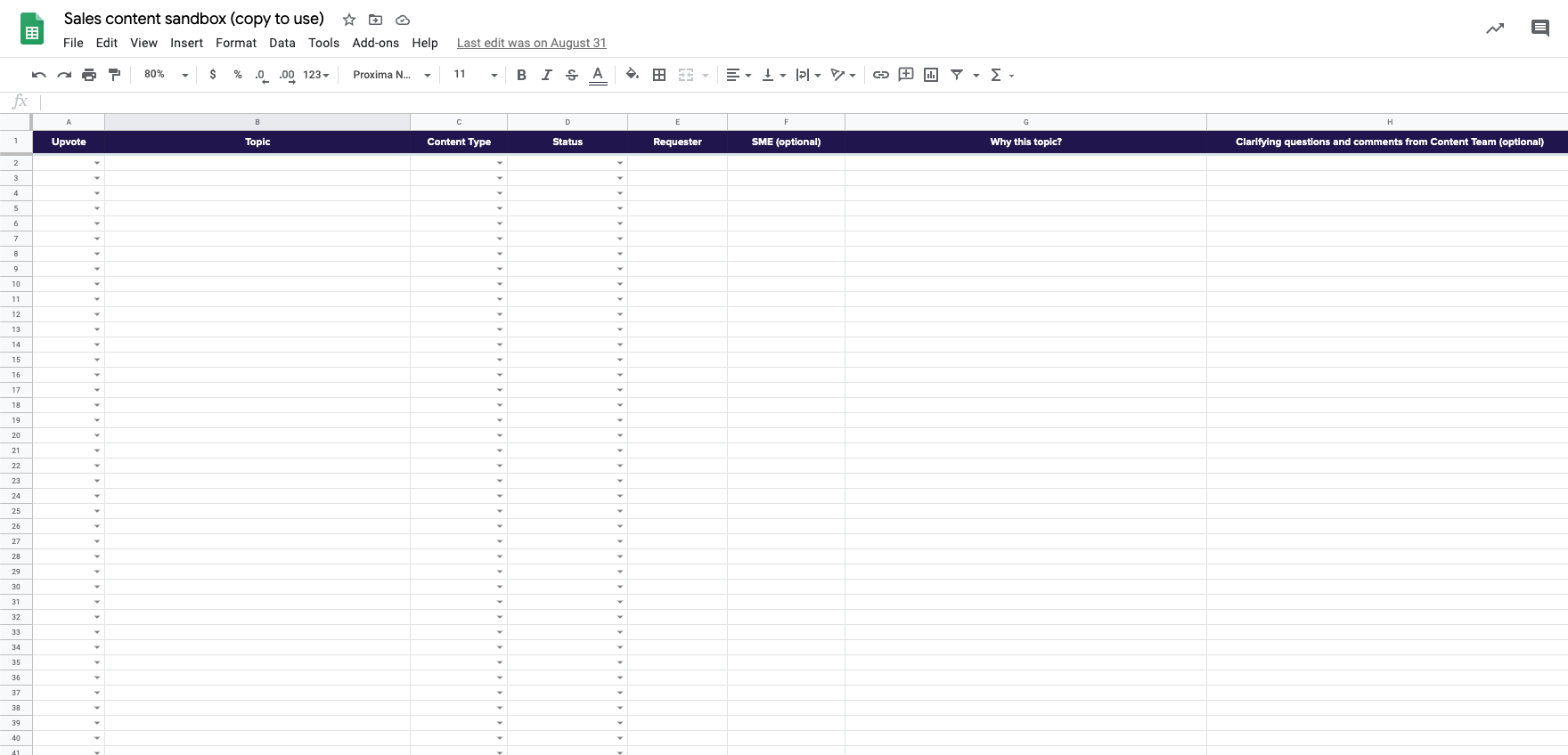 This is a handy template, created by our rockstar editorial director at IMPACT, Liz Moorehead, and it will help your team stay organized, on track with deadlines, and provide a transparent resource for all your team members.
4. Not focusing on revenue-driving topics
There will be some topic ideas that get thrown around in your meetings that sound good in theory, but it's important for the facilitator, content manager, and videographer to dig deep when those ideas are raised and ask follow-up questions like "are the people who are searching for this answer online, truly our ideal customers?"
Here's an example.
Let's say there's a company that sells copiers and printers, and someone during the revenue team meeting says "I was recently asked by a few prospects 'do blue light glasses really work?'"
Is that a question their customers and buyers ask on a regular basis? Are the people who are asking that question looking to buy copiers and printers? Probably not.
That sounds more like a one-off question that doesn't need to be addressed, but you can always make note of the question and come back to it at a future meeting.
If you're unsure whether the question raised or topic idea being discussed is something that will truly move the needle for your company's revenue, here is the litmus test: Ask yourself, "Will this article or video lead to a sale? If so, how?"
Solution: Start with topics that fall within The Big 5 categories
As you're organizing the ideas provided by your sales team and putting them into the Sales Content Sandbox, start with the topics that are proven to drive sales and revenue.
We've found that The Big 5 (cost, problems, comparisons, best of, and reviews) are the most effective categories to focus on for sales-enabling content.
These are the most common questions and concerns that come up time and time again, no matter the industry, and will have the biggest and fastest impact for your sales team.
5. No one understands how content is performing for the sales team (not even the sales team)
Using this time with your sales and marketing teams is a great opportunity to talk about new questions and topics the salespeople have been asked by prospects, but it should only be a small part of each meeting.
As your content writer and videographer start creating Big-5 content and publishing articles and videos on your website, the sales team will need to begin adopting the principles of assignment selling, sharing these new educational resources with prospects and buyers throughout the sales process.
This is where you can truly understand how all this great new educational content is actually working for your sales team.
I've seen some companies skip over this part of the meeting and that is a real missed opportunity. Not only for the marketing team to learn what's working, but even more importantly, for both sales and marketing to celebrate the successes when content ultimately leads to a sale.
If you're not celebrating your wins and successes during the revenue team meeting, you won't learn what articles and videos are truly helping move the needle for your sales team.
Solution: Find out how the sales team is using content and share the successes
Ask the sales team specific questions about how the articles and videos on your website are helping them close deals.
What article did they share with a client this week that helped lead to a sale? What video are they sharing the most frequently - and what type of feedback are they receiving from prospects?
And when these articles and videos help a sales rep close a deal, find a creative way to share that success. I've seen companies share a monthly video with the full staff, to talk about their recent revenue team wins, with great feedback from the leadership team.
Sharing these successes is how you break down walls and build bridges between sales and marketing. It helps the team see, with clarity, how content is directly bringing in revenue for the company.
6. Ending the meeting without clear next steps
Have you ever walked out of a meeting and thought "now what?"
Don't get trapped in that cycle, letting your team to be confused on what to do next. That confusion can deteriorate your team's progress in between meetings.
To combat confusion and keep momentum on your side, finish your meetings with clear next steps.
Solution: Finish the meeting strong with a final agenda item
Here are a few examples and topics to include as your last agenda item.
These will help keep the conversation going, provide clear next steps, and allow each attendee to be able to say, with clarity, "I know what I need to do next."
One thing: Go around to everyone in the meeting, ask them each individually, "what is your one key takeaway - or something you learned - from today's meeting?"
Meeting ratings: Ask everyone to individually score the meeting on a scale of 1 to 10. This will sound something like "On a scale of 1 to 10 (10 being 'I loved it' and 1 being 'a waste of my time') how would you rate today's meeting?" And if it's lower than an eight, ask the follow-up question "What could we do differently next week to make it a nine or 10?"
Three things: What did you hear? What do you think? What are we going to do? These are three questions Under Armour employees have to answer after every meeting. It's a helpful way to have everyone voice their thoughts, ideas, and have someone state what are the next steps for the team.
Also, rather than closing out the conversation with "if you have any questions, let me know," ask each person in the room to describe one thing they're going to do before the next meeting.
Before your next revenue team meeting, ask yourself these questions
You've been in probably hundreds, if not thousands of meetings before. You've seen what works, what doesn't, and why some meetings end with confusion and eyes glazed over.
Even though sales and marketing have historically worked in their own respective silos, these are two teams who now have a shared vision and goals for generating more revenue for the company. You can break down those silos and create better alignment by avoiding these common mistakes.
As you're planning out your next revenue team meeting, take a hard look at the group you have put together and ask yourself these questions:
Do we have buy-in from all participants?
Are we just giving a marketing presentation every week?
Is there a clear agenda and purpose?
Will these topic ideas drive revenue?
Do we know how content is working for the sales team?
Did we end the meeting with clear next steps?
Some of the issues we discussed might pop up after a few meetings, and don't be upset when they do. Remember: These are common problems.
It's important to be cognizant when they rear their ugly heads and combat them with the tips and suggestions included in this article.
Be incisive, confident, patient, and take the time to let everyone have their voice heard.
You got this!
Free Assessment:
How does your sales & marketing measure up?
Take this free, 5-minute assessment and learn what you can start doing today to boost traffic, leads, and sales.