5 Powerful SEO and Content Marketing Techniques that Took My Website to 320k Visitors Per Month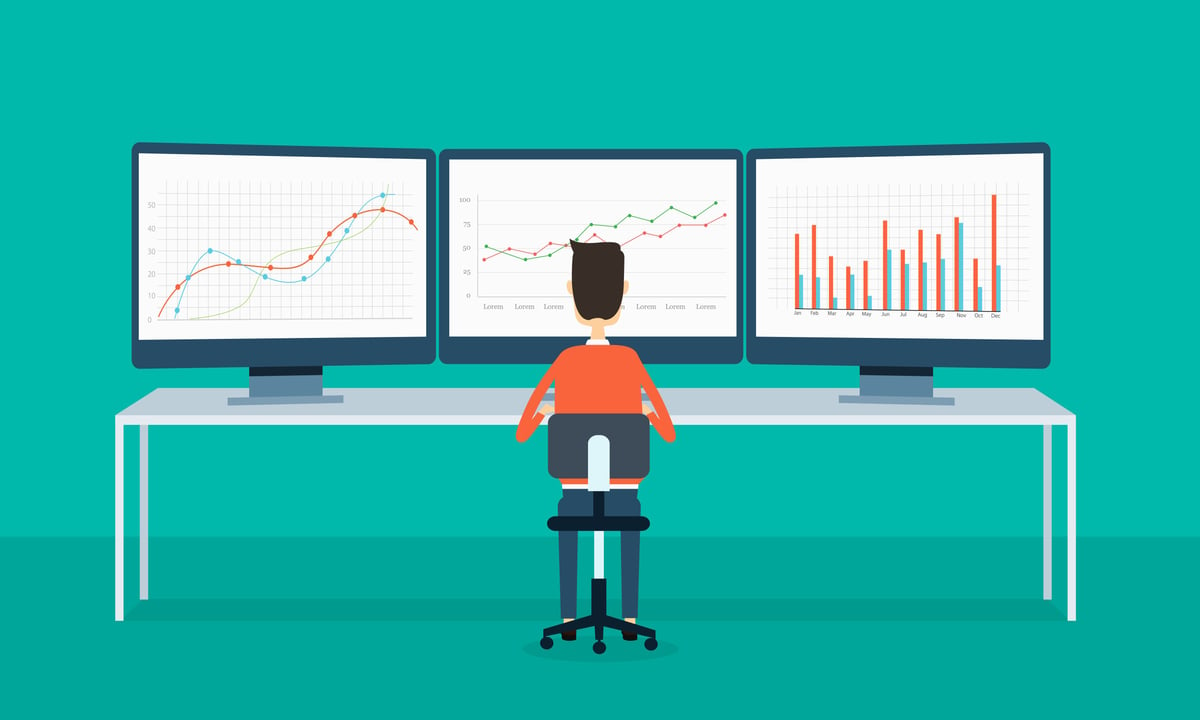 I was looking at the traffic for my swimming pool website today and a smile came to my face as I saw we had annihilated our previous traffic records for a single month by reaching over 320,000 visitors to the site during the month of June. As I sat and pondered these numbers, I was brought back to thinking about the different ways we were able to achieve this incredible growth, and what exactly this means for other businesses looking to achieve the same:
From 2k to 320k Visitors Per Month: How River Pools Did It
1. They Ask, You Answer: You've all heard me talk and speak about this over and over again, but its significance is greater today than it was when we started this process 5 years ago. More than ever, Google and the other search engines want to perfectly match the thoughts of their customers (online searchers), which is exactly why the process of taking every question you've ever received from a prospect and addressing it on your website (each question being a new page/article on the site) is an absolute imperative today if you want a content marketing and SEO strategy that is built to last.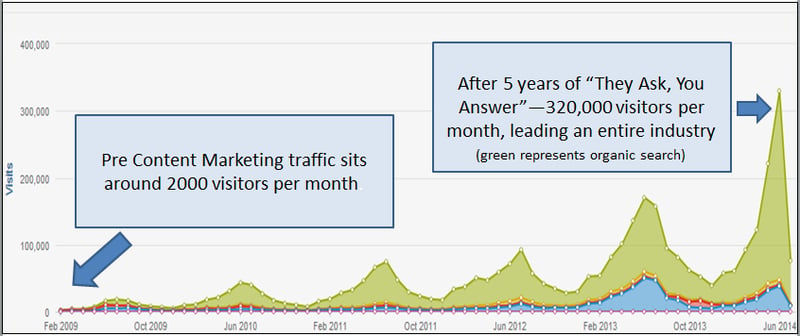 For years I've watched SEO companies freak out every time Google has a new update in their algorithm. And with each of these updates, all I could do was sit back and laugh, mainly because my clients that had been using this strategy continued to crush it more and more while their competitors that had used shortcuts were being punished for dancing with the digital devil.
2. We Didn't Look For Shortcuts: This relates to #1 but here is the thing: Like any company striving to get traffic to their website in 2009 and 2010, we could have bought links, farmed out links, traded links, done guest posts on crappy websites just for cheap anchor text links, etc.
But we didn't.
Why?
Simple: It never felt right. Seriously. I never felt good about trying to manipulate something knowing that eventually, the machine (Google) would be smarter than humans and all those persons that had attempted to game the system would suffer.
Eventually, all my suspicions would come true in the form of interesting animals: Panda, Penguin, Hummingbird and surely more yet to be named updates in the future.
3. The Power of the Long Tail: When we started learning about the power of search at River Pools in 2009, I knew we'd never be able to rank for many of the major phrases in our niche, as we were simply a small fish in a big pond. So instead of focusing on words like "fiberglass pools" or "inground pools" we directed our attention to long tail keyword phrases. Here are a few of our early targets:
How much does a fiberglass pool cost?
Fiberglass vs concrete pools
What are the problems with a fiberglass pool?
Each of these articles attained massive success, so much so that instead of just ranking for the long-tail, they also ended up ranking for a slew of short tail phrases that we never dreamed of being able to dominate, as shown in the following list:
4. The Big 5: You've heard me talk about the Big 5 before, but to reiterate, these are the subjects that move the needle in almost every single industry but few companies actually want to address them. The Big 5 are:
Cost/Pricing
Problems/Issues
Vs/Comparisons
Reviews
Best
To see exactly how this works, take a look at some of the top read articles for River Pools for 2014:
5. We Didn't Follow the Rules: Every industry has certain unwritten "rules" in terms of what they do and do not talk about. Well, I'm here to say those rules are dumb—at least if you're trying to gain the trust of real consumers searching the answers to real questions and problems. Many of the subjects we addressed on the River Pools site would never have been addressed by others in our space as they were too "controversial" or "the competitors would steal our secrets" or "we'd scare customers" away. Instead of giving in to those foolish thoughts, we allow truth and honesty to be our guiding light through the process, which eventually paid huge dividends.
As I mentioned a few months ago, River Pools is now entering the manufacturing phase of our business. Because we have web visitors from all over the world on a daily basis looking to ask us questions and use our service, we're finally getting to the point where we won't be limited to simply be "Pool guys" in Virginia and Maryland. Soon, our pool shells will be in backyards around the globe, but it will all be made possible because of a content marketing philosophy that made real people, and the search engines, incredibly happy.
This is the same philosophy we use for all of our clients at IMPACT. That's the beauty of the 5 strategies I mentioned above. They're not industry or niche specific. Whether you're a B2B, B2C, blue collar or white collar—the strategies discussed here are built to last, at least as long as we have this thing called "the internet."
Free Assessment:
How does your inbound marketing measure up?
Take this free, 5-minute assessment and learn what you can start doing today to boost traffic, leads, and sales.
Get Started
Free Assessment:
How does your inbound marketing measure up?
Take this free, 5-minute assessment and learn what you can start doing today to boost traffic, leads, and sales.
Published on July 8, 2014