21 free and paid stock video and audio resources to bookmark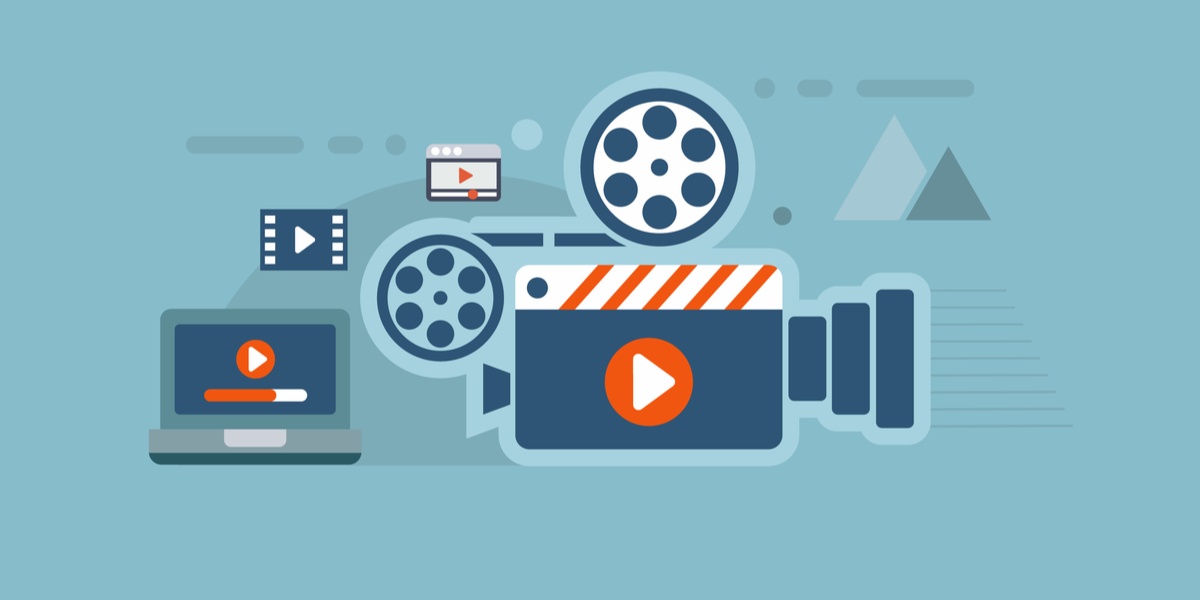 If you haven't heard yet, video is taking over the marketing landscape (*gasp!*).
Companies of all sizes are taking the hint and starting to produce videos in-house, even if they don't have professional production teams.
It can be intimidating to start implementing video into your marketing strategies, but don't worry - there are many ways you can do it, and you don't have to be a professional videographer either!
Why use stock video and audio
We're all familiar with stock photos, but many platforms are introducing video and audio to their catalogs for marketers and brands to capitalize one.
The greatest and most obvious reasons to utilize stock video and sound when developing creative assets is that it can save you both time and money.
Maybe you just need a simple background video for an intro sequence and don't have a production or video team to create it for you.
Rather than spending the time trying to shoot something yourself, or spending the money to hire a professional to shoot it for you, purchasing a short clip can be cost and time efficient.
For sound, having in-house production is rarely ever an option, but utilizing background music and sounds can increase production value and resonance of videos with minimal effort.
Another reason to use stock video and sound is to avoid any licensing issues. This is especially pertinent for using music in your videos - depending on how you use certain songs you may run into copyright issues.
Purchasing or acquiring stock assets with the proper licenses ensures that you won't run into copyright or licensing issues down the road.
Why NOT to use stock video and audio
Just like using stock photography, you want to be smart about when you use stock video and sound in your marketing videos. You never want your videos to feel like they came from a stock video/audio site.
Use them when you have to, and make sure that they mesh well with the look, sound, and feel of the rest of your video and sound assets.
If your video is about your company culture, don't use stock video that has people that don't work for your company.
Always come back to the story you're trying to tell - does the piece of stock video or audio you're considering help or hurt the storytelling? If you make your decisions based on the answer to that question, you'll be in pretty good shape.
Now, when you do end up deciding to use stock video or audio, you want to pick the best and most appropriate assets for your project.
Below, we've compiled a list of some of the best sites, free and paid, to bookmark for all of your stock video and audio needs.
Paid stock video sites to bookmark
Shutterstock has been one of the biggest players in stock photography for quite some time, but its stock video is almost just as impressive as its photography repertoire.
Currently boasting 7,674,170 videos in its library, Shutterstock is a great resource, especially if you have more specific needs for your stock videos.
Adobe Stock is one of the newer kids on the block in the stock world. If you have or purchase an Adobe Stock subscription, you can download a set number of assets (images, video, 3D or templates) per month.
This service has an extensive collection of stock video, as well as video from contributors like Pond5 and Uberstock.
Editor's Note: The following article feature was sponsored by Artgrid.
If you're looking for footage that feels less staged and more cinematic than most stock resources, check out Artgrid.
This option isn't for every brand or industry. Unlike other resources mentioned, it's not designed to be a vast glossary of random shots that can be used to supplement any-old video. (You won't find clips like "team laughing around a table" here.)
Rather it is a catalog of "story-driven footage," in a variety of categories they call "themes" such as business and professions, fashion, industrial, and education.
Each clip listing includes a preview of the footage as well as specs on the available formats, resolution (HD, 4K, 8K, and even Raw), length, frame rate, and occasionally the camera (i.e. Arri, Red, and Phantom).
If your videos are focused more on storytelling or you want to introduce more of an artistic style to your brand, Artgrid is a great place to turn.
This paid option starts at $24.92 per month ($299 billed annually) for access to their entire catalog a simple license that is and worldwide-covered. It includes all media; has unlimited downloads; media that a user has downloaded remains in his possession forever even if he doesn't resubscribe.
Just like Shutterstock, iStock Photo was one of the original stock photography sources on the block. It is now under the Getty Images brand and has a wide variety of pricing plans for various budgets.
Getty Images has a reputation for being one of the most professional creative asset providers out there - and its stock library does not disappoint.
If you're looking for some of the highest quality professional video assets out there, Getty Images needs to be on your list.
Pond5 is a marketplace where users can upload and sell their stock assets - which means there is a wide range of pricing and quality options for you to choose from as well as a ton of originality.
You can also purchase a monthly or yearly membership which gives you a discount on video assets and 10 free image downloads a month.
Videoblocks is one of the few stock services offering a subscription plan with unlimited downloads. If you're going to be using a lot of stock video, you're going to want to take a serious look at a Videoblocks subscription.
Free stock video sites to bookmark
Videvo offers a large library of completely free HD stock footage and motion graphics. Its licensing is very straightforward - as long as you read the 3 different types of licenses it has, you'll know exactly what you do and don't need to attribute, and what you can use the clips for.
Pixabay is a popular free stock photography site that also offers video footage. The great thing about Pixabay is all of its videos are free under Creative Commons Zero, meaning you can use any video in its library for free without having to attribute it.
Another popular free stock photography site that offers video, Pexels' videos are also all under the Creative Commons Zero license and completely free to use without attribution.
Pexels and Pixabay tend to have overlap in the assets they offer, but both are helpful to bookmark and scan through as you're looking for free video clips to use for a project.
Pond5 offers a library of almost 10,000 Public Domain video clips that are completely free for a standard license. Most of their Public Domain library, however, consists of "historic" media that you will probably only have use for in rare instances.
Paid stock audio sites to bookmark
Editor's Note: The following article feature was sponsored by Artgrid.
Artlist is where our IMPACT video team gets the majority of their audio these days and it is their top choice in terms of price and selection.
For just $12.41 a month ($149 annually) for sound effects, $16.60 a month ($199 annually) for music, or $25 a month ($299 billed annually) for both, you can get unlimited downloads from their library, which we find quite on-par with many higher priced resources.
Like sister-site Artgrid, Artlist can be sorted by more cinematic categories such as theme and mood (like powerful or carefree), but also more conventional filters like genre and instrument.
You also can search for keywords that might be associated with whatever content you're making, making it easy to find what you need.
Lastly, audio on Artlist is also under the same worldwide license of Artgrid that covers all media and gives users lifelong ownership of what they download.
Audioblocks is the audio arm of the Videoblocks brand.
Just like Videoblocks, Audioblocks offers a subscription that gives you unlimited downloads of its music, sound effects, and audio-loop library.
If you're going to be needing a lot of stock audio, you're definitely going to want to check them out!
A popular resource at IMPACT, AudioJungle lives under the Envato Market brand, one of the world's leading providers of digital assets. Like Pond5, AudioJungle is a marketplace, which means you'll see a fairly large range of prices and quality.
No surprises here - Shutterstock also offers music and audio! Its pricing is standard across the board, so you'll always know what you'll be paying for one of its audio assets.
Getty Images stock music services offer "high-quality music and audio clips, all with flexible, easy-to-understand usage rights" -- an issue you'll often run into with free stock sites is understanding how and when you can use certain assets.
Having clear and easy-to-understand usage rights will protect you, your company, and anyone you're working with from copyright issues down the line. This is incredibly important!
Just like its video offerings, Pond5 offers a music marketplace for creatives to upload and sell their work. You'll find an extensive amount of audio assets for both commercial and editorial uses here.
Free stock audio sites to bookmark
Freeplay offers a large library of over 15,000 music assets that are all free for personal use - however, that's the catch, they are free for personal use only. If you'd like to use it for profit or business purposes, the site does offer a wide variety of licenses for purchase.
The upside to starting with a personal license is you can download the asset for free and decide later if you are actually going to use it and purchase a license for it then.
YouTube offers users a free audio library, intended to be used in the creation of YouTube videos, but its assets are not exclusive to that use.
Any assets that have an attribution requirement will have an icon next to them so that it's clear whether you need to credit the original artist when using them.
Converse's Rubber Tracks Sample Library is a collection of audio assets recorded in at the Converse Rubber Tracks studio. It has an impressive collection of audio files that are completely royalty free and is a great resource for finding free music for your projects.
Just like with video, Pond5 also offers Public Domain audio assets. These assets are also mostly "historic" so their use will probably fairly limited.
That's a wrap!
We hope this list proves helpful for you as you continue to take your video marketing and media to the next level!
Know a great stock video or audio resource that we missed? Let us know in the comments below!
Free Assessment:
How does your sales & marketing measure up?
Take this free, 5-minute assessment and learn what you can start doing today to boost traffic, leads, and sales.